Scroll down to see the list of artificial intelligence – AI influencers based on several parameters and data points.
But before jumping into the influencers, I think it's important to explain quickly the differences between AI, Machine Learning and Deep Learning. This is extremely important with topical relevance when identifying influencers because often times, these terms are used synonymously.  Below is a great explanation of these three technologies from Edureka.
The common measurement for influencer analysis is the following:
Reach: Audience size
Relevance: Volume of relevant conversation
Resonance: Audience engagement
While this is a good start, I like to add an additional layer of analysis to ensure the purity of an influencer list. I call it reference.
It's a qualitative data point that uncovers whether or not the influencer is referenced by a third-party. This could be a mention in traditional media, analyst report or social mentions by a specific audience like CIOs, IT decision makers or software developers.
This part of an influencer analysis must be done manually but it's worth the effort.
That said, below is a list of AI influencers that are leading the conversation about artificial intelligence. I created a Twitter list in case you would like to follow and understand the context of some of their conversations.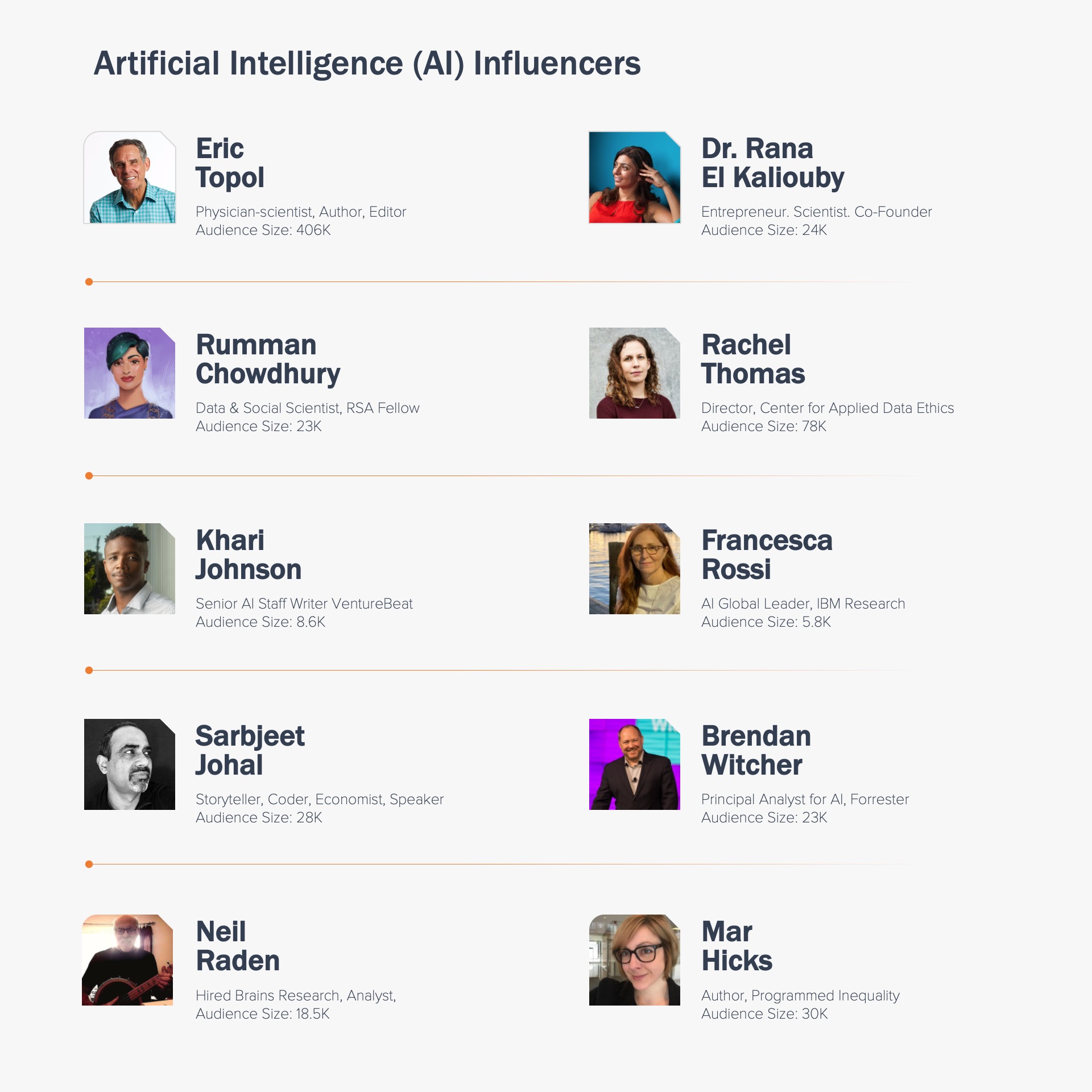 I am certainly not saying that these are the most influential AI influencers. It really depends on what you want to do once you've built your influencer list. At the bare minimum, you should be listening to these influencers to understand what's top of mind when it comes to artificial intelligence.
In cases where you want to do some type of paid influencer activation, these might not be the influencers that you want to work with, especially if the influencer is a journalist.
Here are a few other influencer lists in case you are interested:
---
Influencer Marketing Resources
Below you will find some helpful content for you as begin to take your B2B influencer marketing journey. There is not a lot of really good information available on the Internet, so I've tried my best to consolidate what I think is most important.
Here is a quick video and write up of some of my thoughts about the influencer marketing software available on the market today. The vendors that I typically write about are more for B2B and enterprise companies versus consumer brands. However, all brand influencer programs have some commonalties that you can learn from.
Measuring influence needs to be a priority. Remember, it's not just about measuring the performance of an influencer campaign, but also how you are using data to identify the most relevant influencers for your business.
Here are five influencer marketing trends that you should keep top of mind moving into 2022. Influencer marketing is a huge business and it's only growing.
It's not good practice to manage influencer programs in a silo. It's better to ensure that your program is fully integrated into your larger B2B social media marketing plan.
Please consider subscribing to my influencer marketing YouTube Channel where I post 2-3 videos per month or connect with me on Twitter or LinkedIn.