Integrating disparate B2B influencer marketing programs into your digital strategy is a critical success factor for your brand.
Why this matters:
This matters because B2B buyers can be influenced to make purchase decisions based on interactions with people like themselves. B2B influencers are credible, their content ranks high in Google, and it's shared and referenced by the media. These are all touchpoints within the customer journey.
You probably won't hear much about tech brands building a B2B influencer marketing strategy in the media. You won't see a Super Bowl half-time commercial featuring a tech influencer campaign. You'll never see billboards with B2B influencers posing next to a data center, either. It just won't happen. Yet, B2B influencer marketing is the most effective digital marketing strategy to influence B2B buyers and change brand perception.
What is B2B Influencer Marketing?
The definition of B2B influencer marketing isn't a complicated one. It's defined the same way, regardless of what industry or vertical you work in–B2B, technology, construction management, facilities, consumer tech, fashion, travel, or healthcare. Influencer marketing is when a company hires an individual or a group to participate in a marketing campaign. It's a value exchange of money for influence.
Even though the definition of influencer marketing is the same for all types of companies, the execution is different and will be unique. For consumer brands, influencers are considered to be creators. They focus more on lifestyle, fun, and cultural-related content. They use photos, filters, and short videos on TikTok, Instagram Stories, Snapchat, and Pinterest.
Business influencers have a narrower focus on creating thought leadership content in articles, blog posts, videos, and other social media platforms like Twitter and LinkedIn. They are content creators but don't necessarily consider themselves "creators."
What is a B2B Influencer?
There are several ways to break down and segment the B2B influencer community. At the end of the day, though, they are thought leaders and industry experts in technology, business, and innovation. In addition, many are subject matter experts and have worked as executives, engineers, or data scientists in enterprise companies. Here are a few technology influencers who fall into this category:
While these individuals might not consider themselves to be a "B2B influencer", I know that dozens of PR professionals have each on a list somewhere. And, yes, they are all very influential.

A large segment of B2B influencers is also analysts for research and advisory companies, not just top-tier firms like Gartner, Forrester, and IDC. Smaller firms like Constellation Research, Everest Group, HfS Research, Aragon Research, and RedMonk are equally as influential to B2B buyers, if not more. Here are a few that fall into this category.
Some reporters and journalists are highly influential and can also be considered a B2B influencer. ZDNet has a healthy roster of influential writers that I have been tracking for years:
Working with B2B and technology influencers is smart because they have diverse audiences and are trusted by their peers within their network. Unlike influencers in the consumer space, business influencers aren't what you would call "professional influencers." Instead, they are passionate about business and technology, and they all have very engaged audiences. They are thought leaders.
Why is a B2B Influencer Marketing Strategy Important to the Buyer Journey?
According to Gartner, B2B buyers in enterprise software spend 27% of their time researching information online. This provides several opportunities to use influencer marketing to reach potential customers and a larger target audience.
And while the majority of B2B marketers spend most of their time at the bottom of the funnel trying to convert leads, there are some additional benefits of building a B2B influencer marketing campaign at the top and middle stages of the sales funnel:
Boosting brand awareness by reaching the influencer's audience
Driving website traffic and follower growth on social media
Building brand reputation across new audiences
Increasing brand awareness among new community groups
As I have already stated, influencer content consistently ranks high on Google. So after a marketing campaign ends, as long as you ask the influencer to create long-form content, you will reap the benefits of that engagement for a long time.
The Differences Between Influencer Relations and Influencer Marketing
Influencer relations is a different way of saying media relations. It's when a PR professional treats industry influencers the same way they would treat a journalist. More specifically, they would pitch news and stories to influencers by emailing or calling them on the phone. There is no money exchange for any services rendered or stories written. It's 100% earned media and all about influencer relationships. Influencer relations is a critical function that falls within the public relations team.
Are You Measuring Influence The Right Way?
The first and most critical step in measuring influence is using data and analytics to identify the most relevant influencers. And that means you must understand how influence is measured. If you get this wrong, your entire influencer marketing strategy won't perform as expected, and you'll have a lot to explain to senior management. I have seen this happen several times, where marketers rush through the influencer identification process and launch a PESO marketing campaign just to meet a deadline. The program may not fail miserably, but you won't get the results you expect, nor will you experience a marketing ROI of a thoughtful and well-planned B2B influencer strategy.
Measuring influence is subjective. Too many marketers rely solely on the outputs and reporting of influencer marketing platforms. It's a good start but only tells a tiny piece of the story.
Here's why. Typically most platforms use three data points to measure influence:
Reach: The size of their social community
Relevance: How often are they talking about a topic
Resonance: The engagement they get from posting and creating content
These B2B influencer marketing tools do an excellent job at this because it's counting numbers. That's it. And even with different algorithms, most influencer identification tools are consistent with each other when ranking topical-based industry influencers. The three data points are just weighted differently.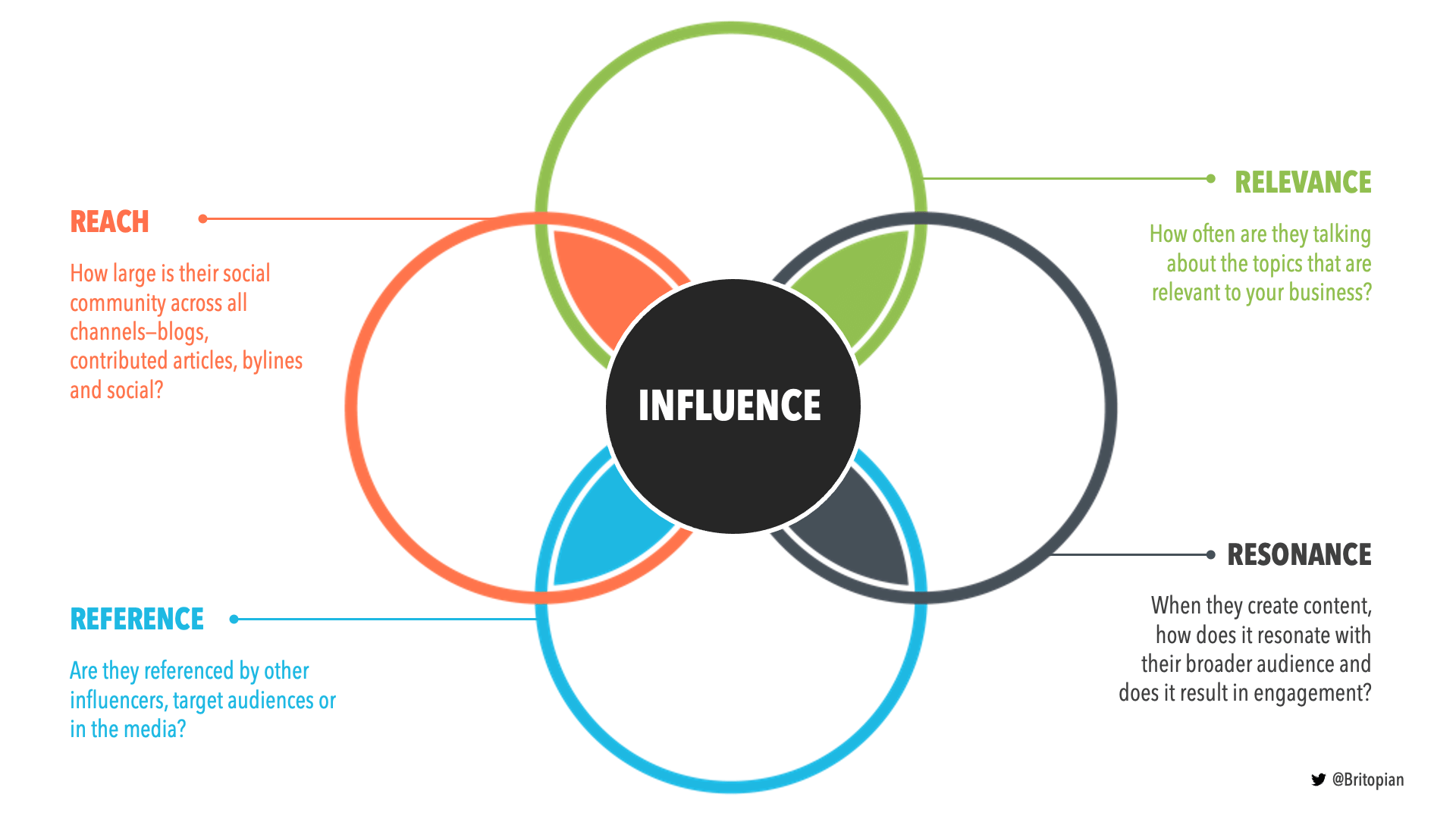 The last step in measuring influence is reference. Reference has two equal parts. First, it measures how often (if at all) the media or other influencers reference the individual in question. In other words, are they being mentioned in articles, reports, blog posts, podcasts, or social media?
The second part is how often a specific audience mentions the influencer, like developers, security engineers, or CTOs. Again, this can be a manual process unless you have access to a social media intelligence platform that can save you time and money.
Here's why reference is essential.
Imagine analyzing 5G influencers and identifying the top five you plan to work with on an upcoming product launch. They all have huge communities, they all talk about 5G, and when they talk about 5G, they get excellent engagement from their followers. Four of the five influencers have been mentioned in the media, by other influencers, and by various audiences. The question is: Do you work with the one influencer that hasn't been referenced by anyone else? It depends.
Everyone defines and values influence differently. Some view reach and engagement as the ultimate data point when activating influencer marketing campaigns. Others are more rigorous with data and demand to see how a B2B influencer program delivers business value through sales and leads. The key is to align your influencer marketing strategy to the B2B sales funnel.
How to Identify the Right Influencers
The 1:9:90 influencer model segments influencers and social audiences across topics, industries, and markets and is a valuable model that can inform a B2B influencer marketing strategy. A market is a place where buyers and sellers gather and exchange goods and services and can be defined in many different ways–SaaS companies over $100M in revenue, enterprise security software, big data companies, or more specific markets that cater to DevOps, AIOps, or Robotics Process Automation (RPA). For example, baby diapers and wedding fashion are also markets.
The model is broken down by the 1%, the 9%, and the 90%.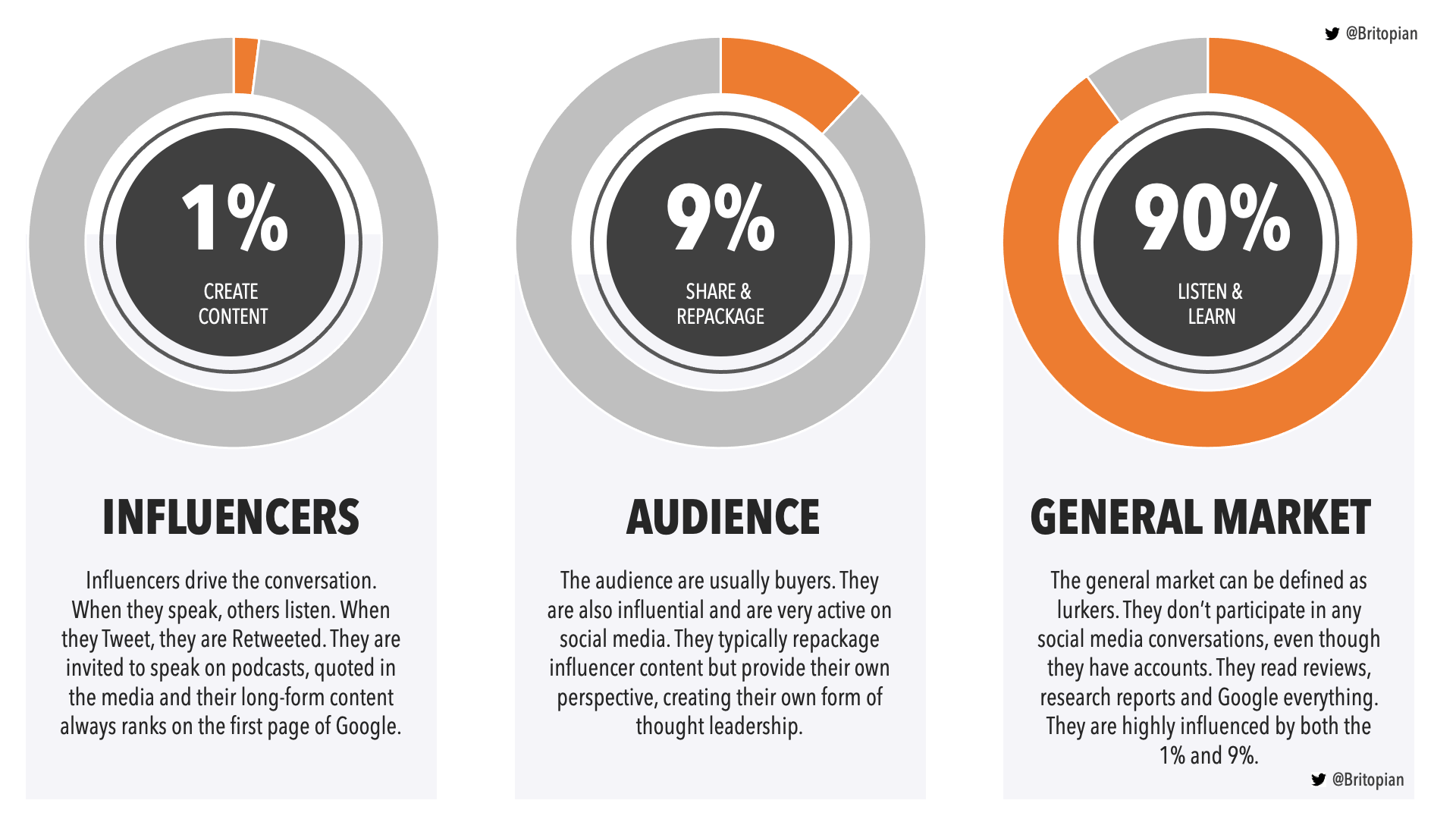 The 1% creates new models, ideas, and innovations and tells compelling stories through blogs, webinars, videos, and articles. They are quoted in the media, guests on podcasts, and many have their own media platforms. This group will continue to get more influential as the social networks are building tools and capabilities for B2B creators, with the latest example being the launch of the LinkedIn Podcast Network.
The 9% can be referred to as a specific audience group. For example, the audience can be a group of engineers, developers, or IT managers. They repackage influencer content, provide context, and share it with their social communities. They are highly vocal online, have large audiences, and are influential.
The 90% are what I refer to as lurkers or, in some cases, the "general market." All they do is consume content and information. They Google everything, ask their peers and friends for recommendations, read G2 reviews, and rarely create content. As a result, they are highly influenced by the 1% and the 9%.
The 1:9:90 Model of Influence works exceptionally well when looking for topical-based influencers, such as the top cybersecurity influencers or an audience talking about digital transformation. Since the model uses reach, relevance, resonance, and reference mentioned above, the common denominator for building an influencer list is the actual topic being discussed, which is relevance.
Another way to find influencers is to build an audience of potential customers. You may also want to include existing customers as well. For example, if you were marketing to software developers, you would build an audience and then mine the data to see who influences them. Nine times out of ten, it's not who you think it will be. This is probably the best way to find the most relevant and impactful influencers for any brand and small business.
Integrating B2B Influencer Marketing Campaigns Across All Media
There are several ways to integrate influencers into an influencer marketing campaign and program:
Start with Organic Influencer Engagement
As previously mentioned, influencer relations are closely aligned with traditional media relations. The approach typically involves sending influencers certain products or giving them instant access to executives, product managers, or a piece of software. And then hope that they create 2-3 social media posts, record a video on TikTok, write a blog post, and then tell all their friends through a series of content creation and posting on their social channels. This is a solid influencer marketing strategy for consumer brands and should always be included in a more extensive marketing campaign.
Organic influencer engagement is taking it one step further, but it's pretty easy. It involves following influencers, adding them to a Twitter list, subscribing to their blogs and YouTube channels, sharing their content, tagging them, and Retweeting their content. But, again, minimal effort or participation is needed, and it costs nothing. That's it.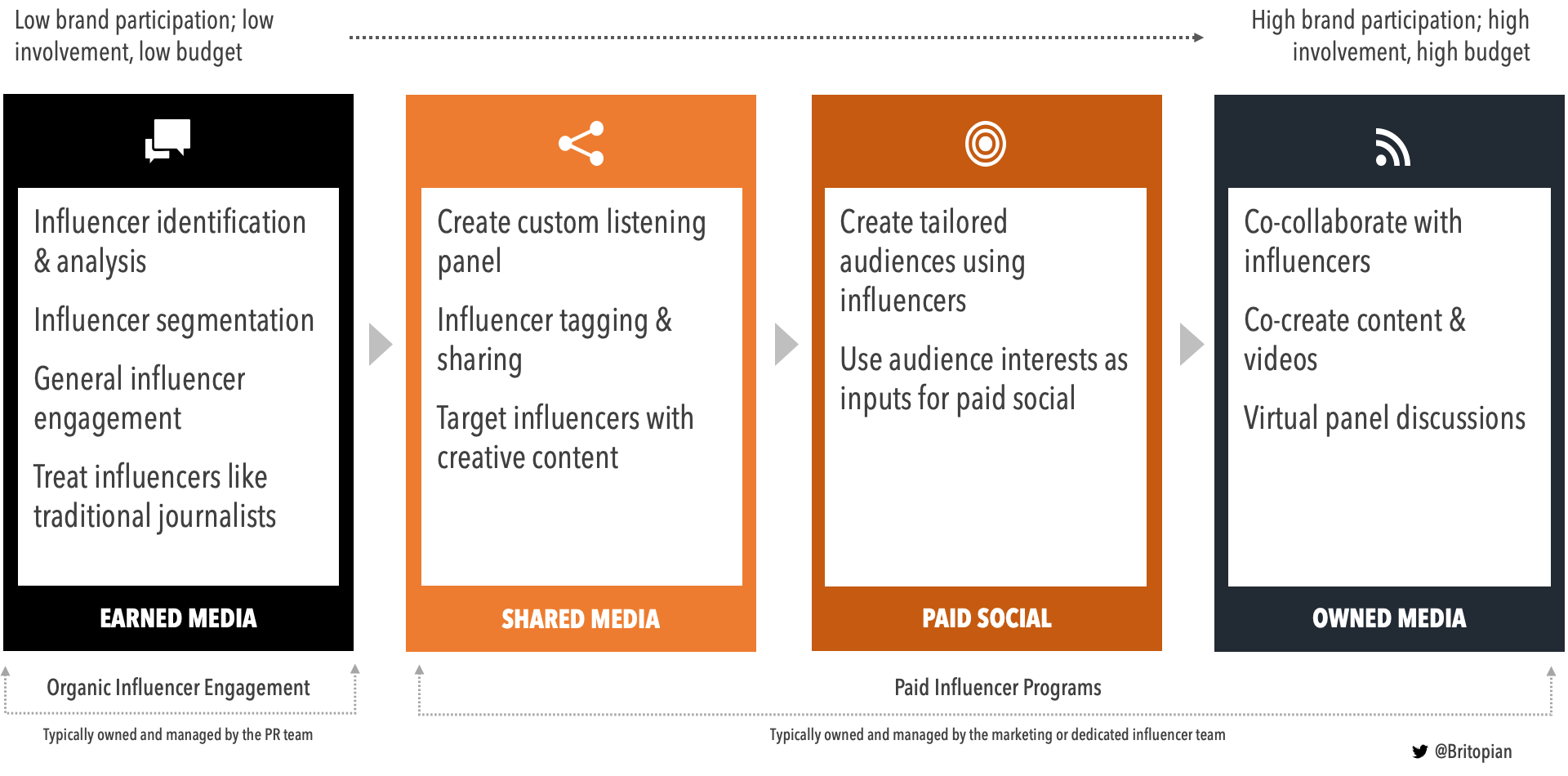 Real-time Influencer Content Engine
This approach can replace all organic social media if it's done right.
Organic influencer marketing combines data & analytics with content marketing and storytelling that positions your brand at the center of relevant conversations with people that matter.
You'll need to identify the most impactful B2B influencers using the 1:9:90 Model of Influence. The number of influencers will depend on your goals, but it's typically between 25 and 200.
You'll want to add the influencer's social handles into a real-time listening panel and create filters using the important topics and keywords to your business.
This is where the engagement starts, but it's more than just following influencers on social media and liking their content. It's about making the influencer the hero of the story and giving them credit for their perspective.
At the same time, it serves as an opportunity to provide unique context on essential topics to your business. It's a form of thought leadership that lets influencers take the lead, supplemented with a creative digital asset (animated video, gif, static image) and promoted to a larger, influential audience.
Once you identify the right influencers and add them to a real-time listening panel, the content engine works something like this: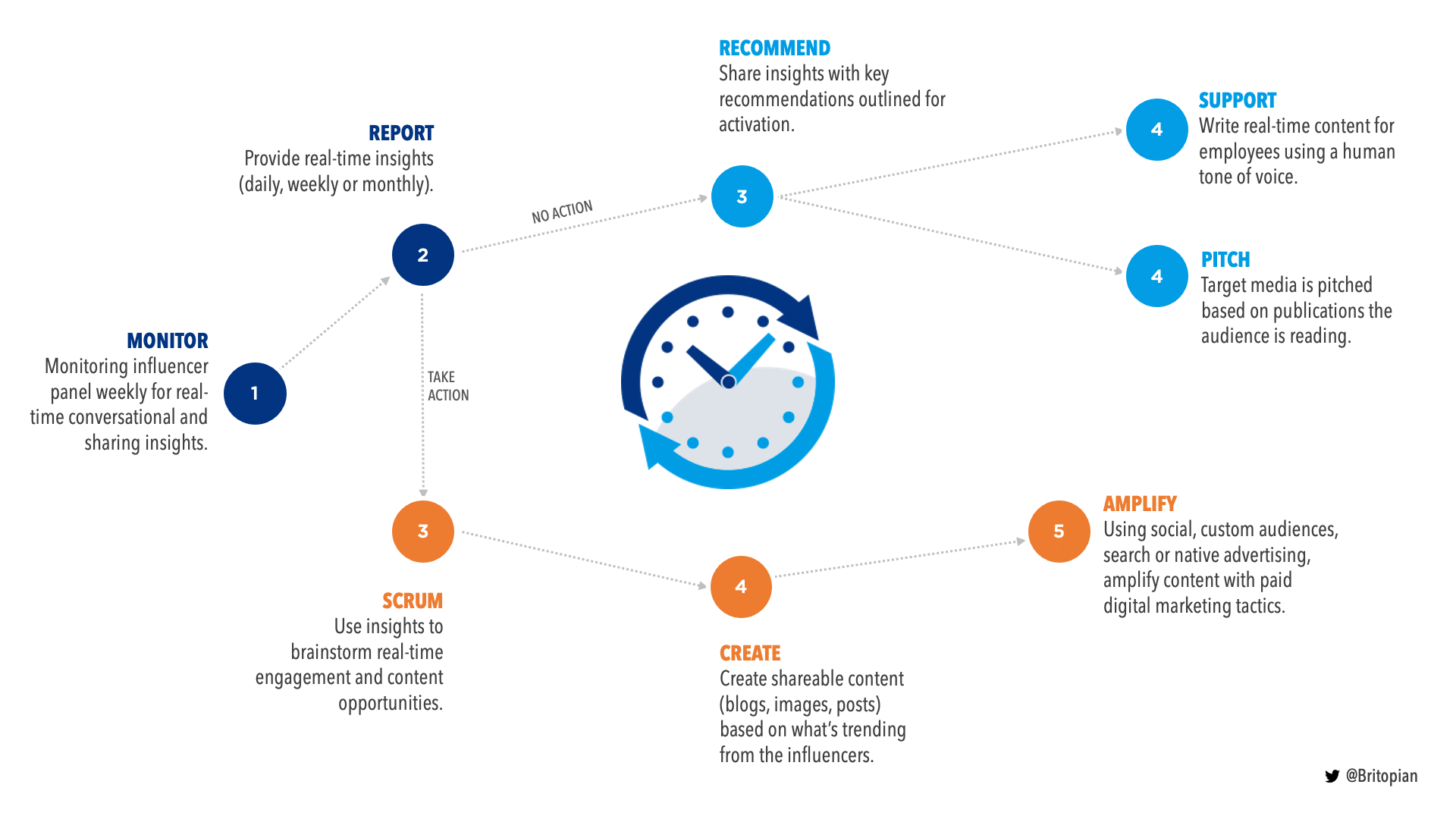 Two paths can be taken based on your marketing strategy. The first path requires no action other than reporting and making recommendations. The second path requires immediate action to activate the real-time content engine.
Reporting, Recommendations & Influencer Insights
Monitor the influencer conversations in real-time to see what's trending.
Provide daily, weekly, or monthly influencer insights.
Recommend activation opportunities based on the insights.
Provide content recommendations for employee advocacy programs and executive activation for employees and executives.
Content Activation
Monitor the influencer conversations in real-time to see what's trending.
Provide daily, weekly, or monthly influencer insights.
Scrum with analysts, creatives, community managers, content strategists, and paid social experts to brainstorm influencer content and activation opportunities.
Create shareable digital assets, usually animated videos, GIFs, or digital assets. In some cases, a blog post could be produced.
Post & amplify the content with strategic paid social targeting larger audiences.
The goal of real-time influencer engagement isn't to be relevant to everyone. It's to be highly relevant to your audience. For example, everyone remembers the Oreo Tweet in 2013 during Super Bowl XLVII. Since then, many brands have tried to "hijack" cultural moments to insert themselves into an existing narrative and reach a broad audience. Sometimes it works, but most times, it doesn't.
This is where real-time listening to influencer conversations becomes valuable. Rather than trying to align your brand with everyone, this approach leverages the target influencers that are most important to drive relevance with your brand. As a result, this approach delivers significant value to influencer marketing for B2B brands.
Paid B2B Influencer Marketing
A paid B2B influencer marketing campaign can guarantee that content will reach the desired audience. Unfortunately, when COVID-19 happened, B2B and technology brands had to cancel customer and industry events, which crippled their sales pipeline. As a result, they had to innovate and continue to do so. Below are four ways to activate influencer programs virtually and still generate the same level of business impact.
1:1 Topical-Based Interviews: Pre-recorded or live conversations between influencers and executives or subject-matter experts discussing technology, trends, and predictions. There are several ways to do this. The discussion can be live-streamed or pre-recorded and shared at a later date. This content is effective if the discussion is educational and contributes to the larger industry conversation.
Collaborative Content: Co-creation of long-form digital assets where influencers provide unique perspectives on a topic or trend. This content can be gated and used to drive leads. O, it can be used more for thought leadership. Whenever an influencer co-collaborates on content creation, they will always want to share the asset across all of their channels.
Guest Blogging: There are two ways to think about guest blogging. One approach is to invite influencers to write a blog post on the corporate blog and give them complete editorial control of the content. This process would include asking the influencers to share the post on their personal social media channels. The other approach is asking influencers to write a blog on their social media platforms and giving them specific instructions on where to place hyperlinks to the corporate website. This method will have a long-term positive effect on the organic search results.
Virtual Panel Discussions: Pre-recorded or live conversations between influencers, partners, and executives discussing trending business topics of the day. The content can be cut into smaller digital assets for distribution on brand channels and given to influencers to share on their channels.
Social Chat Activation: Enlist influencers to moderate and participate in planned chats about a specific topic or trend in technology. Seed all questions with participating influencers, ensuring an adequate and timely response. Like the above, the content can be cut into smaller digital assets for distribution on brand channels, given to influencers to share, and promoted with paid media.
The Integration of Employee Advocacy & B2B Influencer Marketing
Employee advocacy is a marketing program meant to train, deploy, and support employees to participate in industry-related conversations, promote and defend the brand and build personal thought leadership. In this context, employee advocacy accounts for employees who work in specialized job functions, executives, and the sales team.
We already know that the B2B buyer spends a lot of time online researching products and services and participating in social media discussions. They are consistently seeking out third-party validation throughout the entire buyer journey. They are very active on social media and trust peers and colleagues more than in marketing.
Innovative brands integrate employee programs with B2B influencer marketing by facilitating strategic technology discussions on public social media channels like Twitter and LinkedIn or within branded communities, similar to what SAP created years ago and the recently launched Brandwatch Community.
The result is a fruitful conversation seen and participated in by influencers, buyers, and other technology community members. Moreover, these conversations are also indexed in Google and have a lifespan of forever.
Additionally, there is a practice called executive and influencer mapping. It's very similar to the real-time influencer engagement mentioned above, but it comes from the executive social media profile instead of the activation from branded channels.
Using Influencer Analytics to Inform a Content Strategy
Below is an example of using influencer analytics to identify the most influential people talking about data science. Below, you'll see Kirk Borne's influencer profile. He is one of the most influential data scientists on the planet. You'll also notice several data points representing different variables about Kirk's topics the most.
The most critical data point supporting Kirk's status as an influencer is reference, as mentioned above. In 2019, he was mentioned well over 176K times by a social listening panel of 10K self-identified IT decision-makers. This means that the resonance of his content over-indexes against a very influential ITDM audience.
Influencer mapping is more than just a beautiful data visualization. It's a critical approach that maps the connective tissue of a group of influencers. It visually shows relationships of data that you couldn't see in an Excel document. This data type can surface new B2B influencers, narratives, topics, and audiences.
Influencer mapping can be done in several ways, depending on your wants. In some cases, the connection can be based on affinities, interests, and characteristics – what brands they follow, what industries they work in, or where they live. It can also be found on topics – what themes, narratives, and issues they publicly discuss. It can be based on audience – which groups of people they influence and the connection points of each audience. Lastly, it can be done to identify new individuals to identify "who" is influencing your group of influencers.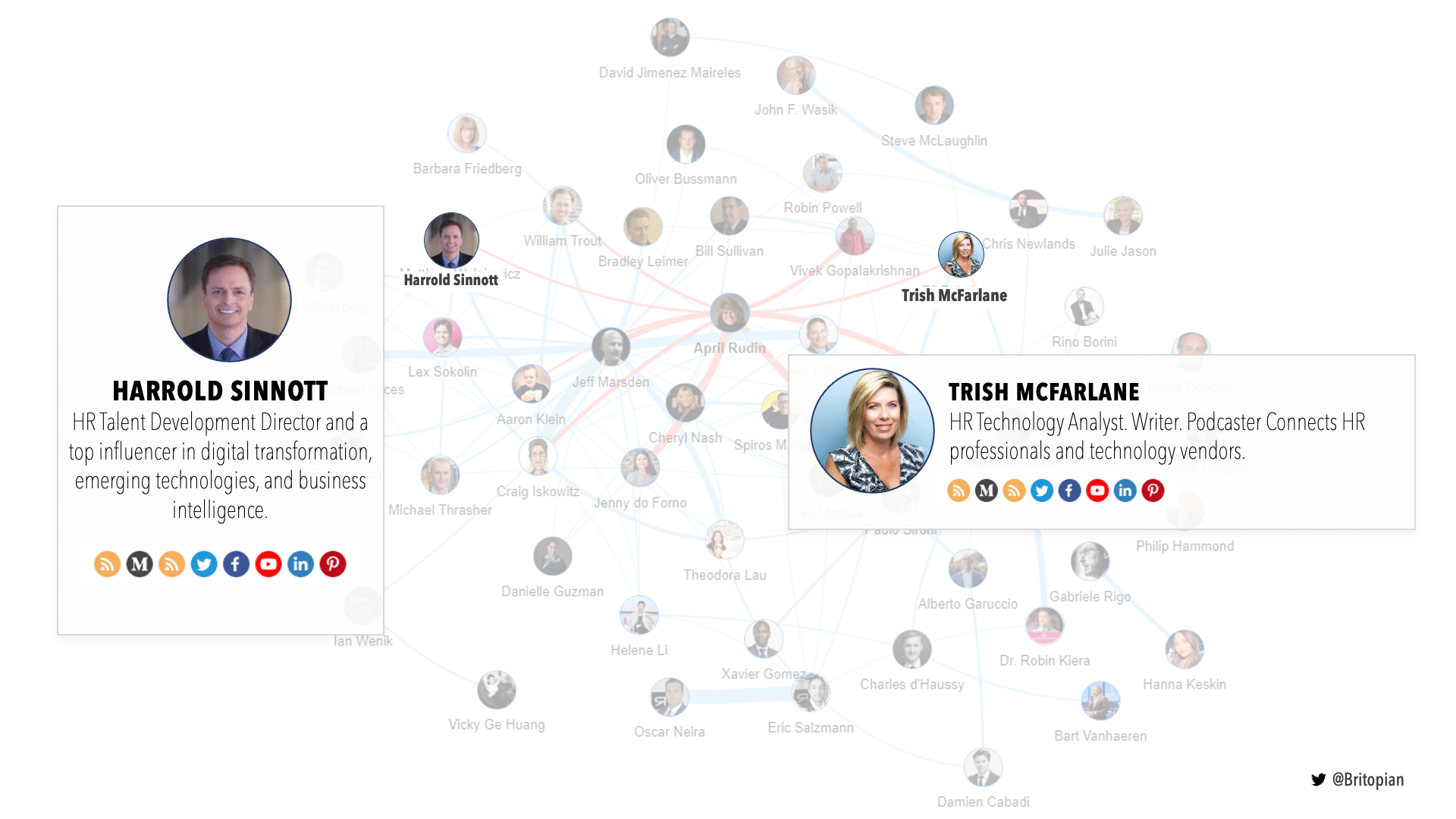 Once you've identified the top influencers, focusing time and effort on influencer analytics and research is important. It involves adding the influencers into a real-time listing panel and mining the conversations to understand the topics most important to them. Looking at historical discussions is critical because it can help spot older trends and predict new ones. Influencer intelligence can surface several actionable insights like the following:
Conversational trends can help uncover what topics of conversation have become more or less important to this group of influencers.
Conversational trends in real-time (mission-critical for organic influencer engagement) will show what trending topics are happening among the influencers.
Conversation analysis will uncover the hidden narratives and topics that B2B influencers care about (e.g., yes, artificial intelligence is a hot topic, but what exactly is the context).
Sentiment analysis will show how influencers feel about products, brands, technology news, and specific issues that may be culturally important.
Here's an example of an influencer trends analysis that tracked ten security influencers and their conversations over 12 months. You'll notice the fluctuation in specific topics and how they increase/decrease in certain time frames.
Influencer marketing data like this will require you to access the B2B influencer marketing platform. Please don't invest in the first vendor you hear about or come across in a Google search. You'll want to ensure that you invest in the right influencer marketing software to meet your business requirements and help scale your program when ready.
Think of a real-time listening panel as a custom search engine. For example, in Google, when you type in a query and hit "Enter," you will get the most relevant results back based on your search term. A listening panel works the same way. But in this case, when you type in a query, the results will be precisely what the influencers say about the keywords and phrases you are searching for.
Most social media monitoring tools can do this. So, once you find the top influencers, you add the social handles to a dashboard (some social platforms call it a query) and use filtering to mine the data. This methodology is also effective for real-time content marketing and audience analysis.
Choosing the Right B2B Influencer Marketing Platform
There is a shortage of B2B influencer marketing platforms in the marketplace. Sadly, most software is meant for influencer programs for consumer brands. There has been very little innovation in this space.
For B2B and technology brands, there are three software platforms that I would recommend taking a look at since their capabilities most closely align with B2B:
Traackr used to have the best B2B influencer capabilities available in the market, and they continue to add new features. They can search for influencers in several different ways:
Bio search. How influencers self-identify within their social profiles.
Content search. What topics and narratives are top of mind.
Bio & content search. Combing the two is where it gets powerful. Imagine looking for influential developers talking about DevOps or security. The bio search would be something like "programmer, engineer, software developer," and the content search would be #devops, #infosec, #secops, and #devsecops.
By audience. Looking for influencers that reach audiences interested in a specific topic like business or technology.
All of the above. Bio, content, and audience are compelling and typically return unexpected influencers.
On a scale of 1-10 for reporting, I would rank them a 7. There's not a lot of flexibility on the data and no filtering. One major drawback is that Traackr doesn't export influencer profiles until they are added to a project.
Onalytica is similar to Traackr, with a few differences. One, they support complete Boolean logic when searching bios and content. This is a massive differentiator for power users like myself but may alienate those new to data and analytics.
Second, their analytics and reporting suite is a lot more robust. The data can be sliced in many ways, allowing for multiple cuts and exports of the data. They also allow users to export influencer handles within the discover portion of their software. They also recently launched an influencer marketing marketplace that connects brands to B2B creators.
Audiense is more of an audience intelligence platform. The most effective way to find relevant and impactful influencers is to build an audience and see who influences them. You can do this with Audiense.
Differences between B2B and B2C influencer programs
Here's a snapshot that illustrates some of the main differences between B2B and consumer brand influencer programs:
Here are a few articles that might help put brand influencer programs in context:
For videos about influencer marketing, please subscribe to my YouTube channel. I have over 100+ videos that deep dive into these topics and provide actionable insights.