Scroll down for the list of blockchain influencers.
To identify these influencers, we use several data points that help us understand who has authority in various topics, in this case, blockchain.
Blockchain is still a nebulous concept for many individuals. The below diagram represents how blockchain works, and if you're interested, there's a complete guide and handbook here if you want to learn more of the specific details.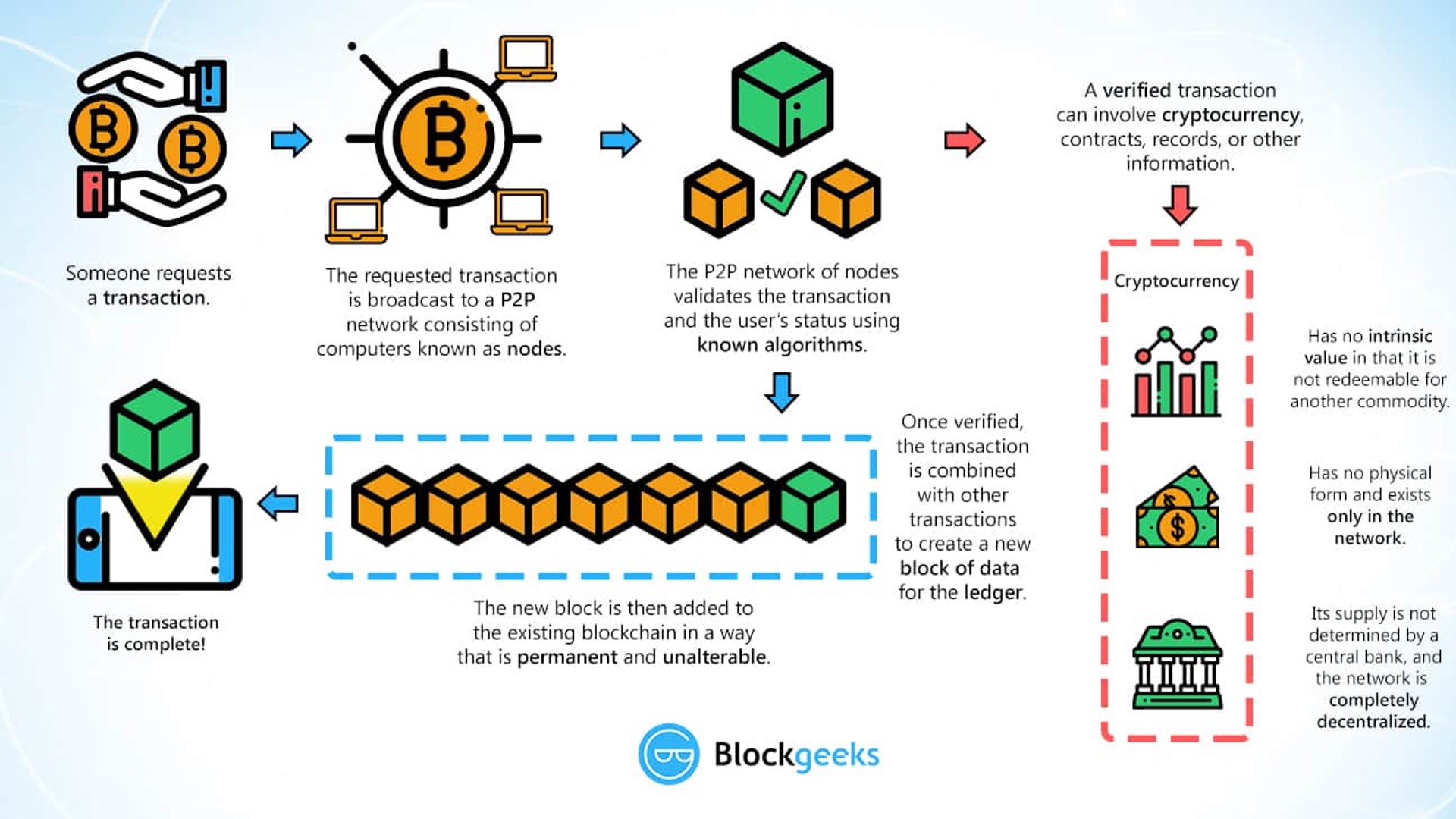 It's common knowledge that measurement influence is typically based on reach, relevance, and resonance.
Reach is how large the influencer's audience is across all of their digital channels.
Relevance is a measure based on the volume of usage of specific keywords. If someone has an influence on a topic like a blockchain, they are most likely talking about it a lot through all of their digital channels. I like to call this topical authority.
Resonance is a fancy way of saying engagement. When an influencer publishes content about a specific topic, is it resonating with their audience? An excellent way to find that out is through engagement. How often is content being shared, liked, and commented on across the Internet?
I like to add one additional layer of measurement. I call it reference. It's a process that uncovers how often a third party references an influencer. The data source can be anything that makes sense to you–traditional media, other influencers, or a specific audience. Often, influencers are asked to comment on particular topics when traditional media is writing an article about it. That is reference. It could also be how often a specific audience you were trying to reach mentions and follows the influencer in question.
If you follow blockchain influencers, the below individuals may not be what you expected. I would argue that everyone has some level of influence, depending on which data points are most important to you. In either case, I would highly suggest that you follow these influencers and perhaps analyze what they are talking about as it relates to blockchain. I created a Blockchain influencer Twitter list for you for convenience. It's integral that you include an influencer program as a part of your data-driven marketing program.
Sophisticated marketers spend a lot of time listening and learning about specific audiences. If you plan on launching an organic influencer marketing program, I would suggest expanding the list above to include more blockchain influencers and then doing a conversation analysis on various Blockchain topics. This data can inform the narrative of your paid program and campaign.
Here are a few other influencer lists in case you are interested:
I put together some helpful tips on how to work with technology influencers. You can use this as a blueprint when you are identifying the most relevant influencers and launching your program.
---
Take a look at these B2B social media marketing best practices. It's a guide that will  help you use data and document the right plan to grow your business on social media.
Please consider subscribing to my influencer marketing YouTube Channel where I post 2-3 videos per month or connect with me on Twitter or LinkedIn.