Scroll down to see the list of DevOps Influencers.
In simple terms, DevOps removes the barriers between siloed development teams and IT Operations. Under this model, software developers work closely with operations throughout the entire software development lifecycle.  The graphic below summarizes the DevOps model in a pretty simple way.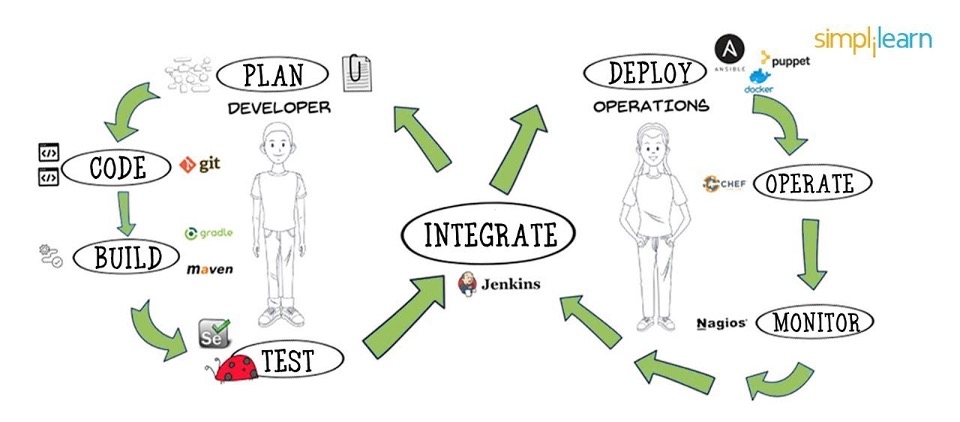 The below DevOps influencers are a diverse group of individuals ranging from researchers, analyst, reporters, and developer advocate. When measuring influence, it's critical to first understand what your goals are and what you intend to do once you've identified the right group of people. If you work in public relations, the journalist might be the beginning of a media list. If you work in research, you might just analyze their conversations, reports or articles being published.
In either case, influence is subjective and everyone has their own version or approach when identifying which influencers to work with. The most common way to identify influencers is measuring reach, resonance and relevance:
Reach: Community size.
Resonance: Engagement.
Relevance. Topical authority.
I like to use one additional measure of reference. It basically looks at whether or not the influencer is referenced by other influencers in the marketplace. Here is a Twitter list of DevOps influencers below.
When going through the process of identifying influencers, it's critical to do more than just reference someone else's list. I would suggest using this list as a starting point, and do your own analysis using a combination of software and math. I recommend Onalytica, as they are the leading influencer software provider. Or, you can try and get access to a free influencer research tool to start the initial process of building your list.
Here are a few other technology influencer lists that have been manually curated in case you are interested:
From a media standpoint, DevOps.com, ZDNet, AiThority and The Enterprisers Project are the leading publications driving DevOps coverage globally.
---
Influencer Marketing Resources
Below you will find some helpful content for you as begin to take your B2B influencer marketing journey. There is not a lot of really good information available on the Internet, so I've tried my best to consolidate what I think is most important.
Here is a quick video and write up of some of my thoughts about the influencer marketing software available on the market today. The vendors that I typically write about are more for B2B and enterprise companies versus consumer brands. However, all brand influencer programs have some commonalties that you can learn from.
Measuring influence needs to be a priority. Remember, it's not just about measuring the performance of an influencer campaign, but also how you are using data to identify the most relevant influencers for your business.
Here are five influencer marketing trends that you should keep top of mind moving into 2022. Influencer marketing is a huge business and it's only growing.
It's not good practice to manage influencer programs in a silo. It's better to ensure that your program is fully integrated into your larger B2B social media marketing plan.
Please consider subscribing to my influencer marketing YouTube Channel where I post 2-3 videos per month or connect with me on Twitter or LinkedIn.