Scroll down to see the list of DevOps Influencers.
In simple terms, DevOps removes the barriers between siloed development teams and IT Operations. Under this model, software developers work closely with operations throughout the entire development lifecycle.  The graphic below summarizes the DevOps model in a pretty simple way.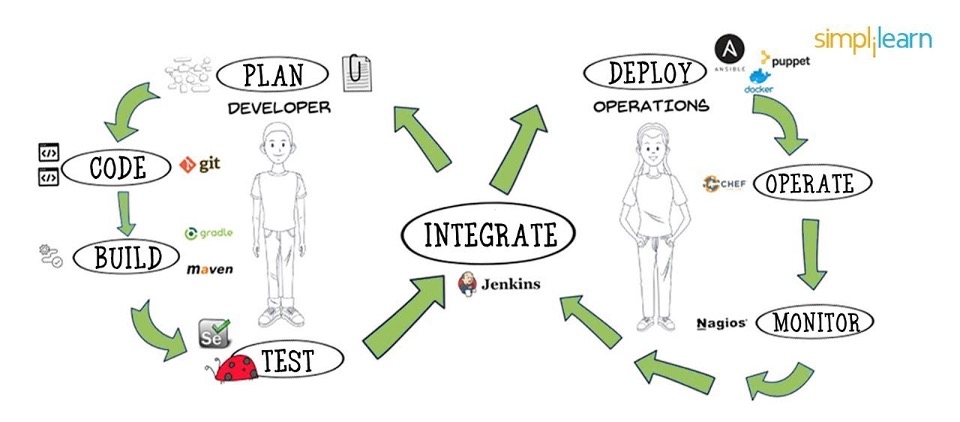 The below DevOps influencers are a diverse group of individuals ranging from researchers, analysts, reporters, and developer advocates. When measuring influence, it's critical to first understand what your goals are and what you intend to do once you've identified the right group of people. If you work in public relations, the journalist might be the beginning of a media list. If you work in research, you might just analyze their conversations, reports, or articles being published.
In either case, influence is subjective and everyone has their own version or approach when identifying which influencers to work with. The most common way to identify influencers is by measuring reach, resonance, and relevance:
Reach: Community size.
Resonance: Engagement.
Relevance. Topical authority.
I like to use one additional measure of reference. It basically looks at whether or not the influencer is referenced by other influencers in the marketplace. Here is a Twitter list of DevOps influencers below.
When going through the process of identifying influencers, it's critical to do more than just reference someone else's list. I would suggest using this list as a starting point and doing your own analysis using a combination of software and math. This would be the first step of influencer relations. I recommend Onalytica, as they are the leading influencer software provider. Or, you can try and get access to a free influencer research tool to start the initial process of building your list.
Here are a few other technology influencer lists that have been manually curated in case you are interested:
From a media standpoint, DevOps.com, ZDNet, AiThority, and The Enterprisers Project are the leading publications driving DevOps coverage globally. See here for the best practices on how market to software developers.
---
I really hope you enjoyed this video. I do my best to create content that's actionable and provides value to the work you do.
Please consider subscribing to my YouTube channel; and be sure to hit the notification button so you can be notified when new videos are uploaded. You can also connect on Michael Brito's social media channels if you like.