Understanding your audience is the most critical thing you need to do in marketing.
Why it matters:
Relatability. People relate to people. The more you know about your customer, the better experience you can provide.
Loyalty: Strong experiences result in customer loyalty and brand love. If you love your customers, they will love you back. And tell others too.
Discoverability: Replicating the same language and vernacular of your customers will result in content discovery in search and social networks. People search the same way they talk.
See here for the list of Audience Analysis Software. The list was last updated on 3.6.2022.
---
How can Audience Analysis Software Help You?
Audience analysis software can provide deep insights into your customers' preferences, needs, and behaviors. There are a few different ways these audience platforms work, analyzing affinities and conversations.
Analyzing affinities is breaking down the percentage of the audience that follows a brand, topic, category, or industry. For example, if 45% of an audience follows several brands in the travel space, you can say with confidence that they have an affinity for travel. Travel brands might include hotels, airlines, travel media outlets, travel influencers, or travel review sites.
Analyzing conversations is observed behavior of what certain individuals share publicly on their social media channels. This data can give you insight into purchase intent and brand loyalty. It can also tell you what different audiences are reading and what's top of mind for them topically–sports, politics, traveling, technology, and more.
An audience can be defined however you like–B2B Decision Makers, Gen Zers interested in hip-hop music, Architects, Physicians, or the top 25 travel journalists. Audience software is needed to uncover some of these insights and dig deeper into their behaviors.
However, audience intelligence software will only provide 30 to 40% of the work. The rest requires human curation audience analysis to layer in cultural relevance, context, and historical insights.
Audience Intelligence Tools Provide More Insights
There was a time when social intelligence was the next big thing. Big brands were investing in social media monitoring tools to understand the sentiment of people mentioning their company online. Some used social tools like BuzzMetrics to monitor "brand mentions" and "share of voice" over time. Then came the social listening darling Radian6, revolutionizing social intelligence, brand engagement, and audience analytics.
The platforms required highly complex Boolean searches to retrieve the most relevant results. For example, this approach would yield any mention of any keywords in a query within news articles, blogs, forums, and on social media-both negative and positive sentiment.
This is still important today, especially to better understand the "market conversation" about a brand or a topic. However, there's another way to uncover data insights using audience analytics – actual people, your customers, prospects, or whoever else you care about. This approach excludes random people, bots, and trolls that may share an article without reading the headlines or the anonymous people commenting on a Reddit post or Tweet.
An Approach to Audience Analytics That Works
This approach works, and it's simple. You build a social media audience first and then use software to analyze their conversations. This is called audience intelligence, and it looks something like this:
Define & build the audience: Using boolean logic, build an audience based on specific parameters such as bio search, content shared, followers of a hashtag or brand, or topical relevance.
Listen to the audience: Listen to what's top of mind for the audience to understand trending topics, media consumption, or what's keeping them up at night.
Target the audience: Turn on the content engine, produce creative content in real-time, and promote with highly targeted paid media.
Audience intelligence can be used for general customer insights & research or for building a buyer persona, a visual representation of your audience. Several audience insights can be gained from these types of analyses, including what keywords they use the most (topical relevance); what media publications they are reading and sharing (media consumption); what channels they prefer to use, and why (channel preferences), and their interests and characteristics that make them unique from everyone else (e.g., the audience might like using Spotify versus Pandora).
I get asked all the time about which audience analytics platforms are the most effective, and which ones I recommend. Below is my unbiased opinion based on my personal experience with each platform.
---
Audience Analysis Tools
Audiense Consumer Insights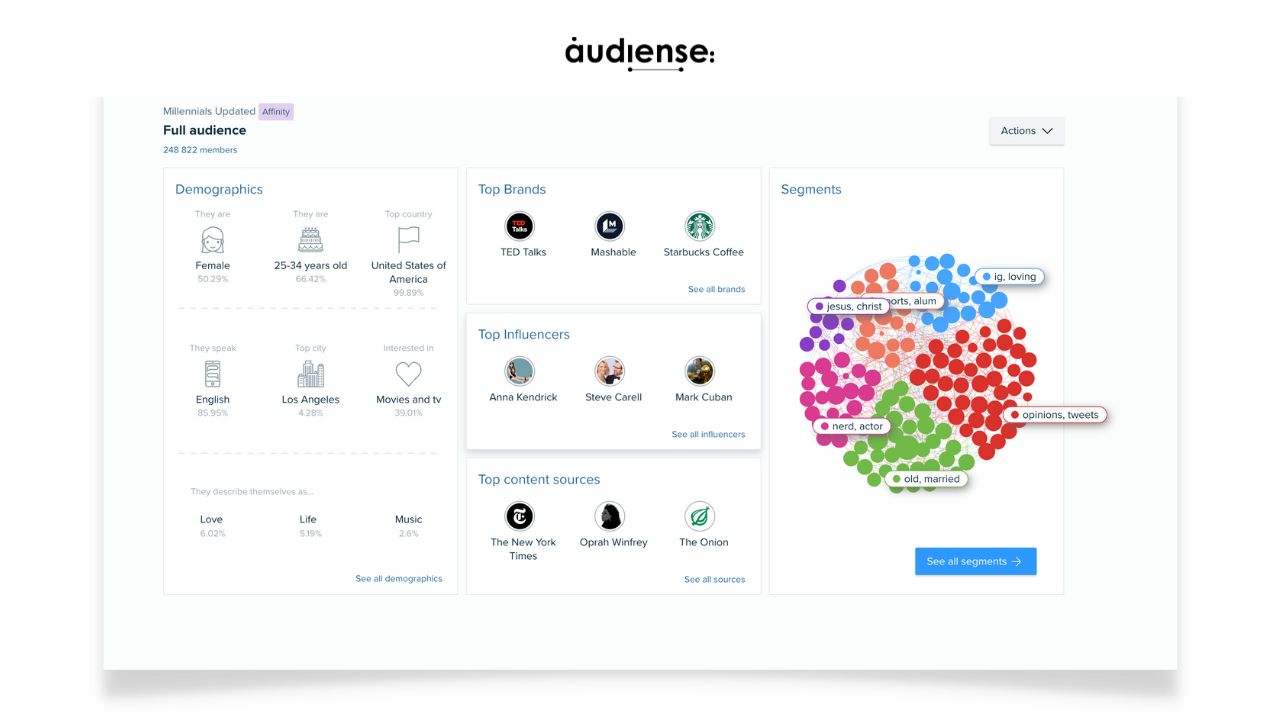 I've been a paying customer of Audiense for several years now. Their audience analytics platform provides one of the strongest segmentation tools for analyzing audiences in the market. You can segment the audience by affinity or how they are connected to each other. In both cases, you can identify, filter, and compare their interests, characteristics, media consumption, and demographics to other audiences. One of their key differentiators is the ability to drill down on each sub-segment.
They have also integrated Personality Insights powered by IBM Watson to discover the personality of specific audiences and Buying and Online habits that can uncover the purchasing influence factors, customer behavior, and online patterns of the audience. They have two different audience products–Audiense Insights and Audiense Connect–which complement each other differently.
One challenge with the platform is that you can't combine content and bio searches when building audiences. It's one or the other. You can watch my video review on G2.
Here's an example of an audience you can build in Audiense:
English-speaking Gen Zers located in the US, interested in sports and technology and have the word "music" in their bio.
---
Infegy Text Analytics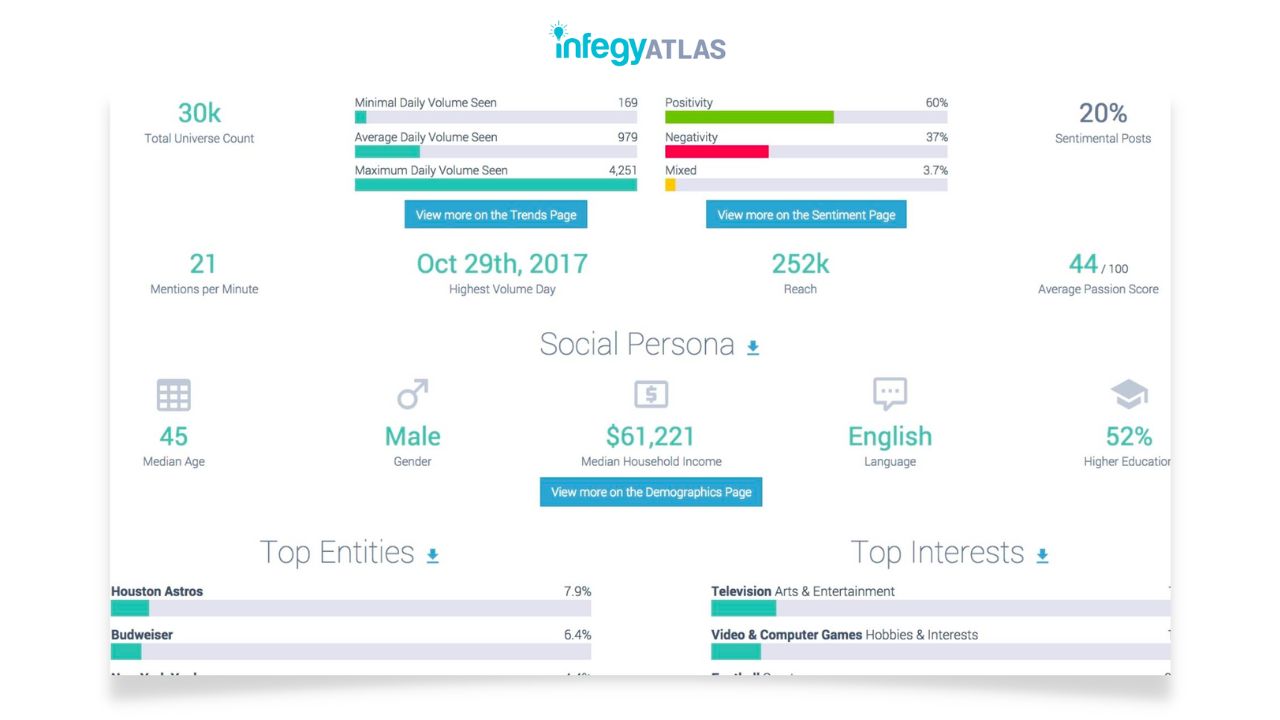 Infegy Atlas is a social media and text analytics platform. Before I became a paying customer, I classified them more as a social listening tool, but that's not an accurate description. They are more of a consumer research and competitive intelligence platform.
The platform thrives more on analyzing and comparing audiences than building them. However, they have "Audience Segments," which must be built by an internal team at Infegy, and it could take 3-5 days to get it done. Also, unlike the other audience software tools, Infegy doesn't show you who the audience members are once you build the query. Other than that, they have one of the best analytics tools on the market.
Here's an example of an audience you can build in Infegy:
English-speaking Gen Zers located in the US, interested in sports and technology, have the word "music" in their Instagram or TikTok bio, and talk about music on each of those channels.
---
Brandwatch Audiences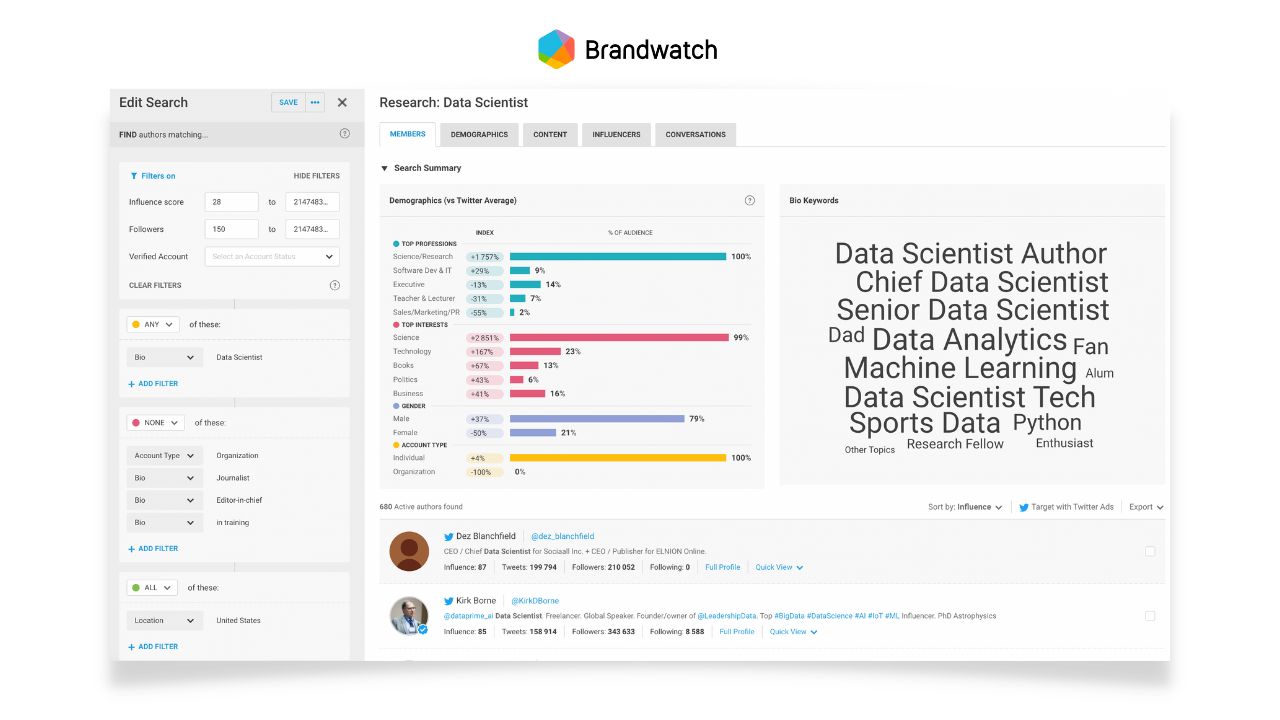 Brandwatch Audiences is one of my favorite audience analytics platforms. It's fast and easy to use, and you can build an audience quickly.
There are several filters and variables you can use to build an audience, including bio search, content search, followers of specific accounts, interests, location, and others.
What makes this platform even better is the ability to migrate audiences into Brandwatch Consumer Research (BCR), allowing you to listen to their conversations for real-time listening and content engagement. They have one of the most innovative audience intelligence platforms in the market.
Here's an example of an audience you can build in Brandwatch:
IT Decision Makers (CIO, CISO, Head of IT, VP Infrastructure) talking about topics like digital transformation, AI, and cybersecurity.
---
Onalytica Influencer Analytics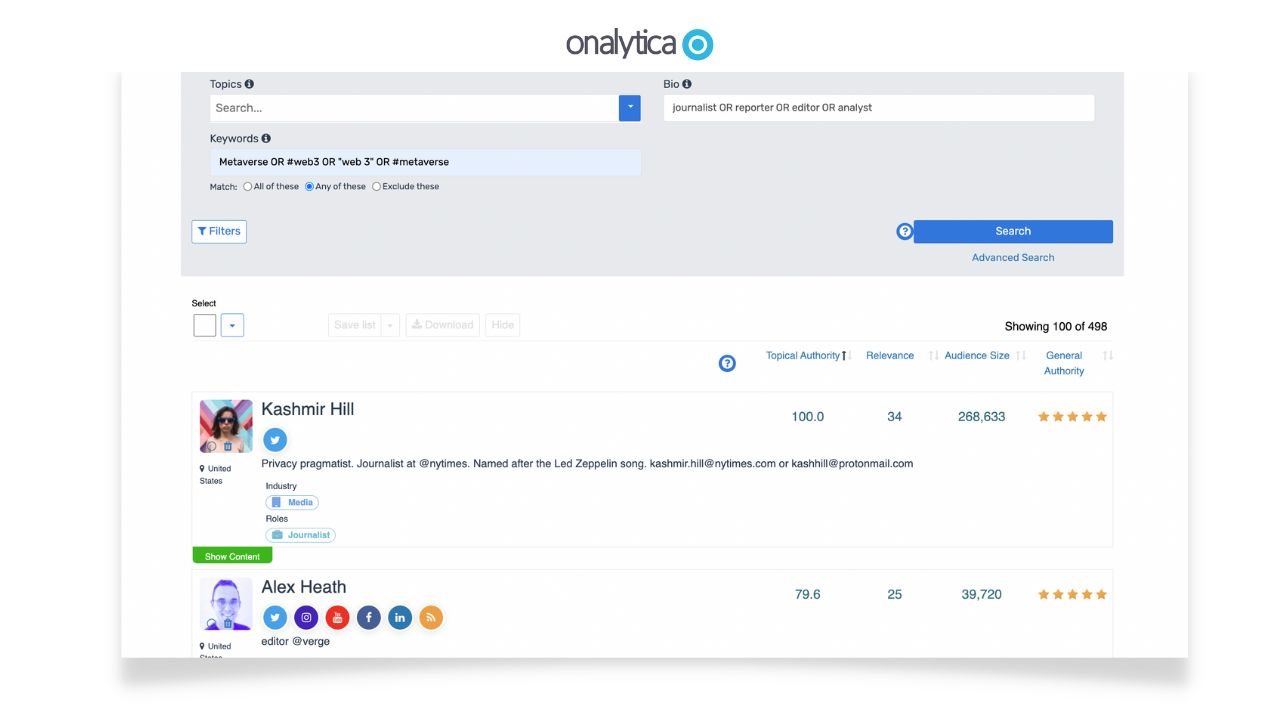 Many consider Onalytica a tool primarily for building a B2B influencer program for tech companies. I find it to be much more than that. They have advanced search functionality that combines a laser-focused Boolean search for bios and shared content. They are unique because they only yield results for those who have published or shared content within the last 180 days. Their ranking algorithm and influencer analytics are second to none and the best in the market.
Once you identify your audience, you can export them into a CSV file, but it doesn't stop there. You can upload them into their IRM-Influencer Relationship Management tool for further analysis. The only disadvantage with the IRM is that you must know precisely what you are looking for. You can search for keywords, topics, brands, etc. The output is a dashboard showing you various data points like a share of conversation, brand mentions, etc.
Here's an example of an audience you can build in Onalytica:
Data scientists who talk about Kubernetes and Python on their social media channels.
---
Buzzsumo Content Marketing Platform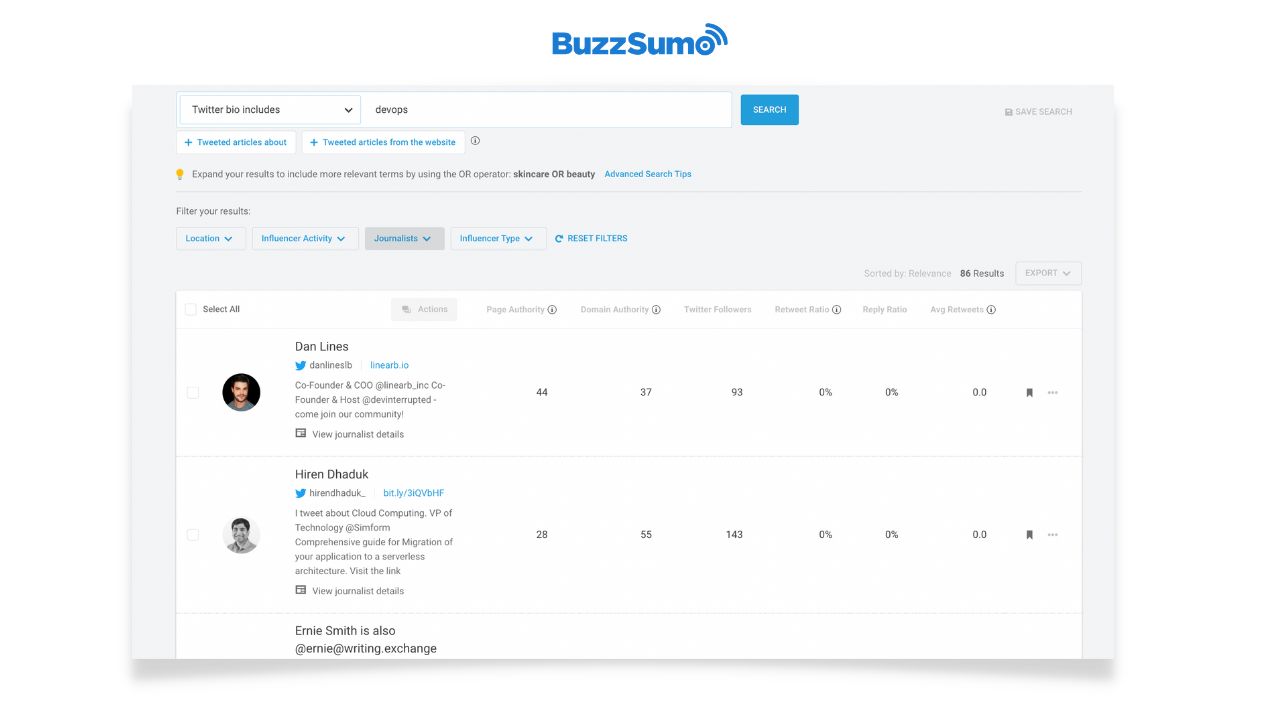 There are a few ways to build audiences using Buzzsumo. Their core product is all about content analysis based on a search query. For example, if I searched for "Artificial Intelligence," the platform would display every article with "Artificial Intelligence" in the headline. It would also show me how many shares each article received on Facebook, Twitter, Reddit, etc.
You can "view sharers" of each article and export the Twitter handles as an audience. Or you can use Twitter bio search or find audiences who have shared an article or shared any article from a specific website. They also have filters to use so you can narrow down your results. There is no further analysis once the audience is identified, so exporting is the only option. Here's a Buzzsumo alternative in case you are interested.
Here's an example of an audience you can build using Buzzsumo:
People who have shared any metaverse article with augmented or virtual reality in their Twitter bio.
---
People Pattern Audience Software
I haven't used People Pattern in about six years, so the following summary is most likely outdated. They have a several million Twitter users database that will allow you to build audiences based on a bio search for keywords, basic demographics, geography, etc. They also allow for uploading Twitter handles and IDs as well.
Their audience segmentation software clusters the audiences into pre-identified segments/personas and will break down the data into various topics like news, media, sports, entertainment, and technology. From what I remember, the only issue is that People Pattern pulls in spam accounts or Twitter handles that haven't been used in years, making some of the data questionable. Also, they only pull in the last 200 pieces of content shared by each audience member, which could be problematic if specific audiences aren't that active.
I spent some time on their website and read that they have built predefined audience segments­­–Parents of golfers, YouTube Influencers, Dentists & Orthodontists, Technology Decision Makers, Gen Z, and Yoga enthusiasts.
---
Affinio Customer Insights Platform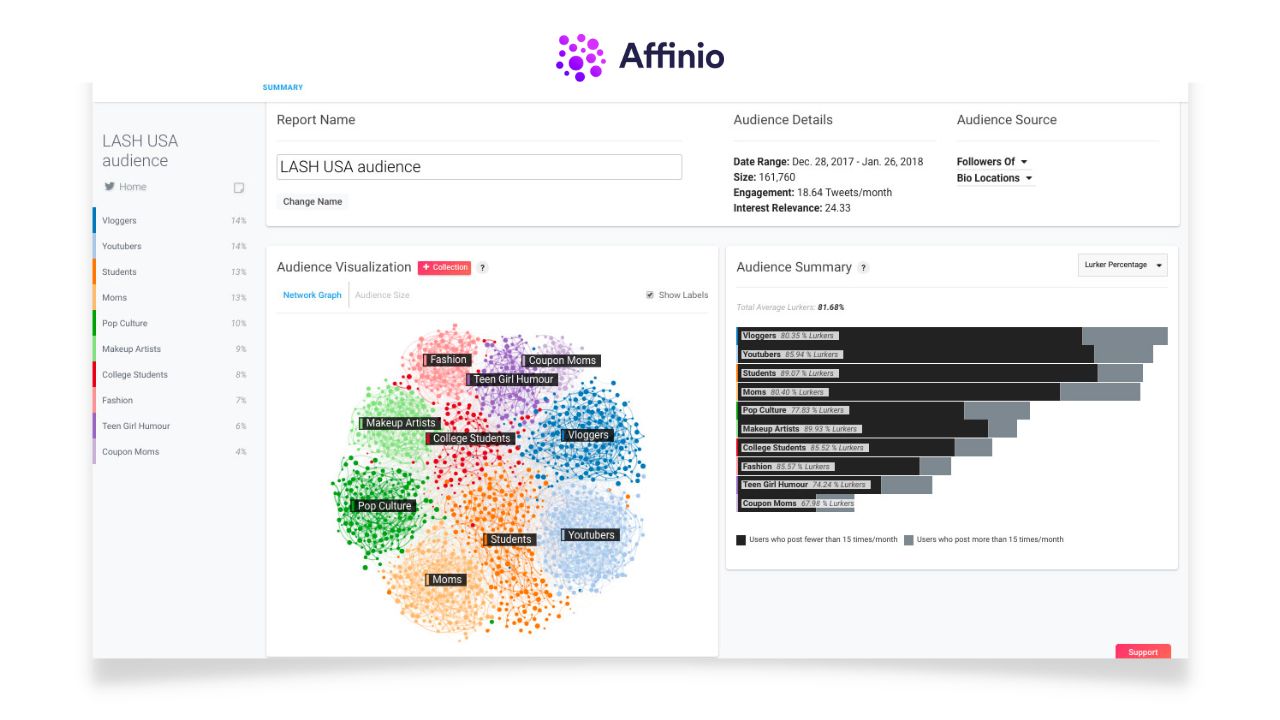 NOW Affinio was recently acquired by NowVertical, but they kept the name for now.
Affinio's audience segmentation tool is one of the more sophisticated on the market. With their software, you can build audiences in various ways. For example, you can find people connected by what they follow, where they live, how they self-describe, or what they say on social media using advanced Boolean or specific URL sharers. You can also upload audiences from a CSV file. Once the audience is built is where the real power kicks in.
Affinio clusters the audience into pre-defined clusters, allowing for further, deep-dive analysis of each audience – brands they follow, celebrities they like, shop, whom they mention the most, which hashtags they use, what they read, and the list goes on. The UI is easy to use for marketers of all skill levels.
---
Khoros Intelligence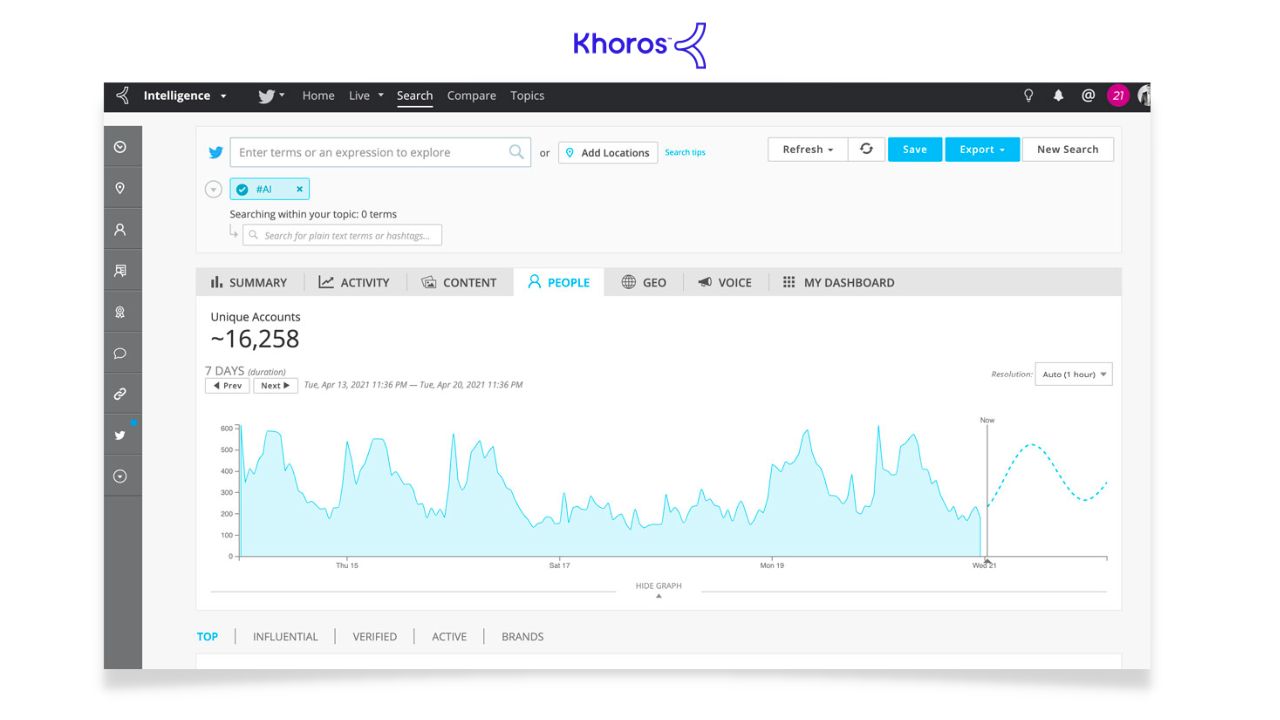 I was an early user of Spredfast Intelligence, but I have not spent much time with the platform over the last 4+ years. I'm unsure what it can and can't do about finding, building, and monitoring audiences.
---
DemographicsPro Audience Insights Tool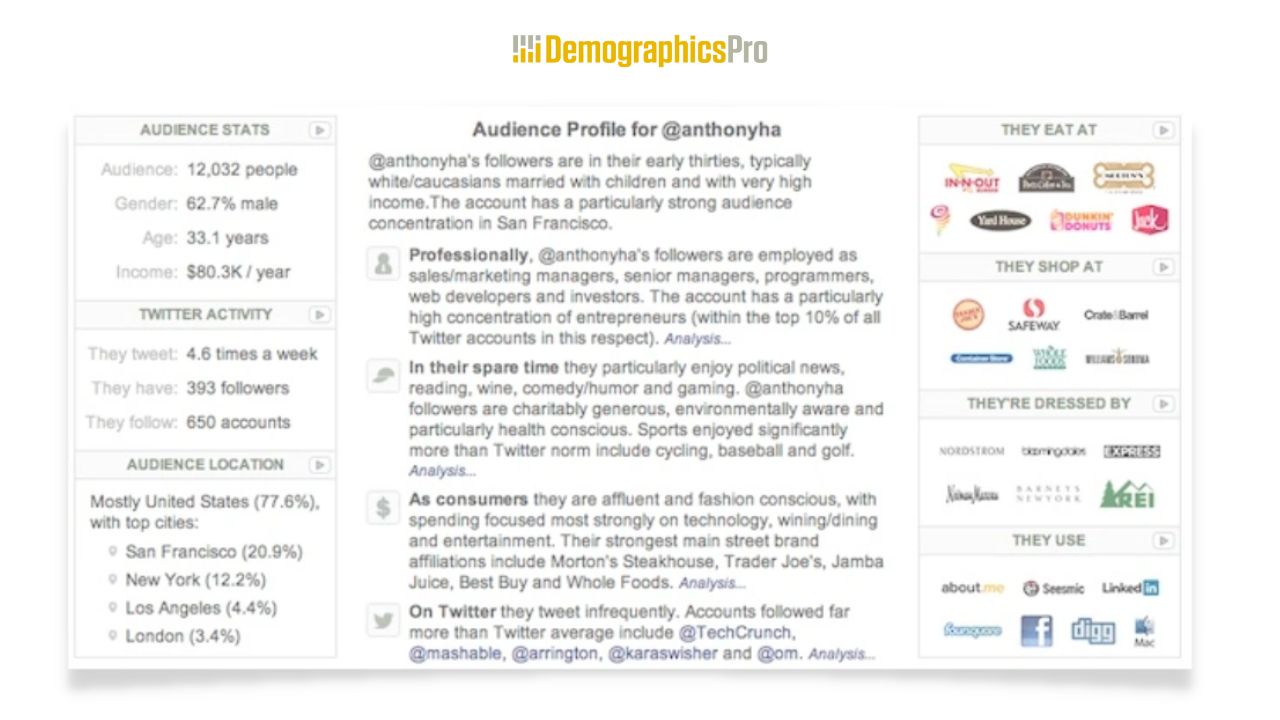 I have used DemographicsPro for years, and it continues to deliver when time is of the essence. It hasn't changed much since then and still looks like Craigs List, but it's still a platform to consider as a part of your tech stack. You can analyze several different audiences, like followers of a brand and hashtag usage, and upload a CSV file of Twitter handles. The results allow you to see what topics and affinities (media, specific journalists, sports teams, technologies, blogs, etc.) your audience over-indexes when compared to the general population.
If you've ever used influencer analytics software like Traackr or Julius, the influencers' audience data is pulled from DemographicsPro
The UI isn't great, but you can get reports delivered through the dashboard, CVS file, or PDF document.
---
Wiland Audience Software for Advertisers
I have never used this software, but I have seen multiple demos and had temporary access as a part of a trial. What attracted me the most to Wiland was their Persona Builder. It's probably not the best audience analysis software, but it does provide insights that most other platforms do not.
Wiland maps billions of customer relationships and interests across social media and ties them to individual-level offline data such as demographics, purchase data, buying styles, automotive ownership, geography, occupation, financial data, and brand affinities. Then, they use artificial intelligence to compare that group to a general index to learn what is unique about the specific audience.
Those insights can be sent to any conversational marketing platform programmatically for audience targeting purposes, and this is the value that Wiland provides to marketers.
---
Helixa Audience Insights Platform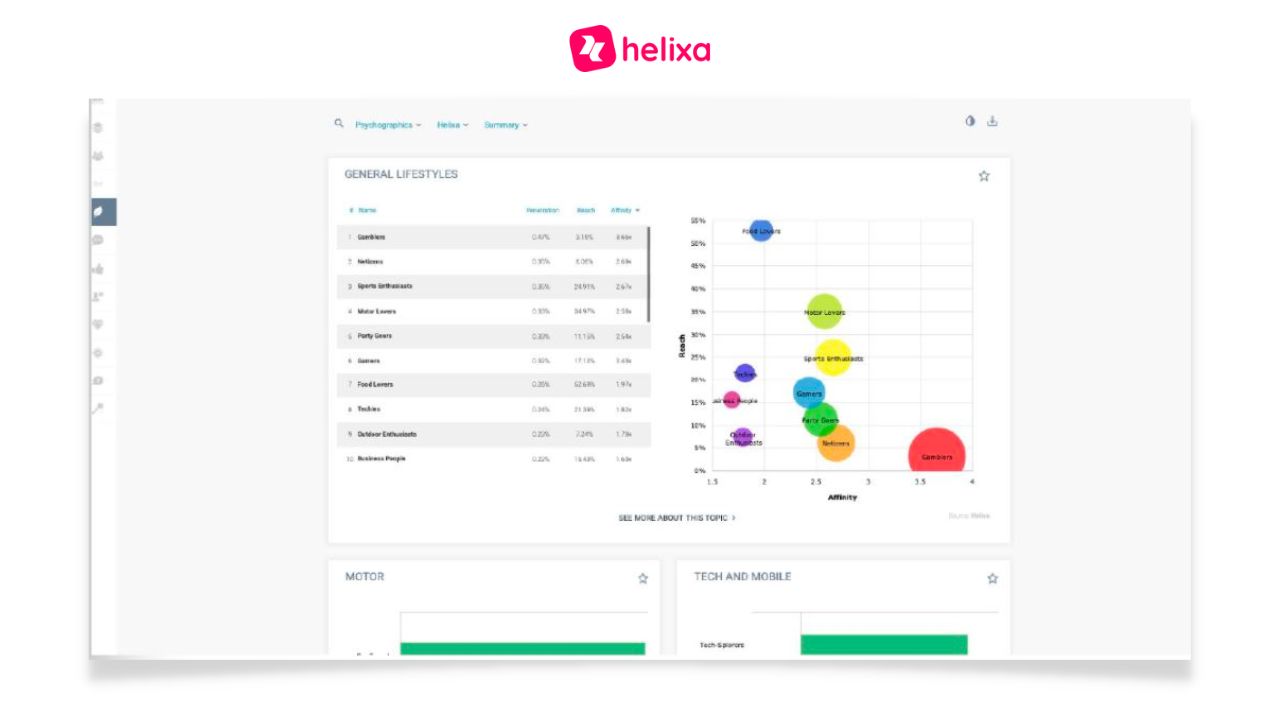 Helixa's audience analysis tool overlays detailed interest graph data onto an existing social media audience to better understand their interests, including media preferences, brand affinities, and what drives them. They also integrate survey data from MRI and Simmons Research to provide a deeper understanding of consumption habits, opinions, and attitudes.
I tested this platform early in 2020, but it took me a while to understand the mechanics of the platform. The UI and workflow are more complicated than most others I have worked with in the past. I am a power user in most technology software programs and can catch on pretty quickly, but I had to get support from their sales team to learn how to build audiences. I've heard some incredible things from a few industry colleagues who use the platform. As with most new technology, repetition is the best way to learn it.
---
StatSocial Audience Insights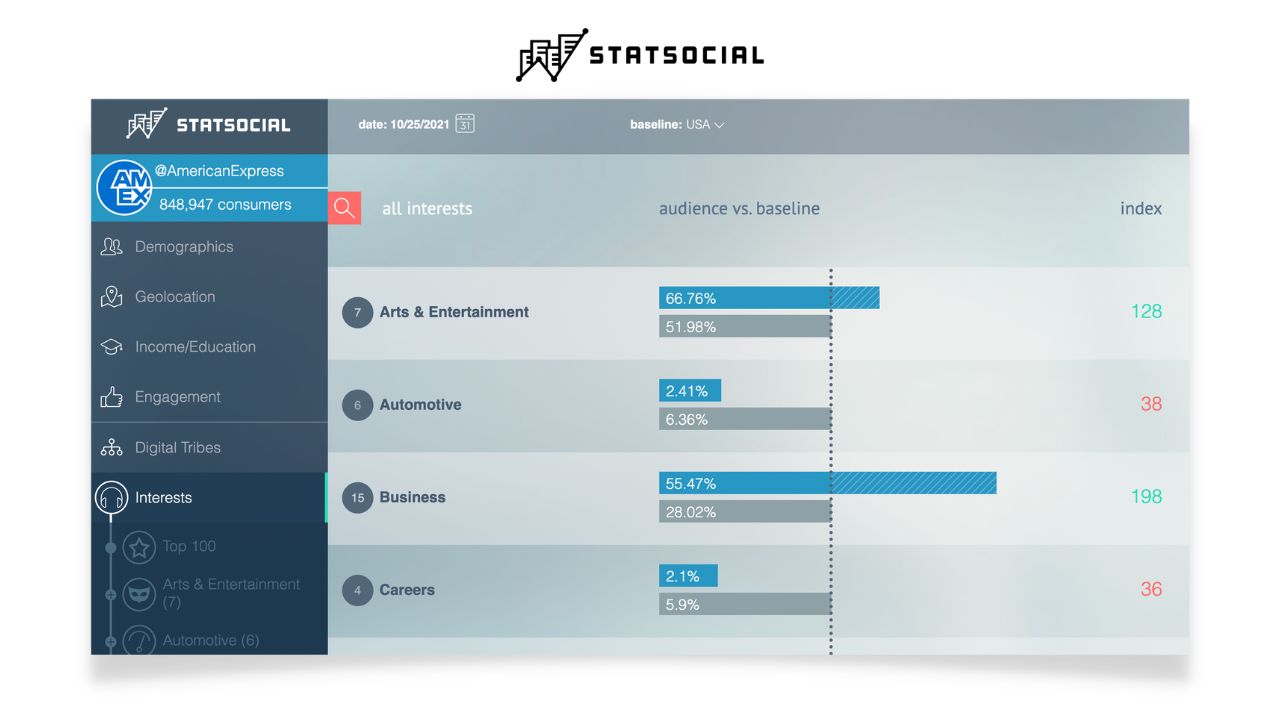 I've demoed the product a few times over the last few years. Since then, they released Silhouette™ by StatSocial, which I think is the platform name. Like the others, they can help you build audiences, analyze their interests and affinities, and build customer personas. They also allow you to connect the audience data to a CRM, DSP DMP, and emails.
StatSocial has provided a live dashboard analyzing what they call the American Express "tribe." Looking at the American Express report, I was impressed by how they cluster sub-audiences or personas.
---
Synthesio Audience Profiler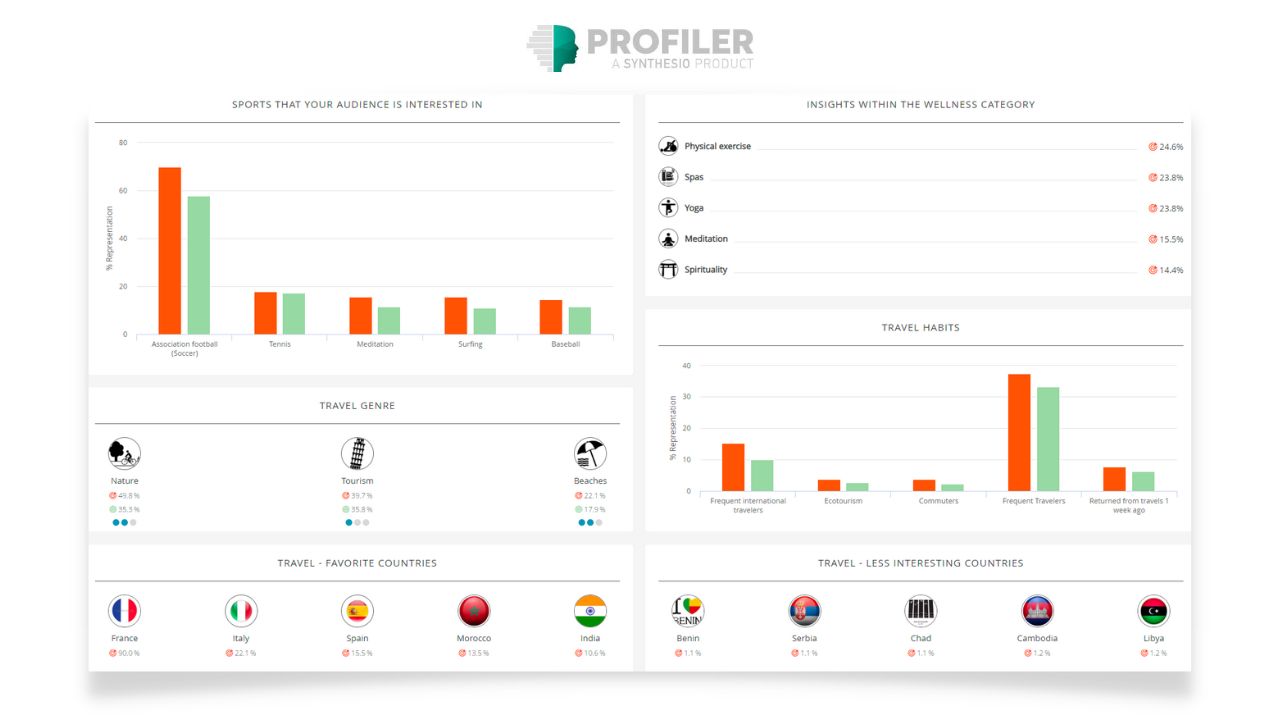 I am a massive fan of their social intelligence platform. Outside of the data limitations, I would say that it's one of the best on the market, especially if you need traditional media reporting and coverage in addition to social analytics.
I've never seen a demo of Synthesio Audience Profiler, and there isn't much information I could find about their methodology. I watched one of their webinars, and they gave a demo of the platform. The functionality mirrors many other platforms, but I think the UI is clean and straightforward. However, I'm a little unsure of where the data comes from. They talk about the Facebook business manager in the webinar, but I'm still unclear about the data source.
---
Sparktoro Audience Research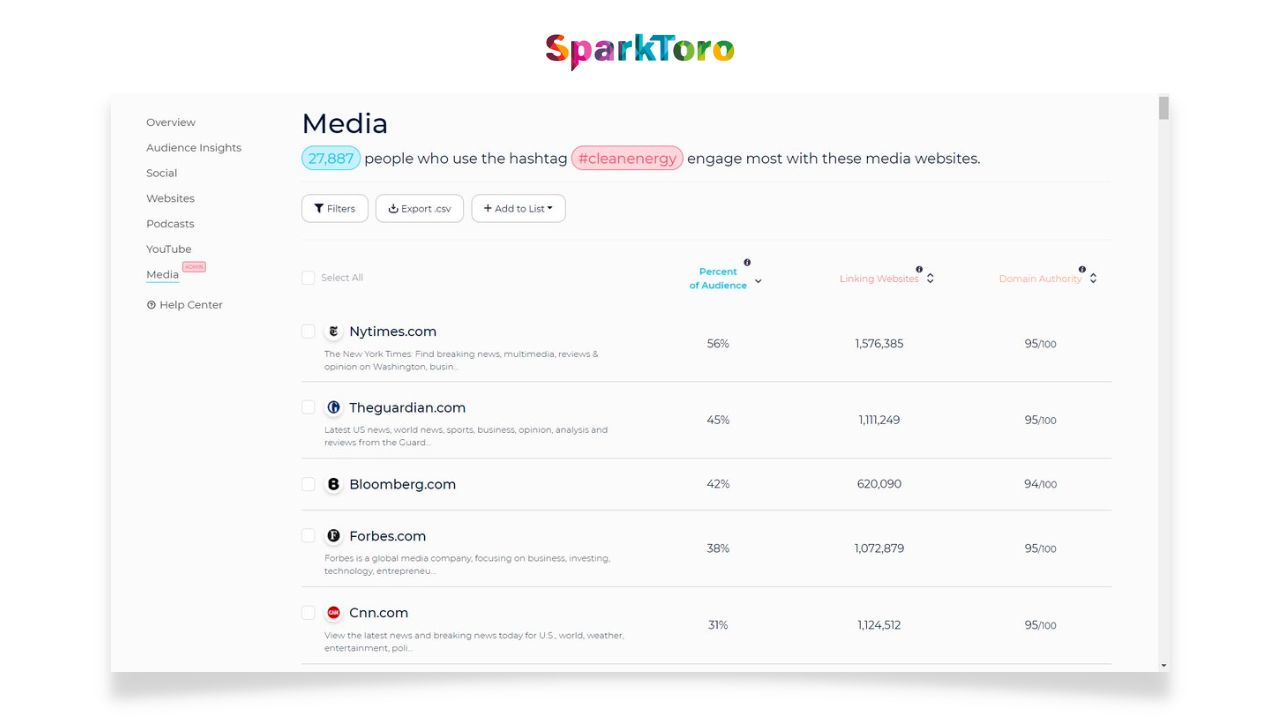 I have known about Sparktoro since the beginning of 2020. I gave their Premium Plan a try for one month. The first thing that I noticed is how easy it is to run a report. Once you plug in your search parameters, you scroll down to see audience insights, what they read, watch, listen to, and who they follow. You can drill down in each area to explore more of the results if you have a paid plan. You can also export the data into Excel and a PDF document with the paid plan. I might try one month of a paid plan to drill down more into the functionality. But on the surface, this would be an excellent tool for someone just learning how to use audience intelligence, especially if you don't have much experience with data analytics.
I was initially excited to test out their custom audiences. The instructions say that you can upload LinkedIn and Instagram handles, and they match those handles with a Twitter handle. I tried uploading 500 unique LinkedIn URLs and got no matches. I did the same with 5000 Instagram handles with no matches.
Here's a Sparktoro Review I did back in 2021.
---
Below are a few examples of audience research and reports.