SparkToro is a research tool that can help marketers get actionable insights about their audiences. I have been watching the space for many years and consider myself a power user in many enterprise platforms available today, like Audiense, Affinio, and DemographicsPro. Over the last few years, I have curated and documented these audience analysis tools for easy reference.
Unfortunately, analyst firms like Forrester or Gartner don't recognize the space as a viable software market, so I try to provide insights and analysis when new tools come into the market.
SparkToro Review: The Good
I would say that SparkToro is excellent for marketers who are just starting with audience analytics. I don't mean this in a negative way, but when I stack it up against the competitive set, it still has a long way to go.
The UI is clean, and the way that they deliver insights is intuitive and easy to comprehend. I searched for Metaverse for this review and selected "My Audience frequently talks about." The below screenshot shows the drop-down menu that provides you with an easy way to determine what type of analysis you want to run:
My audience frequently talks about …
My audience uses these words in their bio …
My audience follows these social accounts …
This makes it very easy to pull data quickly and efficiently. However, I believe that software providers need to provide "speed to insight" so that marketers can take those insights and make them actionable. SparkToro is an excellent example of a tool that does offer "speed to insight."
Once you select your criteria and search, SparkToro will provide a high-level overview of each section, allowing you to drill down deeper if you'd like. For example, in the below screenshot, you'll notice the hyperlinks on the far left. This screenshot is of the overview page, but you can also drill down and get text insights, demographic data, etc. Again, the overview page provides rapid insights.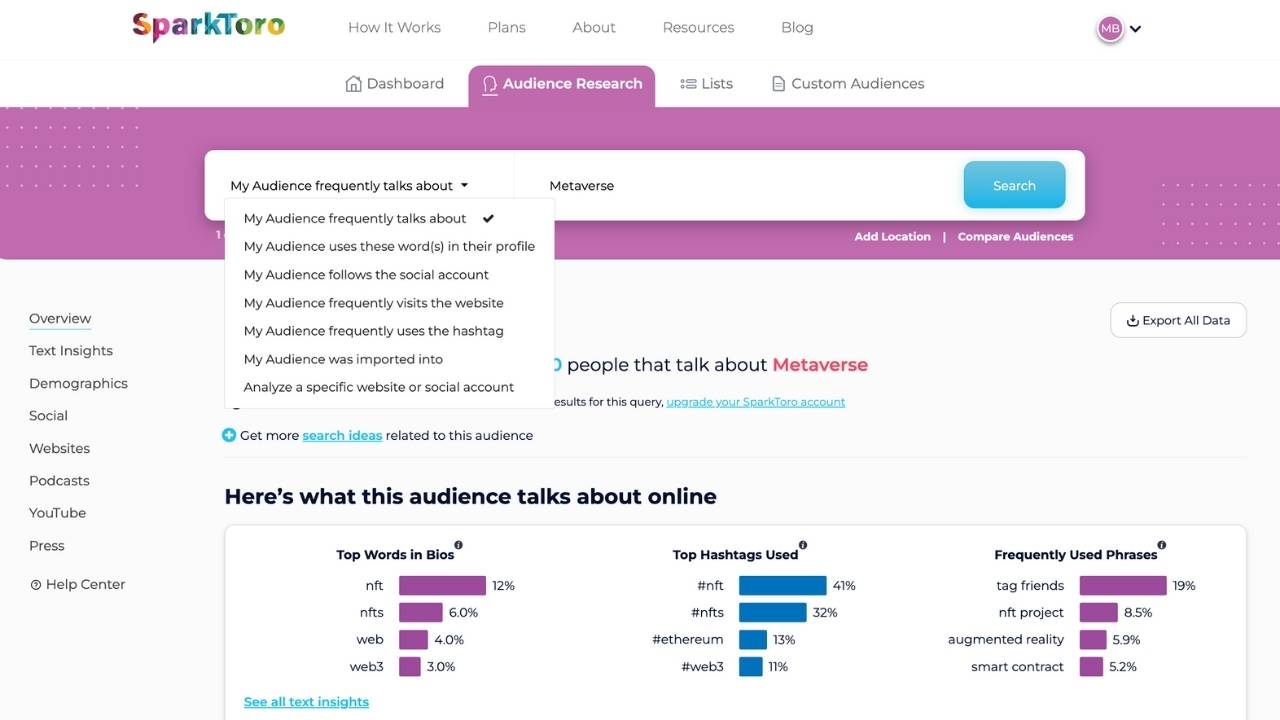 SparkToro's Text Insights
Once you click on text insights, you'll get a list of all the keywords used within the audience's social media bio. In addition, SparkToro provides links under each keyword to perform searches in various social networks and Google. However, I don't find this feature to be that helpful.
It's hard to notice immediately, but there are additional insights on the text insights page. For example, SparkToro will display the audience's top hashtags, phrases, and keywords. For paid plans, they allow you to download all the insights into an Excel file for easier analysis.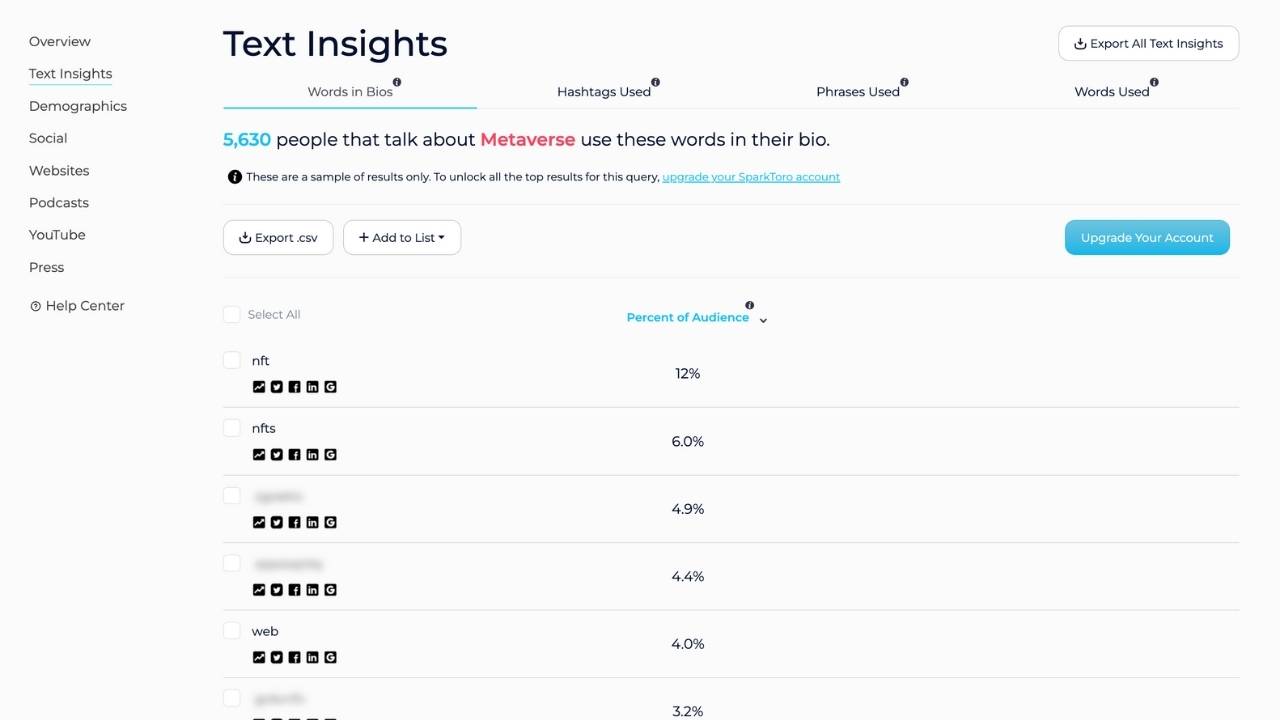 Currently, the data is in a list format. It would be helpful if the keywords or hashtags were clustered together based on NLP or machine learning to better understand the context of how the words are being used. It would also be helpful to compare these keywords to monthly search volume using integration with SEMrush or SimilarWeb.
SparkToro's Demographic Data
The demographic data is limited with the free version, but SparkToro provides everything from age and gender to employment, skills & interests, education, and politics. From a UI standpoint, I would love to see all of this demographic data on one page versus clicking across different tabs. Not a huge deal.
SparkToro: Which social accounts are followed?
Below is a list of social accounts the audience was talking about the Metaverse engages most. First, it offers personal and business accounts. Next, SparkToro links to the other channels for each social profile, including websites and social media profiles like LinkedIn, GitHub, Instagram, etc. And lastly, they provide a proprietary SparkScore that considers engagement numbers across the channels.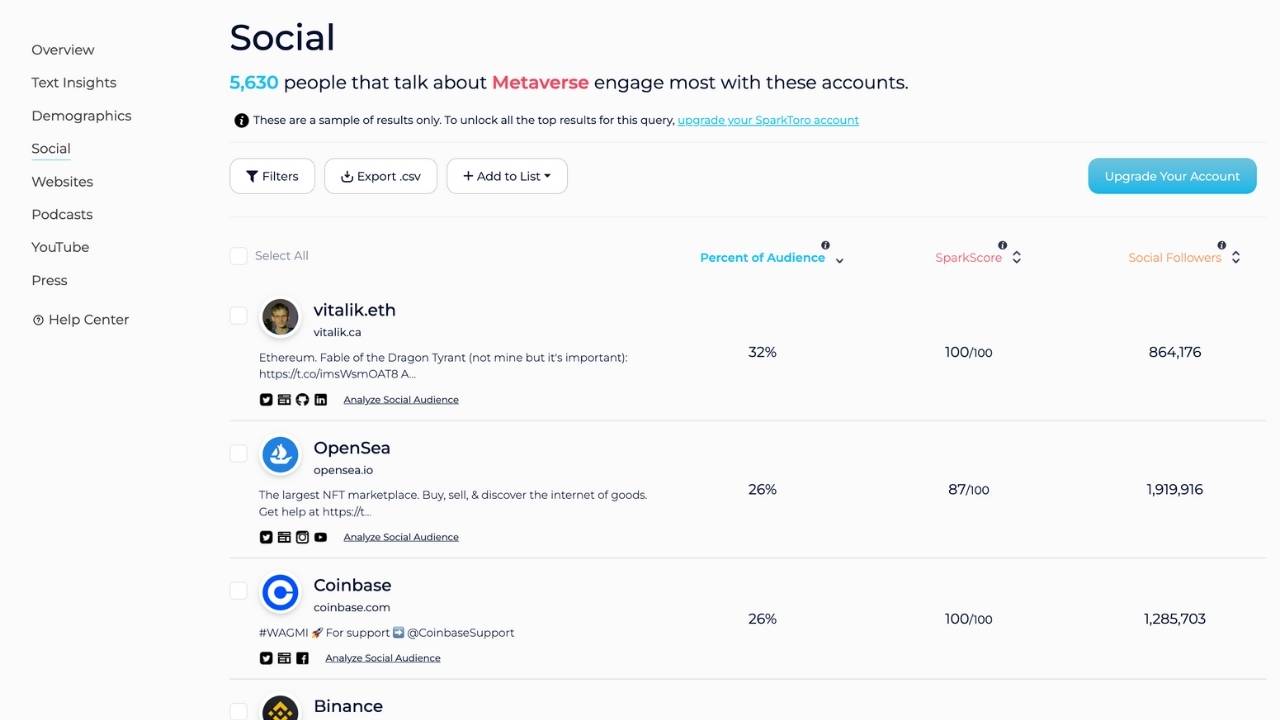 SparkToro's Website Data
SparkToro pulls website data based on the URLs shared by the audiences. Three columns of data are important to mention. The first is the percentage of the audience that has shared a URL from the given domain. The second column is the number of inbound links for each domain. And the third column is the domain authority.
The data tells you which domains are shared by the audience and how authoritative they are based on several SEO factors. If you work in PR, these are great insights that can help prioritize where you may want to pitch and secure a story. And if you work in marketing, it might be a place where you want to buy media or secure sponsorship opportunities.
SparkToro's Press & Media Insights
The press and media insights are similar to the data from the websites tab. However, they provide two additional data points–the SparkScore and the social followers of the media site's social handle. Sparktoro also provides the top podcasts and YouTube videos/channels that the audience subscribes to. The data isn't offered with a free account, unfortunately.
I love how SparkToro provides what they call "Hidden Gems." You'll notice below that it's within the websites tab, but a filter is applied to the results. It's unclear how Hidden Gems are calculated. However, because the percent of the audience that follows these websites or shares URLs is so low, I assume they're comparing it to a gen pop data set, and these are websites that over-index.
SparkToro's Custom Audiences
This is one of their biggest differentiators. They allow you to upload 1,000 social profiles from any social network for analysis. They can do the same with email addresses.
They used to have a 300 social profile limit, and I tested it with 350+ LinkedIn profiles, and there was no data. It was over a year ago, so I am sure it's improved since then. Also, what's excellent about SparkToro is that their free version does offer some superb audience research. To get more social data, you must subscribe to a plan that isn't too expensive.
SparkToro Review: Opportunities for Improvement
As mentioned, the way that SparkToro delivers data is intuitive. If you work in marketing or public relations and don't have access to an analytics team, this is an excellent piece of software to explore. There are a few things I would like to recommend:
Combine variables when building an audience. For example, the way the software works today, I could easily search for people that have "journalist" or "reporter" in their social media bio. But I couldn't search for a journalist that writes about fashion, sports, or politics. Another example would be building an audience with "craft beer" in their bio combined with tweets about a band or music genre.
Starting with demographic data. If you wanted more information on the Gen Z audience, you might begin your analysis with a specific age range. Today, the software doesn't allow you to do that. It provides demographic data after the search but can't be used to identify an audience. To build the above example, finding a Gen Z audience talking about streaming music would be helpful.
Improved text analytics: Currently, SparkToro provides the basics of text analysis. It shows you the volume of a particular keyword or hashtag used without context. It would be more beneficial to show contextually how the words are being used and connected thematically. Perhaps they should partner with NodeXL, as they have a strong network analysis tool.
Overall, I was impressed with SparkToro. The software is excellent for social media research, and it's straightforward to use. The free version provides many valuable insights and the paid plans are reasonably priced. I recommend this tool to anyone starting with audience and social media research.
---
FAQ
Q: Who are SparkToro's competitors?
A: Several other software providers offer similar audience research to SparkToro, including Audiense, DemographicsPro, and Affinio.
Q: How much does SparkToro cost?
A: The free version provides some valuable insights, but you must subscribe to a paid plan to get more data. Plans start at $38/month and go up to $225/month.
---
Related Content