In this video, I talk about why multi-segment audience intelligence crushes all social media metrics. The more you can slice and dice the data into smaller data sets, the more audience insights you can get that are actionable. Enjoy the video and subscribe to my Youtube channel to be the notified when new videos are added.
FULL TRANSCRIPTS
Last week, we talked about multi-channel media intelligence.
Today we are talking about multi-segment audience intelligence. Now, if you know me, I am a huge fan of audience intelligence in general.
But please don't  confused with social listening or brand monitoring. Both of the those are somewhat important but it's very, very high level and not actionable at all.
Multi-Segment Audience Intelligence is about dissecting audiences – analyzing their sharing habits and conversations in order to get actionable and defendable insights that you can use to make decisions.
This type of data can help you:
You can understand the perceptions and attitudes that each audience has about your brand, product or technology.
Alter your narratives to better align with what specific audiences care about
You can use this audience data to discover new phrases and language and then use that to build your keyword list for paid search and SEO initiatives.
You can use audience data to inform ad copy, post copy, blog titles, eBooks and even to build media plan for paid social.
These are just a few things you can learn from multi-segment audience intelligence. There are thousands of other insights you can find and use … but it takes time, it takes effort.
Ok, so let's take a look.
I call this the Multi-Segment Audience Intelligence Matrix and its broken down like this.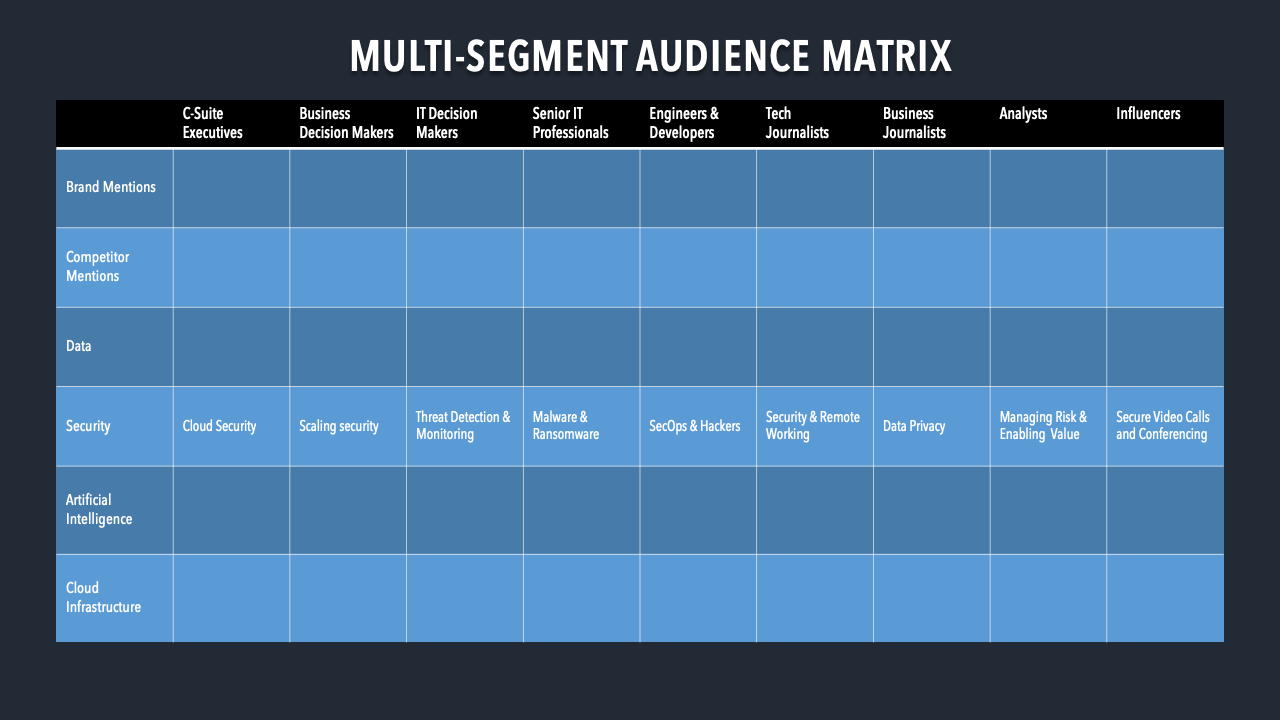 On the left you have topics that you want to analyze. Obviously brand and competitive mentions will be a priority in order to track media relevancy, reputation and other brand factors against each audience.
Also, depending on the line of business you work in, you'll want to analyze certain topics that describe the market and or problems you are trying to solve.
Along the top you have all of your audiences. Obviously, this will be different for every company but I'm sure you can follow the logic here.
You have your C-Suite-CEO, President, Founder
Business decision makers can be describes as the COO, CFO, and the head and GM of a business unit, industry, brand or product.
IT decision makers is everyone from the CIO and CTO to the head of IT and Engineering. It'll vary depending on the size of the company.
Senior IT Professionals can be described as the VP or Sr. Director of IT, Engineering, Infrastructure, Security, Cloud or Data Science and everything in between.
Engineers and developers are pretty self-explanatory. But even this group can be segmented further based on what language they use to develop software, what platform they use — are they in DevOps, AIOps or DataOps.
Two things about tech and business journalists. We're talking about analyzing them as individual audiences, not specifically the media they write for. And, while there is overlap, segmenting is still necessary to get insights.
Here also, we're talking about analyzing specific analysts and their conversations and sharing habits.
And lastly, influencers can be described as the top 10 security influencers talking about AI or the top 50 influencer talking about 5G and Data Operations. In other words, influencer are basically anything you define them to be.
So the next natural question here is "why would you spend so much time and resources measuring share of audience attention for each of these audiences?"
I'm not going to tell you to do that.
Well, I take that back, it might be one data point on a slide somewhere, but I am going to tell you to contextualize their conversation and narratives within each audience because I can guarantee you this …
The way the C-suite talks about something is 100% different than the way a developer may talk about it — whether it's a brand/product, or a topic like data wrangling.
And on that, the reason I have topics here is because you need to be spending more time understanding how audiences talk about technology because that's where you are going to find white space.
If you recall a few months ago, I talked about the supply and demand of brand relevance — which is about understanding what stories and topics are demanding the attention of your audience (in this case, it's specific audience) and then asking yourself if the content you are supplying to the market is meeting the demand fo your audience.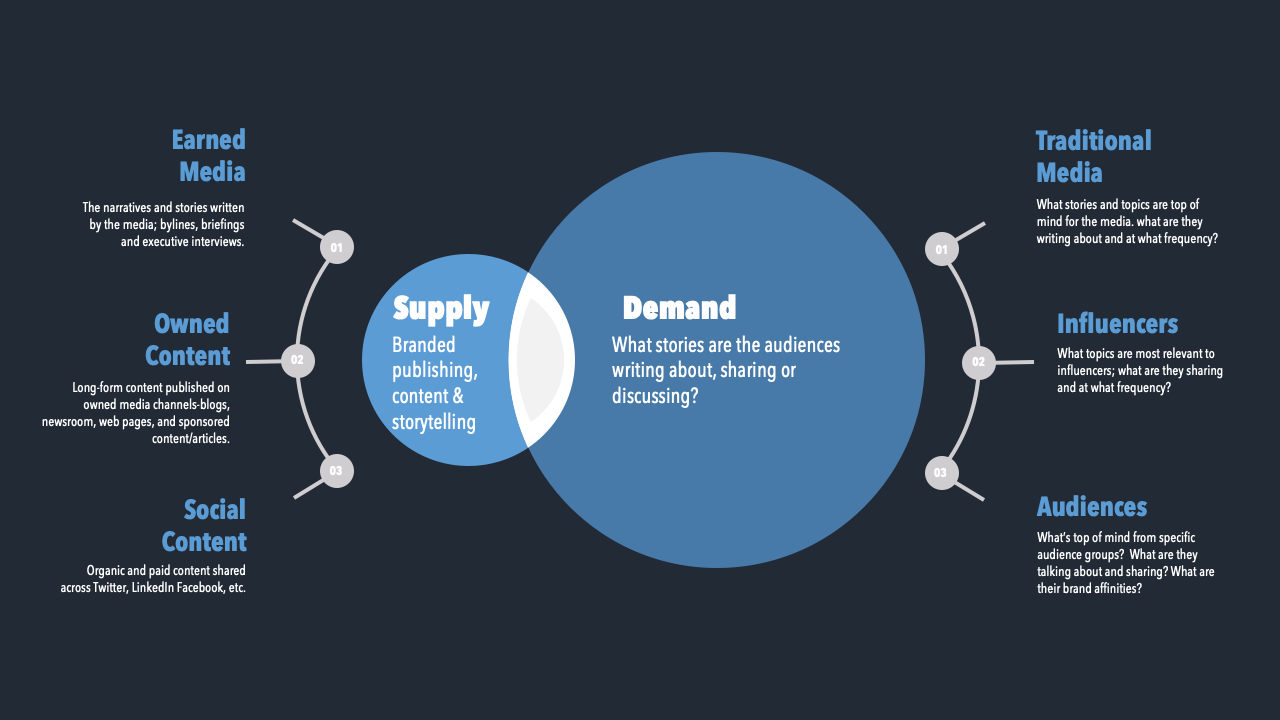 You can only get this type of data from multi-segment audience intelligence.
It's about finding white space at the topic level, so you can uncover unique insights about each audience, mine their coverage, cluster it into subtopics and then contextualize the results.
As you can see, when you segment audiences and contextualize the conversation at that level, you can get very specific, actionable and defendable insights that you can use to make smarter decisions.
Oh, and yes, you can measure share of voice and share of coverage at each of these channels. It'd would be pretty interesting to see the variance in coverage between each.
And this is whyWhy Multi-Segment Audience Intelligence Crushes all Social Metrics
Ok, well that concludes our time together. I hope this was as insightful for you to watch as it was insightful for me to record.
I really do hope you have a great week. Please be safe. Stay healthy and I'll see you next time.