Reaching IT Decision Makers (ITDMs) is difficult. They are the most "marketed to" audience on the internet, and they have countless options when choosing the products and services for their business.
Why this matters:
In most organizations, they are the buyer. The decision-maker. They control what technology is needed and implemented in the enterprise and are highly influential.
ITDMs are not fans of sales and marketing. If you spam them, they'll call you on it publicly. They install ad blockers, opt out of all data or cookie collection and navigate the interwebs using incognito browsers. They are focused and don't want to be bothered. Trust me. I know several of ITDMs, and they tell me stories.
Despite these hurdles, you still have to figure out the best way to reach ITDMs and influence their purchase behavior, and it starts with data.
>> Take me to the ITDM Research <<
What is an IT Decision Maker ITDM?
ITDM is an acronym for "Information Technology Decision Maker." They are also referred to as tech decision-makers in some companies. They are responsible for purchasing decisions related to all software technologies in the enterprise and oversee the implementation. Most ITDMs started as entry-level engineers or developers and eventually worked their way up to lead teams.
ITDMs range from the CIO (Chief Information Officer) down to the IT manager of a small business. It depends on the size and sophistication of the organization. An IT Decision Maker can also be a Director, Vice President, or Senior Vice President.
Example IT Decision Maker Job Titles
ITDM job titles will change based on industry, vertical, and organization size. Starting with the C-suite, the CIO and CTO are the most senior ITDM job titles. However, the CIO may also be a Business Decision Maker (BDM) in smaller organizations.
The Chief Data Officer and Chief Information Security Officer (CISO) are job titles in enterprise organizations. They are responsible for business decision-making and purchasing data and security-specific software and technology.
The next most common title is Executive Vice President, Senior Vice President, or just Vice President of Information Technology. They often refer to themselves as the "Head of IT" or "Head of" Engineering, Software, Data Science, etc.

The next level down is the Director or Sr. Director of Information Technology. They are usually more focused on the day-to-day operations of their department and less on purchase and business decisions. From there are the managers, engineers, developers, architects, data scientists, and analysts.
There are also specialty job titles which would include areas like Artificial Intelligence, Machine Learning, DevOps, MLOps, AIOps, SIEM, Threat Intelligence, RPA, Automation, Intelligent Automation, and many more. In addition, there are hundreds of other ITDM job titles, and they change all the time.
Why Reach ITDMs Online?
The answer is simple. They either influence the buyers, or they are your buyers. They will deploy the software within their company and be held accountable for their decisions. ITDMs are under much pressure to make the best decision for their company. So it is important that your messaging is clear and concise. It should explain your unique selling proposition and/or what problems you solve.
Your messaging should persuade them to consider your product at every phase of their journey. By analyzing the B2B sales funnel, you can understand how they research information, what they search for in Google, which media outlets they read, use and how they consume information.
These insights can inform your PR strategy or other digital marketing initiatives.
The ITDM Customer Journey
The ITDM customer journey is complex. ITDMs are inundated with information and have to sift through a lot of noise to find the signal. To reach IT Decision Makers online, you need to understand how they consume information and what type of content they're looking for. The below journey illustrates how complex the customer journey is for ITDMs when they are in the market for new software or services.
The typical sales cycle for enterprise software is between 6-18 months, which means that ITDMs spend a lot of time researching various products, asking peers and colleagues for feedback, and reading analyst reports and articles in the media. Essentially, they are looking for validation and reinforcement of the decisions they are about to make.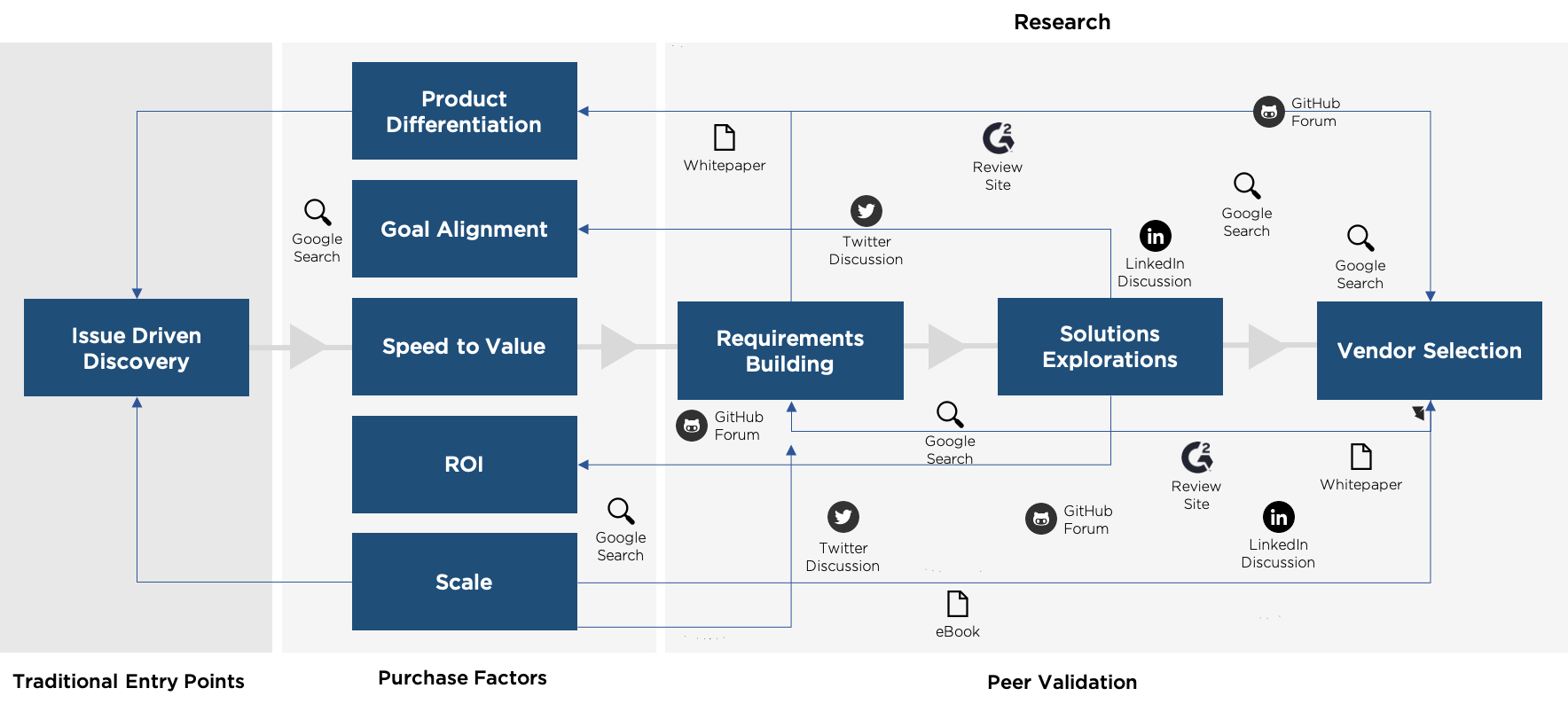 The first step in the ITDM buyer journey is awareness. In this stage, IT Decision Makers first become aware of a problem or challenge that needs to be addressed internally. Maybe there's a company initiative to migrate data to the cloud. Or, perhaps there's s security breach. This is usually the trigger for them to seek out a technical solution.
The second stage is interest. In this stage, IT Decision Makers have already been researching various technology solutions, and they have a list of vendors. They are seeking out references, and use cases, reading white papers, and asking colleagues about their experiences.
The third stage is evaluation. In this stage, IT Decision Makers have narrowed in on a short list, evaluating the features & functionality, engaging in trials, and have already gone through several demos of different software solutions.
The fourth stage is purchase. In this stage, IT Decision Makers are ready to buy a product or service.
Lastly is loyalty. In this stage, IT Decision Makers become loyal customers who continue buying products or services. They may also recommend a product or service to others. It's just as important to pay attention to this group of ITDMs because they will be the ones that influence other decision-makers during their customer journey.
---
ITDM Audience Analysis
Below is a network analysis of a mid-level ITDM audience. For this post, we built an audience of 2K self-identified IT Decision Makers and analyzed their media affinities and conversations. The affinity data is based on the percentage of the audience that follows a specific media outlet on social media. The conversational data is based on what the audience is publishing on their channels.
A few IT job titles in this analysis include:
IT Manager
IT Director
Sr. Manager, Engineering & IT
Director of IT Services
When looking at the larger ITDM audience, they are all very different. They have different affinities and interests, and express themselves differently on social media. In this case, we're looking at just one small IT audience segment.
What Media Publications do ITDMs Read?
The research below shows the top business and technology media publications that ITDMs follow on social media in order of affinity. Most of these media outlets are what you would expect–the New York Times, Wall Street Journal, WIRED, The Economist, and Harvard Business Review. When ITDMs are interested in technology news, they read Engadget, The Verge, ArsTechnica, ZDNet, and Fast Company.
This type of data is invaluable for a variety of reasons. If you work in public relations, these are media outlets that you can prioritize as part of your PR strategy. If you oversee a digital team, you may want to do a brand sponsorship or buy display advertising. Knowing what ITDMs are reading and sharing can result in successful and high-performing digital and PR programs.
The ITDM audience is also interested in reading blogs from technology companies like Google Cloud, Amazon AWS, and Microsoft Azure. In addition, they appreciate content from vendors/solutions providers in the enterprise software space, such as SAP, Oracle, and IBM.
Other popular blogs that ITDM read include Gigaom, ReadWrite, TechCrunch, Mashable, VentureBeat, and Business Insider. These are all great places to get your company's name and story in front of potential customers.
When trying to reach ITDMs online, knowing what content they are interested in consuming is essential. By understanding this information, you can better tailor your stories and create content that will resonate with them.
ITDM Influencer Purchasing Factors
The ITDM data below shows it is critical to the customer journey. It shows the purchase influence factors based on affinity and conversation data:
ITDMs are brand loyal. 66% of them make purchase decisions based on brand name
ITDMs want innovation. 33% of them make purchase decisions based on the utility and features of a product
ITDMs trust others. 24.7% of them make purchase decisions based on recommendations from peers and colleagues
ITDMs don't love advertising. Only 18% of them make purchase decisions based on advertising
ITDMs use social to converse, not buy. 14.2% of them make purchase decisions based on social media
Based on this data, it's clear that the most important thing for marketing is to focus on building brand awareness. This means creating a solid brand identity easily recognizable by ITDMs. Additionally, it's essential to create helpful content for ITDMs to help them in their decision-making process. Recommendations from peers and colleagues are crucial to influencing the customer journey, so vendors should focus on creating a solid network of brand advocates and B2B creators. Finally, social media and advertising is less effective, but it doesn't mean you don't do it.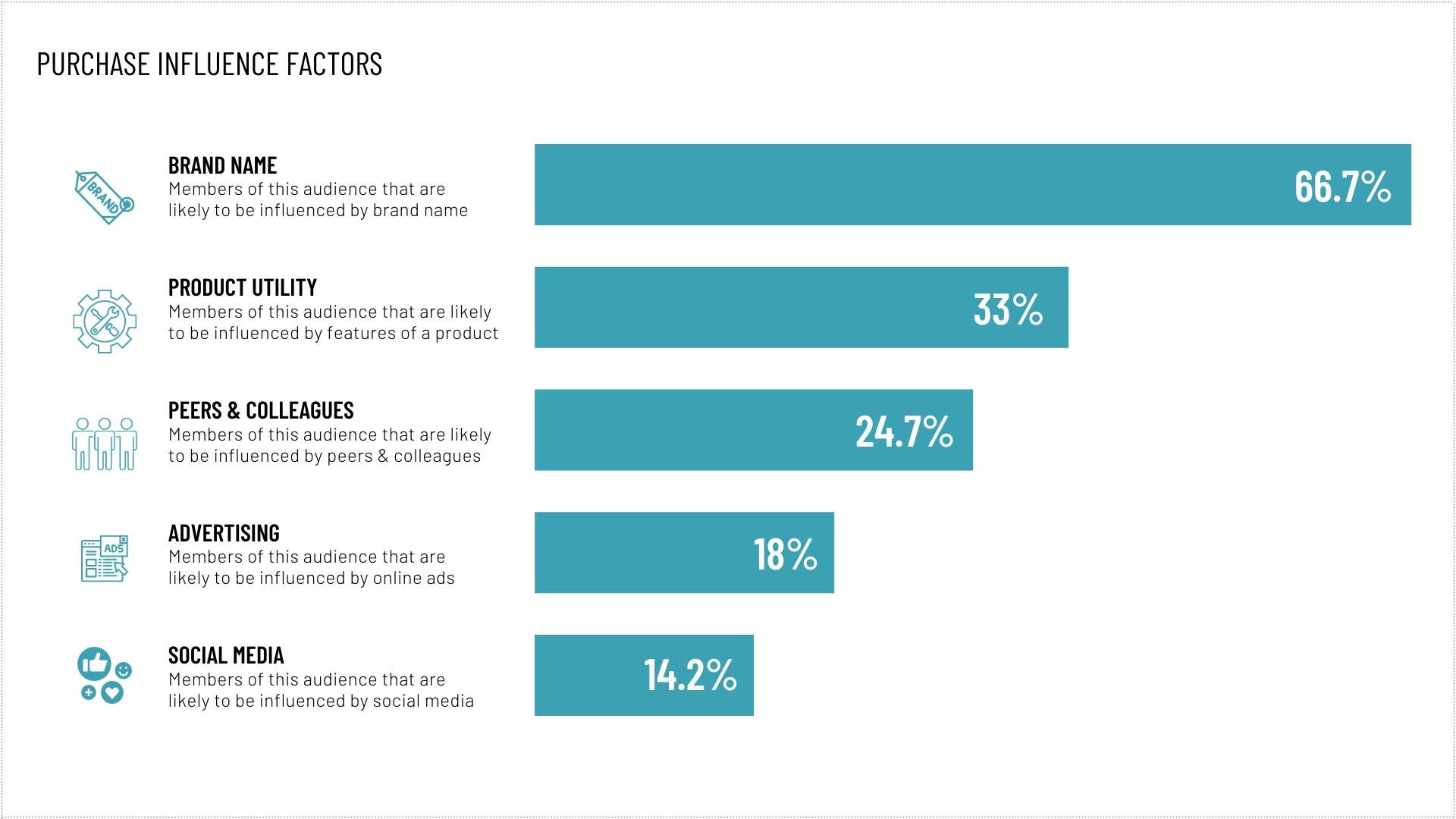 What's Top of Mind for IT Decision Makers?
When exploring the ITDM conversation, a few key topic areas are driving discussions.
Artificial Intelligence
Cloud Security
Automation
Big Data
Hybrid Work
ITDMs are discussing artificial intelligence and machine learning at very high levels. For context, artificial intelligence is a process of programming software to make intelligent decisions for themselves. This can be done through several approaches, including but not limited to neural networks, rule-based systems, decision trees, algorithms, and fuzzy logic systems.
Machine learning is part of AI that focuses on learning from data and improving their performance in real-time without being programmed by an engineer or developer. The result is initiatives that enhance customer experience, automate sales processes, and an organization's ability to scale and innovate.
Some of the questions that ITDMs are asking about artificial intelligence include the following:
What are the different types of AI technology?
How can AI be used in business on a global scale?
What are some ethical concerns around AI?
How will AI impact the future of work?
ITDMs are excited about the potential of artificial intelligence (AI) and machine learning. They see these technologies as transformative and believe they will significantly impact businesses in the future. However, they also express some concern about the ethical implications of AI and the potential for job loss due to automation.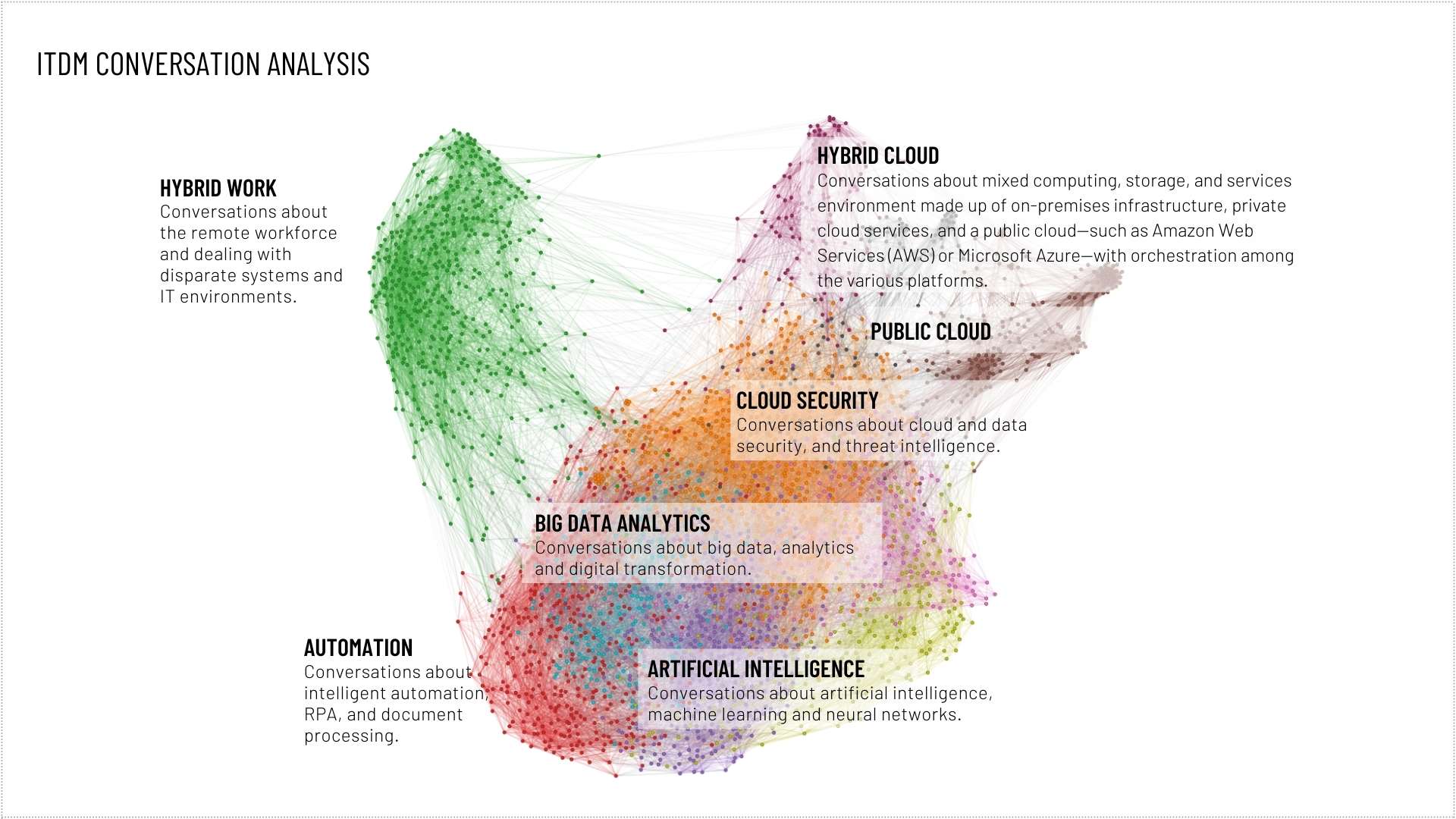 Cloud security is also top of mind for IT Decision Makers. With more and more businesses moving to the cloud, there are several security concerns that they are talking about, including data breaches, data loss, threat intelligence, and more. In addition, there are significant discussions about securing their data in the cloud, including but not limited to encryption, access control, and activity monitoring. Some of the questions that ITDMs are asking about cloud security include the following:
What are the most significant security concerns with moving to the cloud?
How can businesses secure their data in the cloud?
What are the consequences of a data breach?
Automation is another concern among IT Decision Makers. With artificial intelligence and machine learning, several automated processes can be performed by software like RPA. As a result, automation can help businesses improve efficiency and save money. Some of the questions that ITDMs are asking about automation include the following:
What tasks can be automated?
How will automation impact the workforce?
What are the benefits of software automation?
What are the risks of automation?
How will automation affect the future of work?
Automation is seen as a way to improve efficiency and save money. However, there are also some concerns about the potential impact of automation on jobs. As a result, IT Decision Makers are interested in understanding what tasks can be automated and the benefits and risks of automation within the global infrastructure of their organization.
Big data is not just another technology buzzword. It's still a vast topic that is top of mind for ITDMs. With more businesses collecting data, there is a need to store, manage, protect and analyze this data. From a marketing perspective, big data can improve business decisions and understand the customer experience, website analytics, market research, user data, and sales performance. Some of the questions that ITDMs are asking about big data include the following:
How can businesses use big data?
What are the benefits of big data?
What are the challenges of big data?
What is our big data process and strategy?
Big data is a hot topic for IT Decision Makers. They see the potential of big data to improve business decisions and processes. However, they also recognize the challenges of managing and analyzing large amounts of data.
As expected, hybrid work topics have been top of mind for the ITDM audience over the last two years. With more businesses allowing employees to work remotely, there is a need to manage both on-site and remote workers. As a result, hybrid work can help enterprises improve productivity and reduce costs. Some of the questions that ITDMs are asking about hybrid work include:
How can businesses manage hybrid workforces?
What are the benefits of hybrid work?
What are the challenges of hybrid work?
The conversation around hybrid work is primarily positive, with many ITDMs excited about the potential productivity gains and cost savings it could bring to their organization.
In conclusion, ITDMs are talking about a variety of topics online. They are interested in understanding the different types of AI, how AI can be used in business, and the ethical concerns around AI. They are also discussing cloud security, data loss, and automation. Additionally, ITDMs are talking about big data and hybrid work.
ITDMs are excited about the potential of new technologies and have some concerns that need to be addressed. Businesses should stay up-to-date on these conversations to understand the latest trends in the IT industry.
---
FAQ
Q: Are all IT Decision Makers the same?
A: No, there are different types of IT decision-makers. Some focus on technology (technology decision-makers), while others focus on business (business decision-makers.)
Q: How are business decision-makers different than IT Decision Makers?
A: Business decision-makers focus on the business impact of technology. IT Decision Makers focus on the technical implementation of technology. There are times when ITDMs are also business decision-makers.
Q: What do IT decision-makers care about?
A: IT decision-makers are interested in various topics, including cloud security, data, and automation. Additionally, they are talking about big data and hybrid work.