[Updated 12.29.2021]
Click here to go straight to the curated social media monitoring tools list.
The social media monitoring landscape has always been crowded. While the market continues to mature and innovate, tracking who comes, who goes, which social listening tools merge, and which ones get acquired is challenging. If you are in the market for investing in social media monitoring software, I have started curating a list of the leading social monitoring tools I have used in the past, which may help with your purchase decision. Likewise, if you are interested in PR and media software, I've provided a similar analysis of the media monitoring tools.
History of Social Media Monitoring Software
In the beginning, there was the World Wide Web. Eventually, this became the Internet. And the Internet soon transformed into something more two-way and dynamic, becoming social media. The democratization of publishing content online followed, which created an open and public dialogue that consumers were having about every product, service, and topic you could think of. Brands needed to start paying attention because many social media conversations involved their products, services, and executives. So, over the years, monitoring social media for brand mentions and real-time audience insights became a digital marketing strategy.
Two of the early players in the social media monitoring space were Radian6 and Sysomos. Both companies have since been acquired but paved the way for social media innovation. As a result, there are now several vendors in the social media monitoring ecosystem, many of which have differentiated functionality and pricing options.
What is Social Media Monitoring?
Social media monitoring is the marketing practice of using software to listen to relevant conversations on social media. Other use cases include measuring social media mentions, social analytics, reporting & measurement, and managing social customer care. Most social media listening software tools track brand mentions across all platforms, news sites, review sites, and blogs.
How Does Social Media Monitoring Work?
Most social media monitoring platforms work the same way. You start with identifying the most relevant keywords to your business. This includes brand-specific keywords as well as topical or industry-related keywords. Once you've identified the right keywords, you add them to the social media platform using a form of Boolean Logic.
You then have to decide which channels you want to monitor online conversations and from which channels. This will include news, review sites, blogs, and social media channels. Other than LinkedIn and Facebook, the platforms supported include most other social networks. More advanced social monitoring platforms provide audience research and the ability to listen to social media mentions over time.
The social monitoring tool collects mentions from each source and then displays them in different ways using relevant data visualizations, allowing social media marketers to analyze the data and look for actionable insights. Based on my research, it's clear that some social media monitoring tools prioritize data visualization and mining over others.
Most social listening features include access to historical data from various online sources. This analysis can effectively track industry trends or consumer conversations over an extended period.
Also, sentiment analysis is a common feature among social media monitoring tools. I would argue that sentiment analysis is about 60% to 65% accurate without human layer analysis. If you are not cross-referencing sentiment analysis and manually coding data samples, you might get sentiment analysis completely wrong.
Most social monitoring tools don't advertise that they have free trials. However, if you are an active buyer and have gone through a series of demos but are still unsure, most platforms will honor free trials with limited access to data.
Regarding advanced reporting capabilities, only a few social media monitoring platforms have distanced themselves from the rest of the pack. For example, Digimind provides advanced API access and directly integrates with Google Data Studio. This is where most social platforms can innovate and provide better access to advanced reporting capabilities.
Advanced Use Cases of Social Media Monitoring
One of my favorite use cases of social media monitoring is real-time audience listening and customer engagement. This involves building specific audiences important to your business, listening to what they publish online, and sharing and talking about it in real-time. But, more importantly, it's creating content relevant to those conversations and aligned with brand messaging. This approach will foster brand advocacy and support a data-driven customer engagement strategy.
Another use case of social media monitoring is listening to customer feedback, consolidating insights, and taking action. For example, customer feedback might show that your audience is asking for a particular color of sneakers or a new feature added to your software. Taking action means implementing that customer feedback into your product roadmap. This drives product innovation, and it can also create brand ambassadors at the same time.
I use two additional use cases with social media monitoring tools that I probably talk about too much— audience analysis and media intelligence.
Using the features and functionality of social media listening, it's not difficult to analyze audiences to understand better who they are and what they care about. From a B2B standpoint, imagine tracking IT decision-makers and the conversations they are having on social media throughout their buyer journey. It's possible.
You can do the same with various consumer audiences like Gen Z. We all know that they are very vocal online and are not shy to tell the world what they like and dislike when buying products. So imagine tracking Gen Z shopping habits for different products and services. It's possible.
I also prefer to use social media monitoring tools to analyze specific headlines and long-form coverage in the media by using text analysis. This approach can uncover hidden narratives the media is writing about and make your narrative more relevant when pitching to reporters. This type of analysis is critical to any PR strategy.
Building an Integrated Social Media Monitoring Strategy
Most people equate social media monitoring with just social media marketing. For years, social media as a marketing practice was just an add-on to someone's responsibilities. This person could have worked in public relations, marketing, or customer support. It wasn't until about seven or eight years ago that CMOs and marketing leaders began to create teams specifically for social media. These teams comprised community managers, creative designers, analysts, copywriters, and paid media strategists. Since the social media job function has become a much more strategic force supporting almost all businesses, it has achieved its independence as a stand-alone team.
All that to say, social media monitoring is much more than just a tool for community managers. Analyzing online conversations can provide consumer insights about products, features, competitors, and more. However, it's up to marketing and public relations teams to mine these conversations and extract relevant insights for their business. This becomes, even more, strategic and business-critical when you integrate social listening insights with other relevant data like web analytics, social media analytics, and primary research.
As mentioned above, insights extracted from social media monitoring can inform marketing, PR, customer support, sales, and product innovation. It can also provide supplemental data for market research teams and be a core representative data set to monitor brand health online.
What is the Difference Between Social Listening and Social Monitoring?
This is more about semantics, but social listening and social monitoring mean just about the same thing. The definition of monitoring is to "observe and check the progress or quality of (something) over a period of time; keep under systematic review." In this case, "something" refers to social media and the conversations happening online and on various digital channels.
However, social media management software is another category for your martech stack. While they do have social media monitoring capabilities, the core value proposition of this type of software is more about publishing, scale, and governance.
There is more than just social listening if you think about the roles and responsibilities of social media marketing as a job function. You must consider publishing posts, customer engagement, password management, integrated analytics, and social customer service. Unfortunately, the social media monitoring platforms listed below don't offer all these other capabilities. Two software companies that provide this are considered leaders in space, Sprinklr, and Khoros (formerly Spredfast).
The Analyst's Perspective: Social Media Monitoring Tools
Sadly, large analyst firms like Forrester and Gartner don't prioritize the social media monitoring industry. There have been reports in the past, but they're not as frequent or comprehensive as they should be. This is one reason you should look beyond the analyst reports when investing in social media monitoring tools.
I recorded in 2020 talking about the Forrester Wave's top social listening platforms. Unfortunately, not all platforms made it into the report, but they all have features and functionality worthy of enterprise deployment and consideration.
Below is the Forrester Social Wave report and the G2 Grid for Social Analytics. For reference, the G2 Grid is peer-reviewed and has similar data points to Forrester, specifically around the market presence of social media monitoring companies.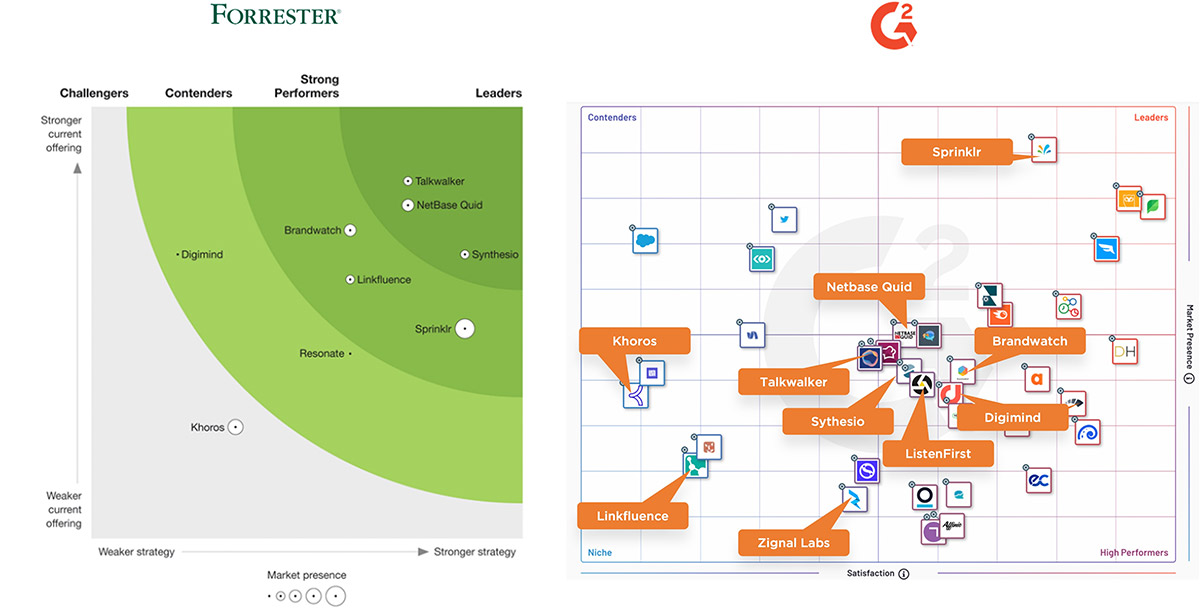 Mostly, there is little differentiation between the social media monitoring tools in the market today. However, the functionality differences, scalability, and cost might attract different buyers to these social monitoring platforms based on business and technical requirements.
Here's the List of Leading Social Media Monitoring Tools
---
Brandwatch Consumer Research is a tool that allows brands and agencies to track, analyze, and understand social media conversations. It provides insights into what people say about a brand or topic and demographic data such as age, gender, and location. Brandwatch Consumer Research also offers sentiment analysis, which can help brands to identify negative sentiment and take action to improve their reputation. In addition, the platform provides competitive intelligence, allowing brands to track their performance against rivals. Brandwatch appears to be the leader in market share, but there are several Brandwatch alternatives below.
---
YouScan is an AI-powered social media listening tool that excels in image recognition capabilities. With the help of its Visual Insights, users can uncover new consumption patterns, enrich their buyer personas, find brand advocates and key influencers, and discover new ideas for products or services. Also, users can evaluate sponsorship activities by analyzing social media posts, brand mentions, and user-generated content. YouScan's social media monitoring tool is exceptional for supporting large social media marketing campaigns for consumer brands.
---
[Acquired by Ipsos]: Synthesio is a sleeping giant if they can figure out how to integrate real-time polling/surveys with their social media listening platform. Considering that Ipsos is a market intelligence and research firm, I see this happening soon. In 2020, they launched Profiler, an audience management feature within their social media monitoring tool. Their platform can also identify influencers, track social media posts and general social engagement and monitor all brand mentions online.
---
Unfortunately, Pulsar did not make it on Forrester's Social Wave Report. That is why I am not a fan of analyst reports since they don't give a full view of the social listening landscape. However, Pulsar is a very flexible and scalable social monitoring platform and seamless integration with the audience intelligence platform and one of my favorite tools, Audiense. They are among the best tools for monitoring social media and brand mentions and have robust analytics built into the software.
---
Digimind is a social media monitoring tool that integrates Facebook, Instagram, and anonymized LinkedIn post-level data. It's unclear if the social networks authorize this data or if it violates the terms of service. However, I have seen the data, and it looks incredibly insightful, even with the anonymized data. They have influencer integration, which is a vital feature of the platform. I used their tool when I facilitated a certification class, and it was clear how they can provide incredible insights to inform a social media strategy.
---
Infegy is a social media monitoring app led by text analytics and natural language processing (NLP). They have also built pre-existing segments of various audiences, making it easy to segment and compare data. In 2020, they launched narratives, clustering, and TikTok analysis. From what I understand, they are the only social media platform that integrates TikTok, which is a huge differentiator.
---
Netbase is a social media monitoring tool with solid data analysis and visualization integration. They acquired Quid a few years ago, which is excellent for analyzing long-form content. Quid can interpret language and sentiment behind written text through Natural Language Processing (NLP), revealing consumer behavior such as attitude, perspective, world views, and purchase needs.
---
Zignal's Narrative Intelligence Cloud can detect and assess the topics and narratives, whether positive or negative. It's known in the market to have the most robust reputation analytics engine that can detect and mitigate narrative threats or capitalize on narrative opportunities in real-time. So this might be the right social listening tool to invest in if you are responsible for managing a company's public perception and brand credibility.
---
Talkwalker is a social listening tool with a built-in, ready-to-use social media command center. It makes it easy for brands to protect and promote across multiple social media channels. They also offer free social media monitoring tools but only pull in the last seven days of data. In 2021, Talkwalker acquired Discover.ai, which will augment their existing Consumer Intelligence Acceleration platform, providing cultural and consumer insights. The platform combines machine learning and human insights to help users dig deeper into human behavior and drivers and extract actionable insights from social media content and other platforms. This cultural data and consumer insight can help brands build their social strategy.
---
[Acquired by Meltwater]. Linkfluence does more than just social listening. It is an AI-powered consumer insights and social media monitoring tool. The tool provides marketing and brand teams with actionable quantitative and qualitative intelligence. The core platform, Radarly, can monitor conversations and collect data from many sources, including Facebook, Instagram, and other social media content. However, it's unclear how this data is collected, formatted, and displayed inside their tool.
---
I sat through a demo of ListenFirst in late 2021, which was different than what I expected. It's more of social analytics and performance tools than social media monitoring or social listening. It's still valuable for more sophisticated social media marketers, but it serves a different purpose.
---
Note: It's critical to ensure that when hiring a social media or PR agency, they have the skills, expertise, and access to social media monitoring tech stack.