[Updated 9.19.2021] The social media monitoring tools and software has been a crowded space and always has been. While the software market continues to mature and innovate, it's difficult to keep track of who comes, who goes, which social listening tools merge and which ones get acquired. Below is a list of social media monitoring tools that I have used in the past, demo'd or have received feedback from others. I've also provided a summary analysis of the media monitoring landscape as well, if you're interested.
SOCIAL MEDIA MONITORING TOOLS
I recorded a video last year in 2020 talking about the Forrester Wave's Top Social Listening Platforms. Unfortunately, not all of the platforms made it into the report, but they all have features and functionality worthy of enterprise deployment and consideration. Below you will see the Forrester Social Wave report and the G2 Grid for Social Analytics. For reference, the G2 Grid is peer reviewed and has similar data points to Forrester specifically around market presence.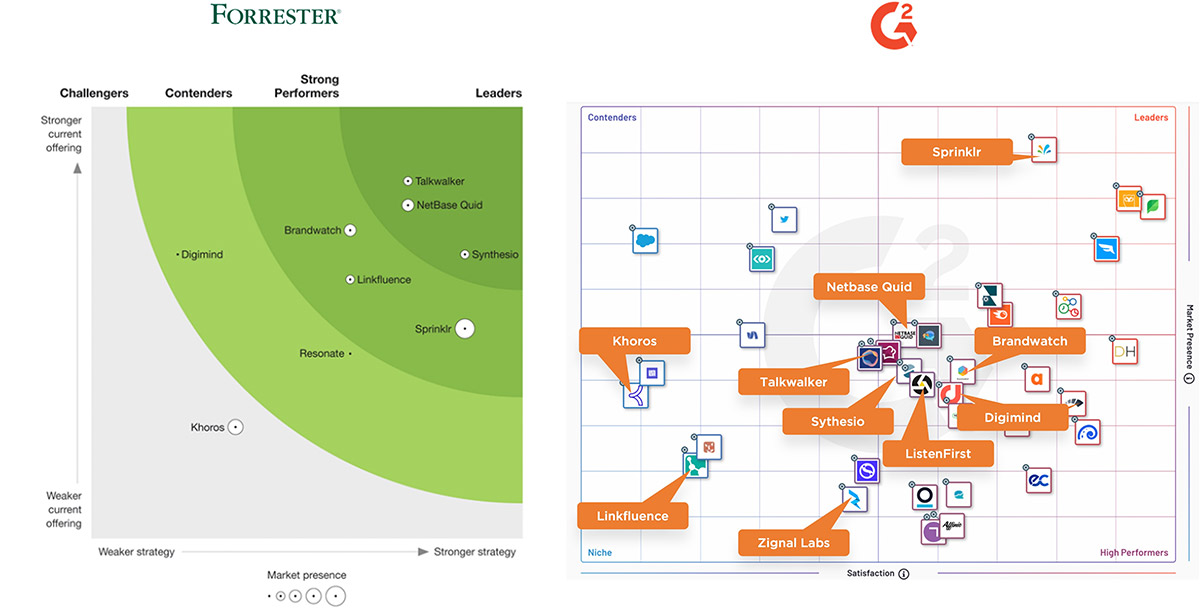 For the most part, there is little differentiation between the social media monitoring tools in the market today. The functionality differences, scalability and cost are what might attract different buyers to these platforms based on business and technical requirements.
---
[Acquired by Ipsos]: Synthesio is a sleeping giant if they can figure out how to integrate real-time polling/surveys with their social intelligence platform. Considering that Ipsos is a research firm, I see this happening really soon. They have also recently launched Profiler, which is an audience analysis feature as well as a social media command center.
---
Unfortunately, Pulsar did not make it on Forrester's Social Wave Report. That is one reason why I am not a fan of analyst reports since they don't give a full view into the landscape. However, Pulsar is a very flexible and scalable social listening platform and seamless integration with audience intelligence platform and one of my favorite tools, Audiense.
---
Digimind is a market intelligence and social media monitoring platform that also integrates Facebook, Instagram and anonymized LinkedIn post-level data. It's unclear if this data is authorized by the social networks or if it violates the terms of service. However, I have seen the data and it looks extremely insightful even with the anonymized data. Their influencer integration is also a strong feature integrated into the platform.
---
A social listening platform lead by text analytics and natural language processing. They have also built pre-existing segments of various types of audiences which makes it easy to segment and compare data. In 2020, they launched narratives, clustering and TikTok analysis. From what I understand, they are the only social listening platform that integrates TikTok, which is a huge differentiator.
---
A social media monitoring tool with strong data analysis and visualization integration. They acquired Quid a few years ago which is excellent to analyze long form content. Quid can interpret language and sentiment behind written text through Natural Language Processing (NLP), which can reveal consumer behavior such as attitude, perspective, world views and purchase needs.
---
Zignal's Narrative Intelligence Cloud can detect and assess the topics and narratives, whether they are positive or negative. It's know in the market to have the strongest reputation analytics engine that can detect and mitigate narrative threats or capitalize on narrative opportunities in real-time.
---
Talkwalker is a social analytics and monitoring platform that has built-in, ready to use command center that make it easy for brands to protect, measure, and promote across multiple social media channels. They also have a freemium model for users to test the capabilities but you'll have to sign up.
---
[Acquired by Meltwater]. Linfluence is an AI-powered consumer insights platform. The software provides marketing and brand teams with actionable quantitative and qualitative intelligence. The core platform, Radarly, collects data from a multitude of sources to include Facebook and Instagram. It's unclear how this data is being collected, formatted and displayed inside of their tool.
---
I don't know a lot about ListenFirst, nor could I find any helpful screenshots. From my research, it's a social media analytics platform with audience intelligence and influencer identification. I don't know if there are any differentiating factors compared to other social media monitoring tools.
---
Even though Sprinklr and Khoros are mentioned in the Forrester report and also the G2 Grid for Social Analytics, I don't believe they really belong on this list because social listening software is really not their core competency.
Whatever tools you are using, providing actionable data insights will help ensure that you deliver value for your social media listening strategy.