Key Takeaways 📈
Today's buyer journey is intricate. In 2023, the key to deciphering this dynamic group is audience analytics, which sheds light on how buyers consume content, research, and make decisions. With millennials and Gen Z now wielding significant purchasing power, their digital-native behaviors set them apart from previous generations.
Audience analysis dives deep. It's not just about skimming the surface; it's about understanding the values, behaviors, interests, and attitudes of target consumer groups, ensuring a comprehensive view that paves the way for memorable customer experiences.
An audience-centered approach is paramount. Beyond just collecting data, truly understanding the audience ensures that marketing and communication strategies are not only effective but also rooted in defendable data that promises genuine value.
Audiences have emotions and attitudes. It's essential to move beyond mere keywords and delve into the context, sentiment, and emotional factors of conversations. This deeper insight reveals the feelings, cares, and beliefs of the audience, offering a richer perspective for effective communication.
Audience analysis blends intuition and data. While human insight plays a role, data-driven insights dominate in pinpointing target audiences, discerning their habitats, and crafting the optimal engagement strategies. The landscape of audience building, whether specialized, affinity-based, or micro, caters to diverse marketing needs.
Audience insights shape digital marketing. Serving as a blueprint, audience analytics empower marketers to weave stories and content that resonate, ensuring campaigns that are not only impactful but also memorable in a cluttered digital space.
Real-time content marketing is evolving. By monitoring audience conversations as they unfold, brands can tailor their content to be highly relevant to their specific audience. This targeted approach amplifies success, ensuring content is both timely and deeply resonant.
Why It's Important to Understand Audiences
It's 2023. Today's B2B buyer journey is more complicated than ever. Audience analytics is the only way to understand this dynamic group of buyers.
Why this matters:
It matters because you need to know exactly how your buyers consume content, research information, and make decisions. How else are you supposed to get their attention? A Super Bowl ad? No.
B2B buyers are skewing much younger. Millennials are getting promoted and managing large IT budgets; many are entrepreneurs and launching companies. This didn't just happen overnight, either. In 2015, Google released research stating that nearly half of all B2B researchers are millennials. According to the report, 18 to 34-year-olds accounted for almost half of all B2B purchase decisions.
Millennials are a driven generation, and for the last 5 to 7 years, they have been rising in the ranks in corporate America. They are digital natives and grew up using the Internet and social media to communicate with friends and family. That behavior does not change just because they are working for an enterprise company and making investments in IT and technology.
The second reason is more about cultural norms. As consumers of products and software, our attention spans have diminished, and we have difficulty focusing. The Internet is one of the main reasons, but that has given birth to wicked-fast computers, apps that allow you to manage your entire life from your phone, and the need to always be in the know and connected.
In a nutshell, today's buyer is all over the place. They multitask on several devices simultaneously and chat and text with 15 different people.
Notice the B2B buyer journey below. This shows all the entry points buyers might realize they need to purchase the software. The journey is not even close to being linear. It's unpredictable, sporadic, and changes for various reasons–personal decisions, business needs, etc.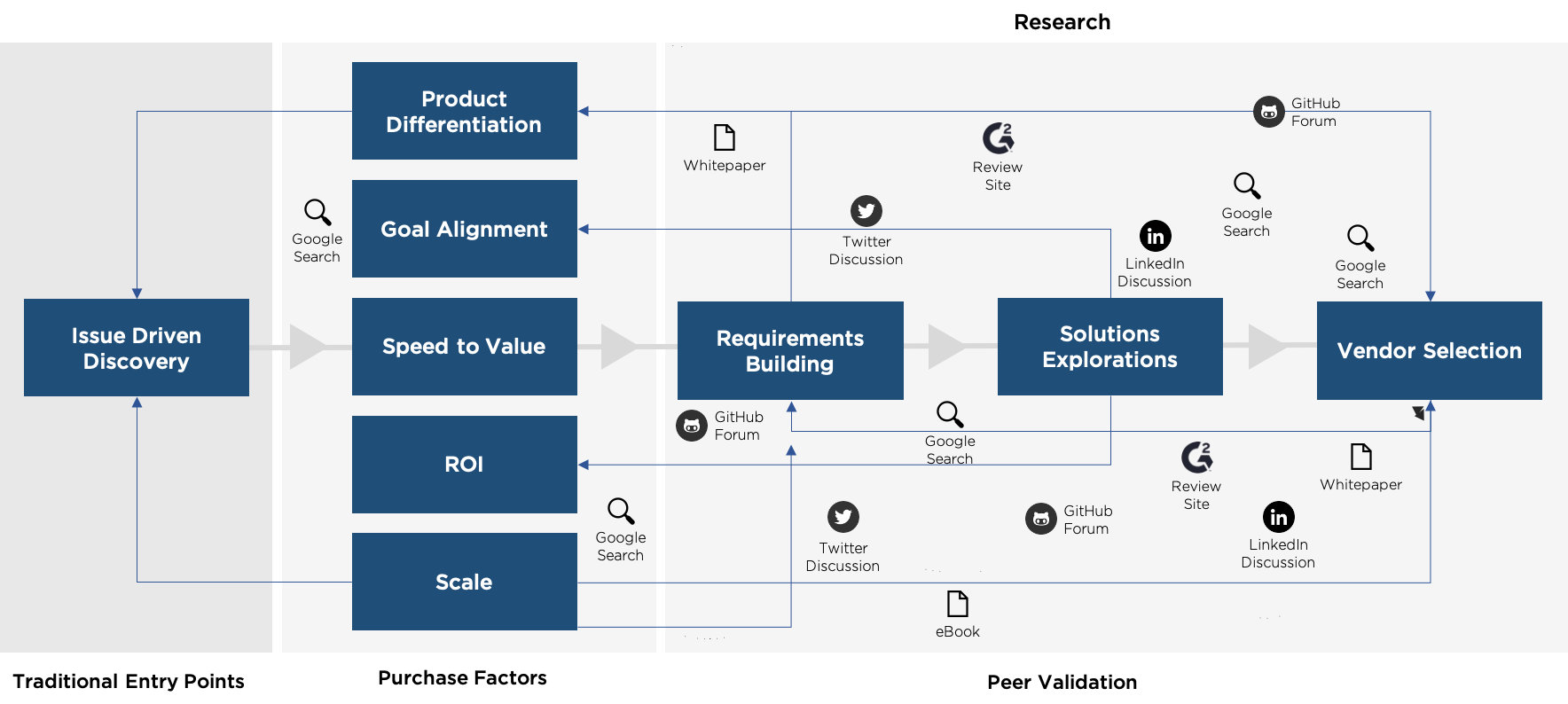 One thing to note is that buyers spend most of their time researching products and services on Google, reading industry white papers, blog posts, and e-books. They always seek feedback and direction from industry peers, colleagues, and influencers.
This buyer journey might seem overwhelming and complicated, especially for the B2B marketers who want to reach them. That's because it is.
It's also an opportunity to use data and analytics to understand buyers' behavioral patterns and conversations as they weave in and out of this crazy purchase journey. Every entry point and purchase factor below can inform a marketing program, advertising campaign, editorial approach, and digital content strategy. Additionally, third-party validation can reinforce purchase decision-making and accelerate the buying cycle. In this context, third-party validation could be through B2B influencer marketing or a formal customer advocacy program.
There are a few key takeaways to understanding the buyer journey. First, it's dynamic and changes daily. Second, the audience's expectations of technology also change as the speed of innovation increases. And lastly, just because one group within a specific audience behaves a certain way doesn't mean that all the audience members follow suit. This makes it almost impossible to reach a target audience with branded content.
Just wait until Gen Z starts running the business.
Even though we're talking about the B2B by your journey, audience analysis is just as crucial for consumer brands, especially when analyzing the shopper journey and, more specifically, when trying to understand Gen Z shopping behavior.
What is Audience Analysis?
The textbook definition of audience analysis is a "process used to identify and understand the values, behaviors, interests, attitudes, and conversations of different groups of people."
Audience analysis is about getting close and personal with target consumer groups and getting a 360-degree view of their innermost being. I know, it sounds a bit like a Rom-Com with Jennifer Anniston. But the more you know your audience, and I mean, really know your audience, you will have a higher likelihood of delivering a memorable customer experience.
Why is Audience Analysis Important?
An audience analysis isn't just important. It's critical to the success of your business survival. I am being overly dramatic. But having an audience-centered approach will ensure that your marketing and communication programs work.
But it has to be more than just a few bullet points on a PowerPoint slide or a screenshot from an eMarketer report. A buyer persona template you downloaded from the Internet and filled out during lunch won't cut it either.
An innovative and effective audience analysis will take you from "hoping" to "knowing" that you are building a plan informed by defendable data and will deliver business value and marketing ROI. Understanding audience relevance means that you know everything about them. Everything.
And here's the best part.
After your present the results of your campaign at the company QBR and show your colleagues how you delivered well beyond performance expectations, you will become even more valuable than you are today. Knowing more about any audience is good for long-term career growth and personal knowledge.
Drilling Down on Audience Analytics
To know your audience, you should identify what they say at every customer touchpoint throughout the buyer journey. Of course, the trigger words and target keywords and phrases will be a priority when analyzing audiences. However, it's also essential to know the context, sentiment, and emotional factors of those conversations.
It's a little more advanced than identifying, clustering, and tagging positive, negative, or neutral sentiment. An analysis focusing on the psychological and emotional factors of what your audience members are posting online will give you insights into how they feel, what they care about, and their attitudes and beliefs. More importantly, it can reveal "why," they think the way they do and "why" they care about specific products, services, cultural issues, and even politics.
Knowing your audience's attitudes and behaviors goes beyond just marketing too. Knowing your audience when communicating anything specific to product launches, company initiatives, and other public relations-related announcements is best practice.
How to Build an Audience
Audience analysis is art but mostly science. Human intuition and data-driven insights can identify target audiences, where to find them, and how best to engage them. There are several ways to build and analyze the audience based on your goals and objectives.
Although demographic information, age range, economic status, and other audience information may be hard for some audience members, this data type isn't that critical.
This type of audience building is based on social and content analytics. There is some demographic audience analysis that can be done. Still, the insights will show more about the audience's expectations while gathering information during the buyer journey and the audience's perspective on technology, software, and general business issues.
| Type | Summary |
| --- | --- |
| Specialized Audiences | Social media analysis using bio searches, targeting technical professionals who openly share their roles and expertise. |
| Affinity-based Audiences | Targets audiences with similar interests and beliefs using bio searches, follower relationships, and social media conversations. |
| Micro-Audiences | Small groups of influencers for real-time content marketing or organic engagement, balancing insight extraction and targeting. |
Specialized Audiences
This type of social media audience analysis begins with a bio search and is effective for more technical audiences like engineers, developers, IT decision-makers, and the C-suite, mainly because they aren't shy about telling the world what they do for a living.
For example, finding engineers or developers talking about #AIOps, #DevOps, or Robotics Process Automation (RPA) would require a combination of bio search and public social media conversations. Other specialized audiences like technology journalists, analysts, architects, real estate agents, physicians, nurses, and human resources professionals can be built effectively using this methodology. Here's an audience analysis example of a developer audience and one for the metaverse community.
Affinity-based Audiences
This approach is suitable for finding a like-minded intended audience with similar interests, affinities, attitudes, and beliefs. A target audience analysis and segmentation combine bio search, follower relationships, and social media conversations as data sources. So you can use this architecture to build niche audiences like millennial sneakerheads who live in New York, prefer drinking craft beer, and listen to 90s R&B & Hip Hop or Los Angeles Lakers Fans who live outside of Los Angeles. This is how you start brand audience analysis by simply analyzing a brand's social community.
Micro-Audiences
These are smaller audiences (<500) of influencers built for real-time content marketing or organic influencer engagement. The audience size is large enough to extract directional insights to inform content yet small enough to use to create highly-targeted creative assets.
Other Methods to Build an Audience
So far, we have talked about using social analytics to build audiences. This is an area where I have done most of my work over the last 10+ years.
It should also be noted that when talking with clients or other industry pundits about audience analytics, it would be wise to talk about the sources of data and the approach first, mainly because many people define audience analysis differently.
That said, let's explore a few different other audiences you can analyze using various data sources.
Using Web Data for Audience Analysis
Using web analytics, you can analyze audiences coming to your website through various online channels. You can segment audiences based on-page search or other forms of advertising to see how they interact with multiple forms of content on your website. You can track conversion rates or pages per visit, or top-performing content.
Google Analytics also provides interesting data related to web visitors. For example, they can give you the basic demographic analysis related to country, city, or area of interest based on their historical browsing behavior.
Google Search Console also gives you information related to the search queries that specific audiences are using in google and whether your website is showing up in the search results. I might refer to this as a website target audience.
Using Primary Research for Audience Analysis
Audience research using survey data is another way to understand certain Groups of people. This is also known as primary research, and it's more complicated and expensive than most people think.
One of the most challenging aspects of primary research is determining what questions you want to be answered. For example, what information do you want to know about who they are or what they care about?
It's also important to carefully instrument a survey so that it's fast, easy to fill out, and makes sense to those filling out the questionnaire. Many research firms use incentives to motivate people to participate in the questionnaire.
Survey data can get very expensive with more sophisticated and specific audiences. For example, surveying the C-suite or executive audience would be very expensive compared to a millennial audience interested in music or sports.
It should also be noted that survey data will only give you the information you ask about. That means you must have a hypothesis about certain audience behaviors before starting.
Focus groups can also be considered a type of audience analysis. Depending on the format of the focus group, one can learn a lot about an audience. If it is a free-flow conversation and less structured, there might be an opportunity for an insight you had not thought of before the focus group. In other cases, where there is a more structured Q&A, you will either confirm or deny a particular hypothesis of an intended audience that you wanted to know about in the first place.
Analyzing Audiences for Paid Social Media
Another form of audience analysis is when building out paid media targets a segmentation on sites like Facebook, LinkedIn, and Twitter. This type of audience building is less about analyzing interests and characteristics but creating an audience to target using paid media and advertising.
For example, on LinkedIn, you can build an audience consisting of certain job types and functions, colleges attended, certain degrees in milestones achieved, skills, what companies they work for or have worked for in the past, job titles, and so much more.
For Twitter, you target based on interest, keywords or hashtags get specific individuals have used. You can also target audiences who went to your website previously.
Out of all the social channels, Facebook has the most robust audience-building capabilities for a few different reasons. For the most part, Facebook has been the social network people use to talk about everything they care about, including sports, politics, business, fashion, music, and everything else.
It's the social network where we tell the world when we get married, when we have children, when they graduate from college, and when they get married. Then, all of the data is used by Facebook so that advertisers can build custom target audiences and launch campaigns based on the audience attributes.
On a basic level, an audience can be attendees of an event, people using hashtags online, or a group of individuals who have used specific keywords.
The best-case scenario is to use a combination of these techniques to dive deep into audience interests and characteristics and even get more detailed audience demographic research.
Is an Audience Analysis and Segmentation the Same Thing?
So imagine doing an audience analysis using social analytics of a group of software developers. You might find some interesting things about the audience members you were unaware of, so you leveraged a primary research study to dig deeper. From there, you can build a developer audience on one or more of the social channels, use the insights you gain from the audience study, and tailor messages to that audience through a creative campaign. And after the marketing campaign is complete, you can facilitate a series of focus groups for the audience members to measure impact or brand lift.
Many people ask me if audience analysis and segmentation mean the same thing. It's not the right way to think about it. When you do an audience analysis, one of the typical outputs is a cluster of different sub-audiences. These could be considered a form of audience segmentation.
Audience Segmentation Example
Below is an audience segmentation analysis of software engineers. The research started using a bio search of a few job titles like developer, engineer, and programmer. Building an audience using bio search terms could take a long time, especially if you don't know the industry. To ensure that the data is clean and that all audience members are "software engineers," the process will include filtering and excluding other keywords and phrases.
For example, there is a significant audience size of construction developers on social media, and they often add terms like commercial developer or real estate developer in their bio. To exclude these audience members from the data set, you would have to filter out commercial or real estate keywords.
Another way of ensuring that the audience is accurate is to add content searches combined with bio searches. For example, if your query searches for bio has programmer, developer, and engineer, you can also add specific programming languages keywords like Python, Java, or C++. In addition, you can add keywords like DevOps, software, and coding to be more precise.
An additional technique is to add a "follower" variable to the bio searches. This means the audience must follow one or more social media profiles to be included in the data set. So, this could be profiled like @Java, @UCLAengineering, or @Docker.
Once the filtering and exclusion statements are added, the audience segmentation will be complete.
Below are just three of the nine total segments. However, when doing an audience analysis at a larger scale, it would be critical to analyze each subsegment separately.
Let's explore these three segments and highlight some differences and similarities.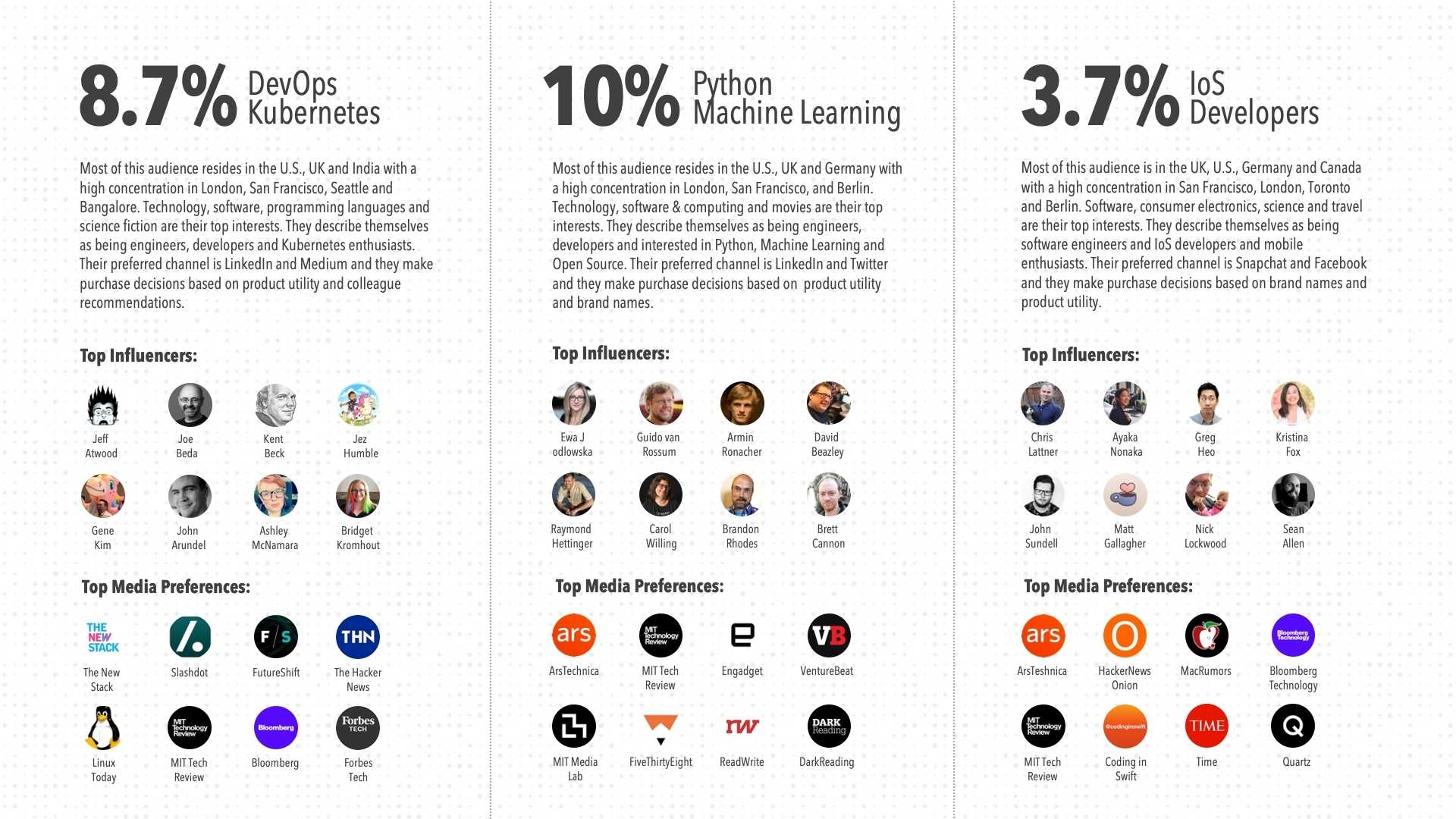 Based on our audience size, almost 9% of the audience are DevOps engineers. You'll notice some basic demographic information in the description. In this case, we're limiting the data just to include the geographic location at the country level.
More importantly, you will see the top influencers that influence this segment of our engineering audience. When you compare that to the other segments, there is minimal overlap.
When comparing the media data, you will see some similarities with affinities. All three audience segments have a high brand affinity for the tech publication MIT Technology Review. Python engineers and IoS developers have a high affinity for ArsTechnica.
While these small details might seem insignificant, they can help give marketers the insights needed to tailor messages to an audience and target media outlets within marketing campaigns.
Many factors go into this type of data. At a very high level, when exploring affinity data, we're looking at the percentage of the audience that follows certain social media And the percentage of the audience that uses specific keywords and phrases when describing what they do in their bio.
What isn't illustrated in this example is conversational data. Like the audience persona Example above, we would want to explore the topics and trends each subsegment discusses regarding important issues to your business. It would be interesting to see the differences in essential subjects like artificial intelligence or enterprise security. I would bet that the conversations are incredibly different from each engineering segment.
The Intersection Between Social Intelligence & Audience Analysis
The more you know about your audience members and understand their attitudes and beliefs, the better you can intercept them with clear and concise messaging as they navigate the B2B sales funnel.
Back in the early days of social media, marketers used social media monitoring to listen to the Internet for specific keywords, topics, brand mentions, competitors, and industries. It gives marketers the ability to segment and analyze audience conversations by the news media, blogs, forums, and social media.
Social media platforms like Brandwatch, Pulsar, Synthesio, Talkwalker, and Netbase have come a long way, integrating audience analytics, natural language processing (NLP), AI, machine learning, and linguistic text analysis to decipher social media conversations.
Social intelligence is still common practice today. While there is value in this approach, a target audience analysis provides more in-depth research enabling marketers to make data-driven marketing decisions.
Marketers can be laser-focused when planning marketing and communications programs that deliver ROI and business value by segmenting and clustering specific audiences into smaller groups.
Using Audience Analysis to Create Buyer Personas
As mentioned, the buyer's journey is complex, and building an audience persona from intuition is a thing of the past. While it may seem convenient to download a template from Hubspot, customize it to your brand identity and fill in the blanks. Audience Personas that are not backed by data don't work. They may look good on a slide, but they won't get you the expected results.
Target audience analysis and persona creation give marketers the actionable insights they need to create data-driven content marketing programs that deliver real business value and make an impact.
The insights here are just scratching the surface. This audience analysis example is just one snapshot in time, but there are some important aspects to discuss. We have already discussed top media affinities and purchase factors in the above examples. Her name, age, occupation, location, and marital status are examples, but all other data is real.
I want to spend just a few moments talking about topical relevance. Every audience analysis should include some type of conversation data as an output. Conversation data will help narrow down the topics most relevant to a specific audience. In this example, we are looking at an audience persona representing a larger audience of CIOs.
The color-coded sunburst chart is broken down into four different topics––data science, insights, cloud, and CIO. They're color-coded to show the volume of keyword mentions by the audience. So, in this example, data science accounts for most of the conversations, followed by insights, cloud, and then CIO. The second and third layers are subtopics of the main topic. For example, when looking at data science, one subtopic is deep learning, and then after deep learning, there is AI and analytics.
This is important because we are taking a large data set and clustering it into smaller, size data points to make sense of the data. There would be no way to come to the same conclusion of understanding topical relevance by scrolling through and reading thousands of social media mentions.
Imagine what you could learn if you tracked an audience over some time.
What types of Insights Are Available from An Audience Analysis
If done right, there are many data points and insights you can leverage, and all the known factors of an audience will be at your disposal. Here's a summary of the types of insights.
| Category | Description |
| --- | --- |
| Brand Affinities | Brands most connected to and frequently referenced. Reveals audience expectations of brands they follow on social media. |
| Buyer's Journey | Keywords (triggers) used for research and purchasing. Provides insight into the audience's attitude in navigating the digital ecosystem. |
| Influence | Identifies which audience group has influence and which members gain influence. Highlights other cultures that are part of this audience. |
| Media | Publications they read and share based on their topics of interest. |
| Demographic Factors | Information about where the audience lives and works. |
The beauty of building data-informed audience personas is that they will benefit everyone in the organization, from PR and social media to channel sales and direct marketing.
How Audience Analytics Can Inform Digital Marketing
Marketers must ensure that their supply of content marketing meets the audience's demand by providing relevant stories and creative content.
Audience analytics is a blueprint. Like an architect who designs a house using 3D software, marketers can build data-informed programs using audience analysis. The result: creative storytelling and advertising that can break through the clutter and reach audiences with memorable, impactful, and game-changing programs.
Here are a few examples of audiences I have analyzed in the past:
| What You Can Learn from Audience Intelligence? | How You Can Use This to Drive Creative Storytelling? |
| --- | --- |
| Topical Relevance | Use to align your narrative or content strategy to better align with what is relevant to the audience. |
| Keywords and Phrasing | Use to inform headlines, blog posts, and other long-form content (executive thought leadership, employee storytelling). |
| Traditional Media Affinities | Use to prioritize your media relations to what the audience reads and shares. |
| Hashtag Usage | Use to build an audience-driven influencer program. |
| Buying Triggers | Use to build a content strategy that aligns to the buyer's journey. |
Targeting Audience in Real-time with Relevant Content
I call this real-time content marketing and analysis. The goal of real-time content marketing isn't to be relevant to everyone. It's to be highly relevant to your audience. For example, everyone remembers the Oreo Tweet in 2013 during Super Bowl XLVII. Since then, many brands have tried to "hijack" cultural moments to insert themselves into an existing narrative and reach a broad audience. Sometimes it works, but most times, it doesn't.
This is where real-time audience listening comes in – rather than trying to align your brand with everyone, this approach leverages the audiences that are most important to amplify your success.
Once you build your audience, the content engine works like this: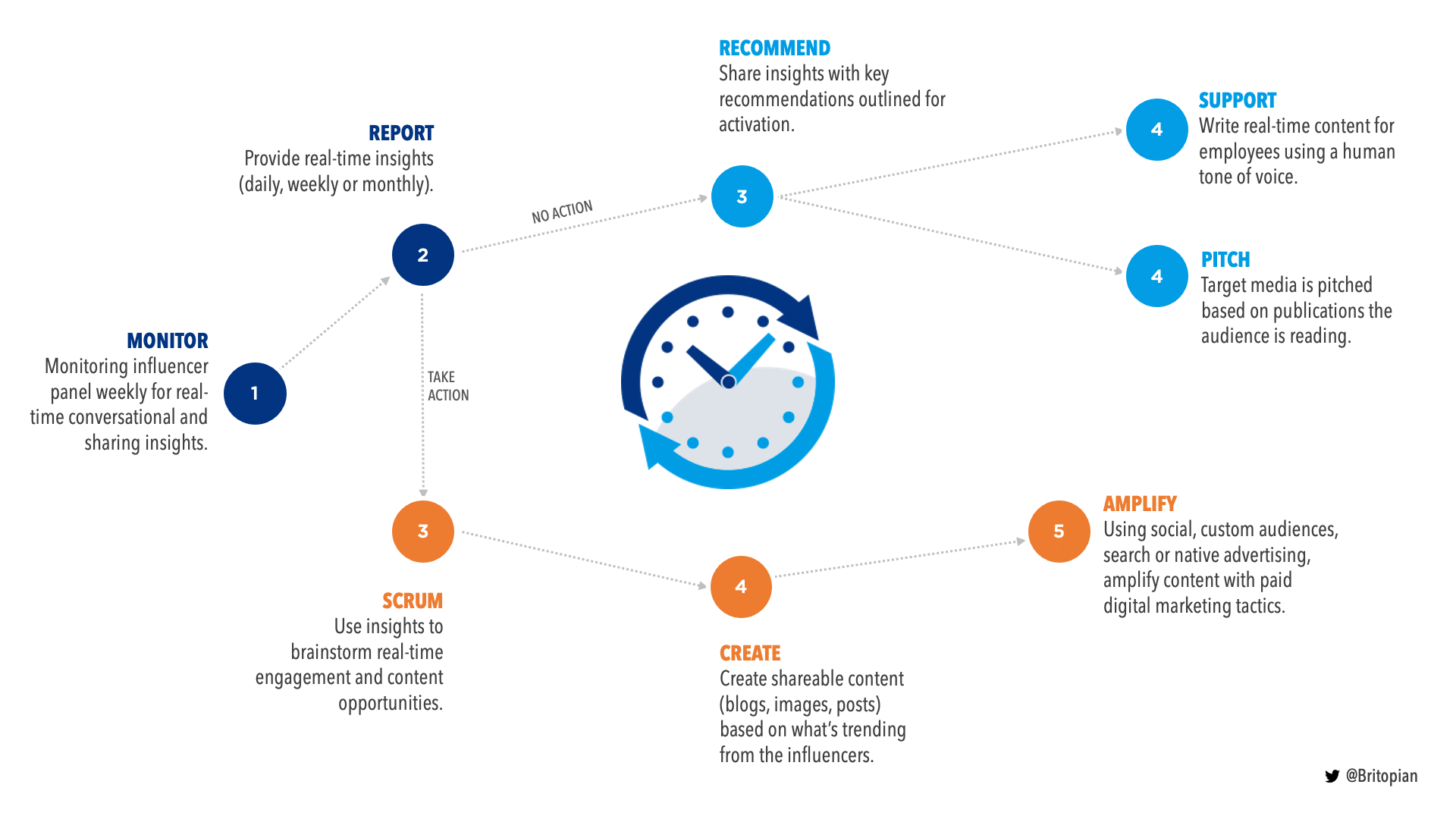 Two paths can potentially be taken based on your goals and objectives. The first path requires no action other than reporting and making recommendations based on audience insights. The second path requires immediate action to activate the real-time content engine.
Reporting & Recommendations and Audience Insights
Monitor your audience's conversations in real-time to see what's top of mind and trending.
Provide daily, weekly, or monthly reporting based on audience data analysis.
Recommend activation opportunities based on the insights.
Provide content recommendations for employees and executives for employee advocacy programs and executive activation.
Real-time Content Engine
Monitor your audience's conversations in real-time to see what's top of mind and trending.
Provide daily, weekly, or monthly reporting based on brand audience analysis factors.
Scrum with analysts, creatives, community managers, content strategists, and paid social experts to brainstorm content and activation opportunities.
Create shareable content, usually an animated video, gif, or digital asset. In some cases, a blog post could be produced.
Post & amplify the content with strategic paid social.
Choosing the Right Audience Analysis Platform
There are several technology providers in the market today that claim to do audience analysis. I've curated a strong list of audience intelligence platforms I have used in the past as a starting point.
Related Content