If you're a marketer, you know that technology is constantly evolving and changing – and if you're not keeping up, you're falling behind. So Martech should always be a strategic initiative when creating digital marketing plans and go-to-market strategies.
Martech is short for marketing technology and encompasses all the software and tools marketers use to enable marketers to do their jobs effectively. This can include everything from social management tools to email marketing platforms to a content management system (CMS).
With so many marketing technologies (Martech) options, it can be overwhelming to determine which Martech stack is right for your business.
What is a Martech Stack?
A Martech stack is a collection of software and tools marketers use to manage their workflows and day-to-day tasks. The term "stack" is used because it's like a stack of pancakes – each layer (or tool) depends on the one below it. Of course, there are always exceptions, and some tech and martech stacks can run independently of each other and provide the same level of value for marketing leaders.
The idea behind having a Martech stack is that it allows you to be more efficient and effective when executing your digital and marketing activities and programs. In addition, you can avoid switching between multiple platforms and applications by documenting and consolidating your marketing tools into one place. It also makes it easier to replace technology when the time comes.
An effective Martech stack should be able to collect, curate, and analyze results, audience segmentation, measure performance, optimize campaigns, and apply data insights into future social media marketing campaigns. The collective tech stack is used internally to support all of your goals & objectives across paid, earned, owned, and shared media channels.
Notice the marketing technology landscape below, highlighting the 5000+ marketing technology vendors in the space today. It's a vast martech landscape.
What Are the Benefits of Having a Marketing Tech Stack?
There are several benefits of having a Martech stack, including the following:
Increased Efficiency – By having all your marketing tools in one place, you can eliminate the need to switch between multiple applications. This saves time and makes you more efficient when executing your marketing strategy.
Easier Management – With a Martech stack, you can easily manage and monitor your marketing operations in one place. This makes it easier to manage all the customer data, track results, and measure the performance of your marketing efforts.
Improved Collaboration – A Martech stack allows for better collaboration between your marketing team by providing a single platform where everyone can access and share information.
Greater Scalability – As your business grows, you can easily add new tools to your Martech stack to support expanded digital marketing operations.
Enhanced Creativity – With your marketing and customer data in one place, you can more easily identify trends and insights that can help you create marketing campaigns that break through the clutter and drive customer acquisition.
I know … it sounds like a lot to your customers to think about just for an investment into a marketing tool. But you really can't put a price tag on efficiency and effectiveness. Besides, sales and marketing teams use technology to operationalize their B2B social media marketing strategy.
How to Choose the Right Marketing Stack for Your Business
Choosing the right tech stack for the digital asset management of your business can be daunting. There are thousands of marketing technology options, and selecting tools to support your digital marketing efforts is essential.
Here are some tips for choosing the right martech systems:
Define your needs – The first step is to define your needs and what you want to achieve with your tech stack. This will help you narrow the options and find tools compatible with your marketing strategies.
Research the options – Once you know what you need, research the options and find products that fit your marketing requirements. There are many different Martech tools, so take the time to find the best-suited objectives (e.g., keyword research, lead generation, driving traffic to your website, or marketing automation).
Try before you buy – Many Martech vendors offer free trials or demos so you can try out their products before making a purchase. This is a great way to get a feel for how each tool works and how it might fit into your existing tech stack.
Keep it simple – Don't try to overload your tech stack with too many tools. Instead, start with a few essential tools and add more as needed. This will help ensure that each tool is used effectively and provides value to your business.
Be prepared to change – The marketing landscape is constantly changing, so be ready to adapt your tech stack as new technologies emerge. Don't be afraid to experiment with new tools and add them to your stack if they offer value.
The benefits of having a Martech stack are clear. By consolidating your marketing tools into one place, you can save time, be more efficient, and improve collaboration with your marketing team. But how do you choose the right Martech stack for your business?
There are thousands of marketing and technology solutions and options, so selecting tools to support your specific goals and objectives is important. When choosing the right Martech stack for your business, remember these tips.
Thinking About a Marketing Technology Stack RFP
An RFP is a "Request for Proposal." It's a formal document that a company issues to solicit vendor bids for a particular project. In this context, the bids would come from marketing and advertising technology vendors.
When issuing an RFP for your tech stack, it's essential to be clear about your needs and objectives. This will help you narrow the options and find products compatible with your digital marketing plan. Be sure to research all the options in the marketplace and try out free trials or demos before purchasing.
What's Included in the Marketing Technologies Stack?
There are several marketing technologies, each offering its benefits for you and the marketing team. Here are a few of the most common marketing technology tools and platforms. Note that there are repetitive marketing tech platforms listed below.
Email Marketing – Software providers like HubSpot and Salesforce are email marketing platforms that can automate and track all email campaigns. These platforms provide list segmentation, lead generation, A/B testing, website analytics, and landing page optimization.
Content Management System: Content Management Systems, such as WordPress, Drupal, and Joomla, make it easy for brands to manage, maintain, and update content without a deep understanding of coding. They present a straightforward interface for creating content, incorporating visuals, and organizing layouts for a personalized website. Brands find these systems extremely handy as they empower non-technical individuals to keep website material current and engaging. Apart from managing primary content, these systems extend capabilities like search engine optimization, integration with social platforms, advertising technologies, and options for online commerce.
Marketing Automation – Marketing automation tools like Marketo and Pardot offer a variety of features that can help you automate your marketing tasks. For example, these platforms can be used for email marketing, lead nurturing, lead management, and social media marketing.
Customer Relationship Management (CRM) – CRMs like Salesforce and HubSpot can help you operationalize your marketing processes, with managing customer relationships as the focus. Contact management, deal tracking, and marketing automation are core functionalities of these tools. They can also help you optimize landing pages for conversion, lead generation, and website analytics.
Web Analytics – Web analytics platforms like Google Analytics and Mixpanel offer insights into website performance. These analytics tools can integrate with your CRM, track website visitors, user engagement, sales, and conversions, and help measure search engine optimization.
Social Media Management – Social media management platforms like Sprout Social, Sprinklr, and Oktopost are enterprise solutions that can help you manage your social media marketing channels. Most of them integrate with Google Analytics and marketing automation tools. These platforms are excellent for managing customer relationships, community management, scheduling posts, integrated analytics, and fully operationalizing your social media marketing strategy.
Search Engine Optimization (SEO) – SEO tools like Surfer SEO, Moz, and SEMrush can help you improve your search engine rankings. These platforms provide keyword research, organic traffic research, backlink analysis, landing page optimization, and competitor tracking.
Social Listening – Social listening platforms like Brandwatch and Netbase track social media conversations across the entire customer journey. These platforms provide sentiment analysis, keyword research, customer data analysis, and competitive tracking features.
Data Visualization – Data visualization platforms like Tableau and Google Data Studio can help you visualize your data and contextualize your digital marketing strategy. These platforms provide a social analytics dashboard and reports, most integrating with other platforms in your tech stack.
When choosing a Martech stack, it's essential to consider the different types of marketing tech available in the marketplace.
My Experience with Martech Software RFPs
I enjoy RFPs because it allows me to stay up to speed on all the new capabilities and functionality of the different software vendors in the Martech space. I am not just a decision-maker when buying software, either. I am a power user with most platforms in the marketing stack, specifically data, analytics, social listening, publishing, and other social media management tools and intelligence.
I have two areas of responsibility related to software and technology in my current role. I manage our martech and marketing technology and determine which apps to invest in and which ones we can move on from. I also help clients determine which software apps they can use based on what business problem they're trying to solve. In many cases, I'll help manage the entire Martech RFP process.
The Role of B2B Customer Journey
In the traditional customer journey, especially for enterprise software, IT decision-makers go through several steps before purchasing products. The steps might vary depending on the company but typically include research, evaluation, and selection.
The role of the buyer is to make sure that the right products are chosen for the right reasons and that they meet the needs of the business. They also need to be able to justify the purchase to senior management and ensure that the products are compatible with the current tech stack.
Once they identify an issue or an opportunity for innovation, they will start building their requirements. They move into exploring various solutions across the landscape, and then they decide. I oversimplified this process, as seen in the customer journey below.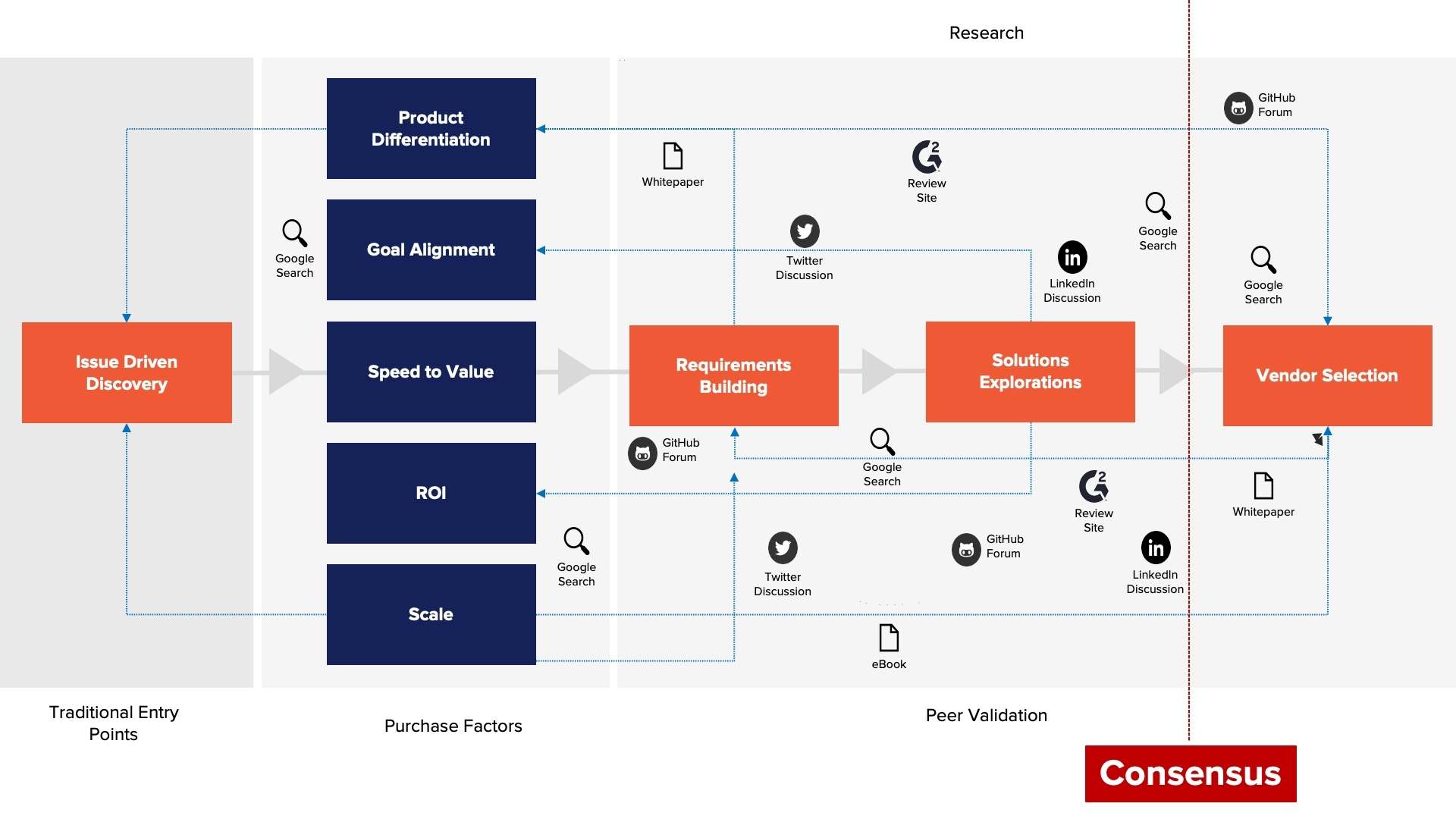 The hardest part about the buyer journey is getting consensus from other decision-makers within a company. It's critical to gather as much information about your existing Martech stack as possible and acquire the knowledge you need to make the smartest decisions for your business.
Much research should be done before a purchase decision is made. You should read white papers, research reports, blog posts, and software reviews. You should also ask colleagues and peers about their experiences with different software applications.
Below is an example guide that will help you consider all the questions you should ask software providers. Notice the four columns below. The first column is the application utility, or how the Martech software will be used and how it will be applied to the actual work.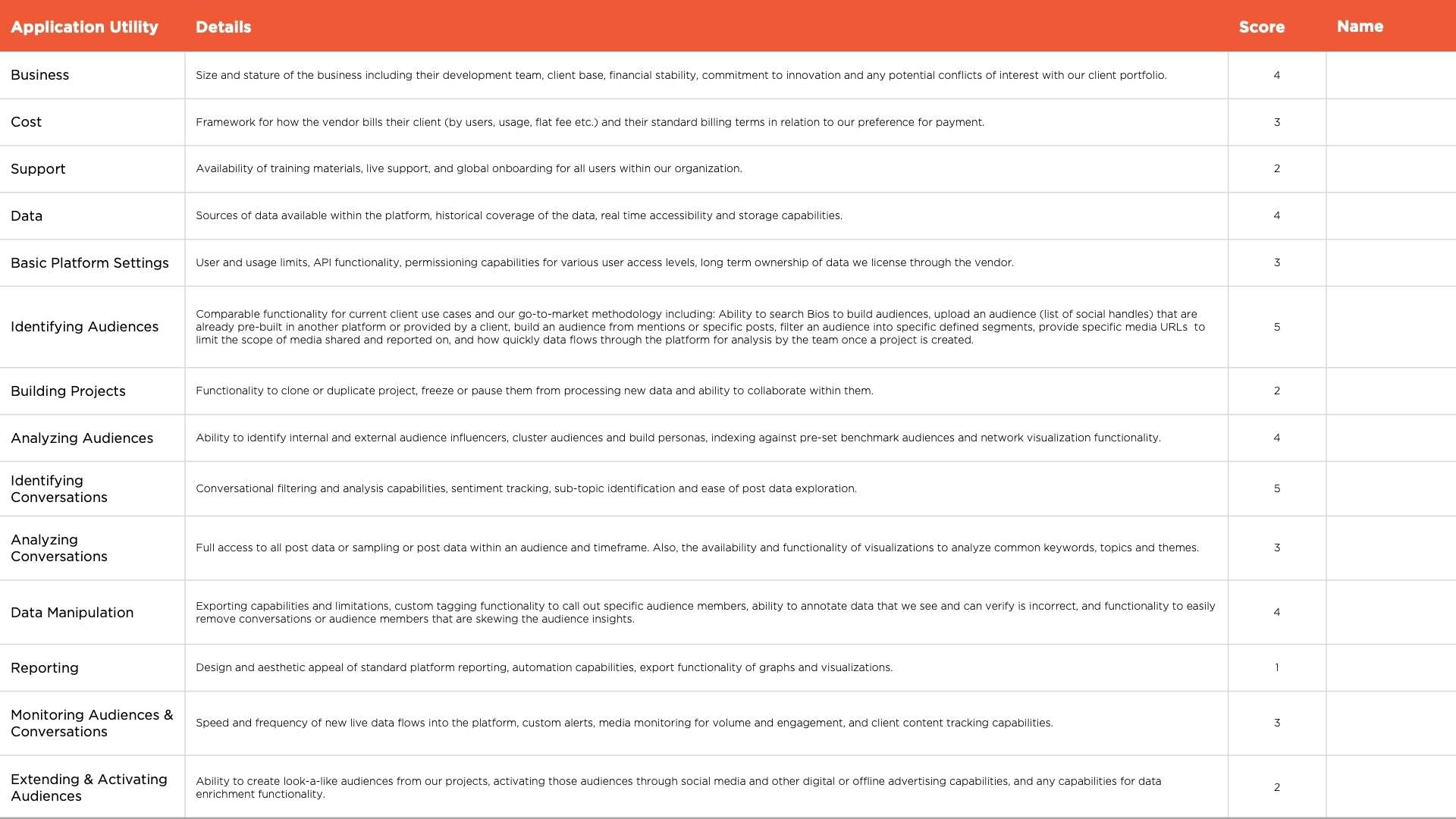 The details highlight a written summary of the application utility based on the marketing and business need. You'll notice the score and a name. I highly recommend creating something like this as you go through a Martech RFP process, especially if you are trying to achieve consensus amongst a larger group of internal decision-makers. You can build a scoring system and use that as a way to determine which software to buy based on the feedback from your peers.
Marketing Tech Stack Focus Areas
There are three things that you should focus on when in the process of making a marketing technology investment.
Document your requirements: Stand firm on your business and technology requirements while conversing with different software vendors. Demand that they can meet your business requirements instead of vice versa. Many Martech software providers say, "It's on the road map for Q4." I would be very critical of these statements unless they can show proof of concept or add an "opt-out" clause in the contract. Keep your ground, and don't budge.
Explore your options: Most Martech software providers require annual contracts. Before signing the contract, you must be smart and explore all tools and solutions.
Google everything. Read the analyst reports. Go to customer reviews sites like G2 or Trustpilot. Ask Twitter and read Reddit posts. I guarantee you that there is information out there. People are usually generous at providing feedback about the marketing software they have used in the past, whether good or bad.
Also, demand a 30-day trial. I'm not sure why all Martech software providers don't do this, and I would guess that about 30% of them do. Make this a requirement.
Choose your Martech partner: Before signing the contract, take additional steps to seek third-party validation. Often, you can ask the Martech vendor to provide you with references. I highly recommend you call them, talk to them about their experiences, and ask questions about deployment, customer care, downtime, etc.
A focused Google search can uncover articles or commentary around the software and the marketing channel or tech stack you are considering. And if you have a social listening platform, you can expand your search to include the entire Internet.
Ask yourself: What marketing problem do you want to solve?
I want to be clear and say that this isn't a question you are asking the Martech software vendor. You must ask these questions and collaborate with internal stakeholders to ensure goal alignment.
This is extremely important for a multitude of reasons. I will highlight just a few.
Some Martech software providers claim to be the "all-in" solution for everything you need related to marketing material and social media.
For example, there is a huge difference between analyzing volume, reach, and impressions of media coverage and what social listening platforms can do. Monitoring tools sometimes pull in media articles and social media conversations to analyze data. If you are looking for media-specific software, take a read of my "Meltwater vs Cision" comparison to see which one would be good for your business.
But in my experience, there isn't one tool that does both exceptionally well. If your budget allows, you can use two separate PR and social media project management tools together. Over the last several years, I have curated a list of the top vendors in this space based on my experience. I update the list often:
Final Thoughts on Your Marketing Tech Stack
A martech stack is a valuable investment for any business. By understanding the benefits of a modern marketing and tech stack and how to choose the right one, your company can see a significant return on investment.
If you're ready to invest in a martech stack, include all of the components in your RFP and ensure that the software providers you consider are current on the latest trends in marketing efficiency. The marketing technology landscape is constantly changing, so selecting a provider that will continue to innovate and help your business grow is essential.
---
FAQ
Q: Are there any tech stack providers that help with customer experience?
A: Yes, there are a few. I believe the two best customer experience stack providers are Salesforce and Adobe.
Q: Can a tech stack improve marketing operations?
A: Yes, it can. One of the main benefits of having a tech stack is that it can automate tasks and streamline marketing processes, making your marketing efforts more efficient.
Q: What are some common mistakes made when choosing a tech stack?
A: One mistake is not taking the time to understand their needs and goals. Another mistake is not doing their research and relying too heavily on one vendor's opinion.
Q: How long does it take to implement a tech stack?
A: It depends on the size of the target audience for your company and the complexity of your marketing efforts. However, most companies expect results within 6-12 months.
Q: What is the average cost of a tech stack?
A: The cost of a tech stack varies depending on the size of your company and the scope of work. However, most individual software providers within a tech stack range from $5,000-$100,000 per year.