In this video I dissect several points that marketers must consider before building their marketing tech stack, also known as the Martech stack. But first, let's explore a few definitions.
What is Martech?
Martech is short for marketing technology. It represents the tools and software used to help marketers plan and execute marketing programs, collect, curate, and analyze results, audience segmentation, measure performance, and apply data insights into future campaigns. It's the collective technology stack that marketers are using internally to support their goals & objectives across paid, earned, owned and shared media.
Notice the Martech stack below highlighting the 5000+ marketing technology vendors in the space today. It's a huge digital ecosystem.
What is an RFP?
An RFP is a request for proposal. In this context, it's a document used by marketers to solicit a proposal for services. Typically, a company will put out an RFP (i.e., Social Listening RFP) and different martech vendors can choose to respond or not.
Who doesn't love martech software RFP's?
I really enjoy RFPs because it allows me to stay up to speed on all the new capabilities and functionality of the various software vendors in the Martech space. I am not just a decision maker when it comes to buying software either. I am a power user with most Martech software applications, specifically data, analytics, social listening, publishing and media intelligence.
In my current role, I have two areas of responsibility as it relates to software and technology. I manage our software tech stack and determine which apps to invest in and which ones we can move on from. I also help clients determine which software apps they can use based on what business problem they're trying to solve. In many cases, I'll manage an entire RFP process.
What is your buyer journey?
In the traditional B2B buyer journey, especially when it comes to enterprise software, IT decision makers goes through a series of steps before they decide to purchase products.
Once they identify an issue or an opportunity for innovation, they will start the process of building their requirements. They move into exploring various solutions across the landscape and then they decide. I have oversimplified this as you can see from the buyers journey below.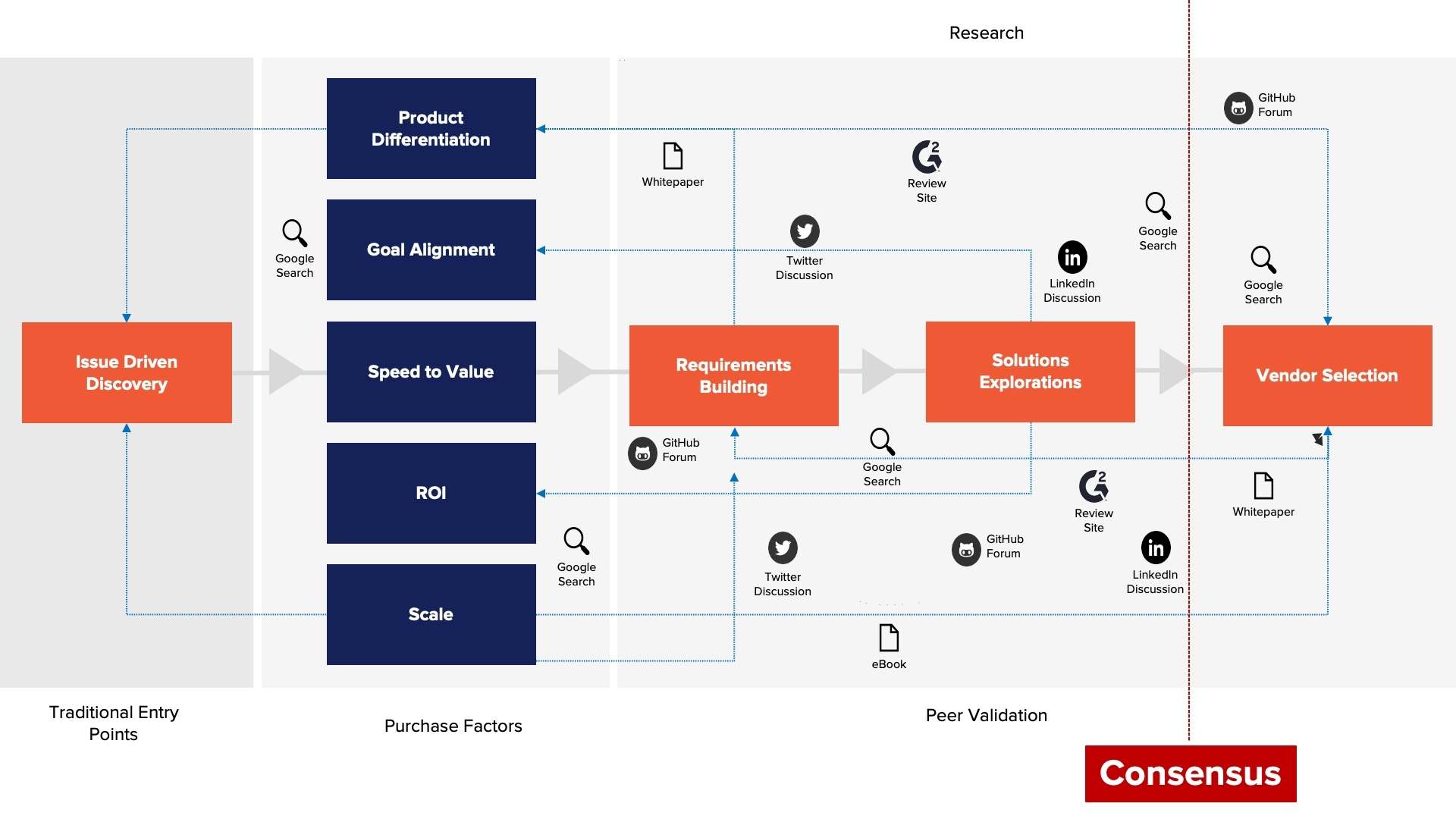 The hardest part about the buyer journey is getting consensus from other decision makers within a company. It's critical to ensure that you gather as much information about your existing Martech stack as possible and acquire the knowledge that you need to make the smartest decisions for your business.
The point I want to make is that there should be a significant amount of research done before a decision is made. This means that you are reading white papers, research reports, blog posts, and software reviews. This also means that you should be asking colleagues and peers about their experiences with different vendors.
Below is a guide that we put together for an RFP which was a part of a larger marketing tech stack investment. Notice the four columns below. The first column is the application utility, or how the martech software is going to be used and how will it be applied to the actual work.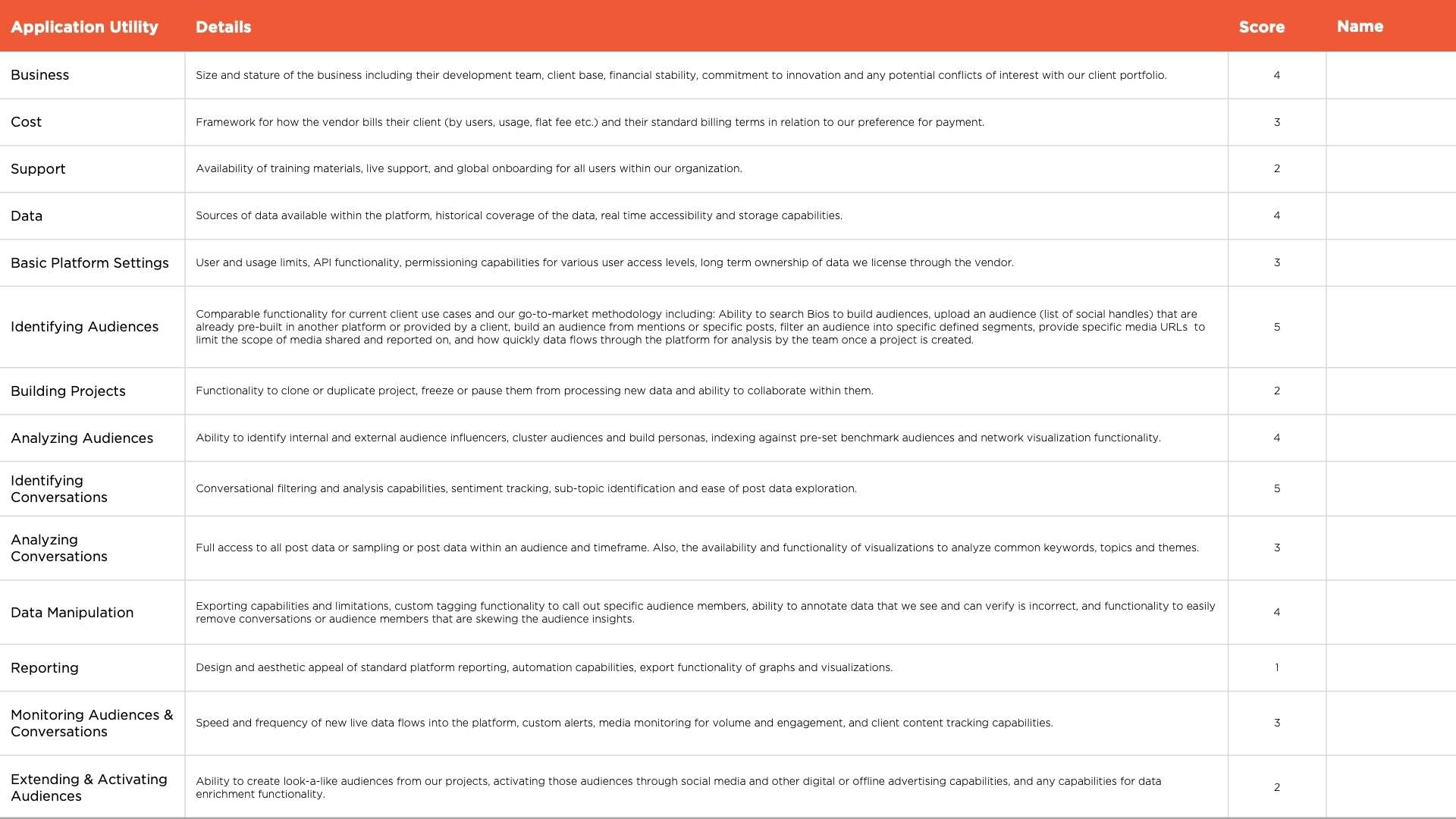 The details highlight a written summary of the application utility based on the marketing and business need. You'll then notice the score and a name. I would highly recommend creating something like this as you go through an RFP process, especially if you are trying to achieve consensus amongst a larger group of decision makers. You can build a scoring system and use that as a way to determine which software to buy.
Buyer Journey Focus Areas
There are three things that you should focus on when going through your buyer journey.
Requirements Building:
Stand firm on your business and technology requirements as you are having conversations with different software vendors. Demand that they can meet your business requirements instead of the other way around. Many Martech software providers will say things like, "It's on the road map for Q4." I would be very critical of these statements unless they can show proof of concept or add an "opt out" clause in the contract.
Keep your ground and don't budge.
Solutions Exploration:
Most Martech software providers require annual contracts. This means that you need to be very smart and explore all tools and solutions before making a purchase decision.
Google everything. Read the analyst reports. Go to the customer review sites like G2 or Trustpilot. Ask Twitter and read Reddit posts. I guarantee you that there is information out there.
I would also highly suggest that you request a free 30-day trial. I'm not sure why all Martech software providers don't do this and would guess that about 30% of them do. Make this a requirement.
Vendor Selection:
Before you sign on the dotted line, take additional steps to seek out third party validation. Oftentimes, you can ask the Martech vendor to provide you with references. I highly recommend you call them and talk to them about their experiences and ask questions about deployment, customer care, and downtime, etc.
A focused Google search can also uncover articles or commentary around the software and marketing tech stack you are considering. And if you have a social listening platform, you can expand your search to include the entire Internet.
What problems are you trying to solve?
I want to be clear and say that this isn't a question you are asking to the software vendor. These are questions that you need to ask yourself and collaborate with internal stakeholders to ensure goal alignment.
This is extremely important for a multitude of reasons. I will highlight just a few.
But first, let me just say that there are some Martech stack software providers that claim to be the "all in" solution for everything you need.
For example, there is a huge difference between analyzing volume, reach, and impressions of media coverage and what social listening platforms can do. In some instances, there are monitoring tools that do pull in both media articles and social media conversations. If you are looking for media-specific software, take a read of my "Meltwater vs Cision" comparison to see which one would be good for your business.
But in my experience, there isn't one tool that does both extremely well. If your budget allows, you are better off using two separate tools for PR and social media. Over the last several years, I have curated a list of the top vendors in this space based on my experience. I update the list often:
The key in all of this is to be as educated as possible when building your Martech stack.
---
I really hope you enjoyed this video. I do my best to create content that's actionable and provides value to the work you do.
Please consider subscribing to my YouTube channel; and be sure to hit the notification button so you can be notified when new videos are uploaded. You can also connect on Michael Brito's social media channels if you like.