Everyone talks about having an actionable data insights strategy. Heck, I talk about it on every post and in every tweet. But what most people don't talk about is how to use data insights to inform a program or campaign. Sometimes by analyzing data, you can provide whitespace to a client and show extreme business value.
According to the CMO Survey: Rising to meet the challenge by Deloitte, 84% of marketers who work for consumer brands made significant investments in data insights in 2020. This is certainly good news but there's still a long way to go.
I don't know how many times I have heard "data-driven storytelling" and I'm just as guilty as the next person of using it more than I should.
But I wonder how many people know what it means because it's so much more than a buzzword.
It's kind of self-explanatory right — data-driven storytelling is the action of using actionable data insights to inform a story, media plan, content, headline, blog post, ad copy or all of the above. I think it's important to pause here and mention that there's data and there's data insights; and data is just that — numbers. It's not actionable. Insights, on the other hand, is a discovery or a conclusion based on analysis.
Here are a few data insights examples.
If I were to say that my Facebook ads generated 5,000 clicks to my website, well, that's great… it's good data.
But if I were to say that after a few A/B tests, we saw a 12% increase in clicks when the creative has a red CTA button instead of a blue CTA button.
These are actionable data insights.
Now the reality is that it's not hard to get insights like this.
There's a free version of Similar Web and I wanted to get some quick data about WIRED, so I plugged in wired.com and here's what I got.
Basic traffic data — 17.9M visitors, almost a 80% bounce rate. We see that over half the traffic comes from the US — we can see the top referring websites, organic search numbers, and then we can the % of traffic from social.
This is great data. Yes. But there's more.
Let's Dig Deeper on a Data Insights Strategy
So, back to WIRED. Now, if you're in PR, please please please don't ignore data insights. You don't have to be a data scientist to use data in a smart way. There are tools that can help you.
The first thing I did was do an audience analysis to see who reads and shares content from WIRED; and I was able to uncover 8 distinct audiences and customer insights.
These audiences are clustered based on demographics, psychographics, self-identifiable characteristics and follower relationships we refer to as affinities.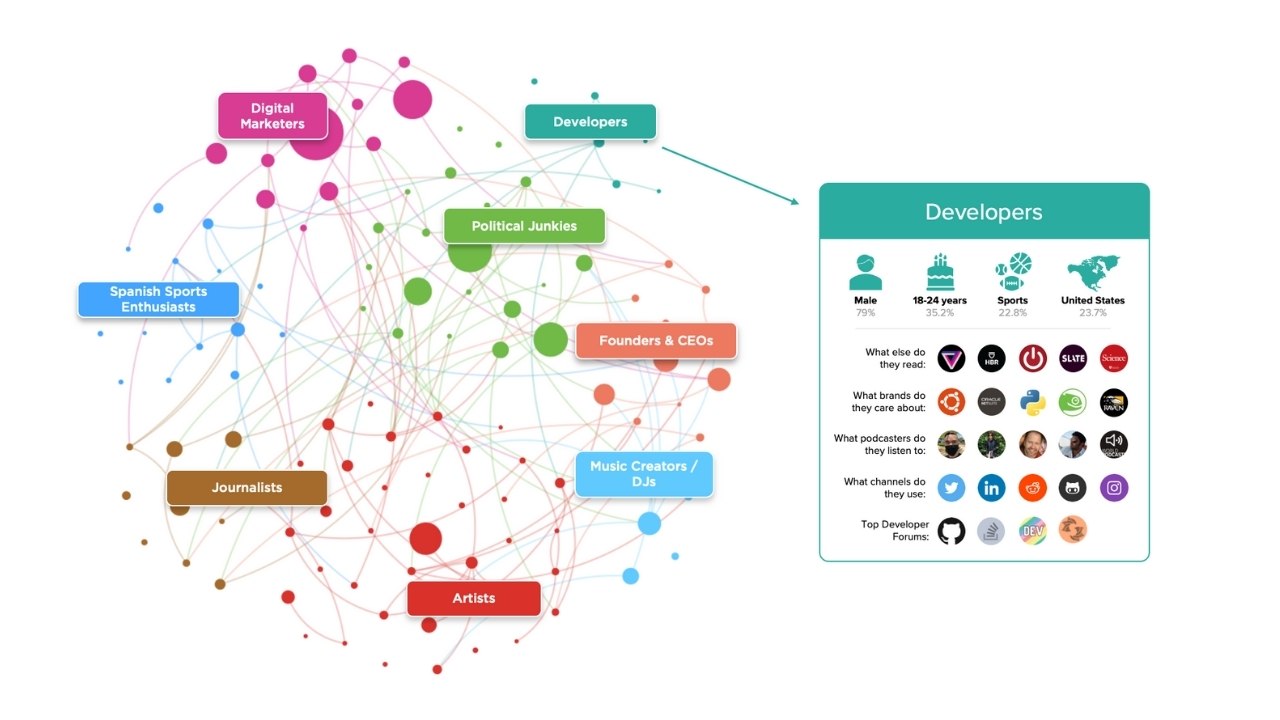 I wanted to quickly drill down on one specific audience to see what else I can find — so here we have a developer audience, 79% male, they skew younger, like sports and they also read sites like The Verge, HBR and PC Mag.
We can also what brand affinities they have, podcasts they listen to, channels they use.
Some interesting data insights here about WIRED's readership.
Let's move on.
The next piece of the analysis is based on topical relevance. In other words, what topics does WIRED write about the most. In other words, what are they publishing?
The first trend line is data from January 2019, and you can see here that data and security are dominant topics of media coverage.
You'll also notice that Artificial intelligence and workplace has some nice growth over the last 18 months, with a nice spike in April/May which was a natural result of COVID 19.
The chart on the right represents relative share of coverage, so when you take these 7 topics as one data set, 5G accounts for only 6% of that coverage, AI 7%, Security 33% and so on.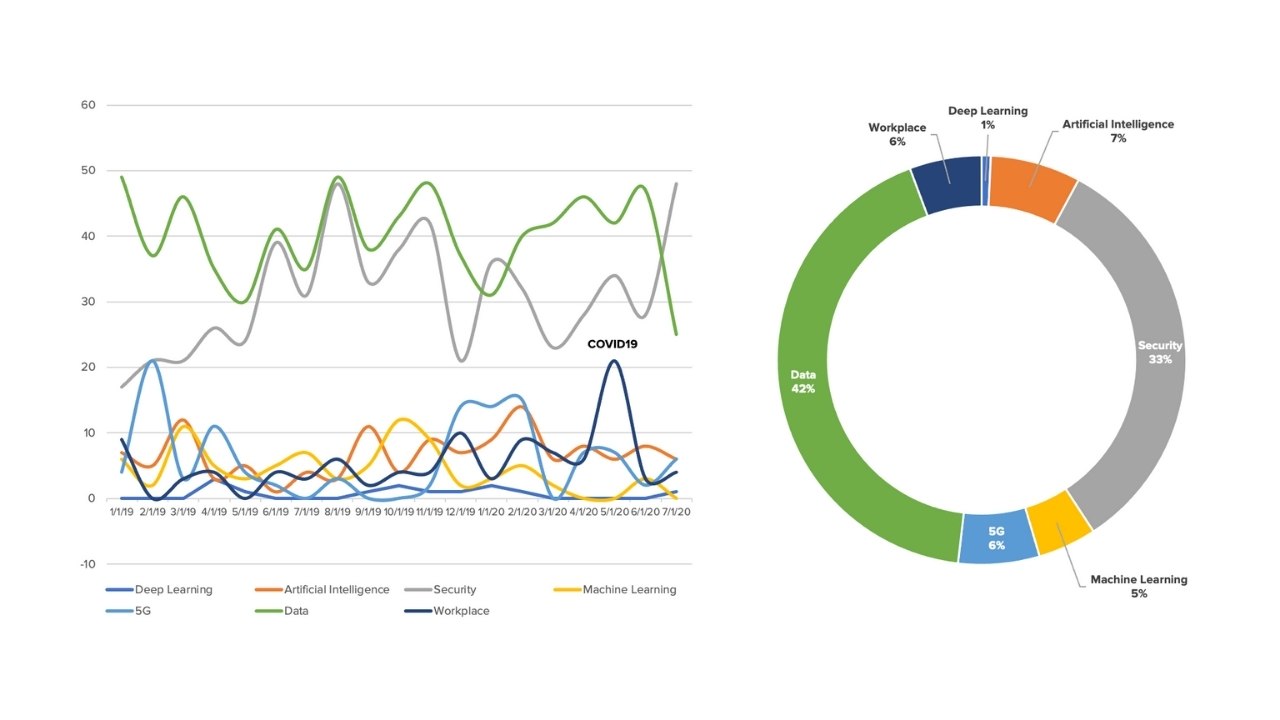 What this is not saying is that of all WIRED coverage, security is mentioned 33% of the time. It's only representative of this data set.
So as we continue to dig, I wanted to understand how often WIRED was writing about some of the top technology companies.
This data represents unique mentions, meaning after I excluded all the other companies, Google was still mentioned in 568 total articles and I did the same for each company.
The double clicking on Google, this is a topical coverage analysis. The size of each color-coded piece represents volume, so in this case, when WIRED wrote about Google, almost 50% of the time it was about the company, CEO, employees and other corporate challenges.
Then coming in 2nd was Google Maps, then Google Assistant, etc.
And lastly, these are just the top 3 pieces of coverage over the last 6 months as determined by engagement or what I refer to as resonance.
In this case resonance equals some type of social action – a like, comment, share, RT, pin, comment or inbound link.
So the next logical question here is, yes, there's a lot of interesting data here, but are there any actionable data insights?
Well, after reviewing the data, I found a few.
If you are trying to reach a developer audience, this is a gold mine of information. You know what other media platforms they read, what podcast they listen to and I even discovered a new developer forum that I wasn't aware of before.
Also, if you can somehow align your company's product or service narrative to the digital workplace, you may have a better chance of getting coverage since that topic is becoming more relevant to the journalists that write for WIRED.
So should you prioritize WIRED in your data insights strategy? Well, I would recommend doing this analysis for a larger group of media outlets and apply a score card of some sort based on the data insights that's important to you. It could be unique monthly visitors, article engagement, topical relevance and so much more.
And that's the type of data insights strategy you can use to make better decisions for clients.
Hope you enjoy the video below and subscribe to my Youtube channel to be the notified when new videos are added.