A buyer persona shows a glimpse into a high-value audience. It's a snapshot of your customer.
Why this matters:
The more you know about your audience, the better equipped you'll be to create programs and campaigns that deliver impact. It's a fact.
Building a persona requires much more effort than downloading a persona template online, calling an hour-long meeting, jotting down some ideas on a whiteboard, giving your target customer a name, and then designing a PowerPoint slide.
It shouldn't be treated as "a task" on a project plan or a "to-do" list as a part of an old-school sales process.
Sadly, many marketing and sales teams still follow this formula. And while that was acceptable in prior years, today, building buyer personas should always be informed by research.
What is a Buyer Persona?
A buyer persona is a fictional character that represents your ideal customer. Buyer personas help marketers gain visibility into their target customers' thoughts, ideas, conversations, pain points, and values to improve how they develop products, go to market with marketing messages, launch campaigns, and ultimately sell products.
Creating a buyer persona can be applied to any market, industry, vertical, or region. Some marketing and sales teams create multiple buyer personas based on product portfolios or use cases. This will always depend on each business and the different types of customers they serve. In some cases, they may only create one buyer persona and add additional personas as new products or services are introduced to the market.
A persona is a visual representation of a more extensive audience analysis. See below for three persona examples–C-Suite, Gen Z, and a Physician Audience.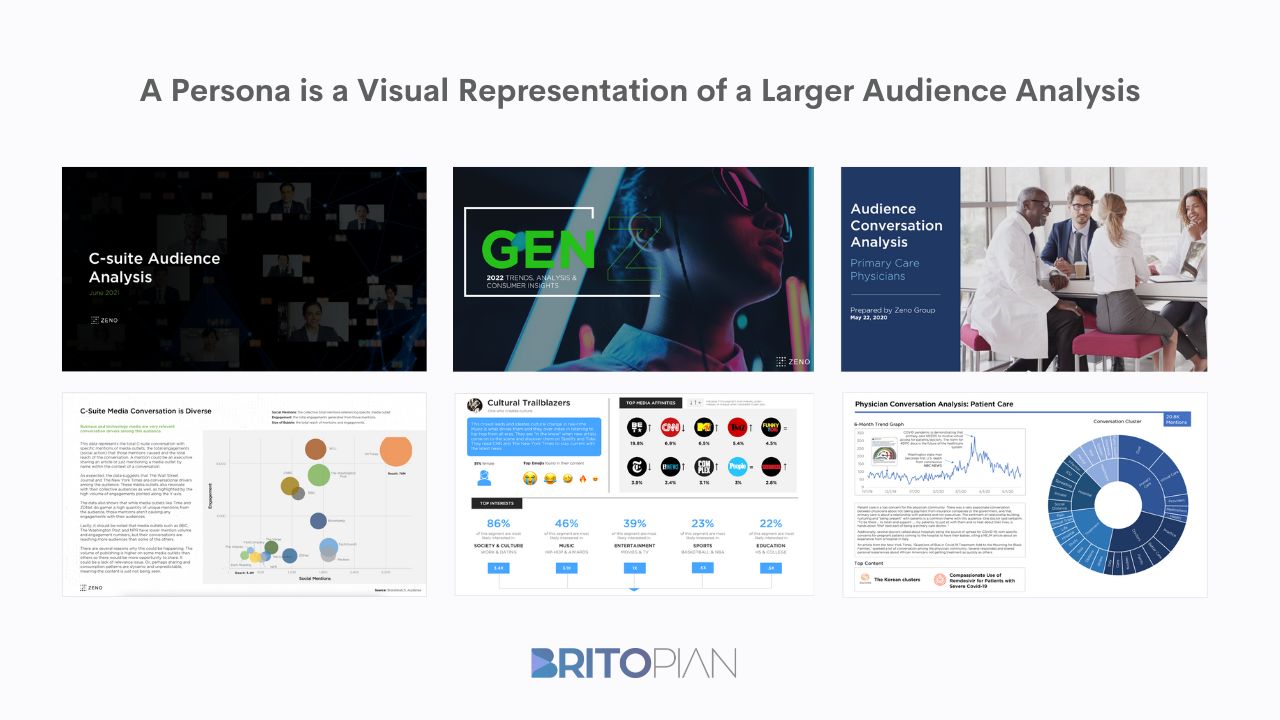 All buyer personas should be informed from primary research, web analytics, or social analysis.
What are the Benefits of Creating Buyer Personas?
Marketers have long relied on buyer personas to understand better their potential customers and how they can provide them with a better digital customer experience. There are several benefits to creating good buyer persona profiles, including:
Improved Customer Communication: The most significant benefit is that personas enable a business to articulate its value proposition to its target audience clearly. If done right, marketing, and the sales team can identify customer pain points and create messaging that addresses those concerns.
Innovation & Product Development: The insights extracted from creating buyer personas can give product and R&D teams detailed documentation on new features or products they need to build. This approach can also help with decision-making and problem-solving across the business.
Data-Driven Digital Marketing: Research and data should always inform a buyer persona. Marketers can create targeted digital marketing programs across paid media, search, content marketing, social media marketing, PR, and events by applying an analytics approach to mapping the customer lifecycle.
The Sales Team Loves Buyer Personas: Ask any sophisticated sales team about buyer personas, and the response is the same: they love it. A buyer persona will give them insights into ideal customer pain points, the top channels they are using, and the target customer interests. As a result, integrating buyer persona development into the sales process will soon become a marketing best practice.
Buyer persona development can do more than provide insights into customer behavior. It is a business tool that can help educate the entire organization to inform product development and digital marketing strategies globally. Social media and content marketing teams also find buyer personas extremely beneficial to inform their programs when mapping content to the B2B sales funnel.
A Glimpse into 5 Buyer Persona Examples
Below are five examples of buyer personas created using customer insights. Before we get into the specifics of each persona, let's explore the methodology.

First, it's an expectation that marketers already have in-depth insight into their business, products and services, and the brand's unique value proposition. They must also account for all the external factors out of their control. This includes competitive products and services, local, state, and federal laws (if applicable), changes in cultural shifts, and the constant evolution of customers' unmet needs.
Assuming this is all accounted for, the buyer persona analysis can begin.
The definition of audience analysis is the process of using data and insights to identify, understand and uncover the values, behaviors, affinities, attitudes, conversations, and patterns of a target customer. The analysis can extract data from primary research, web analytics, social media, or all three.
Here are three ways to build an audience of potential customers to inform a buyer persona.
Specialized Audience: This approach for building buyer personas is ideal for B2B and technology companies. The process involves analyzing social media bios for target keywords, like a job title. The C-suite, IT Decision Makers, Engineers, and Developers are easy to find using this methodology. Other specialized audiences include reporters, analysts, healthcare professionals, and business decision-makers.
Affinity-based Audience: This approach effectively finds different types of customers that share similar interests, affinities, attitudes, and beliefs. It could be as simple as building a target audience of customers that follow a particular brand on social media or have used a target keyword or hashtag in the last six months. A more sophisticated approach might include a few more variables, like potential customers that have an affinity for travel, follow high-end brands online, and talk about going on vacation every summer.
Micro-Audience: These are smaller audiences (<500) built to help highlight what is trending among micro-communities on social media. The purpose is for real-time content marketing. The target audience is large enough to extract directional insights to create content yet small enough to create highly targeted creative assets.
The analysis involves affinity-based insights and compares it to an index (e.g., gen pop) to show the unique characteristics. It also interrogates social media conversations to better understand what trends and topics are top of mind for the ideal customer.
This approach was used to build the buyer personas below. But, again, while these can be used as a buyer persona template, the insights and analytics need to be authentic and align with audience relevance.
---
Fitness Enthusiast Buyer Persona Example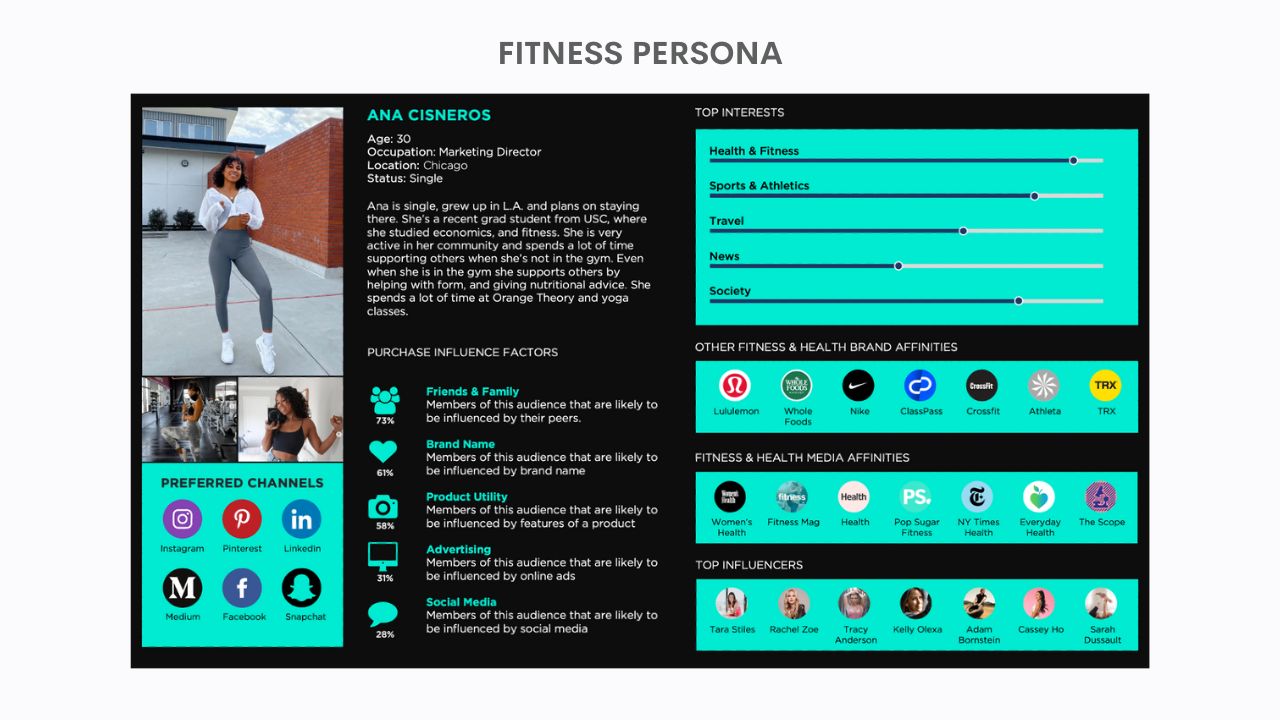 The ask was to build a buyer persona of fitness enthusiasts. The target customer profile was women between 25-35 years old.
The analysis starts with a name, occupation, location, marital status, and a brief bio. Besides the persona name, everything else is informed by social analytics and insights.
The preferred social media channels are based on the percentage of the audience that follows each channel and how often they cross-link their social profiles.
Purchase influence factors are based on how this audience is influenced to purchase products and services. These are not mutually exclusive. As you'd expect, this audience is highly influenced by friends and family. They are loyal to specific brands and make purchase decisions based on product utility.
The top interest section is based on a pre-defined taxonomy of social media handles categorized into different topics. For example, if a high percentage of the target audience follows travel-specific handles like Southwest, Travelocity, Condé Nast Traveler Magazine, or a set of travel influences, they would be classified as interested in travel.
---
Fitness Enthusiast Buyer Persona Example #2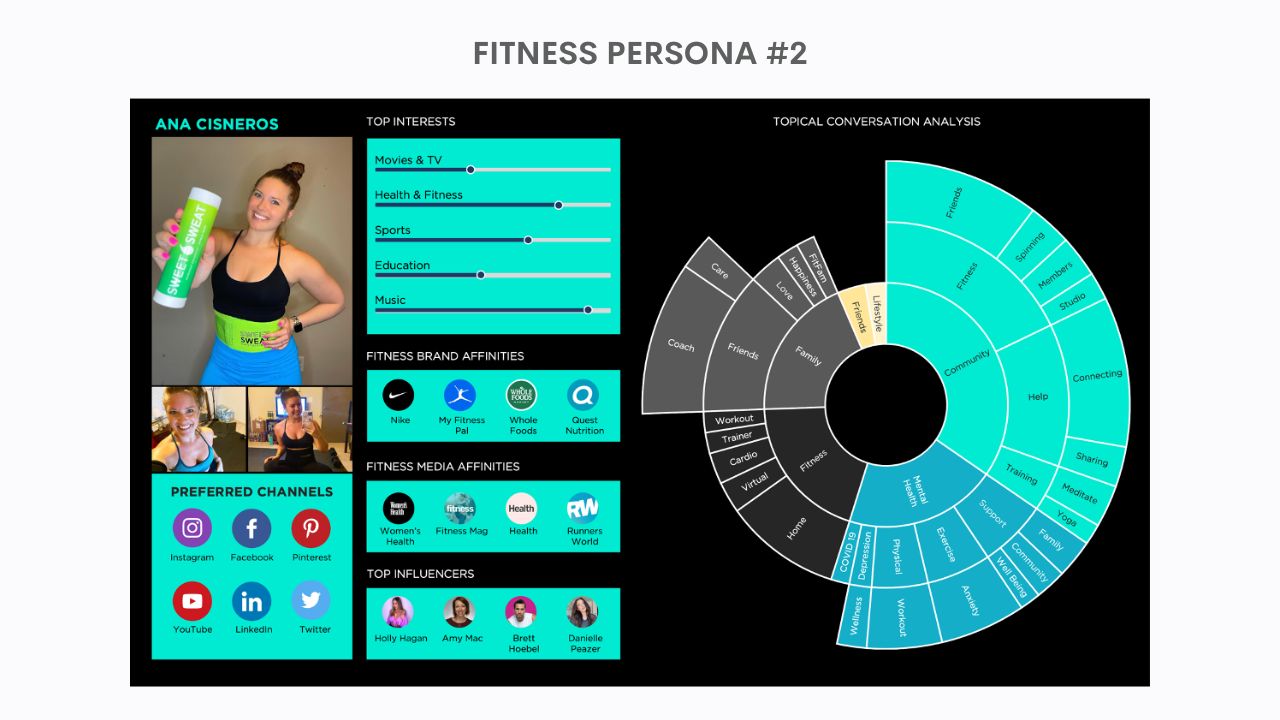 This second buyer persona is from the same audience but with additional conversational insights—the analysis involved looking back at the last 12 months of the audience's social media conversations.
The conversational insights reflect the topics and sub-topics most important to fitness enthusiasts. It's clustered by keywords and phrases. The size of the color-coded sections is significant because they represent conversational volume. The larger the area, the larger volume of conversation.
The key takeaway of this analysis is that topics related to community and mental health represent about 50% of this audience's conversation.
Additionally, fitness, family, and friends represent the rest of their conversation. Also, by drilling down to the second and third layers of each topic, marketers can uncover the context of the conversations and identify potential white space. This approach gives marketers actionable insights without reading through thousands of social media posts.
---
Commercial Real Estate Buyer Persona Example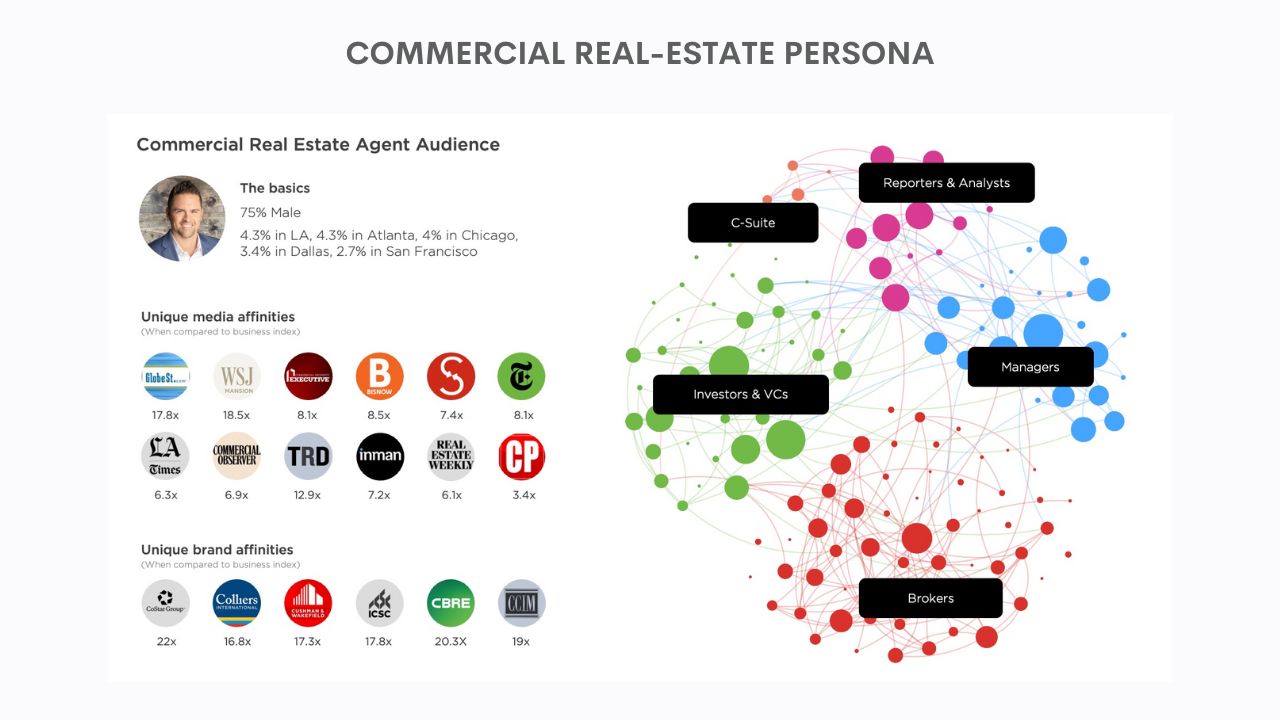 This buyer persona is based on an audience of commercial real estate agents and is constructed slightly differently than the two fitness personas above.
The demographics, unique media preferences, and brand affinities are pulled similarly, but some data points below should be addressed.
The way to read these numbers is that commercial real estate agents are 6.3x more likely to read the LA Times when compared to an index. In this case, the index is the general US population. But it can also include a general business index or other audience. This type of information uncovers the interests, characteristics, and affinities that make an audience unique.
The audience persona cluster on the right is the audience segments that make up the entire commercial real estate agent audience. These segments were identified based on a job title. This takes the data one layer deeper, providing more unique insights. It might make sense to analyze each segment in many cases to understand the affinities and characteristics that make them unique from the other segments. This would help marketers create laser-focused marketing messages targeted toward each audience group.
---
IT Decision Maker Buyer Persona Example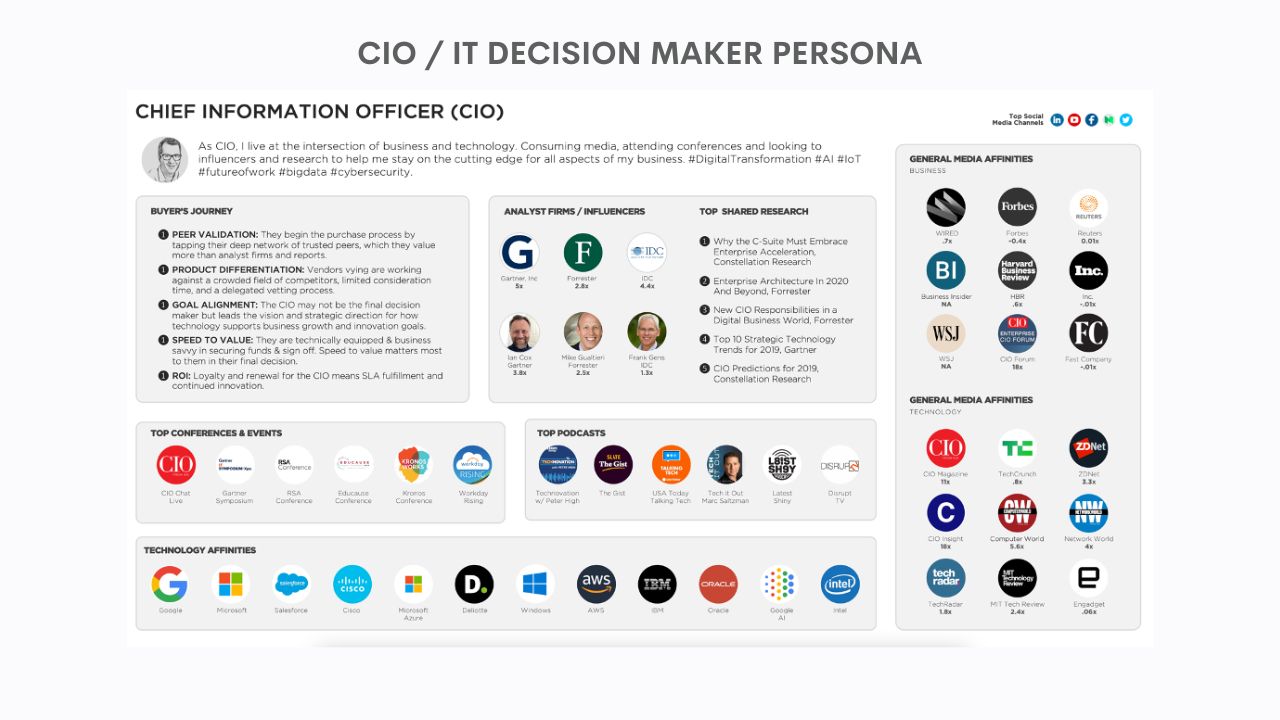 This is an example of a B2B buyer persona labeled the CIO, one dimension of IT Decision Makers. It doesn't matter how the persona is labeled if audience insights inform it. For example, depending on the research design and taxonomy, an analysis can start with the IT Decision Maker as the larger audience profile and then be segmented based on various titles like the CIO, Head of IT, Director of Ops, etc. This type of analysis can uncover the unmet needs of each target customer and help craft marketing strategies tailored to each one.
All the information collected for this buyer persona was done the same way as the personas above. In this case, the top social media channels, purchase drivers, media affinities, and conversational analysis are included in this buyer persona template.
---
Software Developer Buyer Persona Example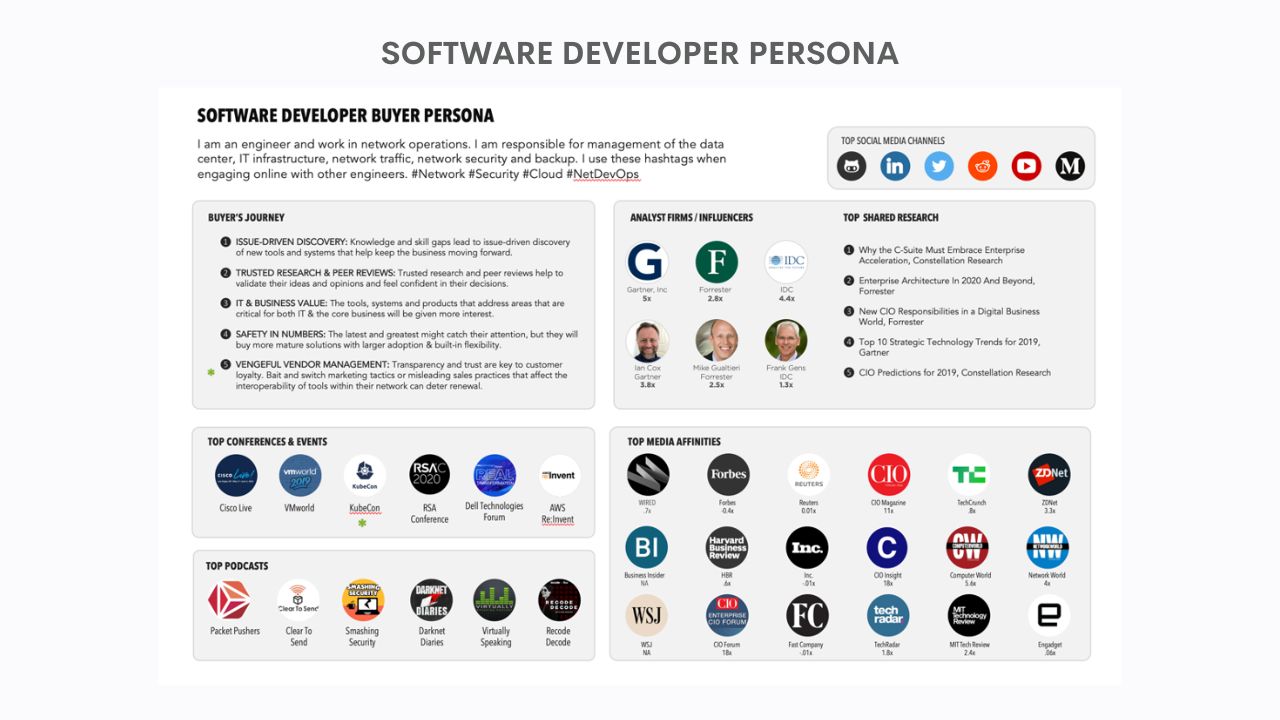 This audience persona was built using highly targeted keyword Boolean searches of social media bios. We used keyword searches like "programmer," "engineer," and "developer."
This audience persona maps the buyer's journey, top analyst firms, and the top shared research by software developers. Lastly, the persona maps top media affinities, conferences, and podcasts.
---
Banking Executive Buyer Persona Example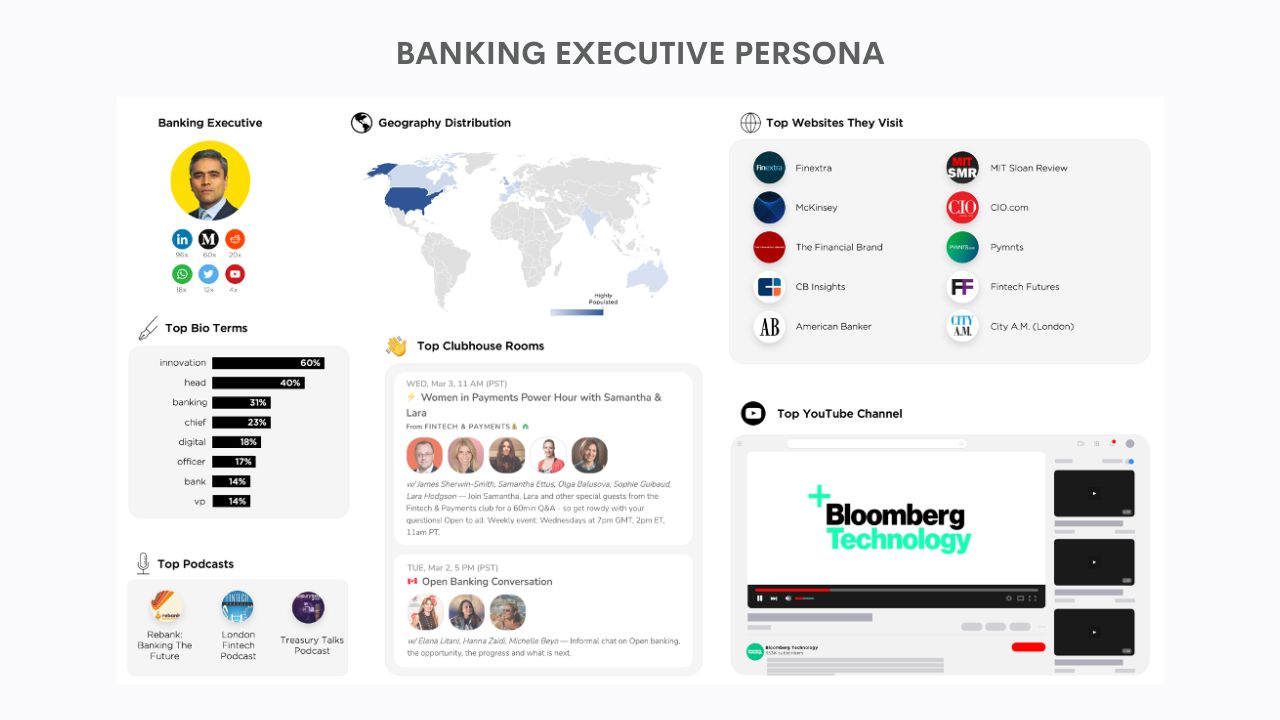 This audience persona was built using highly targeted keyword Boolean searches of social media bios. We used keyword searches like "EVP" and "VP" and combined them with keywords like Bank or Credit Union.
This audience persona maps the buyer's journey, top analyst firms, and the top shared research by software developers. Lastly, the persona maps top media affinities, Clubhouse Rooms, and podcasts.
Using Primary Research to Create a Buyer Persona
Other sources can be used to create audience personas. The above examples used social analytics, but a best-case scenario would be to couple that with primary research.
I just finished reading the State of the Consumer 2022 report from Resonate. The report provides insights into current customer sentiment, and they built three customer personas:
The Overwhelmed Customer: This audience is busy managing their careers, workplace demands, and being a parent.
The Influenced Customer: This audience is highly influenced by TikTok and Instagram and the influencers that fill their feed with content.
The Activist Customer: This audience prioritizes corporate responsibility and social justice.
Below is a snapshot of the demographic data points from this report. It's broken down by each buyer persona and provides detailed information on gender, age group, and household income. While this is good to have documented, it's not as actionable as one might think. One potential integration point of using primary research and social analytics is using some demographic insights to build a social media audience.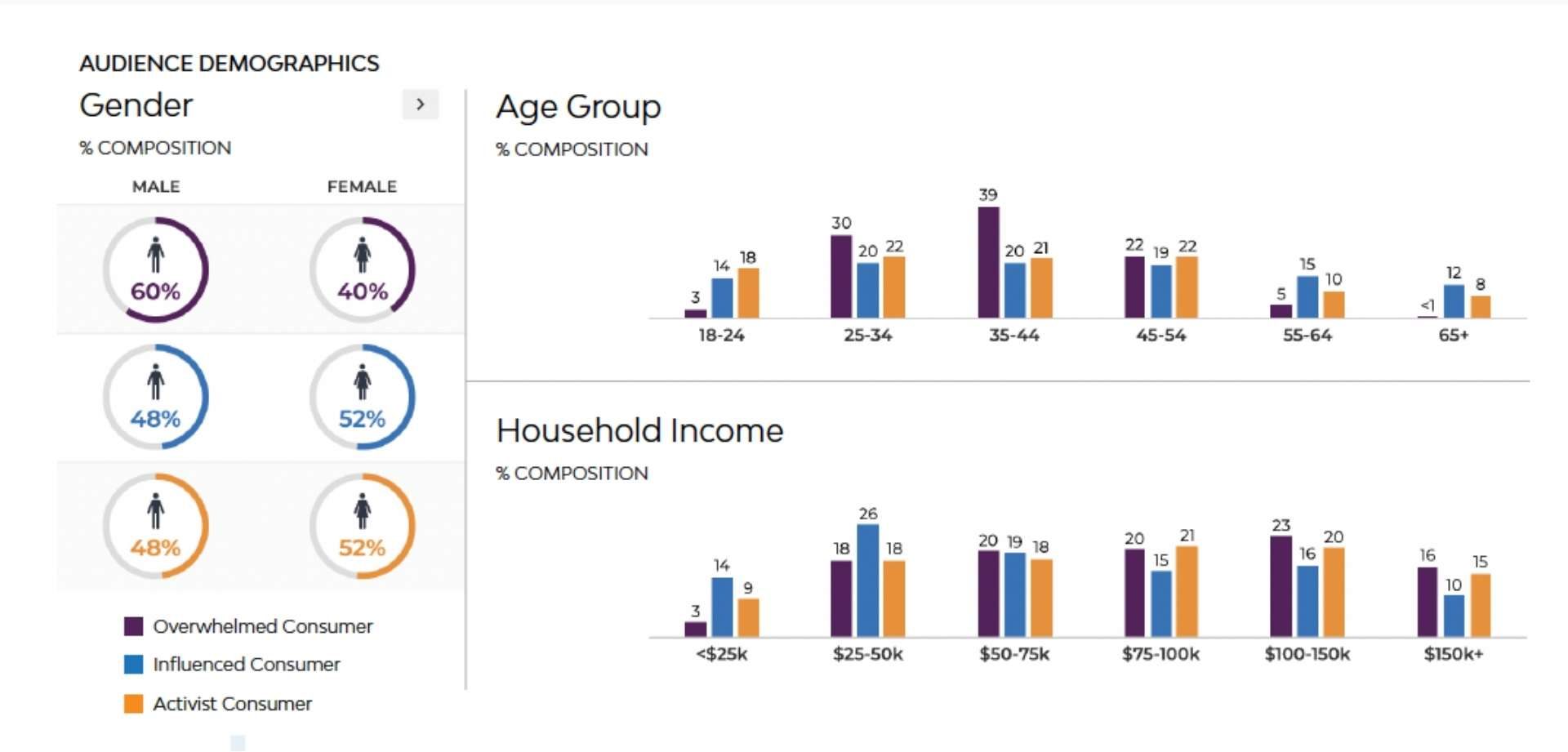 The below represents purchase level information, behavioral, and affinity insights. Resonate listed this buyer persona's top three streaming apps, networks, and social media channels. These insights can also be validated using social analytics and the abovementioned methodologies. It may also give insights into the "what" and the "why."
Hundreds of reports are published annually informed by primary audience research and can be used to build a buyer persona. The key thing to remember is that the more data sources used, the more accurate the persona will be and the better customer engagement strategy you can launch.
---
FAQ
How often should buyer personas be updated?
A buyer persona is a living document and should be updated as needed. It may need updating if the personas' role changes or other factors change how a business interacts with them. In addition, updating the personas is a good idea if new relevant information becomes available from primary research or advanced analytics tools.
Is the sales team responsible for creating buyer personas?
No, the sales team is responsible for delivering on the strategy that includes understanding their customer. A buyer persona can be created with or without help from sales. If they want to avoid having their target personas built by someone outside of their department, they need to work with marketing (and others) to build them.
Can you create buyer personas using intuition?
Yes, it's possible to build a buyer persona using intuition. But no, you shouldn't. However, there is significant room for error because the insights and data sources used to determine these personas require significant research and time. Use real customer information to ensure accuracy and avoid potential pitfalls when creating a buyer's personas using intelligence and intuition.
Who should own buyer personas?
An integrated marketing team should be the team driving the creation of personas. This may include the PR team, sales team, and market research.
How many buyer personas should be created?
The reality is that there's no right answer to this question. But generally, you should create more than one buyer persona. This is because even if the target audience segments are very similar, they have different preferences on how they won't interact with a business. By creating multiple buyer personas, you can communicate your marketing message in the most effective way possible.
Should you use a buyer persona template?
Using a buyer persona template is unnecessary, but it can help speed up the process from a design perspective. The only challenge is that the output might be limiting.
If I create a buyer persona, will I understand my customers better?
Creating a buyer persona is only part of the process. But when done correctly, it does provide insights into your customers and their buying preferences. The more accurate you can make this information, the more likely it will be that you can get closer to prospects that want to buy from you.
How long should a buyer persona profile be?
Generally, a buyer persona profile should be long enough to convey the value they will get from working with your business. But it shouldn't be longer than this because more information can be presented on their company and job role. A persona should have enough information to drive action.
---
Related Content