[Updated 9.19.2021] The media monitoring services and software market is crowded and always has been. As someone who has worked in the PR space for years, I have seen several media monitoring services and apps come and go. However, it's good to see the media monitoring market start to innovate and provide new and improved services.
From my perspective, there are two emerging leaders that are beginning to separate themselves from the pack. Cision and Meltwater are two platforms that originated purely for media monitoring of traditional media coverage and public relations. However, over the last 10+ years they have made significant acquisitions of various PR monitoring tools that focus solely on influencer analytics and social media listening. The most recent being Cision acquiring Brandwatch.
The media monitoring software space is ripe for innovation. I will be tracking of up-and-coming vendors, mergers & acquisition and existing platforms as they continue to add new capabilities to their software stack. Below is a list of the top media monitoring services and software platforms.
MEDIA MONITORING TOOLS & MEDIA COVERAGE TRACKING
Outside of market leaders Cision and Meltwater, there are several other players in the media monitoring software space that are worth taking a look at.
Muck Rack is a media monitoring software tool that tracks news media coverage, blogs, podcasts and broadcast. They provide media coverage reports, dashboards, and article share data across social media. They also have a built-in tool that tracks real-time, trending topics happening in the news media. Their journalist database isn't too shabby either.
---
Memo is on the verge at proving real ROI for earned media programs. They have built relationships with several media publications allowing them to provide web analytics at the article level. This takes out the guessing of an earned media value metric and provides real page view, unique visitor, referral sources and other impactful data.
---
I don't necessarily recommend using Newswhip for tracking media coverage for a brand or product mainly because they only pull data from article headlines and the metadata. In other words, if a brand is mentioned in the last paragraph, it wouldn't show up in the data. I would classify Newswhip more as a social monitoring app because it tracks share data across several social platforms. They have a predictive platform called Spike which is great for trending topics and crisis issues – see below. This is my favorite part of their platform.
---
Onclusive (formerly AirPR) is a business media monitoring services and they have a  strong integration with Google Analytics. One of the differentiators is that they provide insights into competitive performance against core media KPIs and social metrics like coverage volume, share of voice, social media performance, share-of-social, reach, and sentiment. The integration with social media is a little stronger than the other media monitoring services as they provide really strong media insights.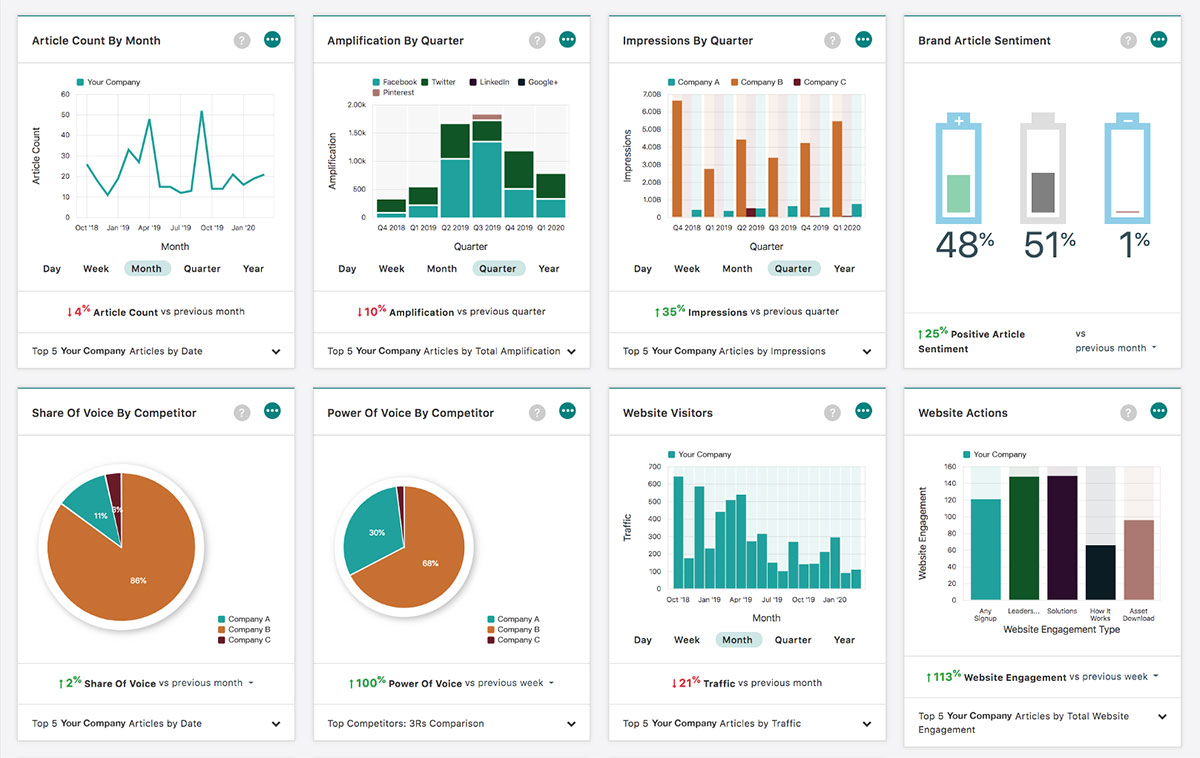 ---
Critical Mention is one of those PR media monitoring tools that I don't know much about. They provide the usual media analysis and media monitoring analysis reports, dashboards, and media contact database. They are one of the strongest PR news media platforms that collect and track broadcast coverage. In full transparency, I don't have a lot of experience using Critical Mention but I have heard good things from others.
---
Signal AI is a media intelligence platform that tracks news coverage using artificial intelligence. I have to be honest and say that I don't know much about them and I have never used or logged into their platform. But I have heard some really good things about the insights they provide. One area of positive feedback I have received is that they provide access to premium non-English media publications, which is automatically translated into English. This is a huge time saver.
---
CoverageBook is a like a lookbook for tracking media mentions, hence the name. If you have ever spent hours on hours grabbing screenshots and adding them into a PowerPoint presentation, then this might be the tool for you. CoverageBook is not a media analysis tool, but could be used for coverage tracking with beautifully designed templates.
---
TechNews is one of those hidden gem news monitoring software tools. Their focus is solely on B2B and tech media outlets. They have decent dashboards and reporting but the benefit I see with TechNews is the data they export. They provide all journalist data to include all contact information including Twitter and LinkedIn profiles.
---
AnswerThePublic doesn't monitor coverage, analyze the media nor can it be used for PR analytics. I'm not really sure in which category this software belongs to, but the insights are extremely helpful for PR professionals. The platform tracks Google autocomplete data and then contextualizes useful phrasing and questions that users might be asking about the keywords.
---
Podseeker is a podcast database and media intelligence platform for marketers and PR pros. This podcast tracker includes over 2 million podcasts and contact emails.
I did a similar analysis on social media monitoring tools in case you are interested.