[Updated 12.29.2021]
Click here to go straight to the curated PR media monitoring tools list.
The media monitoring software and solutions market is crowded and always has been. As someone who has worked for a few different PR agencies, I have experience with several media monitoring tools and have watched many of them come and go. However, it's good to see the media monitoring services market innovate and provide new and improved services for communications professionals.
Two emerging leaders have separated themselves from the other media monitoring tools. Cision and Meltwater are two platforms that originated purely as a media monitoring service that tracked only earned media coverage. However, over the last 10+ years, both companies have made significant acquisitions of various PR monitoring software tools that offer influencer analytics, social listening, and reputation management. The most recent was when Cision acquired Brandwatch.
The media monitoring software space is ripe for innovation, and I am excited to see how this will impact the public relations industry. I will be tracking new vendors, mergers & acquisitions, and existing social media platforms as they add new functionality, integrations, and improvements to the software.
What is Media Monitoring and Analysis?
Media monitoring systematically gathers, records, and analyzes media mentions from online news, broadcast media, and print media. The purpose of earned media monitoring is to track, assess, and understand media exposure, brand health, market perception, identify potential crises, and document both negative and positive coverage. Media monitoring can provide critical information about a brand's public perception and earned media efforts.
Why is Media Monitoring Important?
There are many different reasons why organizations need to invest in a media monitoring tool, including:
Consumer Feedback: Identify positive and negative feedback from consumers to drive innovation and steer future projects/products.
Media Activity Tracking: Create media lists, track which media outlets write about your company or industry, identify new media contacts and press releases, and manage PR campaigns.
Responding to Crisis: Monitor mentions and online conversations when your brand is in crisis, including the rapid identification of threats and opportunities, sentiment analysis, reputation management, and real-time media monitoring.
Competitive Analysis: Keep track of competitive earned media mentions to maintain a competitive advantage.
Create Custom Reports: Build PR and media dashboards to track share of voice, brand reputation, message pull-through, and overall PR impact.
Media Relations: Use a comprehensive media monitoring tool to track all media opportunities, journalist engagements, and all of your other PR efforts.
Outside of industry leaders Cision and Meltwater, there are several other players in the media monitoring software space to review.
How Does Media Monitoring Work?
Media monitoring is not a complex concept to understand. However, most communications professionals I know aren't technically savvy, so there is usually a learning curve for adopting PR software. Also, most media monitoring tools don't necessarily design their software to be user-friendly.
In most cases, the first step in building a PR media monitoring strategy is keyword research. This includes identifying all branded and unbranded keywords that may be important to your business. Then, the keywords can be added directly to the media monitoring platform using Boolean Logic.
Once the keywords are added, the next step is to identify the most appropriate news sources, which can include online news, broadcast, print, review sites, and in some cases, social media channels.
Once the keywords and news sources are added, most media monitoring platforms will start to track online conversations, brand mentions, and all the mentions of your competitors or topics.
Advanced Use Cases of Media Monitoring
Media monitoring is not necessarily the same thing as PR measurement. However, you can use the software for measurement purposes. I would suggest that you create multiple dashboards and track media mentions across different segments of media outlets. For example, if you have a top 25 media list, you can track all coverage and competitive coverage within that confined list. You can also break down the media segments by the target audience, vertical, industry, or tier accordingly. The point is to think strategically about what you want to know from your media monitoring strategy.
A media monitoring strategy should also include an analysis of the "context" of the coverage. This would uncover the hidden narratives from the media coverage. For example, assume that you want to know more about the DevOps industry. You add the keywords and phrases into the media monitoring software but choose two different content sources.
In the first analysis, you choose all business and tech media publications. In the second analysis, you choose just the top 25 media publications you designate as tier 1 media.
When analyzing the top tech and business tech outlets, the data shows that the core messages around DevOps are related to cloud migration, AIOps, and automation. However, when you look at just the top 25 media pubs, the core messages are scale and security. These insights are critical for PR professionals and all media monitoring strategies.
Newsjacking in the media isn't a new thing. PR professionals have been doing this for years, and it's pretty easy. Most media monitoring software platforms provide real-time tracking of media publishing. In this case, the media team will track industry-specific topics and keywords. Once a particular keyword starts to trend, media pitching begins. One critical success factor is that a media monitoring strategy must include pitching the media quickly and efficiently.
---
Here's the List of Leading Media Monitoring Platforms
Propel is a cloud-based platform and PR software with a built-in CRM to track journalists and reporters. They can monitor pitch email open rates based on specific topics and media. Imagine knowing what subject lines have a higher likelihood of being opened by the target journalists. Wow. This is their biggest differentiator from the other platforms. Their philosophy is to build native apps that integrate into the PR team's workflow, which is a massive plus in my book. They also have the general media monitoring and analysis of online news, sentiment analysis, and solid integration with Google Analytics.
---
Muck Rack is a PR monitoring software tool that tracks online news media coverage, blogs, podcasts, and broadcast. They provide media coverage reports, dashboards, sentiment analysis, and article share data across social media platforms. They also have a built-in tool that tracks real-time, trending topics in online news media. Their journalist database isn't too shabby either.
---
Memo is a good media monitoring tool that is on the verge of proving real ROI for earned media programs. They have built relationships with several important news sources and media publications, providing web analytics at the article level. This takes out the guessing of an earned media value metric and provides total page views, unique visitors, web referrals, and other impactful data directly from news sources.
---
Newswhip isn't a media monitoring tool, and I don't necessarily recommend using it to monitor media coverage. Their platform does not integrate data from broadcast and print media, review sites, or social media channels. It only pulls in data from online news sites but only from article headlines and the metadata. In other words, if a brand is mentioned in the last paragraph, it wouldn't show up in the data. However, they have a unique predictive platform called Spike, which is excellent for crisis management, real-time media monitoring, brand reputation, and monitoring conversations in real-time.
---
Onclusive (formerly AirPR) is a cloud-based platform and business media monitoring service, and they have a strong integration with Google Analytics. One of the differentiators is that they provide insights into competitive performance against core media KPIs and social metrics like earned media coverage volume, brand mentions, share of voice, social media performance, share-of-social, brand reputation, and sentiment analysis. The integration with social media is a little stronger than the other media monitoring services. They provide powerful data insights that help prove the value of a marketing campaign.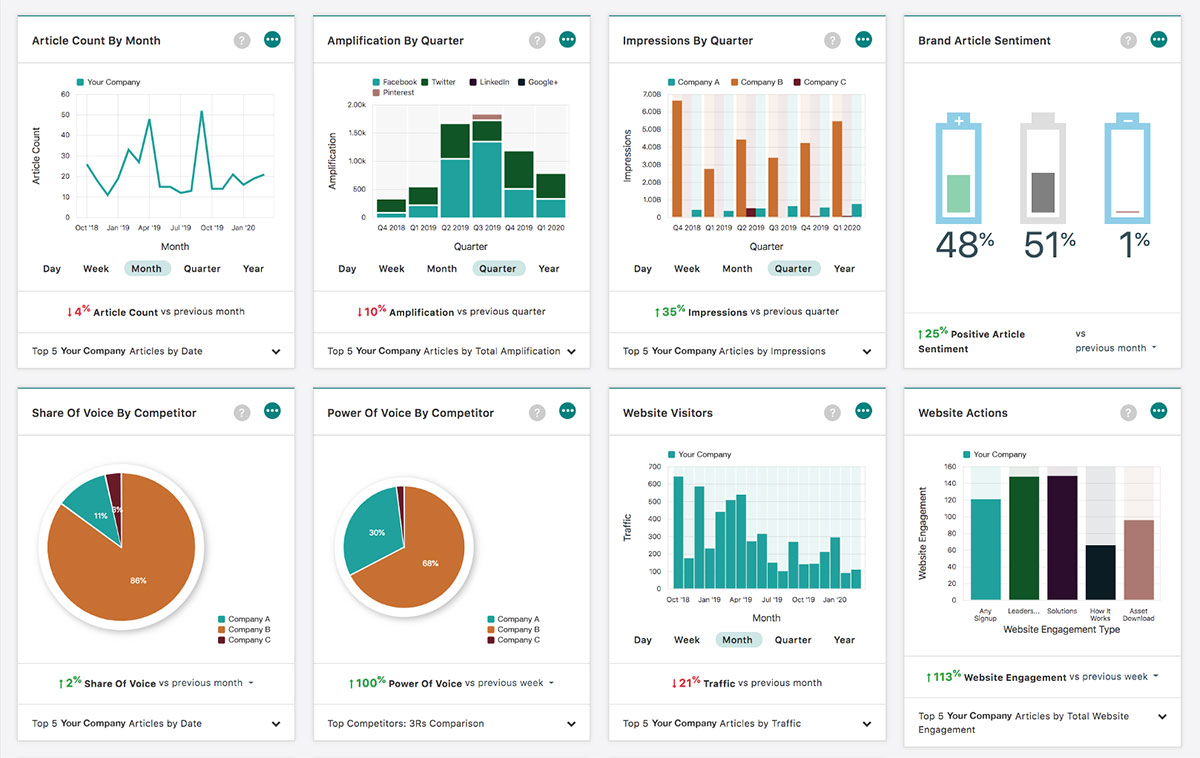 ---
Critical Mention is a PR media monitoring tool that I don't know much about. They provide the usual media analysis and media monitoring service, analysis reports, sentiment analysis, dashboards, and a media contact database. They are among the most robust PR news media platforms that collect and track broadcast coverage. In full transparency, I don't have a lot of experience using Critical Mention, but I have heard good things from other communications professionals.
---
Signal AI is a media intelligence platform that tracks earned media coverage using artificial intelligence. I have to be honest and say that I don't know much about them, and I have never used or logged into their platform. But I have heard some really good things about the insights they provide. One area of positive feedback I have received is that they provide access to premium non-English media publications, which is automatically translated into English. This is a huge time saver. Translating online news isn't an easy thing to do.
---
CoverageBook is like a lookbook for tracking media mentions, hence the name. If you have ever spent hours on hours grabbing screenshots and adding them into a PowerPoint presentation, then this might be the tool for you. CoverageBook is not a media analysis tool but could be used for coverage tracking with beautifully designed templates.
---
TechNews is one of those hidden gem media monitoring tools. Their focus is solely on B2B and tech media outlets. They have decent dashboards and custom reports, but the benefit I see with TechNews is their export data. In addition, they provide all journalist data to include all contact information, including Twitter and LinkedIn profiles.
---
AnswerThePublic doesn't monitor coverage analyze online news, nor can it be used for PR analytics. I'm not sure which category this software belongs to, but the insights benefit communications professionals. The platform tracks Google autocomplete data and then contextualizes good phrasing and questions that users might be asking about the keywords.
---
Podseeker is a podcast database and media intelligence platform for marketers and PR pros. This podcast tracker includes over 2 million podcasts and contact emails.
Getting the right monitoring tool is critical to measuring media effectiveness, impact, and overall coverage.
---
I hope you enjoyed this post. I do my best to create actionable content and provide value to the work you do.
Please consider subscribing to my YouTube channel, and be sure to hit the notification button so you can be notified when new videos are uploaded. You can also connect on Michael Brito's social channels if you like.