Click here to go straight to the top media monitoring tools (Technology platforms include Cision, Meltwater, Muck Rack, Signal AI, and more)
Summary of Media Monitoring Tools
| Tool | Key Features |
| --- | --- |
| Cision | Provides coverage analysis, influencer discovery, unlimited dashboards, real-time media monitoring, image monitoring and analysis, and social media listening. It also integrates paid media analysis and tracking. |
| Meltwater | Collects news coverage and social media activity data across many platforms. Uses sophisticated algorithms to analyze news articles, blogs, websites, broadcast media, and other sources. |
| Muck Rack | Tracks online news media coverage, blogs, podcasts, and broadcast media. Provides media coverage reports, dashboards, sentiment analysis, and article share data across social media platforms. It also offers a pitching platform. |
| Onclusive | Provides insights into competitive performance against core media KPIs and social metrics like earned media coverage volume, brand mentions, share of voice, social media performance, share-of-social, brand reputation, and sentiment analysis. |
| Newswhip | Provides real-time insights and predictive analytics on consumption and sharing activity across thousands of digital news sources. Offers two products–Newswhip Spike and Newswhip Analytics. |
| Memo | Provides web analytics at the article level. It helps PR pros remove the guesswork of an earned media value metric and provides total page views, unique visitors, web referrals, and other impactful data directly from news sources. |
| Critical Mention | Provides real-time access to broadcast media, online news, and user-generated content from social media. Offers a comprehensive range of dashboards and reports. |
| Signal AI | Uses advanced machine-learning algorithms to analyze and interpret the data, providing actionable insights and trends. Can translate foreign-language articles into English extremely fast and accurately. |
| Propel PR | Offers a built-in CRM to track journalists and reporters. Monitors pitch email open rates based on specific topics and media. |
| Podseeker | A podcast analysis, database, and media content intelligence platform. Provides download counts, show notes, and contact information for each podcast and an aggregated view of all the podcasts in your industry. |
| The Notified PR Platform | Offers social listening, media monitoring, a media contacts database, press release distribution, newsroom publishing, and PR measurement, all integrated within one user interface. |
Introduction to Media Monitoring Tools
The media monitoring software market has always been crowded with solutions. Having worked at PR agencies deploying most media monitoring applications, I've seen extensive innovation in this space – alongside acquisitions, failures, and some legacy platforms that persevered.
Two leading media monitoring companies today are Cision and Meltwater. Both have invested heavily in monitoring software and strategic acquisitions, like Cision's 2019 purchase of social listening leader Brandwatch over the past decade. This intersection of services shows the expansion of monitoring into holistic media intelligence.
The rapid evolution of monitoring tools presents exciting opportunities to transform data-driven media strategies. Advances in AI, natural language processing, predictive analytics, sentiment analysis, and more will shape the future of PR – transitioning from reactive tracking to proactive optimization powered by media insights.
What is Media Monitoring and Analysis?
Media monitoring leverages web scraping and content partnerships to systematically gather, record, and analyze brand mentions across online news, broadcast, print, and social. Most tools are user-friendly – input relevant keywords, and the platform returns results through data visualizations.
But monitoring can provide intelligence beyond mere brand tracking. Expanding searches to broader topics and industry narratives yields contextual insights for messaging and positioning.
The core goal of monitoring is assessing media exposure, perception, risks, and opportunities. Tracking positive and negative coverage over time shows brand health and market reception. Monitoring identifies potential crises and guides effective response. At its full potential, media monitoring reveals strategic insights to masterfully shape narratives, engage key audiences, and quantify the ROI of earned media efforts.
Emerging Capabilities to Optimize Data-Driven Media Strategies
While monitoring capabilities have matured, true optimization relies on applying more advanced technologies, including:
Natural language processing for detailed contextual analysis
Predictive analytics to get ahead of news cycles
Custom emotion detection across coverage
Data science integrating PR inputs with business metrics
Interactive visualizations for exploratory analysis
As media monitoring software leverages these techniques, media intelligence will become increasingly proactive – empowering teams to calculate, simulate, and validate the optimal strategies to achieve communications goals versus reactive tracking alone.
The Top Media Monitoring Software
Media monitoring services provide indispensable data driven insights for PR teams aiming to maximize the impact of data-driven media strategies. By tracking brand mentions and relevant industry narratives across channels, these tools enable proactive optimization versus reactive tracking alone.
Leading solutions like the Cision Communications Cloud, Meltwater, and Muck Rack offer must-have capabilities for competitive brands, including:
Real-time monitoring and alerts to capitalize on emerging stories.
Influencer identification to expand media relationships.
Sentiment tracking to assess messaging resonance over time.
Coverage analysis quantifying earned media KPIs.
Integrations with business metrics to prove PR ROI.
However, the true value lies in monitoring and gaining strategic insights to inform impactful decisions.
Uncover adjacent narratives and optimize content strategies.
Anticipate potential crises and prepare responses.
Identify high-value media partners through engagement data.
Continually refine messaging based on empirical response.
Media monitoring provides a competitive edge to PR teams that harness the tools for optimization versus passive tracking. The software space shows immense potential for continued innovation – integrating predictive analytics, custom visualizations, natural language processing, and more to revolutionize data-driven media relations further.
For any communications professional, these solutions offer invaluable visibility into brand perception, industry trends, and earned media performance. At its full potential, media monitoring fulfills the promise of transforming PR strategies through actionable, data-driven narrative intelligence. Reactive tracking of the past is replaced by proactive optimization of future results.
1. Cision Communications Cloud
Cision offers an integrated earned media monitoring, analysis, and intelligence platform. Capabilities span real-time monitoring, historical coverage analysis, influencer discovery, image monitoring, paid-owned-earned media integration, and more.
Advanced workflow features, pre-built and custom reporting dashboards, and a media contact database equip PR teams to execute media strategies from a central software suite.
Key strengths of Cision's media monitoring tools include:
Robust natural language processing to extract strategic insights from coverage.
Ability to quantify media impact on brand and business goals.
Anticipatory analytics to detect rising media narratives pre-publication.
Custom real-time alerts and monitoring of high-priority journalists.
Integrated paid media performance provides a holistic view.
By consolidating monitoring, targeting, outreach, and reporting into a unified earned media intelligence platform, Cision allows PR teams to progress from retroactive tracking to proactive optimization powered by data-driven insights.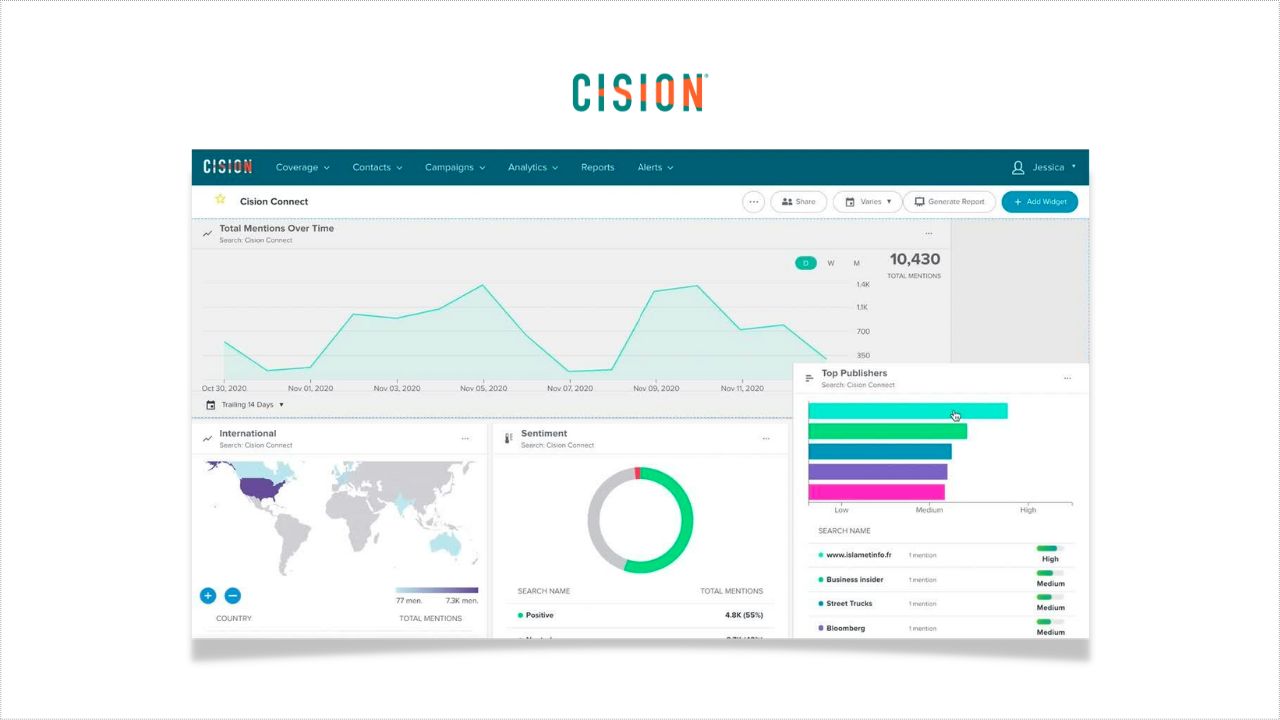 2. Meltwater
Meltwater offers an expansive media monitoring platform collecting data from news, social media, blogs, broadcast media, and other sources. The solution leverages sophisticated algorithms to analyze coverage, delivering insights on breaking news, emerging topics, and brand mentions.
Key capabilities include:
Comprehensive monitoring across print, online, social, radio, and TV.
Identification of trending narratives, influencers, and opportunities in near real-time.
Historical analysis quantifies brand sentiment, voice share, and messaging resonance over time.
AI-powered analytics deriving strategic recommendations from data signals in coverage.
Robust reporting and interactive dashboards for data exploration.
By consolidating expansive monitoring data and extracting insights through advanced PR analytics, Meltwater enables PR teams to base strategies on hard evidence versus assumptions. The platform progresses PR from reactive tracking to proactive optimization guided by data-driven intelligence.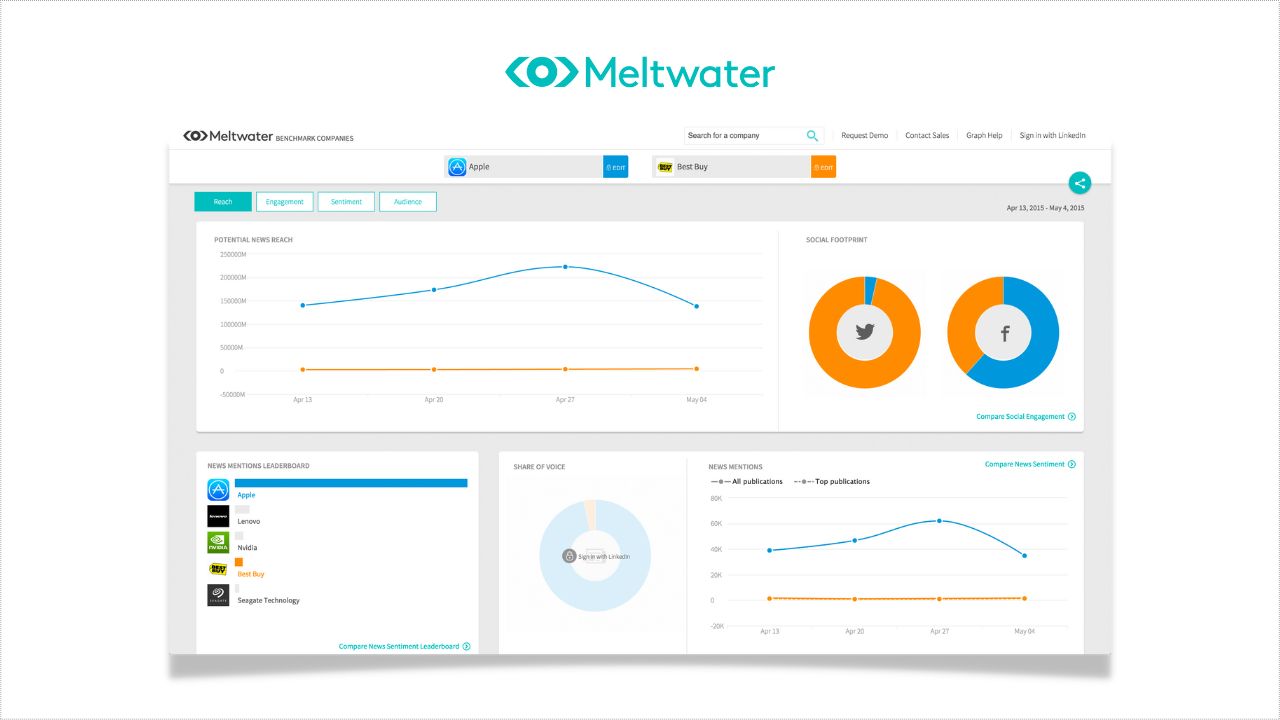 3. Muck Rack
Media monitoring services like Muck Rack provide insights to optimize modern data-driven public relations strategies. By tracking brand mentions across earned media and assessing relevant industry narratives, these tools enable PR teams to make informed, impact-maximizing decisions.
Muck Rack offers a comprehensive earned media monitoring and analysis platform spanning online news, blogs, podcasts, broadcast media, and more.
Key capabilities include:
Customizable coverage reports and dashboards highlighting relevant data.
Sentiment tracking to optimize messaging resonance over time.
Social engagement analytics to assess content performance.
Real-time monitoring of trending narratives and opportunities.
A unified pitching interface to streamline media relations.
Muck Rack transforms PR strategy from guesswork to optimized decisions driven by data-backed insights. Monitoring platforms like Muck Rack will unlock even greater potential to evolve media relations as reporting and analytics continue advancing.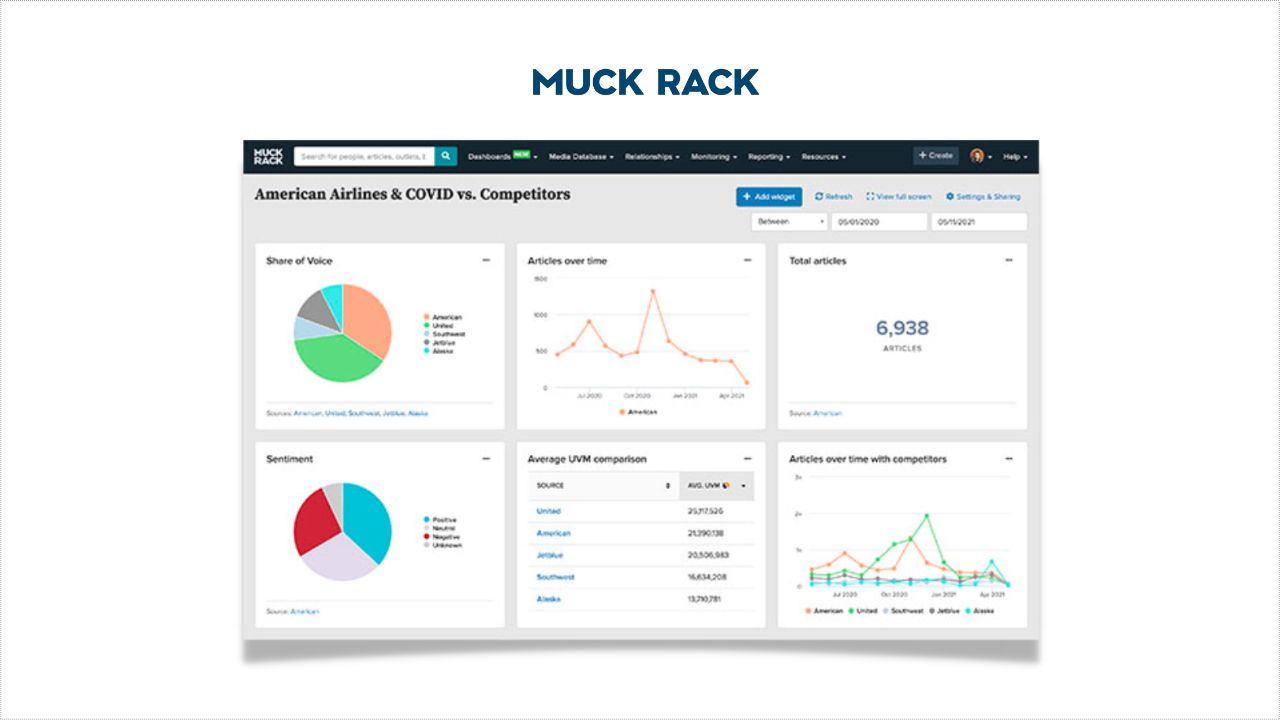 4. Onclusive
Leading media monitoring services like Onclusive provide indispensable insights to optimize modern data-driven public relations strategies. These tools enable informed, impact-maximizing decisions by tracking brand mentions across earned media and assessing relevant industry narratives
Onclusive offers a cloud-based earned media monitoring and intelligence platform with robust integrations into web analytics.
Differentiating capabilities include:
Competitive benchmarking on core PR metrics like share of voice.
Holistic analysis merging media monitoring, social listening, and web data.
Reputation tracking quantifying brand sentiment across channels.
Campaign analytics attributing media KPIs to specific PR efforts.
Real-time monitoring and alerts for time-sensitive response.
Onclusive elevates beyond siloed media monitoring to holistic intelligence that drives more calculated, results-driven earned media strategies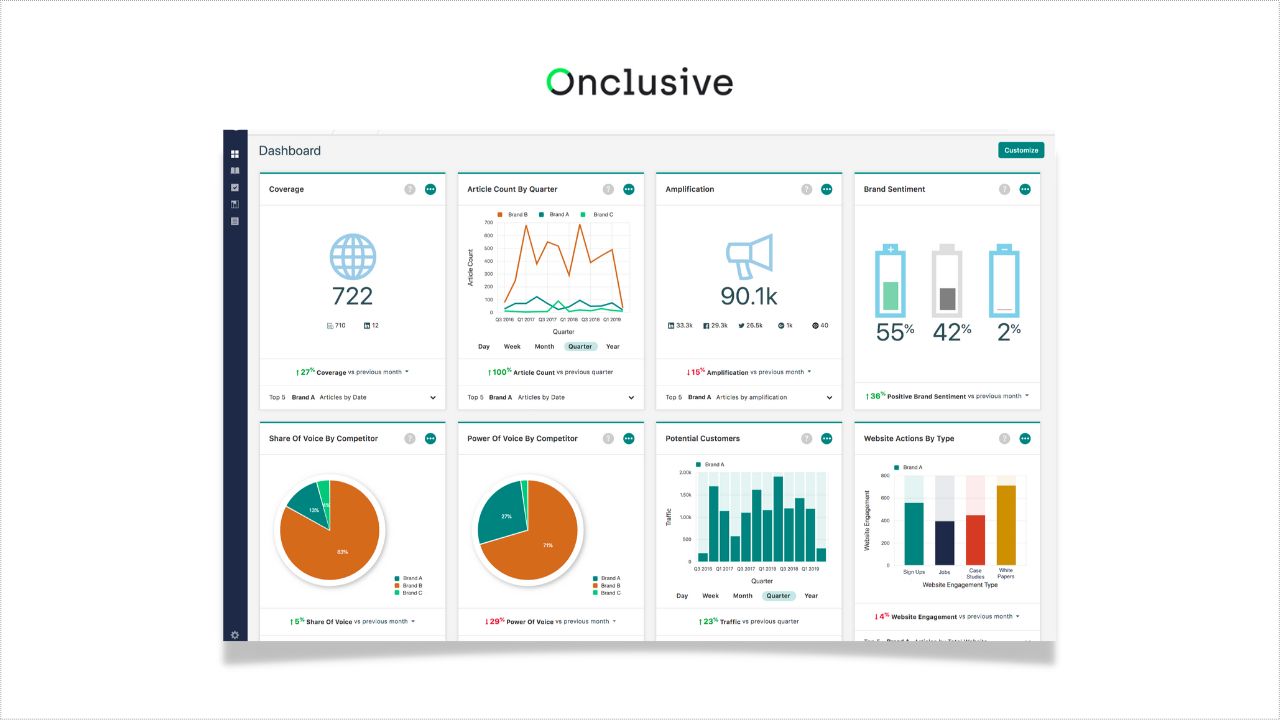 5. Newswhip Analytics & Newswhip Spike
As a leading news analytics provider, Newswhip offers valuable media monitoring capabilities through products like Newswhip Spike and Newswhip Analytics. However, the platform has some limitations in coverage that warrant consideration.
Newswhip specializes in real-time tracking and predictive analytics of digital news consumption and engagement. For organizations managing crises or rapidly evolving narratives, Newswhip provides unparalleled visibility into minute-by-minute trends.
However, for comprehensive media measurement, there are some gaps:
Coverage is restricted to online news articles, excluding broadcast, print, reviews, and social media.
Detection relies on metadata and headlines only, missing context deeper in articles.
Historical analysis is limited to long-term brand tracking.
Qualitative resonance metrics like sentiment are not incorporated.
There is no ability to tie media metrics directly to business goals.
PR teams should be cautious about using Newswhip as their sole media monitoring software solution. While real-time predictive capabilities are extremely valuable for time-sensitive monitoring, complementary tools are likely needed for holistic measurement, competitive benchmarking, detailed analysis, and media strategy optimization.
The ideal approach may be combining Newswhip's predictive insights with broader monitoring platforms that ingest various sources, analyze full article content, track long-term brand perception, quantify resonance, and continually enable data-driven decisions to refine and enhance communications strategies.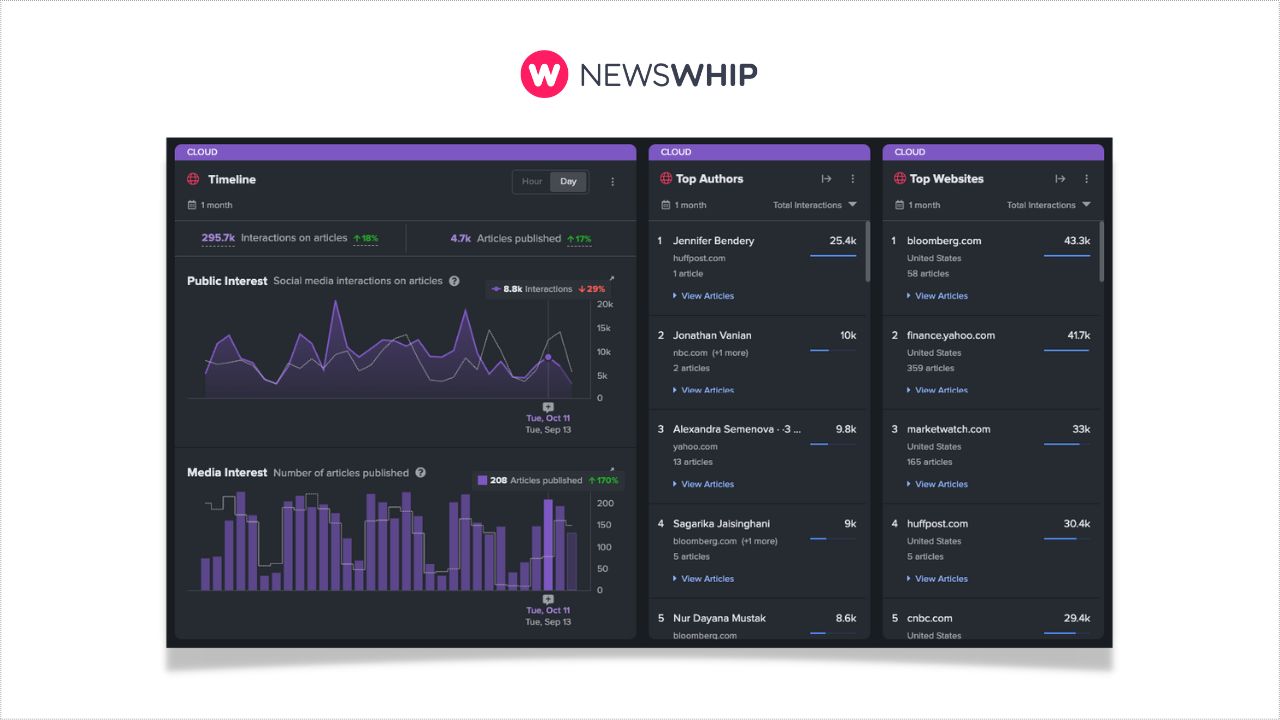 6. Memo
Memo represents an innovative media monitoring platform with unique capabilities to quantify the tangible business impact of earned media programs. By partnering directly with news outlets and applying web analytics, Memo aims to prove PR's ROI versus estimating it.
Specifically, Memo provides article-level insights, including:
Total page views are driven by each media placement.
Referral traffic to brand sites from specific coverage.
Engagement metrics like time-on-page.
Attribution tying web activity directly to earned media hits.
These direct results data enable PR teams to accurately measure awareness reach, quantify traffic value, and optimize site content.
Additionally, Memo partners with leading publishers like The New York Times, BuzzFeed, and PopSugar to access proprietary analytics. This level of visibility is unmatched among monitoring platforms.
By replacing estimated advertising value and vanity metrics with real web and conversion data, Memo solves the fundamental PR challenge of proving return on investment. Rather than assumed value, direct business impact can inform and optimize media relations strategies.
For brands focused on quantifying PR's impact on the bottom line, Memo represents a compelling media monitoring solution – providing the visibility required to run communications as a truly data-driven business function.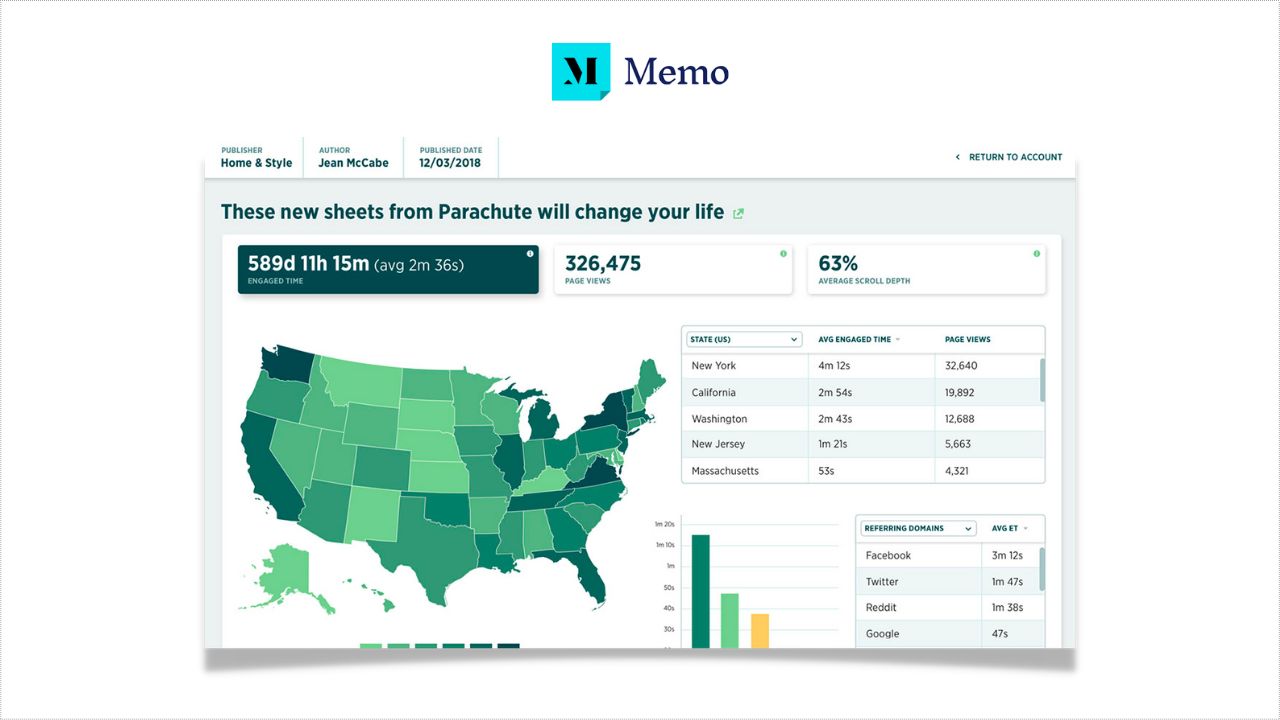 7. Critical Mention
Critical Mention is a media monitoring tool providing real-time insights into brand mentions across broadcast, online news, and social media. With robust analytics and alerts, the platform enables comprehensive tracking and analysis across the digital landscape.
Key capabilities include:
Real-time monitoring of brand references across digital channels
Customizable dashboards quantifying media performance
Historical data and competitive benchmarking
Sentiment tracking to optimize messaging
Configurable alerts for time-sensitive visibility
Ability to identify key narratives and influencers
Recently acquired by Onclusive, Critical Mention represents a versatile media monitoring software solution for data-driven public relations. The platform provides the comprehensive visibility required to analyze brand sentiment, optimize messaging frameworks, and quantify PR's impact on strategic goals.
8. Signal AI
Signal AI represents an advanced media monitoring platform leveraging AI and natural language processing to uncover strategic insights from vast text datasets. The solution empowers PR teams to identify trends, monitor coverage, understand sentiment, and more through automated data analysis.
Core capabilities include:
Machine learning algorithms rapidly structure unstructured text data.
Sentiment tracking quantifies the resonance of messaging over time.
Language translation enables global media listening.
Data visualizations spotlighting key narratives and opportunities.
Ability to anticipate emerging risks and conversations.
By ingesting expansive content volumes and leveraging AI to surface patterns, correlations, and trends, Signal AI provides actionable intelligence to:
Optimize messaging frameworks based on historical performance data.
Quantify earned media reach and impact across markets.
Benchmark competitive share of voice and messaging traction.
Identify influential media contacts and high-value outlets.
Proactively align PR strategies with predictive narrative trajectories versus reacting retroactively.
Signal AI represents an emerging leader in applying artificial intelligence to transform media monitoring from reactive tracking to proactive optimization guided by data-driven insights.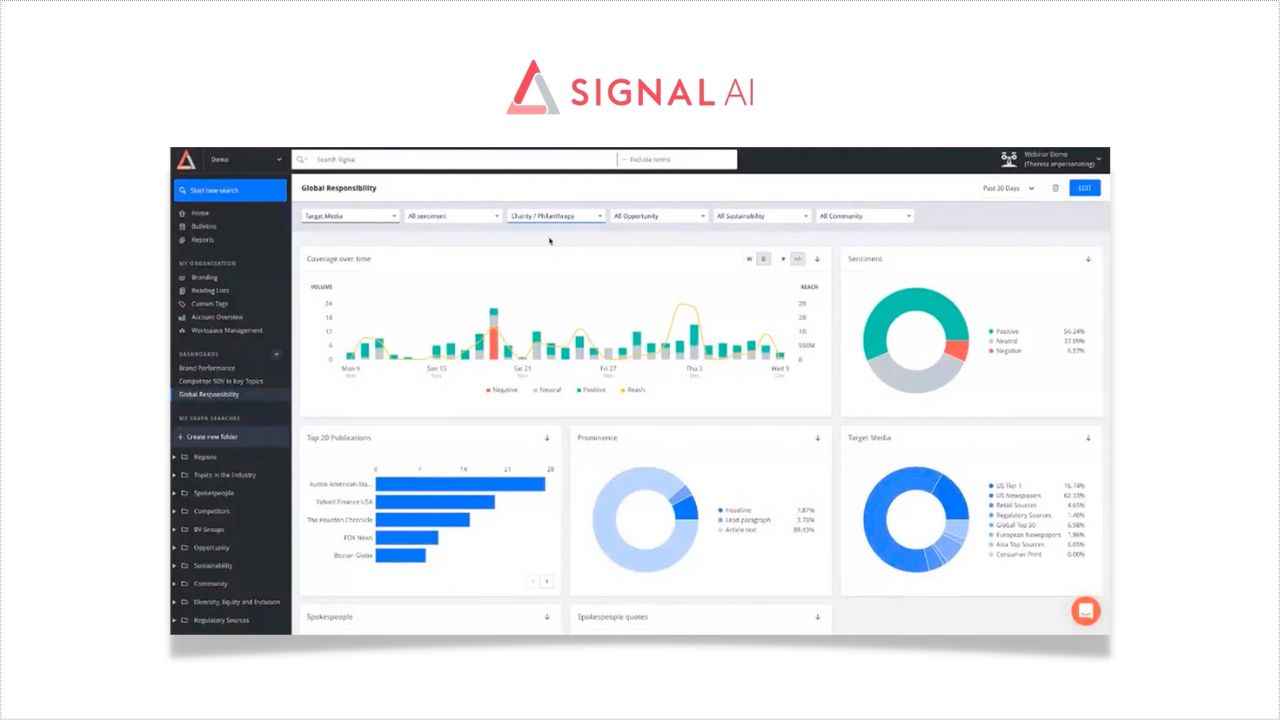 9. Propel PR
Propel PR represents a new breed of PR platform converging media monitoring with CRM-driven relationship intelligence. Propel provides unprecedented optimization of messaging and targeting by tracking detailed engagement analytics on journalist outreach.
Unique capabilities include:
Monitoring email open rates by topic and journalist to refine pitching.
CRM integrating media contacts and campaign data.
Google Analytics integration quantifying traffic and conversions.
Ability to anticipate and personalize outreach through historical data.
Seamless workflow integration and mobile access.
Propel's philosophy of building seamless, data-driven apps for modern workflows represents a compelling vision for the future of integrated PR platforms. Their unique monitoring, CRM, and analytics combo provides actionable intelligence to reduce noise and drive more resonant earned media results.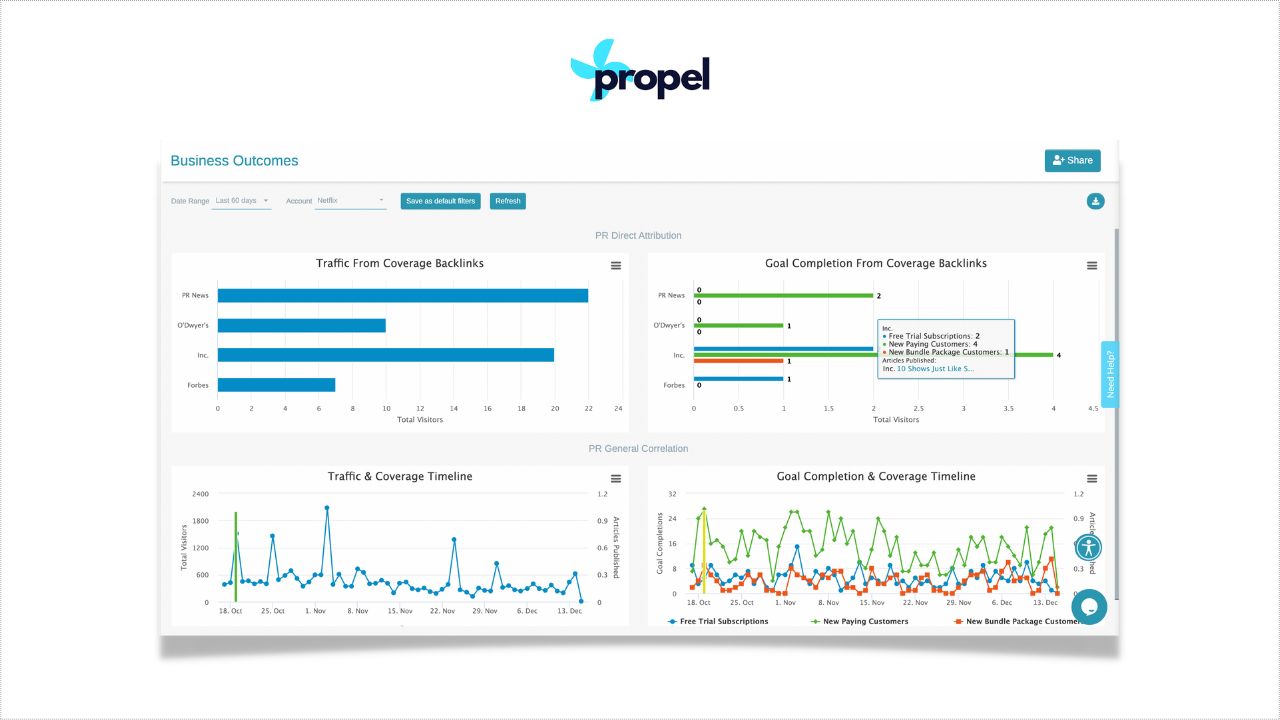 10. Podseeker
While most media monitoring tools focus on online news, Podseeker provides indispensable intelligence on the burgeoning podcast ecosystem. Their platform enables brands to optimize podcast PR and marketing strategies through data-driven analysis.
Key capabilities include:
A searchable database of podcasts segmented by industry and category.
Download metrics quantifying the audience size of each show.
Contact information for podcast hosts and producers.
Topic and narrative analysis across episodes.
Ability to identify influencers and opportunities.
For brands exploring podcast partnerships, guest appearances, sponsorships, and other audio opportunities, Podseeker delivers:
Targeted research to pinpoint podcasts aligned to brand narratives.
Data-backed podcast prioritization based on audience size and engagement.
Optimization of pitch messaging informed by historical episode analysis.
Streamlined outreach with host/producer contact information.
As podcasting grows as a unique media channel, solutions like Podseeker will become indispensable for ensuring brands apply data-driven strategy versus guesses – just as traditional earned media optimization.
11. The Notified PR Platform
Notified represents a new consolidated PR platform combining media monitoring, social listening, analytics, media contacts, and content publishing in one integrated solution. This unified approach aims to centralize data and streamline workflow efficiency.
Core capabilities include:
Comprehensive monitoring of brand mentions across news and social media.
In-depth coverage analysis with custom reporting.
Contact database centralizing media relationships.
Ability to distribute and track press releases.
Newsroom publishing and amplification tools.
PR measurement tied directly to business metrics.
As the PR tech landscape continues evolving, unified platforms aim to break down silos and arm communicators with a comprehensive view of their earned media landscape using integrated data, workflow, and analytics.
Wrap-Up: The Strategic Value of Media Monitoring
Media monitoring has become an indispensable function enabling modern data-driven public relations strategies. Tracking brand mentions across media channels provides indispensable intelligence to optimize messaging, identify opportunities, manage crises, and quantify marketing communications impact. However, realizing the full potential requires investing in monitoring technology that aligns to specific organizational needs and PR objectives.
At its most basic, media monitoring involves using software to systematically track a brand's presence across online news, social media, print publications, and broadcast media. But advanced analytics and reporting capabilities are equally critical to deriving strategic value from monitoring efforts, including:
Competitive benchmarking against key metrics like share of voice.
In-depth contextual analysis revealing narrative themes and influencers.
Real-time alerts enabling agile issue response.
Data visualizations for interactive insights.
Integrations with marketing analytics to quantify PR's business impact.
Careful consideration of these factors is imperative when evaluating monitoring tools. The platform should provide actionable insights to refine messaging, content strategies, and targeting – not just data for data's sake.
Equally important is accounting for inherent limitations. No tool captures the full scope of media conversations or nuanced language used across diverse channels and communities. Savvy PR teams blend automated monitoring with manual research for holistic listening.
The central guiding light should be the organization's specific business goals. When deployed strategically, media monitoring becomes a competitive advantage enabling PR teams to optimize activities and demonstrate ROI. But technology alone cannot replace thoughtful human analysis and strategy. By combining responsive tools with creative expertise, data-driven media intelligence reaches its full disruptive potential.
FAQ
What are some of the best media monitoring software?
The best media monitoring software includes Cision, Meltwater, Muck Rack, Brand24, and Critical Mention. Other notable mentions are TVEyes, Factiva, Agility PR Solutions, Nexis Newsdesk, and Trend Hunter.
What is media monitoring software?
Media monitoring software is a tool that tracks, records, and analyzes media mentions from online news, broadcast media, and print media. These tools use keywords related to your business, brand, product, and executives to provide results through various data visualizations.
Why should I use media monitoring software?
Media monitoring software is crucial for tracking media coverage, identifying new media opportunities, measuring the effectiveness of PR efforts, monitoring media activity, performing competitive analysis, responding to crises, and creating custom reports.
Can I monitor competitors' media coverage?
Media monitoring software allows you to monitor media coverage and conversations about any brand or business.
Should I use media monitoring software or do it manually?
Media monitoring software can save time and provide more comprehensive and accurate results than manual monitoring. These tools can track conversations across multiple platforms and deliver analytics that would be difficult to compile manually.
What are the benefits of monitoring media?
Monitoring media can help you understand your audience, track the performance of your media campaigns, manage your online reputation, respond quickly to customer queries or complaints, and gain valuable insights for market research and competitive analysis.
What might be missing in media monitoring software?
While media monitoring software offers many benefits, it may not capture all online conversations about your brand, especially if those conversations happen in private groups or on platforms not covered by the software. They may also have limitations regarding sentiment analysis and identifying sarcasm or nuanced language. Additionally, they require a strategic approach to keyword selection to ensure you're capturing the most relevant conversations.