Key Takeaways 📈
Paid Media is the Primary Driver for Customer Acquisition. With 72% of digital marketing budgets allocated to paid media, it's clear that paid channels such as social advertising, search advertising, and digital display advertising have become the primary drivers for customer acquisition, outpacing organic tactics.
CMOs Must Adapt to the Metaverse for Business. As customer expectations and the B2B buyer's journey evolve, CMOs need to focus on creating immersive digital experiences using augmented reality (AR), virtual reality (VR), and mixed reality (MR) technologies to stay ahead in the market.
Digital Transformation is No Longer Optional. The adoption of digital channels has become a necessity for B2B tech PR companies, with increased spending on data and analytics to target and retarget buyers in a competitive landscape efficiently.
Content Marketing Requires a Documented Strategy. Despite 30% of marketing budgets on digital content, less than 40% of B2B tech companies have a documented content marketing strategy. This indicates a significant opportunity for companies to optimize their efforts and effectively engage their target audience.
Data Analytics is Key to Understanding Media Consumption. Investments in data analytics have increased by almost 40%, with B2B tech PR teams using audience data to understand what media outlets specific buyers are reading and prioritizing those outlets when pitching media.
Omnichannel Marketing Programs are Essential for Customer Loyalty. Mapping the customer experience into omnichannel marketing programs is crucial for focusing on the complete customer life cycle, from awareness to loyalty, and building stronger customer relationships that result in repeat purchases and long-term contracts.
One common theme about B2B technology marketing trends is that they don't shift much from one year to the next. It's typically the same headline over and over, but the context is different. B2B brands need to focus on influencers. Content marketing should be prioritized. Generating leads is the only way to go.
B2B technology trends are not predictions. They are not what we think will happen in the coming year. Most trends are recycled year by year and just called something different. B2B technology trends and marketing best practices are happening now. Today.
And, that's why we wanted to look at the current trends and best practices for B2B tech marketing so you can stay ahead of the curve and integrate these ideas into your B2B marketing strategy.
Top 5 B2B Technology Marketing Trends
I'm a huge fan of Gartner. They consistently create insightful content, and their latest report is no different. In the report, they list the Top 5 Emerging B2B Software Marketing Trends for 2022:
Digital marketing budgets are shifting
CMO priorities are changing
Adoption of B2B digital channels is growing
Advanced content marketing
Metrics and analysis are reshaping
Gartner defines an emerging trend as "a new trend that is just beginning to impact B2B industry marketing or what is having a significant impact right now.
So, what can we glean from this list? First, let's take a closer look.
1. Digital Marketing Budgets Shifting to Paid
According to Gartner, 72% of the budgets are now allocated to digital marketing channels, including paid, earned, and owned media.
The pandemic impacted enterprise companies globally–budgets, sales, the customer journey, etc. And, even though digital marketing budgets were only 6.4% of company revenue in 2021, they have bounced back this year to 9.5% in 2022.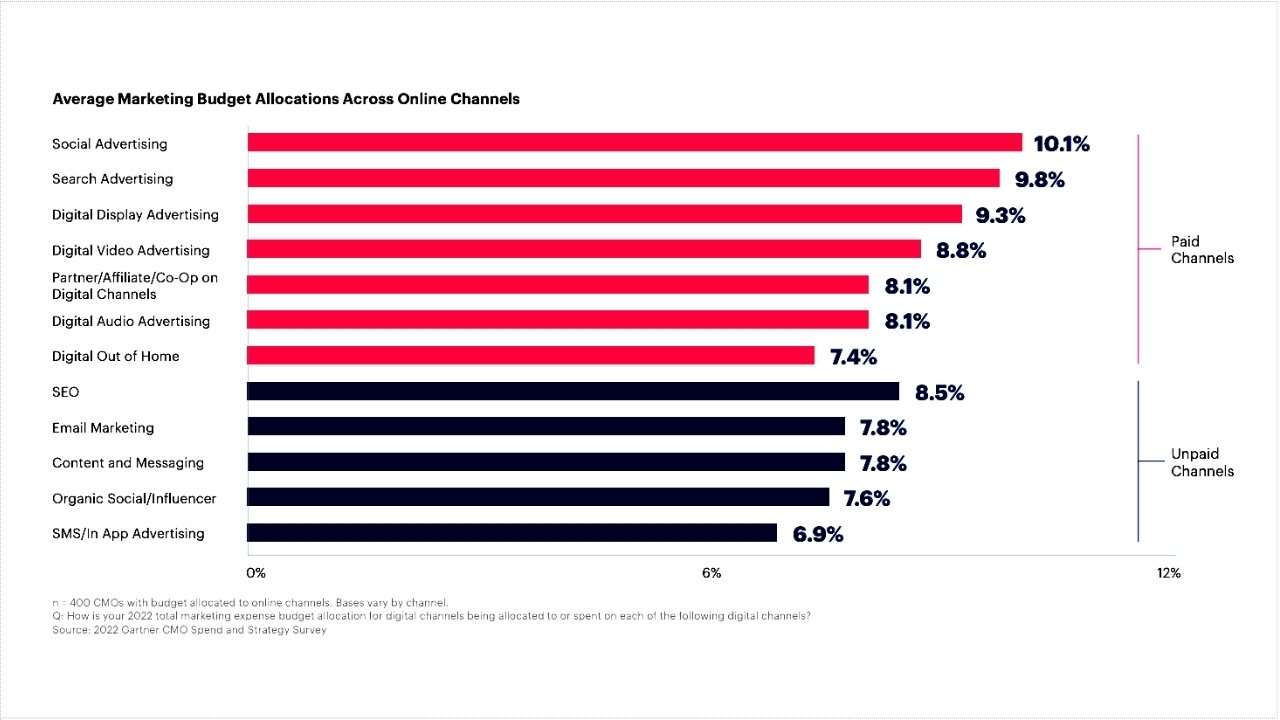 The dominance of paid channels among top B2B tech marketing budgets reveals a decisive shift away from organic tactics. This concentration of spend in paid media strategies demonstrates that paid has become the primary driver of customer acquisition strategy.
What factors underpin this rise to prominence? The targeting precision, measurable ROI, and perceived reliability of paid against declining organic make it an appealing option for tech brands vying for buyer attention in a competitive landscape. Even as costs escalate, these marketers double down on paid – likely because it delivers results.
While potentially more expensive, paid's position at the top indicates that tech companies see it as an efficient way to reach buyers at scale. And with buyers spending less time on owned channels, paid provides a controllable alternative amid the organic volatility across platforms. In short, paid's targeting capabilities and return justify its surging budget allocation despite higher costs. For ambitious growth, paid delivers the reach and ROI needed to attract tech buyers.
| Channel | Description |
| --- | --- |
| Social advertising | Paid social on Facebook, LinkedIn, Twitter, Instagram, etc |
| Search advertising | Paid search marketing (PPC) in Google and Bing |
| Digital display advertising | Banner ads on websites, the Google Display Network (GDN) |
| Digital video advertising | YouTube, Hulu, Roku, connected TV (CTV), Over-the-top (OTT) |
| Affiliate Marketing | Referral marketing where affiliates are paid a commission for new customers |
| Digital audio advertising | Spotify, Pandora, Sirius XM, iHeartRadio |
| Digital out-of-home advertising | Billboards, bus stops, taxis, office lobby screens |
Social Advertising
Social advertising refers to paid forms of promotion conducted on major social media platforms like Facebook, Instagram, Twitter, LinkedIn, Snapchat, TikTok, and others. Brands create and distribute targeted ads to insert their messaging into social media feeds and capture audience attention where users are already highly engaged.
Common social advertising formats include image ads, carousels, video ads, story ads, collection ads, and lead generation forms. These can highlight products, promote content, boost campaign engagement, drive website traffic, or acquire leads and sales. Targeting options allow brands to zero in on relevant demographics, interests, behaviors, and more to increase relevancy.
For example, a B2B software company runs targeted LinkedIn ads with different creatives, copy, and landing pages to reach data analysts, marketing managers, and tech decision-makers at target companies to generate leads for its new analytics product.
Search Advertising
Search advertising refers to paid forms of promotion on search engines like Google and Bing. It encompasses pay-per-click (PPC) and paid search campaigns where brands bid on keywords that trigger relevant text, product, and image ads alongside organic search results. The goal is to capture the audience's attention during moments of high intent when users are actively querying topics related to a brand's offerings.
Common search advertising formats include text ads with headlines, descriptions, and display URLs, shopping ads for e-commerce products, image ads to increase visibility, and dynamic search ads that update in real-time based on website content. These aim to drive website traffic, generate leads, and increase sales by targeting users at the key micro-moment when they express intent through a search query. Targeting options allow brands to focus spending on relevant keywords, demographics, interests, and more.
For example, a B2B software company runs paid search ads on keywords like "business analytics solutions" targeted to data analysts and marketing managers. The ads appear alongside search results and drive clicks to a customized landing page to convert visitors to leads. The company A/B tests different ad copy, landing pages, and keywords to optimize performance. By tracking leads generated, cost per lead, and ROI, the company continually refines its paid search strategy.
Digital Display Advertising
Digital display advertising refers to paid visual promotions on websites, blogs, and apps through various ad formats served via display advertising networks. This encompasses banners, interstitials, pop-ups, and video ads on publisher sites and platforms like the Google Display Network. The goal is to reach broad audiences as they browse sites relevant to a brand's offerings.
Common display ad formats include static and animated image banners, larger leaderboards, interstitial page takeovers, pop-up ads, and pre/mid-roll video ads. These aim to increase brand awareness, promote content, and drive website traffic through visual storytelling and messaging. Targeting options allow brands to focus spending based on context like publisher vertical, content type, device type, location, and audience data like demographics and interests.
For example, a B2B software company runs 300×250 banner ads on business and tech publisher sites targeting decision-makers and IT professionals. The ads promote free trials of the company's analytics platform. By optimizing ads, placements, and targeting, the company increases qualified traffic to its website and trial sign-up conversion rates.
Digital Video Display
Digital video advertising refers to paid video promotions across online platforms and apps like YouTube and Hulu, connected TV channels, over-the-top streaming services, and additional emerging video outlets. This encompasses pre-roll and mid-roll video ads, sponsorships, product placements and other video ad formats served to targeted audiences.
Common types include skippable and non-skippable pre-roll ads, mid-roll video ads, bumper ads, sponsored video content, and connected TV ads run through providers like Roku. Goals range from increasing brand awareness and favorability to driving website traffic, app installs, sales, and more. Advertisers can target based on audience demographics, interests, viewing behavior, device type, and other attributes to focus spending.
For example, a B2B software company runs YouTube ads targeted to business decision makers that play before relevant videos. The 6-second bumper ads increase awareness and drive clicks to a landing page. By testing different videos, calls-to-action, and targeting, the company optimizes its digital video strategy to increase the pipeline.
Affiliate Marketing
Affiliate marketing refers to paid referral partnerships where brands enlist third parties to promote products and drive traffic and sales in exchange for a percentage commission on each purchase. Affiliates range from major publishers to influencers and loyalty sites, driving high-intent traffic.
Common affiliate tactics include embedded text links, display ads, email promotions, influencer content, and onsite recommendations for related products. The core models are pay-per-sale, where affiliates earn for each converted sale, and pay-per-lead for generating qualified prospects. Affiliates often access special landing pages, coupon codes, and creative assets to optimize conversion.
For example, a B2B software company partners with business and tech publishers as affiliates. When readers click the affiliates' text or display ads and buy the software, the affiliates get a 10% commission on the sale. By selecting affiliates with high-intent traffic, the software company cost-effectively scales new customer acquisition
Digital Audio Advertising
Digital audio advertising refers to paid promotions on digital streaming platforms like Spotify, Pandora, SiriusXM, and iHeartRadio. This encompasses regular audio ads, host-read ads, sponsored playlists, and podcasts. The goal is to engage listeners with relevant messaging around life moments and contexts.
Common formats include standard 15 or 30-second audio ads, sponsor integrations into curated playlists, custom-branded stations, and podcast sponsorships. These aim to boost brand awareness and favorability, promote products and offers, or drive website visits among targeted listener segments based on music taste, demographics, listening behavior, and other attributes.
For example, a B2B software company sponsors business and technology podcasts. The host reads a customized ad about the analytics platform and provides a unique promo code. Listeners can visit the landing page to redeem the code for a discounted subscription. This drives new customer acquisition and trials among niche professional audiences.
Digital OOH Advertising
Digital out-of-home (DOOH) advertising refers to paid promotions on electronic digital displays in public spaces like billboards, transit stations, malls, elevators, and more. This encompasses static and dynamic advertising on LED and LCD screens, walls, kiosks, and other digital surfaces exposed to high-traffic locations.
Common DOOH formats include digital billboards, staircase ads, airport/train/bus terminal displays, place-based videos, experiential activations, and branded charging stations. These aim to drive brand awareness, location visits, and offline conversions by combining impactful visuals, contextual relevance, and audience targeting.
For example, a B2B software company runs digital billboard ads around a major tech conference venue. The ads feature specific promotions for conference attendees to drive booth traffic and lead generation. Proximity targeting ensures messaging relevance for the tech audience.
2. CMO Priorities Are Changing
Customer expectations are changing. The B2B buyer's journey is changing, and the pandemic has changed everything. Because of this, the priorities for CMOs are focused on predicting customers' intent with precision across the digital ecosystem.
The dynamic buyer journey demands that marketing teams focus on the complete customer life cycle, from awareness and consideration to loyalty. According to Gartner, 32% of CMOs rank improving the customer experience as a top priority.
As the metaverse for business picks up steam, CMOs will also need to focus on creating experiences in digital formats using augmented reality (AR), virtual reality (VR), and mixed reality (MR) technologies.
Focusing on cross-channel customer experiences improves B2B technology marketing in a few different ways:
Stronger customer loyalty resulting in repeat purchases and long-term contracts
Higher-performing marketing campaigns
Word-of-mouth and 3rd party credibility
3. The Adoption of B2B Digital Channels Is Growing
The past few years have forced enterprises to shift their focus to digital channels, and there is no going back. B2B tech PR companies lagging in adopting digital transformation are now prioritizing it.
Increased spending on data and analytics has made it more efficient to target and retarget buyers, but that has also led to increased competition. B2B tech companies need to stand out and differentiate themselves from others. To do that, they must:
Use audience analytics to understand buyer behavior and identify unmet customer needs
Align brand narrative and campaign messaging to unmet needs
Customize brand messaging by channel to ensure more relevancy
Gartner identifies four common themes that will drive B2B technology marketing in 2022:
Customer journey mapping. Mapping the customer experience into omnichannel marketing programs
Marketing's role in the organization. Marketing and communications have become more critical to core business initiatives.
Strategic brand analysis. Tools and processes analyze a brand's position in the marketplace.
Change management. An approach to predict and manage unexpected market changes and increase the stability of a B2B tech marketing strategy.
The top channels used by enterprise companies are LinkedIn, Twitter, YouTube, Reddit, and Software Review sites like G2.
4. Advanced B2B Content Marketing
A B2B content marketing strategy offers enterprise companies multiple ways to intercept buyers during their purchase journey. According to Gartner, B2B tech companies spend 30% of their marketing budget on digital content, yet less than 40% have a documented strategy.
The question I often get from clients is, "What type of digital content formats will resonate with buyers?" The answer is all of them. It depends on where they are on their journey. The right combination of content will persuade and influence audiences while adhering to each of their senses:
| Mode | Description | Examples |
| --- | --- | --- |
| Reading | Long-form content like blogs, white papers, eBooks, case studies | Blog posts, guides, reports, webpages |
| Watching | Video content on YouTube or natively on social channels | Product demos, webinars, interviews, tutorials |
| Listening | Audio content like podcasts, social audio, audio articles | Podcasts, Clubhouse/Twitter Spaces, audio posts |
| Participating | Engaging with internal experts, executives, thought leaders | AMAs, panels, interviews, advisories |
Different content formats will help B2B marketers drive more qualified web traffic, increase brand awareness, educate customers, and convert potential buyers.
5. Metrics & Analytics are Evolving
In one of Gartner's research reports, 80% of B2B technology companies have marketing automation software deployed, leading to improved marketing performance, metrics, and analysis.
But metrics and analysis span across more than just marketing automation. According to the latest Deloitte CMO Survey, investments in data analytics increased almost 40%, from 56.5% in February 2021 to 77.5% in February 2022. B2B tech PR teams are also using audience data to understand what media outlets specific buyers are reading and prioritizing those outlets when pitching media.
Gartner also breaks down the marketing budget by function, detailing that CMOs are allocating almost 30% of their budgets to uncovering actionable data insights:
9% to marketing data analytics
8.8% to customer analytics
8.3% to digital marketing insights
These insights include understanding what content resonates with specific buyers, what channels they use to consume it, and how they interact.
This data is then used to decide where to allocate the budget, what type of content to produce, who the target audience is, and what message will resonate most.
Wrap-Up: What's Next for B2B Tech Marketers?
For B2B tech marketers, future success requires embracing agility, innovation, and customer intimacy in a rapidly evolving digital landscape. As this piece has explored, leading brands must continually anticipate and adapt to market changes rather than reacting retroactively. Strategies and messaging should flex to address emerging channels, formats, and platforms ahead of the curve.
Central to this agility is a profound understanding of the target buyer. By rigorously leveraging data and analytics, marketers can gain valuable insights into audience needs, motivations, and behaviors. These insights empower more relevant targeting and content tailored precisely to resonate. Though B2B brands allocate extensive budgets to content, many lack documented strategies. This presents a key opportunity to optimize efforts for maximum impact.
Additionally, forging strong customer relationships emerges as critical. Personalized communication, remarkable content addressing specific needs, and responsive engagement build loyalty and increase conversion over time. Combined with agile strategy and crisp execution, customer intimacy drives sustainable success.
The future of B2B marketing remains rooted in anticipating change while mobilizing insights and relationships to capitalize on it. Leaders who embrace this mindset and approach will maintain their edge. For B2B tech marketers, the time is now to ready strategies, teams, and martech stacks to thrive amid nonstop disruption.
Here's the deal: if you're in B2B marketing and you're not already focusing on digital transformation, using data to map out customer journeys, and creating immersive digital experiences, then you're living under a rock. And no, this isn't a recycled prediction from last year about what might happen this year. This is what's happening right now. Today. It's time to get with the program.