One common theme about B2B technology marketing trends is that they don't shift much from one year to the next. It's typically the same headline over and over, but the context is different. B2B brands need to focus on influencers. Content marketing should be prioritized. Generating leads is the only way to go.
B2B technology trends are not predictions. They are not what we think will happen in the coming year. Most trends are recycled year of year and just called something different. B2B technology trends and marketing best practices are happening now. Today.
And that's why we wanted to look at the current trends and best practices for B2B tech marketing, so you can stay ahead of the curve and integrate these ideas into your B2B marketing strategy.
What are the top B2B technology marketing trends?
I'm a huge fan of Gartner. They consistently create insightful content, and their latest report is no different. In the report, they list the Top 5 Emerging B2B Software Marketing Trends for 2022:
Digital marketing budgets are shifting
CMO priorities are changing
Adoption of B2B digital channels is growing
Advanced content marketing
Metrics and analysis are reshaping
Gartner defines an emerging trend as "a new trend that is just beginning to impact B2B industry marketing or what is having a significant impact right now.
So, what can we glean from this list? First, let's take a closer look.
Digital Marketing Budgets Shifting
According to Gartner, 72% of the budgets are now allocated to digital marketing channels, including paid, earned, and owned media.
The pandemic impacted enterprise companies globally–budgets, sales, the customer journey, and everything else. And, even though digital marketing budgets were only 6.4% of company revenue in 2021, they have bounced back this year to 9.5% in 2022.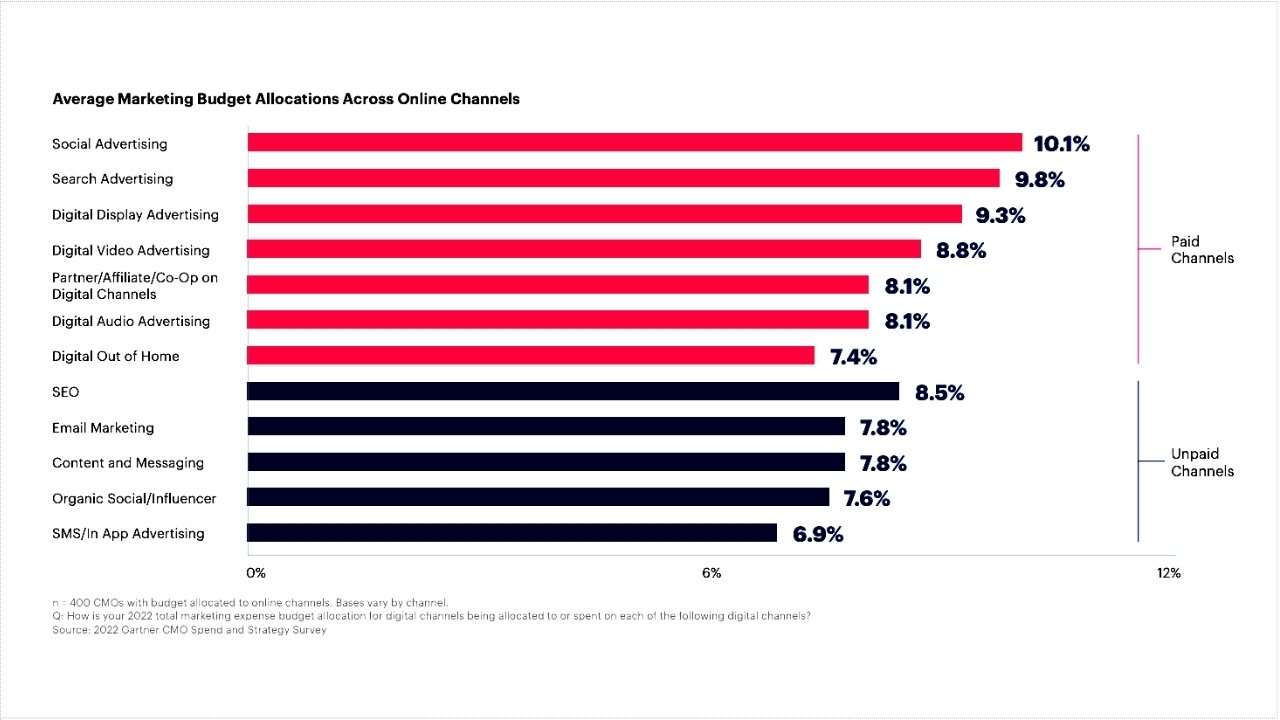 Even more, is that the top seven B2B tech marketing budget allocations are all paid media channels:
Social advertising: Paid social on Facebook, LinkedIn, Twitter, Instagram, etc.
Search advertising: Paid search marketing (PPC) in Google and Bing
Digital display advertising: Banner ads on websites, the Google Display Network (GDN)
Digital video display: YoutTube, Hulu, Roku, connected TV (CTV), Over-the-top (OTT)
Affiliate Marketing: Referral marketing where affiliates are paid a commission for every new customer they bring in
Digital audio advertising: Spotify, Pandora, Sirius XM, iHeartRadio
Digital out-of-home advertising: Billboards, bus stops, taxis, office lobby screens
The unpaid digital channels are just as crucial as the paid channels. These include SEO, email marketing, content and messaging, organic social, influencer engagement, and in-app advertising.
CMO Priorities Are Changing
Customer expectations are changing. The B2B buyer's journey is changing, and the pandemic has changed everything. Because of this, the priorities for CMOs are focused on predicting customers' intent with precision across the digital ecosystem.
The dynamic buyer journey demands that marketing teams focus on the complete customer life cycle, from awareness and consideration to loyalty. According to Gartner, 32% of CMOs rank improving the customer experience as a top priority.
And as the metaverse for business picks up steam, CMOs will also need to focus on creating experiences in digital formats using augmented reality (AR), virtual reality (VR), and mixed reality (MR) technologies.
Focusing on cross-channel customer experiences improves B2B technology marketing in a few different ways:
Stronger customer loyalty resulting in repeat purchases and long-term contracts
Higher-performing marketing campaigns
Word-of-mouth and 3rd party credibility
The Adoption of B2B Digital Channels Is Growing
The past few years have forced enterprises to shift their focus to digital channels, and there is no going back. B2B tech PR companies lagging in adopting digital transformation are now prioritizing it.
Increased spending on data and analytics has made it more efficient to target and retarget buyers, but that has also led to increased competition. B2B tech companies need to stand out and differentiate themselves from others. To do that, they must:
Use audience analytics to understand buyer behavior and identify unmet customer needs
Align brand narrative and campaign messaging to unmet needs
Customize brand messaging by channel to ensure more relevancy
Gartner identifies four common themes that will drive B2B technology marketing in 2022:
Customer journey mapping. Mapping the customer experience into omnichannel marketing programs
Marketing's role in the organization. Marketing and communications have become more critical to core business initiatives.
Strategic brand analysis. Tools and processes analyze a brand's position in the marketplace.
Change management. An approach to predict and manage unexpected market changes and increase the stability of a B2B tech marketing strategy.
The top channels used by enterprise companies are LinkedIn, Twitter, YouTube, Reddit, and Software Review sites like G2.
Advanced B2B Content Marketing
A B2B content marketing strategy offers enterprise companies multiple ways to intercept buyers during their purchase journey. According to Gartner, B2B tech companies spend 30% of their marketing budget on creating digital content, yet, less than 40% have a documented strategy.
The question I often get from clients is, "What type of digital content formats will resonate with buyers?" The answer is all of them. It depends on where they are in their journey. The right combination of content will persuade and influence audiences while adhering to each of their senses:
Reading: Long-form content like blogs, white papers, eBooks, case studies, etc.
Watching: Any form of video content on YouTube or uploaded natively on a social channel.
Listening: Podcasts, videos, social audio platforms.
Participating: Engagement with internal SMEs, executives, and thought leaders.
Using different content formats will help B2B marketers drive more qualified web traffic, increase brand awareness, educate customers and convert potential buyers.
Metrics and analytics are evolving.
In one of Gartner's research reports, 80% of B2B technology companies have marketing automation software deployed, leading to improved marketing performance, metrics, and analysis.
But metrics and analysis span across more than just marketing automation. According to the latest Deloitte CMO Survey, investments in data analytics increased almost 40%, from 56.5% in February 2021 to 77.5% in February 2022. B2B tech PR teams are also using audience data to understand what media outlets specific buyers are reading and prioritizing those outlets when pitching media.
Gartner also breaks down the marketing budget by function, detailing that CMOs are allocating almost 30% of their budgets to uncovering actionable data insights:
9% to marketing data analytics
8.8% to customer analytics
8.3% to digital marketing insights
These insights include understanding what content resonates with specific buyers, what channels they use to consume it, and how they interact with it.
This data is then used to decide where to allocate the budget, what type of content to produce, who the target audience is, and what message will resonate most.
What's next for B2B tech marketers?
The future of B2B marketing lies in the ability to be agile and anticipate market changes. It's about adapting messaging and strategies to address those changes quickly.
It's also about profoundly understanding your buyer and their needs. Then, using data and analytics to understand their behavior, you can create more targeted content that speaks directly to them.