The Peso Model can help you integrate your narrative and brand storyelling across all of your digital marketing initiatives.
Why this matters:
It matters because your customers are multi-dimensional. The way they consume content and navigate the online space changes daily. They multi-task, use multiple devices, and their attention span is less than three seconds. Peso planning ensures that your campaign activations fully surround your customers with repetitive and consistent brand stories. It's integrated marketing.
By the numbers:
93% of marketers say integrated marketing is important to their overall marketing strategy
75% of marketers are using at least three channels in their integrated marketing strategy
The top three challenges marketers face with integrated marketing are lack of resources, lack of knowledge and understanding, and difficulty measuring ROI
Nearly two-thirds of marketers plan to increase their budget for integrated marketing over the next year (Source)
Integrated marketing is a strategic approach considering how customers interact with your brand. It uses an omnichannel philosophy, meaning all channels are connected and work together to create a seamless customer experience.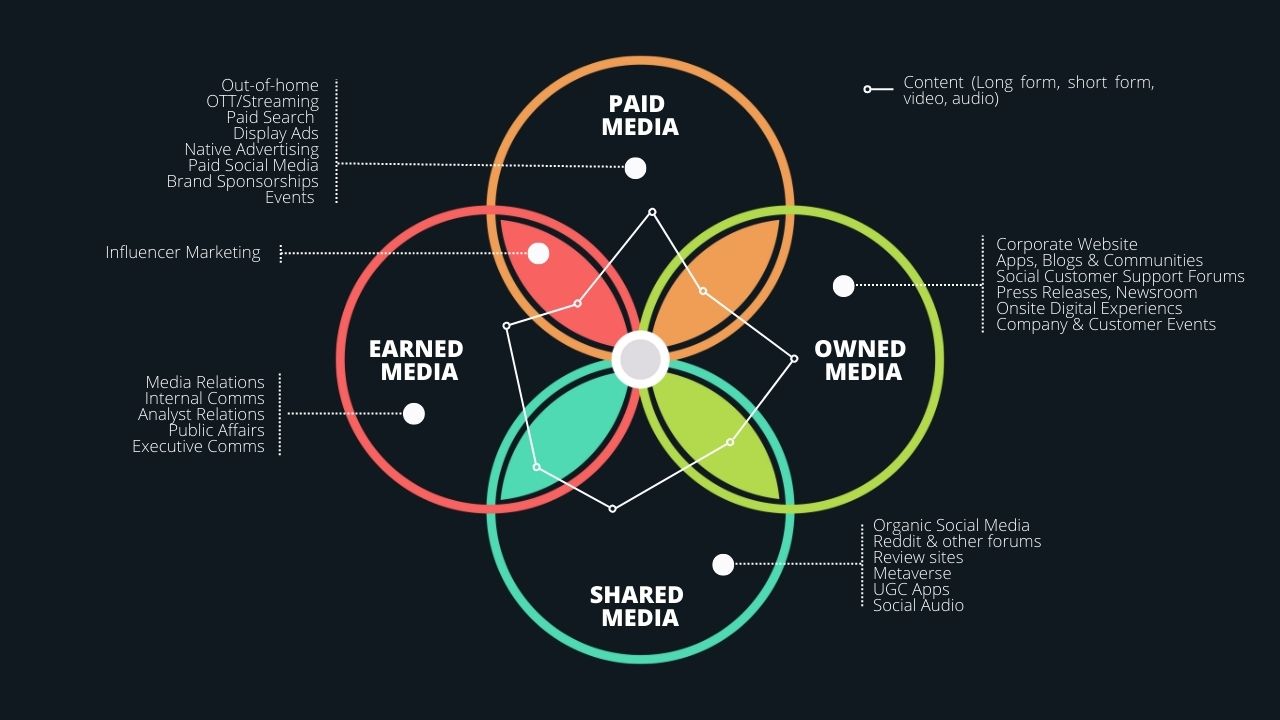 Some marketers refer to this as the PESO model.
What is the PESO model?
The PESO model is one way to understand how different marketing channels work together to reach consumers during their shopping journey. The acronym stands for paid, earned, shared, and owned media. Each channel is unique and has its own set of strengths, weaknesses, opportunities, and challenges.
The PESO model is a visual representation of how each channel is connected. It can serve as a reminder, so you don't forget the importance of a multi-channel, fully-integrated digital marketing approach. I have reworked the PESO model to focus on channels and not content, mainly because any content can be used and repurposed across each channel.
The model was initially created by Gini Dietrich and has been used by PR pros globally to build their PESO model for public relations. Marketers also use it to inform their PESO marketing strategy. It is a foundational model that all brands, large and small, should leverage.
This guide will walk through each channel in the PESO model and provide actionable tips for integrating them into your marketing strategy. To make it easy, let's start with paid media and then deep dive into earned, shared, and owned media. Remember that all of the PESO channels must have a consistent and relevant story woven throughout.
Paid Media: Using the PESO Model to Reach New Audiences
In the early days, before the PESO model was even a thing, marketers would refer to the space as paid, owned, and earned media. This was before influencer marketing, paid social, content syndication, and all the new media channels.
What is Paid Media?
Paid media is when you pay to place your ad on a media channel. The most common examples are paid search, display, paid social marketing, OTT, and television advertising. Brand and media partnerships are also considered paid media.
Paid Search is when you buy ad space on Google. When someone searches for a keyword you've bid on, your ad will appear at the top of the search results page. This is known as Google SERP (Search Engine Results Page).
Display Advertising is a form of digital media that uses banner ads, text ads, and other creative assets to reach people online.
Paid Social Media uses paid placements on social networks like Facebook, Instagram, Twitter, and LinkedIn. This is called "boosting" or "promoting" a social post.
OTT Advertising is when you buy media on streaming platforms like Roku, Amazon Fire TV, and Apple TV. Hulu recently launched a self-service ad platform where brands can launch paid ads for as little as $50.
Television advertising is buying media during commercial breaks on local, national, and cable television shows to reach mass audiences.
Brand & Media Partnerships are collaborative relationships between brands and media companies like Business Insider or Fortune. The partnership can take many forms–display ads on the site, a landing page, a content hub, or sponsored content.
Benefits of Paid Media
With paid media, you can read large audiences quickly. You can target your ads by demographic, market, and interests, and retarget your ads to people who have been to your website. You can also use paid media to boost your other marketing channels. For example, you can use paid search to drive traffic to your owned channels like your blog, brand newsroom, or a piece of earned media coverage.

Paid media is predictable. You can control how much you spend, predict your click-through and conversion rates, and how many people you reach. This is a significant benefit if you must hit a specific marketing target within a budget.
Paid media also has the advantage of being immediate. You can start seeing results from your campaigns when you turn them on. However, once you run out of money, the ads stop.
Challenges of Paid Media
The downside of paid media is that it can be expensive. You must also be careful not to bombard your audience with too many ads. Too much exposure to advertising can lead to ad blindness and fatigue, which means people tune out your ads and become immune to them.
Also, paid media isn't as trusted as other channels. Consumers are more likely to believe a recommendation from a friend or colleague, not an ad. This is true for most audiences and has been backed by research for decades.
Lastly, for paid media to work effectively, you need content and creative that converts.
Actionable Tips for Paid Media Marketing Strategy
Audience targeting can make or break your paid campaign. Don't rush through this.
Set a budget for your paid media campaigns and stick to it.
Track your budget in real-time with pacing reports.
Test content, ad formats, and platforms to see what works best for your business.
Make sure your ads are relevant and targeted to your audience.
Don't bombard your audience with too many ads. Instead, find the right balance between frequency and reach.
Paid Media Examples
The most well-known examples are Super Bowl commercials because everyone talks about them. But there are other, more creative examples of paid media.
In 2012, Old Spice ran a series of YouTube ads featuring actor Terry Crews. The videos became a viral sensation and were shared across social media. The campaign was a huge success, with the videos getting millions of views and Old Spice becoming the number-one brand on social media at the time.
Another example is one of my favorite places to eat, Chipotle. If you haven't tried their guacamole, you're missing out. Below are two examples of billboard ads. As you can see, Chipotle uses clever language and creativity to reinforce key message points like "locally sourced natural ingredients."
Paid media can be a great way to reach new audiences and generate buzz for your brand. But it's essential to use it wisely and not bombard people with too many ads. If you do it right, you can create successful campaigns to boost your other marketing efforts.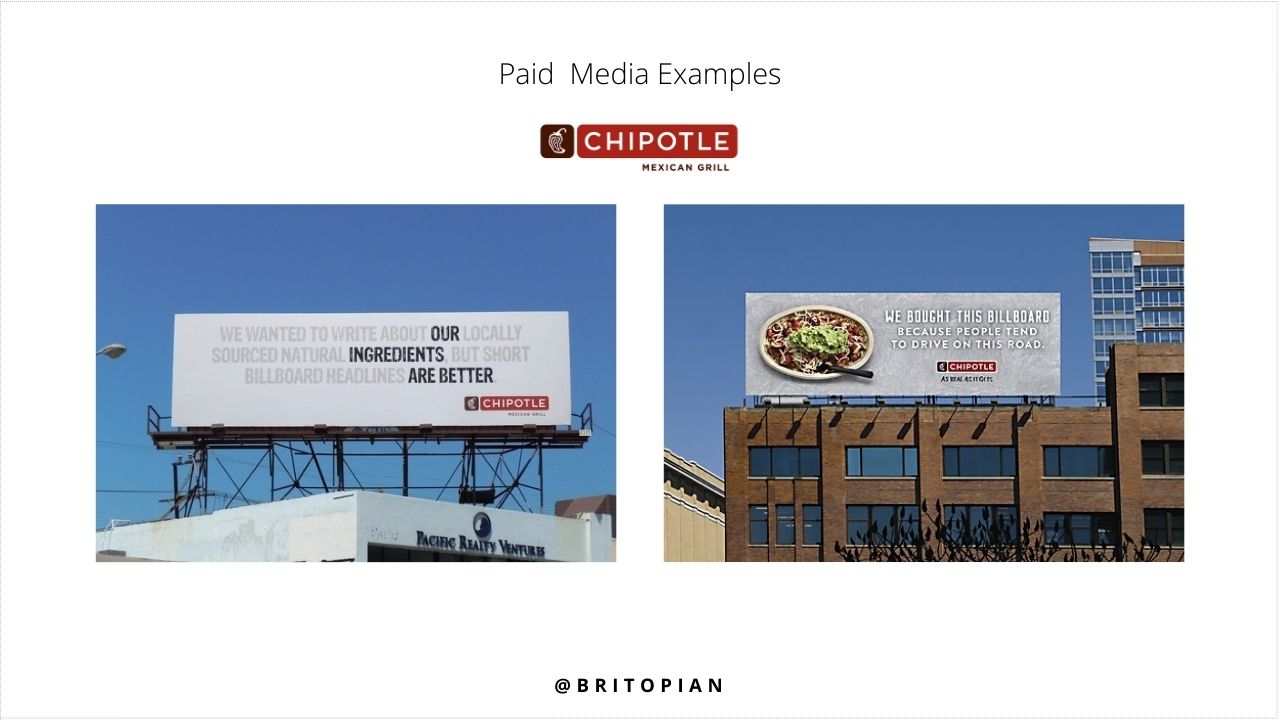 Now let's talk about the second acronym of the PESO model for public relations–earned media.
PESO Model PR = Earned Media
What is Earned Media?
Earned media is any press coverage that you get without paying for it. This includes being mentioned in the media, blog posts, or social media. This earned media definition is not entirely true, though. Earned media isn't free. I define earned media as the result of a strategic PR campaign. Getting coverage in a high-profile media outlet takes a lot of planning, time, energy, and a sound PR strategy. But you're not paying for the placement itself.
The best way to get earned media is to create a story the media wants to write about. This could be a new product, an innovative business model, or a newsworthy story. Of course, you also need good relationships with journalists, so they know who you are and what you're working on. But there are other strategies to increase your chances of getting covered by the press or mentioned online.
Earned media campaigns are different from paid and owned media because you don't have any control of the outcome. You can't decide when or where your brand will be mentioned. You can't pay to guarantee coverage; if you do get coverage, you have no control over the narrative.
The Benefits of Earned Media
The benefits of earned media are that it's free, well, you know what I mean. In addition, securing earned media coverage in a major publication like Fortune or The New York Times will give your brand a lot of exposure and credibility in the market. Not to mention, it's great bragging rights and looks pretty awesome framed and hanging in a company lobby.
And because it's coming from an influential third-party voice, it's more credible than paid or owned media. People trust people. They don't always trust brands.
Another benefit of earned media is that it can help drive engagement in new channels. For example, you can share the coverage on social media to increase the reach and engagement of that article. Adding paid media can also boost it to keep the story going and reach more audiences.
Also, depending on the outlet, most media coverage is considered authoritative, resulting in high search engine rankings. So, if someone searches for your company, they will find a reputable article about you, which builds trust and credibility.
The Challenges of Earned Media
It isn't easy to get media coverage. You need a good story, the right media contacts, and the know-how to pitch to journalists. And even if you do get coverage, you can't control what they say about you. I outline the top public relations skills you should master in your career.
It can also be challenging to track the results of earned media. Unlike paid or owned media, where you can track clicks, views, or engagement, it's harder to track the impact of earned media. But there are ways to measure the success of your earned media campaigns by looking at things like website traffic, brand health, and sales.
Earned media is a great way to build trust and credibility for your brand. But it's important to understand that getting coverage takes time and effort. You can pitch 50 outlets and only hear back from a few. But if you're strategic and patient, earned media can provide long-term business value for your brand.
Earned Media Examples
In this earned media example, AWS has announced the general availability of its Cloud WAN network. One thing to point out with this coverage is that the reporter links to amazon.com a few times. In the first link, the reporter uses "Cloud WAN" as the anchor text, which links to the AWS Cloud WAN product page. It could be argued that this link is more valuable than the article. The Register is a high-authority website; linking to the Amazon AWS web page with a keyword that Amazon's customers are searching for will increase the search results for that page. This is an "inbound link" and is critical to your SEO program.
This earned media example is what is referred to as a headline mention and an exclusive. It's a headline mention because AWS is mentioned in the headline. It's exclusive because the entire article is about AWS.
There are two ways that the story could have come to fruition. The first is that Amazon AWS issued a press release, and a journalist from The Register noticed and wrote about it. The second is that someone on the PR team has a relationship with the reporter, Dan Robinson, providing him with all the relevant product launch details. Based on the story, and the links, I would say this is likely the case.
This example of earned media is different. AWS is mentioned in the headline of CRN but not in the best context. The story highlights why Google Cloud beats AWS and Microsoft Azure. While it is not "an exclusive" for Google Cloud, it provides various proof points as to why they are a better technology choice for potential customers. You can imagine the impact of a story like this when a buyer comes across it while researching cloud providers.
This last earned media example is a very positive coverage for AWS. The TechRepublic piece discusses the improvements in AWS's open-source software contributions. The article cites several quotes from AWS executives and references a tweet from an AWS engineer.
In addition, the reporter highlights one of AWS's core leadership principles, customer obsession, reinforcing AWS's commitment to leadership.
Actionable Tips for Getting Earned Media Coverage
Here are some tips to increase your chances of getting earned media coverage:
Create a media list backed by data.
Build relationships with the media. Get to know the reporters who cover your industry and pitch them story ideas relevant to their readers.
Create timely, newsworthy content. Write blog posts or create infographics that address industry trends or hot topics.
Make it easy for journalists to find your expert sources. Have a list of company spokespeople who can provide quotes or be interviewed on various topics.
Monitor the news. Use Google Alerts or media monitoring software to track when your company or industry is mentioned in the news. You can then reach out to those journalists to offer your expert insights.
Pitch, pitch, pitch. The more you pitch, the more likely you are to get coverage. But don't be a nuisance.
Now let's move on to the third acronym of the PESO marketing model–shared media.
Shared Media = Social Media. It's Synonymous.
In the early days before the PESO marketing model, most referred to integrated marketing as just paid, earned, and owned media. Social media was included when referring to a brand's owned media channels mainly because you owned the content posted. Social media was an emerging channel, but this was before promoting or boosting content was a thing. The core focus of using social media at that time was to build online communities. It wasn't considered a media platform like it is today.
What is Shared Media?
Shared media is content posted on a brand's social media channels that aren't promoted or boosted. This is also referred to as "organic social." Shared media also includes a brand's participation in social audio apps, review sites, and forums. If you manage an employee advocacy program, their involvement in social and online discussions is also shared media.
The reason why it's called shared media is because your brand is "sharing" the space with your customers. This is what makes social media so powerful. It's a two-way dialogue instead of a one-way message like paid digital advertising.
The Benefits of Shared Media
Shared media is an effective way to increase brand awareness and reach new audiences. It builds customer relationships and creates a community around your brand if done correctly.
Some of the benefits of shared media are:
You can connect with customers and prospects on a more personal level
You can build relationships and loyalty
You can create brand ambassadors
You can get feedback and learn about customer needs and wants
It helps to humanize your brand
The Challenges of Shared Media
While there are many benefits to using shared media, there are also some potential challenges.
The biggest challenge with shared media is that it's not a guaranteed way to reach your target audience. The algorithms make it difficult for brands to reach their customers organically. I've done numerous testing over the years, and organic reach is between 3-5%, meaning you will reach 3-5 people for every 100 friends, fans, and followers. The other 95-97% will not see your content in their newsfeed.
Another challenge is that social media platforms are constantly changing, which makes it difficult to keep up with the latest features and trends.
Finally, shared media requires ongoing effort and consistency. You can't just post when you feel like it or have something to promote. You need to post regularly and consistently, reinforcing customer engagement.
Shared Media Examples
The following shared media examples are from AWS's social media channels: Facebook, LinkedIn, and Twitter. Each post links to the same Wall Street Journal article. It's not earned coverage, though. It's a paid placement written by an AWS Enterprise Strategist about accessibility. So the article itself would be considered paid media, and AWS is using shared media to amplify (not a fan of that word) paid media content. Many technology companies post similarly, whether they are driving awareness of earned coverage or a paid placement.
AWS used the same creative in each social media post as the WSJ article's creative, which aligns with industry best practices. It helps create consistency and relevance for the users who click through. However, I should note that you don't have this level of control over earned media placements.
They slightly differentiate the post copy in each channel using different language, tone, and hashtags. This is the right way to do it. But unfortunately, many brands like to cut corners and post identical content across all their channels and wonder why it underperforms.
Actionable Tips for Posting Organic Social Media
Now that we've reviewed the PESO model and shared media examples let's get into some actionable tips to help you improve what you do for organic social:
Define your goals. Without defined goals, you won't be able to measure success. For organic social, goals will most likely center around community engagement, awareness, and customer advocacy. Clicks, conversions, sales, and similar metrics align more with paid media.
Create a content strategy. Even though the content won't be promoted or used for paid media, you must create a social narrative. A social narrative will help you develop content that aligns with your brand identity, resonates with your target audience, and drives business results.
Consistent creative. All your social media channels should have a consistent look and feel, including your background images and profile photo. You should also create a visual style guide for the content you post. This will help ensures that all your content looks like it belongs to the same brand.
Make sure your content is shareable. The whole point of shared media is for other people to share it. So when creating shareable content, make sure your content is shareable by using images, infographics, gifs, and videos. Also, create attention-grabbing social media posts and make people want to share them.
Be active on social media. Just because you aren't promoting the content doesn't mean you post and forget about it. You must be active on social media, responding to comments, questions, and messages. This is how you create a community of brand advocates.
Now let's move on to the fourth acronym of the PESO model–owned media.
Control the Narrative With Owned Media
If you have ever gone to a company website, downloaded a software driver, read through forums to help troubleshoot a product, or used an app to manage your finances, you have spent time on a brand's owned media channel.
What is Owned Media?
In the PESO Model, owned media is any channel you own and control. This could be your website, blog, press room, customer community, event, or app. You control the messaging, content, creative, and full digital experience.
Optimizing your owned media channels for search will help drive traffic and increase your brand's visibility. Google is still the home page for most consumers, so SEO is an important part of the PESO Model.
Some common SEO tactics include:
Optimizing website content for target keywords
Creating keyword-rich blog titles
Utilizing keywords throughout blog posts
Using keyword-rich H1 and H2 tags
Adding alt text to images
Creating sitemaps
Submitting your website to Google Search Console
The benefits of optimizing your owned media channels are evident, but there are challenges also to consider.
The Challenges of Owned Media
The main challenge with owned media is that producing quality content and optimizing it for search takes time. Maintaining a website can also be expensive, especially if you regularly publish new web pages and blog posts, create infographics, or develop other types of visual content.
It's common for enterprise companies to have 25-50 full-time employees responsible for the website. As a result, Back-end development and hosting costs, language translation, front-end design, creative, and content can get very expensive very fast and are all factors to consider.
Additionally, you need to be strategic about optimizing the website and the topics you write about on your blogs and communities. This requires significant keyword research and understanding how your target audience is searching for information. Most brands hire consultants or SEO agencies, which could be very expensive.
Examples of Owned Media
Below are a few owned media examples from AWS. I found several examples of content, communities, and digital experiences in my research. It's crystal clear that AWS has invested in building a digital brand ecosystem that will support its customers and prospects.
The first owned media example is the AWS Marketplace. It's a digital resource and catalog their customers can use to find, buy, deploy, and manage third-party software, data, and services to build solutions and run their businesses. The catalog includes thousands of software listings from categories such as security, business applications, machine learning, and data products. You can also search and sort the listing across specific industries like healthcare, financial services, and telecommunications.
The second example is AWS Digital Training. It's also a digital experience for existing customers or developers who want to learn how to use AWS. They offer free, on-demand courses developed by AWS subject matter experts. They have also developed the AWS Skill Builder, which includes 500+ digital courses and plans that users can use to guide their ongoing learning and development.
The last example and the most common form of owned media is the AWS blog. As previously stated, Google prioritizes blog content because it's fresh, dynamic, and usually higher quality than a normal web page. The AWS blog covers various topics, such as product announcements, customer stories, how-to guides, and industry news.
Content Fuels all PESO Channels
Content is the fuel that drives the PESO Model. It is the foundation for everything else and needs to be high-quality, keyword rich, and informative. Creating great content isn't easy, so many brands hire former journalists and editors to support brand storytelling initiatives. They also partner with agencies for creative production.
There are several different types of content commonly used in the PESO Model:
Blogs are considered long-form content and live on company web pages. They contain informative articles, usually around 400-600 words. Brands use blogs to share their tech thought leadership, product announcements, and industry news.
A content hub is similar to a blog but contains more multimedia content, such as videos, infographics, and whitepapers. It's also a great way to consolidate all your owned media in one place.
A white paper is a long-form, research-driven piece of content that explores a specific issue or topic in depth. White papers are usually around 2,000-5,000 words and can be very technical.
An ebook is a long-form digital book that contains chapters, sections, and images. Ebooks are usually around 10,000-20,000 words, and brands use them to showcase their thought leadership on a specific topic.
A webinar is a live or recorded online seminar that educates viewers on a specific topic. Webinars usually last around 60 minutes, and brands use them to generate leads or announcements.
Images are digital assets that break up text on web pages and blog posts, making the content more visually appealing. They are also used for social media posts and paid media ads.
Infographics are a type of image that contains information or data visualizations. They are often used to communicate complex ideas in a more easily digestible format.
Infograms are sharable infographics but visualize one data point.
Videos can be short-form, long-form, and posted to just about any social media site like LinkedIn, TikTok, YouTube, Instagram Stories, or Twitter.
Animated videos are a type of video that uses moving images, vector graphics, and text to tell a story or communicate an idea.
Podcasts are audio files that can be downloaded and listened to on a computer or mobile device. You can also listen to real-time audio conversations from Clubhouse or TwitterSpaces.
These content examples must be carefully planned and integrated into your content marketing strategy and the larger PESO media model.
The PESO Model is a great way to understand how each marketing channel works together to create an integrated digital customer experience. It's also a helpful framework for thinking about your own marketing initiatives and how to allocate resources across paid, earned, shared, and owned media.
---
FAQ
Q: What's the difference between owned vs earned media?
A: Owned media is any content you create and control, such as your website or blog. Earned media is when a journalist writes a story about your brand, product, or company.
Q: What is the difference between earned media vs paid media?
A: Paid media is when you pay to promote your content, such as through paid ads or sponsorships. Earned media is when someone else promotes your content for free. Finally, shared media is content created by third-party platforms like news sites or social media platforms.