Before we get into the specifics of launching an influencer engagement strategy, let me first talk about it and what it isn't.
An organic influencer engagement strategy does not involve paying influencers to collaborate for a campaign. It's not paying influencers to use their content. It has nothing to do with sending influencer products in return for a social media post.
Still, many people think an influencer engagement strategy involves spending massive amounts of money paying influencers for collaboration. Unfortunately, this is usually the case for consumer brands because influencers in this space won't do anything for free.
And it's not going to Twitter once a week and liking, commenting, and retweeting a few journalists. That's not bad, but my 10-year-old niece can do that.
So now that I've articulated what it isn't let me define what organic influencer engagement means and how it works.
What is organic influencer engagement?
Creating an organic influencer marketing strategy combines data & analytics with content and storytelling that positions your brand at the center of relevant conversations with influential individuals.
The most crucial piece of the strategy is to research influencers. This will help you feel confident about which influencers to work into your creative content.
And it's free. Well, kind of.
It's free because you aren't paying influencers to collaborate on a project. But if you are working with an agency or using paid media to amplify influencer content, well … that costs money. But that's the difference between influencer engagement and paid influencer marketing.
How to engage influencers on social media
This may seem like a complicated process if you've never worked with social media influencers. It works like this;
Find influencers: Use influencer intelligence to find influencers with an engaged following relevant to your industry and whose values align with your brand. For this type of engagement, I recommend identifying between 200-500 individuals.
Segment the influencers. The influencers should be segmented by tech influencers, journalists, analysts, and academia. The goal of your influencer engagement strategy must be to engage with influencers across multiple industries and categories.
Add influencers to a real-time social listening panel. There are two ways to do this. You can use influencer marketing software like Onalytica to track influencers in real time or use a social analytics platform.
Do the basics. Do what my niece can do. Like, comment, share, and RT influencer content. It's as easy as adding them to a list, and a few times a week, scroll through their feeds and engage. The next part of the influencer engagement strategy is where it gets a little complicated.
Activate the content engine. A best practice for real-time engagement is to create search filters using boolean logic so you can see when social media influencers mention a specific keyword or phrase. If and when they do, you must be ready to create digital assets the minute you spot an opportunity — animated GIFs, and videos with animated graphics.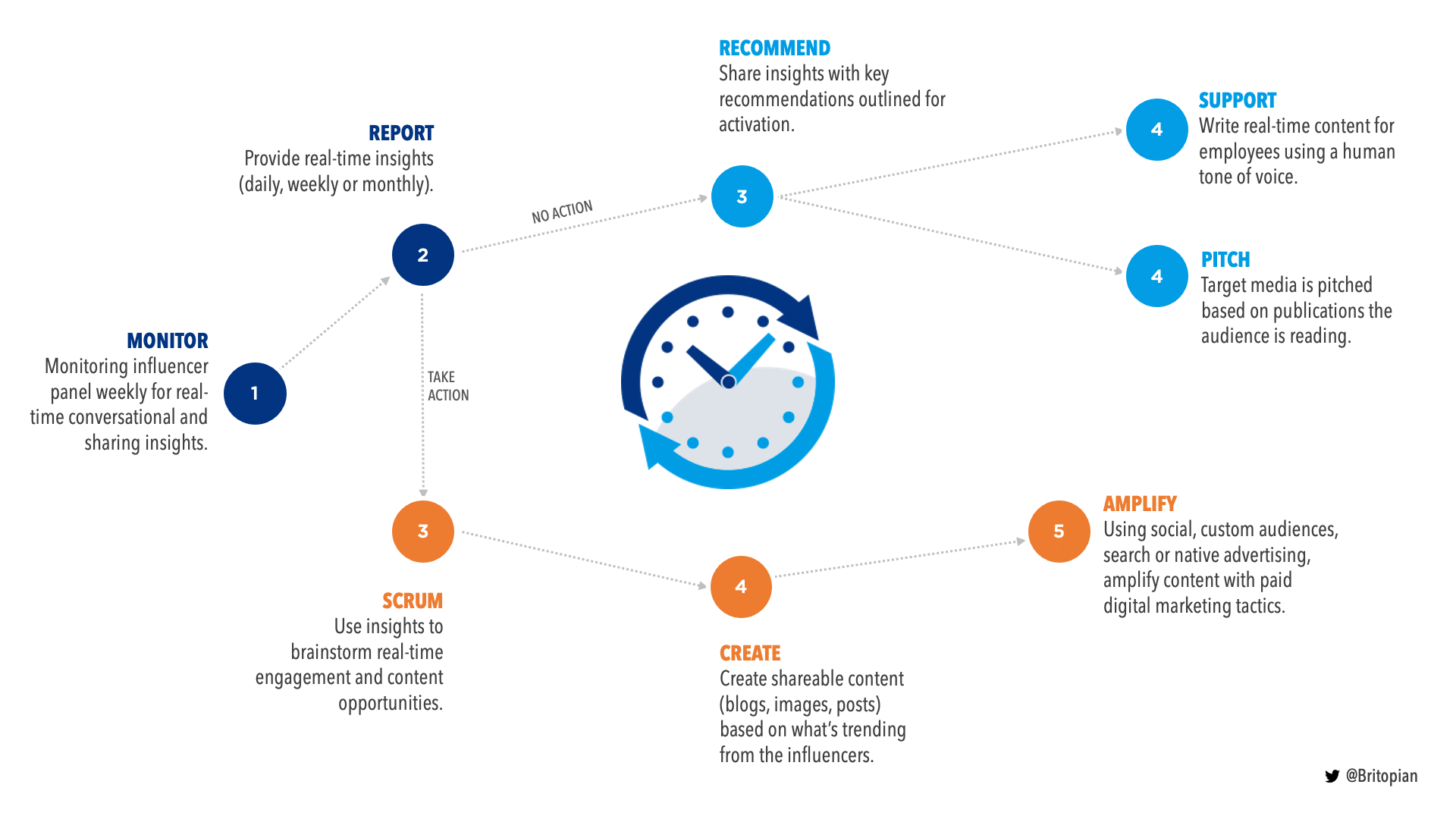 The process for doing this is below.
Align the creative to trending content. To make this work, you have to step out of the "branded content" echo chamber and be willing to branch out. The influencers will NOT engage with content that has your logo everywhere. Here's an example:
Notice the creative asset isn't branded, and more than one influencer is tagged in the content. In the post copy, the tweet highlights a study from Mckinsey (which is also linked), and a data point is added for context. Also, the tweet asks the question, "Are you also seeing this trend?" and six influencers are tagged. The video/graphic was viewed 1.6K times with decent engagement.
Paid media. Always use paid media when promoting content where influencers are featured. If you don't, the content will get lost in the noise, and no one will see it.
Don't be stingy with promoting content. I don't care if you "work in PR" and don't do paid media. This is 100% necessary. It's non-negotiable. Also, consider that influencers don't care what department you work in, either.
Activating the content engine is much easier said than done. I like to remind people that organic social media is long gone. Nobody looks at that content. Nobody sees that content. That content does not perform at all. If you replace that approach with real-time influencer engagement and use creative content, the metrics on that content skyrocket. However, it's important to note that having a strategic content ops process will help streamline this entire creative process.
An organic influencer engagement strategy is a process that takes time to implement but is worth the effort. By using data and analytics to identify relevant influencers and then creating content that positions your brand at the center of relevant conversations,
A real-life, decent example of organic influencer engagement
This is an example of a smart influencer engagement from a well-known tech brand in Silicon Valley.
Last year, a good friend Robyn Hannah, and I had a zoom conversation about random things. Robyn used to lead communications at Dynamic Signal, a workplace communications software platform.
We talked about everything from our sanity, and lack of Clorox wipes to what it's like working remotely and how that may affect business. Then, a few weeks later, we both got tagged in a tweet by a company called WalkMe that read:
Hey @Britopian we found your conversation with @robynhannah super insightful, particularly about employee engagement! We shared a couple of our best practices for engagement & to boost our team productivity. Let us know what you think!
This was on Cinco De Mayo … or May 5th, for those who struggle with Spanish. I don't consider myself an influencer, but I thought this was an interesting influencer engagement. I was curious why it took them three weeks to say chime in. So I clicked through to the blog post because I thought maybe they wrote the blog post based on our conversation.
And if so, I can understand why it would take some time if they were writing long-form content. But that wasn't the case. The blog post was written the year before.
I have heard of WalkMe. I think I've seen a few billboards on 101, but I always assumed it was a company in the Unified Communications space. I was wrong. After some initial research, I realized I was thinking about TalkDesk.
You might understand my confusion.
WalkMe — TalkDesk: Both home pages are similar in ensuring business continuity.
But I digress.
The situation with WalkMe and influencer engagement with Robyn is what I would call organic influencer marketing.
I am not saying I'm an influencer because I am not, nor am I a fan of people claiming they are influencers – I think that might be a different episode. But I applaud their approach because now I know that WalkMe is a company that sells HCM/CRM and ERP software. I didn't know that before, and now I do.
Is organic influencer marketing free?
An influencer engagement strategy is organic doesn't mean it's free. The investment in research and producing creative content is necessary to make this happen. There's also a high cost when hiring an agency or full-time team to manage the program.
But, the return on investment (ROI) is often worth it because of the valuable relationships built over time with influencers. These deeper relationships result in more authentic content and higher levels of engagement from their followers. Also, an organic influence program like this will often turn into larger paid influencer marketing partnerships. That should be the end goal.
Organic influencer engagement should always be an integral part of your B2B brand marketing strategy.