Building online communities is an effective solution if you're looking for a way to connect with customers and create a sense of community around your brand.
Why this matters:
People relate to people. And the only way to relate to your customers is to be human. Online communities are the best way to do that.
In this blog post, we'll define online communities, how to create one for your brand, and how to use it to engage with customers. We'll also provide some tips on making your online community successful.
Online communities have formed since dial-up internet service on AOL, but people have been participating in communities since the beginning.
So it's natural for people to want to connect with others with similar interests. And, with social media platforms like Facebook, Twitter, and LinkedIn, it's easier than ever to participate in online communities.
What is an Online Community in Business?
A community is a group of people interacting with one another around shared interests, values, themes, or worldviews. These can be local neighborhood communities, church groups, community associations, or other groups that unite people around a common purpose.
An online community serves the same purpose but exists on the Internet. In some cases, online communities also meet in person. It depends on the community dynamics and preferences. Every community is different and unique, which is why people join them in the first place.
An online community in business is a group of customers, prospects, or industry professionals who interact with each other and the company through digital channels. For example, these interactions could happen on branded social media channels, Reddit Forums, or community platforms.
Social networks like Facebook and LinkedIn also have built-in community functionality for groups. These can also be considered online communities. Twitter has recently launched Twitter Communities, which serves the same purpose. Clubhouse Groups has been core to the app functionality since its launch. Yahoo! Groups was the pioneer in building topical-based communities.
A business community doesn't always need an online destination. Instead, it could be a simple hashtag that people use to connect. For example, the #startupcommunity is used by founders to connect, share best practices, and seek advice.
Building a community is also a frame of mind. Marketers that understand the value of community and human connections are the ones that are building thriving online communities for brands.
Creating an online community centered around your brand is a great way to connect with customers, get real-time feedback about your products and services, increase brand awareness, and build brand advocacy.
The Benefits of Building an Online Community
There are many benefits to creating an online community. It's a great way to build customer loyalty, increase customer engagement, get customer feedback, and generate new leads. Building an online community can also help you build relationships with influencers in your industry.
Building customer loyalty: Creating an online space where customers can interact with each other, network, build relationships, learn, and problem-solve can create long-term brand loyalty.
Increasing customer engagement: If customers are given a forum to interact with each other, they're more likely to stay engaged with your company, especially when the conversations are rich and add value.
Getting customer feedback: Customers can help you improve your product or service and drive innovation.
Generating new leads: You can generate new leads as they share your community content and product with their networks by providing a forum for customers to interact.
Building relationships with influencers: When you have an online community, it's easier to connect and build relationships with influencers. These relationships can lead to joint ventures, cross-promotions, and other opportunities.
Creating brand awareness: If you have an engaged online community, they can help build brand awareness by sharing your community content with their networks.
Community building: Community building is essential because it helps create a space where people feel comfortable interacting with each other. This is essential for online communities because it's the only way to build trust and relationships virtually.
Google visibility: If you want to rank higher in Google, an online community is a great way to get all the discussions and conversations indexed and ranked in the search results. Online communities create much content and activity, signaling to Google that your brand is active and relevant.
If you're not already using an online community to build brand awareness, now is the time to start reaping the many benefits. An online community can help you build customer loyalty and increase brand love. Customer-obsessed brands build these communities and integrate them into external brand marketing campaigns.
The Challenges of Building an Online Community
While there are many benefits to building an online community, there are also some challenges you should be aware of. These include:
The risk of negative sentiment: If customers are unhappy with your product or service, they can use the online community to voice their complaints. This can lead to negative sentiment being spread inside and outside the community. As a community manager, you'll need to learn how to deal with negative sentiment and engage with users in any situation.
The need for moderation: Online communities can quickly become unmanageable if no moderators keep the conversations on track. Whether it's moderators or community managers, someone will need to keep an eye on the discussions and ensure that they deliver value, create engagement and stay on topic.
Dealing with trolls: People will always try to disrupt conversations and spread negativity in an online community. Therefore, it's essential to have a plan for dealing with trolls so they don't ruin the experience for other users. Unfortunately, Trolling has become very popular on social media platforms like Twitter since users can be 100% anonymous.
It's expensive: Creating and maintaining an online community can be costly. You'll need to invest in software, hire moderators and community management, and assemble a team of people to manage the long-term strategy of building and maintaining an online community. It takes time, effort, and commitment. Your community will likely fail if you're unprepared to invest the time and resources.
While there are some challenges to building an online community, the benefits outweigh any negatives. An online community is a smart option if you're looking to build customer loyalty, increase community engagement, or generate new leads.
Types of Online Communities in Business
There are many different online communities that brands can use to create community engagement and build brand advocacy.
Social Communities: A social community is a platform where users can connect to share community content, experiences, and ideas. The most common social community forms are Facebook, LinkedIn, and Twitter. Brands can use social communities to build relationships with their customers and create a space for customers to interact with each other.
Social Media Groups: Most social networks have built-in groups that brands can use to create a more intimate space for customers to interact with each other. For example, LinkedIn has groups for different industries and professions where community members can share content, experiences, and ideas relevant to their industry or profession. Facebook groups are similar to LinkedIn groups, providing a space for users to connect around a common interest. In addition, Twitter has Communities that serve the same purpose of creating engagement and participation.
Q&A Communities: A Q&A community is a platform where users can ask and answer questions about their industry or profession. The most well-known community is Quora. Brands can use Q&A communities to build thought leadership and provide a space for customers to get answers to their questions in real-time.
Customer Communities: A customer community is a platform where customers can share ideas, experiences, and feedback about a brand or product. The most common form of a customer community is an online forum. The Apple Support Community is a perfect example of a consumer technology company using online communities for customer support.
Developer Communities: A developer community is a platform where developers can connect to share code and experiences and try to solve technology problems. GitHub and Stack Overflow are two of the more popular developer communities today. However, several technology brands like Google Cloud and Amazon AWS have built successful online communities for developers.
Branded Communities: These are similar to developer communities but are less technical. They are designed to connect customers around a common interest. The Nike+ Community and SAP are good examples of online branded communities.
Invite-only communities: These are online communities that are invite-only. The most common form of an invite-only community is a beta tester community. Many technology companies use beta testers to test new products and features before releasing them to the general public. Google, Facebook, and Microsoft all have very successful beta testing programs.
Micro-communities: A micro-community is built around a specific interest or hobby. Brands can use them to connect with customers with a common interest. For example, the Nikon Photography Community is a micro-community for photographers who use Nikon cameras.
I participate in a few different communities. For example, I use an AI copywriter software called Jarvis. They have an online community where customers are invited to participate in a Facebook group with other customers and share best practices and support each other around various projects. It's a lively online community, and all community members are engaged.
I also belong to a Brandwatch community and am a huge fan of the functionality powered by a community software called inSided. The community is somewhat new, but it's growing. They also have a community manager who interacts with other community members, answering questions and drawing attention to customer projects. Community management is CRITICAL in building any community, whether on domain or within social networks.
Best Practices: How to Build an Online Community
As with anything, building an online community takes time, and several steps need to be considered to make it successful:
Identify goals: The first step is identifying what you want to achieve with your community. This will help determine the type of community you need to build and who should be a part of it. For example, if you are launching a support community, your goals might be to reduce customer support costs or improve customer satisfaction.
Research your audience: Once you know your goals for launching your online community, you must research your target audience. This will help you determine where to build your community and what type of community content and discussions will be most relevant to them.
Determine which community software to use: A decision must be made about where to host the community. The most critical consideration is whether the online community will be hosted on a social media channel or on-domain. Hosted community platforms will give you more control over the content and the conversations that are taking place. It can also be branded to match your website and company colors. The downside is that it will take more effort to get people to visit the community since it's not hosted on a social media community platform where people are already spending time.
Hiring a community manager: Once the community is built, it's essential to have someone manage it. This person will be responsible for moderating conversations, answering questions, and keeping the community active.
Creating content: The next step is to create content relevant to your target audience. This could include blog posts, eBooks, guides, etc. Some hosted online communities can reward community members for achieving certain milestones and tasks. This can include writing a product review, sharing social media content, completing a survey, or participating in discussions.
Measurement: The final step is establishing metrics to measure the community's success. This could include the number of new members, activity level, number of posts or comments, etc.
These best practices will help you launch a thriving online community for your business.
How to Measure Online Community Engagement
Measuring community engagement can be tricky because there are a lot of different factors to consider. However, here are some things to keep in mind:
Activity level: How often are people logging into the community? Are they actively participating in discussions or creating new content?
The number of new members: Is the community growing? Are more people joining than leaving? Remember, a community is a group that forms around a shared interest. The community content cannot be about a brand's products and services.
Page views: How many people visit the community, and what pages are they spending the most time on? Are there certain pages for new members? If so, measuring the performance of certain pages or sections of an online community is a good practice.
The number of posts or comments: This is an excellent way to measure how active members are within the online community. You can measure the number of customer support questions if you have a support community.
Likes, shares, and other social interactions: If the community is hosted on a social media platform, this is an excellent way to measure the engagement and relevancy of the content posted.
Actions taken could include downloading an eBook, completing a survey, or participating in a discussion.
These are just a few ideas to get you started. Establishing metrics to track the online community's success over time is essential. Of course, building an online community takes effort. But the value is connecting with customers and creating a loyal following.
Types of Hosted Online Communities
There are several hosted online community platforms to choose from. Here are a few to consider as a part of your martech stack:
Influitive: Influitive is an online community platform that helps companies engage their customers and build brand advocacy. They provide a platform for customers to connect and share ideas, feedback, and product recommendations. The company also provides training and resources to help companies build their advocate community. In 2021, Influitive acquired PostBeyond, a social employee advocacy platform. This will help them expand their reach and engage more employees in customer advocacy.
---
inSided: inSided is an online community platform that helps organizations build engaged and thriving communities. With inSided, organizations can create a space for their customers, employees, and other stakeholders to connect with the organization. In addition to providing a space for community members to interact, inSided also offers tools and resources that community managers can use to grow and nurture their online communities. Below is a screenshot of the Brandwatch online community powered by inSided.
---
Mighty Networks: Mighty Networks is a social media platform that helps organizations build and grow online communities. Mighty Networks offers tools and resources that community managers can use to engage and grow their online communities. Additionally, Mighty Networks provides a place to host videos, podcasts, courses, event memberships, and other digital content.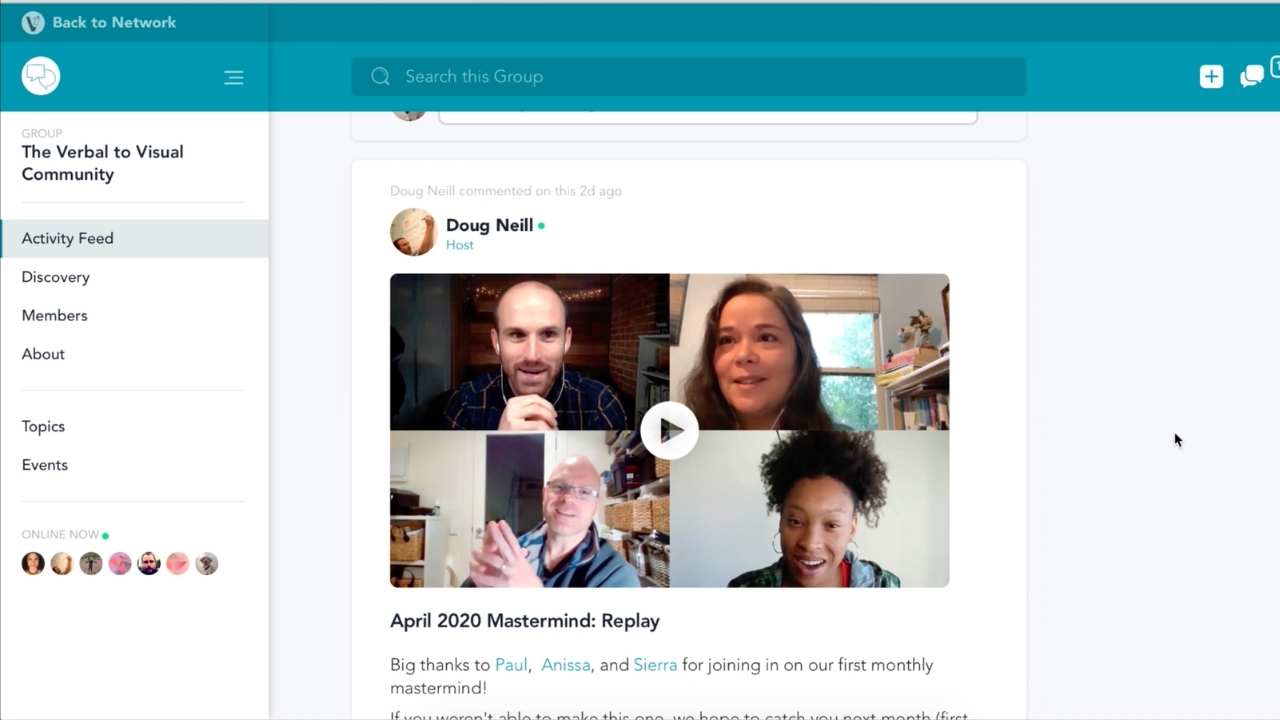 ---
Tribe Community Platform: Tribe is popular for its customizability and ability to integrate deeply into third-party products. It also has some great features that make it easy to keep your customers updated with your company. For example, the platform enables customers to help peers find solutions and participate in ideation. Additionally, a robust knowledge base collects feedback and keeps community members informed.
---
Khoros Communities: Khoros Communities is a platform that helps businesses connect with customers. The platform gives companies the tools to engage with customers, moderate conversations, and provide customer support. Khoros Communities also offers various services to help businesses manage their communities. Khoros, previously Spredfast, acquired Lithium Technologies in 2018, which helped establish itself as a premier online community platform for enterprise businesses.
Final Thoughts: Online Communities for Business
There have been discussions for years about the migration from social media networks to branded online communities for various reasons. Part of the issue is a lack of control. I don't mean that in a negative connotation, either. Nothing stops Facebook, Twitter, or any other social network from enforcing rules or algorithms that make it difficult for brands to reach their audiences in those spaces. We've seen this happen for years with organic reach.
This is why building an online community might be attractive for brands who want to maintain close-knit relationships with their online audiences.
---
FAQ
Q: What are some examples of topical-based communities?
A: Some examples of topical-based online communities include Elpha, an online community dedicated to helping women succeed at work together. The Next CMO is another online community that allows marketing professionals to keep up with the latest trends.
Q: How can I join a topical-based community?
A: The best way to find a topical-based community is to search for one that matches your interests. For example, if you're interested in marketing, you can search for "marketing communities" on Google.
Q: What is an example of a branded online community?
A: Below is an example of the SAP-branded online community. You'll notice user registrations, the ability to answer and ask questions, and over 132K blog posts. SAP has built a destination for its customers, partners, and prospects to learn more about SAP technology and connect with other technologists.
Q: What is an example of a customer support community?
A: Apple Support Community is probably the best example. Have you ever had an issue with your iPhone, and you couldn't figure out how to turn off notifications, connect to Bluetooth, or maybe even hard reset the phone itself? You probably spent some time on the Apple communities. If you're anything like me, you Google the exact problem you are having, and ten times out of 10, you will receive the exact answer you're looking for.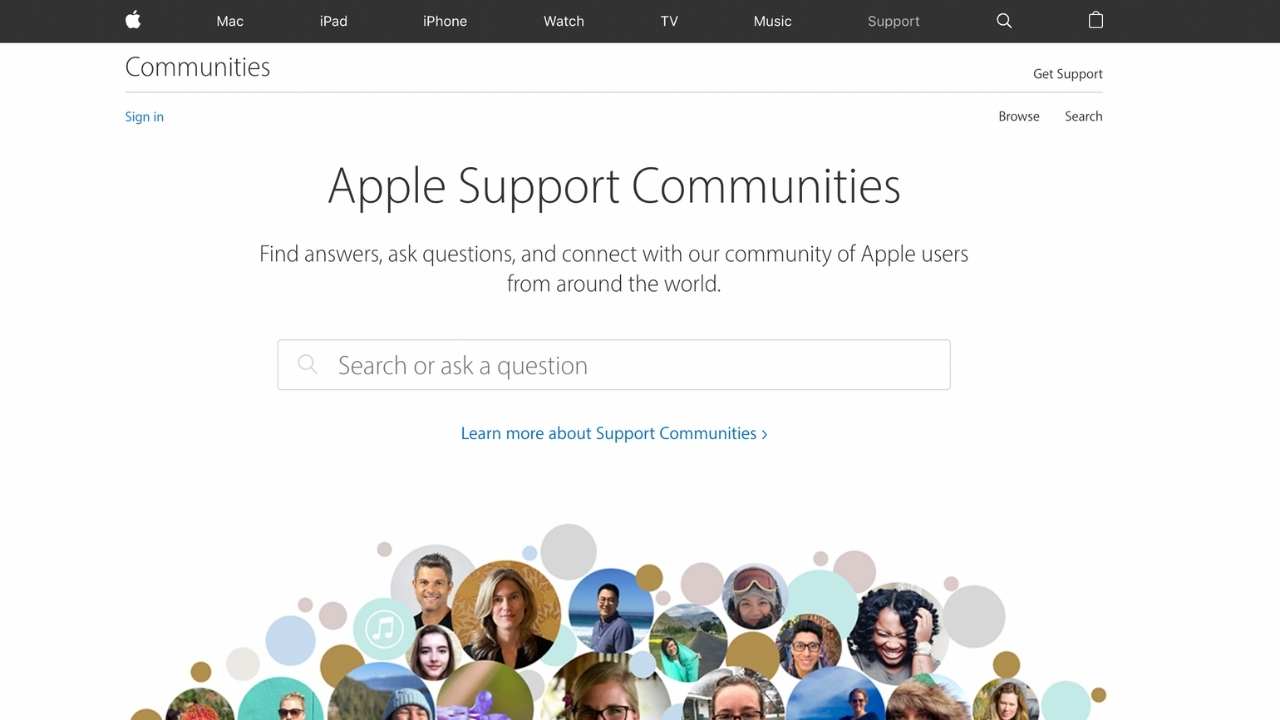 Q: Why are online communities becoming so popular?
A: One study found that 66% of people prefer online communities because they can connect with others with similar interests.
Q: How important is community management to online communities?
A: Community management is essential to online communities because it helps keep them organized and running smoothly. It also helps keep the community members engaged and enthusiastic about participating with new members.
Q: Can a social network be considered an online community?
A: Yes. Most social networks have community functionality.
Q: What is the difference between an online community and a forum?
A: The main difference between an online community and a forum is that an online community is more focused on the relationships between community members. In contrast, a forum is more focused on discussions and posts where users answer questions posed by other users.
Q: How will I know what type of community to create?
A: The first step is to understand the needs of your target audience. If you're unsure what type of community would be most beneficial for them, consider conducting a survey or focus group. This will help you determine the best way to create value for your target audience and how to structure your community to encourage participation and real-time discussions.
Q: How involved should a support team be with an online community?
A: A support team should be very involved with an online community. They can help moderate discussions, help with community management, answer questions, and provide valuable feedback to community members.
Q: What are the benefits of enterprise customer communities?
A: Enterprise customer communities can help companies build customer relationships, increase customer loyalty, and reduce customer service costs. Additionally, customer feedback from community members can help organizations improve their products and services.
Q: How do I encourage audience participation in a community?
A: A few different ways to encourage audience participation in a community exist. You can offer incentives for participating, such as discounts or coupons. You can also launch a contest and sweepstakes that the audience can enter to win prizes. Additionally, you can host events and webinars where community members can interact with each other and the organization. Finally, you can develop a system of badges and points that community members can earn for participating in the community.
Q: How does an online community provide a better customer experience?
A: Online communities provide a better customer experience by allowing customers to interact with each other and the organization in real-time. Additionally, online communities enable customers to provide feedback and suggestions directly to the organization, which can help with innovation. The benefits of building communities deliver business value and a strong customer experience strategy.
Q: What is a micro-community?
A: A micro-community is an online community of a few individuals who share a common belief system, values, or interests. It's usually a sub-segment of a larger community on the Internet. More sophisticated marketers understand micro-communities importance of finding those nuances in conversation and uncovering customer needs online. Then use that data to inform the community about content they are soliciting, creating, and publishing online.
---
Related Content