Last week, I presented at the Summit By Dynamic Signal in San Francisco to give brand storytelling examples of employee advocacy. In my 15-minute session, I give a few brand storytelling examples of using employees to be brand storytellers with a goal of influencing their peers through the purchase funnel.
This slide is meant to illustrate the market opportunity for employee advocacy. The funnel on the right represents the purchase funnel. While it used to be linear in fashion, the purchase funnel today is more dynamic and unpredictable. This diagram is a brand storytelling example of employees at the center having conversations publicly on social media. Each conversation is a touch point with customers, influencers, the media which has the opportunity to move them through the buyer's journey.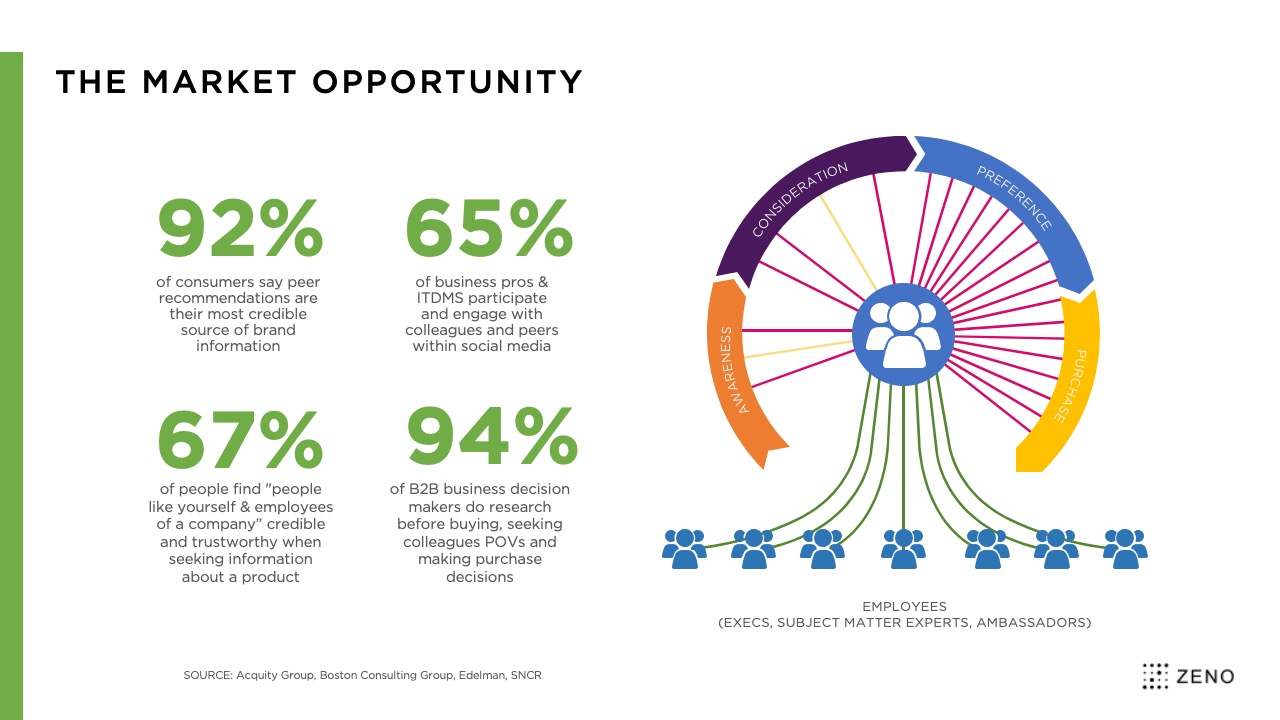 This slide is meant to illustrate and give brand storytelling examples of employee advocacy doing more than just sharing social media content. It really does provide business value when brands can amplify employee voices in order to do all of the things listed below which includes driving brand awareness, filling the sales pipeline, and building a strong company culture at the same time.
This slide shows how data and analytics is used to inform all outbound marketing communications and programs. Data can include social data, web analytics, media intelligence and primary research. The execution of programs is interesting in that employees can fit into pretty much all of the boxes below, but brand journalism is most likely the place where it belongs. Brand storytelling examples with employee advocacy can also be amplified through traditional media relations, paid social and influencer marketing.
From an employee storytelling perspective, it's important to leverage data to inform a content strategy for employees. Just like you would for any programs or campaigns, data driven storytelling for employees is also relevant. In this case there are three ways to potentially build an employee-driven content strategy:
Stories where employees are the hero of the story. This means that it's all about them and it could be an executive or subject matter expert.
Stories where employees are a character in a broader story. This means that an employee could be highlighted through a customer case study or testimonial.
Stories where employees comment on a story. This is the largest opportunity in that it gives employees an opportunity to build thought leadership around any topic where they have expertise.
Hope you enjoyed the post. Please subscribe to my Youtube channel to be the notified when new videos are added.