Brands need to think, act and operate like a media company. The only way to be successful in today's disjointed digital ecosystem is to create content and tell stories that matter to your target consumer and do so quickly, efficiently, and with precision.
Why this matters:
Content is the lifeline in today's social ecosystem, so it makes sense. But content is much more than being creative or launching a marketing campaign. It's more than what you write on a blog, tweet, update on Facebook, or record on a video. A fundamental challenge for brands today is to create good content and strategically feed the content engine daily. And sadly, there aren't enough resources within most marketing teams to do this well.
Brand as a media company has been discussed among the marketing community for years. I even wrote a book about it in 2013 called Your Brand: The Next Media Company.
What is a Media Company?
A media company ideates, creates, packages, and distributes content across multiple platforms, including social, video, web, long-form, short-form, video, audio, and more. They are storytellers, designers, copywriters, and analysts and have extensive knowledge of making content travel fast and far on the internet. They operate much like a traditional newsroom. They produce relevant content quickly and efficiently and have agile teams.
Below is a model that shows the internal and external initiatives needed for media company transformation.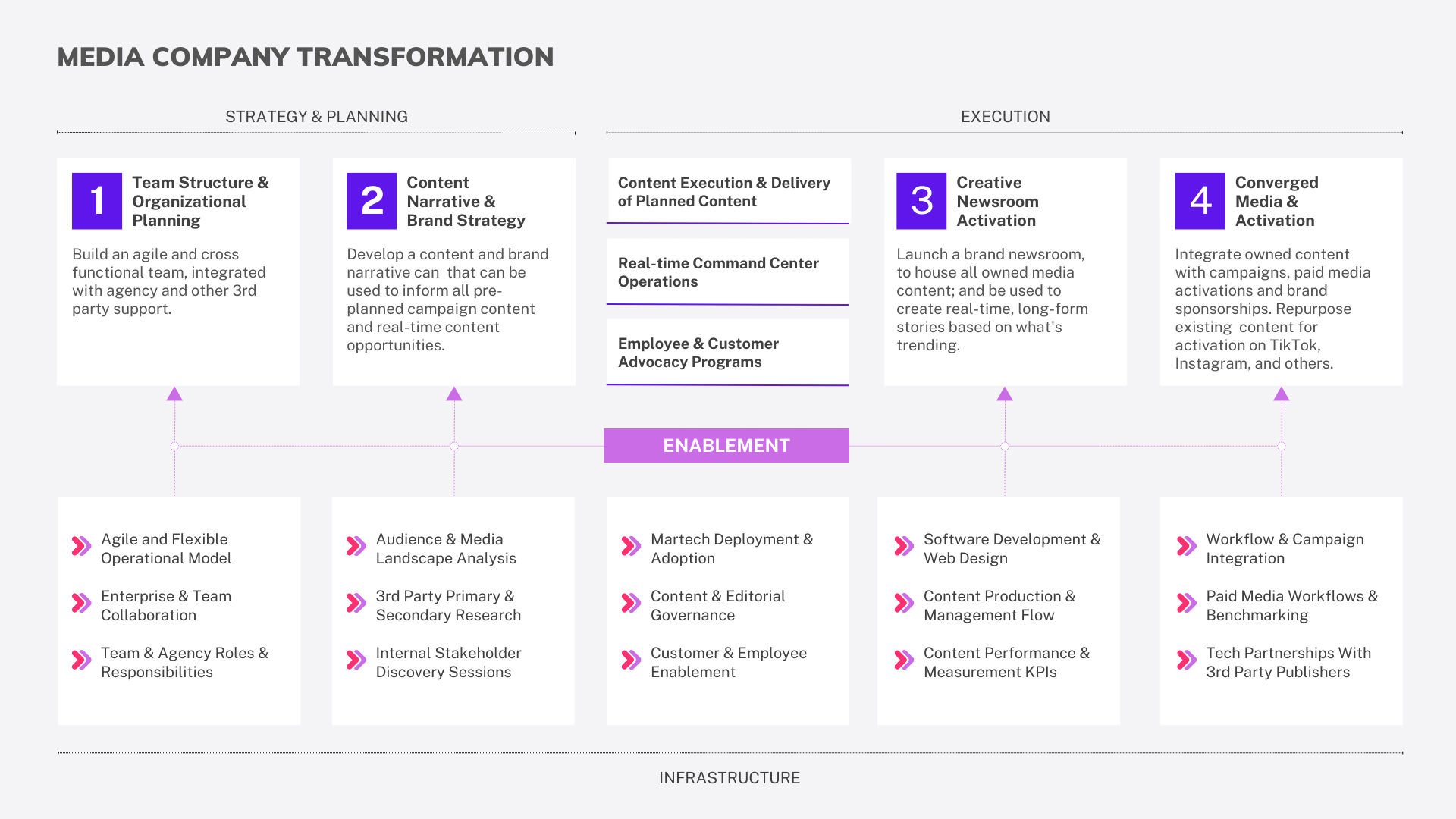 The media company model is broken down into four workstreams, separated by internal planning and execution:
Team Structure & Organizational Planning: Build an agile and cross-functional team, integrated with agency and other 3rd party support. This requires significant internal business planning, identifying roles & responsibilities, and establishing partnerships with content creation platforms like Contently, Optimizely, Content at Scale, and others.
Content Narrative & Brand Strategy: Develop a content and brand narrative to inform all pre-planned campaign content and real-time content opportunities. Writing a brand or campaign narrative requires an in-depth audience analysis and media landscape analysis, 3rd party primary research, and internal discovery sessions.
Creative Newsroom Activation: Launch a brand newsroom to house all owned media content; and be used to create real-time, long-form stories based on what's trending. Two workstreams need to happen to make this work. First is developing a content hub (i.e., landing page destination) requiring software development and web design. The second is establishing an operational content model that mimics a traditional newsroom.
Converged Media & Activation: Integrate owned content with campaigns, paid media activations, and brand sponsorships through a PESO marketing model. Repurpose existing content for activation on TikTok, Instagram, and other platforms.
Media Companies Always Win
If I haven't convinced you, here are a few more reasons why you should be thinking about adopting the principles of a media company:
We live in a multi-screen economy. Read this report by Google. We are all consuming content using multiple devices, sometimes simultaneously.
ADD (meaning Attention Deficit Disorder) is common among us. We can blame the multitude of devices, all the marketing messages, coffee, or a combination of all three. How often have you walked into a restaurant and seen four people sitting at a table, all looking down at their devices and no one talking? It's the world we live in.
All we want is relevance. This is one reason consumers create filters – they only consume content relevant to them at a given time. It reminds me of when I was in the market to refinance my home a few years back. During the process, I remember seeing hundreds of messages and advertisements discussing interest rates on billboards, online searches, and even conversations on Twitter and Facebook. The minute I refinanced my home, all the messages went away. The truth is, they didn't go away. They just weren't relevant to me any longer. I put up filters.
The customer journey is dynamic. We check text messages, Facebook notifications, @replies, @mentions @direct messages, and comments on TikTok, Instagram, Pinterest, and YouTube. We see status updates, tweets, photos, and videos and read articles from news aggregators' RSS feeds; Google is our home page for everything and our gateway for finding relevance. And this is all done dynamically, with no routine or process, just random acts of daily content consumption.
We must interact with a message 3 – 5 times before we believe it. So if your company is launching a new product or service, we need to hear or read about it in multiple touch points such as a tweet, a news article, a friend's status update, in search, and the list.
Can you now see why brands need to evolve their thinking? Relevant, meaningful, timely stories fueled by a media company mentality are necessary to reach consumers.
What Does a Media Company Do?
Media companies are content engines. The challenge is that content is already challenging for brands today when you consider the full content lifecycle:
Content planning: Mapping what content to create and when. Essentially this is building an editorial calendar.
Content production: Writing, editing, producing, filming. This is the "act" of creating content.
Content optimization: Optimizing content for search and social media, such as titles, metadata, tags, etc.
Content distribution: Syndicating content across multiple channels, including owned media, third-party media, and social networks. Essentially it's activating and distributing your content across the PESO marketing model.
Content measurement: Measuring the performance of your marketing campaigns, content analysis, and building ROI models.
As you can see, adopting the principles of a media company is no small feat. It's an ongoing process of creating content that genuinely connects with consumers in ways that build trust and influence purchase decisions.
Here's a basic example of how a content workflow and approval may look for your brand. Larger media companies will have more complex workflows:
If you look at what many companies are doing online today, you will notice disjointed content, confusing messages, and very little coordination with paid, earned, and owned media; the frequency of content is minimal, and the content engine is running low on fumes. And these are just the external things that we see. We don't know the turmoil of what's happening inside the organization.
This is why brands must become media companies. It's essential for their PR strategy and the only way to stay competitive.
They are establishing a centralized team, assigning roles & responsibilities (like that of a newsroom), and building processes and protocols that brands (large and small) can take to begin this digital transformation.
---
Related Content: