B2B marketers today need to go from "hoping" to "knowing" that their B2B social media marketing program will break through the clutter and start delivering business results.
Why this matters:
Gone are the days when enterprise companies post content with relevant hashtags and pray it will become business growth. Gone are the days when content marketers spam social media platforms with irrelevant content and hope it will increase website traffic. And gone are the days when brands post a video to YouTube and ask their agencies to make it go viral. Yet, this still happens.
To do this, they must create a comprehensive plan integrated into the digital brand strategy and backed by defendable data. A B2B social marketing strategy will include plans and programs to build/defend brand reputation, increase web traffic and leads, reach potential customers and influence their purchases.
Below is a framework for B2B social media marketing best practices encompassing data analytics, audience insights, content strategy, demand gen, influencer marketing, and more.
What does B2B (Business to Business) mean anyway?
Business to Business (B2B) is a model where companies, organizations, and institutions buy or sell products and services to other businesses. This is easier to define in the technology sector because products sold to consumers are manufactured from products created by different companies.
Think about a MacBook Pro and all the components you can't see unless you take it apart, like transistors, fans, cables, webcams, graphics card, and motherboards. Most of the hardware isn't manufactured by Apple. Instead, it's purchased directly from other companies like Intel, AMD, 3M, Broadcom, Qualcomm, Micron, and Texas Instruments, and then all the parts are assembled and manufactured at an Apple facility.
Identifying and Understanding the Full Social Ecosystem
Marketers building PESO social media plans must understand the breadth of the buyer journey and how buyers interact across the digital ecosystem outside of just social media. The social media ecosystem refers to places where people talk, exchange information, make product recommendations, and consume media. These are all the online destinations that decision-makers spend time in as a part of the B2B sales funnel and include:
Social Media Channels like LinkedIn, Facebook, Twitter, Instagram, YouTube, and TikTok
Social Messaging Apps like WhatsApp, Telegram, Discord, and WeChat
Social Audio Apps like Clubhouse, Twitter Spaces, Locker Room, and many more are on the way
Technology forums like Reddit, GitHub, SourceForge, Launchpad, Stack Overflow, and Spiceworks
Software Review sites like G2, Capterra, and TrustRadius
Branded Communities like these from SAP, AWS Developer Community, Google Cloud, and many technology brands have Slack Communities
Q&A sites like Quora and StackExchange
Private groups and channels like Facebook Groups, LinkedIn Groups, and Twitter Communities
An article, blog post, and the comments
Search Engines
Many of these channels and apps can fall into more than one category.
I have said this before. The B2B buyer's journey is complicated, so analyzing the conversations and behavior across the entire social ecosystem is no easy task. It's essential to consider and include each channel when building your B2B social media marketing plan and integrate it into company-wide digital marketing initiatives.
Why is Social Media Marketing Important for B2B Brands?
A successful B2B social marketing must be more than random social media posts of earned media coverage, an executive headshot with a quote, or posting articles on social media sites. It must be more than just using Canva for creating content or hiring a part-time social media manager.
This approach might have worked five years ago. It would have been golden ten years ago. But it's 2022, and buyers are savvy. They either won't tolerate boring, branded social media content, or they won't notice it.
Social media is a channel where B2B brands can reach their target audiences, generate leads, and drive sales. It is a channel that can foster brand advocacy and increase customer love. It's also a channel filled with data marketers can use to make better decisions.
These business outcomes define a B2B social media marketing strategy. They can be achieved with audience insights, the right teams, creative storytelling, paid media investments, tight integration with digital marketing, PR strategy, and customer care.
Internal Considerations of a B2B Social Media Strategy
Years ago, there was a concept called social business. Others in the industry referred to this as social organization, but it means the same thing. A social business strategy is a documented plan of action that transforms the work culture of an organization, bridging internal and external social media initiatives resulting in collaborative connections, a more social organization, and shared value for all stakeholders (customers, partners, and employees). The framework can be broken down into people, processes, and platforms, enabling the company to embrace change internally and externally.
It is identifying the right teams, partners, and internal decision-makers. For example, most sophisticated enterprise companies already have a dedicated marketing team responsible for building the social media strategy, including training & governance, identifying the software and social resources needed to succeed, and documenting business goals (boost brand awareness, generate a lead, and website traffic). In the early days of social media, this team was called the Social Media Center of Excellence (COE); in today's world, it's just the social media team.
Building processes for posting to social accounts, monitoring & response, and crisis communications. Governance ensures that mistakes aren't made. Building workflows and content protocols will help mitigate harmful content posted on a company page. It will also help social media marketers and community managers respond to negative comments posted on social media and an activation plan in case of a PR crisis.
Investing in social media platforms for listening, posting, and management. Marketing technology and social media platforms allow marketers to schedule posts ahead of time, manage multiple social media accounts, and pull social media analytics. There are also internal collaboration platforms and communities to consider.
For digital marketing programs, it's critical that these platforms can also integrate with marketing automation software and analytics tools like Hubspot and Google Analytics so that marketers can analyze web traffic from the search engines and their social media posts, allowing you to do a social media audit or larger content analysis quickly.
Identifying the Target Audience Should Always Be First
Understanding your target audience needs to be the first step when building a B2B social media marketing strategy. For example, Business Decision Makers (BDMs) are an essential and unique audience because they tend to be early adopters of technology. They also have budget control and write checks.
BDMs are responsible for purchasing all enterprise software, hardware, and services. Depending on the company's size, a BDM might be the CEO, COO, Head of Operations, or General Manager. Sometimes, IT Decision Makers (ITDM) make all software purchase decisions. This audience tends to be more technical and critical of marketing.
Whether it's the BDM or ITDM, the target audience of potential customers should always be segmented and researched. A comprehensive audience analysis is one way to generate actionable insights about each segment. Often, buyer personas are created for the research.
When identifying a target audience, some marketers often prefer to do more of a comprehensive analysis of a specific industry, like manufacturing. Identifying these industry insights will uncover the top influencers in the same industry and the top media publications writing about the industry.
More sophisticated industry insights will also include traditional media analysis by identifying the coverage's topics, themes, and narratives, what the audiences are talking about, and what influencers post on their social media channels.
A few audience intelligence platforms can provide this type of analysis–Audiense, Helix, Brandwatch Audiences, People Pattern, and Spotright, to name a few. Here's a curated list of audience intelligence platforms available today.
Build Your Brand Voice On Social Media
Building a solid and authoritative brand voice on social media is critical to creating and maintaining relevance across all social media channels. It helps customers, prospects, influencers, and the media relate to and recognize a brand and its content while scrolling through its social media feeds.
A brand voice is an identity. It defines who you are and how others perceive you on social media.
Step 1: Find Your Brand Identity
There are a few things to consider when building your brand identity on social media. It's not uncommon for marketers to go through rounds and rounds of approvals to find the right brand voice, tone, and creative approach. There will most likely be a PowerPoint slide somewhere with language that describes how the brand wants to be perceived by its external stakeholders.
At some point, reality will kick in, and marketers will realize that their expectations and audience perceptions of the brand don't completely align.
Finding a brand voice is more complicated than it sounds because many social media platforms exist. Each has a unique audience, and the utility, content, style, and feeds vary from platform to platform.
However, brands must go through this exercise until they get it right. There's only one opportunity to make a first impression on the online community and potential customers. Doing so will reinforce brand relevance across all social media channels and foster strong relationships with the community.
Here are a few questions to think through when building the brand voice:
What do you want to achieve?
Who are your target users?
How do they see themselves using your product or service?
How does this compare to who you aspire to be, and how would it influence your voice?
Step 2: Establish Your Social Tone of Voice
Once you've nailed down your brand identity, it's time to find your tone of voice. Most brands establish a unique style for social media that's different from their tone on traditional digital channels (website copy, email, ads).
With digital, the tone is usually formal, educational, and authoritative. On social media, the tone must be conversational and more human. Every brand is different, so this may not always be the case.
In some instances, companies will create a slightly different tone of voice with each social media channel. This is an acceptable approach as long as their not dramatically different. Here's an example:
LinkedIn: professional, educational, no slang
Facebook: Less professional but still informative
Twitter: Conversational, witty, and engaging
If you take this approach, it's critical that you still align with the overall voice that you establish.
Step 3: Establish Creative Guidelines
Two fundamental pillars comprise the anatomy of a social post­­­–the setup and the payoff.
The setup is the creative or digital asset. It could be a video, animation, still image, or animated gif. The creative is the first thing social media users see when scrolling through their newsfeeds. The setup sets the stage. It creates anticipation and curiosity.
The payoff is the post copy—the punchline. If users stop scrolling after seeing the creative and then read the post copy, it should cause an action (click, share, comment, etc.) because it completes the story.
The creative or the post copy shouldn't make much sense when viewed individually. But when read within the context of the setup and payoff, the story will hold its own.
The brand identity and tone of voice will direct the post copy for each channel, but it's critical to document each social media channel's creative look, feel, and strategy. Here are a few questions to consider:
Will you be posting video content? If so, is it a B-roll, animated video with vector graphics captions?
What type of high-quality photos will you use, black & white color?
Will you have people in your creative? Men, women? Close-ups, zoomed out?
Investing in creative content for social media is no longer nice to have. It's table stakes in today's world. An innovative social media presence will separate the winners and losers, so creativity is essential to your B2B social media strategy.
Step 4: Stay Consistent When You Post On Social Media
Building content and creative strategy take time, especially if you're starting from scratch, launching new channels, or your community is small and disengaged.
It's a best practice and intelligent approach to stay the course and make minor adjustments. Testing your social media content will also help you stay laser-focused and see what works and doesn't. You can do this by making minor adjustments to the creative look & feel or writing about trending topics relevant to your business. As you become more advanced, you can think about content optimization, which will help drive visibility in Google.
For smaller businesses and start-ups, social platforms like Sprout Social, Oktopost, BufferApp, and Hootsuite are great tools to help with social media marketing initiatives. For large, multi-national companies that require governance, analytics, and publishing, there are software providers like Sprinklr, Khoros, and Salesforce Social Studio.
Step 5: Monitor Conversations About Your Brand
Once you've established a cadence for posting on social media consistently, set marketing KPIs, and building an engaged audience, it's critical to start paying attention to the conversations that mention your brand, product, services, and executives.
Some marketers use sentiment analysis to measure social media conversations and mention your brand. The challenge is that most discussions about a brand will not be negative or positive. They will be neutral.
In any case, it's good to be prepared to handle any conversation that comes your way. If it's negative, your community managers must figure out how to diffuse the conversation and address it head-on. There should be a process to amplify that content on the branded channels if it's positive.
Once you've established your voice on social media, you can speak more authentically with your target audience and continue reinforcing your brand messages across each channel.
Several enterprise SaaS providers provide social media monitoring and listening capabilities–Brandwatch, Netbase, Synthesio, Pulsar Platform, and Digimind, to name a few. Here's a curated list of social media monitoring platforms available today.
Developing a Content Strategy that Tells Breakthrough Stories
As previously mentioned, a successful B2B social media marketing strategy must inform content and storytelling that delivers value to the community and potential customers. This approach is what I consider to be "always-on" brand storytelling and will help fuel the conversation as social media campaigns come and go.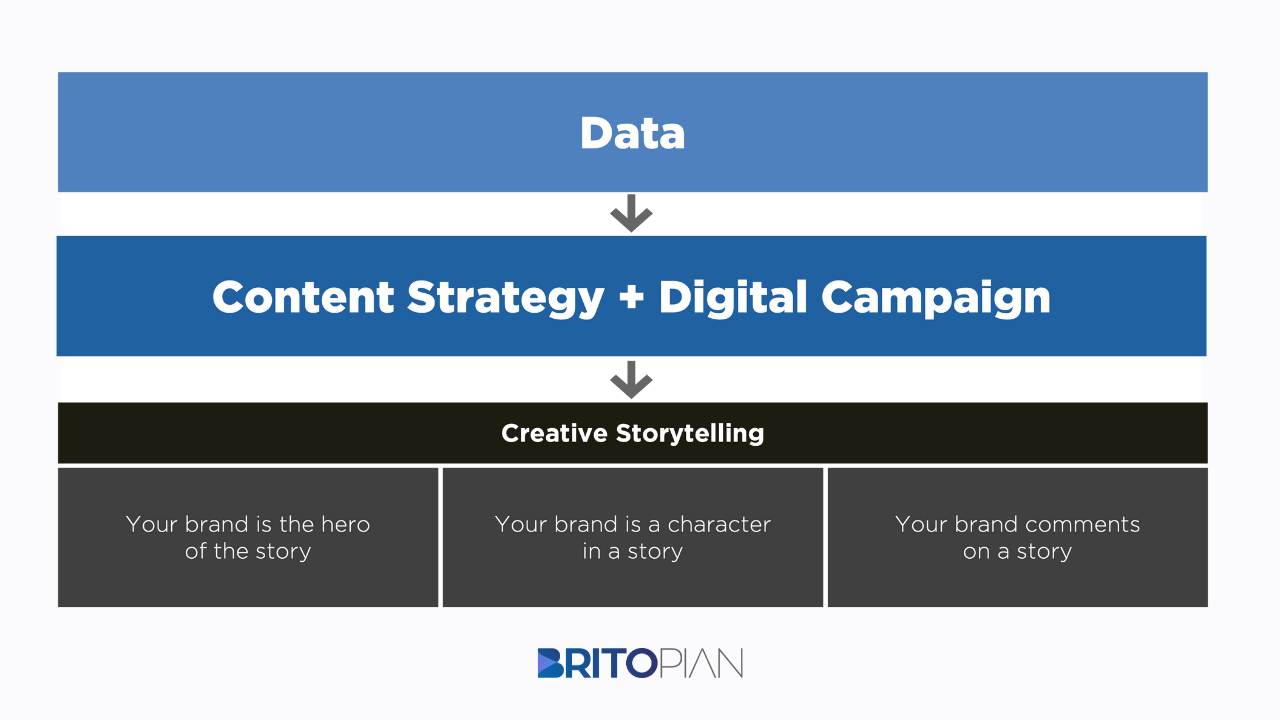 There are a few ways to create a content strategy. I like to classify brand storytelling into three core pillars whereby:
Your brand is the hero of the story
Your brand is a character in the story
Your brand provides perspective on an existing story
When your brand is the story's hero, the content is about you. This could be video content of your executives talking about the industry, a product launch, a new DE&I initiative, general thought leadership, or sharing high-quality photos of your new data center.
Someone else takes center stage when your brand is a character in a story. This approach could include customer stories, an influencer discussing their perspective on new technology, or even sharing a thought leadership article from one of your channel partners. This is the chance to uplift an essential stakeholder in the business.
You'll have the most flexibility when your brand provides perspective on an existing industry story because it expands the topics, themes, and narratives you can discuss with authority. I like to call this real-time content marketing. It involves using social listening to identify trending topics and creating real-time content based on what's trending. This should be most of your content marketing strategy and will gain customer attention.
Using Social Media Campaigns For Your Social Strategy
Unlike the daily drumbeat of social media content creation, a social media campaign is finite. It has a beginning and an end. It is usually a part of a more extensive digital marketing campaign which means it is supplemental to large media buys, commercials, events, sponsorships, and significant brand activations.
A successful social media campaign achieves company goals by organically reaching an audience you wouldn't usually reach. Social media campaigns are launched to increase brand awareness, promote a new product/service, or hire and recruit.
Social media campaigns should always use an omnichannel marketing approach. The integrated campaign has consistent, relevant, and repetitive content surrounding a target audience. After all, consumers and buyers must read/see/hear a brand message three to five times before deciding to buy.
Recently though, enterprise companies are now launching social-first creative campaigns. As the primary marketing channel, the campaign elements and activations are executed on social media. However, despite this approach, significant marketing investments are still made in video content for YouTube and other video-first social media networks.
B2B Social Media Marketing Demand Generation Programs
Demand generation marketing generates leads from prospects unaware of or currently interested in your products or services. Content marketers are responsible for providing leads to sales using several content marketing initiatives and programs. A salesperson will reach out to the prospect through email or direct phone calls. Once the lead is handed off to sales, it's no longer marketing's responsibility to convert. B2B brands often launch lead acquisition programs as part of a larger promotion plan to drive prospects into a B2B sales pipeline.
Demand gen marketing is about reaching the right audiences, at the right time, in the right channel, and with the right call to action. To make that happen, B2B marketers will create content and gate it behind a lead gen form. The only way for audiences to access the content is to provide their contact information. This becomes the lead. Content marketers use reports, white papers, eBooks, and even blog posts as content for lead gen.
Generating leads using various social media platforms is common, but LinkedIn is a proven channel and should be prioritized in the B2B social marketing strategy. It can deliver exponentially more traffic to the company website and increase conversions if done right.
Integrating Influencers into Your B2B Social Media Marketing Strategy
According to eMarketer, forecasted budgets for influencer marketing will be $4.1B in 2022. The exponential growth will surpass double digits in 2023 when spending on influencer programs reaches $5B.
The report does not specify or break down the budget by industry or vertical, but it's safe to assume that most of that investment will be from consumer brands, not B2B.
The definition of influencer marketing for B2B and enterprise companies is straightforward. It's the exact definition whether you work in B2B or for a consumer brand. Influencer marketing is when a company hires an individual to participate in a digital marketing campaign. It's a value exchange of money for influence. It's a compelling way to build brand reputation, drive leads, increase brand engagement and grow social communities. For a quick read, we put together this influencer marketing eBook that details how to launch and measure a successful program.
A strategic influencer program requires time, patience, and insight into who your audience follows and engages with and their general interests. An influencer campaign includes:
Influencer Identification & Analysis: One of the critical differences between B2B and B2C influencer marketing programs is research, analytics, and influencer intelligence. Enterprise companies tend to focus on topical or role-based influencers. For example, an enterprise security company would be interested in identifying influencers who talk about cloud security-related topics. They may also look for influential security engineers or developers to be integrated into an influencer program. Additionally, many enterprise companies use influencer analytics and track what trends, topics, and themes are top of mind. From there, they use that data to inform their editorial content and digital marketing strategies.
Organic Influencer Engagement: Many enterprise companies are replacing their organic social media content with organic influencer engagement because it's the smart thing to do. Once an influencer analysis is completed and all the influencers have been identified, it's best to add them to a real-time influencer panel and track them daily. From there, content marketers take those insights and create real-time creative content based on what's trending in the influencer community. This approach requires a "newsroom" content engine capable of ideating, curating, creating, posting, and publishing content quickly and efficiently.
Organic influencer engagement is typically the first step in influencer marketing because it gives enterprise companies a glimpse into which influencers might want to engage and collaborate. Organic influencer engagement is always on and should always be active between large digital marketing programs and campaigns.
Paid Influencer Campaigns: This approach involves paying influencers to participate in a campaign through content collaboration or brand activation. There are many ways to activate social media influencers across earned, owned, and social media channels.
In some cases, B2B and tech influencers are content creators and partner with brands to create thought leadership content in videos, podcasts, or blog posts about specific topics.
Influencers typically post this content on their social media channels to drive engagement with their communities and build awareness about the brand.
In other cases, brands will curate influencer content on branded channels to drive more engagement with their communities on social media through perceived third-party endorsements. As a result, paid influencer marketing is quickly becoming an industry best practice because of its impact on brands.
Influencer Measurement: There are several ways to measure social influence. One approach for organic influencer engagement is creating an influencer engagement funnel. Once the influencer analysis is complete and you have identified which influencers to engage with, the first step would be to plot each one on the funnel, like the following:
Unaware: Plot influencers here if they don't follow the brand on any social media channels or have not mentioned them over the last 12 months.
Aware: Plot influencers here if they follow the brand on any social media channels or have mentioned them in the last 12 months in an article or social post.
Engaged: Plot influencers here if they actively share branded content on a social media channel.
Advocate: Plot influencers here if they consistently share branded content across their social media channels.
The goal for measuring organic influencer engagement is to move the influencers from the top of the funnel, or the aware phase, to the bottom of the funnel and turn them into brand advocates.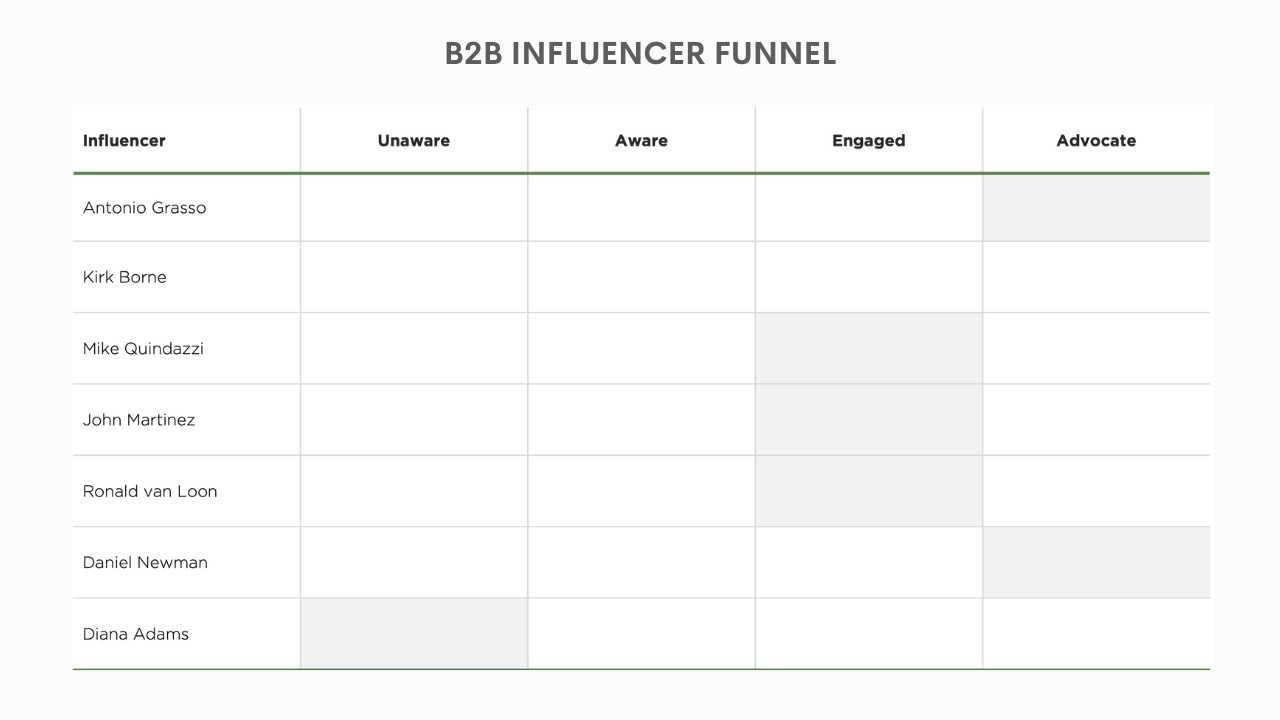 For paid influencer marketing, the measurement approach is more sophisticated. For example, if the influencer is sharing content on their social channels and linking back to the branded website, it's best to provide them with custom links for tracking purposes. This approach will give insight into their impact by driving web traffic, leads, and conversions.
It is also possible to benchmark share a voice or engagement numbers on branded channels before and after an influencer activation to determine how impactful the influencer was in the campaign.
Integrating Employee Advocacy into a B2B Social Media Marketing Strategy
Successful B2B social marketing programs should always include the integration of employee advocacy. Employee advocacy is a formalized program meant to train, empower, and enable company employees to build their social media presence, become thought leaders, and participate in external industry conversations with potential customers, influencers, and the media.
This approach must also include sales enablement and executive thought leadership.
Sales enablement is critical for B2B social media marketing. The industry typically refers to this approach as "social selling." But whatever you want to call it, it's meant to enable salespeople to optimize their social accounts and create/share value-add content with their prospects. While this is usually a part of a more extensive employee program, it is also a new sales technique that more sophisticated, global sales organizations have adopted.
Turning executives into thought leaders. Executives are employees too, but there are a few differences in execution. Most employees participating in employee programs are either subject matter experts (SMEs) or brand ambassadors. SMEs will typically create long-form and short-form content related to their work. It's technical, visionary, and, many times it's very specific and tactical. They are engineers, developers, technologists, business managers, and data scientists.
Employee brand ambassadors are everyone else. They will typically share and comment on thought leadership and branded content.
Executives are a different category of employees. On the PR side of the business, you may hear the term Executive Communications, which focuses more on getting executives speaking opportunities, awards, profiles, and comments in articles.
More sophisticated B2B brands are activating executives on social channels. As a result, they are becoming highly influential thought leaders in healthcare, manufacturing, financial services, fintech, retail, energy, supply chain, travel, etc. This includes technology innovations like 5G, artificial intelligence, data science, enterprise security, or data analytics. The list goes on.
And with the recent launch of the LinkedIn Podcast Network opens up even more opportunities for executives to build thought leadership and credibility across the LinkedIn ecosystem.
Also, integrating influencer marketing and employee advocacy is a common practice. It typically involves executive and influencer mapping, which is an approach that maps executives to 3rd party influencers through strategic social media engagement and creative activation.
Scaling employee advocacy across the organization. Several social media platforms in the market can help scale and integrate these programs– Dynamic Signal, EveryoneSocial, Hootsuite Amplify, Smarp, Sociabble, GaggleAMP, Bambu by Sprout Social, and PostBeyond are just a few that provide this service. You can see a complete list of providers here on G2.
Branded Online Communities Are Critical to Social Media Marketing Strategies
Most B2B and enterprise software companies create branded online communities for their customers. It's an online destination where customers, prospects, and employees can engage in technology conversations, debate, and share best practices. Companies like SAP, Oracle, AWS, Google Cloud, and IBM have thriving technology and developer communities.
Also, consumer technology brands like Apple, Samsung, Anker, and Logitech have built social customer service communities and forums.
There are several business and marketing benefits from branded communities, as long as they are used and engaged appropriately. First, great things happen when people come together and talk about innovation and technology. And what better place to facilitate that conversation than in a branded community. These discussions can turn into insights that inform future products, services, and innovation.
Another benefit of building branded communities is that all the discussions and conversations around the keywords, topics, and phrases are indexed in Google. This drives significant search engine visibility and invites other relevant audiences into the conversation.
It gets even more interesting when influencers are integrated into these communities.
Multiple community software applications are available for enterprise deployment–Vanilla, Khoros, Influitive, Insided, and Tribe. Here's a complete list of community software from Capterra.
Building a B2B Social Media Measurement Framework
There are several ways to build a social media measurement framework. One question that comes up often is, "What's the ROI of social media?" The first thing to consider when asking this question is to realize that there are financial metrics and non-financial metrics:
Financial Metrics: These metrics can be quantified with sales or revenue.
Non-Financial Metrics: These metrics cannot be quantified with sales or revenue. It's everything else.
So, to answer the question of ROI, most B2B brands aren't selling multi-million-dollar enterprise software deals through an e-commerce website. They are generating leads, but they aren't selling products. This wouldn't be considered a financial metric. Advanced predictive measures using conversion metrics can be used as a proxy for tracking a sale, but it's not always accurate.
Another way to think about social media measurement is to break down the metrics by programs & campaigns, channels, and business metrics:
Program/Campaign Metrics: This measurement approach supports short-term programs and campaigns. There's a start date and an end date. These could be digital campaigns, product launches, or an event:
Awareness

: Total reach of campaign content

Engagement

: Number of interactions with content, interaction rate, hashtag usage

Influence

: Percent increase in engagement with identified influencers

Impact

: New subscribers, referral traffic to website or communities

Advocacy

: Brand or product recommendations
Channel-Specific Metrics: This measurement approach is focused on the channel level–LinkedIn, Facebook, Twitter, and any other brand channels:
Awareness

: Mentions, reach, impressions, share of voice, share of conversation

Engagement

: Post likes, comments, shares, views, RT/1000 followers, competitive engagement rate

Influence

: shared content from influencers, influencers engaging with other members of the community

Impact

: Unique visitors to the website referred from each channel

Advocacy

: Organic posts and mentions by advocates, ratings & reviews
Business Metrics: This measurement approach provides metrics showing business value. This doesn't mean they are all aligned to financial metrics or ROI. Instead, these are metrics that business leaders are asking for:
Awareness

: Reputation surveys and polling

Engagement

: Leads, conversions, and attribution tracking

Influence

: Purchase consideration, percent likelihood to recommend a product or service

Impact

: Sales, repeat sales, purchase frequency, cost savings

Advocacy

: Employee ambassadors and customer advocates promote and defend the brand
These are just a few ways to measure the impact and effectiveness of social media marketing. The key is to build a framework aligned with your business and marketing goals. Here are a few B2B marketing case studies that will help guide your programs for 2022 and 2023.
Related Content