In 2014, HR Zone published an article that used Abraham Maslow's Hierarchy of Needs applied to employee engagement; and how it can be implemented within an organization. I adapted the model further to explain the next level of engagement—employee advocacy. This employee engagement model was also published in my last book, Participation Marketing. Before we jump into Maslow's Hierarchy of Needs Employee Engagement Model, let's first explore some definitions.
What is Employee Engagement?
Employee engagement is a workplace strategy meant to create a culture where employees are committed to their company's goals and values, motivated to contribute to its success, and can better serve customers. It's also meant to build a positive work environment so employees can feel safe, comfortable, and supported in their roles.
When employees are engaged, they're more likely to stay with their company, be productive, and contribute to a positive work environment. Employee engagement is also linked to customer satisfaction—when employees are happy, they provide better service, leading to more satisfied customers.
Maslow's Hierarchy of Needs Applied to Employee Engagement
As you can see at the bottom of the Maslow pyramid, the basic needs are food and shelter. For an employee, survival is being able to pay the bills, mortgage, groceries, and everything in between. At the top of Maslow's pyramid is self-actualization, or reaching one's full potential.
For an employee, it's their affinity for the company, brand, leadership, colleagues, and vision. The employee engagement model below is an excellent way to think about a company's relationship with its employees and the employee's attitude toward the company they work for.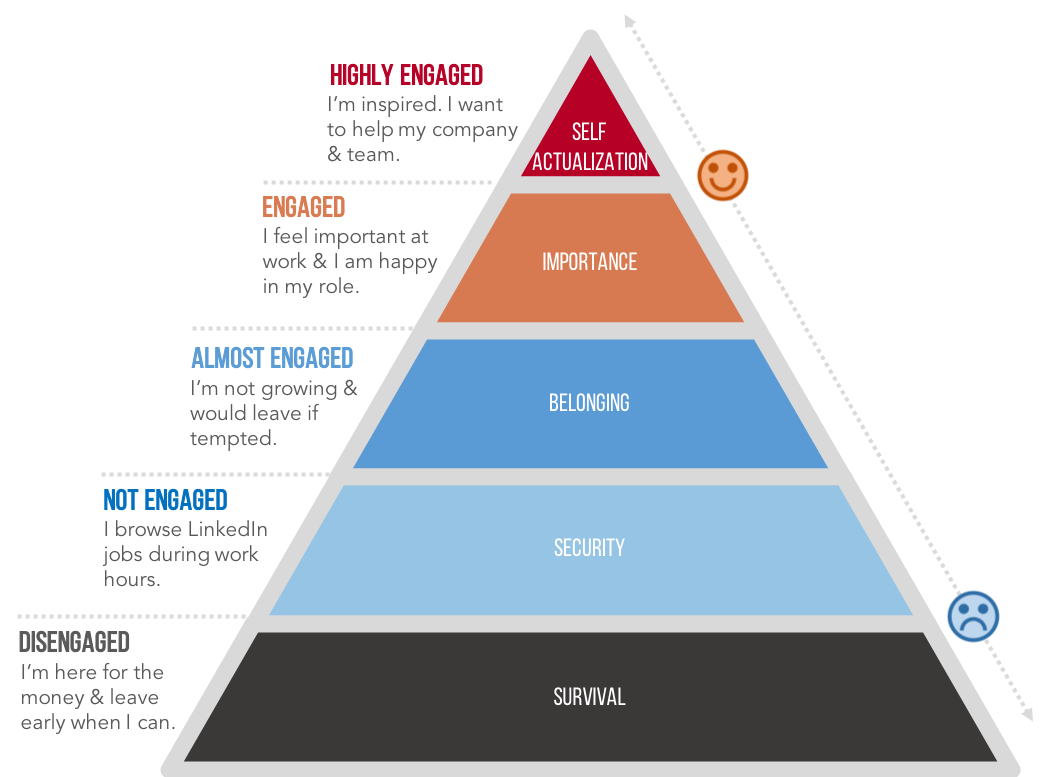 Here's a closer look at each stage of Maslow's Hierarchy of Employee Needs applied employee engagement, working from the bottom to the top.
Engagement Level: Employees are Disengaged
Survival: These employees are here for a paycheck. They come in late, leave early, and cut corners. They don't reply to emails, are slow to complete tasks, and have a terrible attitude. They don't enjoy their work, co-workers, or manager. They are interviewing elsewhere.
Employee Advocacy Potential: Zero. Attempting to enlist these employees in a program will backfire in more ways than you can imagine.
Engagement Level: Employees are not Engaged
Security: These employees do the least of what's expected of them. Nothing more, nothing less. They don't speak up in meetings, interact with their teams, and rarely join team outings. They are casually looking through LinkedIn for new job opportunities.
Employee Advocacy Potential: Very low. These employees aren't motivated and won't be active or positive. Put your focus on engaging with them first and try to understand if the issue can be fixed.
Engagement Level: Employees are Almost Engaged
Belonging: These employees like their jobs and engage with their teams. They take pride in where they work but don't quite tell others about it yet.
Employee Advocacy Potential: Ripe and ready. But these employees will remain silent without support, encouragement, and empowerment.
Engagement Level: Employees are Engaged
Importance: This group understands its role in helping the company achieve its business goals. They know what's expected of them and have the tools, support, and leadership to get the job done.
Employee Advocacy Potential: Very high as long as they're provided with the tools that map their functions and business goals. They'll immediately appreciate and leverage content that ties to their goals and objectives and share it on their personal social channels.
Engagement Level: Employees are Highly Engaged
Self-Actualization: These employees have made the company's mission their own. They inspire others and are inspired by the company, its products, and their co-workers. They're already sharing their enthusiasm and telling the company story in their own words.
Employee Advocacy Potential: Unlimited! Identify these people now because they'll blaze trails for your program.
More Thinking About Maslow's Employee Engagement Model
Maslow's Hierarchy of Needs applied to employee engagement is just a model, not an exact science. Not all of your employees will ever reach self-actualization, and you must be okay with that. A standard benchmark I use is that 1% to 10% of your employees have the potential to reach a portion of this level at some point in their career, even if their job with your company is short.
You cannot forget about the other 90% either. They still matter, even if some never become employee advocates. They could move up the employee hierarchy ladder with the proper support, mentorship and leadership. This is critical to the future and health of your brand. As they become more engaged, they will naturally produce a higher quality of work. And high-quality work translates to a better product, innovation, process improvement, and a thriving culture.
For any employee advocacy program to produce results, there are three essential steps to consider before you jump in head first:
Operationalize a plan: Obvious, right? But it's not as easy as it sounds. Identifying the right employees, coordinating with internal stakeholders (Legal, IT, HR), begging for a budget, and training are all initiatives that need to be considered and planned out.
Align employee content strategy to the brand narrative: Employee content must be aligned with a larger brand narrative. Doing so will ensure that you surround your customers with trusted brand stories at every touch point.
Invest in the right technology: Don't make this your first decision. Be smart at which vendor you invest in. Ask questions about their development roadmap, acquisition plans or securing more funding, account management, and integration with other APIs.
Maslow's hierarchy of needs employee engagement is a model that can be applied to just about any organization that wants to increase employee satisfaction and culture readiness. It's also a healthy contributor to a smart B2B branding strategy.