Raise your hand if you have a digital customer experience strategy. Keep your hand raised if that strategy is over three years old. For those of you still with your hands in the air, it's time for a reboot.
Why does customer experience matter:
According to a recent study from Harvard Business Review, many companies are struggling to keep up with the rapidly changing digital customer experience landscape. According to the report, 88% of executives recognize that customer engagement significantly impacts company revenue. That's awesome.
Additionally, 92% say that having a customer engagement strategy is critical to the success of their business, but only 9% say they have excellent engagement today. This isn't terrible, but … come on. And lastly, less than 50% of executives say that they are investing in new or improved customer experience technologies, and only 40% say they are effectively using data to send customers the right message at the right time and in the right channel. This isn't good.
Improving customer engagement is more than adding a chatbot on your website or setting up a dedicated Twitter for your customer support team. Brands today need to be customer obsessed. And the only way to do that is to have an always-on, integrated digital customer experience strategy.
Customers expect and are now demanding a streamlined, personalized experience when interacting with brands across all touchpoints; there's more research to prove it. According to a study by McKinsey, 71% of consumers now expect a personalized experience, and 76% get frustrated when they don't find it.
If you don't have a solid plan to craft the perfect experience, you will struggle to reach your business and marketing goals. Brand loyalty, increasing customer lifetime value, win rate, quota attainment, and all other business and marketing KPIs will remain boardroom buzzwords if you can't invest in a strategy for improving your customers' experience. And those same buzzwords often become why you might be out of a job if nothing is done about it.
This blog post will discuss what constitutes a great customer experience and how you can create a strategy that meets your customers' expectations.
To make a consumer experience strategy actionable, it's critical to examine the entire ecosystem. First, you have to realize that every brand is different, so each will have different customer touchpoints. For example, a clothing brand or retailer will have different touchpoints from those of a pharmaceutical or medical device company.
While these are extreme examples, some are not as obvious. The goal is to understand the customer's needs and craft an experience that maps the entire customer experience journey and meets the needs of every customer at every interaction.
What is Digital Customer Experience Transformation?
The customer experience definition could be complicated. Too often, the language of omnichannel marketing and digital customer experience are used interchangeably. I'm not one to argue over semantics, but it would be beneficial to look at this through a few different lenses.
Omnichannel marketing is meeting customers where they are and providing a cohesive experience across all digital channels. This could be everything from providing product specs on your website and delivering targeted ads using digital media to an in-store experience at a retail store.
On the other hand, a digital consumer experience is how they perceive each one of those interactions with your brand. Simply put, their impression of your brand is based on their various interactions and customer expectations.
I am a firm believer that all channels and experiences are digital. Even though a brand interaction may happen at an event or in-store, there's always a possibility that the interaction will make its way online. It's pretty much guaranteed. If you can deliver a positive brand and customer experience, there's no doubt that your customers will brag about it in their online communities.
A great customer experience encompasses the entire customer journey beyond just providing a great product or service. Today's consumers want to feel that a brand recognizes them as individuals and cares about their interests. Therefore, they demand that the brands they buy from share the same values.
An effective digital customer experience strategy takes both factors into account. On the one hand, you invest in omnichannel marketing to create a wholesome experience for the customer. On the other hand, conversely, you tailor the experience to cater to their needs and establish a long-term customer relationship.
Also, it's important to remember that company culture and optimizing business processes are requirements to facilitate the customer experience journey.
Breaking Down Gartner's Digital Customer Experience Model
While the Gartner Digital Customer Experience Model is meant to inform customer service teams, it can also inform all facets of an organization. The research provides rich insight into how a dynamic customer engagement (DCE) strategy enables business leaders to transform their service experience and create personalized and proactive engagement strategies with customers.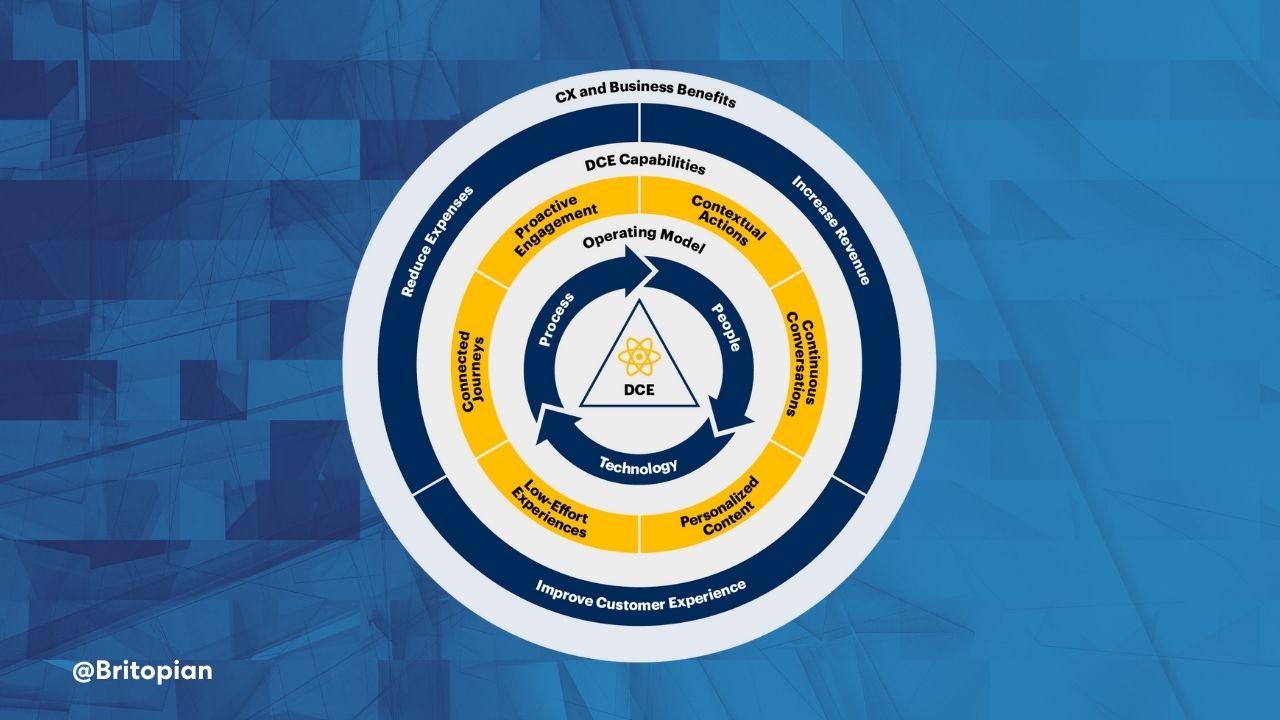 The DCE strategy has several dimensions and layers. The center starts with people, processes, and technology, a common starting point for most operating models. This is the foundation of how you structure yourself to serve customers. It considers the tenets of a customer-centric culture, hiring, staffing, and training. It will help inform what software is needed in the technology stack and the workflows that support marketing, customer support, product, and other customer-facing teams.
The next layer is the Digital Customer Experience (DCE) capabilities. These customer engagement programs include outbound marketing, events, in-store and retail activation, UI/UX, social media engagement, and more. While not listed in the Gartner model, DCE capabilities may also include developing a customer narrative or content strategy.
A customer narrative is a story that your brand tells about itself. It's how you want customers to perceive you and the overarching message you want to communicate. The content strategy is a plan for how you will share your customer narrative across all channels.
Gartner's model's third and final layer is the CX and Business Benefits of your digital customer experience. This includes increasing revenue, reducing expenses, and improving the customer experience.
Increasing Revenue: There are a few ways that a digital customer experience can increase revenue. The first is by increasing customer loyalty and engagement. If customers have a positive experience with your brand, they will likely return and make repeat purchases. They're also more likely to recommend you to their friends and family. While word-of-mouth marketing is no longer a popular term, it's still real.
Another way that DCE can increase revenue is by reducing churn. Churn is the percentage of customers who stop buying your product or doing business with you over a given period. Reducing churn frees up resources that can be reinvested in new customer acquisitions.
Finally, DCE can help you upsell and cross-sell your existing customer base. Upselling is when you convince a customer to buy a more expensive version of the product they were initially interested in. Cross-selling is when you convince a customer to buy a related product that compliments their purchase.
Reducing Expenses: There are two main ways that DCE can help reduce expenses for your brand. The first is by automating processes. Automation can help you speed up processes and eliminate manual tasks, saving you time and money.
The second way DCE can reduce expenses is by reducing customer support costs. By providing self-service options and making it easy for customers to find answers to their questions, you can reduce the need for live customer support. This will free up resources that can be reinvested in other parts of your business or paid out through employee bonuses.
Improving the Customer Experience: The final benefit of DCE is that it can help improve the customer experience. This can be done in several ways. Still, some of the most common include making it easy for customers to find what they're looking for, providing more personalized experiences, and giving feedback. The importance of customer experience affects all facets of your company–culture, customer support, CX strategy, customer journey improvement, loyalty, and brand engagement.
Digital consumer experience is a strategy that should be top of mind for all marketers. By starting with people, process, and technology and then moving on to DCE capabilities and benefits, you can create a roadmap that will keep you winning in the marketplace. Implementing a great digital customer experience will increase revenue, reduce expenses, reduce churn, and improve the customer experience.
Considerations for Launching Your Customer Experience Strategy
The implementation of a customer experience strategy is known as CEM. CEM, short for customer experience management (CEM), is a process organizations use to track, manage and improve how they interact with their customers. It involves identifying customer needs and wants, designing strategies to deliver an optimized customer experience, and continuously monitoring and improving those processes.
By tracking customer interactions and feedback, CEM helps organizations to identify problems and areas for improvement and to make the necessary changes to deliver a better experience for all customers and prospects.
Clearly Define Your Purpose. Before you begin your customer experience transformation journey, clearly defining your goals and aspirations is vital. One major challenge companies face in their transformation strategies is blindly attempting to apply blueprints from other organizations without checking for alignment with their company values and purpose. In the end, they have a transformation program that is not only generic but lacks clarity and coherence.
Your customer experience transformation program should reflect your company's purpose and align with your brand's promise. What is it you want to achieve? Define the specific changes in customer behavior you want to see and the metrics you'll use to track and measure these changes.
Real Business Transformation. Your digital client experience transformation program should not take the form of all your other business programs. This is not about C-suite executives and PowerPoint presentations with numbers and projections that mean nothing. This is about transforming the entire business from the inside out. It fundamentally changes how you operate and serves your customers at every touchpoint.
The problem with a top-down approach, where the executives devise a road map and send it to the various departments, is that significant communication challenges and ownership issues will hinder any meaningful progress.
For effective customer experience transformation, all team members must buy into the story. You need agile, cross-functional teams that own these projects and have the technical expertise and culture of design required to bring your vision to life. You need to engage employees across all levels and functions in the organization. Empower them to take ownership of the customer experience and make changes that will improve it. Encourage them to think outside the box and challenge the status quo. Only then will you be able to create lasting change.
Think Big, Start Small, Scale Fast. Unfortunately, many companies think they must do everything once when launching their customer experience transformation program. As a result, they try to boil the ocean and get overwhelmed, leading to stagnation. You can avoid this by taking a more incremental approach, starting small and scaling up quickly once you've seen success.
This doesn't mean you should take a haphazard or ad-hoc approach; quite the opposite. You must have a clear plan with well-defined goals, objectives, and milestones. But don't try to do too much all at once. Instead, start with one or two touchpoints most important to your customers and focus on those first. Then, once you've perfected your brand and customer experience strategy at these touchpoints, you can expand to other areas.
Build New Capabilities. It is crucial to sustaining your changes by building new capabilities to enable the transformation. All company employees must be confident in delivering a positive customer experience. This can be achieved through learning opportunities like live workshops, seminars, and digital courses where employees receive training based on their role in the company.
Aside from the human resource front, there are also software considerations. For leading companies, investing in performance management systems built on predictive analytics and machine learning takes the form of investing in performance management systems. With the sophisticated feedback loops in these systems, employees learn the behaviors that resonate with the customer. Then, the responsible agile teams use this information to devise effective real-time engagement programs.
Digital Experience and Customer Journey Mapping
The digital customer experience strategy is crucial in determining eCommerce ventures' profitability. The main reason why many e-commerce operations are not profitable is that they lack repeat customers. Customer acquisition is vital for all businesses, so most of their efforts are directed at customer acquisition. However, it should not stop there. The goal is to provide a quality experience for the customer to increase their likelihood of returning to make additional purchases.
Business executives are in complete agreement that CX is critical to business success. According to Hinduja Global Solutions (HGS) survey, 86% of the 1,000 C-suite decision-makers believe that CX initiatives are vital for business success. However, only 12% have successfully implemented more than 80% of their initiatives. Some of the respondents' significant barriers to successful implementation include a lack of internal resources, difficulty assigning metrics to measure success, and insufficient processes to guide technology implementation.
The digital customer experience strategy aims to seamlessly guide customers through all stages of the customer experience journey to find the products or services they need without friction. The first step is to create awareness of the company and its offerings. The next step is to generate interest in the products or services. Once the customer is interested, they need to be guided through the decision-making process to make a purchase confidently. Finally, after making a purchase, it is essential to provide excellent customer service so they will return for more.
A digital customer experience strategy must consider all stages of the buyer's journey if you want to remain competitive. Creating a seamless customer experience across all touchpoints should be a top priority for brands if they want to stay ahead of the curve.
A Quick Look at CX Technology Vendors
As companies intensify their efforts to meet customers' expectations and provide a differentiated customer experience, CX spending will grow 8.2% over the 2018-2022 forecast period to $6.41 billion in 2022, according to a forecast by IDC. However, we still have five months to go.
As more businesses are looking to invest in CX initiatives, several customer experience vendors are in the market. Unfortunately, at the moment, there isn't just one solution that does it all. So it would be best to find vendors for customer service, website, and retailer technology. Here are some of the top customer experience solutions in each space.
Retailers use CX retailer technology platforms to interact with customers, provide customer service, and sell products. These platforms aim to make the shopping experience as seamless as possible for customers. Some of the top vendors in this space include Oracle Commerce Cloud, SAP Hybris Commerce, and Adobe Commerce Cloud. These platforms offer a variety of features, such as customer segmentation, order management, product catalog management, and shopping cart functionality.
Customer service technology helps businesses manage customer interactions across all channels. These solutions aim to provide a consistent customer experience and improve customer satisfaction. Some of the top vendors in this space include Zendesk, Salesforce Service Cloud, and Freshworks Customer Service Platform. These platforms offer ticketing, live chat, knowledge management, and omnichannel support.
Also, online business communities can be very beneficial in providing answers to customers' questions and problems. Some of the top vendors in this space include Khoros Communities, Insided, and Tribe Software. These platforms offer support forums, community moderation, gamification, and customer analytics.
There are also customer data platforms like Treasure Data, Redpoint, and mParticle. These platforms help businesses collect customer data from multiple sources, including website interactions, social media, and mobile apps. This data can be used to improve the customer experience by providing a more personalized experience.
Finally, there are website platforms like Adobe Experience Manager, Sitecore, and Episerver. These platforms help businesses manage their website content and create a personalized visitor experience. Features offered by these platforms include content management, digital asset management, eCommerce functionality, and site search.
Developing a Customer Experience Strategy is Good for Business
According to McKinsey, focusing on CX and implementing a digital transformation can increase customer satisfaction by about 20%-30% and economic gains by 20%-50%. Unfortunately, in an attempt to drive these results, many customer experience leaders break out their five-year strategic plans at the executive level, where implementation fails.
A true customer-centric transformation should be just that- customer-centric. However, for the transformation to achieve its full impact, it will take a fundamental shift in mindset to focus on the customer and not the business goals. This change of attitude, coupled with operational and IT improvements for sustainability, dramatically impacts customer satisfaction and, in the long run, economic gains.
Digital Experience Economy Requires "Total Experience"
The digital experience economy is based on the memories, emotions, and feelings that customers take away from their interactions with a brand. As companies compete for the attention and time of their customers, it has become crucial to create new business models and innovations through which they can alter products and services using information and digital technologies.
To deliver the best possible user experience, you must master multi-experience principles. It's not just about your customer experience but your employee experience. The ultimate CX takes an intentional team effort. Every employee at your organization must take part in the creation of the ideal customer experience.
The "total experience" encompasses user experience, customer experience, employee advocacy, and engagement. Your departments must collaborate closely because a customer's journey rarely involves just one department. Designing your program to provide the right work environment will enable your employees to build a great employee experience and customer experience CX.
Measuring Customer Experience
You need to set the correct KPIs (Key Performance Indicators) to measure your customer's experience. The goal is to increase customer satisfaction, loyalty, and advocacy. But how do you know if you're achieving these goals?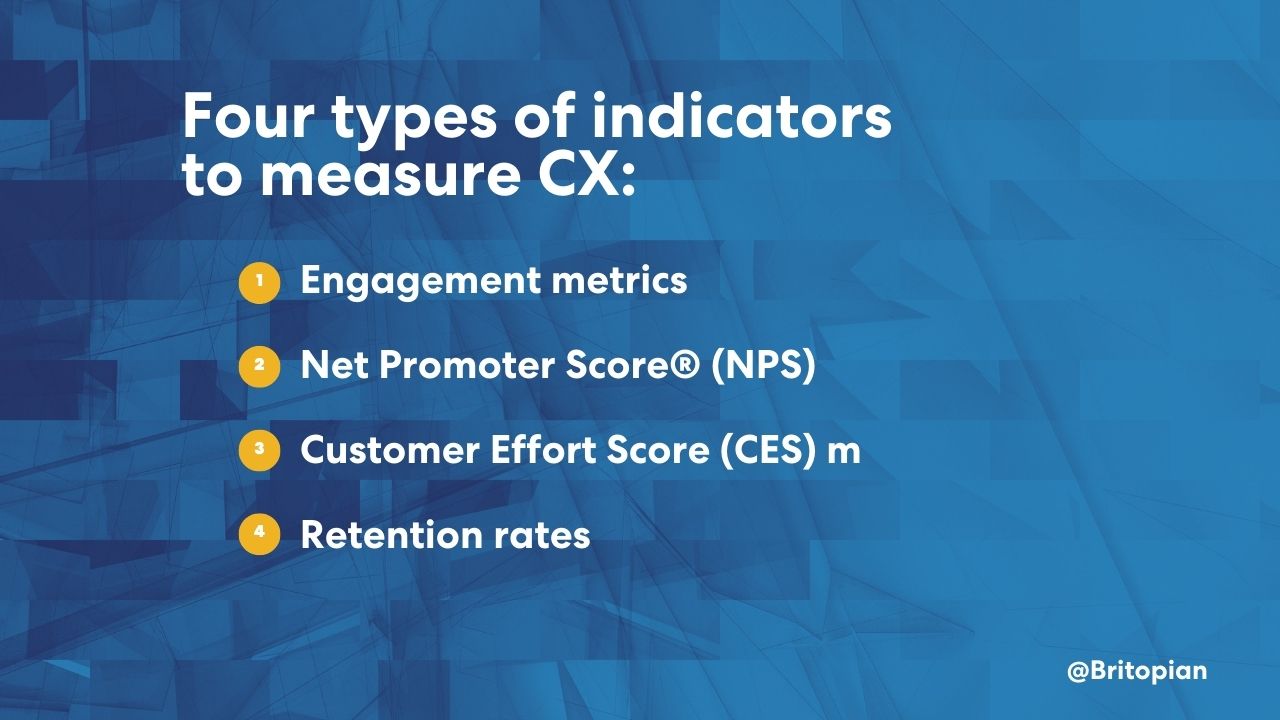 There are four types of indicators that you can use to measure CX:
First, engagement metrics track how often customers interact with your brand and how long they stay engaged.
Net Promoter Score® (NPS) measures customer satisfaction and loyalty.
Customer Effort Score (CES) measures how easy it is for customers to get what they need from your company.
Retention rates show how many customers continue doing business with you over time.
You should track these indicators over time to see how your customer experience strategy impacts your business.
Digital customer experience is essential for businesses in the digital age. Companies can create a competitive advantage by understanding the customer experience journey and using technology to improve the customer experience. However, it's important to note that a successful digital customer experience strategy requires a shift in mindset and collaboration across departments. Additionally, businesses must set the right KPIs to measure success. Focusing on CX can increase satisfaction, brand loyalty, and customer advocacy.
Customer Experience Trends to Consider
As more brands take digital customer experiences seriously, moving beyond just trends are essential and getting to parity. Some tactical considerations include:
Customer experience management is integrated. No longer will disparate teams be working to include customer experience management initiatives in the company. Instead, it's becoming a part of everyone's job.
Chatbots are integrated everywhere. Chatbots are not just popular on customer support pages. They are everywhere. You can find them on eCommerce websites, social media platforms, and messaging apps.
Personalization is the key to success. To create a personalized experience for each customer, you need to understand who your customers are and what they want clearly. This can be done through data collection and analysis.
Customer data. Using customer experience analytics to improve the customer experience is one of the most effective ways to optimize your customer experience CX strategy. This data can come from various sources, such as customer surveys, website analytics, and social media.
Omnichannel experiences are the truth. Customers expect a consistent experience across all channels, whether online, in-store, or mobile. Therefore, brands must provide a seamless, consistent experience across all channels.
Map customer and brand archetypes. Brand archetypes can be used as a starting point for building a long-term customer journey and research initiative.
Now is the time to focus on a digital customer experience strategy. If you don't have a plan, now is the time to step up and get serious. Your customers will thank you for it. And the bottom line will validate it.
Related Content