Here's the challenge with social media monitoring. I don't think that many brands or marketers think strategically enough about the power of social analytics. They view social media monitoring as just check mark of tasks that need to be done.
The truth is this: If done right, social media monitoring can provide insights that will make a brand more relevant to its audience. When brands can understand the topics and trends that are demanding the attention of an audience, and then create content based on those insights, they have the ability to become that much more relevant.
This video is Part 2 of "What is Social Listening?" and I walk through the economic model of supply and demand for brand relevance.
The model is simple. On the demand side, it represents various audiences. It could be traditional media publications, a group of the top business media publications, a group of influencers, and to target audience.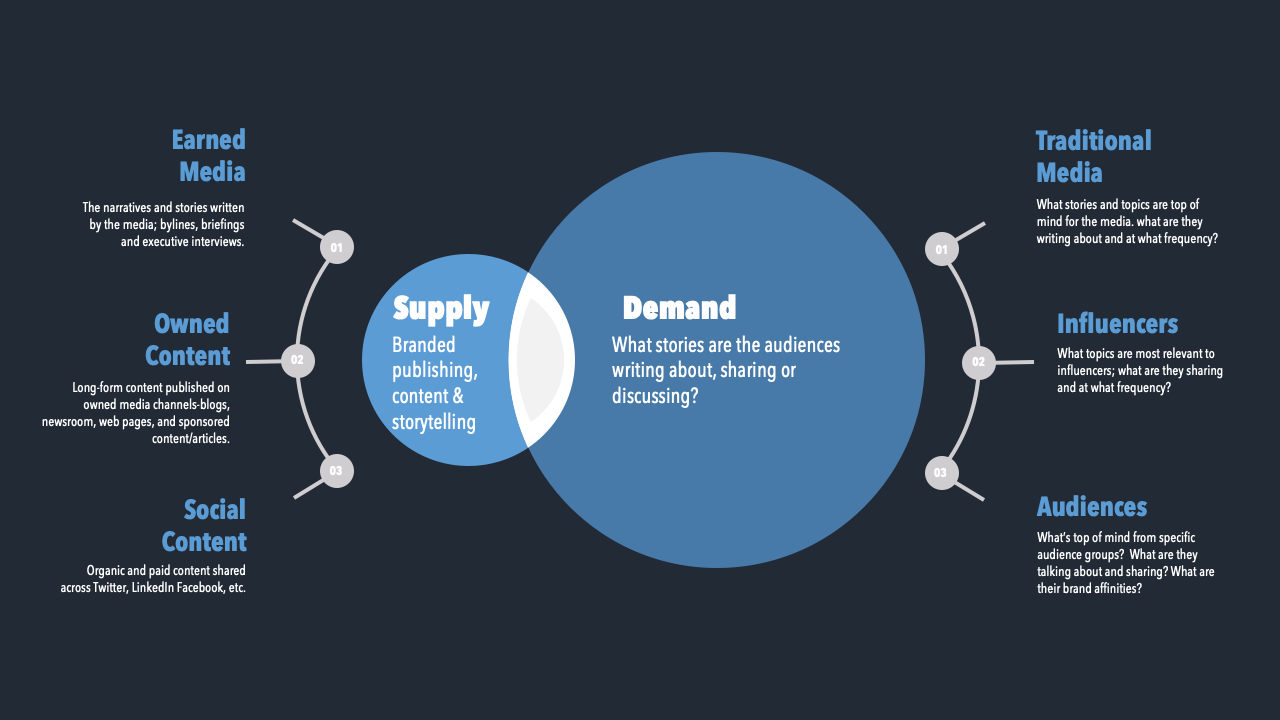 With data insights, we can find the topics, trends, stories, articles, Reddit forum posts that are demanding the attention of your audience. these are the topics that are highly relevant to the audiences that you are trying to understand.
Social media monitoring plays a key role in delivering and analysis that would provide actionable insights into those topics that are top of mine.
On the left side of the model, it represents supply. And the question that you have to ask yourself, is are you meeting the demand of the audience with your supply of stories?
Also using analytics, we can start to understand the topics, trends, and stories that a brand is publishing through the channels of owned media, earned media and social media content.
In my experience, when analyzing branded content, most of the time it is self-serving filled with product specs, company news and other irrelevant information.
The white space can be identified by looking at the demand of the audience in the supply of content. When there is no overlap, that simply means there is white space for brand to start creating data-driven content that is relevant to the content that is trending among the audience.
In this example, we are not looking at social media monitoring to calculate brand mentions. I am not saying that it's not important to do that, just that it's kind of table stakes at this point and yes, it's a check mark on a slide somewhere. Sadly, some brands even struggle with the bare minimum of investing in the right social media monitoring tools and software and set up a proper social listening program.
The true value of social media monitoring is looking at specific data sources like specific subreddits or an audience or a set of media publications; and figuring out what is keeping them up at night.
Not only is this approach good for PR measurement, but it also will help inform a data driven B2B content strategy, which has been critical during the pandemic.
For more videos like this, please subscribe to my YouTube channel.