A media landscape analysis can provide the insights you need to launch high-impact marketing campaigns and dominate your job at the same time.
Why this matters:
Two reasons. The insights from a landscape analysis ensure that data inform your marketing strategy. And we live in a highly competitive world. The more data and industry knowledge you have, the more success you will find in your role.
What is a Media Landscape Analysis?
A landscape analysis is multi-faceted and complex. Hundreds of industries, verticals, and categories come into play. But at the end of the day, an industry analysis will provide insights to help you execute your marketing strategy with precision and focus, producing results that exceed expectations.
A media landscape can be a topic, industry, generation, competitive, or all four. For example, suppose you work for a mobile phone provider like Verizon (or a similar organization). In that case, you'll want to know everything about the mobile network industry, NFTs, Web 3.0, and the metaverse.
And perhaps you have two core audiences you are trying to reach in 2023–Gen Z and Millennials. A media landscape analysis will give you actionable insights into the topic of the metaverse, the mobile network industry, and everything you want to know about each audience, including Gen Z media consumption, trends, and basic demographics.
You can expect to get details and insights about the following:
Traditional Media Landscape. A thorough landscape analysis will provide you with three important pieces of information that will help ensure the successful starting point of your media strategy.
An analysis of the top media outlets driving the most impactful coverage of your research topic.
An analysis of the core narratives driving the coverage in the top media outlets.
An analysis of the journalists and their level of influence when they write about such topics.
Depending on time, budget, and resources, you can get much more granular with this analysis. For example, you can segment the media by industry (e.g., B2B/tech, consumer lifestyle media), do two separate analyses, and then compare the results. Or, if you already have a top media list, you can run your analysis against that data set. You can filter for brand coverage and then layer on sentiment and impact across each media segment.
Audiences: A media landscape analysis can provide insights into audiences engaging around a topic or industry. Or, if you've already defined your audience, the data can reveal their customer journey, conversation themes, the social media channels they use and how, the media outlets they read, and content that resonates with them.
Influencers: In economics, a market is where buyers, sellers, and thought leaders facilitate the exchange of goods, services, ideas, innovation, and information. Thousands of markets exist today–grocery, diaper, software, mobile networks, and more. There are even more mico-markets within each market, which are always shifting.
Every market can be divided into three separate segments-creators, community, and consumers. Creators account for 1% of the market, the community accounts for 9%, and general consumers account for the rest, 90%.
Creators: Creators have the skills and talent to create content using various digital formats–text, video, and more. This means they have stellar writing skills and can produce compelling videos across platforms like YouTube, TikTok, and Instagram. They also have multi-channel influence, meaning they are more than just the average TikTok creator. Their influence follows them to whichever platform(s) they use. When they create content, it travels and goes viral.
Community: This group is highly active with all digital communities, including social media networks, Reddit, Discord, and other forums and groups. They are moderators, content curators, and trendspotters. They are also very influential, not on the same level as creators.
Consumers: This is the majority of the market. They read news, watch videos, Google everything, read reviews, and sometimes engage within social media networks. They are heavily influenced by creators and the community.
A media landscape analysis will uncover the top-performing creators in that market, insights into the community, and their influence on general consumers. A model like this is more relevant to identifying and segmenting B2B creators, as it considers more than just content creation.
Cultural Context: Cultural context is the norms, beliefs, ideas, language, attitudes, and trends shared among society and how it affects cultural behavior. It provides additional context and insights when layered with economic, political, business, and social contexts.
Social Media Landscape: The social media landscape is the aggregate collection of all the apps, social networks, and digital communities. This includes heavyweights like TikTok, Instagram, Reddit, Twitter, and LinkedIn. It also includes up-and-coming platforms like Discord, BeReal, Mastodon, and Clubhouse.
Metaverse Industry Analysis Example
Now let's jump into a media landscape example.
Below is an example of a metaverse industry analysis. Some of this data has been taken from other research reports I have worked on, so it's not 100% up-to-date. Most of this data is from early 2022. The purpose is to show you examples of deliverables you should receive after completing a brand analysis.
Media Coverage Analysis
The metaverse media coverage shows the impact of each media outlet plotted. There are three data points to understand.
The X-axis represents the total volume of coverage of the metaverse.
The Y axis represents total engagement from the coverage.
The size of the bubble represents the total reach of the media outlet.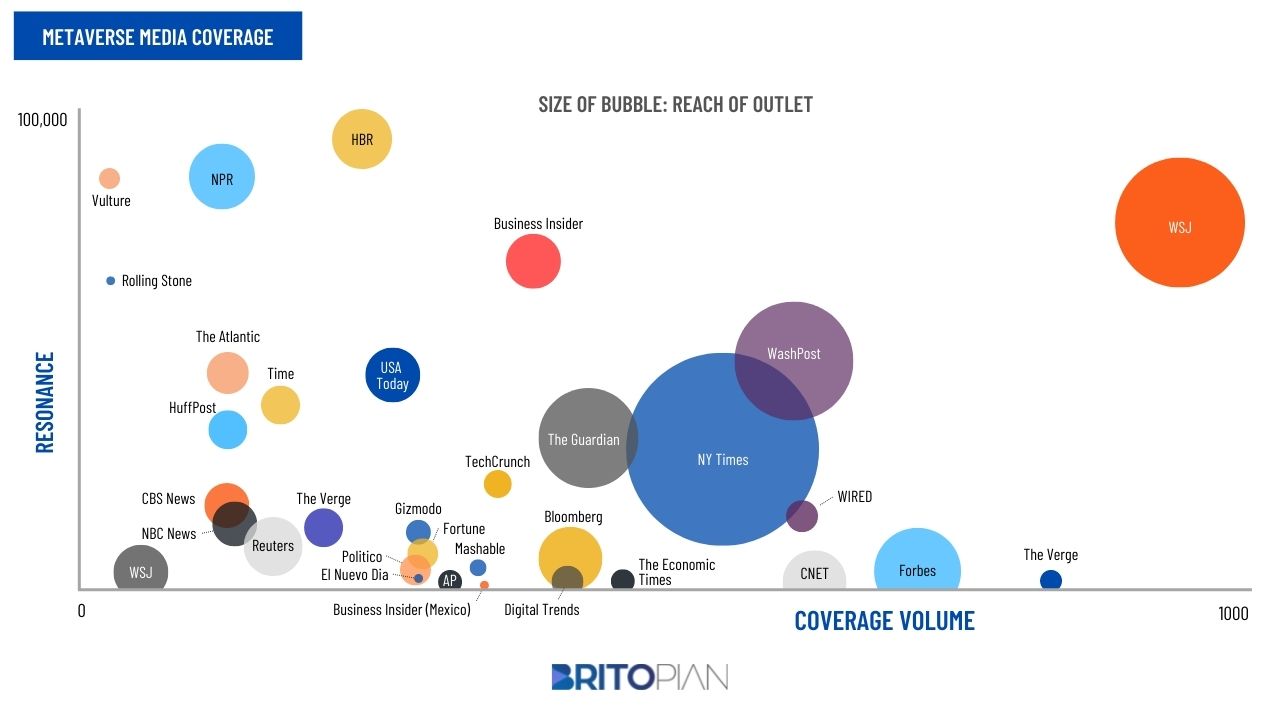 So as it relates to metaverse coverage only, the Wall Street Journal has written nearly 1,000 articles about the topic over this period. That coverage has resulted in almost 100,000 total engagements. And when you compare the size of the bubble with the other media outlet on that graph, they are the second largest, right behind the New York Times. The data is based on the website's total unique visitors per month.
On the other hand, Harvard Business Review has a lower volume than the New York Times, but when they write about the metaverse, they generate much more engagement with their content.
Narrative Analysis
Now that we have identified the top media outlets writing about the metaverse, it's important to dissect the topics within that context and answer the following question:
What about the metaverse is so important?
A narrative analysis uses text analytics to discover the topics, themes, and narratives discussed around the metaverse. This will tell us what matters to the media and why it resonates with them. This is also referred to as content marketing analysis, but more advanced.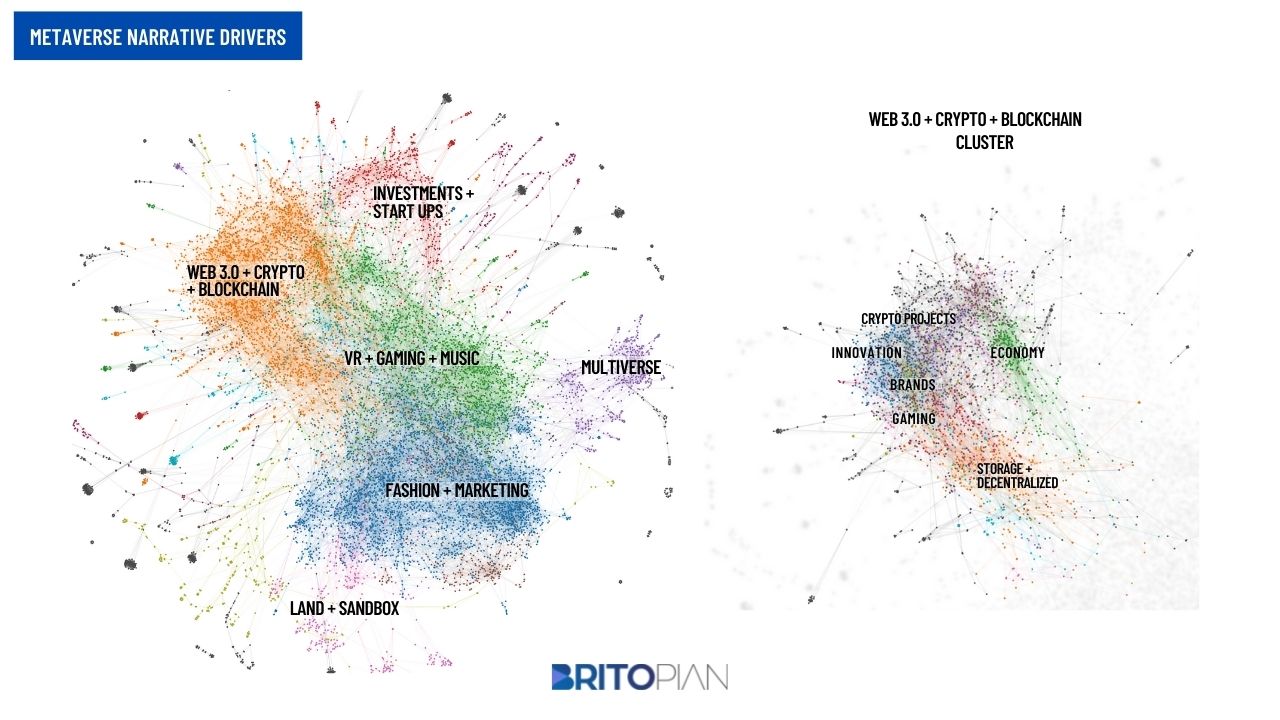 And see from the data on the left, six core narratives stand out within the coverage.
Investments & Start-Ups
Web 3.0 + Crypto + Blockchain
VR + Gaming + Music
Multiverse
Fashion + Marketing
Land + Sandbox
It would be impossible to uncover these narratives by reviewing a spreadsheet with all the coverage or using a media monitoring platform. This approach uses NLP to categorize the coverage based on what's being written about in the full text of the article.
However, the analysis on the right is a double-click into the "Web 3.0 + Crypto + Blockchain" cluster. This will tell what's being covered about this sub-topic in more detail. The more you drill down into the data, the more insights you will get.
This should give you an idea of how you might want to prioritize your PR strategy.
Metaverse Audience Segments
A media landscape analysis would not be complete without building an audience to understand who they are, what they care about, how they identify themselves, and their affinities related to the content they consume.
The below data shows the audience talking the most about metaverse across the social media ecosystem. It's segmented into four different audiences, a smart approach that can give you more information about whom you are trying to reach.
However, audience segmentation becomes more valuable when you analyze each one individually to see how they are interconnected, similar, and different, as well as any unique differences between them.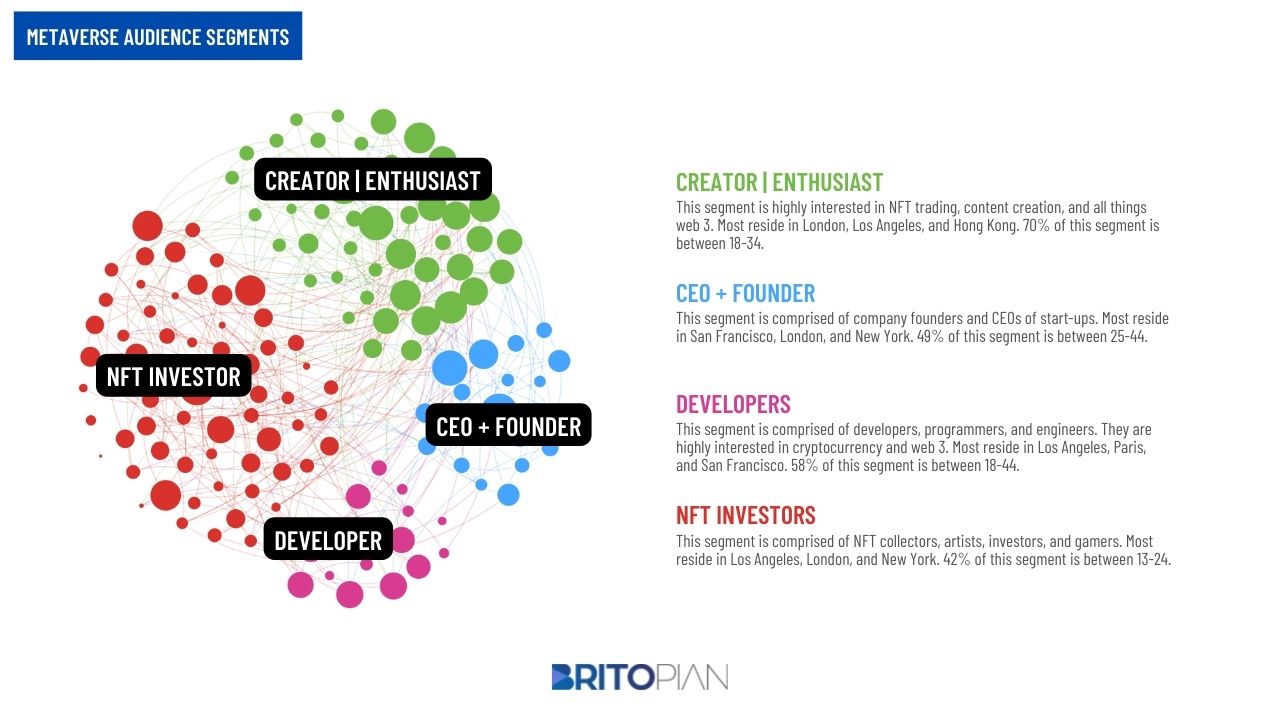 The below metaverse audience persona is an overview of all the combined segments mentioned above. This is not a best practice, but it'll do for the sake of this post. Remember, the more you can segment data, the better insights you will have, as previously mentioned.
I wrote a lengthy post about audience personas and provided several examples and types you can build.
The data shows basic demographics, how they define themselves in their bios, some brands and products they have high affinities for, and who influences them online. It's not uncommon to do a conversation analysis of the audience based on the topic at hand. At times, it's good to compare how the media writes about the metaverse versus how the audience talks about it. Here's a scrappy text analysis of the metaverse community to use as a reference point
Metaverse Creators & Influencers
There are several ways to identify creators and influencers. One way is through a media landscape analysis like this one.
Another way is to start with audience analysis, like above. The data will uncover who influences the audience based on an affinity analysis. An affinity analysis will uncover the percentage of an audience that follows or engages with the influencer. I like to use a combination of both approaches when identifying a creator or influencer. It depends on the topic, vertical, and industry.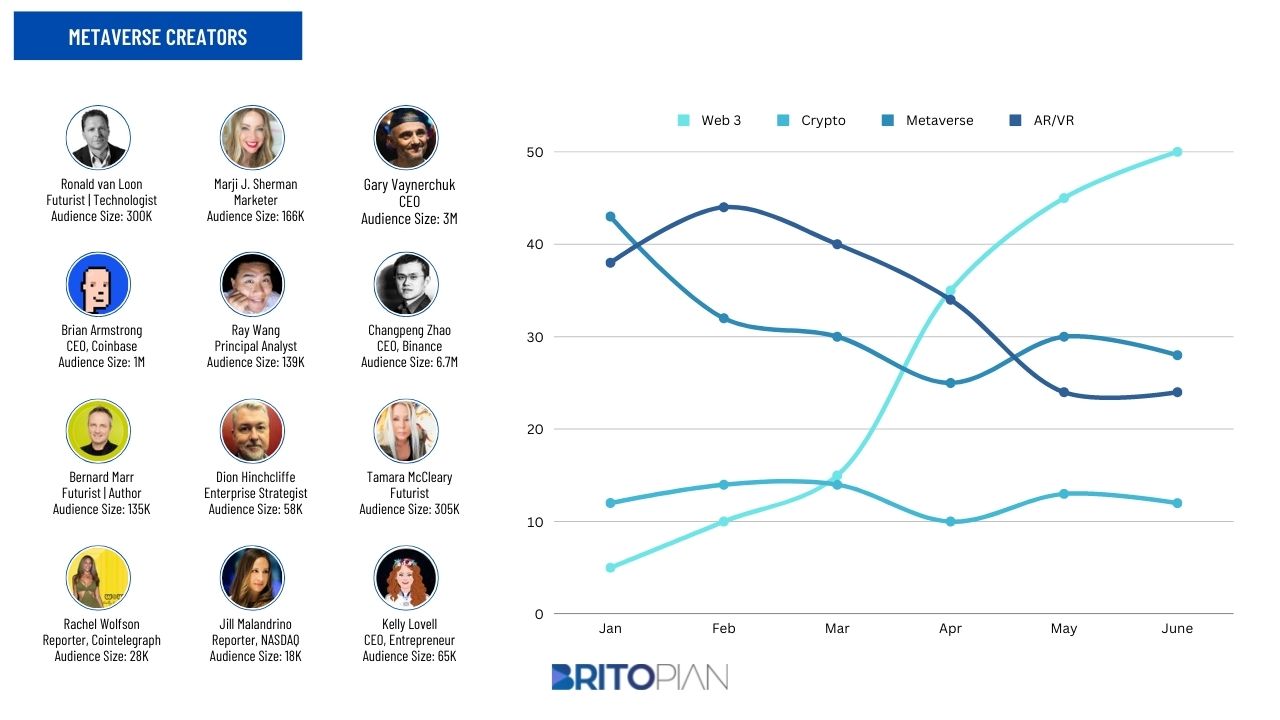 The trend graph above, next to the influencer profiles, tracks the number of mentions of each topic from January through June. You can think of this as social listening for the creator community. It tells you that topics like Web3 are increasing in popularity, and AR/VR are decreasing in popularity. A more advanced approach would include a text-based analysis, providing the context of those topics and themes and a deep dive into the voice of the customer.
Cultural Context
The cultural context will come from large research studies commissioned by global companies like Global Web Index, Insider Intelligence, Kantar, Morning Consult, and Resonate. Advisory firms like Deloitte, Accenture, and KPMG also publish reports.
Below is an example of a report published by Deloitte, "Future is here Global XR industry Insight," and Global Web Index's "Making Virtual a Reality: How Brands Can Win in Web3" report.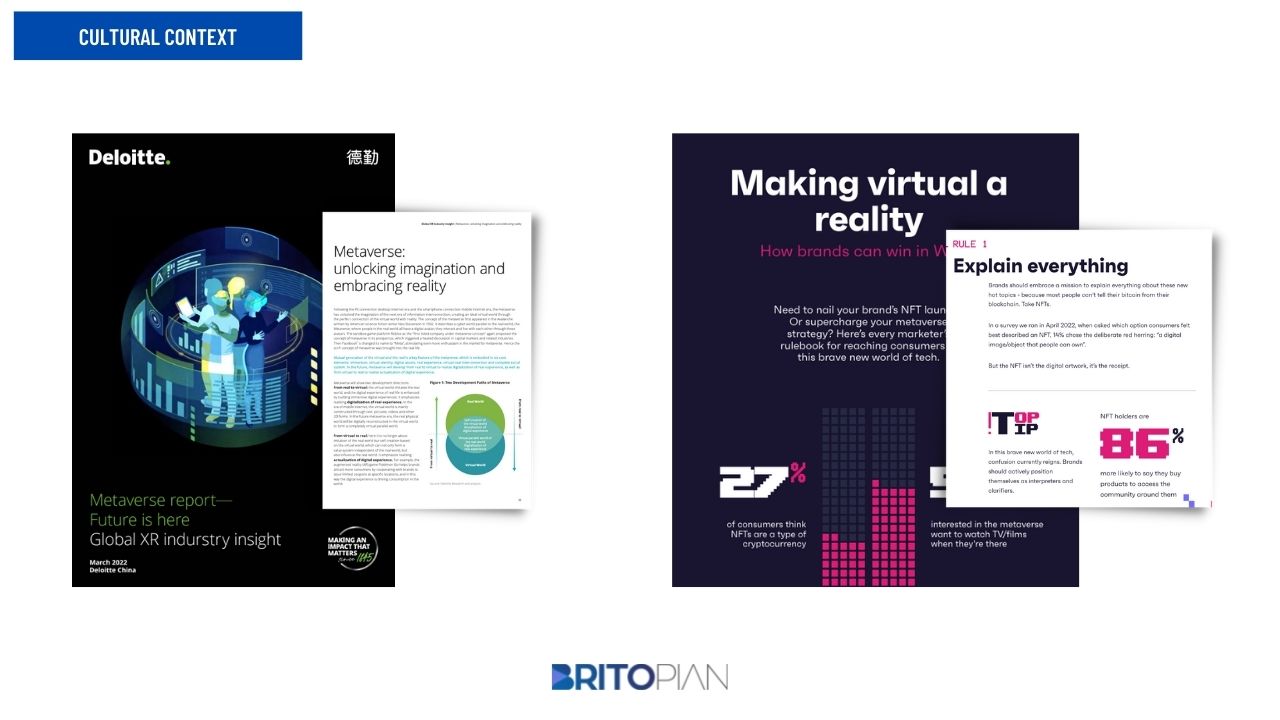 Social Media Landscape Analysis
Similar to getting the cultural context of certain industries, trends, or cultural behaviors, you can do the same with the social media landscape. Global Web Index usually publishes annual reports about social media usage and trends.
Statista is also a good resource and has free and paid options available.
Competitive Landscape Analysis
A competitive landscape analysis might be included in a report, but it's not necessarily mandatory. It would be helpful to understand how a competitor and/or your brand is viewed by different groups–the media, audiences, influencers, and more within the context of a particular industry. This is more of a compliment to industry analysis but important nonetheless.
What is Traditional Media?
It's essential to pay attention to traditional media. It's an integral piece of an earned strategy and requires a PR professional to pitch stories to journalists to get coverage about a product, service, or any announcement. In addition, traditional media publications often have a high readership, several million unique visitors, and high SEO value, so getting coverage needs to be a priority in your metrics.
There are many types of traditional media outlets. For example, consumer and lifestyle publications like People, Vogue, and Cosmopolitan write about various topics like culture, fashion, and celebrities. Some outlets like Forbes, Fortune, and Money focus on financial news. Technology publications like The Verge, VentureBeat, and Gizmodo write about artificial intelligence, cloud computing, and virtual reality. And lastly, news publications like the New York Times, CNN, and Wall Street Journal regularly cover business-related stories.
Other examples of traditional media must be addressed, primarily if you work within a specific vertical or industry.
For example, there are vertical publications like HR Magazine, Management Today, HR Zone, and People Management in the HR industry. These media outlets don't have the same readership or online footprint as other traditional media outlets. However, if you secure a placement in one of them, you'll know your media coverage is reaching the right audience.
The Basics of Traditional Media Analytics
PR professionals use several metrics to assess their company's performance in the media.
Did you get coverage or not? This measurement is the easiest and most basic way to measure the effectiveness of public relations. While it's valuable to know which media publications you're getting coverage in, it's also important to remember that the size of the media outlet doesn't necessarily correlate with its impact.
Coverage by large outlets like the NY Times. This is the holy grail of media measurement because this coverage can mean widespread awareness and positive associations with your brand. You get bragging rights anytime you can get coverage in the NY Times. You should print a hard copy, frame it, and hang it in the company lobby.
Personal connections with journalists. This is not a tactic when measuring media, but there is a correlation between media coverage and your relationships with journalists. Never underestimate the importance of personal connections to secure media coverage. This is true in every industry, but especially in PR, where pitches are generally met with rejection. If you've cultivated a good relationship and rapport with a journalist, you'll be much more likely to get your pitch picked up than if you were pitching someone you have no connection with.
The number of media opportunities available. This media measurement approach is a little less straightforward because it entails looking at the number of story opportunities available in your industry and then requires you to track performance against your competitors. If you can show an increase over time, this shows growth for your business. Or maybe you just hired a rockstar-media strategist.
Increase in web traffic. Traffic isn't the best indicator of media landscape analysis for many reasons. First, tracking is difficult because most journalists do not link their articles to your website. The software can help augment web traffic from news sources, but it could get expensive. Secondly, you likely have other marketing campaigns and programs, so it's difficult to isolate whether web traffic comes from an ended media story or a marketing campaign.
Positive sentiment. I have never liked tracking sentiment from a news story. 95% of the coverage is neutral. It states facts. Unless, of course, you work in the political landscape, measuring positive sentiment is one that requires a little more hand-holding and rigor to get accurate data. Typically, it's best to hand-code a small sample of articles and use that as your baseline for tracking sentiment. In this case, I would want to follow increases or decreases in negative sentiment instead of a positive view because the volume should be a lot lower … hopefully.
Still today, some PR pros use earned media value to quantify their work. I don't recommend this approach for reasons I won't get into today.
Traditional Media Analysis: The Earned Media Maturity Model
Over the last few years, I've worked on this model to articulate PR teams' journey with traditional media analytics. This model isn't necessarily sequential. There are many variables to consider, like the size of the company, the vertical, whether it's multinational, and the sophistication of the marketing, PR, and content analytics team.
The model is broken down into four phases: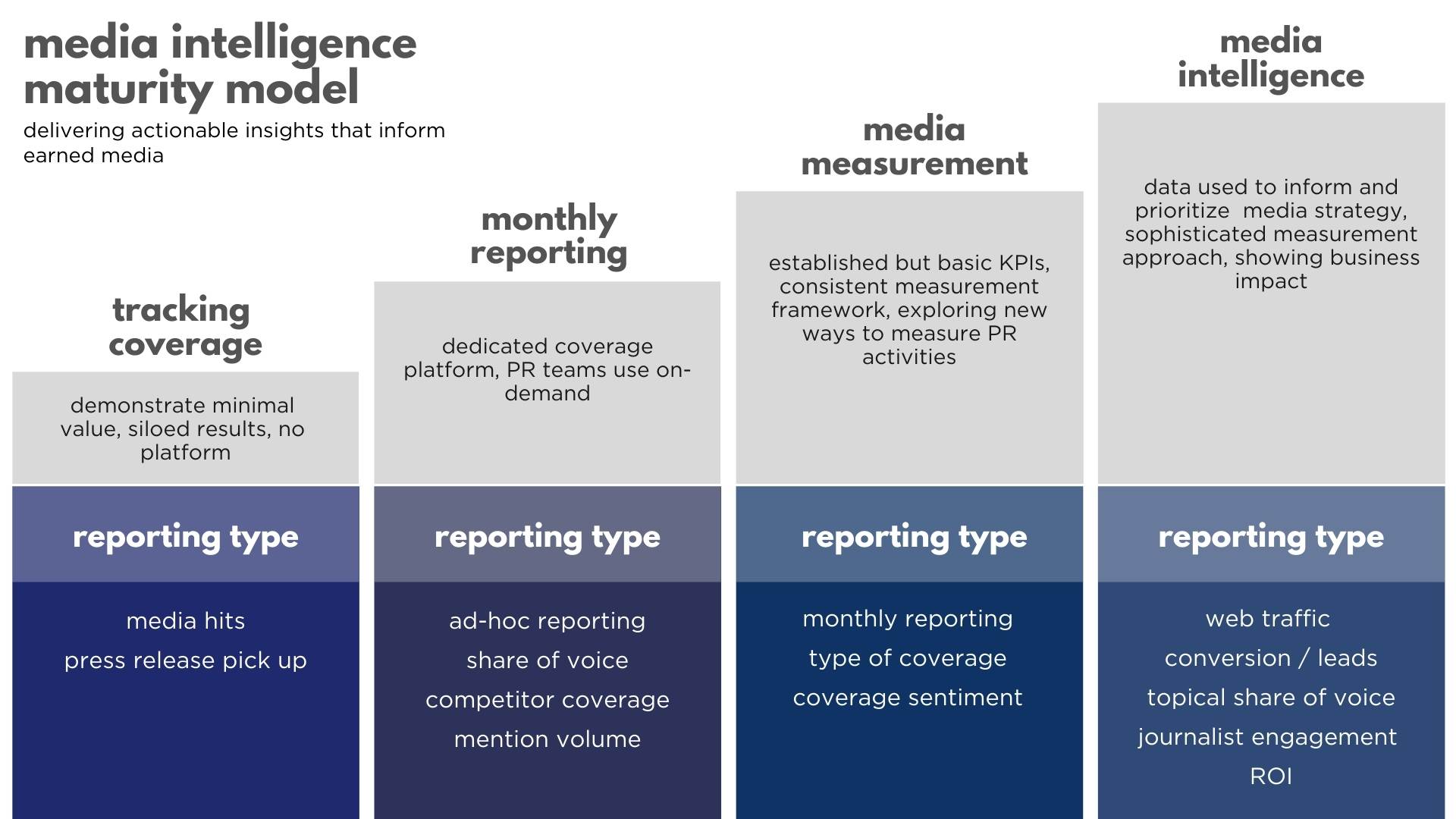 Phase 1: Tracking News Media Hits
Tracking media hits is counting numbers. All you need is a calculator, a pen and a pencil. It adds all the "hits" your company may get within traditional media outlets to a PowerPoint slide. Oh, and please don't say "hits" anymore.
In this phase, companies receive little to no value from their work in traditional media relations. This may happen for a few reasons. They don't have the expertise, don't know what they are doing, or don't care.
The teams are most likely doing a Google search, clicking "News," manually adding articles to an Excel spreadsheet and sending them to the client. This is the absolute bare minimum in traditional media analysis. If you're currently in this phase, you should be looking at up-leveling your media measurement efforts or hiring a new PR firm.
Phase 2: Monthly PR Reporting
Most companies in this media measurement phase use a tool or media measurement platforms like Meltwater, Cision, or Muck Rack to pull media coverage. However, they most likely only access the platforms at the beginning of each month to pull last month's coverage data. So often get asked about my take on Meltwater vs. Brandwatch; for the most part, they are equal in capability. I do have my favorites, though.
Companies in this phase will likely use the "off-the-shelf" reporting these platforms provide to their clients. Example reports might be a fundamental SOV analysis, competitor coverage, or tracking mention volume monthly.
Phase 3: Media Analysis
This is the phase where the fun starts, and innovation happens.
More advanced brands are analyzing media and exploring new ways of measuring media effectiveness, impact, and exposure. They go beyond "measuring media impressions" to quantify their work with storytelling and traditional media relations.
They are also using media monitoring platforms to pull coverage. Still, they are exploring new ways to correlate media coverage with data from web analytics, social media, and other digital marketing initiatives.
They likely log into the platforms daily, talking with their account managers and reading reports to find media insights. In some cases, they may be using earned media value to calculate the impact of their PR programs. I don't recommend this.
Phase 4: Media Intelligence
As brands become more sophisticated in using data to inform media relations, they will do more comprehensive media analyses of industries and topics to uncover hidden narratives. This is a form of media intelligence.
Some brands will analyze specific business media outlets like Forbes, Fortune, or Bloomberg individually to understand the impact each one has when they write about particular topics relevant to the brand.
Most of the companies in this phase have PR teams driven by data. They are consistently trying to innovate, find new vendors, and leverage internal and external data sources to quantify the value of media measurement.
---
Related Content