Sophisticated brands are innovating how they tell stories by building an employee advocacy program. The traditional methods don't work as effectively as they used to, so brands must think about new ways to build thought leadership. They do so by unleashing employees to participate in industry conversations and be brand storytellers. This approach is also referred to as employee advocacy.
What is Employee Advocacy?
The definition of employee advocacy is pretty simple. Employee advocacy is operationalizing how content is delivered to employees to share on their social media channels and engage with external stakeholders.
And they are doing this for many reasons – to find new audiences, extend the reach of organic content and humanize their brand. Many industry pundits call this "employee advocacy" or "social selling." I call it participation marketing, and the reason makes sense.
Employees tell better stories than you do. As a marketer, you must learn to tap into this opportunity if your brand is relevant. Employees have no hidden agenda. They are authentic, and their peers trust them, so it makes sense to provide content for employees.
But don't take my word for it. For years, research and data have proven this point, and it couldn't be more true today:
Peer recommendations = business value. Read this from Boston Consulting Group.
Technologists and buyers use LinkedIn and Twitter as their "go-to" platforms. It's true. Do a quick search on Twitter or LinkedIn for topics like "digital transformation" or "future of work," and you'll find technology and business-related content. The B2B sales funnel is ripe for engagement.
Brands are investing in employee advocacy. Altimeter published this a few years ago says so.
While these data points may convince you to start, building employee advocacy programs just because your competitors are doing so isn't smart. First, your culture must be ready, and then you must ensure brand alignment with your employee-driven content strategy.
Employee-Driven Content Strategy
Unfortunately (or fortunately), you can't use artificial intelligence to activate your employee programs. Automation is not the right approach either. The last thing you want is for employees to be robotic and tweet/share everything you ask them to, verbatim. The balance will be critical.
You want your employees to find their voice, establish a tone and build their narrative. They should be able to talk and write about anything they want. If and when they decide to talk about the company, you'll want to ensure they have a general understanding of the brand's value proposition. They should also understand the best practices and rules of engagement for using social media.
The following model can help align content for your employees that will compliment your brand narrative:
The foundation of any employee advocacy strategy or influencer marketing program should be informed by social media data, specifically audience intelligence. The data should uncover a "winnable moment" and give editorial direction to a story. Whitespace could be a nugget of information, or it could be that spark where you uncover that universal "moment of truth"—a message or narrative that no one else in the market owns, like a tagline, manifesto, brand narrative, or internal "rallying cry" to motivate your employees. Quite simply, it's the north star to which you'll align your employees when they tell their own stories online.
This framework is one of many ways to build your employee content strategy. I prefer simplicity, whereby:
Your employees are the hero of the story. These are stories all about your employees. Their opinions and insights about a topic are the north star in everything they write, share and discuss.
Your employees are characters in a broader story. These stories are usually about someone else, like a customer, partner, or community member. The narrative is positioned as the business value they receive from using your technology or partnering with your company.
Your employees comment on non-branded stories. These stories are focused solely on industry-specific topics or sharing employee stories.
One of the most important things to remember is that employee-driven stories must be integrated with brand content and amplified through paid, earned, and owned media channels. This approach will help with the decline of the organic reach of your B2B social media marketing program.
Using Employee Advocacy Programs as a Media Channel
The 1:9:90 influencer model can be applied to social participation in employee brand advocacy. But, first, you should consider how employees participate in programs and how content spreads into the digital ecosystem. Here's how it works: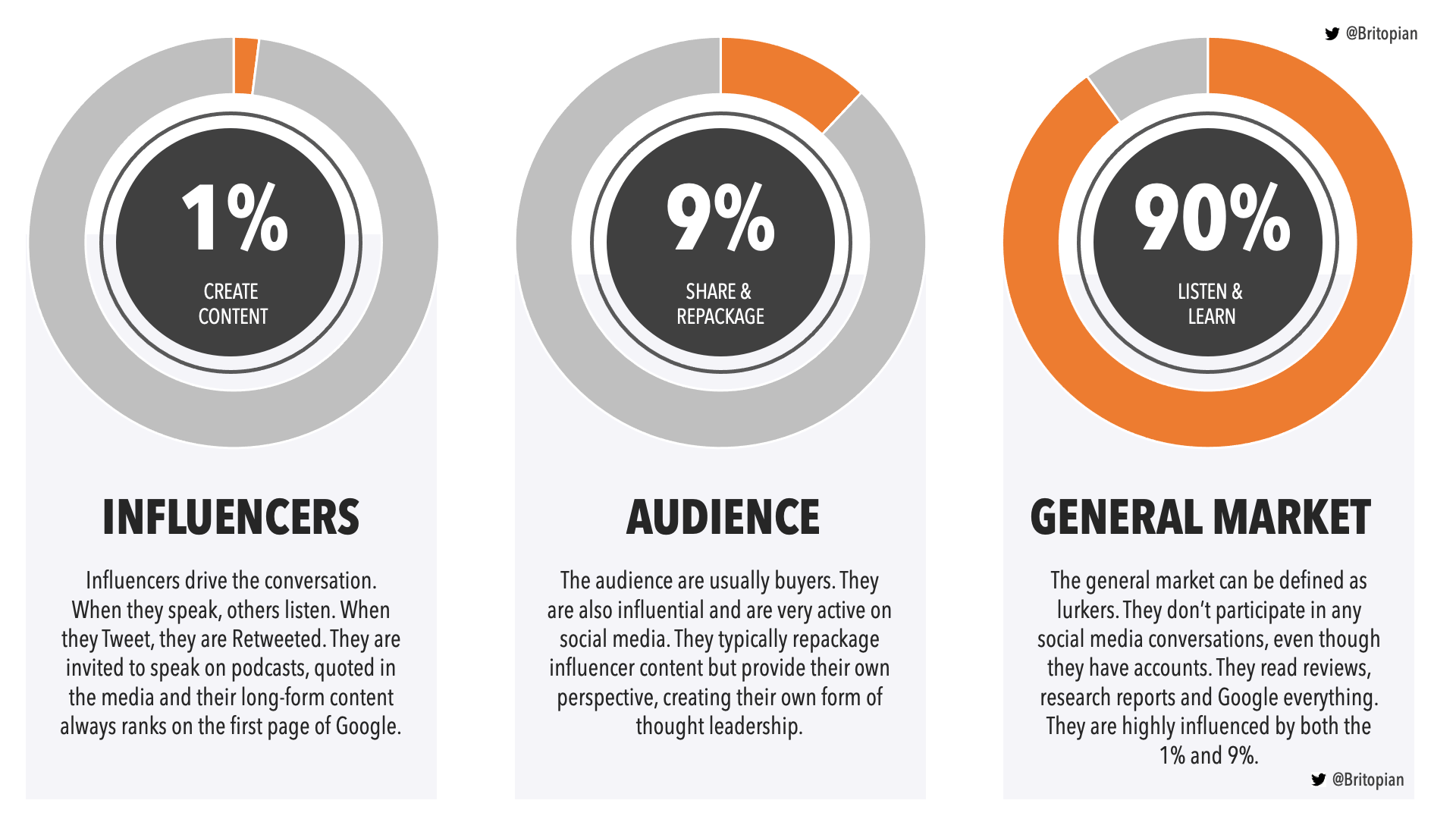 The 1%: These are the top influencers, the opinion leaders, and the content creators. They essentially move the market when they speak, write, tweet, or publish about anything. They're journalists, academics, and influencers; some work right alongside you.
These are your brand storytellers. The internal 1% are most likely creating content already, and it's not just the c-suite. It's the subject matter experts, product managers, data scientists, or anyone with proficiency in writing and social media.
The 9%: Industry enthusiasts who share, comment, and recommend social media. They aren't shy about sharing their opinions. The majority of your employees fit into this category. They promote others and their content.
Not all of your employees will be active storytellers, and that's okay. For example, internal salespeople, technical consultants, and other employees may not create loads of content, but they will have no problem giving their two cents and sharing it with the world.
The 90%: Most social media users are quiet but learn and consume content daily. They rely heavily on word-of-mouth, and they Google everything.
This is the majority of your employees. Most employees will not actively create and share content even if you have a thriving company culture. You have to be okay with that. It's the nature and law of participation. 
How to Measure Employee Advocacy Programs
Yes, an increase in friends, fans, and followers is significant. And nothing beats a PowerPoint slide showcasing exponential increases in likes, comments, shares, and clicks. But, vanity metrics only take you so far. The harsh reality is that Chief Marketing Officers now hold their marketing and PR teams accountable for quantifying their budget investment in social media programs.
You can deliver business impact by focusing on content developed by influential sources (like employees) and meeting decision-makers at the right place, at the right time, and in the right channel. Here are some key business drivers that showcase employees' contribution to social marketing programs:
Brand awareness: It's a soft metric, yes. And far removed from a sales transaction but necessary before any deal can be made. It's also well understood. Telling brand stories on social media is a cost-effective means to increase brand awareness in a crowded marketplace.
Customer education: A stellar employee brand advocacy program can steer customers in the right direction and help close the sale or maintain loyalty.
Word-of-mouth: More than 80% of people on the internet seek recommendations and spend hours researching products before making a purchase decision. Innovative employee brand advocacy programs will intercept consumers as they enter the Zero Moment of Truth (ZMOT) through content creation and engagement.
Search engine visibility: Content posted to social channels can improve search rankings through keyword focus, links, and engagement level. Videos and images can also make you easier to find. The B2B purchase process always begins with an unbranded keyword search―matching what your customers are searching for is table stakes. This is vital when creating an employee-driven content strategy.
Sales: A strategic "social selling" campaign is a valuable concept. Still, sales teams must leverage personal social channels authentically with content that delivers value. Adding great content with a clear call to action, trackable links, and a streamlined landing page can be a powerful way to close a deal.
Employee advocacy programs deliver value externally and specifically to marketing and communications teams. But that's just scratching the surface. Employee engagement has internal benefits that result in a motivated workforce that can truly deliver on the Holy Grail of business, and help deliver your digital transformation strategy.
Employee Advocacy Also Increases Organic Reach
Facebook, Twitter, and LinkedIn have changed their newsfeed algorithms for years. And brands are investing more and more to reach audiences that have already opted in to receive their content. Why? Organic reach is gone. You know this to be true if you own or manage any channel.
I have personally tested content shared by employees and found 10 – 15% more engagement and reach than the same content shared on branded channels. Other third-party data suggests the same. For example, a report published by MSLGroup (in partnership with Forrester, Forbes, and Dynamic Signal) found that brand messages garnered 561% more impressions when employees share the same content shared just by branded channels. They also found that branded content is shared 24x more frequently when distributed and shared by employees.
One final note. Employee advocacy isn't that magic pill to solve all your business problems. It's a strategic decision that must be thought through and implemented with laser-focused precision. The result is that you will reach new audiences, influence others down and through the purchase funnel, and drive employee engagement simultaneously. Companies that use employee advocacy are more trusted by their customers and typically enjoy a higher retention rate with their employees. Many marketers use an innovative methodology, Maslow's Hierarchy Of Needs Employee Engagement, which can serve as a blueprint for operationalizing employee advocacy within the organization.
Some innovative companies are integrating their employee advocacy programs with their influencer initiatives. Using overall tech thought leadership, it makes sense to think about trust and influence in the B2B buyer's journey.
Employee Advocacy Programs: Integration with B2B Influencer Marketing
Sprout Social recently published some data about B2B employee advocacy programs outweighing influencer marketing from a budget and value perspective in their 2018 Sprout Social Index. Here are a few data points that caught my attention:
71% of social media marketers are leveraging employees as influencers or want to in the future, while only 19% of marketers surveyed had any budget for influencer marketing programs.
61% of consumers said they would be more likely to research a product or service that a friend recommends on social media, compared with 36% for influencers or celebrities.
The index also surveyed marketers' goals for 2018. I was a little surprised at the below graph (I recreated it because I'm weird like that) due to the lack of ROI-driven goals. I was also sad that only 15%  of marketers wanted to grow their influencer marketing programs. I don't see how they can influence the B2B buyer journey.
Here's my take. 
If you know me even a little, you know that I am a massive advocate of B2B employee advocacy programs and even wrote a book about it. Not only can employees be trusted brand storytellers and distribute content all over the internet, but the internal and cultural benefits are really what can drive real business value.
I think there is a strong link between employee advocacy and influencer marketing, especially in B2B environments. They should not be managed in a silo. A successful B2B employee advocacy program can be categorized into three components–people, process, and platforms:
People: Who are the employee advocates, and how will they be identified, trained, etc.?
Process: What are the processes for training, content distribution, crisis, etc.?
Platforms: What technology applications will use to make employee sharing easy?
Within the context of people, a diverse set of employees should be identified and trained to ensure that the content created and shared reaches and engages with the right audience.
Engagement in this context involves several external stakeholder groups–customers, channel partners, the media, and influencers. Therefore, a sophisticated employee advocacy program should be built in a way that connects employees and customers to influencers and vice versa. This model would be vital for a brand advocacy program.
For example:
An influencer writes an article about Blockchain and its effect on the U.S economy. An employee (subject matter expert or executive) is notified, shares the content, and hopefully engages in some level of dialogue. This can be the building blocks of a relationship, or perhaps all they do is share each other's content. I see this happening all the time.
Someone in the media Googles something like, "latest on artificial intelligence and Blockchain in 2018." And it happens that your CTO recently wrote a blog post or byline that touches on that subject. So the journalist finds it on Google and reaches out for an interview.
Hundreds of other examples of different connection points between employees and influencers exist. The reality is that the media, influencers, and analysts don't love talking to PR people or marketers. They want to speak to those building products on the front lines of technology and innovation. They want to talk to employees.
Influencer marketing is just as important as employee advocacy, social media, lead gen, public relations, and other ways B2B brands try to reach their customers. Here's a list of employee engagement influencers in case you're interested.
That 15% needs to go up.
Learning about employee programs should not be taken lightly. It's one of those public relations skills you won't learn in college, but you'll be managing these programs in the workforce.
Social Media Employee Advocacy Tools
There are several social media employee advocacy tools on the market today. However, there have been some acquisitions recently, so the market is shrinking.
Dynamic Signal is one of the market's most powerful employee advocacy tools today. They recently acquired Social Chorus in 2021. They also changed their name to FirstUp. LinkedIn launched an employee advocacy platform a few years ago, but it didn't last. So they sun-setted the platform also in 2021.
There are a few smaller players in the market–PostBeyond, Bambu by Sprout Social, and EveryoneSocial, to name a few.
In my opinion, the best employee advocacy platforms are the ones that can help you scale quickly and innovate their software as the market demands. Employee advocacy best practices involve innovative technology to scale and operationalize programs with whichever platform you decide.
---
It's not good practice to manage employee advocacy programs in a silo. Instead, ensuring that your program is fully integrated into your larger B2B social media marketing plan is better.