We just finished up a media and influencer analysis of the cloud security market as a part of a data series we are doing at Zeno. As I was mining the data to see which media outlets were leading the coverage in 2018, I started thinking about the security vendors in the space to better understand their overall contribution to the cloud security narrative.
Sadly the formula and algorithm for the CASB Gartner Magic Quadrant 2018 isn't published. What we do know is that vendors are stack ranked and plotted by a team of analysts at Gartner. I hesitate asking this but I wonder if it would make sense to analyze the narratives of these vendors as a part of the scoring. A narrative is a future state and could be symbolic of vision.
I could have taken the easy way out with a basic share of conversation analysis of the top security vendors mentioned in the CASB Gartner Magic Quadrant 2018 report (see below), cross-reference that list with media mentions and created a fancy pie chart with bolded percentages. But that would have been too easy and not very valuable. Besides, share of conversation is a reflection on good or bad media relations among other factors–in my opinion. It also doesn't represent any focused effort to building brand relevance in the space.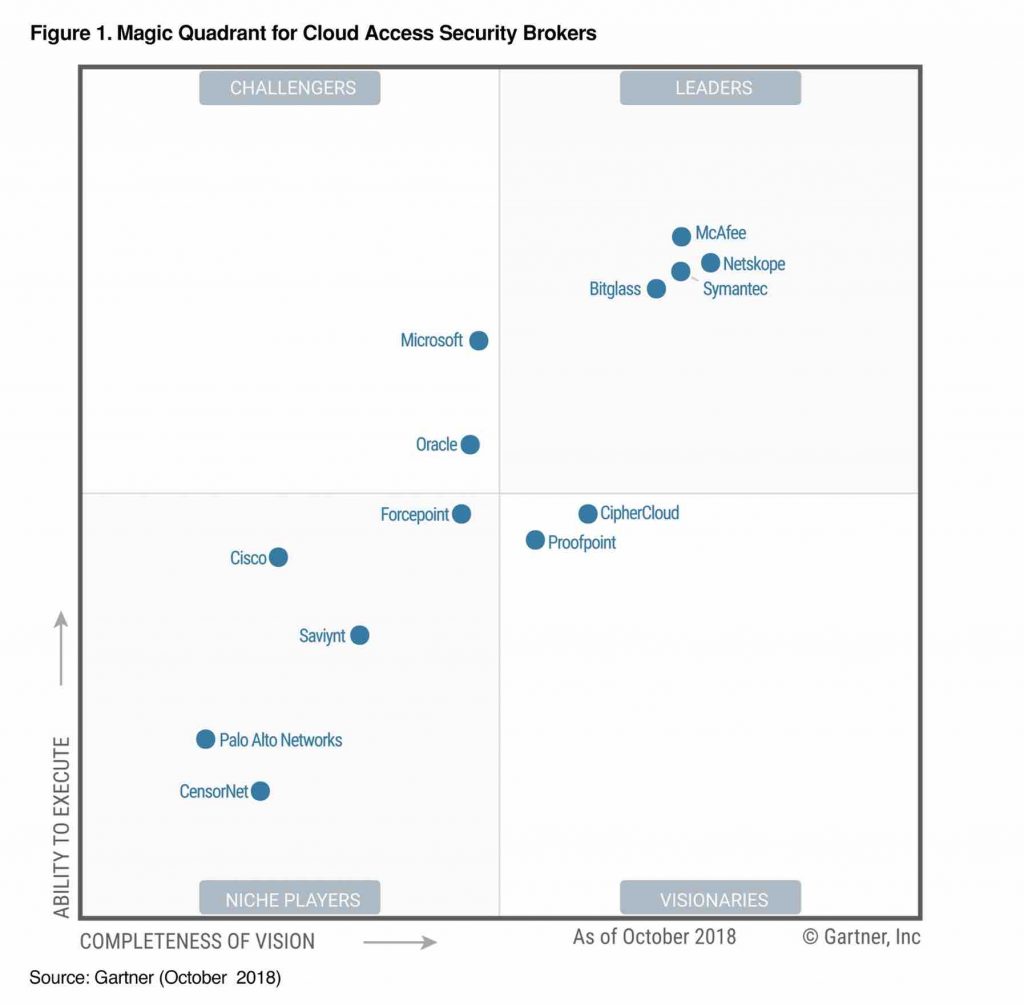 Instead, I wanted to look at the data through the lens of owned media since all brands have 100% complete control over what they publish on the internet. And this is the most powerful element of brand storytelling–again, my opinion. Owned content has a shelf life of pretty much, forever. It also allows brands to own their narrative and help fill in the gaps when the media doesn't tell the larger story.
The data below represents the total pieces of long-form content published in 2018 on each of the vendor websites that organically appeared in the data set, without any filtering. This included blogs, newsrooms, forums, white papers, eBooks, case studies, you name it. Content that doesn't mention cloud security or related keywords (CASB, web application firewalls, etc.) and the CASB Gartner Magic Quadrant 2018 are not included in the below data set.
I cross referenced the total articles published on each of the vendor websites with total interactions. In this case, an interaction is a social action (like, comment, share, retweet of the content), comments in forums like Reddit and 3rd party inbound links (which is a critical component of achieving high rankings in the Google search results).
Additionally, what you see here are some pretty large Fortune 500 companies and a few smaller challenger brands. And, sadly some vendors mentioned in the Quadrant aren't publishing owned content at all, or if they are, it's not very engaging or being shared on the social web.
So what does this all mean? Well, a lot. But I'll try to sum up my thoughts quickly:
Create a narrative. A universal truth, a story. One that is different than the others. Rally behind it, get your employees behind it. Make sure the media and analyst community are aware. If done right, your competitors will certainly be.
Distribution. Put some paid media behind your long-form content. Use paid search, paid social and test content distribution platforms like Taboola. Optimize your content for organic search. Unleash employees and executives to be brand storytellers. Use platforms like Dynamic Signal to fuel the employee-driven content engine.
Be agile. Create an agile content strategy. Listen to real-time conversations, in  … well, real-time. Monitor the media, influencers, your customers, prospects, competitors and be prepared to engage quickly. This means having an analyst, content person, creative, media buyer, and of course, a platform (I personally ❤️ Brandwatch). Essentially, build a newsroom. Easier said than done but it's a great goal to aspire to.
Data. The above is just one data point. It's directional and further analysis should be included. Look at the media, your coverage, your audience (this should be your first step), influencers, web analytics, what's converting, driving leads, engagement. All of that and more. Heck, even primary research is even good in some cases.
Another way to think about this is to analyze the top journalists who are writing about cloud security and analyze their coverage in order to uncover their hidden narratives.