A brand's public reputation and messaging depend greatly on the strategic leadership of its Director of Public Relations. This critical role goes far beyond publicity – it is responsible for managing perceptions and telling compelling brand stories across channels.
PR Directors play a pivotal leadership role in driving communications and narratives. As the communicator-in-chief, PR Directors oversee campaigns, counsel executives, manage crises, and align strategies across departments.
Developing high-level strategic plans is a core duty, spanning short-term campaigns to long-term blueprints. PR Directors research target audiences and create integrated plans addressing pain points grounded in data-driven insights.
Flawless execution requires assembling the best internal and external teams to bring plans to life. PR Directors manage workloads, provide coaching, clarify roles, and cultivate positive agency relationships to optimize collaboration.
Earned media remains essential, but public relations also demands holistic strategies across PESO. PR Directors identify and engage personas however they consume content.
Using technology, PR Directors must embrace analytics to extract data-driven insights that inform strategies and prove impact. But metrics should enhance, not limit, creativity.
Download the Public Relations Director Job Description (Google Docs)
See Public Relations Director Salary information below
An effective PR Director develops integrated campaigns aligned to overarching business goals. They oversee consistent narration that resonates with target audiences. From proactive media relations to reactive crisis management, the PR Director plays a pivotal role.
Directors today must master both creative storytelling and data-driven decision-making. This demands a big-picture view of the brand's objectives and an ability to ideate, execute, and iterate dynamic PR strategies. The PR Director should sit at the leadership table, informing and influencing the C-suite.
PR Director's Core Responsibilities
Developing Strategic PR Plans Aligned with Business Goals
A primary duty of a Public Relations Director is developing integrated strategic plans that align to overarching business goals. This means understanding objectives across marketing, communications, and the C-suite to ideate campaigns that support broader growth.
Strategic plans outline target audiences, key narratives, communications calendars, and KPIs. PR Directors research personas and create strategies addressing pain points. Plans must have creative concepts but be grounded in data. They require big-picture thinking but tactical details. Plans may be long-term blueprints or campaign-specific.
Leading Integrated PR Campaigns Across Channels
PR today demands a thorough understanding of the PESO Model Public Relations strategy to ensure campaign integration across paid, earned, owned, and shared media. Directors oversee seamless coordination across content, social, executive communications, events, etc. This requires understanding each channel's strengths and its role in narratives.
Campaign leadership means assembling internal and external teams to execute. PR Directors manage timelines, budgets, workloads, and approvals. They ensure components synthesize towards objectives. Their production oversight and attention to detail bring plans to life.
Managing Media Relations and Securing High-Impact Earned Media
Earned media remains a cornerstone of public relations. PR Directors must focus on developing media relationships and securing strategic placements that align with brand goals. The independent validation from earned media lends credibility.
To achieve results, PR Directors identify and target writers at outlets that allow them to reach key demographics. They constantly assess campaign performance and optimize efforts based on the latest insights. In today's media landscape, PR Directors must use smart media strategies and focus on impact over vanity metrics. Experienced leaders also evolve their earned media examples to adapt to new trends.
Communicating Effectively with Leadership and Executives
PR Directors must keep leadership and executives informed. They prepare briefings, reports, and presentations for C-suite visibility on campaigns, media narratives, and reputation management.
Directors need the trust of leadership to have a seat at the strategy table. They advise executives on best practices for visibility and coach them for public communications. Concise updates on PR activities are essential.
Success requires understanding the nuances of each leader's style and preferences. Tailor communications accordingly but stay consistent on strategy. Listen closely to interpret concerns. Proactively flag any potential reputation issues.
Overseeing Crisis and Reputation Management
When facing PR challenges, Directors coordinate responses. They enact crisis plans addressing the situation while minimizing business disruptions.
Quick judgment calls are required to assemble response teams internally and externally. Timeliness is critical. PR Directors determine appropriate reactions, balancing transparency with discretion.
Ongoing reputation management also falls under the PR function. Monitor media narratives and sentiment routinely. Have plans ready for potential scenarios. Build goodwill through community initiatives and public engagement.
Crisis response and reputation management require resilience and strategic thinking under pressure. PR Directors must eliminate drama and rely on preparation to guide organizations through challenges.
Measuring Campaigns and Optimizing Based on Data Insights
PR Directors rely heavily on data analytics to optimize activities. They regularly monitor metrics across owned media, earned, and social channels to assemble key performance insights. Media impressions, share of voice, reach, engagement levels, sentiment analysis, and more provide intelligence.
With these insights, PR Directors can translate the data into strategic actions. Tools like Cision, Meltwater, and Muck Rack assist by consolidating analytics into easy-to-digest dashboards. PR Directors use these tools to identify opportunities to justify strategy changes, course correct messaging approaches that are missing the mark, or shift investments between platforms.
Most importantly, experienced PR Directors understand success measurement is more than vanity metrics. They strive to take a comprehensive, nuanced view of how their brand narratives resonate with target demographics. This allows them to constantly tweak and optimize campaigns on the fly, eliminating wasteful tactics that aren't moving the needle while enhancing efforts that drive results. PR Directors must balance hard data and benchmarks with real-world observations and instinct to drive impact.
Building Strong Teams and Agency Relationships
PR Directors assemble talent internally and externally to execute strategic plans. They recruit specialists, nurture team culture, and clarify roles. Directors manage workloads, provide feedback, and mentor junior staff.
They also cultivate positive agency relationships. PR Directors must also identify partner strengths to complement internal capacity. They maintain alignment on objectives. Collaboration, flexibility, and data sharing are encouraged.
Additional Considerations
Here are rewrites of those two sections with a mix of sentence lengths and transitions:
Importance of Ethics, Transparency, and Diversity/Inclusion
Public Relations Directors must operate with integrity. Ethical standards build trust in communications. Transparent processes also combat skepticism of PR tactics.
Messaging is expected to be fair, accurate, and honest. PR strategies should reflect corporate values and commitments to diversity and inclusion. Experienced PR Directors avoid spin or exaggeration when conveying information.
Promoting causes larger than profits can also connect with increasingly socially conscious audiences. Purpose-driven initiatives demonstrate corporate character. Overall, PR Directors keep organizations grounded in ethics through their leadership.
Leading with Creativity and Strategic Thinking
Forward-thinking PR leadership requires an optimal blend of creativity and strategy. PR Directors must have the vision to see around corners and anticipate challenges. But they also need pragmatism to drive efficient execution.
Unique storytelling approaches, unconventional earned media tactics, and breakthrough campaign ideas often stem from imagination. However, these creative concepts require a thorough strategic analysis of potential impact and ROI before implementation. Savvy PR Directors can seamlessly blend innovative thinking with practical, real-world implementation.
The key is finding a balance where data informs but does not limit creativity. PR Directors should let data steer overarching strategy while giving their teams latitude to brainstorm out-of-the-box ideas. Fostering a culture where creative risks are welcomed but then refined based on strategic insights is crucial.
Using Data or Collaborating with Analytics Teams
Smart PR Directors aim to make data-driven decisions but cannot do it alone. Effective Directors collaborate closely with analytics teams to extract strategic insights from campaign metrics and trends.
Analysts on their teams gather data, run models, and synthesize key findings. Directors of Public Relations then interpret these learnings into practical actions and optimizations. Technology enables better tracking, but human judgment is still required to determine how analytics should strategically guide plans.
PR Directors use dashboards to monitor indicators but avoid getting lost in the data. They know not to rely on metrics without input from real-world observations solely. The best leaders find the optimal balance where analytics and instinct work together to inform strategy, priorities, and resource allocation.
Public Relations Director Salary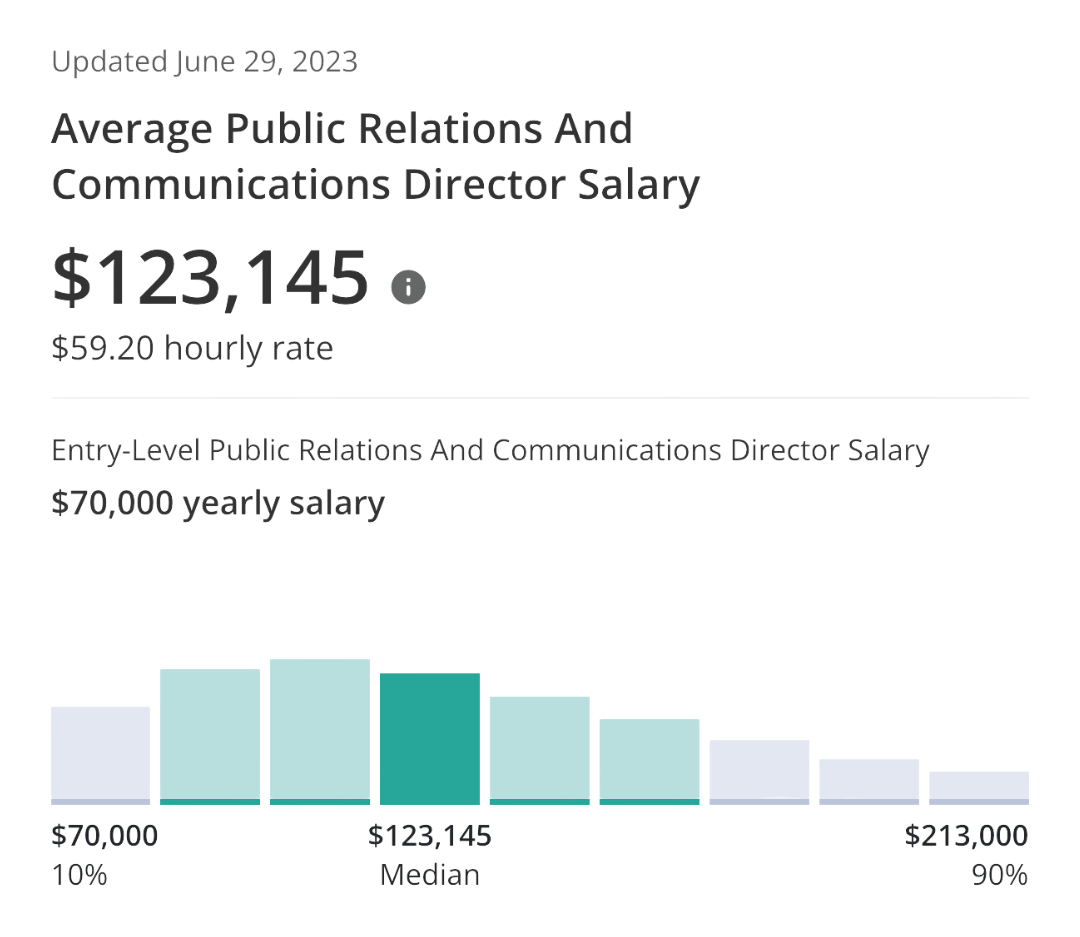 According to Zippia, the average national salary for a Public Relations Director in the US is $123,027 annually. The salary range typically falls between $79,000 at the 25th percentile and goes up to $183,000 at the 75th percentile.
The highest-paid PR Directors make $239,000 annually. The location also impacts pay, with major cities like New York and Los Angeles providing the highest salaries. Experience level also plays a major role, with top earners having over 20 years in the field.
Bonuses can account for 10-20% of compensation for PR Directors who meet or exceed goals. Benefits like equity incentives and profit sharing may increase total earnings, especially in public companies.
Source: Zippia.com
In-House PR or PR Agencies?
It's important to note that PR Directors at companies and PR Directors at agencies are often not equivalent in experience level. In-house PR Directors typically have 10, 15, or even 20+ years of experience before assuming the role. They are seasoned executives who have mastered communications strategies.
On the agency side, PR Directors may ascend to that title much faster, sometimes with only 6-7 years of experience. Agencies focus on client billable hours and new business development so that young talent can get promoted quicker based on those metrics versus overall strategic expertise.
So, while the PR Director title is the same, candidates from corporate roles usually have significantly more overall knowledge and qualifications than those from PR agencies. It's critical for hiring managers to assess experience levels thoroughly when evaluating PR Director candidates for in-house leadership positions.
Final Thoughts
The Key Role a PR Director Plays in a Brand's Success
An organization's public image, strategic communications, and reputation management depend directly on the leadership of its PR Director. Their ability to do everything from developing data-driven campaigns to securing impactful media coverage to counseling executives makes the PR Director role mission-critical.
While day-to-day responsibilities are diverse, the most successful PR Directors share traits like creative thinking, business acumen, resilience under pressure, and the ability to inspire team excellence. They balance hard analytics with imagination and intuition to drive optimal outcomes.
To be influential, PR Directors must sit at the executive leadership table. They influence and align strategies across departments to support overarching organizational goals. As communication experts with their fingers on the pulse of public perceptions, today's PR Directors are more critical than ever.
To learn more about the wide range of specific responsibilities, required skills, and how to assess candidates for this multifaceted leadership role, download this comprehensive Public Relations Director Job Description below:
This document outlines core PR Director duties spanning campaign development, media relations, crisis management, and more. Whether you are looking to hire a new PR leader or refine an existing job description, this free resource provides an indispensable overview.
A key final note – smart Public Relations Directors must fully embrace data-driven decision-making and rigorous measurement. With today's tools, PR strategies can and should be informed by audience insights, competitive benchmarking, share of voice metrics, and campaign performance tracking. PR Directors who fail to analyze results and optimize activities continuously will struggle to prove their team's impact and value. T
he best PR leaders derive strategic insights from media monitoring, owned platform analytics, sentiment analysis, and more – allowing data to enhance creativity rather than hinder it. Leaning into this analytics mindset is crucial for any world-class Director of Public Relations.