Marketers must provide an omnichannel marketing experience because it has been proven to increase customer value, retention, and brand loyalty.
Why this matters:
Failure to implement an omnichannel experience can lead to losing competitive advantage, customer engagement, and brand visibility. The proliferation of digital channels makes providing a seamless experience across all touchpoints arduous.
By the numbers:
Customers who use multiple channels are 30% more valuable than those who use only one channel (HBR)
57% of shoppers use multiple channels to purchase, and 62% expect to use more channels in the future (Salesforce)
Retailers who provide a seamless omnichannel experience see a 91% higher increase in customer retention year-over-year than those who don't (Retail Systems Research)
Companies with strong omnichannel customer engagement strategies retain 89% of their customers, compared to 33% for companies with weak omnichannel strategies (Aberdeen Group)
45% of consumers are willing to pay a higher price for a product with a better shopping experience, including omnichannel capabilities (Deloitte)
A Story: Omnichannel Marketing Strategy
The best way to illustrate an integrated omnichannel marketing strategy is to give you an example of a customer journey.
Maria is the Head of Human Resources for a technology company in Silicon Valley. She uses multiple channels to connect with friends, family, and colleagues for business and personal reasons. She travels 3-4 times monthly and commutes to the office using Caltrain.
She uses one iPhone for both personal and business. She has two laptops, a desktop computer, and one iPad. As a busy executive, multitasking is her middle name.
She shops for everything online. She uses Amazon to shop for Christmas gifts, Birthday presents, tech gadgets, and things for her house. She gets her groceries delivered from Instacart, wine from In Good Taste, and eBay for random online purchases.
She'll stop by Target on the way home from work if she's running low on toilet paper or paper towels. But when it comes to clothes, she prefers brick-and-mortar shopping. She likes to touch and feel the clothes and see how they look. Her "go-to" shopping is in Santana Row and Valley Fair.

One day on the train, she overhears another passenger talking about the new Beats Fit Pro – True Wireless Noise Cancelling Earbuds. The conversation piques her interest because her Apple AirPods haven't been charging lately.
She gets off the train and notices a Beats Fit Pro billboard beside Starbucks, where she gets coffee in the morning. She walks in, and it just so happens that the man in front of her has a pair of Beats Fit Pro Earbuds on.
When she arrives at the office, she opens Chrome along with the 35 tabs she has opened and navigates to a Google search. She types in "Beats Fit Pro Review" and reads the latest reviews from different media outlets. Later in the day, as she scrolls through her Instagram feed, she sees Beats Fit Pro sponsored content. She clicks on it. She goes to Twitter and asks, "Does anyone have the new Beats Earpods?" The positive responses come rolling in.
Later that evening, she turns on her Roku and navigates to Hulu to catch up on the latest episode of Power. The first ad is, you guessed it, from Beats Fit Pro. She opens up Amazon and buys the white pair.
That was Maria's customer journey for a $200 pair of EarPods. Multiply this by a million, and you can see why adopting an omnichannel marketing strategy is critical.
Maria is the perfect example of an omnichannel customer. And her buying habits are not dissimilar to other customers in today's multichannel digital world. To reach Maria (and customers like her), brands need an omnichannel strategy connecting the customer experience.
What is Omnichannel Marketing?
Omnichannel is a marketing approach that provides customers with an integrated shopper journey, regardless of which channel they are shopping from.
If you work in sales, you might call this an omnichannel marketing strategy. If you work in marketing or PR, you call this integrated marketing. Whatever your preference, the traditional sales funnel you might have learned about in Business School is outdated. It's not linear, and it has never been. According to Harvard Business Review, consumers use multiple channels and devices on their purchase path.
An omnichannel marketing strategy should always be a priority. It's an approach that requires you to think beyond the traditional sales funnel and provide seamless experiences for your customers. This should include traditional advertising methods like TV, radio, and OTT, a retail customer experience, brick-and-mortar, and digital online channels like social media. Using multiple channels, you can reach more consumers, sell more products, generate more leads, and provide a seamless experience across every touchpoint.
Surround Sound Audiences Across the Customer Journey
The best way to describe this is to surround your audiences with consistent and repetitive messaging that aligns with your customer's unmet needs and reinforces brand value. This should be the focus of any marketing strategy.
I'm sure you've hummed the tune "Nationwide is on your side" at some point while bored. I know I have. It's hard to forget the catchy jingle. And Nationwide is a perfect example of a company that has successfully adopted an omnichannel marketing strategy.
Nationwide's TV commercials are aired during popular shows like The Voice and American Idol. But they don't just stop there. Nationwide also sponsors these shows, which gives them prime ad placement. They also have a robust social media presence, with paid and organic content on Facebook, Twitter, and Instagram. Their website is also optimized for search engine optimization (SEO). You should see their internal linking and URL structure.
Nationwide is a brand that has effectively immersed consumers with a memorable slogan and tone that lingers in our minds, especially when we don't want it to.
The keyword here is memorable. The only way to jog someone's memory is by repetition. The critical question you have to ask yourself is are you moving consumers down the path to purchase when they:
See a billboard driving up and down Highway 101
Scroll through their feeds and see sponsored posts
Google relevant keywords and scroll through the results
Read an article from Fortune, and your brand is mentioned
This may sound complicated, but it isn't. Omnichannel marketing ensures consistency across multiple paid, earned, shared, and owned media channels.
The other keyword in this definition is repetition. Several research studies prove that consumers must see or interact with the brand message three to five times before they take action. Taking action means purchasing, downloading, liking, commenting, and sharing. It can also mean behavior change over some time.
Too often, brands make the mistake of thinking that one big media push will do the trick and move the needle. It doesn't. You need a holistic omnichannel approach to reach your audiences across all media channels and with different digital formats–video, audio, text, photography, long-form, and short-form storytelling.
So, omnichannel marketing sounds cool. It sounds sophisticated and advanced. But at the end of the day, it's simply the integration of storytelling, content, audience segmentation, and marketing campaigns meant to reach users consistently and repeatedly.
Defining the Omnichannel Marketing Funnel
Successful omnichannel marketing is consistent, repetitive, and integrated storytelling across all marketing channels. It's about delivering a consistent experience and aiding your target audience through the purchase funnel with helpful content and creative campaigns.
Similar to a traditional sales funnel, an omnichannel marketing funnel has five key stages–awareness, interest, preference, purchase, and loyalty:
Building Brand Awareness With Omnichannel Marketing
In the awareness stage of the purchase funnel, you want to reach as many people as possible and make them aware of your brand, product, or service. The messaging should reinforce your brand position and communicate your brand value proposition. The goal is to build name recognition and get people interested in your offer. This is difficult to do for smaller brands with minimal budgets.
There are several ways to generate awareness using an omnichannel approach. Paid advertising (display ads, search, OTT), brand partnerships, public relations, and events are all effective ways to reach new audiences and generate awareness for your brand. Again, omnichannel marketing aims to meet consumers where they are in the sales funnel.
Creating Interest With Target Audiences
In the interest stage, you want to capture the attention of your target audience, remind them of who you are and keep them interested in your solutions. The key here is to provide relevant information that addresses customer needs and pain points. You can use many of the same digital marketing channels as you would in the awareness phase, but the messaging and delivery will be very different.
Specific digital channels will include SEO, content marketing (blogging, infographics, eBooks, webinars), lead capture forms, and social media. Successful omnichannel marketing will move audiences down the purchase funnel to the next phase, preference.
Generating a Preference For Your Brand
In the preference stage of the omnichannel marketing funnel, you want to create a preference for your brand over the competition. The best way to do this is by differentiating your brand and emphasizing your unique value. You can use the same marketing channels to generate preference, but repetition is key. Repetition equals believability.
Your messaging should focus on your brand's unique selling proposition (USP) and why customers should choose you over the competition. Customer testimonials, social proof, case studies, free trials, and demos are all effective ways to create a preference for your brand. But it doesn't stop there.
Purchase: The Moment of Truth for Customer Experience
The purchase stage is critical in the omnichannel marketing strategy funnel because it's the moment of truth. This is where customers decide whether to buy your product or service. The goal is to make it as easy for customers to buy from you as possible.
Omnichannel marketing provides a seamless customer experience that allows customers to conveniently purchase products or services from anywhere, at any time, on any device. For consumer brands, one way to make it easier for customers to buy from you is by offering multiple payment options. Customers should be able to pay with credit cards, debit cards, PayPal, Venmo, Apple Pay, Google Pay, Amazon Pay, etc.
For B2B brands, it's all about relationships, contract value, and the ability of a salesperson to close. The rubber meets the road in the purchase stage, and a good salesperson can close a deal.
Omnichannel Marketing: The Key is Customer Loyalty
In the customer loyalty stage of the omnichannel marketing funnel, the goal is to turn one-time buyers into lifelong fans, repeat customers, and brand advocates. The best way to do this is by providing outstanding customer success and creating a brand that customers can trust. You need to have a good product too.
There are several ways to generate brand loyalty using an omnichannel approach. It starts with customer success and building brand advocacy programs. You can also use social media and loyalty programs and build online communities where customers can interact with each other.
Omnichannel vs Multichannel Marketing
Omnichannel and multichannel marketing are often confused because they sound similar. And in some ways, they are. Both strategies seek to reach consumers across multiple channels. The difference is that omnichannel marketing provides a seamless experience for the customer, while multichannel marketing focuses on using various channels to get as many people as possible.
Omnichannel marketing is a holistic approach considering the customer's journey from beginning to end. It considers all the touchpoints along the way and how they influence each other. The goal is to provide a cohesive customer experience regardless of their channels.
Omnichannel marketing can get complicated and very expensive. It can get complex because you have to track all the digital channels in the ecosystem and understand how they're interconnected. You'll also have to invest in analytics and segment your audience because you need to know who you're targeting and what they want, then create your personalized digital assets.
It can be expensive because you need a team to execute your omnichannel marketing program. You'll also need large paid media budgets, marketing automation technology, and possibly a digital PR agency to help you with content production, measurement, analytics, etc.
Multichannel marketing, on the other hand, focuses on using multiple channels to cast the widest net possible. The goal is quantity over quality. This approach doesn't consider how the channels work together or how they influence each other. It's also much easier and less expensive to implement because you don't need as large of a team or budget. You can also avoid using more generic content because you're not targeting a well-defined audience.
Omnichannel Marketing Examples
There are endless examples of how brands have utilized an omnichannel approach, but below are three of my favorites:
Nike: You know, Nike. They are one of the largest shoe and apparel manufacturers globally. They have a brick-and-mortar retail store, an e-commerce site, and a mobile app. They also partner with Amazon and other retailers to sell their products. They spend millions on paid media and sponsor high-profile athletes and celebrities across all markets. They also have a huge social media community with several million followers.
These digital and retail channels work together to provide a seamless customer experience in how Nike tells their brand story. When you buy products on Nike online, in-store, or through their app, you'll see the same branding, consistent messaging, and product offerings regardless of which channel fuels your shopping experience.
Nike also does an excellent job of personalization at scale. They use customer data from all their channels to segment their audience and deliver relevant content and products. For example, if you purchase a pair of shoes on Nike's website, you'll see ads for similar products on your Facebook feed or Instagram stories.
Lululemon: Lululemon is another excellent example of an omnichannel retailer. They have brick-and-mortar stores, an e-commerce site, and a mobile app. They also have a very popular blog and social accounts where they share content related to health and wellness, product discounts, and tips to help achieve your fitness goals.
Like Nike, all their channels work together to provide a consistent experience no matter where you take your shopping experience.
Lululemon also does a great job of using digital channels to drive traffic to their brick-and-mortar stores. They often post store events on social media and invite users to join in-store.
Apple: Apple is the king of omnichannel marketing. I know this because I am an Apple fanboy. I refuse to use any other product. They have Apple Stores everywhere, making purchasing their products directly on their website convenient.
Apple is unique in controlling the entire customer experience from beginning to end. They have a closed digital ecosystem, design all their products, and operate all their retail stores. This gives them complete control over the customer experience, allowing them to provide consistent messaging and cross-channel promotion across the entire ecosystem.
Omnichannel Marketing for B2B, Tech, and SaaS Brands
In 2021, McKinsey released a study, B2B sales: Omnichannel Everywhere, Every Time, showing that B2B buyers use up to ten or more social media and online channels to interact with technology suppliers. This number has doubled since 2016.
The same study references five factors that B2B and technology brands go through when adopting an omnichannel approach. They move from a multichannel marketing model, where disparate channels exist, to a fully integrated omnichannel marketing strategy where everything is connected. These factors include customer-centricity, a holistic approach, proactive channel conflict management, strong digital foundations, and agile collaboration across all marketing functions.
Customer Centricity: A customer-centric approach is at the heart of any successful omnichannel strategy. It starts with understanding your customer's needs and pain points and then being 100% laser-focused on improving the customer experience everywhere. Most customer-centric brands have leaders that live and breathe this philosophy, making it an integral part of their DNA and business culture. It's who there are. They don't know anything different.
A Holistic Approach: Another critical factor in omnichannel marketing success is a holistic view of the shopping journey and all the touchpoints. This means understanding how each channel works, the UI, channel capabilities and demographics, advertising requirements, and functionality.
Pro-active Channel Conflict Management: To successfully execute in an omnichannel world, it's crucial brands think through a segmentation strategy that field salespeople, inbound sales, channel partners, and distributors can adopt to avoid conflict. This means that brands must collaborate both internally and externally to ensure success.
Strong Digital Foundations: To succeed with omnichannel marketing, you must have strong digital foundations. This requires investments in marketing technology and consistent alignment between sales/marketing and IT. This would enable tech brands to deliver innovation using advanced analytics and the latest marketing tools.
Agile Collaboration: Successful brands implement collaboration strategies across geographies and functional teams to streamline omnichannel marketing and operations to ensure that all the moving pieces work together cohesively. This includes hiring the right talent creating agile processes, and setting up cross-functional teams.
Omnichannel Planning Worksheet
Planning for omnichannel marketing is no easy task. Internally, you must collaborate with other marketing teams and regions to ensure consistency across the board. In larger companies, a dedicated team is usually responsible for cross-functionally planning across each disparate team. Sometimes they could be considered project managers because they follow up and help coordinate each function.
Below is an example of an omnichannel planning worksheet. It may look similar to a customer journey.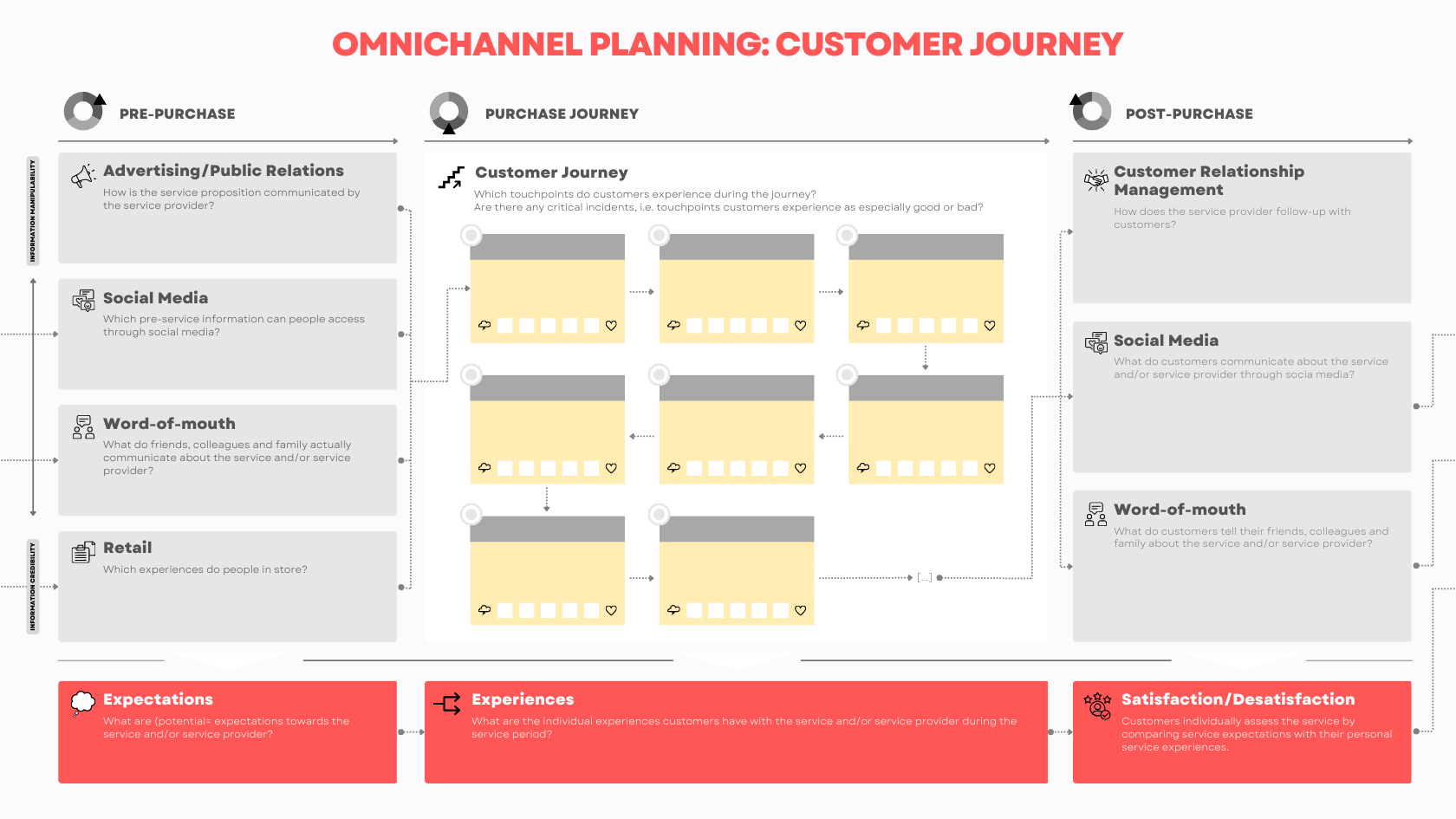 Omnichannel Marketing Trends for 2022
As we move into 2022 and 2023, there are a few critical omnichannel marketing trends to keep an eye on:
Voice Search & AI: With the democratization of voice assistants like Alexa and Siri, brands need to optimize their content for voice search. This means using natural language keywords and structuring your content so that voice assistants can understand. In addition, AI can personalize the customer experience and deliver targeted content across all channels.
Data-driven Marketing: To personalize the customer experience, brands need a 360-degree view of the customer. This means collecting customer data from all touchpoints along the customer journey and using it to create targeted marketing campaigns.
Experiential Marketing: Another trend we're seeing is the rise of experiential marketing. With so much competition online, brands are looking for new and innovative ways to connect with customers in person, especially now that the pandemic is slowly winding down.
Omnichannel Commerce: We're also shifting towards omnichannel commerce, the ability to purchase products and services through any channel. This includes traditional brick-and-mortar stores and digital marketing channels like websites and mobile apps.
The rise of social commerce: Social media is another big trend impacting omnichannel marketing. With the increase in social shopping and the popularity of platforms like Instagram, brands need to have a social media strategy. This should include creating engaging content, running ads, and using influencers to reach their target audience and sell products natively on each platform.
Omnichannel marketing is becoming increasingly important as customers shift their buying behavior to include more channels. By implementing the right strategies fueled with customer obsession, brands can connect with customers through any channel and deliver a personalized experience that will keep them coming back, buying more, and then telling their friends and family to do the same.