Ask any CMO if they are customer-obsessed, and the answer will always be a resounding yes. But the saying, "actions speak louder than words," could not be more true regarding customer obsession.
Why this matters:
Brands that prioritize customer obsession win. They innovate faster. Their products are direct manifestations of customer feedback. They put the voice of the customer ahead of all things in the business. Their revenue numbers, profit, NPS scores, and market leadership prove that.
At its core, being customer-obsessed means that your brand's marketing efforts are focused on creating and maintaining a deep connection with your target audience. It's about putting the customer first in everything you do and always considering their needs and wants.
It's no secret that the most successful brands strongly focus on their customers. Just think about some of the world's biggest and most well-known brands. Coca-Cola, Nike, and Apple-all customer-obsessed companies with epic products. And it's no coincidence that they lead in their respective markets.
What is Customer Obsession & Why is it Important for Brands?
Customer obsession is that inner voice that constantly asks, how can we make this experience more memorable for our customers? Customer obsession is the driver of innovation and continuous improvement and is the emotion that motivates us to work day in and day out to provide the best possible experience for every customer with every brand interaction.
Customer obsession wins every time.
Customer obsession is not a manifesto. It's not a set of brand values printed in an employee handbook. It's not a giant banner hanging in the company lobby. Customer obsession is a way of thinking, leading, and cultivating company culture to rally behind its number one brand asset–customers.
Customer-obsessed brands see the world through the lens of their customers and make decisions accordingly. Brands will always buy into the theory of customer obsession. But it's surprising and sad that just 8% of brands are customer-obsessed, according to Forrester.
In today's climate, the customer is always right, but not in the context you're thinking. Only customers know what they want, so your job is to understand and anticipate their needs and give them what they're asking for, even if they don't know it yet. Steve Jobs was the master at anticipating customer needs, as communicated in this quote from 1997, "A lot of times, people don't know what they want until you show it to them."
To stay relevant and top of mind, brands must embed the theory of customer obsession in everything they do, in and outside marketing, and make it actionable in every facet of the organization. This means you must obsess 24-7 and ensure that customer needs are met at every possible touchpoint.
The Benefits of Customer Obsession
Customer-obsessed brands experience four primary benefits: 1) deeper customer relationships, 2) increased brand loyalty, 3) referrals and positive social proof, and 4) customer retention.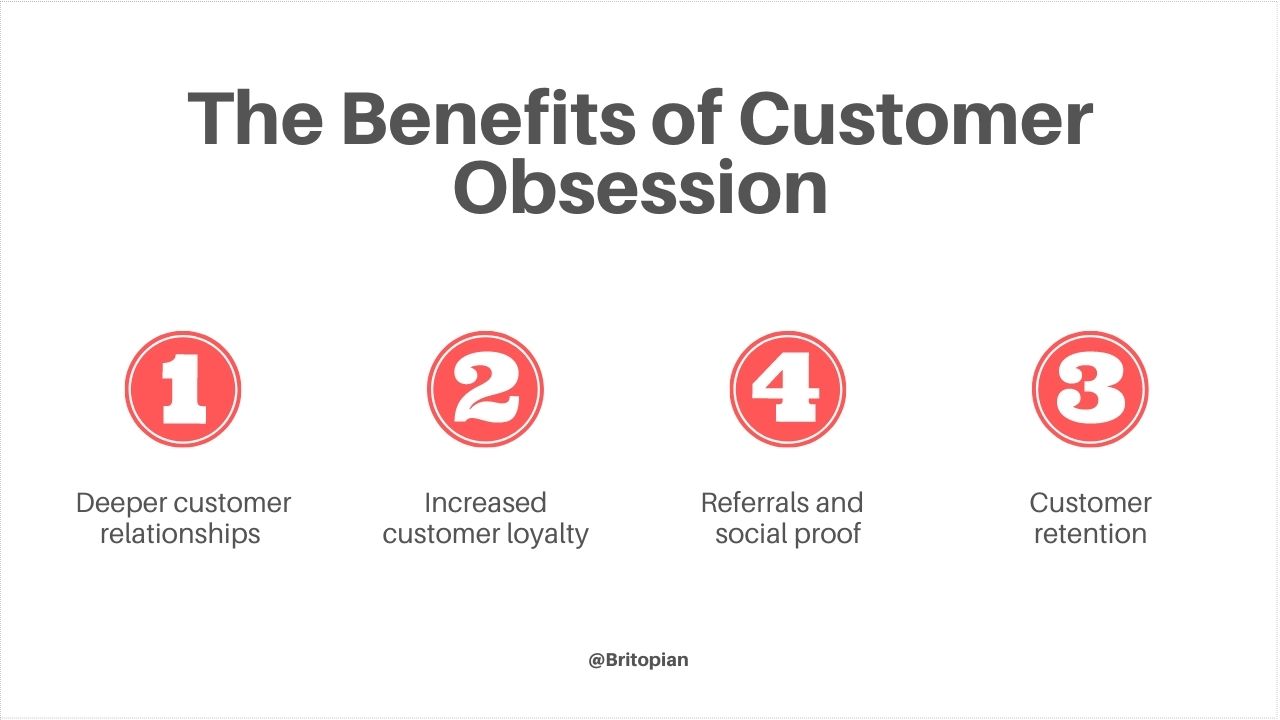 Deeper relationships with customers. The first benefit of customer obsession is developing deeper relationships with customers. When you focus on making the customer experience seamless and enjoyable, you build trust and credibility with them. They will remember the experience and tell others about it. A study by Bain & Company found that "80% of brands believe they deliver a strong and integrated digital experience, only 8% of their customers agree." This disconnect can be costly to any business, leading to customers taking their business to your competitors.
Developing deeper customer relationships based on trust and credibility is the key to bridging this gap. This can be done by ensuring that you are always putting the customer first, addressing their needs and wants, and delivering on your promises.
It has increased customer loyalty. The second benefit of customer obsession is increased brand loyalty. In today's hyper-sensitive and competitive world, consumers have so many choices that it can be challenging to get them to commit to one brand. But if you focus on making the digital experience exceptional, you will earn their trust and loyalty.
A study by American Express found that "33% of consumers would consider switching brands if they had a bad customer service experience." This shows that even if a customer is happy with a product or service, they won't hesitate to take their business elsewhere if they have a poor experience with customer service.
On the other hand, in the same study, Bain found that "loyalty has declined across nearly all industries in the past decade… Yet brands focused on delivering great customer experiences are bucking this trend: 86% say their customers are either extremely or very loyal."
Referrals and positive social proof. The third benefit of customer obsession is referrals and positive social proof. A more dated study by Nielsen found that "92% of consumers trust word-of-mouth and product recommendations from friends and family, above all other forms of media." This shows that customers are likelier to trust a recommendation from a friend or family member than trust an advertisement. Companies that operationalize and integrate brand ambassador programs into digital marketing immediately see positive social proof.
Customer retention. The fourth benefit is customer retention. In today's world, it is easier for customers to take their business elsewhere. But if you focus on solving customer issues quickly and efficiently, they are likelier to stick with you through the good and bad times. In a study by customer experience management (CXM) company Merkle, 73% of consumers say a consistent experience makes it more likely they will continue to do business with the same company. This shows that if you can provide a consistent experience, you will be more likely to retain customers.
The key to customer retention is to focus on personalized digital experiences. Ensure you always put the customer at the core of your digital marketing strategy, address their needs and wants, and deliver on your brand promise. Doing this will earn their trust and loyalty, leading to continued business.
How to Create a Customer-Obsessed Company Culture
If you want to create a customer-obsessed company culture, there are four key actions you need to take to make this happen.
Define what it means to be customer-obsessed. The first step is to define what it means to be customer-obsessed. This will help you develop a clear vision for your organization and ensure everyone is on the same page. This will include writing a brand narrative, brand values, and a company mission statement. The language should include why customer obsession matters to your business, how you cultivate customer feedback into your culture, and why all of your company stakeholders should care.
Once you have the language defined and approved by all leadership, you'll have to infuse it into all company communications–hiring materials, job descriptions, intranet, employee handbook, the metaverse, and other messaging and signage at company offices.
Train your employees on how to be customer-obsessed. This will ensure that all employees have the skills and knowledge necessary to provide an exceptional customer experience and understand why it's essential for their role at the company. Training will vary and type and format based on the type of company. For example, retailers will have different training than software companies.
Create systems that support a customer-obsessed culture. This will ensure that your organization is set up for success from the start. Customer obsession should be included in all the hiring material, including job descriptions, interview questions, and screening documents. It means that hiring managers and recruiting staff should be talking to candidates passionate about customer retention and focusing on integrated digital experiences.
You will also want to create a system for a consistent customer feedback loop to ensure that you are constantly collecting feedback and making it actionable. For example, this could be a customer panel you can poll regularly or an NPS survey sent out after each customer interaction. Or, it can include a more intimate experience by creating a customer advisory panel where you meet in person or on the phone.
Make sure that customer obsession is measured and rewarded. Customer obsession should be included in all employee performance reviews, with metrics that are tracked and reported regularly. This could include customer satisfaction scores, Net Promoter Scores, or customer churn rates. In addition, you will want to ensure that you reward employees for their efforts in creating a customer-obsessed culture. This could be through financial incentives, bonuses, extra PTO, or other perks and benefits.
Following these four steps, you can create a customer-obsessed culture within your company that will improve brand loyalty, long-term satisfaction, and customer advocacy.
Customer Obsession Starts With Data
On a tactical level, there are three tactics you can implement to get a better understanding of your customers: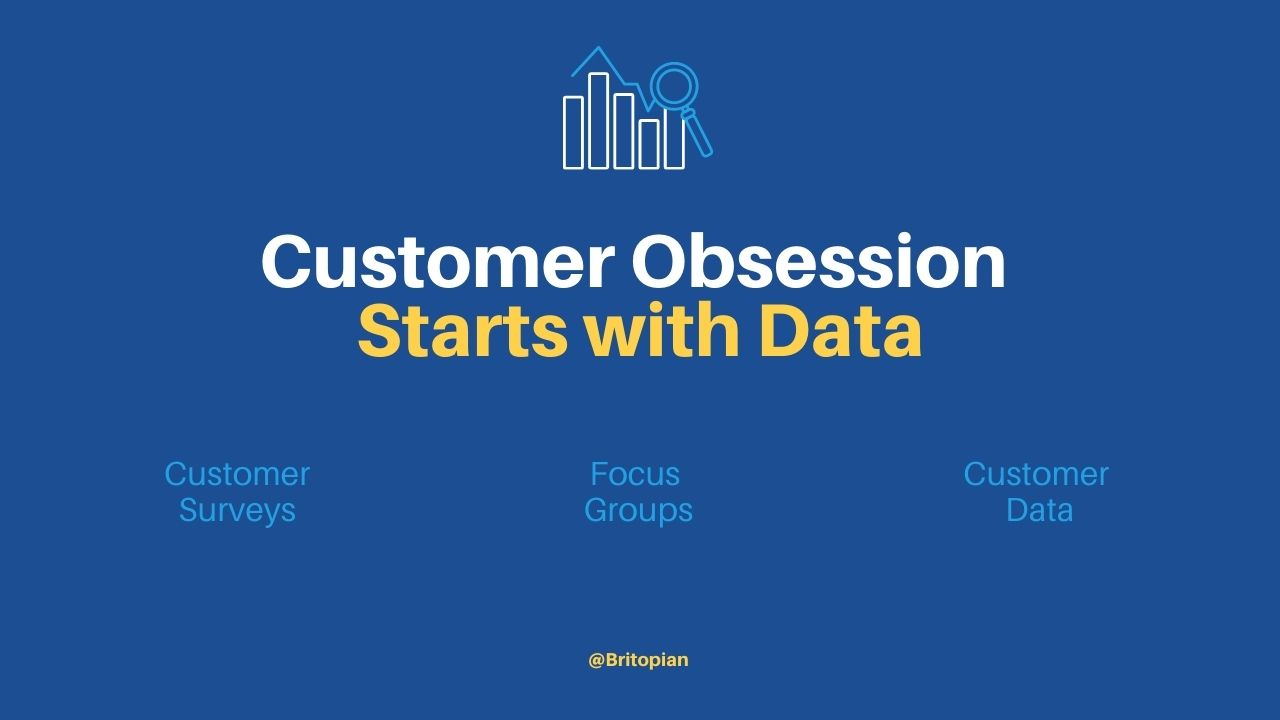 Customer surveys. This will help you collect feedback and insights on various topics, such as customer satisfaction, product/service usage, competitive analysis, and brand perception.
Focus Groups. While this may seem dated, focus groups or one-on-one customer interviews can provide insightful feedback to understand the motivations behind their responses.
Customer data. This will help you identify trends and patterns in customer behavior. The data can come from secondary research, web analytics, social metrics, or audience analytics.
Customer-obsessed companies are using tactics like this to ensure they are driven by insights that go above and beyond what their competition is doing. Recent CMO data proves that executives crave customer data to improve everything related to the experience.
Examples of Customer-Obsessed Brands
Some of the most customer-obsessed brands have built their entire business model around the customer experience. These companies have made it their mission to put the customer first in everything they do.
Zappos is a prime example of a company wholly focused on the customer's digital experience. The company was founded by Tony Hsieh to "provide the best customer service possible." This mission has translated into a company culture entirely focused on the customer. Zappos employees are empowered to do whatever it takes to make the customer happy, even if it means going above and beyond what is expected. Amazon acquired Zappos in 2009 for $1.2 billion, and the company has only continued to grow.
Another example of a customer-obsessed brand is Nordstroms. The high-end retailer is known for its exceptional customer service and has built its reputation on providing a luxury shopping experience. Nordstroms employees are trained to be customer service experts, and they are always available to help shoppers find what they are looking for. The company has also implemented several customer-centric policies, such as free shipping and returns, to make the shopping experience seamless.
These two companies have made customer obsession a part of their DNA. Putting the customer first in everything they do has created a loyal customer base and grown their business.
The Future of Customer Obsession
As the marketing world evolves, customer-centric strategies and programs will become even more critical. With the advent of new technologies, such as artificial intelligence and virtual reality, companies will need to find new ways to stand out from the competition and provide an exceptional customer experience
To stay ahead of the curve, companies must consider using these new technologies to improve the customer experience. For example, companies can use AI to personalize the digital experience or provide real-time customer support. VR can be used to create immersive and interactive experiences that will delight customers. And the metaverse for business opens up new marketing opportunities as the technology innovates and consumer adoption skyrockets.
Customer-obsessed companies are winning and doing so by wide margins. By putting the customer first, companies can create a loyal customer base and differentiate themselves from the competition. In the future, customer obsession will become even more critical as new technologies emerge. Companies that can use these technologies to improve the customer experience will be the ones that succeed.