It's almost 2023. We should all know this by now.
Social media is one of the most effective platforms for increasing brand awareness. Any brand can use social media sites like LinkedIn, Facebook, Twitter, and Instagram to interact directly with customers and prospects in a non-intrusive, open forum.
Why is this important:
Social media is where your customers spend their time. It's where they share product information, talk about the brand they love, and share their experiences with the world. Social media is where you need to build brand awareness for your brand, business, and products.
Social media is also used for direct marketing, allowing brands to drive sales and conversions.
The following are five ways how to drive brand awareness: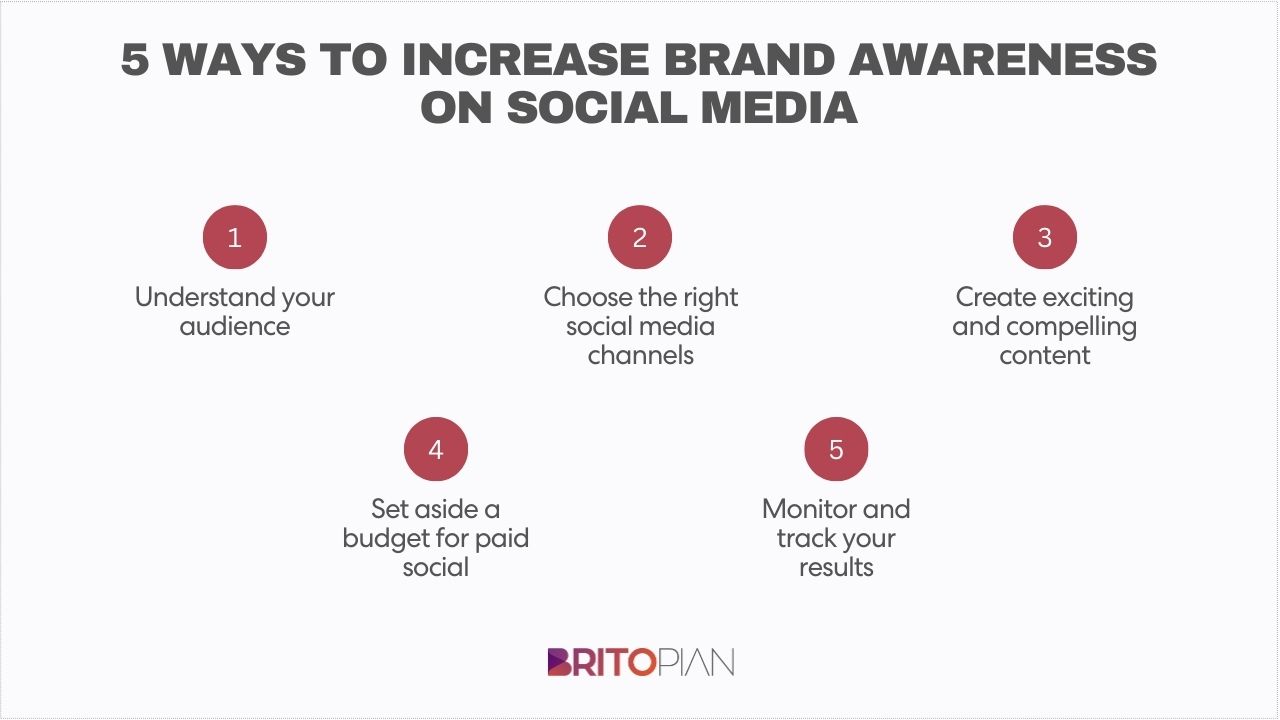 How to Increase Brand Awareness on Social Media
1. Understand your audience
So you understand your audience. Awesome! You know who they are and what they like/dislike, but how do you make them aware of your brand? For example, Millennials are often more challenging to reach because they aren't day-to-day focused on traditional marketing methods (e.g., watching TV or listening to AM radio). Instead, millennials are constantly multitasking, scrolling their feeds, and texting. They expect (and appreciate) immediate and direct responses every time they contact customer service.
The Gen Z audience is even more challenging, but that's a different blog post.
You may want to invest in audience analysis if you don't know much about your audience. This analysis will give you direct insight into the values, behaviors, topics, trends, and keywords they use daily.
2. Choose the right social media channels
The right social media platform can make a difference in increasing your brand awareness. Facebook allows you to target users based on specific demographics and interests, making it easier for brands to drive clicks, create engagement and increase awareness.
Many e-commerce brands have Facebook and Instagram storefronts to engage with customers directly. TikTok also just launched a live-stream shopping experience. Twitter is also an excellent brand platform because it is more conversational and doesn't require as much commitment as other platforms. Twitter is a perfect way to increase brand equity within the technology and B2B enterprise space.
3. Create exciting and compelling content
To increase brand awareness, you need to produce exciting and compelling content. You can't simply post a link to your website and call it a day. Instead, you need to create short-form content that will make people want to share it with friends and followers. This can be done by creating exciting infographics, videos, or articles about your brand.
Social media is about building relationships, so you must be an active community member. Post regularly and respond to people who make comments or ask questions. This level of engagement will help your followers develop a relationship with your brand and feel more inclined to like, share, and purchase from you.
It's also essential to post when your target audience is most likely to be online; this can vary depending on where and what time zone they're in. Creating shareable content needs to be front and center to increase social media brand awareness.
4. Set aside a budget for paid social
You can also use paid advertising on social media to increase brand awareness. This is a great way to target new followers who may not be familiar with your brand, products, or services yet and get them interested in your offer. Be sure to experiment with different ads, such as videos, images, carousels, and links, to determine which posts are most successful when driving traffic, engagement, or consideration for your products.
All social media platforms have several options for launching ads. While each has similarities, some platforms have unique ways to serve ads on their site and with partner networks. Also, they each have different ways to build and target audiences. Facebook has the most robust targeting available out of all the networks. For business audiences, LinkedIn leads the charge.
5. Monitor your results
It's essential to monitor your results to determine the most successful content—monitor how many likes, shares, and comments each post-receive. In addition, pay attention to how much time people spend reading or watching your posts. This information will help you determine what type of content works best for your brand to produce more of it in the future—also, monitor which platforms work best for you and adjust your posting strategy accordingly.
Social media is integral to any modern business and should be integrated throughout your digital marketing plan. It's smart to use social media to build awareness for your company, or your brand's products and services can directly translate into financial benefits, so you mustn't overlook the opportunity. Here are some tips on increasing brand awareness on social media channels.
The first step in increasing brand awareness is doing a social media audit to understand your audience and their preferred channels. Different demographics, like age, gender, location, profession, etc., will affect whether they're more likely to use platforms like Facebook or Twitter. For example, if you're catering to a younger demographic, Snapchat may be the preferred choice, whereas LinkedIn would be more appropriate to target middle-aged professionals. It would help to look at how your audience uses each channel.
For example, LinkedIn is a helpful tool for building business contacts, whereas Twitter can be an effective platform for promoting customer service. Once your target audience and their key platforms are clear, you should start with a small trial of 2-3 posts per day per channel for one week. This will help you identify which social media platform works best for your brand and whether or not it's worth further investing in that particular channel.
Creating exciting and data-driven content across all platforms is the most effective strategy to increase brand awareness across multiple channels. It's a good idea to ensure that all assets are consistent in tone of voice and visual style, as this will help create a unified brand identity. You can also use social media to post ads for your company or products. This is a great way to reach many people quickly and efficiently. However, the ads must be well-designed and relevant to your target audience.
Finally, monitoring your results to optimize your efforts is essential. Use tools like Google Analytics to track how many visitors are coming from social media channels, what pages they visit your website, and how long they stay there. Content optimization will help you identify which content works best and which social media platforms drive the most traffic. With this data, you can fine-tune your social media strategy to ensure you get the most out of your investment.
In short, increasing brand awareness on social media requires understanding your audience, creating exciting and compelling content, and monitoring your results. By following these tips, you can build a successful social media strategy that will help to promote your brand or business to a broader audience.
The brands that prioritize customer obsession are the ones that have little trouble with brand awareness. Their customers do the job for them.
---
FAQ
What are the benefits of increasing brand awareness on social media?
There are many benefits. First, social media provides an opportunity to create a unified brand identity through all platforms by staying consistent with your content and visual style. Second, it's an effective platform for directly promoting your products or services to customers. Third, it can drive people back to your website, where you can engage them further with cross-platform promotion and drive sales.
What are the challenges of increasing brand awareness on social media?
One of the biggest challenges of increasing brand awareness on social media is that it's like trying to boil the ocean. Every company with products to sell and a marketing budget is fighting for the same customer attention. Also, it is difficult for brands with smaller budgets to prioritize which social media platforms to invest in. Because paid social media is critical to reaching audiences these days, investing a budget in the wrong platform could have severe consequences.
How can I find out which social media platform my target audience uses?
There are many ways to do this, but the best place to start is Google Trends. Search for keywords related to your industry and see which channels get the most traffic. You can also identify the most popular social media platforms by looking at the demographics of your target audience. For example, if most of your customers are between 18-35 years old, then it's likely that they're on Facebook or Instagram.
What is the difference between paid social media and organic social media?
Organic posts are the ones you share directly from your channel. They typically don't include any paid promotion. When you promote a post, it appears in the news feeds as "sponsored" and has the word "ad" next to it. You can use organic and paid posts to increase brand awareness on social media, but keep in mind that organic posts are more effective long-term than paid ones because they're seen as authentic.
Related Content