Digital transformation has been one of the most important topics over the past decade. But what is it, exactly? And why is it so important? In this blog post, we will answer those questions and more.
We will also highlight some of the top media outlets writing about digital transformation, the audience talking about it, and some of the most influential people in that space. Let's explore a few definitions before diving into any digital transformation research topics.
What is Digital Transformation?
What's interesting about digital transformation is that the definitions change depending on who you ask.
Ask the C-suite, and they might say digital transformation is about using technology and innovation to improve customer experience and business growth and create new business models that provide stakeholder value–customers, partners, employees, and shareholders. This makes sense because business leaders need to think beyond the status quo and strategically about the entire organization.
An academic might say digital transformation is a way of thinking that changes how we live, work, and play. As a result, they are less concerned about an organization's technology, internal operations, and management. Instead, they think about the outcomes–customer experience, innovation, growth, disruption, and new platforms.
A technologist will say that digital transformation uses artificial intelligence, big data analytics, and automation to improve business processes and drive operational, development, and security efficiencies. So, naturally, their primary focus will be on technology.
An HR leader will have a completely different spin on the topic. For example, they might say that digital transformation is about the future workplace culture and how to attract, engage, and retain top talent using technology, operations, organizational development, and strong leadership.
And lastly, a marketing person might say digital transformation uses social media data to create personalized customer experiences. They may also say that digital transformation initiatives are needed to stay ahead in the market and drive customer obsession initiatives across their organizations.
All of these definitions are correct to some extent. But we can say that business transformation is a process of evolution and thinking beyond the status quo. It's not something you do once and then moves on to the next innovation– it's an ongoing journey.

But at its core, digital transformation is about using technology to create value for customers, employees, and shareholders. It's about using technology to improve how we do business and live our lives. Digital transformation is essential because it's how companies will remain competitive in the future. Existing business models will not survive if they don't evolve. Technology is changing at an accelerating pace, and businesses need to change. Those that don't will be left behind.
What Technologies Enable Digital Transformation?
To make the digital transformation journey seamless, modern technology must be at the core of these changes. Cloud Computing, Artificial Intelligence (AI), the Internet Of Things (IoT), Edge Computing, Augmented Reality (AR), Virtual Reality (VR), and even the metaverse are some of the technologies that enable organizations to transform their businesses digitally. From creating new products to improving production processes and service delivery, implementing these technologies promises a more efficient approach toward a digital-first business strategy.
Furthermore, adopting these practices in different stages also opens up avenues for more engagement with customers, partners, and employees, making operations more secure than ever before. As a result, organizations can leverage these technologies for maximum efficiency and productivity as they continue their digital transformation journey.
Now that we've defined digital transformation let's look at some research that can help us understand the validity of the topic.
Search Demand for Digital Transformation
One of the first things I like to look at is Google Trends. This data will help us understand the search demand for digital transformation since 2010. Search for digital transformation started to skyrocket in 2014. There have been small peaks and valleys, but they have consistently increased yearly. This tells me that business transformation is not just a buzzword but an industry shift.
While Google Trends data is more about search interest and demand, this data from SEMrush illustrates the monthly search volume for digital transformation and related terms. In the United States, digital transformation is searched 18.1K times. Global volume is 5X that number, with India's search volume at 12.1K, Germany at 9.9K, etc.
Once you search for digital transformation, the total Google Search Results are 575M pages indexed in the search engine. Paying for that web traffic could be very expensive if you work in marketing. A $14.84 CPC isn't cheap. Since September 2021, search volume and CPC have been flat, but both data points increased in March 2022. This tells me that digital transformation is still relevant today based on interest and the volume of monthly searches.
Digital Transformation Traditional Media Coverage
Media coverage of digital transformation is another indicator of this space's interest, momentum, and relevance. The data below shows the last ten years of articles published about digital transformation, resulting in 198.8K articles by 21.9K unique media outlets and blogs, resulting in 96M potential impressions.
The only caveat is that I pulled coverage where digital transformation was mentioned in the headline only, not necessarily in the body of the article. Nevertheless, the data below shows that digital transformation coverage took off between 2015 and 2016, similar to the insights from Google Trends.
One of the earliest articles in 2012 was published by Barrons, "Kodak Files Chapter 11; Next Stage of Digital Transformation," which has nothing to do with how digital transformation is defined today.
As you can see, media coverage continues to increase. This indicates that digital transformation is relevant and top of mind for many companies, industries, and the media.
Drill Down in Digital Transformation Media Coverage
The data below outlines the top business and tech media outlets that have written about digital transformation over the last ten years. The data is divided into two points–the volume of articles written about digital transformation and resonance.
Volume of articles: The total volume of articles written with business transformation in the headline.
Resonance: This is the average number of people who have seen a given post from a source. The calculation looks at the reach of mentions from the source within the given period. Reach is calculated using followers, engagement, page ranks, and estimated views.
What's interesting is the diversity of outlets in the data set. The first is the two research firms in the data set–IDC and Forrester. Also, there is a strong mix between technology and business outlets. And lastly, it's interesting to see new digital platforms in the data set, like Medium, which is growing in usage by influential audiences.
Digital Transformation Research Topics
When analyzing the media coverage related to digital transformation, several common themes emerged from the research:
Supply Chain, Business Operations & Processes
Big Data Analytics, Artificial Intelligence
Customer Experience, Engagement & Social Media
Employee experience and culture
Innovation & New Digital Technologies
Below is a summary analysis of digital transformation topics, specifically the subset of media coverage. The keywords and phrases are clustered based on the volume of terms related to digital transformation.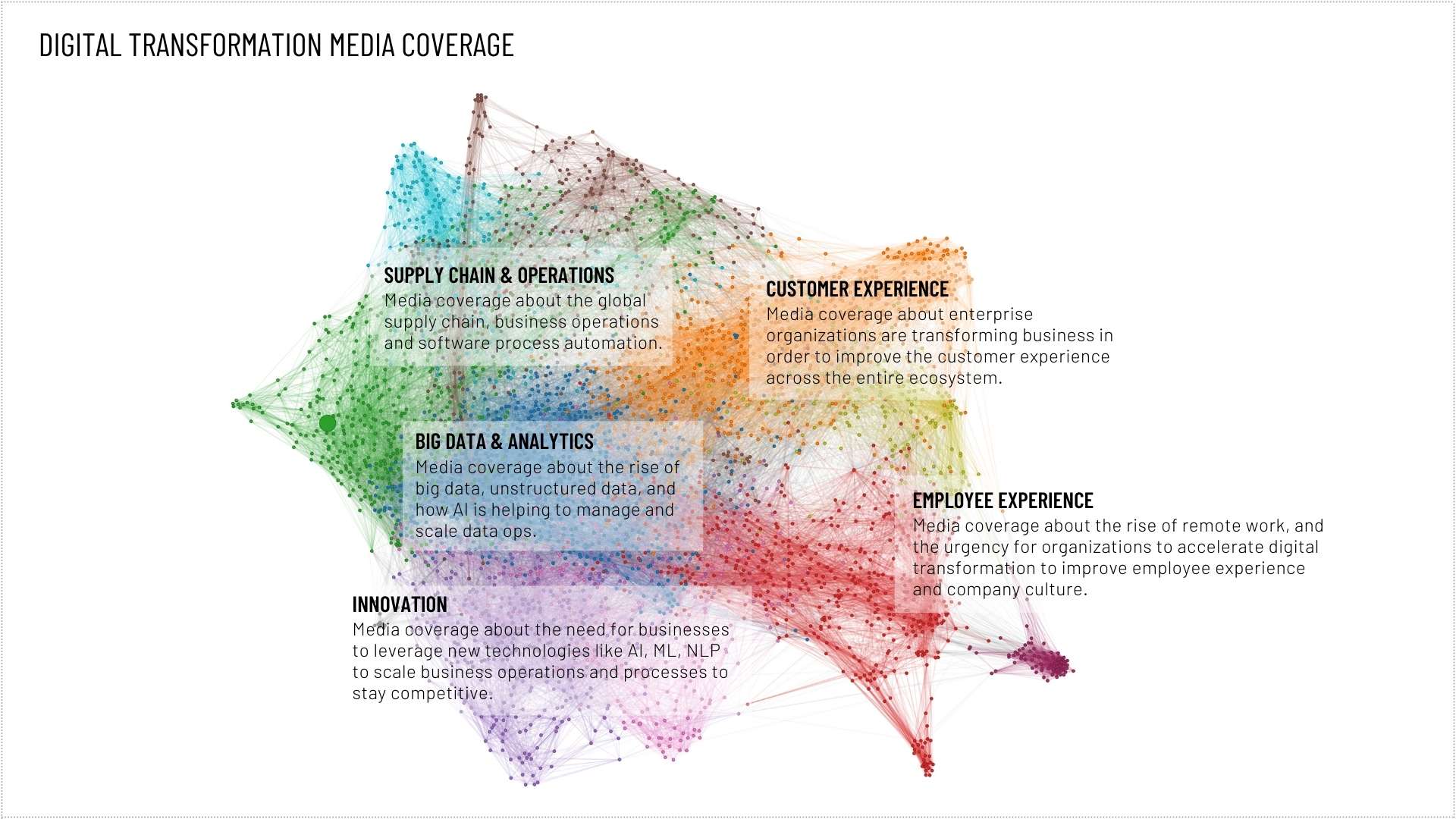 Supply Chain, Business Operations & Processes
Digital transformation hopes to help organizations create new business models, processes, and digital technologies to drive new levels of value, efficiency, and productivity. But for that to happen, business leaders need to clearly understand the whole ecosystem – something that's often easier said than done.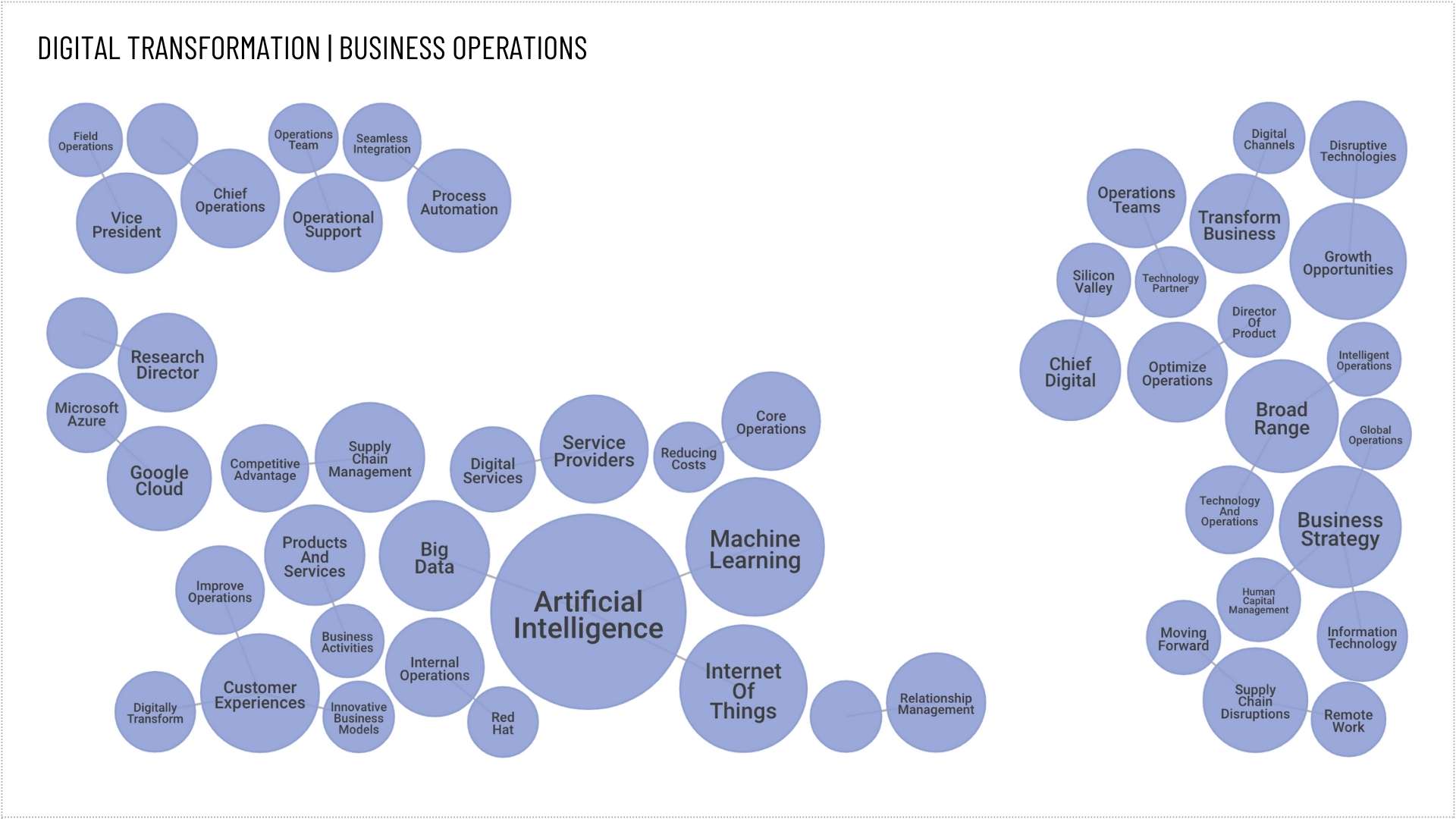 Digital transformation is often talked about in terms of business models and processes. However, the supply chain is usually one of the organizations' first places when driving efficiencies and improving business processes. After all, it's an area with a lot of data and potential for process improvement.
But what exactly does digital transformation mean for the supply chain industry?
In short, it means using disruptive digital technologies to drive new levels of value, efficiency, and productivity in the supply chain, which could be done in a variety of different ways:
Automating manual processes
Tracking inventory in real-time
Connecting disparate systems & digital technologies
Enabling better decision-making through data analytics
All of these things can significantly impact the way a business operates. Existing business models may no longer be viable, and new models may need to be created and adopted. How business processes are carried out may also need to be rethought entirely.
What does digital transformation mean for business operations and processes? In short, it means using disruptive digital technologies—such as big data analytics, the Internet of Things (IoT), AI, robotics, and blockchain—to drive new levels of strategic value, efficiency, productivity, operations, and business processes.
Big Data Analytics, Artificial Intelligence
Several media outlets cited one report from the Harvard Business Review over the years. The article explains how big data and analytics create more efficient and effective organizations. Data-driven decision-making is not a new concept, but the ability to make decisions quickly and accurately is what's needed to deliver a digital customer experience strategy.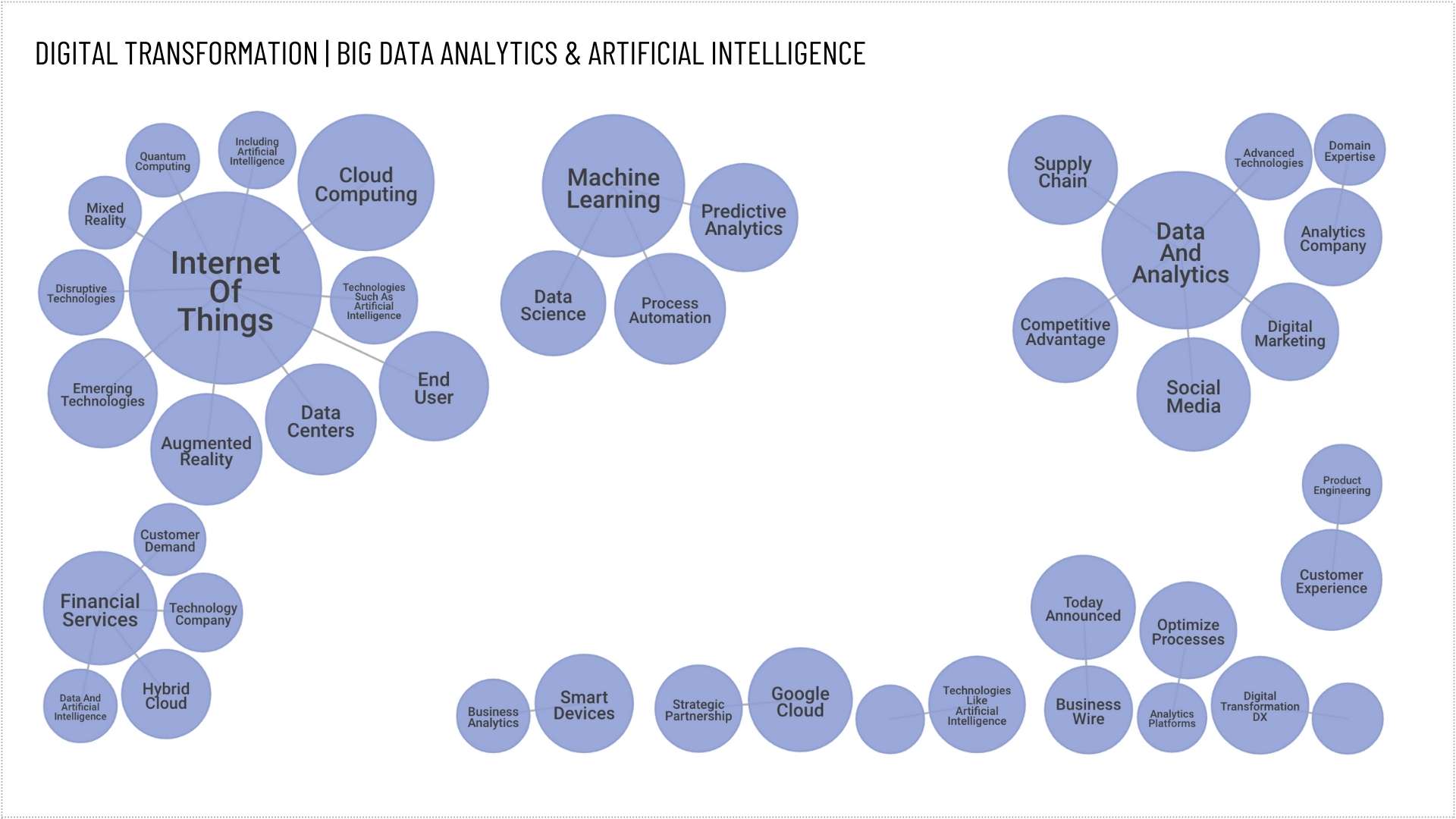 In the past, organizations would have to wait for weeks or even months to get their hands on data to make decisions. But with big data and analytics, organizations can now access business insights immediately. And thanks to advances in AI, they can also make sense of it much faster than ever before.
Big data analytics and AI are the most critical digital technologies driving digital transformation today. Big data analytics helps organizations make sense of large amounts of data, while AI enables them to do so faster. Machine learning is a segment of AI well-suited for big data and can help drive software innovation.
Machine learning algorithms learn and improve from experience without being programmed. This makes the process incredibly powerful for making sense of large amounts of unstructured data, which can support all different types within an organization.
Customer Experience, Engagement & Social Media
Organizations are under pressure to provide a better customer experience (CX). Customer experience is one of the most critical aspects of digital transformation, and marketing leaders must prioritize it.
A recent study by PwC found that 86% of customers are willing to pay more for a better customer experience. This means that organizations must focus on providing a great customer experience to stay ahead of the competition across the entire ecosystem.
But what exactly is customer experience? And how can organizations improve it?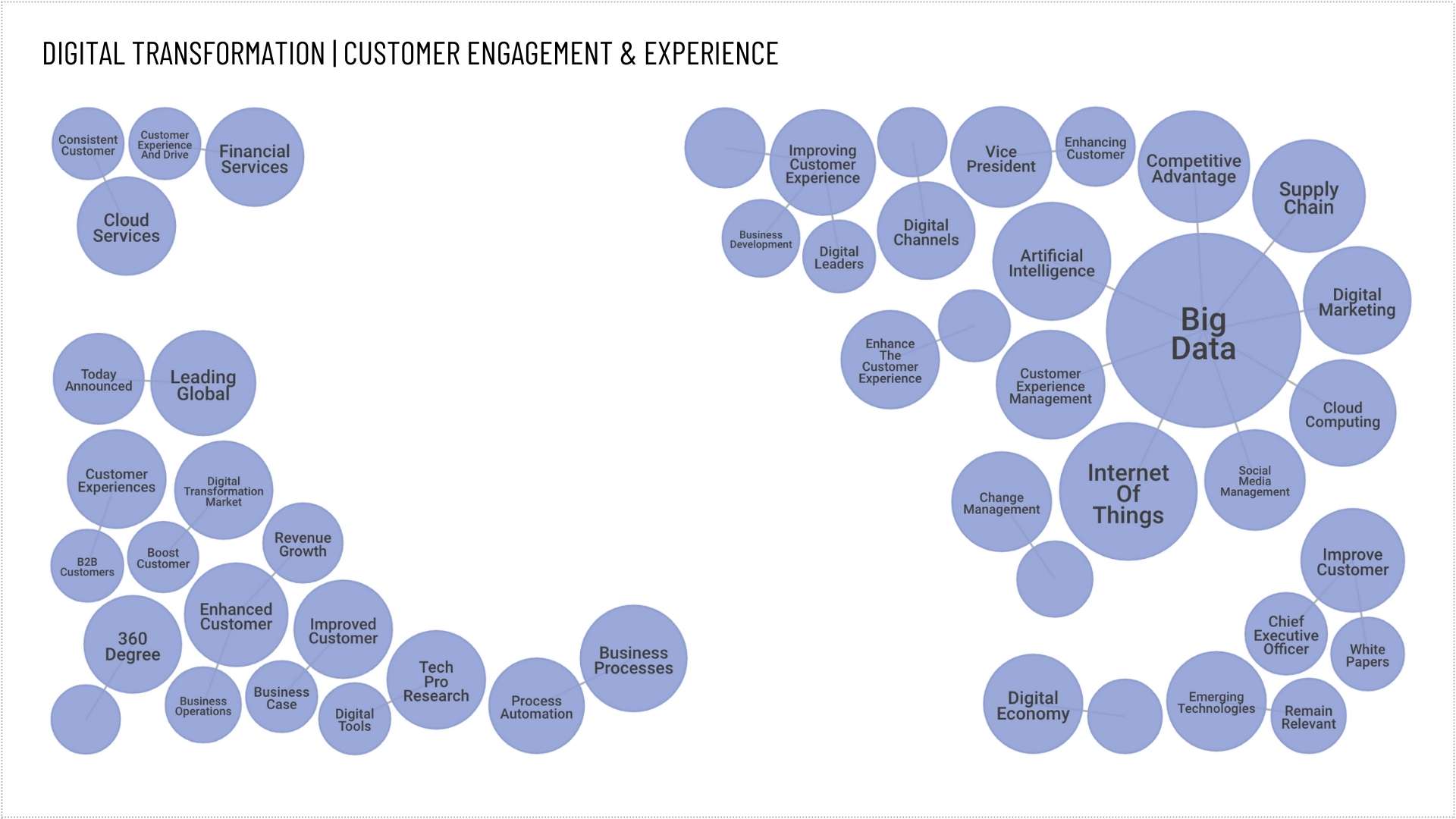 Customer experience can be defined as the way customers interact with an organization, from their first point of contact all the way through to post-purchase support. Every touchpoint along the customer journey presents an opportunity to improve CX. Digital technologies can enhance customer engagement and personalize marketing and value at every customer journey stage.
One of the challenges marketing organizations face in customer engagement is understanding customer needs and wants. In the past, marketing organizations would rely on customer surveys to gather this information. But with the advent of big data and analytics, organizations can now get a much more detailed view of customer behavior in real time.
This allows marketing organizations to fully realize what customers want and need and provide them with the ability to deliver a more personalized cross-platform experience.
Digital transformation is changing how marketing, customer engagement, and customer experience are delivered. By leveraging disruptive technologies such as social media, big data analytics, and artificial intelligence, organizations can drive new levels of value for their customers.
Social media is one of the critical channels for gathering audience insights about customers. It can also be used to create more personalized experiences for customers.
Digital Transformation Employee Experience
HR management has been talking about digital transformation for many years now. The term is often used to describe the strategic changes needed within an organization to improve the employee experience and company culture and retain top talent.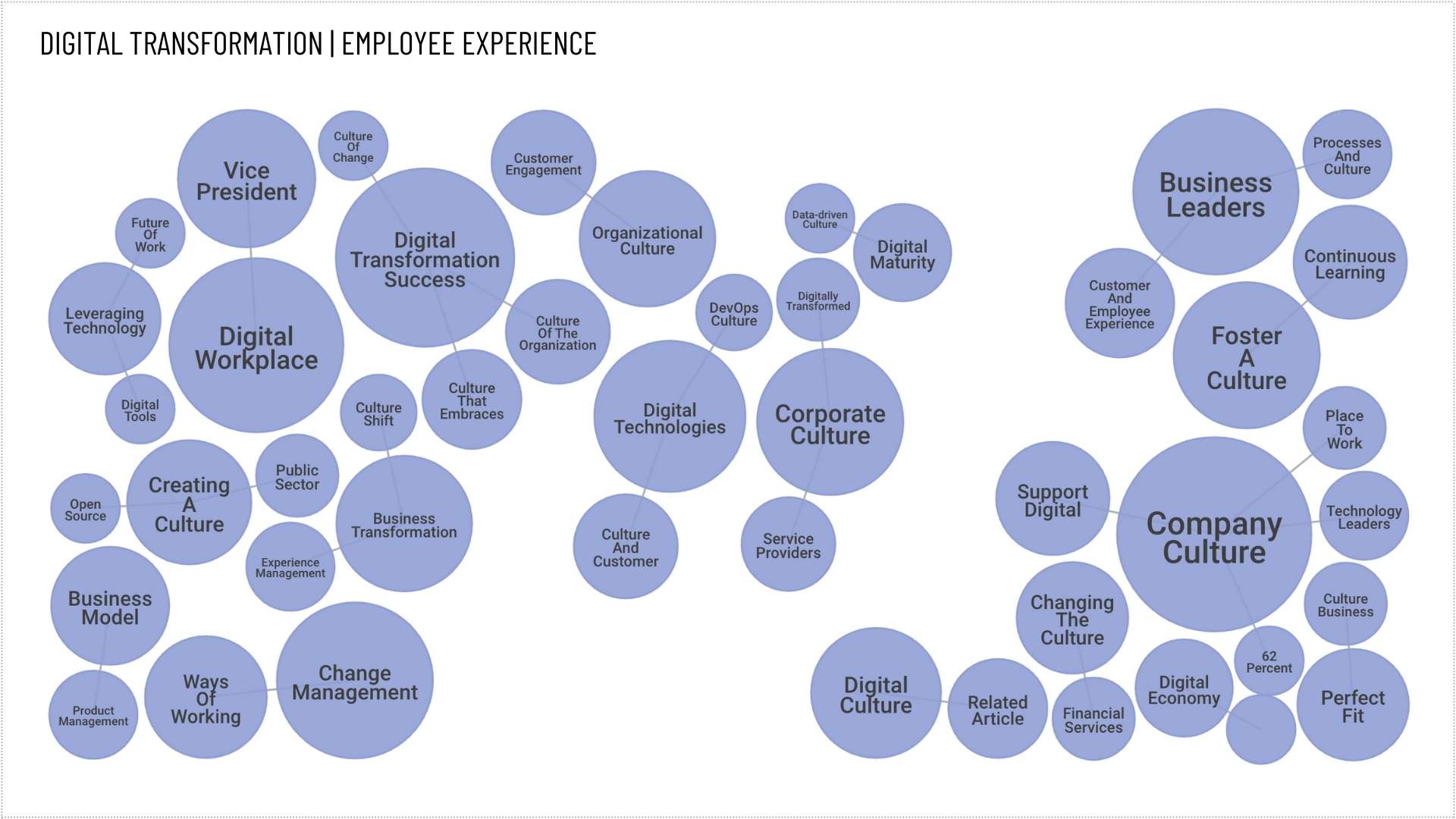 Digital transformation can have a profound impact on employee experience. By definition, it changes how work gets done and who does it. This can significantly disrupt the way employees work, causing frustration and even leading to attrition. The key for HR leaders is to manage these changes effectively and mitigate the negative impacts on employee experience.
This also includes adopting new business models internally, often requiring company culture changes. The goal of digital transformation is to make the organization more agile and responsive to change. The term digital workplace is often used synonymously with digital transformation because it encompasses the changes that need to occur within an organization to improve the employee experience.
A recent study by MIT Sloan found that culture is a critical success factor for digital transformations. The study found that the most successful companies have a culture of innovation and can make decisions quickly. They also have a high degree of employee engagement and trust. These factors contribute to a positive employee experience and increased retention rates.
This can be a challenge for companies that have been around for a long time and have well-established cultures. In these cases, HR leaders need to work closely with other management team members to ensure that the changes are made in a way that doesn't damage employee morale or undermine the company's core values.
Digital transformation continues to be a hot topic in HR circles these days. And for a good reason: it can potentially improve employee experience and company culture radically. But it's not without its challenges.
Innovation & New Digital Technologies
The adoption of new technologies often drives innovation. With the advent of digital transformation, several new technologies are being adopted by organizations to drive innovation.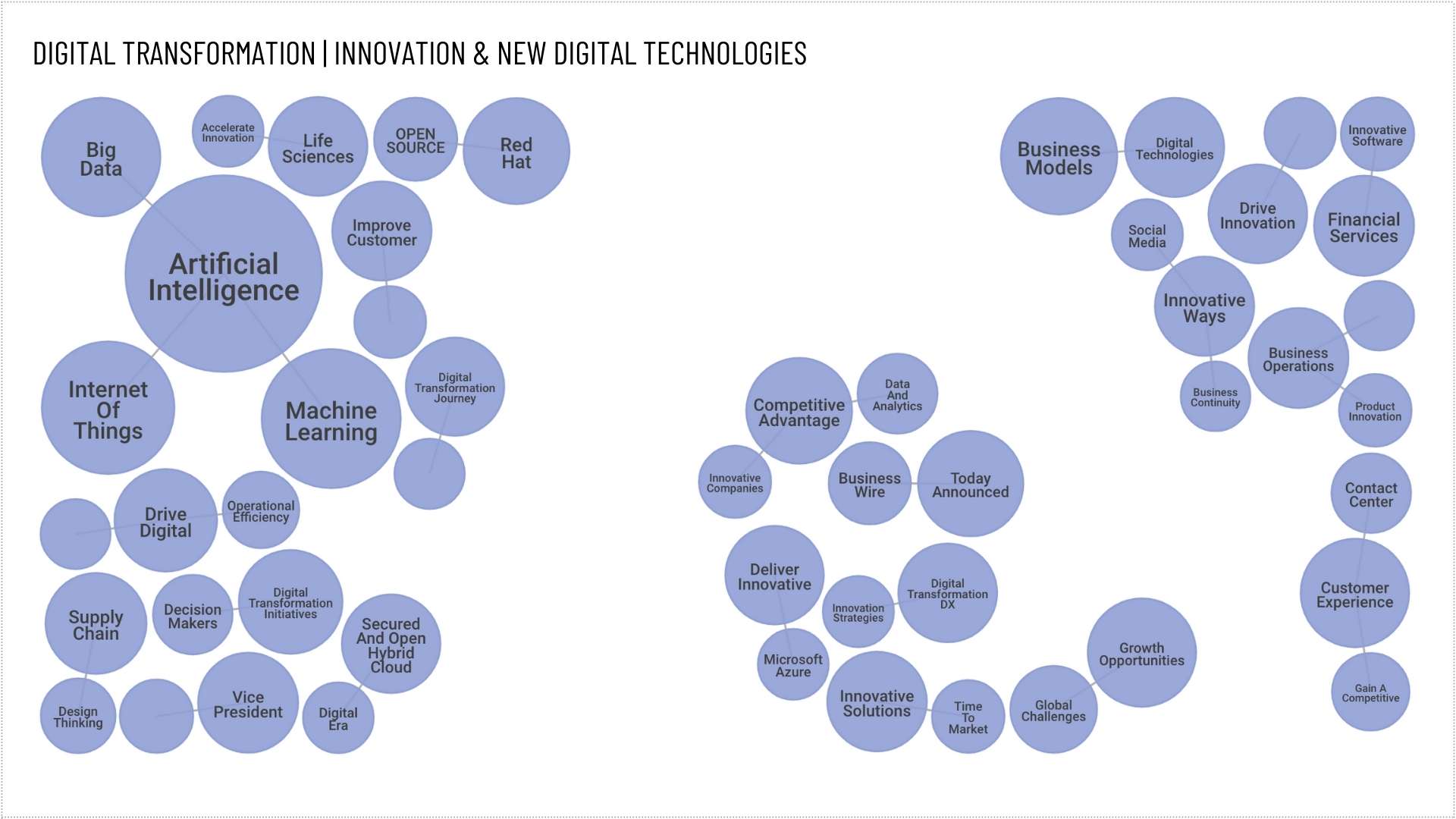 Some of the most popular new digital technologies include machine learning, artificial intelligence, RPA, and other forms of automation. These technologies allow organizations to gather more data about their customers and employees and use the insights to drive more intelligent decision-making.
Digital transformation is driving a need for organizations to innovate to remain competitive. This means they must find new ways to use technology to create value for their customers and employees.
Innovation is not just about developing new products or services but also finding new ways to deliver them. This can be done using new digital technologies or changing how existing products and services are provided.
Digital transformation is therefore driving a need for organizations to find new ways to use technology to stay ahead of the competition. They must invest in research, development, and workforce training to do this.
New digital technologies are playing a significant role in digital transformation. They are providing organizations with the ability to gather more data, use those insights to drive better decision-making and find new ways to use technology to create value for their customers and employees.
Digital transformation is, therefore, a significant driver of innovation in the business world today.
Digital Transformation, Top Journalists
Below are the top journalists from traditional business and tech media outlets covering digital transformation. The data is broken down into three different sets:
X-axis: The volume of articles written about digital transformation by each journalist
Y-axis: The total engagement generated in social media from the aggregate articles written by each journalist
Size of the bubble: The total reach of the publication that each journalist writes for as measured by unique monthly visitors (UVM)
Several journalists dominate the digital and business transformation media coverage, but from a few tech outlets, specifically ZDNet, Forbes, VentureBeat, TechCrunch, and TechRepublic.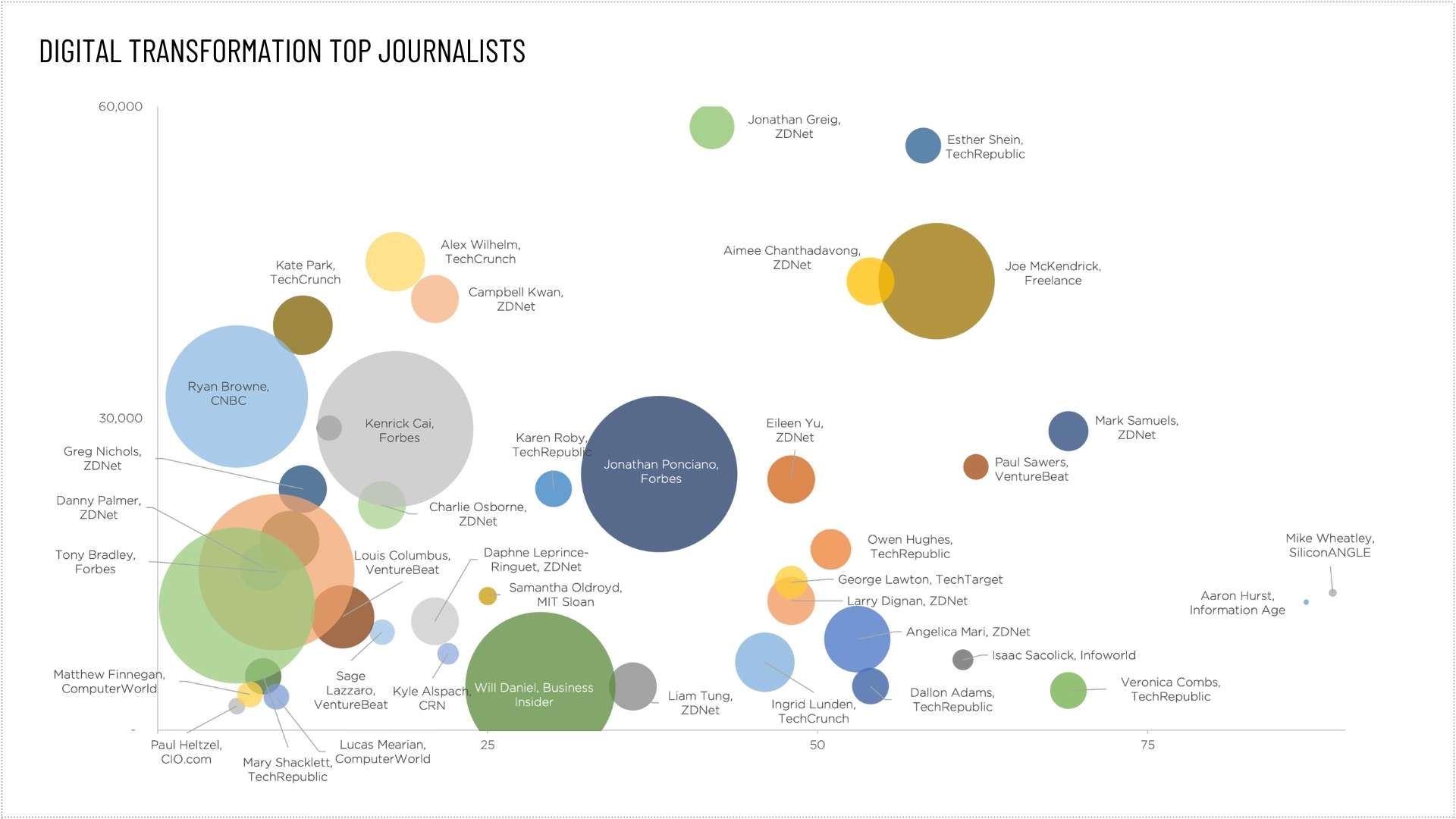 Media coverage that included digital transformation in the headline or body of the article was included in this research.
Tracking Digital Transformation on Social Media
Digital transformation is a process that is happening in organizations worldwide. As such, it's no surprise that there is a lot of discussion about it on social media. However, there's a distinction between tracking "social media conversations" and analyzing what a specific group of individuals says about a digital transformation topic.
The below topical analysis is based on an audience of 2K self-identified IT decision-makers, specifically IT managers and IT directors across all industries. The audience analysis started with documenting the social footprint of this audience based on a Boolean query to filter for job titles in social media bios.
When analyzing the digital transformation topics from ITDMs, there are some parallels with the media coverage, but the conversation is much more focused and specific:
Cloud Computing
Artificial Intelligence
Analytics & Business Insights
Remote Work
Innovation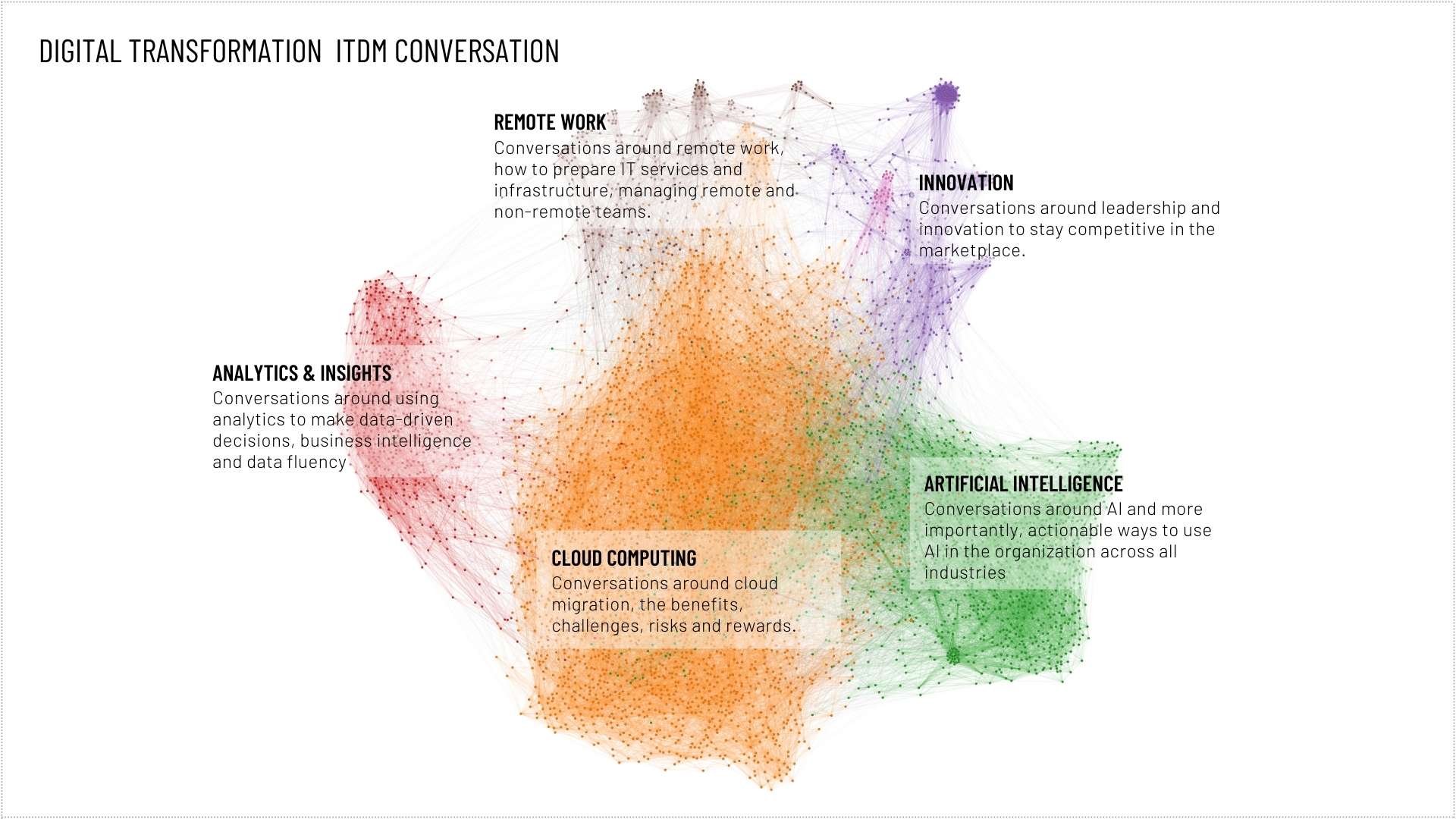 IT decision-makers are talking about the importance of migrating to the cloud. This makes sense. The cloud allows organizations to be more agile and scale quickly. It's also a significant enabler of digital transformation. They also discuss hybrid, public and private cloud advantages and disadvantages. In addition, ITDMs openly discuss the cloud and digital transformation with their peers and colleagues on social media.
Artificial intelligence is also top of mind for the IT audience. This technology can change how organizations do business, and IT wants to be the center of this innovation. However, there is still a lot of uncertainty about what AI is and how it can be used. In addition, this technology is still in its early stages, and many questions need to be answered.
Analytics and business insights are also top of mind for IT decision-makers. With the advent of digital transformation, there is a need for organizations to be able to gather and analyze to drive better decisions. The common analytics themes include data automation, storage, warehousing, and security. Many ITDMs are using AI to automate unstructured data and document processing. Additionally, they are looking for ways to improve quality and governance.
Before the pandemic, remote work was top of mind for IT audiences. The pandemic has only accelerated this trend. ITDMs are looking for ways to enable their employees to work from anywhere, anytime. They are also looking for ways to improve collaboration and communication. As a result, many ITDMs discuss better collaboration tools and processes to support remote work.
Innovation is also a trending topic that dominates the attention of IT decision-makers. They are looking for new ways to do things and want to be at the forefront of the latest and greatest digital technologies. This is a good thing. Innovation drives business growth, and IT wants to be a part of that.
So what does all of this mean for digital transformation? In short, the IT function is no longer just a support function. It is now a strategic function essential to the business's success. The days of being able to "set it and forget it" are gone. IT must be proactive and always look for ways to improve the business.
This type of data is crucial when building your digital marketing plan. In addition, the research and data can be used almost immediately to inform all that you do.
What comes next is execution.
Digital Transformation Strategy Starts With Employee Experience
Countless hours have gone into planning for digital transformation strategy, yet global organizations still stumble when it comes to execution. It isn't the faster, more flexible, and more sophisticated technology getting in the way. Instead, it's how these organizations approach digital transformation with their employees. A successful digital transformation, perhaps ironically, is less about the tech and more about the people. The term digital transformation can mean a lot of things to a lot of different stakeholders. But at the end of the day, it should always start with the employee experience.
Getting employees from top to bottom to adopt digital transformation strategies is critical to any plan, and it's easily the most challenging part. It's organization-wide. It strikes at the heart of a company's culture. It requires a lot of people to change their relationships with technology. Getting employees to adjust to these changes — as any business leader knows — is very difficult.
How do you drive change and unite employees from diverse backgrounds? How do you create a culture that will embrace change and stimulate innovation while maintaining a positive employee experience?
Your digital transformation strategy should start with employee adoption and engagement.
Digital transformation already focuses on the customer experience, but the employee experience must be prioritized. Employees want to learn and work in an adaptive culture where new technology ideas can be encouraged and integrated.
Here are four ways to influence digital transformation from the ground up, starting with your most valuable business asset: employees.
Align Company Values to your Digital Transformation Strategy
Know how to communicate your company's values and how a digital transformation strategy aligns with them. When you have a clear company vision speaking to your employees' sense of values, you create an environment for a smooth transformation. This type of ideal alignment of values can increase productivity and spark innovation. Digital transformation necessitates both, especially when an organizational change is involved.
When employees feel they can get behind their company's mission statement, they become invested in their work and want to do more. Often, being more invested in a position and the workplace means employees are more willing to overcome self-imposed barriers to change.
For example, employees may initially work for a company for free catered lunches, yearly stipends, or generous stock options (or all of the above), but what keeps them at a company are the values they have in common with their employer. Just as consumers prefer doing business with companies advocating for causes they care about, employees look for shared values. Respect for these mutual principles can encourage employees to feel more inclined to commit to the company's digital transformation decisions.
Create a Narrative for Digital Transformation Adoption
Hollywood agents advocating new movie ideas always have an elevator pitch in mind. It's a simple concept: a single sentence describing the movie. It's clear and concise. Digital transformation can happen almost as fast as rumors through an organization. But, in the case of digital transformation, everyone in the organization must know and agree on the vision, goals, and roadmap for that change. So the elevator speech moves beyond just a checkpoint or hallway conversation. Instead, it becomes the internal brand narrative from start to finish — and, hopefully, it'll spread like wildfire through word of mouth.
Embrace the Digital Transformation Journey
The journey to digital transformation is complicated. The technology initiatives alone can bore some employees to sleep. Couple potential disinterest with internal marketing plans, employee engagement programs, and other company-led initiatives, and you can be sure most employees will lose interest before you even get started.
Training will generate excitement and educate the organization about digital transformation. First, familiarize yourself with the makeup of your employees. Who are they? What do they care about? How do they prefer to learn? For example, millennials are likely to learn differently than other employees. Their desire to learn and grow professionally is a critical factor in retention. Training programs and consistent, ongoing communication are necessary to ensure that all employees feel challenged and supported.
Even the Small Things Count With Digital Transformation
The pressures of digital transformation are constant. Expectations and deadlines ramp up quickly. It's natural to want to push ahead, tweak as the project unfolds, or cut corners. These can be costly mistakes. Consider how fast things are changing right now, even for your employees. Is it wise to overwork your team to complete a revised deadline only to discover the end goal has become outdated?
Challenge yourself as a leader. Put a plan together with measurable goals and hold yourself accountable. Make changes and revise purposefully. Avoid siloing conversations or projects among experience levels, job functions, or business units. Instead, inspire and welcome 360-degree feedback. Don't be surprised if other departments take notice of your team's fresh, cohesive thinking, collaboration, efficiency, and progress and begin replicating it.
Executing your Digital Transformation Strategy
As mentioned, ground-level organizational changes send most business leaders into a stressful, nail-biting frenzy. Overhauling your company's performance through new digital platforms takes vision, patience, and technical expertise, but the most critical factor is employee buy-in.
Digital transformation is just one component of a B2B marketing strategy. A digital transformation strategy isn't optional for most organizations. It's a foundational shift making the business world more competitive, agile, and vulnerable for those who don't invest in their digital IQ. The risks of struggling in the move to digital are too high. It's time to invest in a cultural shift. Here are a few digital transformation influencers you can start to learn from.
---
FAQ
Q: With digital transformation, will companies have to reassess their existing business technology stack?
A: Yes, companies will have to reassess their business technology stack as part of digital transformation. This is because digital transformation enables organizations to be more agile and efficient in using technology. In some cases, legacy software can be used, but the key to business transformation is … well, transformation.
Q: Who owns digital transformation initiatives internally?
A: Internally, the CIO or IT department typically owns business transformation initiatives. However, because digital transformation requires a company-wide effort, all departments must be involved in the initiative.
Q: What is the difference between digital transformation and technology transformation?
A: The difference between digital transformation and technology transformation is that digital transformation is a company-wide effort to use technology to improve business processes. In contrast, technology transformation is a more focused initiative that the IT department typically drives.
Q: What are some common pitfalls of digital transformation initiatives?
A: Some common pitfalls of digital transformation initiatives include failing to align the initiative with business goals, not involving all stakeholders, and not having a clear plan to measure success.
Q: What's an example of disruptive technology?
A: Disruptive technology is any new technology that has the potential to disrupt existing business models. Cloud computing is an excellent example of disruptive technology which has disrupted the traditional on-premises software model.
Q: What's an example of digital transformation?
A: A good example of digital transformation is when a company uses cloud computing to improve its business processes. Cloud computing has allowed companies to be more agile and efficient in technology.
Q: What's the difference between digital transformation and innovation?
A: The difference between digital transformation and innovation is that business transformation is a company-wide effort to use technology to improve business processes. In contrast, innovation is the development of new products or services.
Q: What does digitization mean?
A: Digitization is the process of converting information into a digital format. This can be done by scanning an analog document or converting a video file into a digital format.
Q: What are some examples of digital technologies used in business?
A: Examples of digital technologies in business include Robotics Process Automation (RPA), Unstructured Data Processing (UDP), and Intelligent Automation.
Q: Is innovation always an outcome of digital transformation?
A: No, innovation is not always an outcome of digital transformation. Sometimes, digital transformation aims to improve efficiency or reduce costs. However, in many cases, business transformation can lead to digital innovation.