If you are about ready to hire a PR agency, read this ASAP.
Why this matters:
I shouldn't have to explain the value of public relations and what it can do for brands. I will tell you that you need to hire an agency to deliver value to your business.
I've responded to hundreds of PR Agency RFPs over the years. Some asked for full-service public relations; others focused on smaller initiatives like crisis management, content creation, and strategic corporate communications.
It's easy to spot the RFPs that have been carefully crafted to challenge participating PR agencies from those quickly thrown together for various reasons. However, the RFPs written by procurement crack me up the most. They are too long, indecipherable, and full of early 2000 buzzwords like Web 2.0 that no one uses anymore.
The best RFPs are concise, have specific deliverables, and include a budget. The best RFPs explain the business and what they want to achieve with a PR agency partnership. They also ask intelligent questions that help agencies understand if they are a good fit culturally.
That aside, I've always wondered why the more complicated RFPs with aggressive timelines consistently get sent out on Friday afternoons before a holiday weekend. Why? If I were on the client side, I would have the decency and mindfulness to at least send it on Thursday at the latest. I should name names, but I won't!
So, with that in mind, here are the seven qualities I believe you should prioritize when evaluating and selecting a top PR agency partner:
Let's explore each of these in more detail. And let me say that these are in no order of importance other than how I would prioritize.
A Data-Driven PR Agency Always Wins
You've heard the saying, "Hope is not a strategy." A data-driven PR agency should clearly articulate how their approach will take you from "hoping" to "knowing" that your media relations program will deliver positive business outcomes. A data-driven PR agency will provide high-impact coverage in your business's most relevant media outlets, and they will do so confidently using defendable data and insights.
There are two ways to validate that you are working with a data-driven public relations agency:
How are they using data to inform their media relations strategy? This answer should give you insights into their data approach and go beyond "looking at historical media coverage" to benchmark success. They should identify and quantify the top media publications writing about your business, competitors, and the industry you work in. This should include the top narrative drivers, top shared articles, top journalists, and their level of influence. A data-driven PR agency should give you actionable data insights that will help prioritize your top media list, inform your PR messaging and uncover ownable market white space.
Are they using a media monitoring platform to track coverage? Most sophisticated PR agencies use Cision, Muck Rack, or another competitor to pull coverage. Alarms should go off if all they use is Google Alerts. But this question is just scratching the surface of their data literacy. There is a significant amount of rigor and data interrogation that goes into media measurement. It's highly problematic if any PR agency sends you a canned report from one of these platforms without additional analysis.
Being a data-driven public relations agency is more than just adding bullet points on a PowerPoint slide or a web page. It's more than just name-dropping Cision or Muck Rack in an RFI. They should be able to show evidence of how data and insights inform their approach and methodology. And if you ever hear them say something related to "tracking hits," run far, far away, and never look back.
Client-Obsession Should Drive the PR Firm
A client-obsessed PR firm will always have your best interests in mind. They will get to know you and your business inside and out so that they can be an extension of your team. Client obsession means that your agency is buttoned up on everything related to your account and is always thinking one step ahead by anticipating your needs.
Here are some essential qualities to look for in a client-obsessed PR firm:
Proactive vs. Reactive Communication. How quickly do they respond to your requests? Do they provide strategic counsel or execute tactical media relations assignments? The best agencies will push back and challenge the status quo. They will offer insights and perspectives that help you see your business differently and develop new ways to get coverage.
Strategic Communication. How often are they sending updates? What is the quality of those updates? Are they just sending you an Excel document with links to coverage or providing context with recommendations for improvement? You should feel confident that your PR agency is over-communicating rather than leaving you in the dark.
Attention to Detail. Are they always prepared for calls and meetings? A client-obsessed PR firm will catch the little things, and if they make a mistake, they will own it and provide countermeasures so it doesn't happen again. In addition, they will take comprehensive notes, remind you about important due dates, and always anticipate your needs. PR agencies that focus on attention to detail are well known for client service that goes above and beyond.
These may seem minor and nitpicky, but attention to detail is critical in public relations and social media. One small mistake can ruin your brand reputation, taking years to recover.
A customer-obsessed marketing and PR firm won't just take orders, nor should they. Instead, the best agencies will act as true partners, providing insights and recommendations that help you navigate challenging times, capitalize on real-time media opportunities and up-level your public relations campaign strategy.
Client obsession doesn't mean the PR agency consistently over-invests in your business.
Typically, when an agency is first onboarded, there is a level of over-service acceptable as they get acclimated to your business. But over-servicing quickly becomes problematic when it is no longer sustainable or feasible. A competent PR agency will recognize when this is becoming an issue and talk to you about potential solutions before it gets out of control. As their client, you should feel confident that your agency has your best interests in mind and is always working to find the right balance of service and cost.
Shared Brand Values are Key When Hiring a PR Firm
It would be best to prioritize working with a public relations firm that shares your brand values. Doing so will ensure they understand your mission and can effectively communicate it to the media and general public.
For example, if DE&I is a strategic initiative for your brand, you must ensure that the PR firm also has a DE&I policy. More importantly, by looking at their management team, you can validate if the PR agency holds to its values. For example, do they have diverse leadership? Are people of color and women in top positions at the agency?
You can also look at the client roster to see if the PR firm works with companies with similar brand values or share case studies of their work with companies like yours. If they don't have any, that is a huge red flag.
DE&I should be more than just lip service or a page on their website. You should see evidence of their commitment to DE&I in hiring practices, employee retention rate, client roster, and media coverage.
The same goes for other brand values, such as sustainability, social responsibility, and community engagement. A PR firm that shares your values will be more likely to integrate those values into its work on your behalf.
You should also feel confident that the PR agency has a code of ethics, including transparency in their billing practices, avoiding potential conflicts of interest, and maintaining the highest journalistic standards. If an agency doesn't have a solid code of ethics, it may unintentionally cut corners and make decisions that will put its business reputation at risk.
The PR Agency + Media Relationships
A good PR agency will have strong media relationships. This is important because it gives you access to opportunities you wouldn't have otherwise.
For example, The New York Times is most likely on your top media list. Sadly, that alone doesn't guarantee you coverage in that outlet. But a PR firm with strong relationships with one or more reporters that write for the Times will give you a better chance.
It's not just about having relationships with high-profile media outlets either. A creative PR agency will also have relationships with trade, industry publications, local media, and broadcast. These media outlets may not have the same reach as The New York Times, but in some instances, a smaller and more focused media outlet could deliver more business impact.
In addition to media relations, a good PR agency will also have relationships with key influencers in your industry. This can help promote a new product or service or manage crisis and reputation.
PR Firms + Vertical & Industry Experience
We should first define a vertical and industry. A vertical is a specific type of business, such as healthcare, retail, or technology. An industry is a group of companies with similar characteristics such as size, location, or target market.
For example, the healthcare vertical could include hospitals, clinics, and medical device manufacturers. The retail industry includes fashion retailers, grocery stores, and e-commerce companies.
When hiring a marketing and PR firm, it's essential to consider their vertical and industry experience. A PR firm that specializes in your vertical will have a better understanding of the unique challenges and opportunities that you face. They will also be able to provide insights and recommendations based on their experience with other companies in your vertical.
Industry experience is also essential because it allows the PR firm to benchmark its performance against other companies in your industry. This can be helpful when developing your PR strategy and setting objectives.
PR Firms + Specialized Services
In addition to general media relations, there are a few specialized services that your public relations firm should offer. These services will be based on your specific needs, but some examples include the following:
Crisis Communications
Reputation Management
Public Affairs
Creative
Social Media
Market Research
Influencer Marketing
Let's dive into each one in more detail.
Crisis Communications. The sooner you can get ahead of a crisis, the better. And the great news is that a data-driven public relations agency will use proactive data intelligence to identify a potential crisis before it happens. Also, they should have a team of experienced crisis communications experts who can help you manage the situation and protect your brand reputation. But unfortunately, we live in complex times, and the possibility of you going through a crisis is very likely.
Reputation Management. While this is similar to crisis communications, having a dedicated reputation management strategy is essential because some crises can't be avoided. In these cases, it's critical to have a proactive plan in place to manage and protect your brand reputation.
Public Affairs. Public affairs should be a strategic priority if you are a heavily regulated company or relying on government contracts. A good crisis PR agency will have a team of experts who are well-versed in the complexities of government relations. They will also have relationships with key decision-makers, politicians, and lobbyists in your industry.
Creative Services. In today's competitive landscape, writing a press release or getting media coverage is insufficient. You need to stand out from the crowd and tell a compelling story that resonates with your target audience. A good PR firm will have a team of creative directors, brand planners, and strategists who can help you develop an impactful narrative and execute innovative ideas.
Digital Marketing. Most PR agencies will also offer digital marketing services. This is important because media relations are just one small component of an omnichannel marketing experience. An integrated digital marketing strategy should include paid media, email marketing, website optimization, and lead generation.
Social Media. Social media is no longer an optional digital channel for companies looking to build their brand. It's also not a place to share a press release. Please, never do that. A solid digital PR agency will have a social media strategy, community management, and content creation expertise. They will also have a team of experts who can help you navigate the ever-changing social media landscape. This is extremely helpful as platforms like TikTok, Instagram Stories, Twitter Spaces, and others launch new services and innovations weekly. You may even do a social media audit of their channels to see if they practice what they preach.
Market Research. To develop an effective PR strategy, you must understand the digital ecosystem. A strategic PR firm will offer market research services to help you understand your target audience's needs, wants, and values. This insight is essential for developing targeted messages and strategies that resonate with your audience.
Influencer Marketing. Influencer marketing is a powerful way to reach your target audience through the people they trust and respect. A digital PR agency will have a team of experts who can identify key influencers in your industry and develop relationships with them. They will also have a process for measuring the impact of your marketing campaigns, and they should have a deep knowledge of paid influencer programs.
The PR Agency Should Have Business Growth
A good PR Agency will grow in revenue, the number of clients they serve, and employees. Agency growth is important because it shows they are stable, have a good team to service clients, and invest in their development.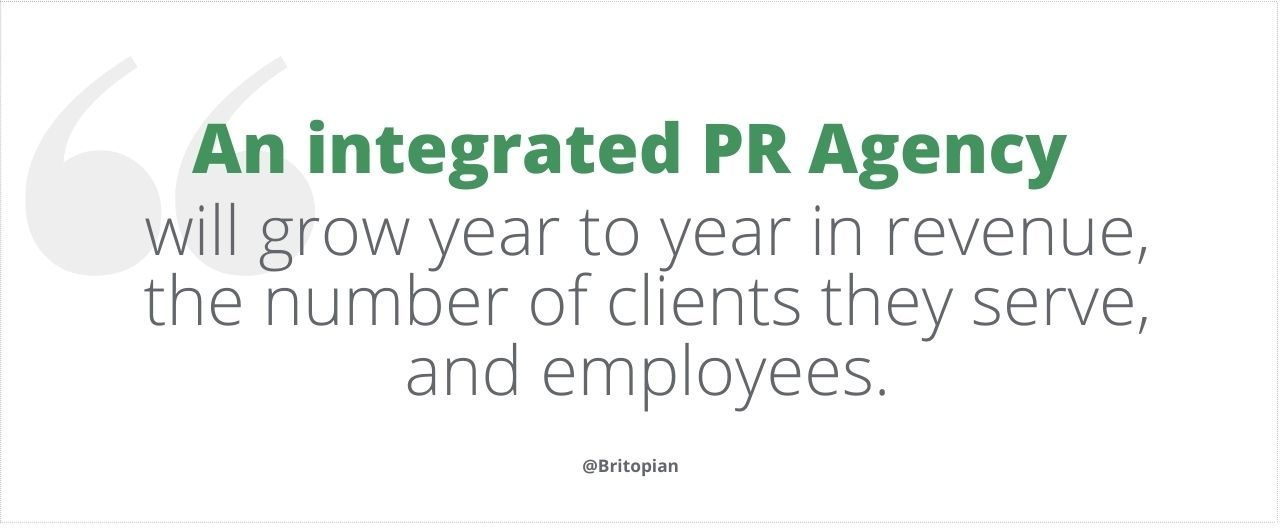 Outside of these top 7 qualities, here are a few best practices once you've narrowed your list of PR agencies.
Best Practices for Hiring PR Agencies
Give them a challenge. It's not uncommon for companies to provide a challenge for participating PR agencies. These are the most interesting RFP because it's an opportunity to showcase you're thinking, methodologies, and creative strategies.
Ask for case studies. Client case studies will help you understand how the PR agency has helped other companies achieve their earned media or reputation management objectives. The case studies should highlight the results of the campaigns, not just the activities and PR work done.
Get a list of current and past clients. An existing and previous client roster will help you understand who the PR agency is currently working with and if they have experience in your industry. It's also important to ask for references so you can speak to other companies about their experience working with the PR agency. This will also help identify potential competitive issues.
Ask about their account team. You will work closely with the account team, so ensuring synergies is important. Ask about their experience and expertise, as well as their communication style. You may even ask for links to their LinkedIn profile.
Ask about their crisis management process. A good crisis PR agency will have a process to quickly and effectively respond to a crisis. Ask them to walk you through their process and what resources they have to support their clients.
Ask for awards. While this may not be a make or break for you, it's always impressive when an agency has won awards for its work. Awards indicate that the agency constantly pushes the envelope and thinks outside the box to deliver client results.
Hiring a Public Relations Firm: The Bottom Line
Move on if an agency can't show you data proving they can generate results. The best agencies will have a mix of case studies, client testimonials, media coverage, and third-party awards that showcase their successes.
A PR agency is only as good as its people. The best PR agencies focus on their clients and consistently produce great work. This can be seen in their client retention rates, their time in business, and the awards they've won. A good PR agency will also have a strong team with experienced senior-level counselors and up-and-coming junior talent.
PR is an investment, not a cost. The best way to think about PR is as an investment in your company's reputation and future success. A good PR agency will help you build relationships with key stakeholders, generate earned media coverage, and protect your reputation during a crisis.
In case you didn't know …
What is a PR agency?
A PR agency is a company that specializes in creating and managing public relations campaigns. PR agencies help companies and organizations to reach their target audiences through various channels, including media relations, crisis communications, reputation management, content creation, social media, and events.
Here are some resources to help you measure public relations: