The Gen Z audience is here and taking over the world. They are racially and ethnically more diverse than every other generation. But, while millennials are considered the generation of digital natives, most Gen Zers don't remember life before the Internet, their iPhones, or Instagram.
It's estimated that the Gen Z audience represents about $143 billion in annual purchasing power. This does not even include the products and services their parents and family paid for. According to Oxford Economics, Gen Z's purchasing power will reach $2 trillion in less than ten years.
If these two data points aren't enough to motivate you to start thinking about Gen Z trends, I'm not sure what will.
Marketing and PR teams must focus on Gen Z media consumption, trends, and purchasing habits. This generation is already making waves culturally, and their shopping habits will significantly impact the future of retail. Previous generations like Baby Boomers, Gen X, and Millennials have always influenced the economy, innovation, and how brands create products, communicate with customers, and set prices.
Gen Z is already doing this, and their impact is record-setting. As a result, brands must get a head start understanding how they shop, where they shop, and what they are talking about on their digital channels.
The Gen Z audience represents a lucrative opportunity for brands that can connect with them and influence their shopping habits. This generation is known for being savvy and resourceful in using social and digital apps. They are also highly independent and value transparency.
Understanding Gen Z's Values and Beliefs
In November 2021, EY released its second iteration of the 2021 Gen Z Segmentation Study, which tracks Gen Z trends, beliefs, and perspectives on issues from mental health, social issues, and the workplace. It should be noted that this report was facilitated during the height of the pandemic.
It's widely known that Gen Z consumers are the most diverse generation and are very opinionated about the world, businesses, and societal issues. Therefore, brands must try and understand this generation to build products and experiences that align with their values.
Key insights from the study include:
Mental Health is an Issue: 67 percent of Gen Zers are worried about their physical and mental health, with 42% feeling depressed during the pandemic. Nineteen percent of the Gen Z audience also said they did not receive emotional support from friends and family during this time.
Gen Zers Are Skeptical: 60 percent of Gen Z believe that most people can't be trusted and are selfish, only caring about themselves and their personal needs.
Gen Z is Worried: 69 percent of Gen Z are worried about food shortages due to the pandemic, and 28 percent are concerned about losing their job during this same period.
The Gen Z Audience are Entrepreneurial: 45 percent of Gen Z are likely to start their own business.
Change is Good, and Gen Z is ready for It: Gen Z is very confident that social progress will be made regarding the LGBTQ community (85%), gender inequality (79%), and economic equality (68%).
Understanding Gen Z's values and beliefs are critical for brands that want to connect with them. They are a generation open to change and want to see progress globally, so brands need to be transparent and authentic to earn their trust. Several studies show the top US brands are the ones that share the same values as their customers.
Using Social Analytics to Track Gen Z Shoppers
Primary research is like going to the zoo. You can sit down for hours and watch a lion interact with other lions. The behavior is expected. They walk around and stare at people, hoping that someone falls over the ledge so they can enjoy an afternoon snack. But a lion's behavior is very different if you go on a safari in Africa. They can do whatever they want when they are in their natural habitat. With social analytics, you can study the behavior of consumers in their natural habitat.
The below data represents an audience panel of 250K Gen Zers and is calculated using machine learning from IBM Watson's Personality Model.
Social commerce is the holy grail for both Gen Z and millennials. Sixty-seven percent of Gen Z Shoppers are likely to be influenced by social media, compared to 54 percent of millennials.
Advertising works with Gen Z. 64 percent of Gen Zers are likely to be influenced by advertising and paid media, compared to 56 percent of millennials.
Both millennials and Gen Z are brand loyal. Brand names influence fifty-six percent of Gen Z and 54 percent of millennials.
Millennials are more influenced by family than Gen Zers. Forty-three percent of Gen Z and 49 percent of millennials are influenced by friends and family.
Product utility doesn't mean much to either audience. Only 13 percent of Gen Z and 15 percent of millennials are influenced by the utility of a product.
In addition to tracking Gen Z purchase behavior, we also segmented the audience based on affinities and interests.
Gen Z Audience Segmented
There are thousands of ways to segment an audience. Marketers have been doing this for years and Use the insights to create audience personas. Historically, segments were built using Primary research, a series of questions asked by a marketer to drill down on a predefined hypothesis. So every report you see about Gen Z trends has an element of bias, and that's OK. A good marketer will consider more than one data source to try and understand an audience or solve a marketing problem.
We built our own Gen Z segments using social analytics and affinity data. Some of these insights and segment descriptions might seem contradictory to the above values from the EY study, and that's OK. This data is about who/what they follow online and what they are talking about on social.
The five key Generation Z segments we found are:
Life Lovers
Growth Hacking & Tech
Hip Hop Creators
TwitchTok'ers
Sports & Hooplife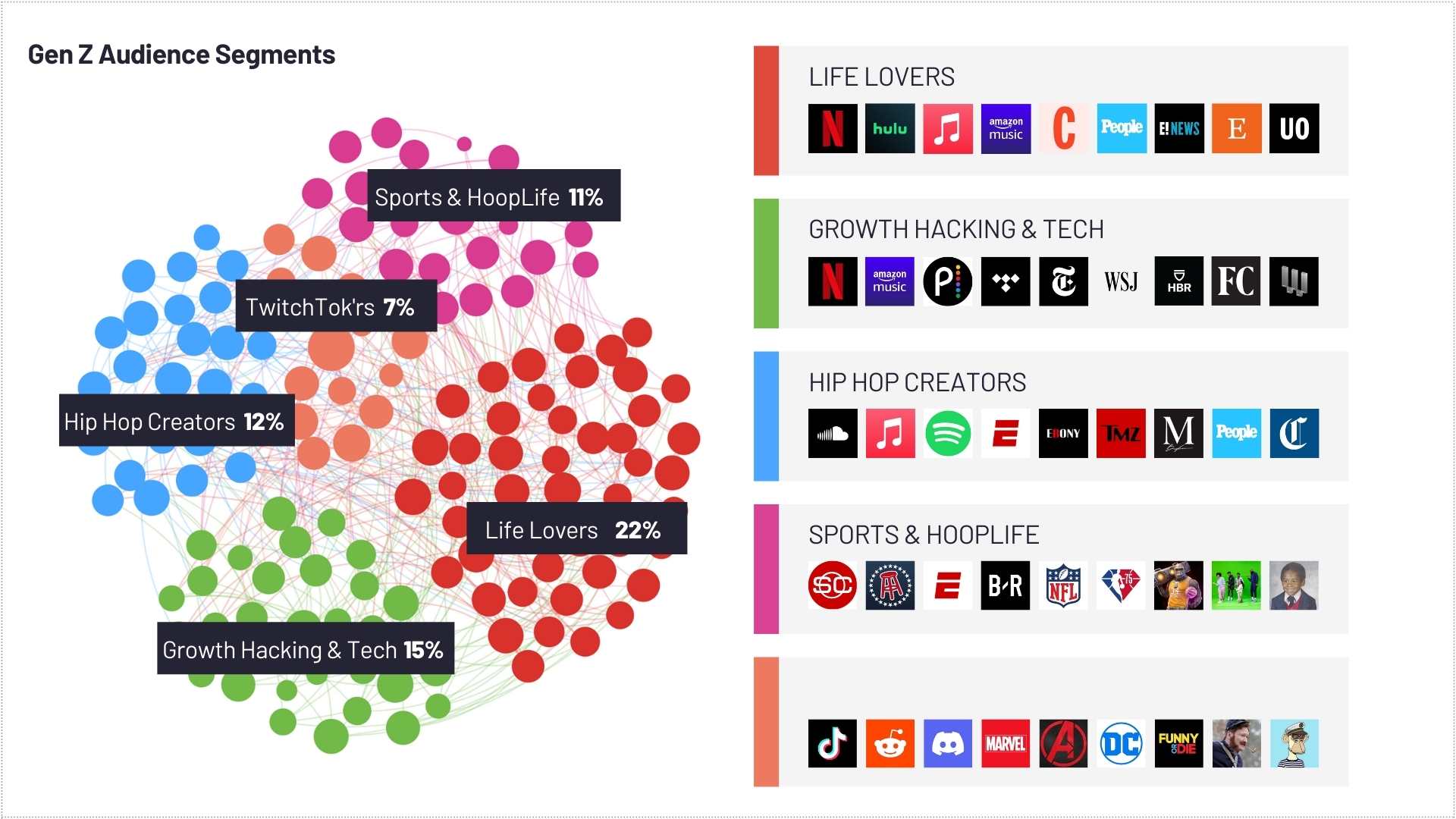 The Life Lovers audience segment is 72.4 percent female. They are incredibly optimistic and look at the positive side of everything. The top three keywords in their bio are love (9.7%), life (6.3%), and life (4.5%). The most common names for Gen Z consumers are Jessica, Sarah, and Amanda.
They are fans of most video streaming services, except for Peacock. In that order, their top three music streaming services are Apple Music, Amazon Music, and Spotify.
Their "go-to" outlets are People Magazine, Vogue, TMZ, Us Weekly, and Cosmopolitan when it comes to media. In addition, they read Huffington Post, CBS News, and the New York Times for business-related media. Finally, this segment's preferred shopping brands are Urban Outfitters, Etsy, and Forever 21.
The Growth Hacking & Tech audience segment is 58 percent male. The top keywords in their bio are enthusiast, tech, and marketer. The most common Gen Z names are biblical, with Michael, David, and John being the most popular.
Netflix and Amazon Prime Video are their two top streaming services. Unlike the Love Love Gen Zers, this segment does have an affinity for Peacock Streaming. Apple Music, Spotify, and Amazon Music are their top three music streaming services. However, this segment also listens to Tidal, which has a unique affinity compared to the other Gen Z segments.
Their top media outlets are The New York Times, The Wall Street Journal, The Economist, and Forbes. The three most unique media outlets they follow are The Atlantic, Harvard Business Review, and Fast Company.
The Hip Hop Creators segment is split evenly, with 51 percent male and 49 percent female. This segment is primarily located in Atlanta, Chicago, and Los Angeles. Their top bio keywords are music, IG, and artist.
Music is one of their top interests, specifically Hip Hop, with rappers like Wiz Kalifa, Lil Wayne, TI, and J Cole being their primary affinities.
This segment is very similar to the others for streaming services, with one exception. Soundcloud is their top streaming audio platform, followed by Apple Music, Amazon Music, and Spotify.
Their top media outlets range from sports, entertainment, and business. ESPN, CNN, TMZ, The New York Times, and People are their top media outlets. Maxim, Ebony, and Essence are unique media compared to the entire audience.
The TwitchTok'rs audience segment is also evenly split between males and females. There isn't anything unique about what they watch and listen to online or through their apps for streaming services.
This segment over-indexes on using Twitch to stream, create and consume content. They are also heavy users of TikTok, Reddit, and Discord. They also have very high affinities for late-night shows and comedy, with Funny or Die, The Onion, and The Tonight Show ranking in their top interests. They also have a high affinity for Jimmy Fallon, Conan O'Brien, Ellen DeGeneres, and Stephen Colbert.
Another unique factor is their love for superheroes. Compared to the Gen Z audience, they over-indexed in their love for the Avengers, DC, and Marvel Entertainment.
The Sports & HoopLife audience segment skews 83 percent male. Their love for "all things" sports sets them apart from the larger Gen Z audience. Basketball, Baseball, and Football are their top three interests in this category.
Their top media outlets are SportsCenter, ESPN, Bleacher Report, and Barstool Sports. In addition, they have a very high affinity for Stephen A Smith and ESPN analysts Adam Schefter and Adrian Wojnarowski.
The top athletes they follow are LeBron James, Kevin Durant, Shaq, Kobe, and Dwayne Wade.
Outside of sports, this audience reads The New York Times, The Wall Street Journal, Forbes, Men's Health, Rolling Stone, and Vice. In addition, some unique media outlets include Outdoor Life, American Rifleman, Cord Cutter News, and Field & Stream.
Gen Z Spending Habits
This report just came out from eMarketer about Gen Z shopping trends. Here are some of the findings:

50% of Gen Z use social media to discover new products and research information. Many also follow company brand handles and influencers during their shopping journey. This is consistent across all generations too. The difference is that these specific Gen Z purchasing habits are growing yearly.
The eMarketer survey also breaks down older generations. For example, 58% of millennials and 29% of Gen X consumers also use social media to research products and services.
YouTube is the top social channel that Gen Z uses for researching products, followed by Instagram, Facebook, and TikTok. This data took me by surprise. Other research I have read implies that Gen Z does not use Facebook, and having two Gen Z kids at home validates that hypothesis.
Compared to other generations, Gen Z's spending habits include engaging with brands through social media more, being more open to trying new products, and spending more money on experiences rather than physical items. Gen Z is also more likely to use their mobile phones to make in-store purchases.
A higher percentage of Gen Z follow brands online and on social media, with many citing that they purchase from brands with an engaging social media presence. They also state that influencers play a critical role in their shopper journey.
Clothing, beauty & skincare products, and technology are the categories that Gen Z will typically buy online through social media. Another interesting point is that they spend more money on experiences than physical items. This trend is likely to continue as this generation joins the workforce, gets promoted, and has access to more disposable income.
How are Gen Z Spending Habits Influenced?
In a previous report from eMarketer, 65 percent of the Gen Z audience stated that friends and family are the two most trusted sources for product recommendations. This doesn't surprise me. Over the last 20 years, reports from various sources support the hypothesis that people trust people with just about everything.
The data suggests 11 percent of Gen Z rely on influencers and creators before buying products online. I have always believed that having more than one data point to substantiate a hypothesis or claim is an intelligent approach. The below data provides additional Gen Z research about their purchase behavior on social channels.
According to this report from SticherAds, 59% of Gen Zers believe that Instagram ads influence their purchases more than TikTok (57%), Facebook (36%), and Twitter (29%). Also, 63 percent of the Gen Z audience say they click on video ads more than any other format.
Where does Gen Z Shop for Clothes?
According to a recent study by Piper Jaffray, the top three retailers that Gen Z prefers to shop for clothes are: For apparel, some of the
Online retailers like Amazon and Zara
Department stores like Macy's and Sears
Clothing boutiques like American Eagle and Abercrombie & Fitch
Again, Interestingly, the study found that Gen Z is less likely to shop at traditional brick-and-mortar stores like Walmart and Target. This may be because online retailers typically offer a more comprehensive range of products and a better shopping experience.
Both millennials and Gen Z are avid online shoppers, so it's no surprise that these generations prefer to buy clothes this way.
Building Brand Loyalty With Gen Z Shoppers
Gen Z is the most connected generation in history. They're used to getting their news from social media. So, to build trust with Gen Z, you need to be open and honest. But, it would be best if you also were careful about your tone. Gen Z is very sensitive to condescension and irony, so it's best to avoid those if you want to build trust. Instead, focus on being genuine and authentic. If you can do that, you'll be well on your way to building trust and brand loyalty with Gen Zers.
To reach Gen Z, brands must focus on creating authentic and relatable content. This can be achieved by featuring real people in marketing campaigns and using humor to appeal to this young demographic.
Three Ways to Track Gen Z Behavior
To understand how the virus has impacted millennials and Gen Z, it is crucial to track their behavior in three ways:
Pre-Covid 19 Behavior: This refers to how each generation behaved before the pandemic started.
Covid 19 Behavior: This refers to how each generation behaved when the pandemic was in full swing.
Post-Covid 19 Behavior: This refers to how each generation is starting to behave now that the pandemic is winding down.
It is essential to track all three of these behaviors to get a complete picture of how Covid 19 has impacted consumer behavior across the customer journey for millennials and Gen Z.
Pre-Covid 19 Gen Z Behavior: Gen Z pre-Covid-19 behavior can be described as "the age of anxiety." They are the generation that has grown up in constant change and uncertainty. As a result, they are highly anxious and are constantly looking for ways to protect themselves and their families. They are also very skeptical of advertising and distrust traditional marketing tactics. Unlike millennials, they are more likely to trust information from social media and influencers.
Covid-19 Gen Z Behavior: Gen Z is also reacted to Covid 19 but in a different way. They were the first generation that had never known a world without the Internet, so they were more comfortable using technology to stay connected. Gen Z is also more optimistic than millennials and tends to take things in stride. For example, when schools closed due to Covid 19, Gen Z students turned to online learning platforms instead of feeling overwhelmed.
Post-Covid 19 Gen Z Behavior: It's too early to know the full extent of the post-Covid 19 economies, but there are some things we can expect. Millennials and Gen Z will be more cautious when spending money. They have seen first-hand how a pandemic can impact their lives, and they will not take risks with their finances. Gen Z is even more comfortable than millennials and is more likely to purchase through their phones. Retailers need to focus on creating an online presence to reach these consumers.
Finally, both millennials and Gen Z are interested in social responsibility. They want companies to be transparent about their practices and be involved in charitable work. Businesses must focus on sustainability and giving back if they appeal to these generations.
Covid 19 has had a significant impact on the way millennials and Gen Z view the world. Both generations are changing how they live, substantially affecting the economy and consumer behavior moving forward. Businesses need to understand these changes and adapt their marketing strategies accordingly.
Diving Deeper into Gen Z Values
Millennials and Gen Z took the world by storm when social media platforms empowered them to blast the world with their thoughts, influence people and governments, and push back on society in new ways. These forces have shaped their perspectives on life, habits, values, and behaviors.
Deloitte's recent market research study paints the perfect picture of how the pandemic and societal issues have impacted each generation. The research study "A call for accountability and action" surveyed 14,655 millennials and 8,273 Gen Zers from 45 countries globally.
While this data might not be actionable to the customer journey, this market research lays the groundwork for brands to get a deeper understanding of the values of each generation and work to align their brand values accordingly.
Here are high-level insights from the research:
Health and employment are top concerns for most consumers. However, millennials and Gen Zers are more concerned about climate change and the environment. More than 40 percent of millennials and Gen Zs agree that it's too late to fix climate change and that a brand's environmental impact has and will influence their buying decisions.
There is still a stigma around mental health in the workplace. Thirty-one percent of millennials and 35 percent of Gen Z said they've taken personal time off due to pandemic stress. Additionally, 40% of millennials and Gen Zs aren't convinced that their employers care about their mental health and wellness.
Stress is back, and it's not looking good. Forty-one percent of millennials and 46 percent of Gen Z say they are constantly stressed out. In addition, the pandemic and its effect on the economy have created uncertainty and stress around each generation's financial future.
No love for brands that don't make an impact. Less than 50 percent of millennials and Gen Zers think business positively impacts society. This means that over 50 percent feel that most companies aren't making a concerted effort to improve society. However, the top consumer brands in the US are highly vocal about sharing what they stand for and communicating in a way that resonates with their customers.
Wealth & income equality are concerning for both generations. Over 66 percent of millennials and Gen Zs see wealth and income as unfairly distributed.
Systemic racism is real. 56 to 60 percent of millennials and Gen Z see systemic racism as a real thing in US culture. At least 20 percent say they have felt discriminated against in different situations.
The Key Takeaways
Data like this reinforces that brands must rethink how they engage with their customers online. Of course, influencer marketing is a trend that has picked up a lot of speed over the last 5+ years and should be a part of your broader marketing strategy.
This data also tells me that brands should build customer advocacy programs to capitalize on word of mouth, trust, and relationship building.
Lastly, it's widely known that platforms like Instagram and TikTok have gained momentum and usage among the Gen Z audience. TikTok released their Infinite Loop report, highlighting TikTok users' path to purchase and other behavior on the platform.
The most significant difference between YouTube and these other video-first platforms is that YouTube videos get visibility within Google search results. The others don't. And the fact that YouTube itself is the second largest search engine also contributes to new product visibility. In this regard, it's more than just Gen Z buying habits. All generations look to "other people like themselves" for product recommendations.
Gen Z is different from any other generation that has come before it, so their shopping habits are unique. To understand these habits, it's essential to look at the various sources of influence. Friends and family, social media influencers and creators, advertising, and product utility all influence Gen Zers' purchase decisions. By tracking social media activity, we can better understand these habits and what brands and products they are interested in buying.
---
FAQ
Q: How different is Gen Z from Millennials?
A: Gen Z is different from millennials because they are more connected and better understand the world around them. They're also less trusting of authority figures, so brands need to work harder to earn their trust.
Q: Who are the top Gen Z influencers?
A: Some top Gen Z influencers include Charli D'Amelio, Zendaya, Amanda Steele, Loren Gray, Khaby Lame, Millie Bobby Brown, Noah Cyrus, Olivia Giannulli, Jordyn Woods, and Taylor Hill.
Q: Who are the top Gen Z influencers on TikTok?
A: The top Gen Z influencers Brennen Taylor, Dude Perfect, Liza Koshy, The Dolan Twins, Nash Grier, and Cameron Dallas.
Q: Who are the top Gen Z influencers on Instagram?
A: The top Gen Z influencers on Instagram include Kylie Jenner, Jake Paul, David Dobrik, Nash Grier, Cameron Dallas, and Liza Koshy.
Q: Who are the top Gen Z influencers on YouTube?
A: The top Gen Z influencers on YouTube include MrBeast, CarryMinati, Ryan's World, James Charles, David Dobrik, Liza Koshy, Brent Rivera, Jojo Siwa, Emma Chamberlain, and Charli D Amelio.
Q: What are some of the biggest Gen Z trends?
A: Some of the biggest Gen Z trends include TikTok, avocado toast, and using multiple devices simultaneously. They are also more environmentally conscious than millennials and Gen X.
Q: What type of music does Gen Z listen to?
A: Gen Z listens to different music but is particularly drawn to hip-hop and rap. They also like indie and alternative music.
Q: What type of videos does Gen Z prefer to watch?
A: Gen Z prefers to watch videos that are funny or informative. They're less likely to watch music videos or celebrity gossip videos.
Q: Where does Gen Z start and end?
A: Gen Z starts in about 1995 and ends around 2035. They are currently the most populous generation, making up about 26% of the population.
Q: What is the average age of a Gen Zer?
A: The average age of a Gen Zer is 21. However, there is significant variation between different countries.
Q: Does Gen Z use Twitter?
A: Gen Z does not use Twitter like older generations. Instead, they are more likely to use TikTOl, Snapchat, Instagram, and YouTube.
Q: Does Gen Z like rock music?
A: Gen Z prefers hip-hop and rap music.
Q: What is the average attention span of a Gen Zer?
A: The average attention span of a Gen Zer is about eight seconds. This is significantly shorter than the attention span of older generations.