This is excellent news if you are responsible for creating a content strategy.
Buzzsumo just released their Content Ideas & Brief Generator.
The Buzzsumo strategy is smart. I don't think they added any additional functionality with this release. But they've provided an easy workflow that walks you through the steps of generating content ideas and then formatting it quickly to be added into a content brief. The Buzzsumo Content Brief is perfect for helping streamline your marketing efforts.
In the below example, I searched for the metaverse. Buzzsumo suggests additional keywords that you might want to include in your query. They also give you the ability to filter by timeline and language.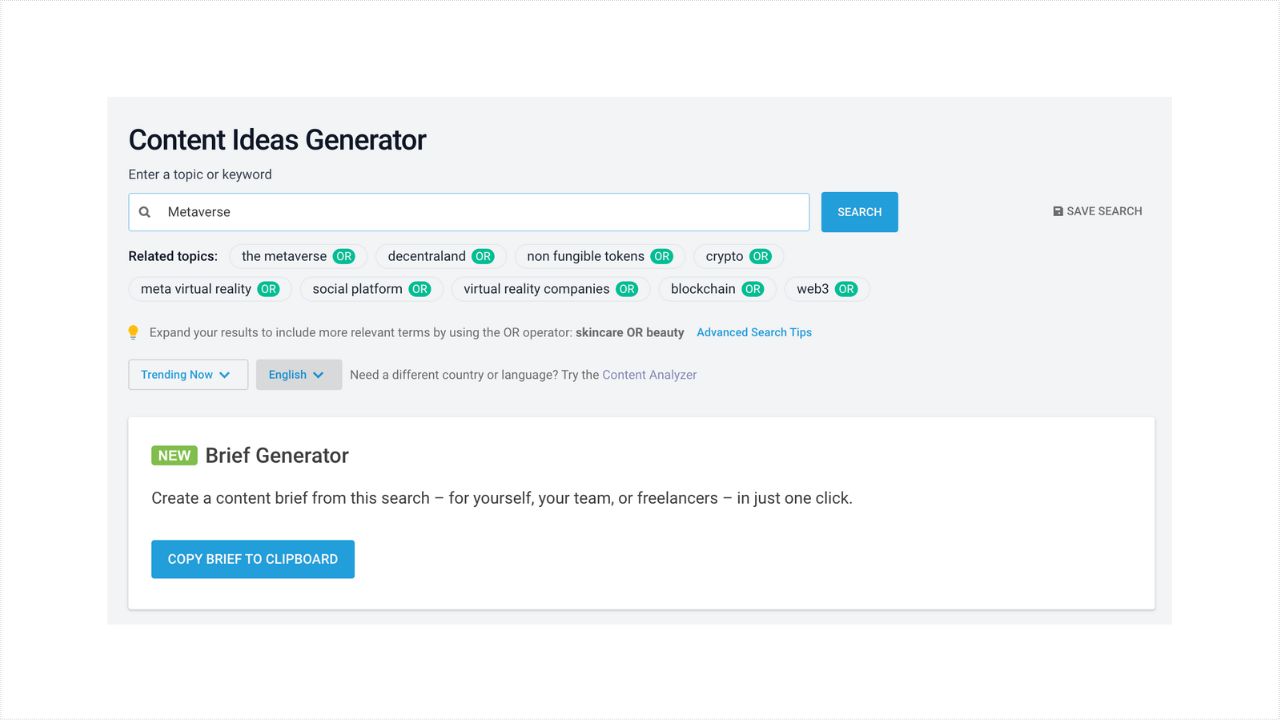 What you see below are the top metaverse stories and articles that are trending right now. They only show the top articles, but you can click "More Trending Stories" to see more articles. Buzzsumo has added their Trending Score and engagement numbers by channel­­–Facebook, Twitter, Pinterest, and Reddit. The Trending Score indicates how quickly the content is shared across the social media ecosystem.
They have also added the top shared and linked content based on the search query. This is similar to the top stories, but they've also included Buzzsumo's Evergreen Score and linking domains. They have also added the top keywords searched in Google relevant to the metaverse.
The Evergreen Score measures the total number of social media engagements and inbound links 30 days after the content was published. It's their version of page authority. Note: Buzzsumo is only calculating engagements from the four channels listed above.
Here they have added the most popular topics related to the search query. You have probably seen this before. It's a topic cloud that was popular within social media listening platforms. These topics are based on articles that are being published in the media. This is in important distinction in looking at this topic cloud. It is not based on social network mentions but on news headlines.
Below, they also give you examples of the top search results of your query, Including the section headings for each one. This would be extremely helpful for SEO teams as they prepare long-form website content. Every content marketing strategy should include long-form, creative, video, and a combination of all three.
Once you are happy with the content research, you click on "Copy Brief to Clipboard," and you can paste it into a Word document for easy sharing. in the template, they also add a section for your tone of voice and any other audience research you might have done.
You'll also want to add other things like competitive analysis or include any additional research that can inform marketing strategies. Then, you can send it to an agency, a team, or others interested in the topic.
Related Content