Reddit is a social news and content aggregation website where users submit content in the form of either a link or a text. Other users vote the content either "up" or "down" based on its value and relevance. Content that gets voted up will naturally get more views and engagement. Unfortunately, the opposite is also true. Irrelevant or spammy content that gets voted down will eventually disappear.
The popular content that gets enough votes will eventually make it onto the front page of Reddit. See here for a list of Reddit case studies.
Over the years, Reddit has emerged as a compelling platform for marketers. With its ability to connect with influential users and generate massive web traffic, Reddit can potentially send your business skyrocketing.
Here's a breakdown of registered users straight from Reddit. The data shows how influential Reddit has become over the years:
Reddit has more than 50M+ active unique visitors
There are over 100K active communities on Reddit
Reddit users spend an average of 34 minutes in the app per day
Reddit has more than 50B+ monthly views
73% of Reddit users access the site using mobile
58% of Reddit users are between the ages of 18-34, 28% are between the ages of 35-49, and 19% are between 45-65
58% of Reddit users are male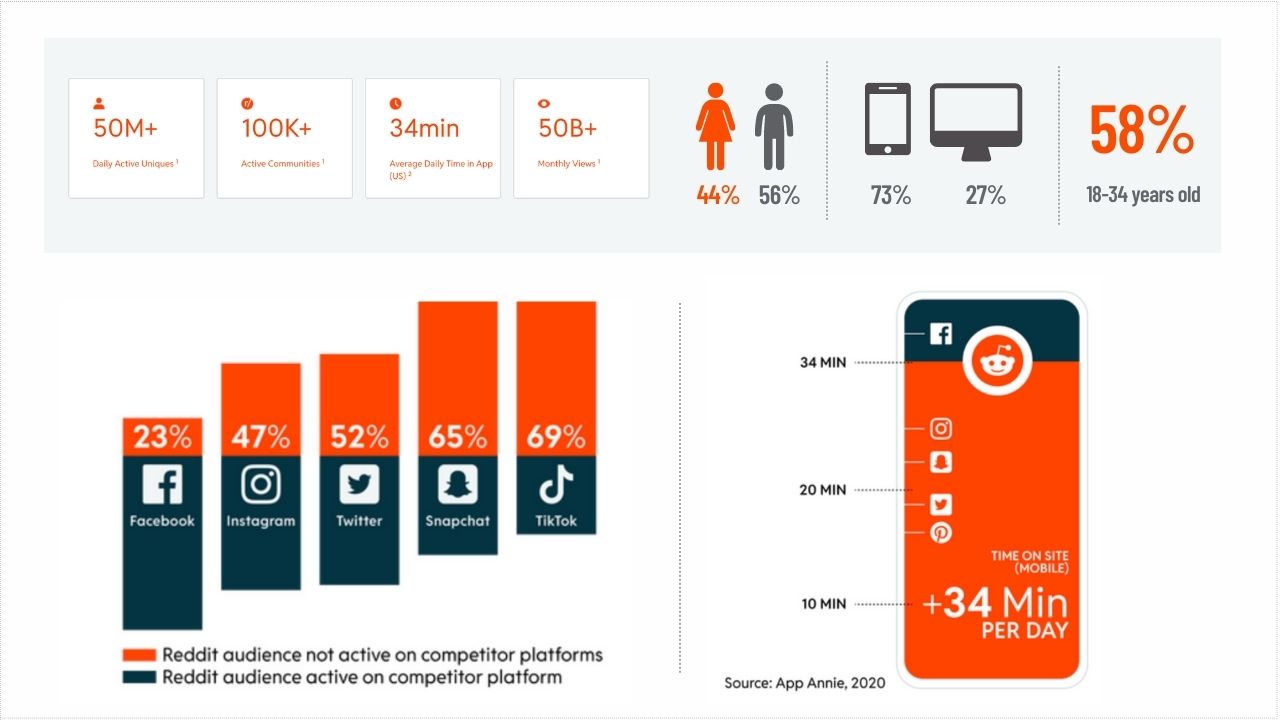 But, with great power comes great responsibility. As a marketer, if you want to use Reddit to benefit your business, you need to do it correctly. If not done right, Reddit could become your worst nightmare as a marketer.
Why is Reddit important for marketers?
Reddit is an influential network. It's been known to be the groundswell for breaking news. Time Magazine called it "The Front Page of the Internet." Even if you don't use Reddit as a marketing channel, monitoring the conversation for a few reasons is critical.
Because users are anonymous, there's an increased risk of sensitive and confidential information being leaked on the platform. You must stay ahead of this and use social listening to track your brand name, relevant keywords, and industry terms.
Additionally, because of how Reddit's algorithm works (i.e., voting), it can be easy for negative sentiment to spiral out of control quickly. If you see something negative about your brand, you'll need to address it immediately. The last thing you want is for it to gain traction and go viral in the mainstream news.
You can also use Reddit for research. Because users can upvote and downvote content, you can get an idea of what's popular in your industry and see what content resonates with your target audience. You can also use Reddit for market research to understand intent to purchase, product feedback, and more.
This Reddit and Verto Analytics report shows how Reddit influences the purchase journey compared to other social platforms. TikTok also released its path to purchase journey in 2021, and there are some similarities.
And because the Subreddits are topically based, it's easy for marketers to target a specific audience with media. For example, if a marketer sells a new type of health supplement, they could target the /r/fitness subreddit and reach an audience interested in health and fitness.
Reddit AMAs are also a great way to connect with influencers and customers. AMA stands for "Ask Me Anything." It's a Q&A format where the person hosting the AMA answers questions from the Reddit community.
When marketing on Reddit, it's important to keep a few things in mind. First, Redditors are notoriously skeptical of marketers and advertising. As such, it's important to be transparent about your involvement with the product or service you're promoting. Second, because of the upvote/downvote system, ensuring that your content is high quality and relevant to the subreddit you're posting in is essential.
All that said, I am a huge believer in Reddit social listening and isolating the network to identify unique insights about the topic at hand.
Can you advertise on Reddit?
The short answer to this question is yes.
You can buy media and display advertising all across the Reddit network. However, it is vital to remember that Reddit is a community-driven site, and as such, you should approach your marketing efforts on the site with caution. In other words, don't spam the site or try to excessively self-promote your business – this will likely only result in negative attention from the Reddit community. Instead, focus on providing value to the community by sharing helpful and engaging content.
Reddit Case Studies
Below are a few excellent Reddit case studies of how brands activated their marketing programs on the platform. Here are a few:
In June 2022, Reddit released a new case study video highlighting how several large brands have used the platform to drive brand awareness and sales. The series is called 'Meet Your Maker' and takes an interview-style approach, providing insights from the marketing executives at each brand.
Reddit should play an integral part in your digital strategy. By understanding how the platform works and how the community consumes content, you can use it to reach your target audience, build brand awareness, and generate leads.
NFL Engagement Data on Reddit
NFL preseason football starts for me in just a few days when the 49ers take on the Green Bay Packers. I live and breathe sports and participate in several communities on Twitter, private Facebook groups, Subreddits, and the Bleacher Report in-app community, where smack talk is praised and welcomed.
I also have a text message group with some of my fellow Lakeshow fans, Complaining, praising, and sometimes crying, almost Stephen A. Smith like.
Sports fans are passionate, which typically translates to more engagement and conversations on social media.
Reddit just released some interesting stats about the NFL conversation, the audience on the platform, and when the conversations are happening and peaking. See below.
The data shows that there are 4.3 million monthly visitors to Reddit football communities each month, resulting in 202 million monthly views. Also, 37% of NFL fans are reachable on Reddit.
Here's a running list of the latest Reddit product updates, and read my latest post–Is Reddit Social Media?