HubSpot and Brandwatch just released a 2023 Global Social Media Trends Report. I highly recommend you download it here (email required). It has actionable insights and recommendations, data points, and beautiful visuals.
I summarized the top 10 trends below and added my commentary. Some of these trends are not new, just iterations and evolutions from previous years.
Building Community is No Longer Optional
As we navigate through 2023, the importance of fostering a dynamic digital community has become undeniable. No longer a mere option, it's the beating heart of modern marketing strategies. As a result, marketers now find themselves pivoting towards nurturing digital communities, a shift reflected in the staggering 90% who deem this strategy important.
But it's not just the marketers thinking about building online communities. Consumers are also on the move, with 20% starting to use and engage in communities—a testament to their growing prominence and appeal.
Equally telling is the surge in social media chatter surrounding communities, registering a significant increase of 16% over the last three years. This uptick in discussion mirrors the escalating significance of online communities in the digital landscape.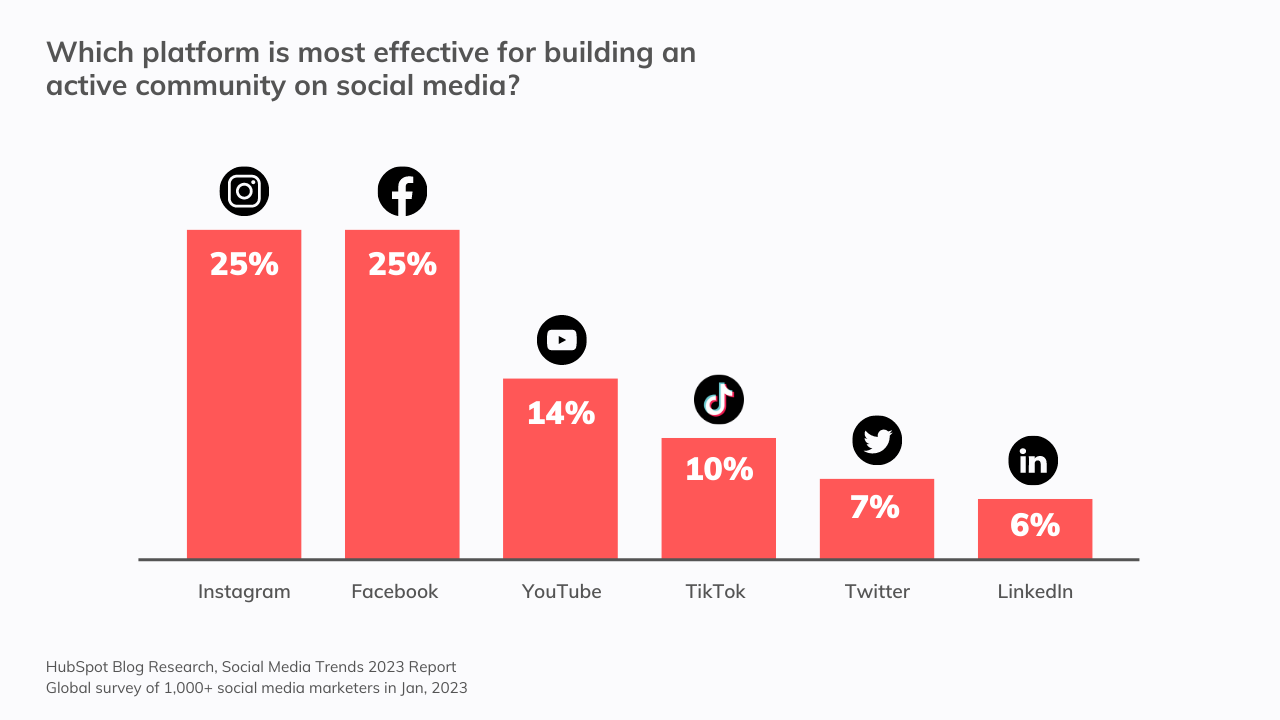 Social Media is the Future of E-commerce… Still
If there is any lingering doubt about the significant role of social media in shaping e-commerce, the ongoing global trends firmly dispel it. It's not a distant phenomenon; rather, it's unfolding right before our eyes. Moreover, the trailblazers in this movement, platforms like Instagram, Pinterest, and TikTok, are actively innovating and reinforcing their e-commerce functionalities.
This shift's impact is discernible in social media marketers' tactics. According to recent reports, 47% are tapping directly into social media apps as a marketplace, using integrated selling tools to connect their offerings with prospective buyers.
A compelling statistic that deserves attention lies in the shopping habits of those aged 18 to 44. An overwhelming number of these individuals are leveraging social media platforms for product discovery. But it doesn't stop there. For 35% of the Gen Z population, social media is their primary method to stay updated about their favored brands and products.
Consumers Are Using Social Media for Customer Care
Specific global social media trends remain unshakeable. From its early days till now, it has remained a preferred platform for users around the globe. An emerging development, however, is the increasing inclination of consumers to utilize social media as a customer care portal.
Within the last quarter alone, about one-fifth of Gen Z, Millennial, and Gen X users have reached out to brands via direct messaging, indicating a clear shift in communication preferences. They are turning away from traditional customer service channels, favoring the convenience and immediacy that social media platforms provide.
This paradigm shift has not escaped the attention of marketers. According to a recent report, 76% of social media marketers claim their respective companies already provide customer service through these platforms.
Consumers Turn to Social for Search & Discovery
An impressive 87% of social media marketers anticipate that by the close of 2023, consumer propensity to search for brands on social media platforms will surpass traditional search engines.
Moreover, a considerable portion of consumers, particularly those within the 18 to 54 age bracket, are already demonstrating this shift in their search preferences. Nearly a quarter of this demographic, and an even more significant 36% of Gen Z, gravitate towards social media for their brand-related searches.
This profound shift in user behavior is receiving acknowledgment from industry leaders. Even Google, a behemoth in search engines, has conceded that users increasingly flock to platforms like TikTok for discovery.
In an intriguing turn of events, TikTok isn't content with influencing consumer search behavior. Instead, reports suggest it's preparing to penetrate the paid search ads market, positioning itself as a direct competitor to giants like Google and Microsoft.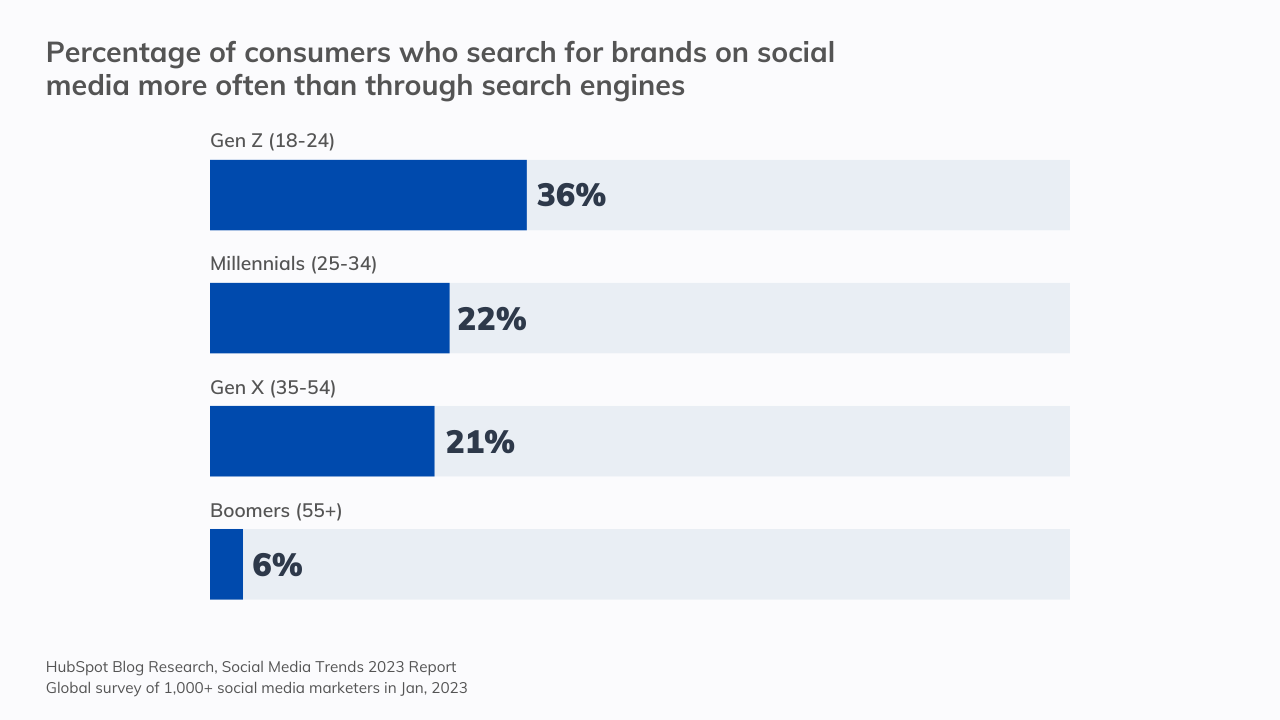 Marketers Ditching Celebrities for Content Creators
A wind of change is blowing through the influencer marketing arena, redirecting its trajectory from the glamour of celebrities to the authenticity of micro-influencers and content creators. As many as 80% of social media marketers project a marked increase in collaborations between companies and creators in 2023.
Moreover, the shift in focus is driven by recognizing the potential locked within niche creators. Their unique value proposition for targeted campaigns hasn't gone unnoticed, with four out of every five marketers opting to partner with smaller, more specialized creators.
An interesting side-note to this evolution is the influencers' role in product discovery, especially among the Gen Z audience. They have become the leading channel for introducing this audience to new products.
This shift from celebrity-centered marketing towards a more relatable and accessible cadre of influencers underlines the evolving understanding of consumer behavior and preferences. It's more than about star power—authenticity, relevance, and engagement.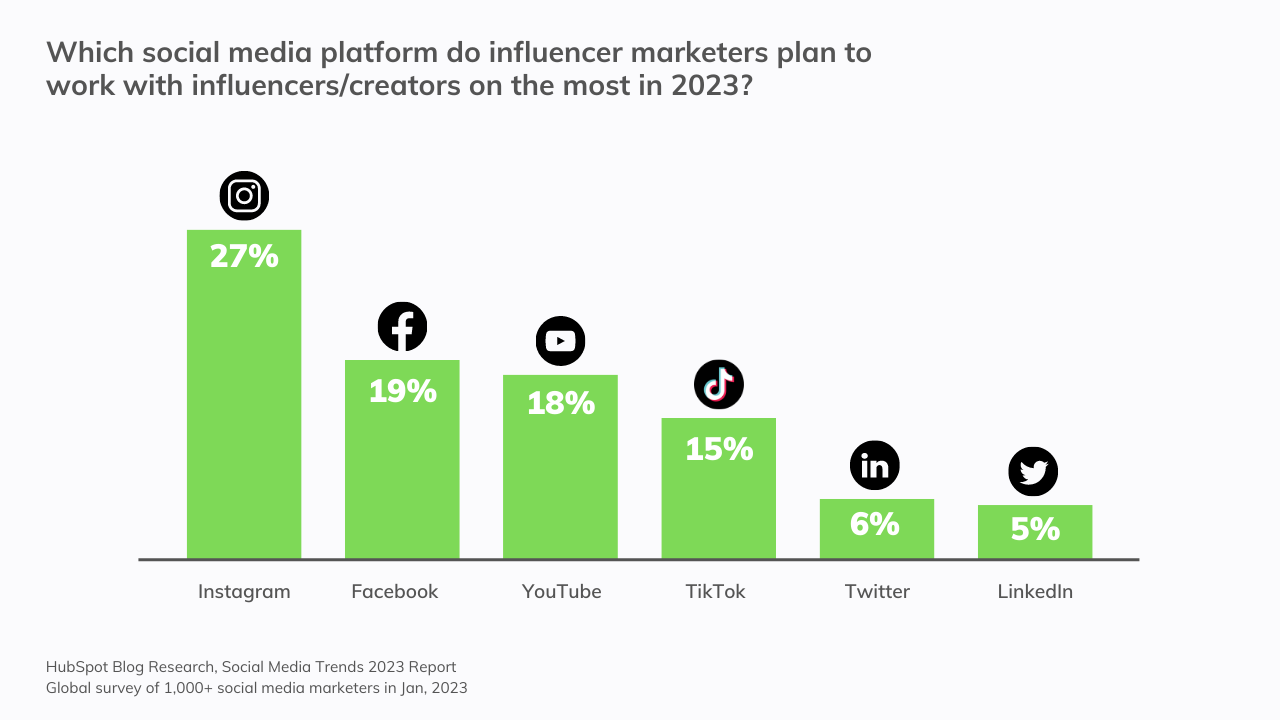 Short Form Video is Winning Across All Channels
One medium in the digital content landscape has emerged as the undisputed victor – short-form video content. This format has proven its mettle by consistently generating high returns on investment and propelling measurable business results. This isn't merely a passing trend and a testament to the power of well-curated, brief, and captivating visual narratives.
The popularity contest among short-form videos has distinct frontrunners: Instagram Reels, TikToks, and YouTube Shorts. These platforms have expertly capitalized on the modern consumers' dwindling attention span and craving for swift, concise content. Their success signals a clear departure from long-drawn videos and a warm embrace of these byte-sized visual treats.
Further underlining this shift in content consumption are Gen Z and Millennial consumers. Their preference for learning about new products and services through vibrant, succinct videos represents a fundamental change in consumption patterns. This trend shows the power of short, dynamic videos as our time's dominant digital communication language.
Funny, Trendy & Relatable Content Stands Out
In 2023, social media marketers have a laser-focused strategy: crafting entertaining content, tapping into prevailing trends, and, above all, resonating on a personal level with their audience. This approach is far from conjecture; it's based on the proven ability of such content to connect with and engage consumers effectively.
The potency of content that mirrors everyday experiences cannot be overstated. This relatable content serves more than just a diversion; it operates as a conduit between brands and their audiences. It fosters a deep sense of community and amplifies audience engagement by depicting everyday struggles, challenges, and victories.
Furthermore, this approach to content creation isn't just supported by anecdotal evidence. Data from 2022 provides a persuasive argument: marketers who viewed their strategies as successful were an impressive 127% more likely to identify emerging social media trends in content creation than those who assessed their plans as subpar. This finding underscores the significance of crafting not just any content but the right content – the kind that strikes a chord with audiences and rides the wave of current trends.
Instagram Delivers on ROI
Among the vast array of social media platforms, Instagram still holds the crown as the champion of return on investment for brands. It's a fact that's not lost on marketers—over half of them plan to elevate their financial commitment to the platform in 2023. Instagram's value proposition extends beyond just impressive ROI; it also promises the vast potential for growth that marketers are keen to leverage.
Even with the surge in TikTok's popularity, particularly within the Gen Z demographic, marketers have not been swayed from their belief in Instagram's vast growth potential. This is a testament to Instagram's established user base, comprehensive features, and continued innovation.
Moreover, marketers show a distinct preference for the Instagram algorithm, recognizing it for its precision in targeting the right audiences. This particular attribute makes it an unparalleled tool in their arsenal for audience development. With its proven track record and well-honed algorithm, Instagram continues to be viewed as the optimal platform for cultivating and nurturing a strong brand following. The message from marketers is clear: Instagram's potential is yet to be fully tapped, and they're prepared to invest in uncovering its full promise.
Platform Personalization is Key
It's a common practice for marketers to utilize an average of four social media platforms to reach and engage with their audiences. However, the challenge of crafting tailor-made content for each distinct platform is considerable.
Previously, social media managers often resorted to minor modifications (if any) of a piece of content before distributing it across different channels. Yet, this practice falls short in the current marketing context. This shift is rooted in each social media platform's unique technical requirements, pixel dimensions, stylistic nuances, and content conventions. These variances necessitate more meticulous content personalization than ever before.
To truly maximize the potential of each platform and engage effectively with various audiences, a deeper understanding of these distinct characteristics is imperative. Brands need to be mindful of these specifics and invest in creating customized content that aligns seamlessly with the unique dynamics of each platform. The emphasis in 2023 is on a more refined, platform-specific content strategy that moves away from repetition and towards personalization.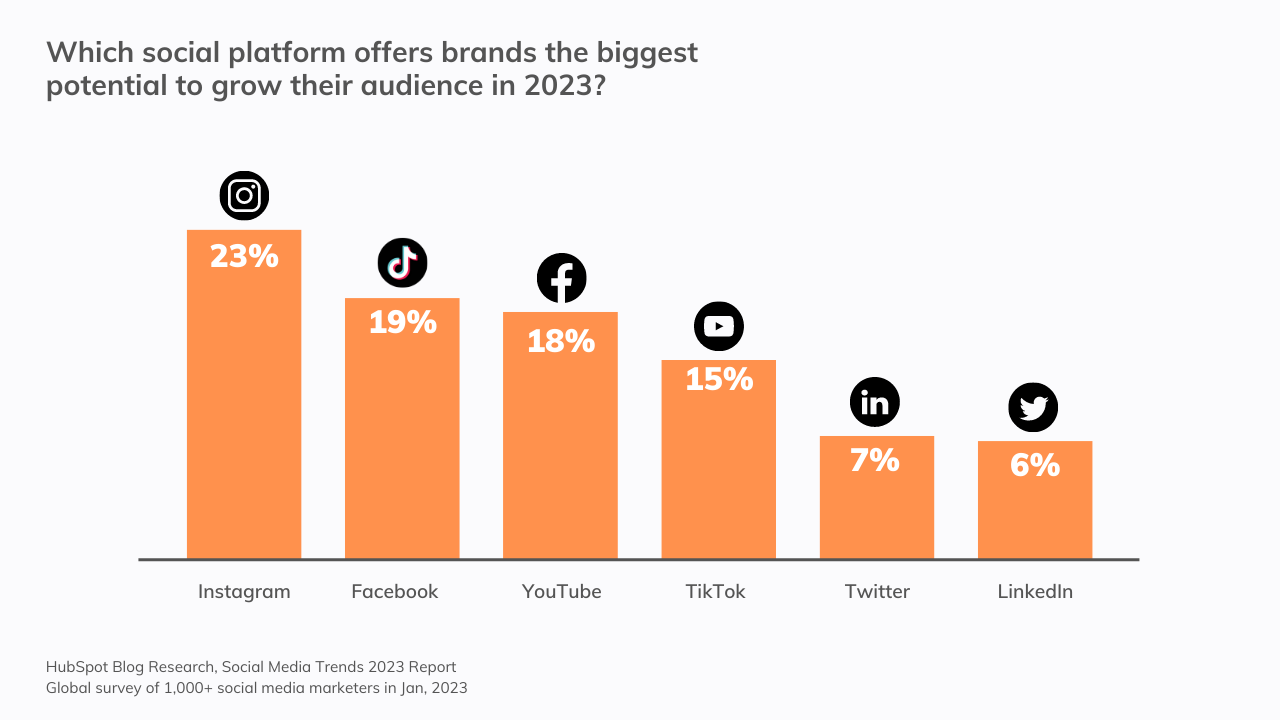 Generative AI is Mainstream for Marketers
Artificial intelligence (AI) is witnessing a remarkable surge, particularly within the marketing landscape. 2022 was pivotal in this trajectory as AI technologies became increasingly democratized. Tools like ChatGPT, Dall-E, and Canva's Magic Write began to carve out a place in the essential toolset of marketing teams, signaling a new era of AI-enhanced marketing practices.
However, this technological revolution doesn't come without its demands. For example, the expansion of AI within the marketing industry necessitates a corresponding growth in AI proficiency among its professionals. The statistics underscore this, with a nearly 50% increase in AI-related jobs since 2018.
The trend is unmistakable. Conversations centered around AI's applications in marketing and public relations have become increasingly popular, with a specific focus on the capabilities of generative AI. With its potential to create content autonomously, this technology sparks considerable interest and transforms traditional marketing approaches.
To summarize, the ascendancy of generative AI for marketing and public relations is undeniable. As AI technologies evolve and become more accessible, their impact on marketing strategies and tactics will only grow, redefining the industry's landscape. Proficiency in AI, therefore, is not just a desirable skill but a necessary one, with the power to navigate this shift successfully.
Wrap-Up: Global Social Media Trends 2023
Analyzing the global trajectory of social media trends, it's apparent that the road ahead holds a complex blend of challenges and opportunities for marketers. The landscape is in perpetual flux, spurred by ceaseless innovation and the dynamic nature of consumer behavior. The imperative for marketers lies in observing these changes and comprehending the key trends that drive them, thereby informing their strategies.
A salient trend shaping the future of social media is the growing intersection with e-commerce. The advent of shopping features on platforms like Instagram and Facebook has initiated a fusion of social interaction and online shopping. This evolution reflects a marked shift in consumer behavior, with social platforms increasingly serving as a product discovery and purchase conduit. In response, companies need to refine and enhance their social commerce strategies, delivering frictionless, personalized shopping experiences right where consumers socialize.
Another significant trend is the burgeoning use of AI-powered marketing tools. As artificial intelligence continues to mature and its accessibility grows, its role in shaping marketing strategies has become pronounced. AI empowers marketers to tailor customer experiences, optimize operational efficiency, and base decisions on robust data. Consequently, acquiring proficiency in AI and machine learning is becoming necessary for marketers to determine competitiveness in this evolving milieu.
In the context of content, the future of social media will be marked by an unwavering focus on authenticity and user-driven content. The modern consumer places a premium on transparency and seeks genuine brand engagement. This, coupled with the propensity to trust peer-generated content over conventional advertising, necessitates that brands recalibrate their approach. Therefore, prioritizing strategies that stimulate authentic interactions and user-generated content, such as alliances with influencers and initiatives for community building, will be paramount.
Related Content