The top three brand marketing priorities in 2023 are strengthening brand identity, awareness, and values-based marketing, according to the 2023 State of Marketing Report:
Why this matters:
It's January 2023. Inflation is still high. The economy is headed for recession. Every headline is about companies laying off their employees by the thousands. The result: Consumer spending is down.
Marketing and brand teams are also feeling the brunt of the recession. They are usually the first ones let go. Even with depleted teams and decreased budgets, innovative brands are using the state of the economy as an opportunity to build trust and awareness with their current and future customers.
The report is an in-depth analysis of 250 marketing leaders, alongside qualitative interviews with several CMOs of some of the leading brands in the world. Below is the data, along with my thoughts and context.
2023 Marketing Priorities
These marketing priorities are familiar. I've seen versions of similar priorities in different reports, surveys, and prediction articles over the last decade-build trust, increase awareness, brand loyalty, decrease churn, and so on.
Below is a full breakdown of all the brand and marketing priorities for 2023.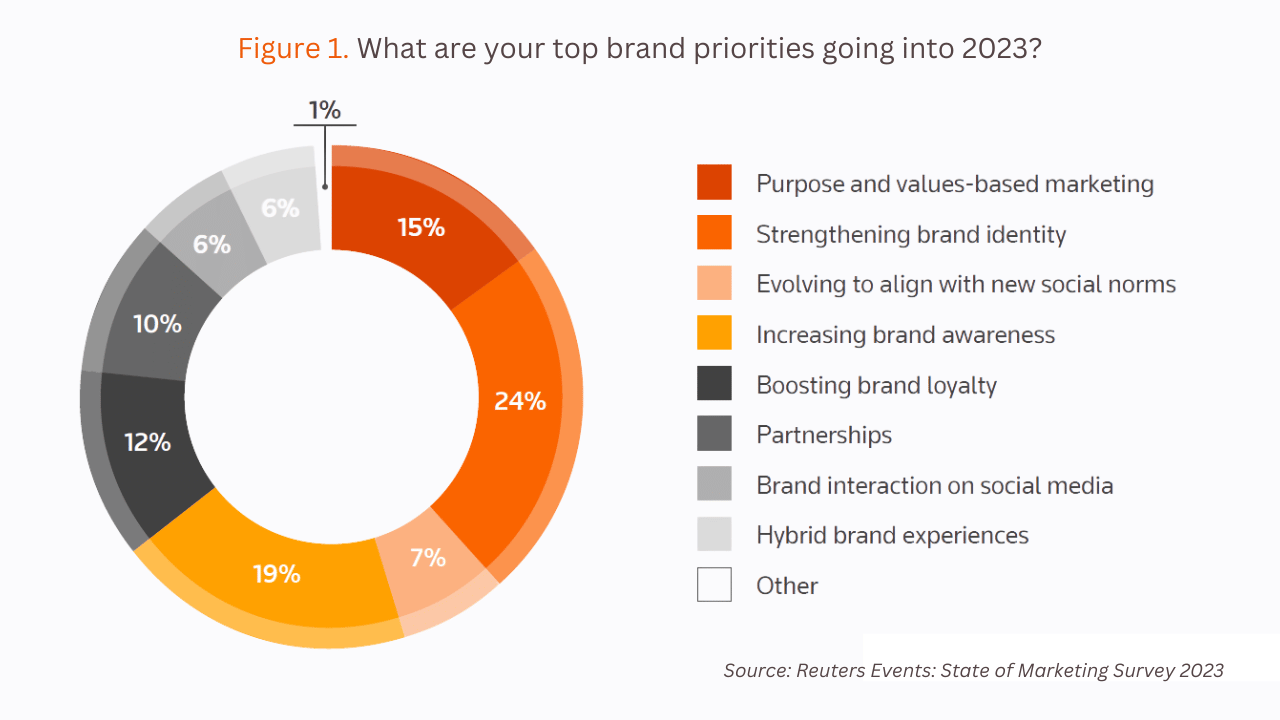 As mentioned, I have seen many of these priorities before. However, there are a few that caught my eye that I found interesting:
Evolving to align with new social norms (7%)
Hybrid brand experiences (6%)
Brand interaction on social media (6%)
The report doesn't detail or define the social norms, but I suspect they're talking about the pandemic, the "New Normal," "Gen Z in the Workforce," or other cultural trends.
The report doesn't define hybrid experiences, but I assume this considers the entire customer experience, including in-person events, virtual experiences, the metaverse, etc. It tells me that brands are considering innovative ways to reach consumers in new channels.
The last one is straightforward but appalling. I realize it's only 6%, but it's 2023. I am trying to understand why brand interaction on social media made it on the survey. But maybe I'm overacting. The low percentages could mean a few different things. Companies may already do this effectively or just want to do it more.
Campaign Measurement & Marketing KPIs
When asked which were the most critical marketing KPIs, 26% of marketers cited the cost-per-acquisition metric (CPA), followed by social media engagement (19%) and customer lifetime value (17%). See other marketing KPIs below.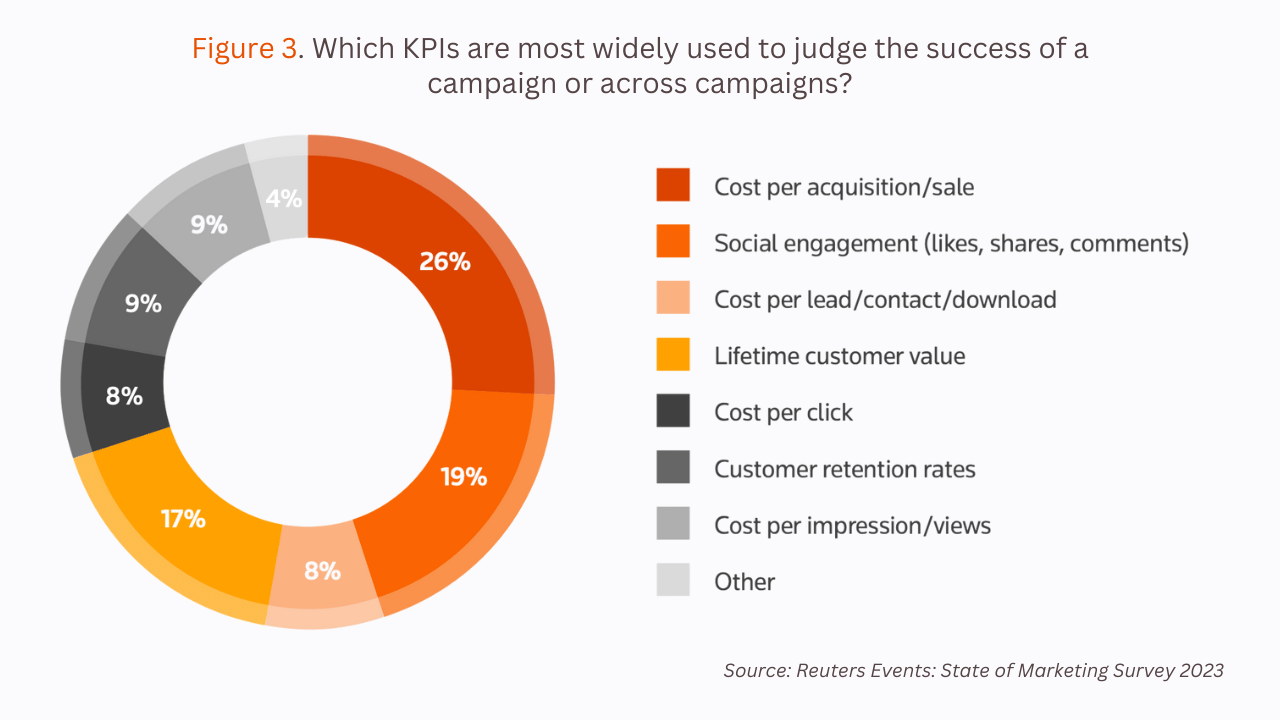 What's interesting about campaign measurement and these marketing KPIs is that many don't align with the top brand priorities. For example, strengthening brand trust, increasing brand awareness, and boosting brand loyalty cannot be measured with cost-per-click metrics (lead, impression, acquisition, etc.)
In previous reports, it's usually the other way around. For example, brand marketing priorities might include increasing sales or conversion rates, yet the KPIs to measure those are vanity metrics like engagement.
The good news is that you can measure brand interaction on social media with social engagement metrics, so I'm glad to see some consistency between marketing priorities and campaign measurement.
Cultural Trends & Insights
Today's culture has shifted due partly to the drastic economic changes brought on by the COVID-19 pandemic. With so much of our lives and daily routines relying heavily on technology, many people are adapting to new ways of working, traveling, shopping and communicating online.
Brands must remain agile enough to keep up with technological advancements, shifting cultural trends, and consumer insights.
According to the data, 31% of marketers have built or use an in-house team focusing on cultural insights. In addition, 12% work with agencies to provide these insights, and 25% use a social media monitoring platform.
16% say that they use something else, which I imagine is a simple Google search or accessing free reports available online. Another 16% said that they are unsure, which scares me.
It's good to know that brands focus on understanding the shifts and trends of our culture today. Even so, understanding your customers and how they fit into the cultural context should be a top priority for every brand, regardless of size or industry.
The Art & Science of Storytelling: Content & Channels
Let the buzzwords begin. Data-driven storytelling is definitely at the top of this list. The next part of the 2023 State of Marketing report focuses on content and emerging digital channels. When marketers were asked, "Which content type performed the best for your brand in 2022?", 42% responded with social media, followed by email marketing (21%) and websites (17%).
I have a hard time interpreting this data because it's confusing. The question is asking about content. But the answers are focused on channels. A better question might have been, "Which channel has your content performed the best in 2022?" Or, the answers should have been long-form content, podcasting, videos, short-form video, white papers, etc.
When asked which platform is expected to see the strongest growth in 2023, 53% of marketers say that TikTok is the front runner, followed by the metaverse (15%), LinkedIn (15%), and other platforms (9%). Interestingly, marketers are losing faith in Facebook, with an underwhelming 2% of marketers believing it will grow in 2023 and 6% believing that Instagram will grow.
Customer Data & Insights
Customer data privacy and insight are marketers' most pressing issues in 2023, especially those dependent on third-party cookies.
The report shows that 89% of marketers see data privacy as crucial to building customer trust. However, just 14% of respondents have first-party data that is fully integrated and accessible across the organization. This tells me that while marketers have a vision for the future, they have yet to execute and bring that to life.
37% of marketers sometimes extract and use customer data where possible
23% of marketers say that first-party data is integrated and used by a small number of teams in the organization
20% of marketers say that first-party data is integrated and used by one team in the organization
6% would like to use this data but do not have the expertise or resources
What's also interesting and disappointing is that 50% of marketers still need to prepare for the cookieless future. The overachievers of the group have been preparing for life without cookies for three to five years.
Budget, Hiring Top Talent & Marketing Skills
In early 2022, 22% of employees planned to quit their jobs before the end of the year, according to research from PwC. Then, the Great Resignation and Quiet Quitting was at its peak, and employers struggled to keep workers from leaving the company. And now, in 2023, with the economy tumbling and layoffs looming, the tables have naturally turned.
Marketers are now faced with a different challenge–finding talent that aligns with internal initiatives. According to the 2023 State of Marketing Report, 57% of marketing leaders want to hire people with data analytics experience, followed by social media management (12%), copywriting (9%), video production (7%), design (6%), search engine optimization (6%) and Google ads (2%).
These marketing skills are essential to staying competitive, especially as customer attention shifts from traditional advertising to TikTok. However, the data suggests marketers think more about data-driven, real-time, creative content creation and capitalizing on opportunistic trending topics. This is the definition of a media company.
Additionally, 50% of leaders plan to increase their marketing budgets in 2023, but just 14% of those will make substantial investments. It's unclear what significant means, however.
You can download the full 2023 State of Marketing Report here.
Related Posts