A personalized media list shows journalists that you value their work and have taken the time to understand their reporting.
Why is this important?
Building positive relationships with journalists is vital to successful media outreach. It increases the likelihood that they will engage with your pitches and consider writing a story.
When you demonstrate that you respect a journalist's expertise and understand their areas of interest, they are more likely to view you as a valuable source of information and seek you out for future stories. This can lead to ongoing coverage opportunities and increased brand exposure.
By the numbers:
72% of PR pros say creating and updating media lists is their most time-consuming task (Muck Rack)
83% of PR pros believe building relationships with journalists is the most important part of their job. Building targeted media lists is a vital part of that process. (Cision)
53% of PR pros use social media research and create media lists. (PR News)
64% of PR professionals say they spend more than two hours researching and pitching to the media. Building and maintaining media lists is a crucial part of this process. (PR Week)
90% of journalists say that receiving personalized pitches is important to them. This underscores the importance of building targeted media lists considering individual journalists' interests and needs. (Agility PR Solutions)
The saying goes, "it's not what you know, but who you know," – and this rings true when you pitch the media. Of course, maintaining solid relationships with the media is smart, but how can you ensure you're targeting the right journalist based on the story you want to tell?
This is where the magic of the media list comes in. Think of it as a treasure map, guiding you toward the media outlets and journalists most likely to be interested in your story. First, however, like any good treasure map, knowing how to read and use it effectively is important.
PR is vital to all communication strategies for brands seeking to build and maintain their reputation. Media relationships should always be a top priority.
What is a Media List?
Sounds basic, I know. It's literally a list of journalists' contact information.
A media list is a database (or Excel document) of journalists and media outlets you have identified as influential to your business. This PR media list should be fluid and updated with new journalists and reporters as often as needed. There are several reasons why having a focused media outlet list is important for PR outreach. Here are three:
A media list will help you focus your PR outreach. By identifying the journalists and reporters that cover relevant topics, you can personalize your pitches to each journalist's specific needs and interests. This will undoubtedly increase the likelihood that the journalist will a) open the email, 2) show interest in your pitch, 3) write a story about it, or 4) ask for a quote.
A media list is good for tracking. By monitoring your media coverage or general stories published about your industry, you can identify trends, anticipate potential issues, and adjust your media outreach strategies accordingly. This will help you stay ahead of the curve and be more responsive to the dynamic media landscape.
A media list helps to maintain relationships with journalists. An updated media list can be helpful when breaking news happens, a journalist shifts editorial priorities, or joins a new beat. You can maintain a competitive edge with your PR outreach by staying abreast of these changes.
Although an updated media list is beneficial, there are also challenges to keeping it up-to-date. It can be difficult to manage with so many journalists and media outlets. Additionally, journalists' interests and priorities change rapidly due to the fast-paced nature of the media industry, requiring constant vigilance and adaptability.
Before Anything, Research Your Target Audience
Media lists should contain the contact information of journalists and media outlets who cover a specific topic or industry. However, it is crucial to identify and research your target audience before you build it.
There are a few ways to think about your target audience. It's either the people who will buy your product, the people who influence your buyers to buy it, investors, stakeholders and NGOs.
Knowing your target audience is critical to crafting a storyline that will resonate. A story that resonates drives action. An action could be a like, comment, share, or purchase. Additionally, identifying your target audience helps you select the appropriate journalists for your media list.
For smaller companies, a Google search or ChatGPT can help find insights about your audience and what media outlets they're reading. However, enterprise brands invest in more considerable audience analysis to map affinities, content, and media sharing.
For instance, let's say you're promoting a new skincare line that caters to women aged 18-35. Your target audience would be older Gen Zers and younger Millennial women interested in beauty and skincare. With this baseline knowledge, you can pitch the media targeting this demographic or creators specializing in beauty and skincare.
Knowing your target audience also enables you to tailor your message to their interests and needs. For example, if you're promoting a new workout app, your message to older adults might emphasize the health benefits of exercise. In comparison, your message to younger adults might highlight the convenience of working out at home.
Furthermore, identifying your target audience first helps you avoid wasting time and resources on media outreach that is unlikely to succeed.
Using Qualitative Methods to Create Media Lists
When building a media list, it is important to use data and research. When that's not possible, there are other things you can do to provide a tad more rigor in your approach. Once you've defined your audience(s), be sure to do the following:
Consider the type of media: There are different types of media–print, online, radio, and television. Even within those different media types, there are sub-segments like podcasts, newsletters, Youtube-only, etc.
Research the media: Once you have determined the media type, you can start researching the outlets. You can use search engines, industry directories, and social media to find the most appropriate media. I've experimented with ChatGPT and You.com and am impressed with the results.
Check for relevance: Once you have your shortlist, you'll have to review the coverage and check for relevancy manually.
Verify contact information: The next step is to verify the contact information for the journalists, editors, reporters, or producers. This should include email contact info, phone numbers, links to newsletters (i.e., Substack), and social media handles.
Document pitching preferences: Every outlet is different and may have unique preferences for receiving pitches. For example, some journalists prefer to be contacted via email, while others are open to DMs on Twitter. This is an important data point on your media outlet list. The last thing you want to happen is a journalist calling you out publicly for not doing your homework. Unfortunately, it happens all the time.
Even if you have data and research teams at your disposal, these are smart things to do regardless of what you have access to.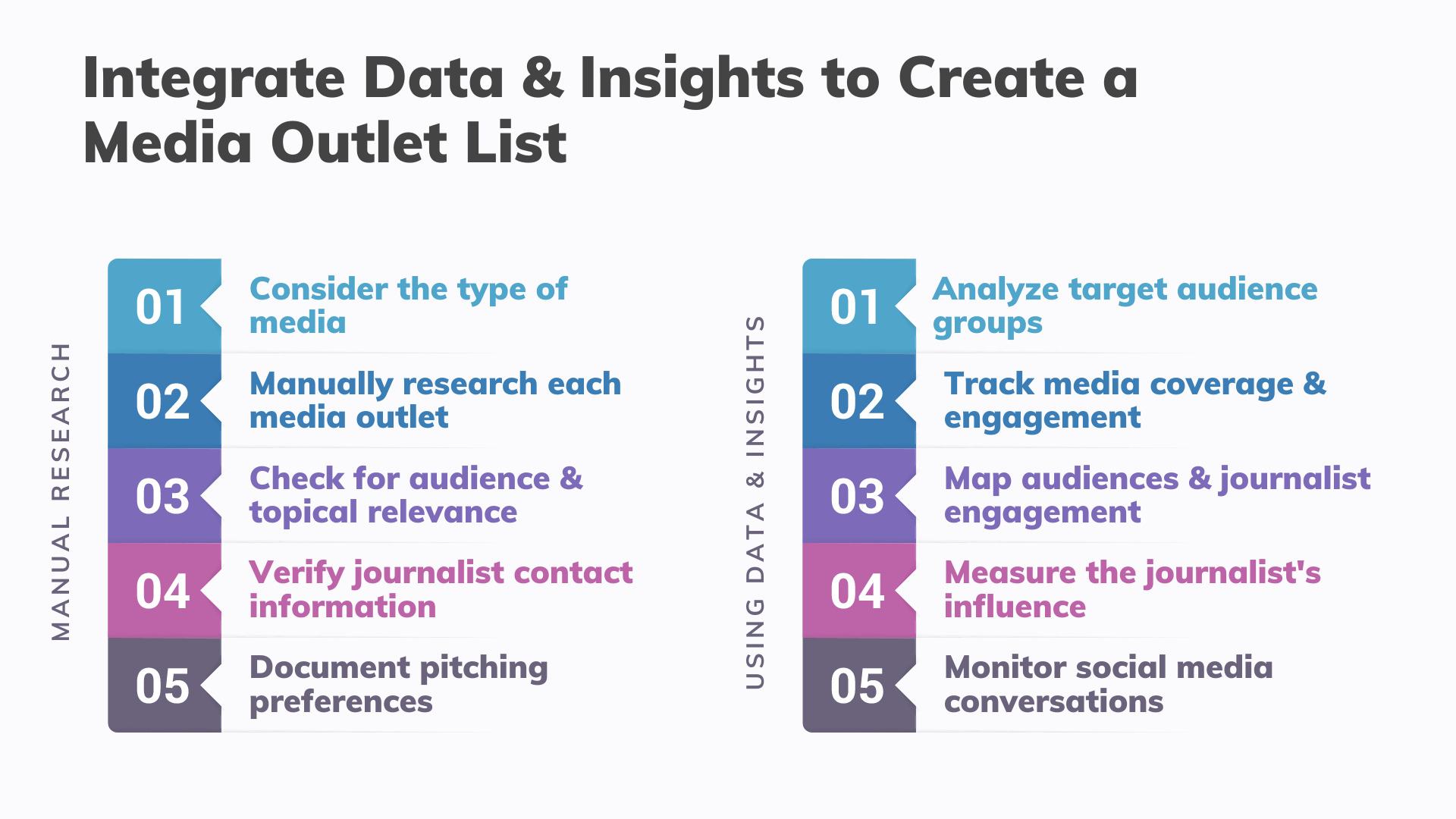 Integrate Data to Create a Media Outlet List
Here are some ways you might use data to build a media list:
Analyze target audience groups: Using audience analytics software like Audiense or Brandwatc, you can build highly targeted and unique audiences based on age, gender, location, job profession, how they define themselves in their bio, and what they talk about on social media.
Track media coverage and engagement: Using media monitoring software, you can analyze topical coverage, extract trending narratives, and identify new journalists and media outlets.
Map audiences and journalist engagement: Using data analysis and network mapping, you can identify shared connections between journalists, editors, creators, and producers you want to pitch to. This can help you find other ways to distribute your story into the news cycle.
Measure journalist' influence: Measuring the influencer of journalists, creators, and editors can help you prioritize your PR outreach with data to back it up.
Monitor social media conversations: Social media monitoring can help you identify the journalists, editors, or producers most active on social media. You can also analyze their conversations, track their audiences, and measure the performance of the content they produce.
By using data to build a media list, you can make more informed decisions about which media outlets and contacts to target, increase the chances of success, and build long-lasting relationships that can benefit your brand or message in the long term.
Words and advice are good. But let me show you how to start building a media list correctly.
Media List Examples
Below is one way to identify the most influential journalists to add to your media list. The data is visualized using three different data points.
The x-axis is the volume of articles they published during the time frame. This could be a total of published articles or articles about a specific topic like fashion, travel, ChatGPT, etc.
The y-axis is the engagement of the articles published (all articles or topical.)
The bubble size represents the size of the journalist's audience across their personal social media handles.
With this data, you can make smarter decisions about who you add to your media list, how you might prioritize your pitching and more.
Hover over each of the bubbles to see the data. Note: These are not real people. The data isn't real.
Maintaining Your Media List Over Time
The key to any successful media outreach is maintaining your media list. As the news cycle evolves, so should your list and approach. This will help you understand which journalists are most active on certain topics, who cover s specific beats, and who might be the best people to engage with.
Maintaining your media list will also help you identify journalists to re-engage with and new contacts or outlets that could benefit from your story. Keep track of past conversations and any successes, declines, or neutral responses – this information can be invaluable when planning future outreach campaigns.
Personalizing Media Outreach Works
Personalize your media outreach. Show journalists, editors, or producers you appreciate their work, not just want coverage. Personalization makes your message relevant, showing you did your research and are serious. Stand out from the generic mass emails they receive by personalizing. It's more likely to receive a response.
Personalization also boosts your credibility by demonstrating your knowledge of the recipient's work. Take this crucial step in building relationships, showing professionalism, and improving response rates and credibility. So, personalize your PR outreach to contacts on your media list today.