A new report, "State of PR and Journalism: Salaries 2023," from Muck Rack, provides insights into the salary landscape for PR and journalism pros in 2023. Drawing on survey data from over 1,000 PR pros and 2,200 journalists in the US, the report reveals notable disparities in typical earnings between the two fields and key factors impacting salaries, such as seniority, hours worked, and gender representation.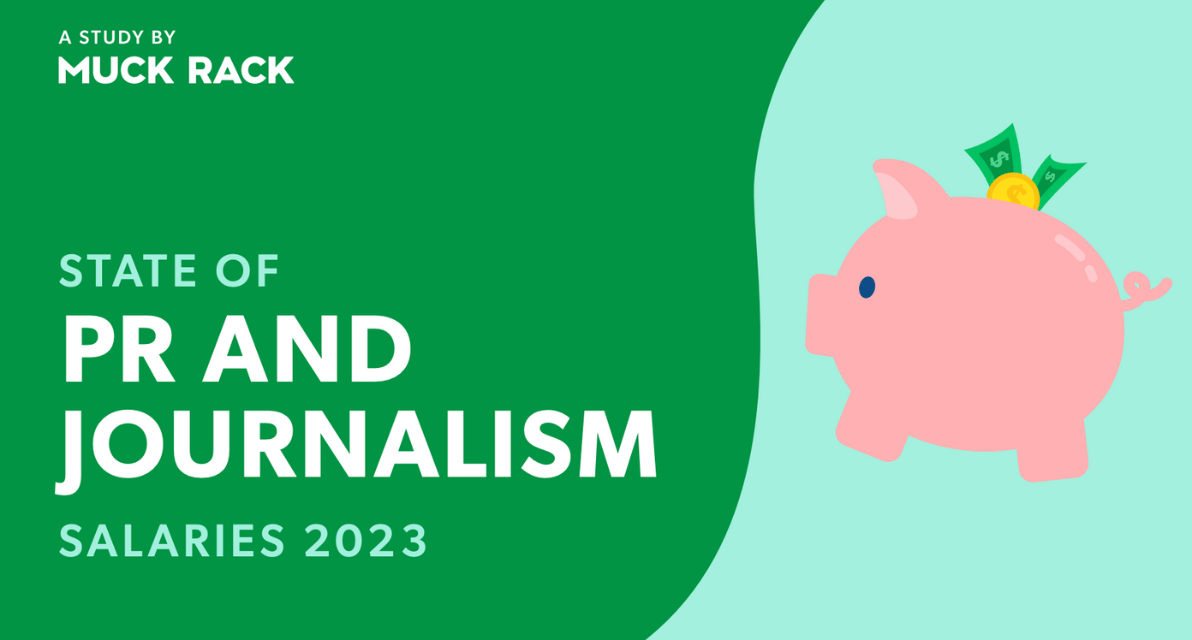 Notable Differences in Earnings Emerge Between Fields
The data indicate that PR professionals earn significantly higher salaries than journalists. The typical PR salary is $85,000, with those at brands earning $107,000 on average. In contrast, most journalists earn between $40,000-$70,000.
PR Salaries At-A-Glance
| Role | Average Salary |
| --- | --- |
| PR (overall) | $85,000 |
| PR – Brand | $107,000 |
| PR – Agency | $80,000 |
| Digital Marketing (overall) | $50,000 |
| Social Media Specialist | $45,000 |
| Social Media Manager | $55,000 |
| Content Marketing | $52,500 |
| Digital Marketing Director | $120,000 |
Several factors may contribute to the higher salaries for PR professionals working at brands versus agencies. Being an internal part of an organization rather than an external service provider means PR teams at brands may have greater visibility into and influence on core business strategy. Internal PR teams could also have developed specialized expertise related to that brand's particular industry, audience, and messaging.
Since in-house PR drives a brand's reputation, companies may invest more in compensation to attract and retain top talent. There are also likely fewer junior roles at brands compared to large agencies, pushing average salaries higher.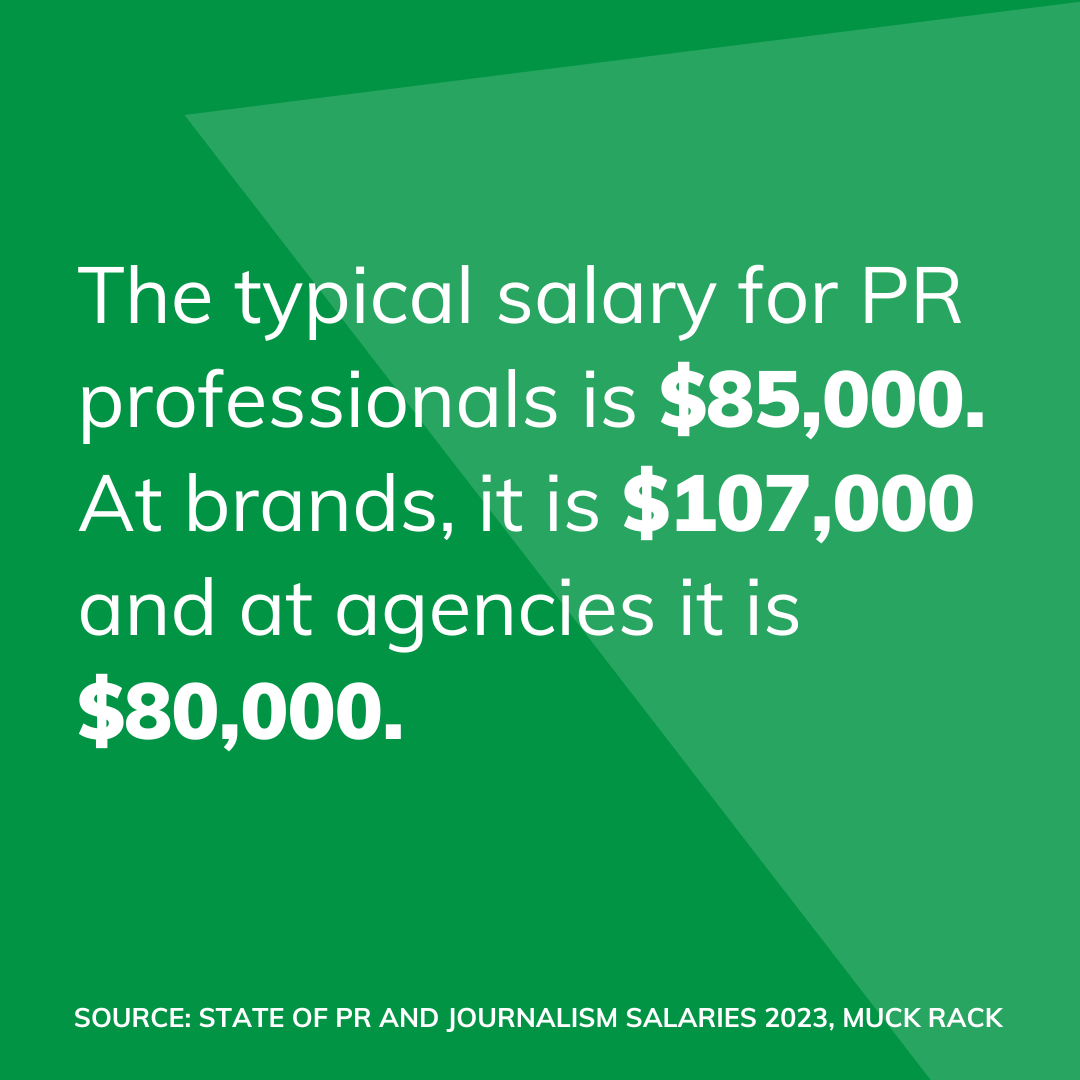 For journalists, stagnant salaries across experience levels are likely driven by industry disruption and the rise of freelance and independent journalism. Traditional journalism career paths leading to higher pay have declined. And an oversupply of talent coupled with falling revenues in the journalism industry may prevent salaries from rising. The prevalence of freelance roles, which the data shows pay less than staff positions, also puts downward pressure on income. These structural changes have made consistent pay growth rare for today's journalists.
Seniority Correlates to Higher Salaries in PR
Seniority emerges as the strongest predictor of higher pay in PR, with executive roles typically earning over $150,000. The data shows a clear correlation between more senior roles and higher salaries. For example, CEOs and other C-suite executives earn $150,000+ on average, directors earn around $120,000 typically, managers earn $87,000, and coordinators earn $63,000.
In contrast, salaries remain relatively stagnant for journalists regardless of experience level. The typical range stays between $40,000-$70,000, even for senior journalists. This wage stagnation is likely driven by industry shifts towards freelance and independent work.
Long Hours, But No Direct Link to Higher Pay
Hours worked per week show little correlation to higher pay in the data. But many PR pros, especially directors, report working over 40 hours per week and after hours frequently. 57% of PR professionals work more than 40 hours, with directors being the most likely at 67%. Nearly 80% of PR pros work after hours at least once a week.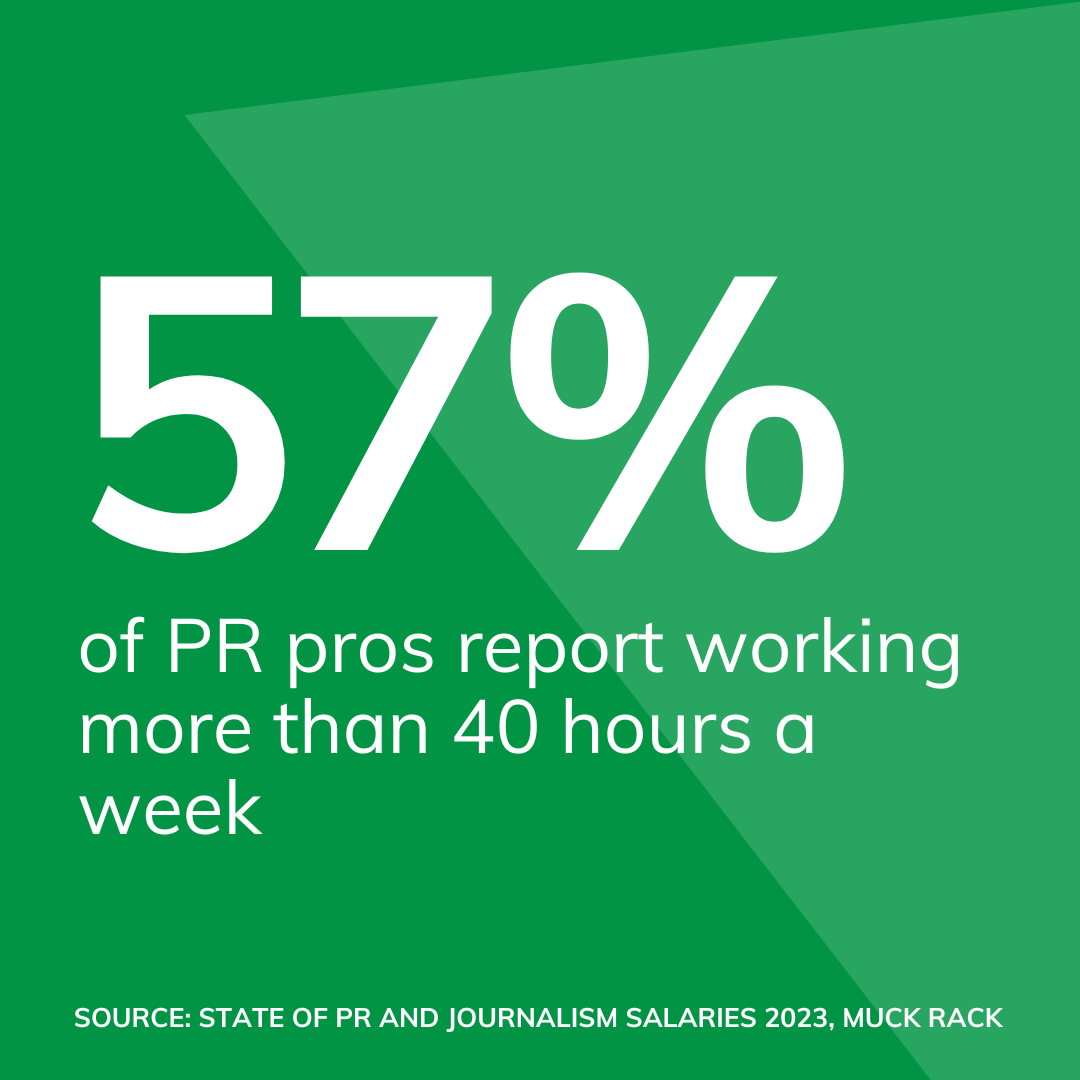 While long hours did not translate to higher salaries, they indicate a demanding workload for many PR professionals. However, the reliability of self-reported work hours is questionable.
Several potential explanations exist for why higher hours did not correlate to increased pay. One is that time worked does not always equate to productivity or value generated. Second, salaried employees working longer hours don't necessarily earn more. PR agency cultures may also encourage overwork as the norm regardless of compensation. Survey respondents may have also inflated their reported hours or underestimated what constitutes a 40-hour week. While the data shows heavy workloads, the relationship between hours and salary remains unclear. More nuanced analysis beyond self-reported data could provide greater insight.
Gender Divides Emerge in Seniority and Pay
While PR is a female-dominated industry, men disproportionately hold senior agency roles, which could be suppressing average salaries. The data shows women make up 80% of the PR workforce but only 65% of C-suite executives. So as positions become more senior at agencies, men are more likely to hold them.
Some gender gaps are also evident in content marketing salaries, where women earn just 86% of what men earn. The gender divide in seniority and pay could contribute to lower average salaries for PR pros than their potential earnings.
The overrepresentation of men in senior PR roles may stem from historical gender biases and ongoing systemic barriers. Women may lack access to key networks, sponsorships, and development opportunities needed to climb the ranks. Unconscious bias in hiring and promotions could also disadvantage women, along with norms around self-promotion. Additionally, caregiving responsibilities disproportionately handled by women can force difficult choices between family and advancement. The complex interplay between these cultural and structural factors likely contributes to persistent gender divides in authority and pay.
Digital Marketing Salaries Also Lower Than PR
Data from a different report show salaries for digital marketing roles are also lower than PR but with significant growth potential. Not sure I agree.
The typical salary across all US marketing positions is $50,000 annually. This falls below the $85,000 median for PR pros. However, digital marketing salaries range from $45,000 for entry-level to over $100,000 for experienced roles. This mirrors the PR trend of higher pay with seniority.
Regarding specific digital marketing titles, social media specialist and manager salaries are $45,000 and $55,000, respectively. Content marketing roles average $52,500 yearly. While still below PR salaries, these specialized digital marketing incomes exceed the $40,000 US median wage.
Higher-level digital marketing jobs such as e-commerce director, data scientist, and content director reach up to $148,500 annually. This approaches the six-figure incomes common for senior PR professionals.
As in PR, factors like experience, education, location, and gender impact marketing salaries. A gender divide is evident, with women earning 86 cents for every dollar men earn in content marketing.
PR Retains Salary Advantage Over Marketing, For Now
In summary, the report highlights key disparities in compensation between PR and comparable fields like journalism and digital marketing. While specific marketing salaries are rising, especially in digital specializations, PR professionals earn higher incomes overall.
This PR salary premium likely stems from the strategic value businesses place on reputation management and brand building. PR roles directly enhance trust, credibility, and relationships with key audiences. So companies invest substantially in PR talent.
However, as digital marketing expands in scope and sophistication, its salaries may equal or surpass PR over time. Digital marketing focuses on data-driven audience engagement rather than reputation or brand identity alone. Its perceived value and compensation may increase as it intersects with business strategy.
According to both reports, PR retains a salary edge based on its unique role in reputation enhancement and influence. But the data suggests an upward trajectory for digital marketing earnings as the field evolves. Tracking how these salary dynamics change will reveal much about the underlying value companies place on PR and marketing services.