In this video, I share a real example of how to engage with influencers on social media. I call this organic influencer marketing. It's more relevant for B2B brands due to the nature of technology and thought leadership.
The easiest way to think about engaging with influencers is through the lens of the PESO model. Here's a breakdown of how it works.
Using Earned Media to Engage with Influencers
Starting with earned media is the entry-level approach to engaging with influencers. This can be done by any person or team in the company. It's usually the PR team.
Start with influencer analytics and research to better understand influencer conversation, trending topics, and media consumption
Segment influencers based on their dominant topics of focus
Start with minimal engagement–share, like, and comment on influencer-generated content
The result of these efforts is that influencers will become aware of your brand and most likely engage back with you in some way.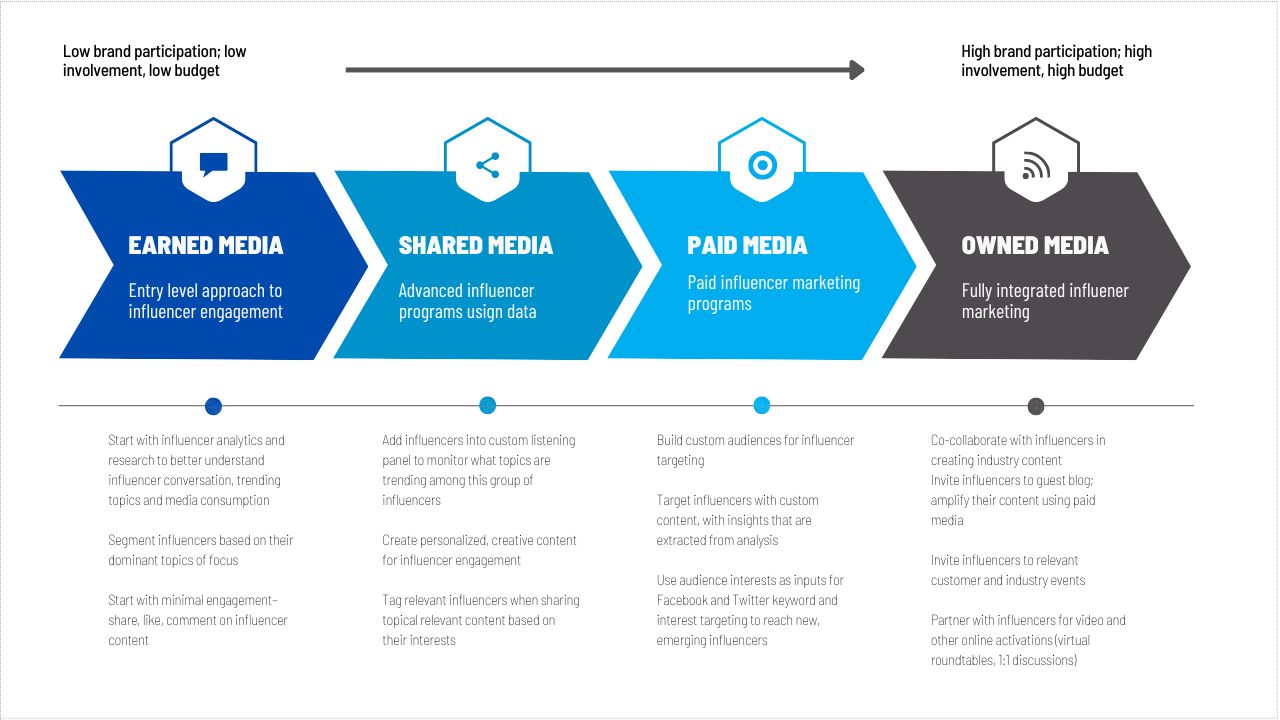 Engage Influencers using Shared Media
Shared media is a little more of an advanced approach and involves real-time listening to the influencer community and creating digital creative assets:
Add influencers into a custom listening panel to monitor what topics are trending among this group of influencers
Create personalized, creative content for influencer engagement
Tag relevant influencers when sharing topically relevant content based on their interests
Paid Media Scales Influencer Engagement
Using paid media activation and whitelisting is the natural evolution of a sophisticated influencer program. Once paid media is involved, the marketing team will usually manage this workstream.
Build custom audiences for influencer targeting
Target influencers with custom content, with insights that are extracted from the analysis
Use audience interests as inputs for Facebook and Twitter keyword and interest targeting to reach new, emerging influencers
Add paid media to boost influencer content
Owned Media Ushers in the "Always-on" Approach
Once you move to owned media, most likely, you now have really strong relationships with the influencer community. Most likely, you have an "always on" influencer program, which is a best practice.
Co-collaborate with influencers in creating industry content
Invite influencers to guest blog; amplify their content using paid media
Invite influencers to relevant customer and industry events
Partner with influencers for video and other online activations (virtual roundtables, 1:1 discussions)
These are just a few ways to engage with influencers on social media and other channels. Engaging with B2B creators requires a different way of thinking, but it's an important strategy that should be integrated across your digital marketing initiatives.
Related Videos: