If you work in PR or media relations please keep watching this video.
We're gonna talk about the difference between tracking media coverage and media intelligence. This approach provides a lot more business value when you interrogate the data and use it to drive actionable insights.
For more videos like this, please subscribe to my YouTube channel.
Over the last few years, I've been working on this model that tries to articulate the journey that PR teams go through when measuring media coverage. I call it the Media Intelligence Maturity Model.
It's important to note that this model isn't necessarily sequential. There are many variables to consider like the size of company, the vertical, whether or not it's multinational, and the sophistication of the marketing and PR team.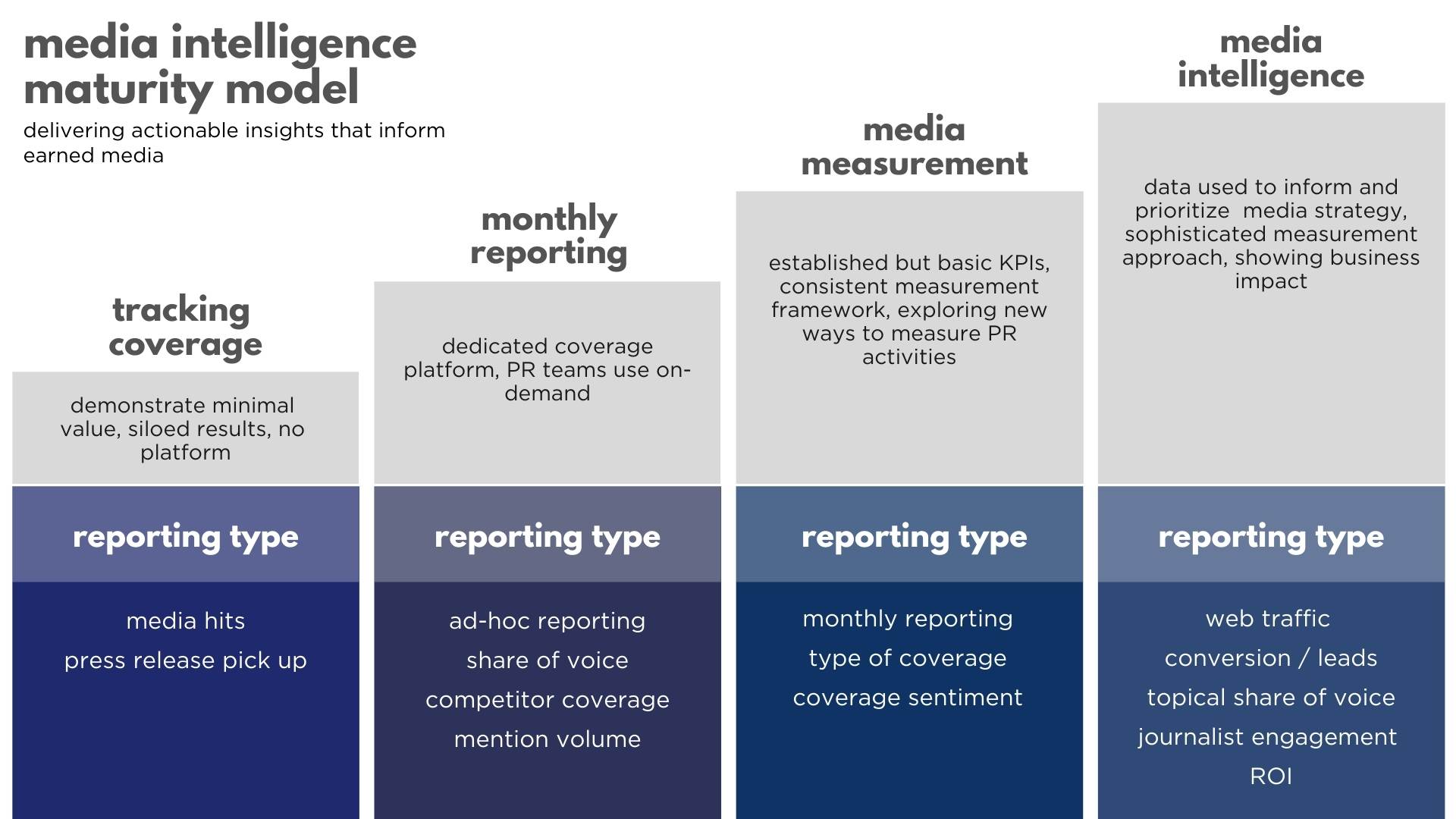 The model is broken down into four phases:
Phase 1: Tracking Media Coverage
Quite simply, tracking media coverage is counting numbers it's adding up all of the "hits" that a brand may get within traditional media. In this phase, brands are receiving minimal to no value in their PR efforts, mainly because they can't quantify the results.
When the teams are tracking media coverage, they are most likely doing a Google search, clicking on News and manually adding articles to a Excel spreadsheet.
Phase 2: Monthly Reporting
Although brands in this phase might have a dedicated media measurement platform like Meltwater, Cision or Muck Rack, most of the internal PR teams only use it on demand.
Example reports might be a basic share of voice analysis, competitor coverage or tracking mention volume month to month.
Phase 3: Media Measurement
More advanced brands build a measurement framework and hold themselves accountable to pre-established KPI's. They are trying to be innovative and think about new ways to measure PR and quantify the value of their work.
Phase 4: Media Intelligence
As brands become more sophisticated in how they are using data to inform media relations, they will find themselves doing more broad coverage analysis of industries, topics, in an effort to uncover hidden narratives.
Some brands will go as far as analyzing specific media publications like Forbes, Fortune or Bloomberg individually in order to understand the impact each one has when they write about specific topics relevant to the brand.
Last year, I wrote about a concept called multi channel media intelligence. It's a framework that considers multiple variables when tracking media coverage. It helps PR teams drill down into looking beyond share a voice, mention volume and basic media coverage monitoring.