Building a social media dashboard for business is crucial. It is a platform to integrate all of your metrics in one place and aggregate the social performance of paid search, display advertising, Instagram, YouTube, LinkedIn, Twitter, and Facebook ads across multiple social channels.
Why this matters:
Marketers need access to real-time performance data to make decisions about their marketing campaigns. They can't wait for an analyst to pull a report and build slides in PowerPoint. The digital landscape is moving way too fast for that.
It's about access to the right information and actionable insights.
But it's not just about having access to the right information – it's about knowing what insights and metrics provide business value and then visualizing the metrics in a way that's easy to consume.
What is a Social Media Dashboard?
A social media management dashboard is a web-based platform that can analyze various data points related to a brand's social performance and digital marketing campaigns. Data is integrated into the dashboard and visualized differently based on filters and preferences.
Dell launched their Social Media Listening Command Center in the early days of social media, powered by Radian6. They launched the command center to track Dell mentions across multiple social media accounts. Since then, most companies are now using a social media analytics dashboard as a critical component of their marketing strategy.
For the last 15 years, consumer brands, B2B, and healthcare companies have invested heavily in social media programs to influence purchase behavior, conversation, and overall brand reputation. Some do it well, and others can improve. Regardless of your goals for B2B social media, you should always include an integrated social analysis and measurement component.
Most social media intelligence platforms have off-the-shelf dashboard capabilities, lacking multiple features to justify the significant investment. As someone who prioritizes data-driven storytelling–the look, feel, flexibility, and scale are all critical factors in my purchase decision, but that's just me.
The problem is that most of these social media dashboards are created for and by highly technical teams. They don't understand that a social media dashboard should tell a story independently without someone explaining the analytics. Also, all the data in these platforms are native and can only pull brand mentions within various social networks, news, media, blogs, and forums.
While social media management platforms like Sprinklr and Khoros have these reporting capabilities, their analytics dashboard isn't yet there.
What Are Some Use Cases of a Social Media Marketing Dashboard?
There are several reasons why a business may want to invest in a social media marketing dashboard. Here are a few to consider:
Crisis Management: No one knows when a crisis will happen, but it's all hands on deck. Brands must be ready to use social media analytics to listen to and respond to issues that happen in real-time. Crisis management in PR should always be planned for.
Track Brand Engagement. Tracking engagement is always critical during a social media campaign, tent-pole moments like the Super Bowl, or the day-to-day publishing of content.
Consumer Insights. Track social media conversations across branded Facebook, LinkedIn, Twitter, YouTube, and Instagram accounts and earned media conversations in forums and other social media communities.
Marketing Performance Metrics. This is highly relevant to social media marketing teams responsible for selling products online and other demand-generation marketing activities.
Brand Health. Measuring brand health can help you understand consumer sentiment across multiple social media accounts and will always be essential.
Social Media Management. Community managers are paid to be the eyes, ears, and advocates of a brand's audience. They may also be posting content, so they'll want one place to measure the performance of their Facebook ads and aggregate social media analytics across all accounts.
Whatever use case you have, having a centralized location that integrates all your social media metrics, brand performance, and campaigns in one place will be critical to paint a 360-degree view of your marketing campaigns' performance globally.
What Is The Best Social Analytics Dashboard to Manage Your Business?
This is a loaded question because it depends on who you ask.
But one thing is clear. Consumers are using social media more than ever. They're being influenced to purchase products. They are influencing others to purchase products. They're publicly expressing their love for the brands they have an affinity for and screaming from the rooftops about the brands they hate.
Several data visualization software tools are available to help solve some of these problems and provide actionable marketing insights. The top platforms that come to mind are Google Data Studio, Tableau, and Datorama. All three of these platforms have unique characteristics; some also complement one another and integrate well.
Below is an example of a digital marketing dashboard built in Tableau. Notice on the left that the analytics are filtered several ways, starting with date ranges and quarters. The information includes impressions, CTR, cost, leads, etc. Below, you'll see that the data is filtered by direct media, search, paid social, and programmatic.
You'll also see the pacing report on the right, which can help digital marketers track spending across all channels in real-time.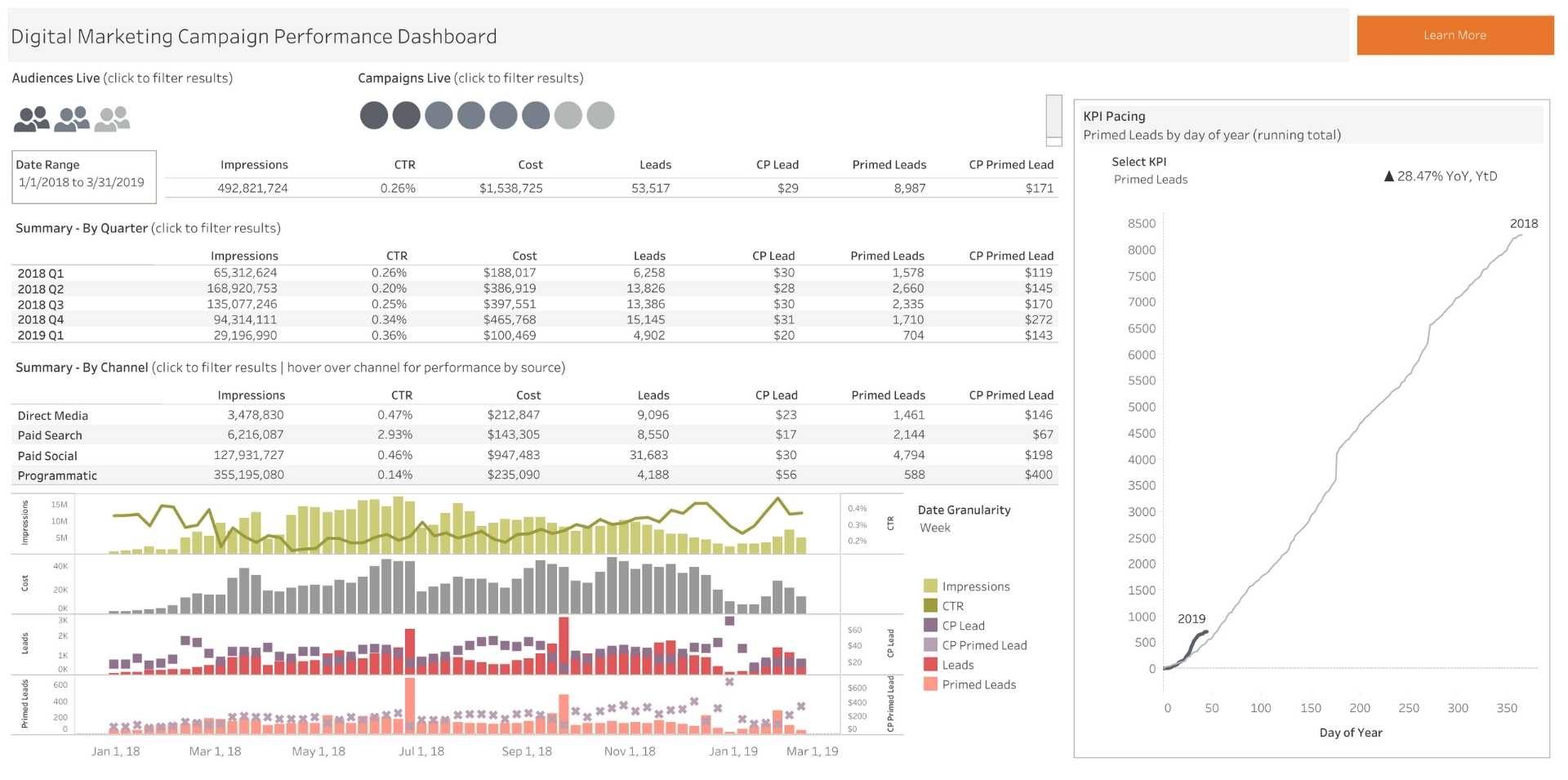 Here's an example of a digital marketing dashboard built with Google Data Studio (Looker Studio.) In this example, the social media metrics are broken down by Google Ads, Facebook Ads, and LinkedIn Ads. The dashboard also shows a break out of spending and conversion by each digital marketing program. There is a lot of flexibility when using data visualization software to manage and fuel a marketing dashboard.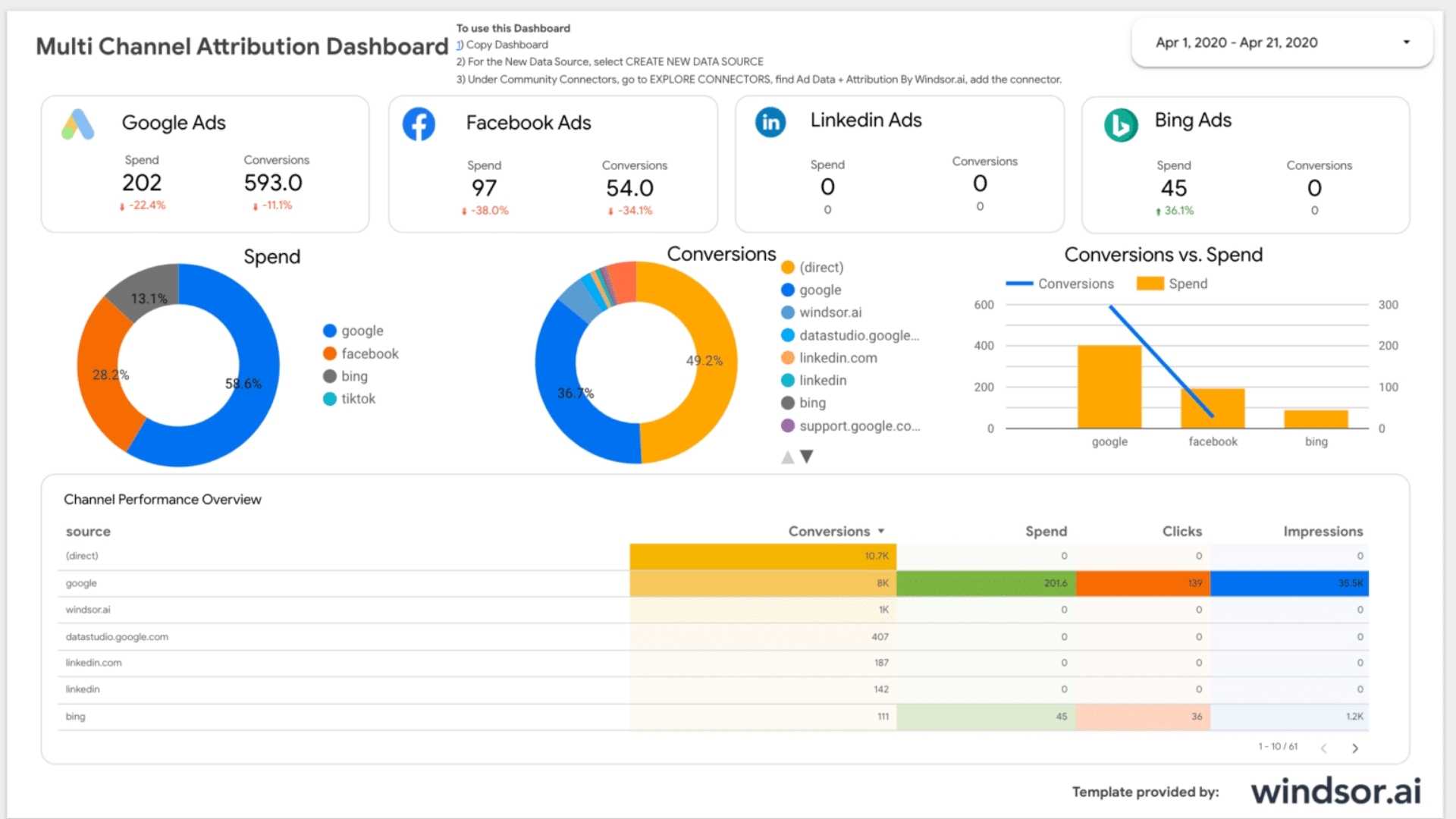 What Types of Social Media Metrics Can Be Integrated into a Dashboard?
Several types of analytics can be integrated into a social analytics dashboard. Here are a few to consider:
Social Media Analytics: All metrics you can pull natively from each platform can also be integrated into a social media dashboard. For example, you can integrate LinkedIn company page follower growth, page-level metrics like page views and unique visitors, and post-level engagement metrics like impressions, likes, and comments. You can integrate campaign-level analytics as well.
Media Performance (Earned & Owned): Most marketing dashboards can display earned coverage or media insights from a display advertising campaign.
Web Analytics: Most social media management dashboards have direct API connections to various web analytics tools like Google Analytics and Adobe Marketing Cloud.
Google Marketing Platform: All social media dashboards connect Google data (Adwords, Tag Manager, YouTube, and Google Analytics).
Sales & Business Analytics: Depending on your e-commerce platform, you can track the performance of your direct sales and lead gen directly into an analytics dashboard. Additionally, business intelligence will be mission-critical to the success of a social media management dashboard.
3rd Party Data: Everything from Google Maps, tracking COVID-19 cases to weather and census data can be integrated into a marketing dashboard. Of course, some are easier than others, but it's all possible.
Audience Data: With most social media dashboard software, you can integrate audience data across most social media channels and monitor page engagement on LinkedIn, for example.
These are examples of how you can use a dashboard to track and measure the performance of multiple campaigns, track engagement across social media channels like Facebook, Twitter, LinkedIn, and Instagram and provide insights into the business.
Questions to Ask Before Investing in a Social Media Dashboard
If you are in the market to purchase software to create a social media dashboard and broaden the features of your marketing tech stack, consider these three things before making that investment – cost, access, and ease of use.
The Best Social Media Dashboard Can Get Expensive, Fast
This is a no-brainer. This should always be a consideration before purchasing any software. But sometimes, there are hidden costs that you need to factor in before deciding. Sometimes there are data limits, so you'd have to prioritize which data sources you want to integrate into your dashboard. Most of these tools are based on a cost-per-user model. The more users you have, the more expensive it gets.
Easy Access Equals Agile Decision Making
I love Google Data Studio (GDS) because anyone can access any dashboard. However, just because something is free doesn't always mean it's the right tool for your business. We use GDS a lot for many clients that we work with. It is easy to use, and viewers don't have to pay for a license to see and explore the data. Business and marketing decisions can be made quickly and with purpose. In today's real-time world, this should be a priority.
Some social listening tools have direct exports through APIs to GDS. Digimind is one of those platforms with a one-click publish directly to the GDS. I believe they are the only platform with this capability in the market.
Easy-to-Use Social Media Dashboards Win All the Time
I am a power user of many software applications–everything from Google Analytics, Google Search Console, Semrush to Cision, Brandwatch, and Audiense. I often get asked about the "Meltwater vs. Cision" comparison, but that's not even the right question. First, neither of these software providers is meant to be used as a social dashboard. And even if they were, you'd want to document your business requirements and match that with the vendor's capabilities.
Luckily, I am patient and love learning to use new platforms. I am probably the outlier, though. Most people don't want to spend more than 15 minutes learning how to use the software.
Any data aggregator, visualization software, or essential social media dashboard software must be accessible. It is often forgotten that marketers and PR pros now use data to inform their programs and campaigns. Unfortunately, sometimes they don't have an analyst to help them with data extraction and mining. Social media dashboards should be built with this in mind.
What's Next For Social Media Dashboards
There seems to be a lot of innovation in the social technology space. In addition, Forrester has recognized them as consumer intelligence software pivoting away from social listening vendors for the last couple of years. In either case, it's good to see a lot of competitors launching new capabilities and mergers and acquisitions disrupting the marketplace. Also, here's a running list of the top social media monitoring tools with dashboard capabilities.
---
FAQ
Q: Could some Social Media Marketing Dashboard applications be listed?
A: Applications of a Social Media Marketing Dashboard encompass audience engagement tracking, brand mention monitoring, marketing campaign performance analysis, and content scheduling and publication across diverse platforms.
Q: Which Social Media Analytics Dashboard is optimal for business management?
A: The optimal Social Media Analytics Dashboard for business management depends on individual needs, budgets, and preferences. Hootsuite, Sprout Social, and Buffer rank among the frequently chosen options.
Q: Which Social Media Metrics are compatible with a Dashboard?
A: A variety of social media metrics are compatible with a dashboard. These include engagement metrics (likes, comments, shares), reach and impressions, follower growth, click-through rates, conversion rates, and ROI. Such metrics aid businesses in comprehending social media performance and data-driven decision-making.
Q: What considerations are essential before Social Dashboard investment?
A: Before investing in a Social Media Dashboard, it is crucial to consider specific needs and goals, which social media platforms require management, budget, essential features and integrations, dashboard user-friendliness, and the availability of a trial period or demo.
Q: Why can top-tier Social Media Dashboards quickly become costly?
A: Top-tier Social Media Dashboards can swiftly escalate in cost due to their provision of advanced features, integrations, and analytics capabilities tailored to diverse business needs. Furthermore, pricing often correlates with the number of users, social media accounts, or the volume of managed data, which can accumulate for larger organizations.
Q: How does a Social Analytics Dashboard facilitate agile decision-making?
A: A Social Media Dashboard facilitates Agile decision-making, enabling real-time monitoring of social media performance. This leads to data-informed decisions, allowing for strategy adaptation, trend response, and seizing opportunities with agility.
Q: Why do user-friendly Social Analytics Dashboards consistently perform well?
A: User-friendly Social Media Dashboards consistently perform well by simplifying social media performance management and analysis. An intuitive interface saves time and effort and eases the optimization of social media strategies.
Q: What lies in the future for Social Media Dashboards?
A: The future of Social Media Dashboards may hold more advanced analytics capabilities, insights driven by artificial intelligence, and enhanced integration with other marketing tools and platforms. As social media evolves, dashboards will likely adjust to new features, platforms, and user needs.
Q: How does a Social Media Dashboard conserve business time?
A: Time a Social Media Dashboard achieves conservation for businesses by merging the management of multiple social media accounts into a single platform. This enables content scheduling and publication, engagement monitoring, and performance analysis across different channels without swapping between tools or websites.
Q: Can a Social Media Dashboard enhance social media marketing campaigns?
A: Indeed, a Social Media Dashboard can enhance social media marketing campaign effectiveness by providing insights into audience behavior, preferences, and engagement patterns. Data analysis leads to informed decisions about content strategy, targeting, and overall marketing approach, thereby improving results.
Q: Is team collaboration possible via a Social Analytics Dashboard?
A: Numerous Social Analytics Dashboards provide collaboration features enabling team members to cooperate on social media management tasks. These may include shared content calendars, task assignments, approval workflows, and team communication tools.
Q: Is data secure when using a Social Analytics Dashboard?
A: Data security when using a Social Media Dashboard depends on the chosen platform. High-quality dashboard providers prioritize data security, employing encryption, secure data storage, and routine security audits to safeguard information.
Q: Is it possible to customize reports generated by a Social Analytics Dashboard?
A: Many Social Media Dashboards allow report customization, enabling data and visualization tailoring to specific needs. This aids in focusing on the most relevant metrics and insights for a business, simplifying comprehension and communication of social media performance.
Q: How frequently should the data and insights provided by a Social Analytics Dashboard be reviewed?
A: The review frequency for data and insights provided by a Social Media Dashboard depends on business goals and the nature of social media campaigns. Some businesses may find daily monitoring beneficial, while others deem weekly or monthly reviews adequate. Regular dashboard data reviews can assist in staying informed about social media performance and making timely strategy adjustments as necessary.
---
Related Content