Social audio analytics is nothing new. For years, companies like Microsoft have analyzed human voice and other audio signals across various verticals like enterprise, healthcare, productivity, and smart cities. These applications include analyzing audio from customers calling the call center, media content analysis, medical diagnostic aids, patient monitoring, and audio analysis for public safety.
Today, with the rise of social audio apps like Twitter Spaces and Clubhouse, brands are starting to think about different ways to measure the effectiveness of this space.
It's becoming increasingly crucial for brands to understand how to measure the impact of this new space. Although Twitter Spaces and Clubhouse are still in their early stages, there are several ways to measure the performance of an event. For example, you can track the number of listeners, the average time spent listening, and the number of interactions.
Additionally, you can analyze the demographic data of listeners to understand their target audience. You can optimize your social audio strategy by understanding the various methods of measuring social audio analytics.
A New Way to Measure Social Audio
In early 2021, I attended a Clubhouse room hosted by Jeremiah Owyang on social audio analytics. It started from a tweet earlier in the day where he predicted four social audio analytics levels. They are as follows:
Level 1: Report on room duration & attendance
Level 2: Sentiment analysis & translation
Level 3: Analysis of word of mouth, who's an influencer
Level 4: Predicts tomorrow's conversations
I responded with an additional level to measure social audio's impact on behavior change or actions like selling products or capturing leads.
Level 5: Behavior change, driving sales
I've been working in analytics and measurement for several years now. Hence, I thought I would classify Jeremiah's levels differently, especially regarding marketing and communications.
I don't think I would classify them as levels, though. Doing so insinuates that the levels are sequential or linear, and I'm not sure they are. So instead, I would group them based on common KPIs or categories.
Tracking Social Audio Engagement & Growth
These vanity metrics will track Clubhouse room analytics, engagement, number of participants, number of moderators, hands raised, how long people stay in the room, and other crowd reactions (type of emojis, +1s, applause). Also in this category would be audience size and audience growth rate. Again, it's essential to track Clubhouse data to show the progress of your room or club.
This data is similar to what you would track for a Twitter chat, Facebook Live broadcast, or in-person event.
Sentiment Analysis of Social Audio
The next category would be sentiment analysis which goes beyond tracking how long someone spends in a room. This can be done by transcribing the conversation and analyzing the questions people ask.
Some Clubhouse rooms have already done this by recording the conversation, transcribing it, and then creating a blog post or article. This is a great way to repurpose content and make it more accessible to those who couldn't attend the live event.
Additionally, you can use sentiment analysis to track the overall tone of the conversation. This is valuable data to understand people's feelings about a specific topic or brand. This category would also include data that captures emotions like laughter, applause, or silence.
On the technical side, analyzing sentiment requires deep learning applications like natural language processing, digital signal processing, tagging, and generation. In addition, the analysis will go beyond just tracking a room's sentiment as harmful, positive, or neutral. Today's technology can track intent, emotion, and other factors.
Identifying Social Audio Influencers
The next category would be identifying social audio influencers. This is similar to what you would do with Twitter or any other social platform. You would track who's talking the most about a specific subject and their authority on the topic. By using influencer marketing analytics, you'd also want to understand how large their community is across all social channels and their engagement rate.
Again, this data can be used to understand the thought leaders on a particular topic and identify potential brand ambassadors for your brand or product. I always like to caution others not to get too excited over the bright and shiny objects of new apps like Clubhouse. While there is a lot of hype around social audio in general, it is just one channel among several others for brand activation and reaching audiences. See my post here on Clubhouse influencers to get more insight into this topic.
Measuring the Business Impact of Social Audio
And finally, we get to my favorite category, measuring the impact of social audio. This is where you would track any behavior change or action taken from listening to a social audio conversation.
The other day I was in a Clubhouse room, and we talked about audio equipment. It was just four of us, and I wouldn't necessarily say we are influencers. However, a friend suggested a mic for better audio quality when using the app. He told me the brand name and model number, and while in the room, I went to Amazon, searched for the mic, and bought it within 90 seconds.
Today, tracking the impact of word-of-mouth and sales would be impossible. And in full transparency, it's not easy to follow business impact like this in other channels. It's been a sore spot for marketing and communications for years. Imagine being able to attribute a $15 million sale of software to a discussion on Clubhouse metrics. That type of insight might be closer than you think.
Predictive Analytics & Social Audio
The final category is predictive analytics which uses data to make predictions. This could be anything from understanding how people will react to a specific topic or what type of questions they will ask in a social audio room.
This is the area that I'm most excited about because it has the potential to revolutionize how we do research and marketing. We've had to rely on surveys, focus groups, and other forms of qualitative research, which can be time-consuming and expensive.
With predictive analytics, we can now use data to understand people's behavior and make predictions. This is valuable for brands who want to stay ahead of trends and anticipate needs before they arise.
Today, software tracks car traffic (think Waze or Google Maps) and crowd (people) movement. Typically this type of data is used by law enforcement or the military. But imagine being able to predict the turnout of the county fair or an amusement park based on conversations on social audio apps. Or better yet, imagine predicting the premiere of a movie based on the number of influencers you were collaborating with on social media.
The opportunities are endless for social audio analytics. As new social audio apps are coming to market, so are the developers and start-ups building apps to analyze users and their engagement levels.
I just finished developing this model for measuring social audio (see below). You can watch the 15-min video on YouTube. where I explain each stage in detail or check this list or report and Clubhouse analytics I put together in 2021.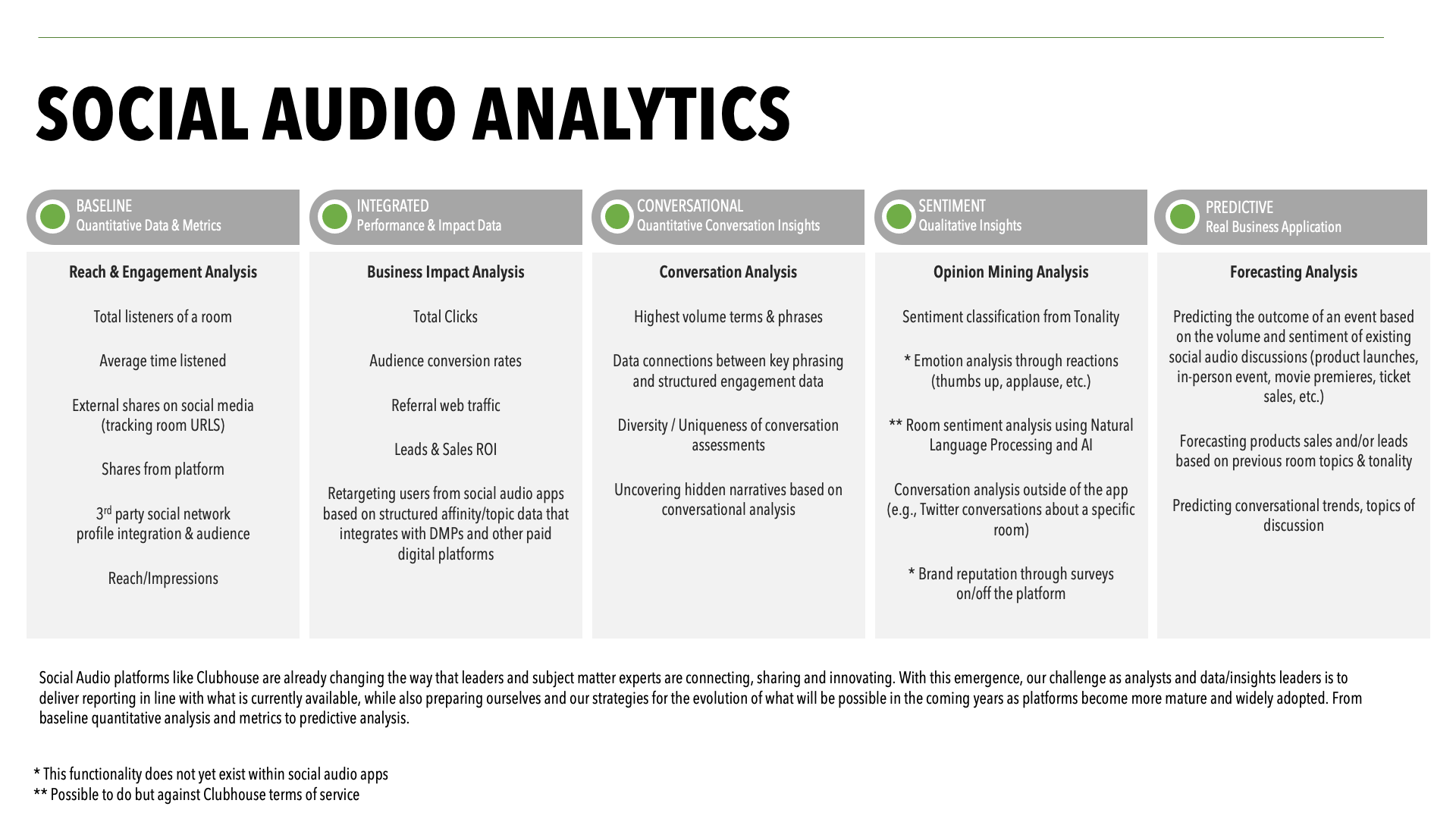 One thing to add here is that social audio is just a segment of a larger social media influencer analytics measurement framework and should be looked at separately from this.