In this video, I talk about social audio analytics and how measuring social audio will evolve as the platforms add new functionality and capabilities. Even though the space is still new and social media innovation will continue, marketers must start to think about building a measurement framework that includes social audio as its channel.
Social audio platforms like Clubhouse are already changing how business leaders and subject matter experts connect, share, and innovate. With this emergence and innovation of new technology, our challenge in measuring social audio is to deliver metrics in line with what is currently available within existing social audio applications. We also have to prepare ourselves for the evolution of what will be possible in the coming years as the social audio market becomes more mature.
Measuring social audio platforms will undoubtedly change, so it's critical to start documenting what a measurement framework might look for in the long term and build an integrated social media dashboard. Below is a model that illustrates one way to classify social audio metrics.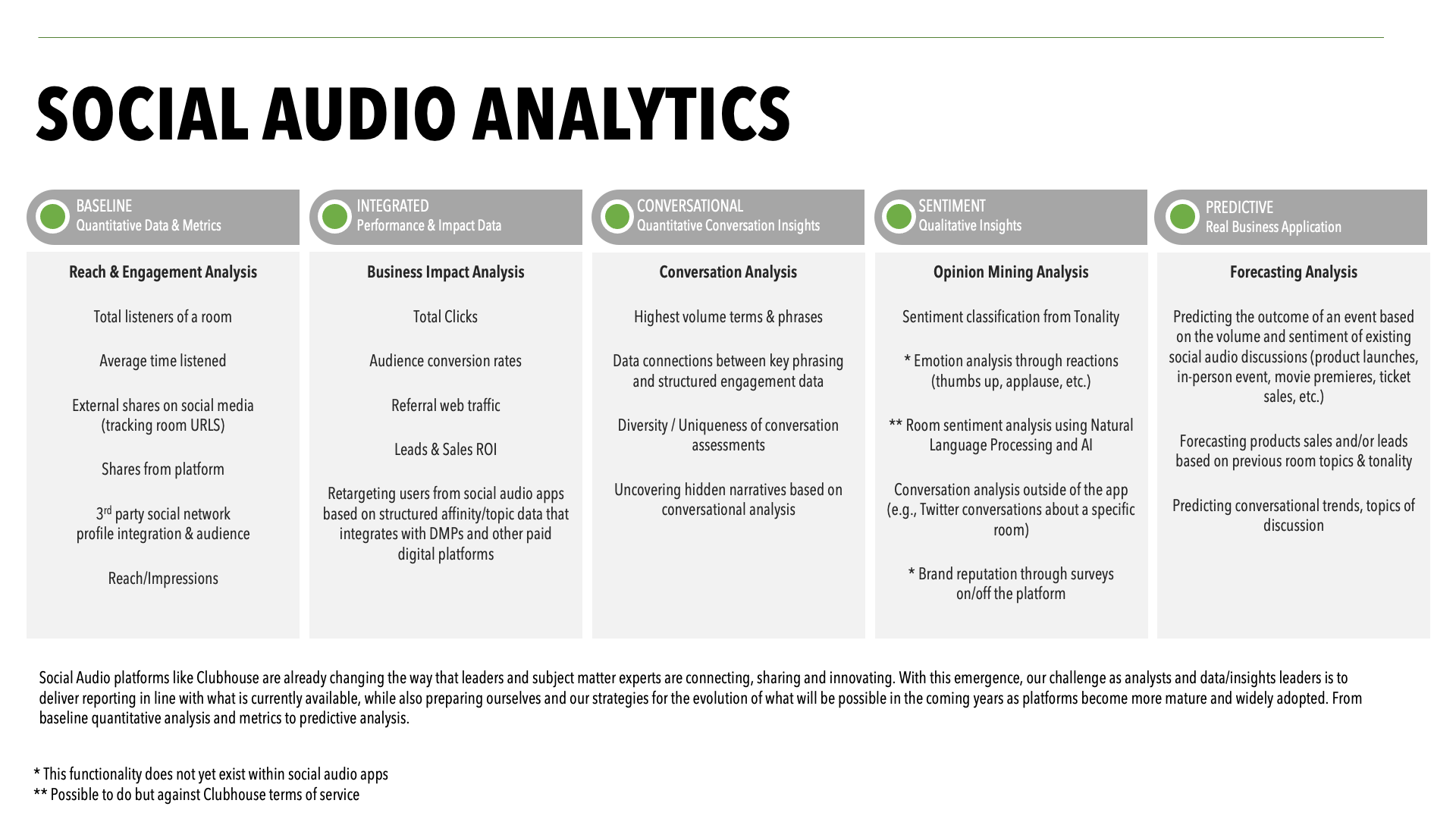 Here's a breakdown of what a social audio analytics model might look like. Please note that not all of this functionality currently exists yet.
BASELINE: Quantitative Data & Metrics
Reach & Engagement Analysis
Total unique listeners of a room
Total members & followers of a club
Average time listened
External shares on social media (tracking room URLs)
Shares from the platform
3rd party social network profile integration & audience
Reach/Impressions
INTEGRATED: Performance & Impact Data
Business Impact Analysis
Total clicks, click-through rates
Audience conversion rates
Referral web traffic, page views, and unique visitors
Leads, sales & ROI
Retargeting analytics: Serving ads to users from social audio apps based on structured affinity/topic data that integrates with DMPs and other paid digital platforms
CONVERSATIONAL: Quantitative Conversation Insights
Conversation Analysis
Highest volume keywords, terms & phrases
Data connections between key phrasing and structured engagement data
Diversity and uniqueness of topical conversation data
Uncovering hidden narratives, topics, and themes based on conversational analysis
SENTIMENT: Qualitative Insights
Opinion Mining Analysis
Sentiment classification from tonality
Real-time emotion analysis through reactions (thumbs up, applause, etc.)
Room sentiment analysis using natural language processing and AI
Conversation analysis outside of the app (e.g., Twitter conversations about a specific room)
Brand reputation through surveys on/off the platform
PREDICTIVE: Real Business Application
Forecasting Analysis
Predicting the outcome of an event based on the volume and sentiment of existing social audio discussions (product launches, in-person events, movie premieres, ticket sales, etc.)
Forecasting products sales and leads based on previous room topics, moderators, engagement & tonality
Predicting conversational social media trends, topics of discussion
Undoubtedly, measuring social audio will change and evolve over the next several years. With platforms like Twitter Spaces, Reddit, Angle, Slack, and Discord launching new audio capabilities, the demand for actionable analytics will increase.
Please consider subscribing to my YouTube channel, and be sure to hit the notification button so you can be notified when new videos are uploaded. If you like, you can also connect on Michael Brito's social media channels.