Data-driven communications is not a buzzword. It's real. It works. And it can produce business results. But it's not easy and requires you to step out of your comfort zone and start using what's already available … data. See real examples below. 
Too often, we rely only on intuition and personal experience when making decisions about our PR programs. And then we scratch our heads in confusion when our programs don't perform as expected.
By harnessing the power of data-driven communication, you can make more strategic choices that are more likely to resonate with our audiences and get the media coverage you want. Don't get me wrong; media intuition and personal experiences are important. But when you combine that with data analytics, your PR programs will exponentially exceed all expectations.
Data-driven communication sounds like a buzzword. And, maybe for some, it is. But for others, it's a viable PR strategy that integrates public relations planning, data analytics, and intuition to produce a more thoughtful program. The role of data is that it should be used to understand historical program performance, set PR benchmarks, and build your highly targeted media list. The goal is to use data to inform everything you do from a media communications perspective.
I've had many PR clients who weren't interested in data-driven media. I get it. Big data, dashboards, data science, and jargon can be overwhelming, especially for PR people that tend to stay away from numbers. I was like that too. Data-driven communications, at times, can seem nebulous and not always easy to understand and implement. Looking at data for the sake of looking at data is useless and a waste of time.
Big data in corporate communications is now tables stakes for technology brands. What if I told you that looking at smaller pieces of data-driven PR could uncover actionable data insights? Well, it can.
Below are a few examples:
Data-Driven Communication Can Inform Target Media By Topic
Using media landscape analysis, it's possible to identify which media publications write articles about specific topics that resonate more with their audiences than other media publications. For example, the below chart is a sampling of the top ten media outlets that write about the Metaverse and Web3. The bar chart represents the volume of coverage. The line graph represents average engagement per article. One interpretation of engagement data is defined as resonance. If a particular topic or subject resonates with an audience, the higher the engagement numbers should be.
So the data suggest a few things:
Business Insider has published almost 2000 articles about the Metaverse since January 2022, but they have very low article engagement
CoinDesk has published almost 1000 articles about the Metaverse, and their average engagement per article is pretty high
Futurism has published just a few hundred articles about the Metaverse, and they have the highest engagement per article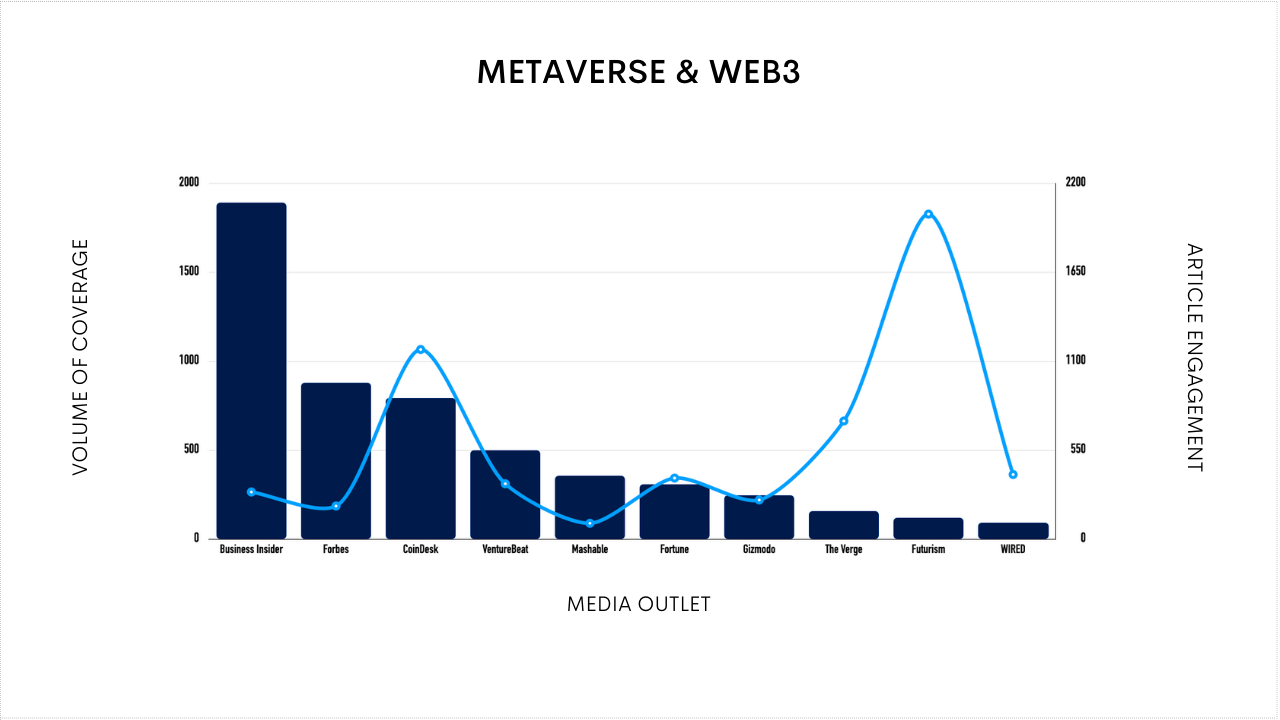 Remember, this is only one data point. There's much more to think about, but this is a start.
Using Audience Data to Build Data-Driven Media Relations
With audience analysis, it's also possible to identify which media publications a specific audience is reading and sharing more than others.
For example, let's take a look at the data below. Assume you build an audience of C-Suite executives or IT Decision Makers, and the data shows that they have a high affinity for Forbes, WIRED, HBR, NY Times, and Business Insider. The graphs represent the percentage of the audience that follows each media publication (i.e., 42.1% of the ITDMs read Forbes).
But the data may also uncover unique characteristics and show that the audience over-indexes in reading Fortune, MIT Tech Review, TechCrunch, WSJ, and Bloomberg. This just means that if you compare the ITDM audience to a gen pop data set, they would be more likely to read those publications than the average.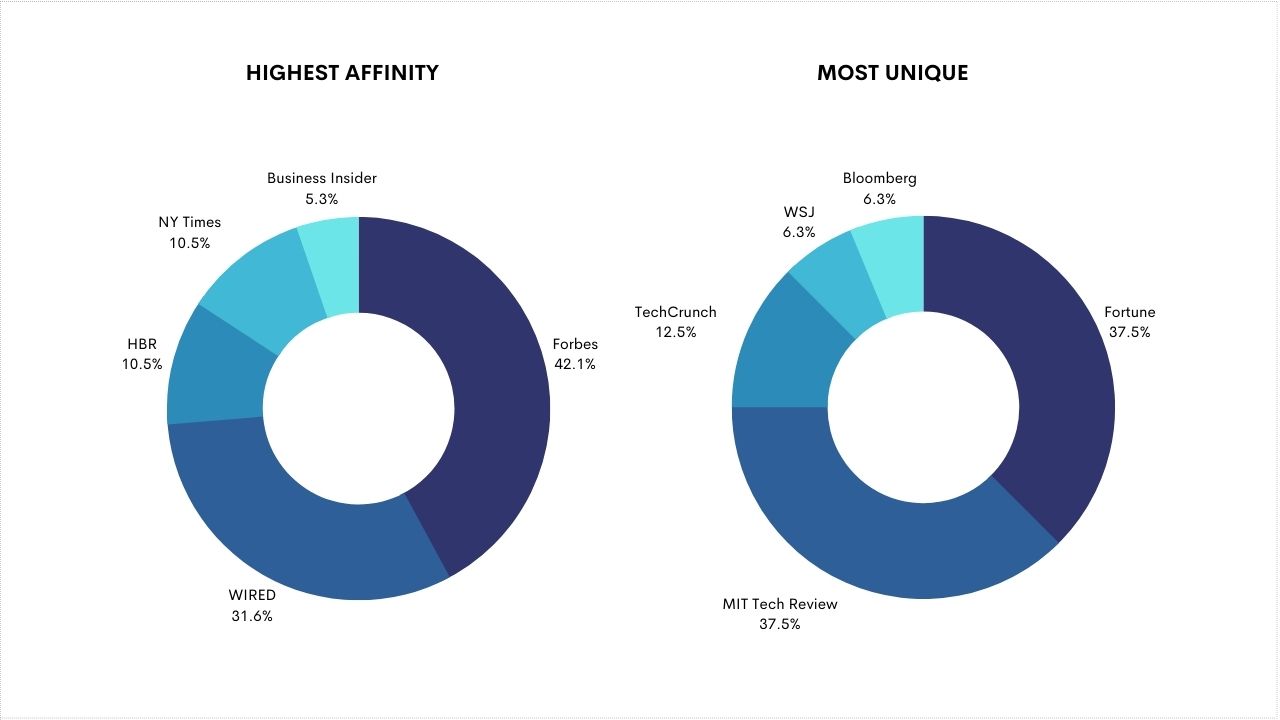 These types of insights can help inform data-driven media and communications.
Data Analytics in Communications: Uncovering Hidden Narratives
Using cluster analysis, it's possible to uncover what topics and subtopics are trending and declining for specific media publications.
For example, many software and tech companies don't realize that the "Future of Work" has been slowly declining over the last 24 months, replaced by words and language like Digital Workforce and Digital Workplace. This also correlates with search volume. People will follow when the media and influencers talk less about a subject or topic, and search volume will decline over time. The same logic can be used for identifying terms and topics that are increasing in relevance and usage.
Below is an example of a cluster analysis of the Future of Work conversation. You will notice several adjacent topics and themes; and how those themes are connected to the larger Future of Work narrative. While this is more of an advanced analysis, understanding the hidden narratives is critical from a messaging and brand positioning perspective.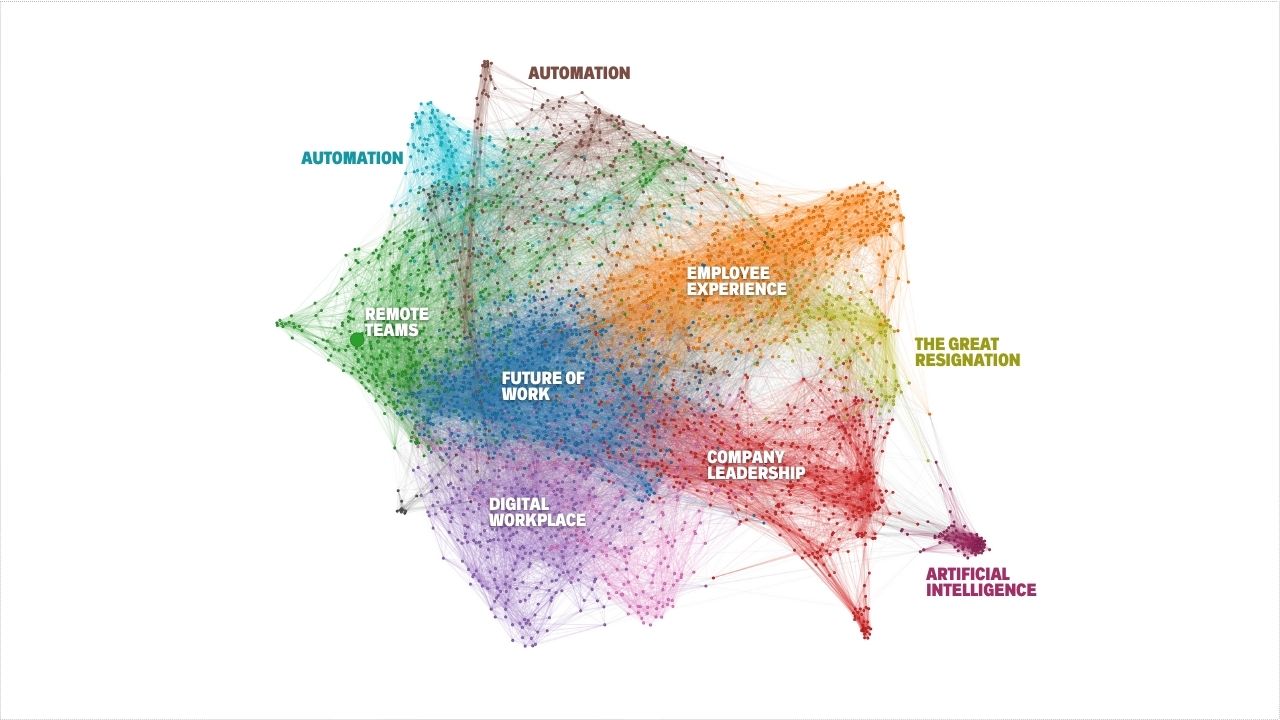 These minor nuances can help inform messaging, content, and editorial strategy and result in higher search engine rankings, which are critical for data-driven media communications.
Data-Driven Media Can Inform Owned Content
Using a similar cluster analysis mentioned above, it's possible to cross-reference specific topics the media is writing about with your earned coverage and owned content.
For example, assume your target media covers topics about automation and IoT. However, your earned coverage is all about "digital transformation." And your owned content skews more toward your product portfolio. This means that you aren't meeting the demands of your audience with your supply of stories and content in the marketplace.
This insight will uncover gaps in your owned and earned strategy and find whitespace in the market. It's simple economics. Is your supply of content and earned coverage meeting the demand of what the media is writing about? If not, you have problems, so you must implement a data-driven media and PR program.
Finding Influencers With Data-Driven PR
Using data analytics, it's possible to identify up-and-coming influencers and journalists writing about core topics related to your business. The more influential relationships you have, the better, especially if you beat your competitors.
There's a lot of snake oil out there. Just because a "so-called" influencer is tweeting about the "future of work" 5 times a day doesn't mean they have influence. With data, you can cross-reference their topical relevance (i.e., when they write about a specific topic, how does it resonate with their audience versus other topics they write about), you can see if they've ever been quoted in the media, referenced by other influencers, and you can measure how well their content appears in Google for targeted terms related to your business.
We're just scratching the surface with these insights. The insights must be easy to understand and actionable when pulling data from media publications. But it takes work to ensure that all of your media is at the heart of everything you do from a data-driven PR and media perspective.
Data-Driven Public Relations: Where to Get the Data?
Several media monitoring services are available for PR professionals to track news coverage. However, generating insights that matter takes more than just counting numbers. A content marketing analysis of media coverage will also garner similar data. It's a practice that looks at media in analyzes the words, language, and tone to uncover hidden narratives in the marketplace. In any case, analytics must be the cornerstone of your communication and data-driven public relations programs.
---
FAQs
Q: How do I know if the media data I'm getting is accurate?
A: The only way to ensure accuracy is to have a solid data management plan. This means having protocols for data entry, cleaning, and standardizing your data. It also includes identifying the right tools to capture all of your media coverage (earned, owned, and paid).
Q: How do I get started with data-driven communications?
A: You can start by evaluating your current media monitoring process. What are you capturing? What's the quality of the data? Can you quickly generate insights from it? If not, you'll need to make some changes.
Q: What if I don't have the budget for a data-driven communications program?
A: It's always important to weigh the cost and benefits of any investment. A data-driven communications program is no different. However, if you can't afford to invest in a tool or software, several free and low-cost options can help get you started.
---
Please consider subscribing to my YouTube channel, and be sure to hit the notification button so you can be notified when new videos are uploaded. You can also connect on Michael Brito's social channels if you like.