Click here to go straight to the Clubhouse analytics and insights.
Data doesn't lie. The buzz and conversation around Clubhouse declined exponentially and for a good reason. Some say it turned into a platform of elitists. And the rise of Twitter Spaces and the plethora of other social audio apps didn't help either. A quick scan of Clubhouse data shows the topics that are being discussed the most on the platform. You'll notice the topics range from sales and social media to dating and politics. The rooms I used to attend were all about people telling others about the future of Clubhouse, how to be a good Clubhouse moderator or why Clubhouse is better than Twitter Spaces. Sounds kind of elitist to me.
The following Clubhouse insights are based on conversations happening on social media channels, as well Clubhouse room titles and clubs.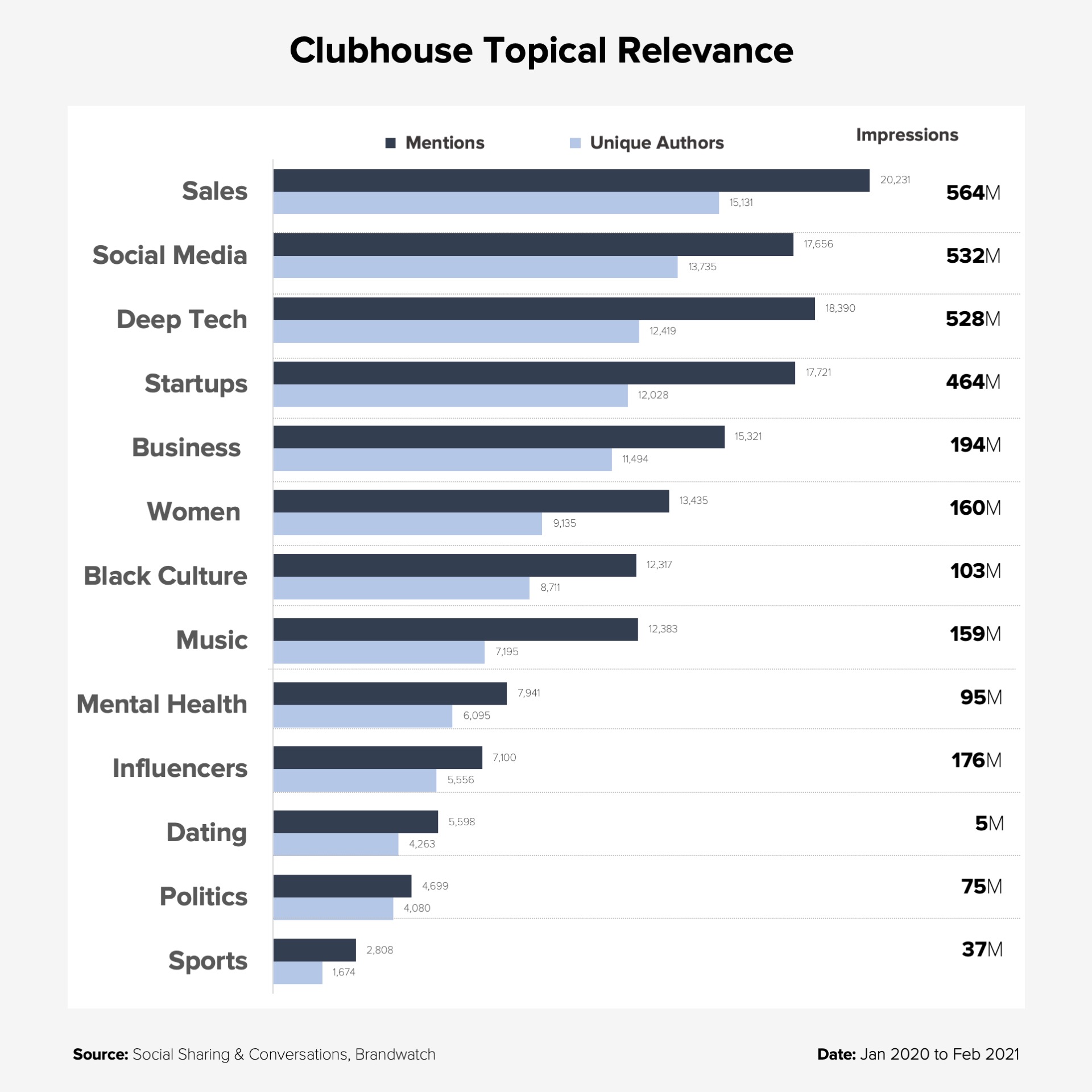 Clubhouse Analytics: Measuring Social Audio
Before you read on, it's critical to view Clubhouse as just one piece of the larger social audio ecosystem. Therefore, if you are trying to build a measurement framework, you should look at all the possibilities beyond just Clubhouse insights. The following framework is based on what's currently possible with data & analytics and also a future state of the industry. See below for one way to measure Clubhouse room analytics and general social audio engagement.

Clubhouse Analytics Tools
Here's a list of a few tools that specialize in pulling Clubhouse insights and data.
Whatever tools you are using to gather Clubhouse data, it's critical to demonstrate the business value and ROI of participating in Clubhouse as a marketing and communications channel.
Example Clubhouse Reports and Analysis
See below for a link to several Clubhouse analytics, reports and insights are based on varying parameters–the audience, topics of discussion, news coverage, and social media conversations.
---
Clubhouse Audience Analysis
March 2021: This analysis shows the diversity of Clubhouse audience data and how dynamic the platform is becoming. This data was pulled well before the app was released to Android users.
---
Clubhouse Trending Topics
February 2021: A social media trend analysis based on Clubhouse room analytics that identifies trending topics on Clubhouse over the last six months. The data is broken down by unique authors, mentions, and total impressions. The analysis also includes the top media outlets publishing articles about Clubhouse based on volume, resonance, and reach, as well as the top narrative drivers of Clubhouse news media coverage.
---
A-List of Social Audio Influencers 
February 2021: A curated list of social audio influencers based on data points such as reach, relevance, resonance, and reference. There is a mix of journalists, technologists, and analysts.
---
A list of Journalists Covering Clubhouse and Social Audio
February 2021: A curated list of traditional journalists from publications like TechCrunch, WIRED, Axios, CBS News, and The Verge that are publishing articles about Clubhouse and the social audio space in general.
---
Clubhouse Media Coverage
An analysis of Clubhouse news and narrative drivers related to traditional media. The data also includes Clubhouse content analytics and insights into the top traditional media publications broken down by volume and engagement.