March 2, 2021: You've heard the news. Cision acquired Brandwatch. Consolidation in the social software and media monitoring space has been happening for several years. Two software giants are starting to separate themselves from the rest of the pack–Cision and Meltwater.
Cision brand monitoring and analytics suite are probably one of the best platforms on the market, right next to Meltwater. So the next logical question is, "Cision vs Meltwater?" You'll have to decide, but I did start curating the top media monitoring platforms to track the legacy PR systems and highlight new startups coming onto the scene.
---
Cision Monitoring & Analytics
As you will see below, Cision has acquired many companies over the last decade and they have focused on providing a full suite of communications and media monitoring for their customers. I would say that the strongest acquisition over the last few years has been Trendkite and Brandwatch. Not only does Cision now provide strong media analytics, but they also have really strong social media monitoring too. I also want to add that Cision has stellar customer care and account management teams. I know this by first-hand experience. Their teams are quick to respond, they are really smart and understand the platform, and they work diligently to solve your problems.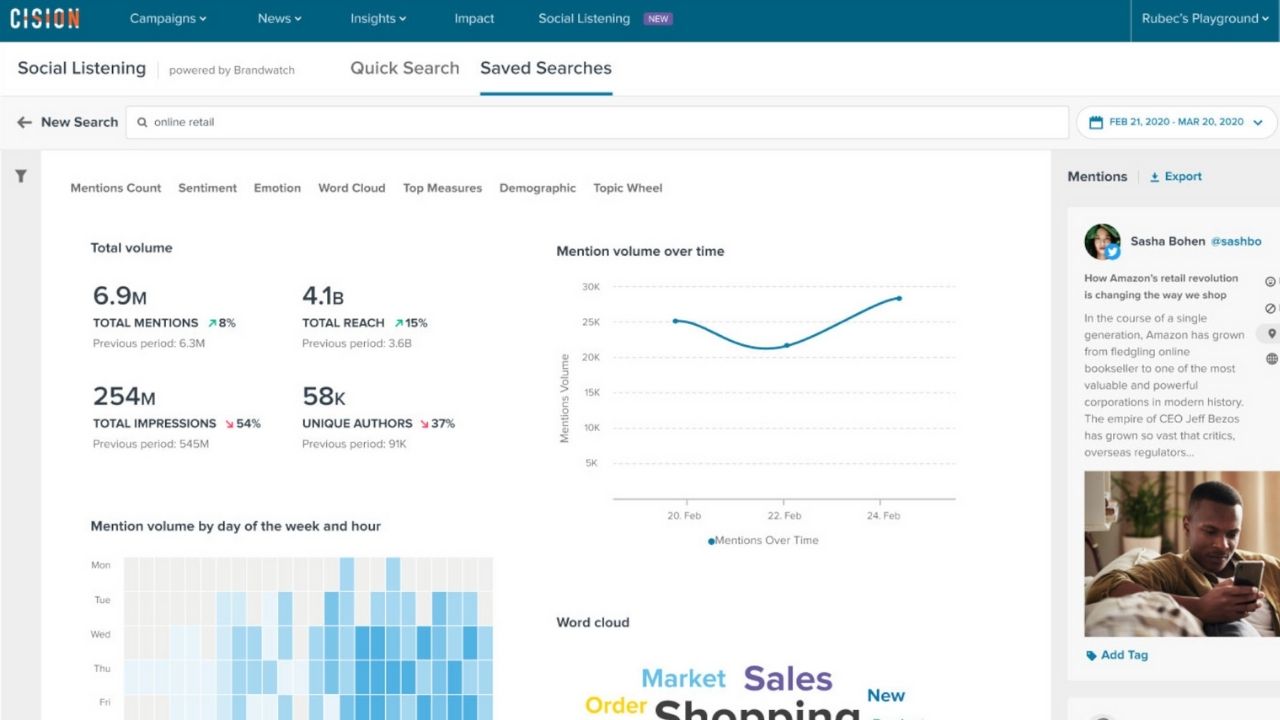 List of Cision Acquisitions
Below is a summary of Cision acquisitions over the last decade. In my research, I came across several conflicting dates, but I found this helpful blog post by Frank Strong summarizing the Cision acquisitions over the last decade.
2014
Cision AB acquired Visible Technologies, which is a social analytics company
A merger between Cision AB and Vocus, which then became the name Cision
It's important to call out a few acquisitions by Vocus since many of these legacy software applications have shaped what Cision is today. In 2006, Vocus acquired PRWeb (a press release distribution service), HARO (a marketplace that connects journalists and bloggers with expert sources), and iContact (an email marketing platform).
2015
Cision acquired Gorkana, a media monitoring, and journalist database
Cision acquired Viralheat, a social media management firm
Cision acquired PRNewswire, a press release distribution service
2017
Cision acquired PRIME Research, a media monitoring research firm
Cision acquired Bulletin Intelligence, a provider of briefings for corporate and government executives
Cision acquired Paris-based L'Argus de la Presse, a French media monitoring service
Cision acquired CEDROM-SNi, a Canadian provider of digital media monitoring solutions
2018
Cision acquired ShareIQ, a platform that "discovers, analyzes, and indexes original pieces of visual content
2019
Cision acquired Falcon.io, a Copenhagen-based social media platform
Cision acquired Trendkite, a media analysis software application
2021
It's also important to point out the Brandwatch acquisitions as well.
2014: PeerIndex, an influencer analytics platform
2017: BuzzSumo, a content and influencer research tool
2018: Merged with Crimson Hexagon, a social media intelligence platform
2019: Qriously, a service for measuring real-time, location-based public sentiment
---
Meltwater Media Monitoring & Social Listening Platform
You'll notice below that Meltwater has also made some strategic acquisitions over the last several years. The last four acquisitions have been the strongest. They are trying to create a fully integrated PR analytics software solution encompassing social media listening, media monitoring, and influencer tracking. I should also add that Meltwater's language translation is the strongest, which is critical for PR and media relations teams.
List of Meltwater Acquisitions
Meltwater has been on a similar path with company acquisitions, but their journey started over 10 years ago.
2010
Meltwater acquired BuzzGain, a social media monitoring software
Meltwater acquired JitterJam, CRM software
2011
Meltwater acquired IceRocket, a real-time social search engine
2016
Meltwater acquired Encore Alerts, a US-based media monitoring company
2017
Meltwater acquired Cosmify, a data analysis platform
Meltwater acquired Klarity, a Hong Kong-based data analytics platform
Meltwater acquired Wrapidity, a data extraction, and automation platform
Meltwater acquired Algo, a real-time data analytics company
2018
Meltwater acquired Sysomos, a social listening platform
Meltwater acquired Datasift, a social media analytics company
2021
Meltwater acquired Linkfluence
Meltwater acquired Klear (an influencer marketing software platform)
On the media coverage and monitoring side, there are several other players in the space that have innovative and/or easy to use solutions-MuckRack, Memo, Newswhip, and Onclusive.
On the social intelligence side, platforms like Synthesio, Pulsar Platform, Digimind, and Infegy are social listening platforms to keep a close eye on. I recorded a video last year in 2o2o talking about the Forrester Wave's Top Social Listening Platforms. Unfortunately, not all social listening platforms made it onto the report, but they all have featured functionality worthy of enterprise deployment. I'll be tracking the social listening space as new companies merge and/or get acquired.
Related Content