It's time to upgrade your B2B brand marketing strategy.
Why this matters:
There are five reasons why this needs to be a priority today.
There is a surplus of content in the market. There is no shortage of media, mobile phones, devices, and notifications that demand the attention of business decision-makers across every path on the Internet.
There is a deficit of human attention. The amount of information B2B buyers can store in their brains is finite, causing awareness to slip and details to be forgotten. Customer attention also comes at a premium.
Multitasking is very real. Buyers are constantly trying to do more daily in the same amount of time. As a result, it's not uncommon to use multiple devices simultaneously and split a screen with hundreds of Chrome tabs open at once.
Buyers have tunnel vision. Whether B2B business decision-makers or consumers shopping for sneakers, tunnel vision happens because of the wealth of information trying to grab their attention. It's a way to ensure that buyers consume only the content they find to be relevant.
The buyer's journey is no longer linear. It changes daily. It's dynamic and unpredictable. Also, their journey can last between 6 to 18 months, most of that time spent researching products and services.
For years, marketers had to rely just on intuition while making decisions. They would spend hours creating a digital marketing strategy and hope that it reaches the right audience. Using B2B data analytics, they can now create these programs backed by insights.
Early in my career, I purposely avoided data. I was terrible at math and afraid of numbers. As a result, I lacked confidence and was unsure how to leverage data analytics to inform the branded and digital marketing programs I was responsible for. It seemed like such a foreign concept to me. Yet, today, I can't imagine a world without it. Using data to inform all digital marketing strategies is table stakes. 
I had a mentor about ten years ago who taught me how to make big data small. This is a good lesson for B2B marketers today. There is so much data and analytics available internally and externally that it could overwhelm you. Many people I talk to don't know where to start, and I don't blame them. I learned how to isolate data to make it more actionable.
What is a B2B Marketing Strategy?
A B2B brand marketing strategy is a plan of action or a blueprint to help you reach your target audiences through digital marketing campaigns and programs. It can be created in several ways–using annual, quarterly or monthly planning cycles, product launches or large-scale brand campaigns.
There are a few things you should consider when developing your strategy, and these factors should all be constant regardless of what you are planning. Here is how I would outline a plan of action, not necessarily in this order:
Strategy & Vision: This is a straightforward statement that highlights the company's overall vision for your brand marketing and why it's essential. It should answer the question, "What do we want to accomplish with marketing this year and why?"
Audience Snapshot: This doesn't necessarily have to be a full-on audience analysis; however, the plan should always include critical audience insights. It could be one slide for each audience persona or one that shows all personas and key takeaways. 
Goals & Objectives: While this is self-explanatory, the goals and objectives should always be measurable and align with larger business goals.
Narrative: This is poetry. It is meant to set the stage to introduce the brand or campaign. It's not necessarily language to be used publicly, although it could. Sometimes it is more of an internal rallying cry to get everyone aligned and motivated to launch the campaign. It should answer the following questions: 
What does the brand (or campaign) stand for?

Why does our existence matter?

Why should anyone care?
Key Messages are messages meant to inform all B2B marketing tactics. These are more guideposts that will help inform creative, ad copy, tag lines, social content, PR pitches, and everything else that's a part of your brand strategy.
Channel Execution: This part of the plan covers all channels to execute the brand marketing strategy and campaign. There are a few different ways to categorize this part of the strategy. One way is to break it down by the PESO model–paid, earned, shared, and owned media. Within each section, there would be a tactical plan showing all the campaign elements. 
For example, the paid media section will include a media plan and the following:
Media Placements (native, display, video

, OTT)

Paid Search Approach

Example Creative

Sponsorships
Another way to create this section is to break it down by each marketing tactic. However, each program should include the target audience, creative execution, paid media (where applicable), and KPIs.
Email Marketin

g

Demand Generation (Display, Search)

B2B Social Media Marketing (Paid, Organic)

Influencer Marketing (Paid, Organic)

Blogs & Online Communities

Search Engine Optimization (SEO)

Public Relations Strategy

Events
Measurement: Measurement can either be in its own section or within the programs above. 
Whatever way you decide to lay out your plan, building a marketing strategy for B2B could get complicated for a few reasons. In many cases, enterprise brands have more than one audience segment. They may have different products targeting different verticals, industries, and users.
B2B Marketing Strategies:

Measurement & Analytics
When I think about B2B data analytics, I put it into two categories–measurement & analytics. I have struggled with ADD my entire life, so I need everything to be black and white. It makes everything simple. With gray areas, it becomes complicated and challenging for me to focus. So, bear with me because it makes sense.
Performance Measurement: Measuring B2B marketing and brand strategies are focused on performance data. Once the campaign launches, you'll want to track whether your are meeting your KPIs and goals. Each tactic will have different areas of measure–digital will have conversion and web metrics, PR will have coverage metrics and so on.
Performance data from paid search, display advertising, and paid social is valuable. It can tell you whether particular messages resonate with the audience or not. Many marketers are also doing message testing to create narratives in other channels. Enterprise companies can use this data to track leads and conversions.
You may also decide to use forms of B2B data analysis to inform a brand lift study. Most media companies and social networks provide these studies when significant investments are made in paid media. Brand lift studies can help you measure the impact of your ad campaign within a certain media channel.
For example, suppose you partner with a media publication like Business Insider or Facebook on significant brand activation. In that case, they will include a brand lift study to measure the campaign's effectiveness. They may use primary research, survey their readership, and provide quantitative metrics like web traffic, unique visitors to a particular web page, engagement, etc.
When doing a brand lift study like this, the critical consideration is that it is limited to the audience and readership of that specific media outlet or social network. This could be problematic if you have an extensive campaign across the entire digital ecosystem.
Analytics & Research: Analytics and research differs from measurement because it's usually done before a brand campaign launches into the market place. Innovative B2B brand strategies should always include what I call a landscape and audience analysis.
A landscape analysis will provide insights into a specific vertical or industry and include several data points. For example, for B2B brands in the artificial intelligence space, a landscape analysis will consist of the following:
Paid search analysis

 will include a breakdown of all the keywords that make up artificial intelligence and adjacent topics and themes. This will also include insights into what competitive brands are bidding on and general CPC data.

SEO analysis:

this will include a breakdown of which brands own the real estate in the organic search results. It will often consist of competitive research and show gaps and opportunities.

Cultural insights:

 if applicable, a landscape analysis might include integrating primary or third-party research to provide qualitative insights around behaviors, culture, and values.

Audience analysis

 will include an analysis of a specific target audience important to a brand. It may also include an audience segmentation study and persona development.

Conversational analysis

: This will include a general social listening analysis uncovering topics, trends, and themes discussed on social media, blogs, and forums.
Using B2B Data Analytics for Strategy & Planning
Early in my career, the idea of collecting social media data and visualizing it for storytelling did not exist. However, I was lucky enough to leverage my in-house B2B data analytics team to help analyze the data.
One thing was clear, though. There was and still is a high demand for analytics within B2B marketing. Today, the opportunities for marketers to use B2B data analysis for planning are endless.
The first opportunity is audience intelligence. This isn't a new concept because marketers have built buyer personas and have commissioned audience research for years. But the way of thinking about research has changed, and there are technology providers that can explore and uncover real people to understand who they are and what they care about. Audience analysis is critical to inform B2B marketing strategies and tactics. It's not nice to have either. It's table stakes at this point.
The second opportunity for marketers when planning their B2B brand marketing programs is understanding how influencer marketing is used in the larger digital marketing ecosystem. There are many ways to think about and deploy influencer programs. My philosophy has always revolved around the 1:9:90 influencer model. It's a model that segments markets and clusters audiences as influencers, promoters, and lurkers.
Regardless of your industry, B2B data analytics must be the cornerstone of your brand strategy. It's the only way to differentiate your brand from others and separate yourself from your competitors.
B2B Branding Strategy is About Content Operations
A content gap analysis is essential for B2B brands because it provides different ways to understand audiences through their content on social media.
Years ago, there was a concept called "brand as media company" that B2B brands must adopt the "Brand as Publisher" model. Both buzzwords mean the same thing. I wrote a book about it almost ten years ago called Your Brand: The Next Media Company. It was a blueprint for technology companies to use when up-leveling their B2B branding strategies through content marketing and storytelling.
To do this, brands must build an organization that can foster an agile, data-driven, and creative team; and it boils down to three components–people, process and platforms. This framework is a business model commonly used to create organizational change. It refers to the balance of people, processes, and platforms; and how they are used together for strategy. In this context, it's the B2B branding strategy.
The Role of People in a B2B Brand Strategy
The "People" part of this framework represents the culture, talent, and organizational structure of a marketing team. To fully embrace the B2B "media company" mindset requires enterprise companies to operate as a traditional newsroom. In most newsrooms, there is an Editor in Chief, Managing Editor, reporters, journalists, producers, and the entire production team– video producer/editor, graphics and design, and a copywriter.
For companies to make the brand publisher model work, there needs to be similar roles accounted for internally. And in some cases, brands may have to hire an agency specializing in real-time content creation, distribution, and publishing.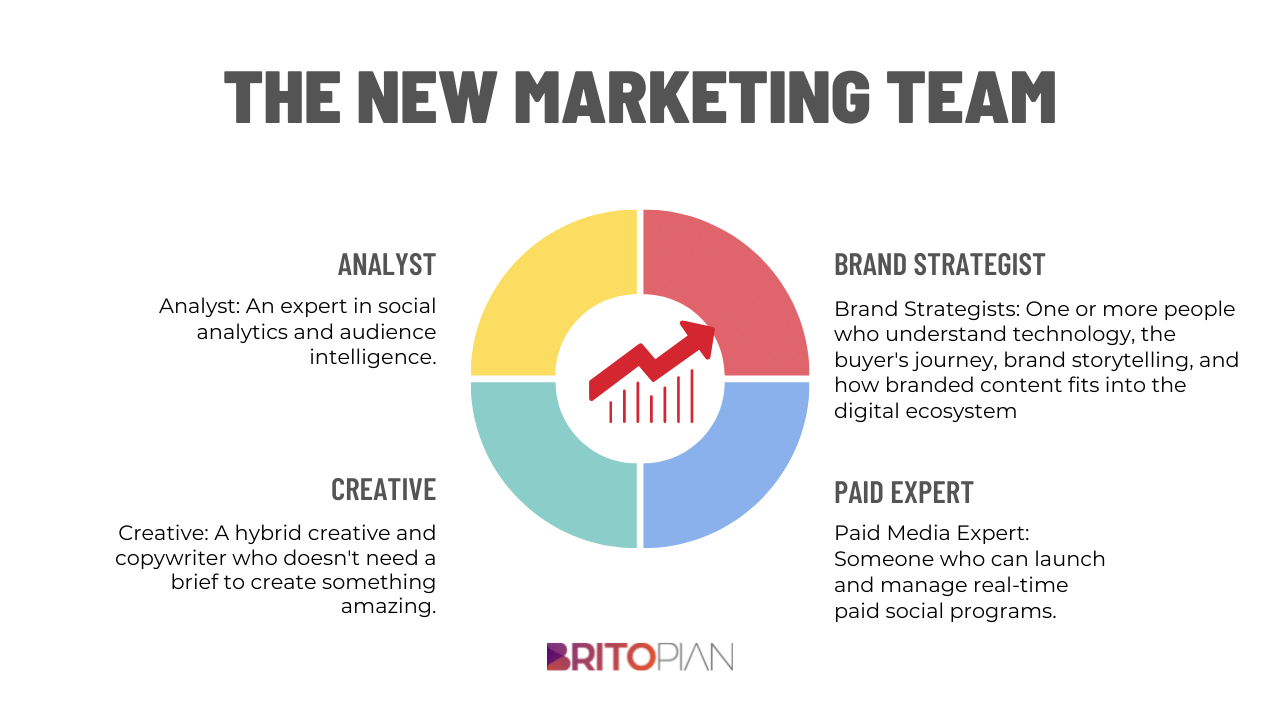 Here are the critical internal roles:
Analyst: An expert in social analytics and audience intelligence.
Creative: A hybrid creative and copywriter who doesn't need a brief to create something amazing.
Brand Strategists: One or more people who understand technology, the buyer's journey, brand storytelling, and how branded content fits into the digital ecosystem.
Paid Media Expert: Someone who can launch and manage real-time paid social programs. This might also be the role of the analyst.
The Operations Behind B2B Branding Strategies
Operations might not be the most exciting term for building a B2B brand strategy. However, it's probably critical to scale a program efficiently and ensure integration with other brand marketing functions.
Going back to the traditional newsroom, the operations behind these teams' functions are built around processes and workflows. It works like an always-on content engine that helps get content quickly and without error from point A to point B.
From a process perspective, you must maintain a content operations model to help optimize workflows to ensure that content can be created quickly and complete the entire approval process within 24 hours.
More specifically, the operational workflows start with identifying all the stakeholders that will be a part of the approval process. This also means documenting their exact roles and responsibilities so that each one knows what to expect and that there are no surprises. Once all stakeholders are identified, there must be processes and protocols around content ideation, submitting content for approval, making edits, publishing to a digital channel, and amplifying that content through paid media.
Several B2B technology marketing platforms provide this editorial workflow and process level, which I will cover in the next section.
Platforms Are the Foundation of B2B Brand Strategy
Some B2B brand strategists look for technology to solve their content challenges. They tend to bypass talent, organizational structure, processes, and workflows. Technology should be the last thing to focus on when building a B2B brand strategy.
There are a few things to consider when sourcing technology publishing software. First, there's the project management/workflow software and technology for real-time social media listening. Traditional project management software like Asana, Trello, and Monday.com can work in this capacity for B2B brand marketers. There are also software providers focusing on content workflows specifically for long-form content, like Contentstack, Co-Schedule, DivvyHQ, Percolate by Seismic, and Upland Kapost. These content marketing platforms specialize in scaling content operations that map the customer journey.
Traditional social media monitoring platforms like Brandwatch and Netbase Quid from a real-time monitoring perspective. There are also providers like Newswhip or Buzzumo, which can track the virality and engagement of long-form content across the Internet.
However, as you talk to different B2B technology publishing vendors, make sure that you ask them all the right questions before adding to your marketing technology stack.
B2B Brand Strategy Examples
Finding B2B brands that have internally built and operationalized a brand publisher model is challenging. You'd need insider knowledge to understand the decisions, how it works, and their brand strategy.
Another way to identify companies that have built strong B2B branding strategies and tactics is to look at what types of long-form content they publish and the customer experience surrounding it. It's important to note that many companies build brand newsrooms and external-facing websites where brands post company news. For the most part, it is just a press release hub, providing resources for the media. This has nothing to do with brands adopting a publisher model and operationalizing their team internally like a newsroom. Here are a few B2B branding case studies that will help you think through your plans for the coming year.
The Social Media Brand Newsroom is the Future
Before diving into the details, let's first break down the components of a traditional newsroom since that is what a social media newsroom is modeled after. A newsroom is a space where journalists work to gather, write, and produce stories. It's staffed with writers, editors, reporters, designers, and producers who work together to create content.
The entire process is done with a sense of urgency because they report the news when it happens and in real time. In addition, the general public wants to stay up-to-date with what's happening in their local communities and around the world, so they look to the news media to stay informed.
Breaking down the social media newsroom
A social media newsroom takes the same concept and applies it to a B2B brand marketing strategy. This type of newsroom is focused on creating shareable real-time content across social media channels.
It's important to note that a social media newsroom is not the same as a press room. A press room is where you find information about a company, such as its mission statement, contact information, and press releases. A social media brand newsroom is different.
There are two ways to think about how you might use a social media newsroom as a part of your digital strategy.
Operational: This is the practical day-to-day work needed to keep the newsroom functional. The staff of a social media newsroom should include an analyst, writers, designers, and even influencers. The key is to have a team in place that can create content quickly and
Strategic: In addition to the operational tasks, strategic planning is also needed. This is where you would develop long-term goals and objectives for the social media brand newsroom. You would also create a roadmap of what types of content you want to produce and when you want to publish it.
Destination: Another way to manage a brand newsroom is to think about it as a content hub. This would be where you would publish all long-form stories and aggregate all of the brand's social media content in one place. You would then use the 'operational' newsroom to create real-time content and drive traffic back to the destination.
A social media newsroom is a platform where brands can share their stories and connect with their audience deeper. It's where consumers can learn about the brand, its values, and what it offers.
It Started With Oreo Cookies and the Super Bowl in 2013
I don't know how many times I have referenced the Oreo tweet from the Super Bowl when Baltimore beat the 49ers. During halftime, the power went out in the New Orleans stadium. The Oreo team, prepared for anything, tweeted a picture of an Oreo with the words "You can still dunk in the dark" and included the hashtag #OreoSuperBowl.
This one tweet generated hundreds of thousands of retweets and shares and was featured in case studies.
Since then, many marketers have tried to insert themselves into cultural and societal events like various award shows or sporting and entertainment events to provide visibility for the brand. Some brands have been successful, and others have it. But unfortunately, most brands try too hard to be relevant to audiences who don't care.
This type of opportunistic media doesn't come around so much anymore. Most brands have unsuccessfully tried to do this and have failed. I would also argue that Oreos got lucky. They had a clever copywriter and creative team to respond to the outage of the stadium in a timely manner and not tweet generated the most engagement in conversation, most likely in the history of Oreo content.
Brands today aren't so lucky. They must do the work necessary to find the audience that matters to their business and create content relevant to them, not the entire world. The way to do this is to build real-time audience profiles and track their conversations.
Real time listening is pretty self-explanatory. It's listening to a group of people that matter to your brand and responding accordingly.
The process works like this.
Start with audience profiling.
Analyze their historical conversation media consumption and sharing habits.
Add them to a listening panel in a social intelligence platform like Brandwatch, Netbase, Infegy, or Pulsar Platform.
Create alerts so that you'll be notified when your audience mentions a particular keyword or phrase.
Perform a human analysis 3 to 5 times a week to mine through the data to search for opportunities for engagement.
Several factors come into play here. Number one is having a social media newsroom that can execute quickly. This means that once you spot a trend or opportunity, you have to turn on the content engine and create and publish content promptly. I call this the agile content creation process.
In some cases, the reality is that this process can take a long time. I call it the content supply chain or digital content operations. If you think about a supply chain, you have your raw materials, which turn into a finished product. That entire process is the supply chain, and it's the same thing. With this, you have an idea based on the data that you want.
The finished product is the content you want to publish. That's the supply chain. It represents workflows. It means approvals or feedback, so the reality is that you want to get that content posted quickly. Do you want to get it done in 24 or 36 hours? In some cases, it takes longer than that.
So you need the roles and operations required to get it done, it operates very much like a newsroom. I wrote about this in 2013 in a book called your brand next media company. I talk about optimizing your content operations so that you can build a social media intelligence panel and create content quickly and with relevancy.
And then the back end operation side of it, where you know how you can structure your social media newsroom, how you can structure agencies and your agency partners so that you can, you know, have that model of swift and agile responses based on what the audiences are talking about. So that's pretty much it. I mean, you know? Again, I'm oversimplifying it, but it's building an audience that your social newsroom can execute.
---
B2B Brand Strategy FAQ
What is a B2B brand?
A B2B brand is a business that serves other companies rather than consumers, ultimately resulting in financial gain for the organization. This can be done through selling products to corporations or partnering with clients' other suppliers. While this may sound simple, several factors differentiate a B2B tech company from others.
There are several types of B2B brands, including Resellers, Original Equipment Manufacturers (OEM), Systems Integrators, and Value-Added Resellers (VAR). Each of these differentiations entails a unique approach to serving the business community. For example, a reseller purchases products in bulk quantities, often at prices below manufacturing cost, and then resells them to companies. OEM manufactures products that customers can later purchase from other businesses or the OEM company. A Systems Integrator aims to create a turnkey solution for their customers by preassembling parts, such as computers and servers, into custom computer systems and data centers. Finally, a VAR has extensive technical knowledge of multiple technologies and sells products alongside many other brand-name items.
B2B tech brands can also be categorized by their business model. This includes solution-based businesses offering a complete package for customers to use and sell individually when needed, product companies specializing in one type of technology such as hard drives or routers, and service providers offering aftermarket services and technical support.
What is a B2B Publishing?
B2B publishing is a content approach that helps brands curate, create, and publish content in real time. Organizations that take this approach operate similarly to a traditional newsroom. They are agile enough to create content quickly and efficiently, reaching existing customers and prospects with targeted brand stories. In addition, sophisticated B2B brands use the LinkedIn Podcast Network to amplify executive voices through podcasting and other emerging media.
Should Reddit be included in a B2B strategy?
Yes, Reddit should be included in a B2B strategy. Reddit is a community-driven site, and as such, it can be a great way to connect with potential customers and build relationships. Additionally, because of the upvote/downvote system, content that is posted on Reddit is typically high quality and relevant, making it a great source of information for research. See here for several Reddit case studies.