Building an audience persona requires more than downloading a template online, brainstorming who you think your customers are, and putting it on a nice PowerPoint slide.
Sadly, many marketers still follow this formula. And while that was acceptable in prior years, today, building an audience persona should entail using real social data. Here is a curated list of audience intelligence platforms that are available in the market that can assist marketers in building audience personas.
Below, are some examples of personas that have been built using real data. In other words, we architected an audience based on various parameters and used that data to build the persona. I refer to this as audience intelligence. While the personas are outdated, this is the type of data that you can expect.
1. Fitness Enthusiast Audience Persona
The first is a fitness audience persona which are female fitness enthusiasts. The name, occupation, location, and bio description are made up but everything else is based on audience data.
Her top interests are based on follower relationships. In other words, a high percentage of this audience follow several health and fitness brands on social media. Other interests include sports and athletics, travel, news and society. Below her top interests you'll find brand and media affinities. You'll also notice top influencers at the very bottom. Similar to her interests, brand and media affinities and influencers are also based on follower relationships.
Lastly, the purchase influence factors are based on how this audience is influenced to purchase products. These are not mutually exclusive. As you'd expect, this audience is highly influenced by friends and family. They are loyal to specific brands but also purchase products based on how they can use it.
2. Fitness Enthusiast Audience Persona #2
The second audience persona is almost identical to the first. However you'll notice what's called a topical conversation analysis. This is conversational data. When we built the audience of female fitness enthusiasts, we analyzed their conversation over the last 12 months.
This data reflects the topics and sub topics that are most important to the audience. It's clustered by keywords and phrases. The size of the color-coded pie pieces are significant. They represent volume so the larger the pie, the larger volume of conversation.
So what this tells me is that topics related to community and mental health represent about 50% of this audience's conversation. From there, fitness, family and friends represent the rest.
The keywords and phrases in the inner circles are the topics. The second and third layer are sub topics. Again, this data is all based on volume. This is significant because it allows marketers to see what is top of mind among the audience without having to read through thousands of social media posts.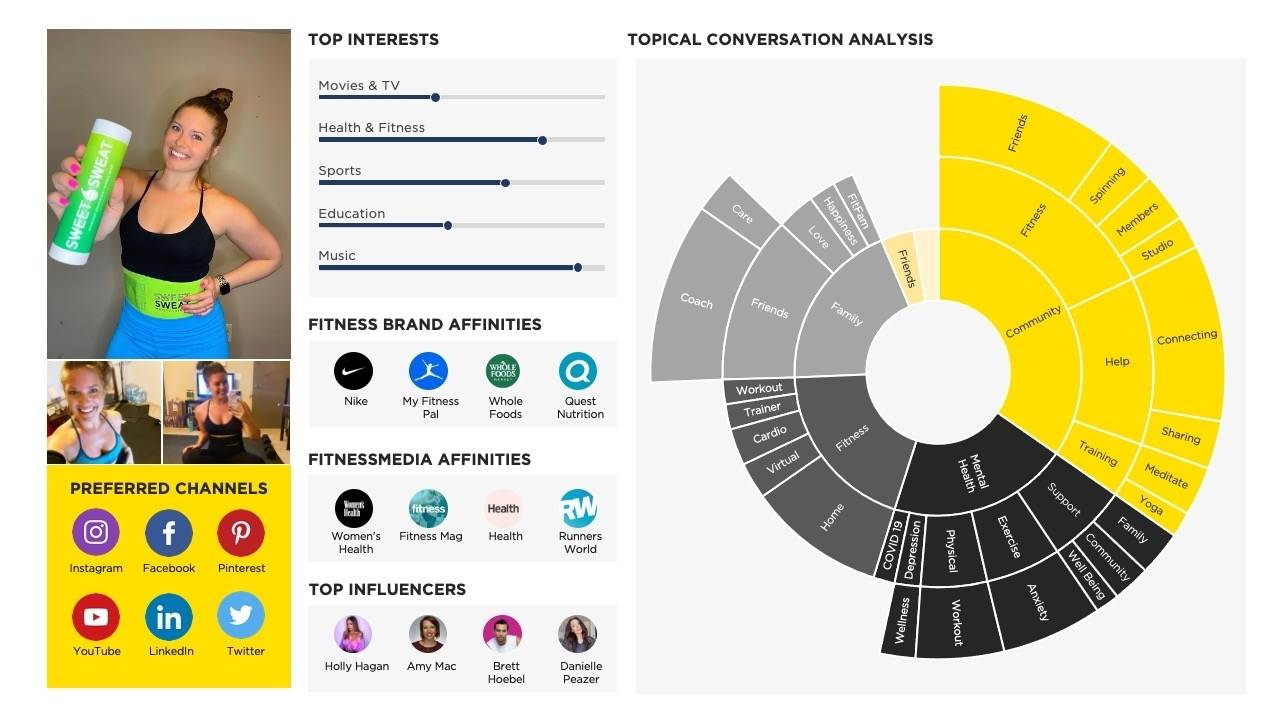 3. Commercial Real Estate Audience Persona
This next persona is based on an audience built of commercial real estate agents.
The demographic data, unique media and brand affinities are similar to the above audiences. However, you will notice some numbers beneath each one.
The way to interpret this data is that commercial real estate agents are 6.3x more likely to read the LA Times when compared to a general index. In this case a general index is also referred to as a general population. This type of data uncovers the interests, characteristics and affinities that make an audience unique from everybody else.
The cluster on the right are sub segments that make up the commercial real estate agent audience. In other words, when analyzing this audience, we found several sub audiences that are significant. This takes the data one layer deeper which can provide more unique insights.
If this were a part of an actual analysis, I would look at each of the sub audiences to understand their affinities and other characteristics that make them unique from the other segments.
4. IT Decision Makers Audience Persona
This is a B2B audience persona which we have called the Head of IT. Often times I refer to this audience as IT Decision Makers but there are a lot of different ways to slice and dice the data when you are first building an audience persona.
All of the data collected for this persona is was done the same way as the audiences above. In this case, we're looking at their top channels, the attributes are important when making software purchases, media affinities and a conversational analysis.
5. CIO Audience Persona
This is also a B2B audience persona but focused in on the Chief Information Officer (CIO).
This is a more comprehensive persona that takes in the consideration follower relationships, as well as conversation analysis.
The methodology for collecting this data is the same. However, the buyers journey required hours and hours of data mining the audience conversation to better understand how they purchased software.
Another addition on this audience persona is the top shared research. Based on the audience of CIOs that were built, this data represents the top URLs that were shared from various research and advisory firms.
6. Dentist Audience Persona
This last persona is more focused on healthcare. In this case it was an analysis of dentists. The only significant difference with this persona is that we aligned the top brand affinities with the audiences top interests.
See here for more information on audience analysis. It will give you step-by-step actions to take to build an audience and then from there a persona. Or, please subscribe to my YouTube channel to be notified when I add new videos.